AudioReputation is reader-supported. When you buy through links on our site, we may earn an affiliate commission Learn More
1MORE is a US-based headphone manufacturer known for its affordable and high-performing over-ear and in-ear headphones, especially their in-ear headphones with hybrid drivers. Their wired 1MORE triple driver in-ear headphones were very successful so they decided to make a wireless version and that's the headphone model we are about to review. Their 1MORE triple driver BT in-ear headphones truly have a lot to offer but there are some limitations (or flaws if you want). So, if you are interested in buying these headphones, read our review and find out everything you need to know about them.
---
As we've said, this is basically a wireless version of the 1MORE triple driver in-ear headphones. Two earphone models have a lot in common, especially when it comes to drivers, but there are also some important differences.
Like the wired version and like all the other 1MORE headphones, 1MORE triple driver BT in-ear headphones come in a rich packaging with numerous accessories. Both versions wired and wireless, have the same-looking angled earpieces and the same driver arrangement with two BA (balanced armature) drivers and one dynamic driver. So, their sound signatures are quite similar and if you like the sound of the wired version, you will most definitely like the wireless, too.
Now, let's list the differences. The first one is pretty obvious – 1MORE triple drive BT in-ear headphones are wireless. They feature Bluetooth and support LDAC codec which enables higher speeds and better sound quality than a regular Bluetooth receiver.
1MORE triple driver BT in-ear headphones feature neckband design similar to Plantronics Voyager 6200 or much more popular and much cheaper Mpow Jaws.
The comfort is quite satisfying and the build quality is surprisingly good. The wired version wasn't the most durable pair of earbuds on the market and they have some flaws (unimpressive cable quality and flimsy plastic parts). The Bluetooth version is much more durable. It seems like all the durability issues are solved.
1MORE triple driver BT in-ear headphones have a built-in battery. It's not the most amazing characteristic of these headphones and, compared to other earbuds in the same class, it only offers average playtime (up to 7h at 50-60% volume). On the positive side, these headphones have USB-C charging port which enables fast charging (10min charging – 2h playtime).
The headphones also have nicely designed and responsive in-line controls and a built-in mic with so-called Environmental Noise Canceling (it's not Active Noise Canceling).
When it comes to negatives, you should be aware that these are not waterproof and they are also not the best choice for sports. If sports earbuds are what you are looking for, you can skip these.
Another small inconvenience is the fact that the earbuds are not retractable and they are not magnetized which means they'll be dangling around when not in use.
Rich packaging with plenty of accessories and 9 pairs of ear tips in different sizes

Sleek and stylish design

Satisfying build quality

Pretty good comfort (soft silicone neckband, comfy ear tips)

Easy-to-use multifunction control buttons

Decent (but not impressive) playtime/talk time (up to 7h at 50% volume)

Fast charge feature (10min of charging equals 2-3h of playtime)

Bluetooth connectivity with LDAC support (enables 96kHz/24bit Hi-Res audio streaming)

Built-in mic with ENC (Environmental Noise Canceling)

Hybrid drivers (2BA drivers + 1 dynamic driver) enable clearer and more detailed audio reproduction

Balanced and natural sound signature with powerful bass, clear mids, and sparkling highs
Not waterproof (lacks

IPX certification

)

Not the best choice for sports

The earbuds don't retract and are not magnetized
1MORE triple driver BT in-ear headphones are one of the best-sounding Bluetooth earbuds (in-ear headphones) in their class. Sound quality is most definitely their greatest advantage, but it's not the only one.
These in-ear headphones were originally priced at $200 which was way too high considering the performance and we couldn't recommend them at this price (they are good but not $200 good). Luckily, the price went down rapidly and they are now priced under $100 which is much more reasonable and, at this price point, 1MORE triple driver BT in-ear headphones definitely deserve our recommendation.
Official video – 1MORE Triple Driver BT
What's in the box?
Like all the 1MORE headphones, 1MORE triple driver BT in-ear headphones come in a nice-looking box with all kinds of accessories. The most noticeable are all the ear tips but let's start from the box itself. The whole packaging looks quite premium. There are very interesting sketches of the headphones on the inside of the box. This artwork is truly original and very interesting. Inside the box, you will find your 1MORE triple driver BT in-ear headphones, 9 pairs of different-sized ear tips (5 pairs of silicone tips + 3 pairs of foam tips + 1 preinstalled pair of silicone tips), simple black carrying pouch, USB Type-C to USB Type-A charging cable, and all the papers (user manual, 1MORE sticker, 1-year warranty).
9 pairs of ear tips really make these 1MORE earbuds special. Other manufacturers usually don't offer more than 6 pairs.
Box contents
1MORE Triple Driver Specifications
DIMENSIONS
Weight
42.5g/1.5oz
DRIVERS
Triple driver (dynamic driver + 2 BA drivers) x2
BATTERY DETAILS
Type
Rechargeable, Li-ion
Capacity
N/A
Playtime/Talk time
Up to 7h (at 50-60% volume)
Recharge time
1h
CHARGING
USB-C to USB Type-A cable
CONNECTIONS
Bluetooth
BLUETOOTH DETAILS
Bluetooth version
V4.2
Supported Bluetooth profiles
A2DP/AVRCP/HFP
NFC
No
Bluetooth range
Approx. 35ft (within the line of sight)
OTHER TECHNICAL DETAILS
Frequency response
N/A
Impedance
32Ω
WATERPROOF/WATER RESISTANT
No
NOISE CANCELING
ENC – Environmental Noise Canceling
ADDITIONAL FEATURES
In-line controls

Built-in mic with ENC

Fast charge feature (via USB-C)

LDAC support
Design
Everything about 1MORE triple driver BT in-ear headphones is very stylish starting from the box. The headphones are sleek, clean, and very elegant without excessive flashy details. The earpieces have aluminum housings and angled ear tips for better fit and comfort. They look very elegant and very solid.
A soft rubberized cable connects the earpieces to the neckband. The cable is fine but it's kind of flimsy and it's not exactly tangle-free.
The neckband is soft and flexible. It's made of silicone and it looks quite durable. The ends of the neckband are made of plastic. At first, we thought that they are made of brushed aluminum or some kind of metal alloy (like the earpieces) but, unfortunately, it's just plastic.
One design-related thing that makes the usage a bit inconvenient is the fact that the earbuds are not retractable nor magnetized. So, when you are not using them, they will dangle around, especially when running or walking fast.
All the control buttons are located on the left end of the neckband. On the top, there's one only power/pairing button and a small status indicator. On the inner side, there are volume controls and a play/pause/call button. Play/pause button is also used for skipping tracks. On the very end of the neckband, there's a simple plastic flap covering USB Type-C charging port. 1MORE triple driver BT in-ear headphones are actually one of the first Bluetooth headphones with a USB-C charging port which is both – good and bad. It's good because USB-C is more capable than micro USB and it's bad because you need a USB-C cable to charge the headphones. The cable is included in the package, but if you lose it, you have to find a new one and that's not as easy as finding a new micro USB cable. We all have a bunch of micro USB cables in our homes but it's not the same with USB-C cables. The transition from micro USB to USB-C has just started and we don't all have USB-C devices and USB-C cables lying around the room so if you lose your cable, you will probably have to buy a new one.
Control buttons are located on the left end
Features
The first feature we are going to talk about is the one mentioned in the name – the hybrid driver. Triple driver, to be exact. Inside each earbud, there's a combination of 2 balanced armature drivers and one dynamic driver. The idea behind this kind of driver arrangement is, obviously, better and more accurate sound. BA drivers are more capable when it comes to treble reproduction while dynamic drivers produce deeper and more present bass response. The right combination gives much better results than the usage of a single driver.
The dynamic driver is made of aerospace-grade metal combined with PET layers. That's good because of two things. First, it delivers great sonic performance. Second, it sounds so cool and it's great for advertising.
Dynamic driver configuration
1MORE triple driver BT in-ear headphones feature Bluetooth 4.2 and support A2DP, AVRCP, and HFP Bluetooth profiles. The advertised range is 35ft (within the line sight) which is pretty much standard.
Thanks to LDAC support, Bluetooth module inside the headphones supports higher bitrates (up to 990kbps) which enables reproduction of high-res audio (up to 96kHz/24bit).
The battery built inside the neckband is not exactly impressive. It delivers average or even below-average playtime (compared to similarly priced earbuds). You will get up to 7h at 50-60% volume, but less than 5 at high volumes. Thanks to USB-C charging port, these headphones support fast charging. You are supposed to get up to 3h of playback after only 10 min of charging. In reality, you will get approx. 2 hours. It takes 1h to fully recharge the battery.
The headphones also have a microphone. It's located between the volume and play/pause/call buttons. The mic performance is slightly above average, but it's not absolutely flawless.
What makes the mic performance above-average is environmental noise canceling technology (not to be confused with ANC). This technology will attenuate up to 15dB of environmental noise and make the conversation in loud environments much clearer. Still, strong wind, noisy streets, and other noisy places could muffle your voice and make it incomprehensible on the other end.
Performance
There are no major complaints regarding performance. Comfort is not an issue. All those ear tips are very helpful and you will most definitely find the right size and perfect seal. The silicone tips are available in 5 sizes (10mm to 14.5mm) while the foam tips are available in 3 sizes (11, 13, and 14.5mm). Unless you have incredibly large or baby ears, you will find the right size.
The controls are simple, easy to use, and responsive. It's not hard to master them, but you will need a day or two to adjust. Placing them on the inner left side of the neckband is a bit odd but it's not that hard to get used to.
Also, we were not completely happy about the fact that so many features are assigned to the play/pause button. This button is also used to accept/decline calls and to skip to next/previous song. Still, it's not the end of the world and it's not a deal breaker.
Control buttons and their functions
Bluetooth connection works like a charm. The pairing is done in a few seconds and the range is close to advertised. We were pretty happy with the connection stability, too (no signal loss). When paired with some phone or other devices with LDAC support, you will achieve the advertised data bitrate and sound quality. On the other hand, if your phone doesn't support LDAC and if it features older Bluetooth version, don't expect too much – you won't get those high speeds and high-res audio (it's not all about the headphones).
Also Check out 'Moshi Vortex 2 In-Ear Headphones'.
Sound Quality
When combined with the right device with LDAC support (for example, Google Pixel 3, LG V40, Galaxy S9+, OnePlus 6T, Sony Xperia XZ3, etc.), you will get those high bitrates and better sound quality. It's recommended to check your device's specs and supported Bluetooth profiles and codecs before you buy these in-ear headphones. You won't get the same level of performance with older devices.
The triple driver combo really does wonders with audio and it's really hard to get this kind of performance from other in-ear Bluetooth headphones under $100.
The bass response is impressive and it's not something you can find in many earbuds within this price range. It goes deep, and it's powerful and punchy.
The mids are clear, detailed, and dynamic. There's a nice separation between the instruments. All the vocals (male and female) are articulate and energetic.
Recommended Reading :

Those two BA drivers do a great job with highs. They compliment the rest of the spectrum and sound very accurate, almost sparkling. They are not fatiguing or bright.
We have to emphasize the importance of matching the right device with these headphones. If you have an older phone/player/tablet with an older Bluetooth version and without LDAC support, you will never get the same kind of audio fidelity. The bass response suffers the most – it loses definition and it becomes much weaker. The mids are still sweet and dynamic while the highs lose some clarity.
The Competition
There's a lot of competition at $100 price tag and if you are prepared a few bucks more, you can get even better build quality and more features. Here are our favorites.
---
RHA MA750 Wireless
RHA MA750 Wireless is the upgraded version of the previous wired RHA MA750 model. MA750 Wireless in-ear headphones are a bit pricier than 1MORE triple driver BT in-ear headphones.
Both headphone models come in a really nice-looking and rich packaging. RHA MA750 comes with even more different ear tips than 1MORE triple driver BT in-ear headphones. You'll get 10 pairs of different tips (6x silicone in S, M, L sizes, bi-flanged silicone tips in S and L sizes, and 2x comply foam tips in M size). Finding the right seal won't be an issue.
MA750 feature similar neckband design with earbud cables coming out of the ends of the neckband. They also feature in-line controls. The three-button control pad is located on the cable while the 1MORE BT earbuds have all the control buttons on the neckband.
MA750 wireless earbuds are also solidly built. The earbud housings are made of stainless steel and the ends are magnetized. The earbuds are also IPX4 certified.
Both models have built-in batteries and they are both charged via USB-C port and support fast charging. MA750 delivers significantly longer playtime (up to 12 hours).
Both headphones feature Bluetooth. 1MORE triple driver BT in-ear headphones support Sony's LDAC codec while the MA750 wireless support aptX. Under ideal conditions, 1MORE BT earbuds deliver better data bitrate and slightly better and more balanced sound. On the other hand, MA750 are a bit more energetic with a slight emphasis on the mid-bass frequencies. If you prefer bassier sound, you will like MA750 wireless earbuds more.
MA750 wireless in-ear headphones also have a built-in mic so you can answer and make calls. What's even more interesting, the neckband will vibrate when there's an incoming call.
---
Klipsch R5 Bluetooth Neckband Earbuds
Klipsch R5 are priced the same as MA750 wireless. Both are slightly pricier than 1MORE triple driver in-ear headphones.
R5 neckband earphones also come in a nice box, just like 1MORE earphones, but the packaging is not equally rich. You will get 3 pairs of patented oval silicone tips, one pair of bi-flanged tips, and a pair of in-ear hooks for improved stability. You will get much more flexibility with the 1MORE earphones.
R5 neckband headphones feature the same neckband design. They look much more premium because the neckband is made of genuine leather instead of silicone. On the other hand, because of genuine leather, the neckband is less flexible.
R5 headphones feature 3-button playback/call controls on the right end of the neckband and one power/pairing button on the left end.
The built-in battery inside the R5 delivers up to 8 hours of playtime or talk time at 50% volume. They are just a little bit better than 1MORE earbuds.
Both headphone models feature Bluetooth. 1MORE triple driver BT in-ear headphones support LDAC while the R5 neckband headphones support aptX (+ AAC and SBC).
R5 neckband earbuds also have a built-in mic with CVC noise isolation technology and the headband will vibrate when there's an incoming call.
R5 headphones are quite good when it comes to bass but not as balanced and accurate as 1MORE triple driver BT in-ear headphones. When it comes to sound, we definitely prefer 1MORE earphones.
---
SGNL HB-N50 Bluetooth Earbuds
HB-N50 neckband earbuds are made by a very young startup company called Innomdle Lab supported by Samsung. These neckband headphones are also slightly pricier but offer more advanced features than other competitors within the price range. The most noticeable features are the OEC (open ear control) and ANC (active noise cancellation).
Compared to 1MORE BT in-ear headphones, the packaging is not as rich. You will only get ear tips and ear hooks in two sizes (S and L) and a micro USB (not USB-C) charging cable.
HB-N50 have the same kind of design with a soft silicone neckband and angled ergonomic earbuds. The earbud housings are made of plastic and don't look as durable as HB-N50. On the other hand, HB-N50 headphones are IPX4 certified and seem more appropriate for sports.
Like all the previous headphones, HB-N50 headphones feature 3-button in-line controls on the right side and the additional ANC/OEC and power/pairing buttons on the left end of the neckband.
HB-N50 has a more powerful battery and it delivers up to 13h of play/talk time at 50% volume (without the ANC) or up to 9 hours if the ANC feature is active.
HB-N50 has a regular Bluetooth module without aptX or LDAC support which means that you will get better, more detailed, and richer sound with 1MORE triple driver BT in-ear headphones.
The mic works fine and the ANC feature is quite impressive for the price. It will isolate almost all the low-frequency noise but it's not that good with high frequencies.
OEC is a nice additional feature which allows you to hear the outside noise and stay aware of your surroundings.
---
Comparison Table
Frequently Asked Questions
Does 1More triple driver have a mic?
Yes, the 1More Triple Driver comes with a built-in mic. It also features ENC (Environmental Noise Cancelation) that improves the headphones' voice quality. The microphone performance is good but is improved with the ENC feature.
How do you connect 1More earbuds to Bluetooth?
Step 1: Press and hold the play button for 3 seconds till the red and blue lights flash alternatively. If you're wearing the earbuds while pairing, you will hear "pairing". 
Step 2: Go to the Bluetooth settings on your phone.
Step 3: Select your 1More earbuds from the list of discoverable Bluetooth devices.
How do I reset my 1More triple driver?
To clear your pairing history, press and hold the Volume Up and Volume Down buttons for 5 seconds simultaneously. This clears your pairing history and resets your 1More Triple Driver headphones.
How to charge 1More Headphones?
Place your 1More headphones in the charging case, and they will begin charging instantly.  The earphones' LED will display red lights. Once the lights switch off, that means charging is complete. When you connect the charging case to a power source, charging will begin.
Final Thoughts
1MORE triple driver BT in-ear headphones deliver pretty good performance for the price. We were particularly impressed by the sound quality which is, without a doubt, the biggest highlight. Finding better-sounding Bluetooth earbuds under $100 will be a difficult task.
We were not impressed by the battery (average playtime) and we don't think that these are the best choice for sports (stability issues and lack of IPX certification). In all the other aspects, 1MORE triple driver BT in-ear headphones are really great.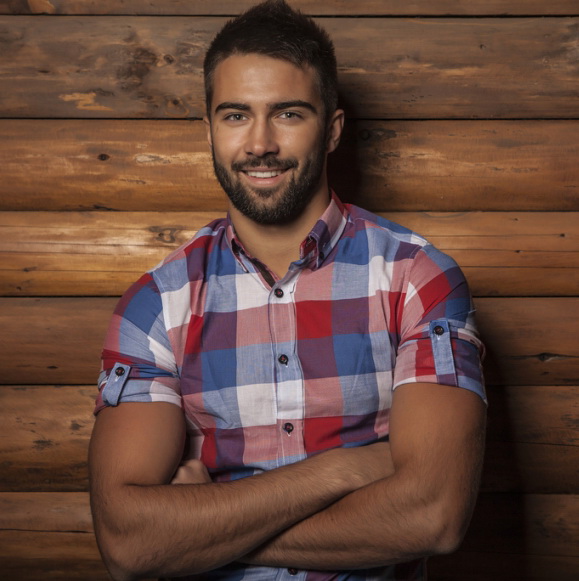 Hello, my name is James Longman.
I'm a writer and editor at AudioReputation. I disassembled my first portable AM/FM radio when I was only 8. At the age of 11, I burned the circuit board on my old boombox cassette player. I'm not going to explain how but it was reckless and stupid.
Since then, I have become much more careful around radios, boomboxes, and other audio devices (at least, I like to think so) but I have never lost the passion for audio equipment. Throughout 20 years of my professional career, I've been working for various audio equipment manufacturers and even started building speakers on my own in my little workshop.
I love the work we do here at AudioReputation. Testing, comparing, and evaluating all kinds of audio devices (speakers, soundbars, headphones, home theater systems, etc.) is something I truly enjoy. I try to be unbiased and give you my honest opinion on every piece of equipment I test. Still, you should take my reviews with a pinch of salt and always be just a little bit skeptical. The fact that I liked some speaker or soundbar doesn't mean that you are going to love it. If you have the opportunity, you should test it/hear it before buying it.