AudioReputation is reader-supported. When you buy through links on our site, we may earn an affiliate commission Learn More
ActionPie VJJB-V1S is such an uncool, generic, and easily forgettable name for such a cool-looking pair of earbuds. The manufacturer didn't even try to give them some real name and that's a shame especially considering the performance you get for the price.
If you've already heard of ActionPie, then you probably know that this is one of many generic brands and that they make affordable, or rather cheap earbuds. We are now supposed to lower your expectations regarding the earbuds we are about to review and tell you that you have to make some compromises when buying cheap audio equipment but you probably know that and we are not going to bother you with unnecessary explanations.
VJJB-V1S is a cheap but nice-looking pair of earbuds. The presentation and the design are quite impressive and they have exceeded our expectations. The sound quality also surpasses the price, although it's not perfect. Still, you can definitely find a bunch of more expensive models delivering much worse sound. The earbuds are quite comfy and provide a nice and stable fit.
Most of our complaints are related to build quality. They are poorly made – the pieces of earbuds are poorly glued together and the cable is protected with some kind of vinyl coating which makes it stiff and sticky. We also didn't like the microphone performance but that's a secondary issue.
Rich packaging

Visually appealing design

Great comfort and fit

Very good sound quality for the price

Decent passive noise isolation

Very affordable
Cable issues (it's not tangle-free, it's stiff)

Poor mic quality (the microphone is practically useless in a noisy environment)

Poor build quality and durability
If you are looking for a cheap pair of earbuds under $20 for everyday use, you won't regret buying ActionPie VJJB-V1S. They may have some flaws, especially when it comes to build quality but their performance is still great considering the price.
What's in the box?
The earbuds come in a white cardboard box with a simple ActionPie logo on the front side. It's really hard to know what's inside until you open it since there are no illustrations or specs written on the box. Inside the packaging, you will find you wired earbuds with a 6ft long vinyl-coated cable (it's a little bit too long, if you ask us), hard carrying case, a small carrying pouch, 6 pairs of silicone ear tips (in S, M, and L sizes), only 1 pair of memory foam ear tips (probably M size), cable management clip, and user manual (which is poorly translated).
Package contents
Specs
| ActionPie VJJB-V1S Specifications | |
| --- | --- |
| DIMENSIONS | |
| Weight | 0.5oz |
| MATERIAL | Plastic |
| DRIVERS | 6mm x2, Neodymium iron boron |
| TYPE | In-ear headphones (earbuds), wired |
| CONNECTIONS | AUX (audio cable with 3.5mm gold-plated jack) |
| OTHER TECHNICAL DETAILS | |
| Frequency response | 20Hz to 24kHz |
| Sensitivity | 110dB |
| THD | Less than 1% |
| Impedance | 8Ω |
| ADDITIONAL FEATURES | In-line 1-button control pad with a built-in mic, vinyl coated cable |
Design
The design of the earbuds is surprisingly good. We have expected something more cheap-looking but the earbuds don't look like that. The earbuds are a kind of bulky (because of dual gold-plated dynamic drivers). Everything is made of plastic – the outer sides of the housings are made of black plastic, while the inner sides are covered with transparent plastic so you can see the drivers through it. The earbuds are angled in order to provide better fit and more comfort.
The earbuds feature ergonomic angled design
The audio cable is coated with vinyl and it's kind of stiff. The cable ends with a gold-plated 3.5mm jack. On the cable, there's a simple plastic control pad with one multifunction button and a built-in mic. You can use this button to play/pause the music or to answer/end calls.
The cable is coated with vinyl and it's undetachable
Features
ActionPie VJJB-V1S is a simple pair of wired earbuds which means that you won't get a bunch of fancy features like Bluetooth connectivity or noise cancelling.
We have already discussed the design and we are not going to bother you with that again.
When it comes to build quality, we can't say we were impressed. They don't look or feel durable but it's probably fair to say that durability is on par with the price.
The build quality is not impressive but it's on par with the price
The controls are extremely simple. Having only one button does not give you a lot of control over the playback and you will have to use your phone if you want to change the track or adjust the volume. Still, for less than $20, we can't complain too much.
The built-in mic is always a nice extra feature but we were not impressed by the mic performance and you can read about it in the Performance section.
The earbuds have one-button in-line controls with a built-in mic
Performance
There are a few good things and a few bad ones when it comes to performance.
We like the comfort these earbuds provide. They are very lightweight and they offer a great and stable fit. They don't put too much pressure on ears. There are 7 different pairs of ear tips, so you should be able to find the right one for you. Some additional foam ear tips (there's only one pair) would make them even better.
Using the controls is simple. The control button is responsive and works nicely.
As we have previously mentioned, most of the complaints are related to build quality. That coating on the cable is simply annoying. It didn't make the cable tangle-free but it made it stiff and sticky (it can stick to your clothes and even to your face, especially if you are sweaty). Also, you might experience some microphonics and hear a static noise when the cable touches and rubs against your clothes.
Recommended Reading :

The built-in mic delivers poor performance. You can make and receive calls in a quiet environment but the call quality won't be great. You will hear the person you are talking with but your voice on the other end will be distant and quiet. If there's just a little bit of noise, making/receiving calls will be much harder.
The most common issue people had with these earbuds is also related to build quality. In the pictures below, you can see the weakest link. Numerous customers complained about this. It seems like the parts of the earbuds are poorly glued together and that they tend to simply fall apart after a few months of use. In some cases, you can glue the pieces together on your own and keep using the earbuds but there's no guarantee they will work.
The most common issue – the earpieces are fragile (the parts are poorly glued together)
Durability is, without a doubt, the greatest issue with these earbuds. We can't really say that they are not sturdy enough for the price but you have to be aware that this is a product that's going to last 6 months or maybe a year (if you are really careful).
Sound Quality
The sound quality really exceeded our expectations. The headphones deliver surprisingly clear and rich sound comparable to some $50 earbuds. The bass is present and punchy but lacks some texture and definition. The good thing is that it doesn't overpower the mids and vocals. The vocals are nice and clear. The mids are sweet and dynamic but lack some detail. Highs are accurate and clear.
The earbuds are very loud but the sound also gets distorted when the volume is set above 80%. Memory foam ear tips offer nice passive isolation and prevent sound leakage but you can still hear the sounds around you, and the leakage is not completely eliminated. Silicone ear tips deliver poorer performance than foam tips when it comes to noise isolation and sound leakage.
The Competition
---
Betron YSM1000
Betron YSM1000 earbuds are even cheaper (under $15) than ActionPie VJJB-V1S. In terms of design, we prefer the VJJB-V1S but that's the matter of taste. They both come with ear tips in different sizes.
The earpieces on YSM1000 look sturdier since they are made of metal.
The cables on both models have the same annoying vinyl coating so you can expect the same cable issues. Unlike ActionPie VJJB-V1S, Betron YMS1000 earbuds feature 3-button in-line controls which is a better solution and gives you more control over the playback. They both have built-in mics.
When it comes to sound quality, our favorite is ActionPie VJJB-V1S. They deliver richer, more balanced, and cleaner sound.
---
GGMM Nightingale
GGMM Nightingale earbuds are priced the same as ActionPie VJJB-V1S. They come in a rich packaging with ear tips in different sizes.
The earbuds are bullet-shaped and entirely made of metal which makes them more durable than the ActionPie VJJB-V1S earbuds.
The cable is also better. It's more flexible and seems stronger.
Both earbuds feature the same 1-button in-line controls and built-in mics.
If you prefer the bass-heavy sound, you are going to like GGMM Nightingale earbuds more. If you want more balanced sound, ActionPie VJJB-V1S earbuds are a better choice.
---
MEE audio M6
MEE audio M6 is another cheaper alternative under $15. They also come in a rich packaging with ear tips in different sizes.
In terms of design, ActionPie VJJB-V1S earbuds look better, at least to us. MEE audio M6 feature over-ear design which is interesting but doesn't really look comfortable.
M6 earbuds are made of plastic, just like ActionPie VJJB-V1S. M6 earbuds are IPX5-certified (water resistant) so it's probably safe to say that they are more durable.
The cable is the same on both earbuds (vinyl coated). They both have in-line controls and built-in mics.
MEE audio M6 delivers even less bass than the ActionPie VJJB-V1S and the emphasis is on the highs, which makes the sound really tiny. We prefer the sound signature of ActionPie VJJB-V1S earbuds.
---
Comparison Table
Final Thoughts
ActionPie VJJB-V1S are attractive and cheap wired earbuds and they can be yours for less than $20. The sound quality they deliver is on par with some much more expensive earbuds but their build quality is something you should take in consideration before you buy them. If you are usually careful with your audio equipment, you can expect them to last a year which is probably more than satisfying lifespan considering the price.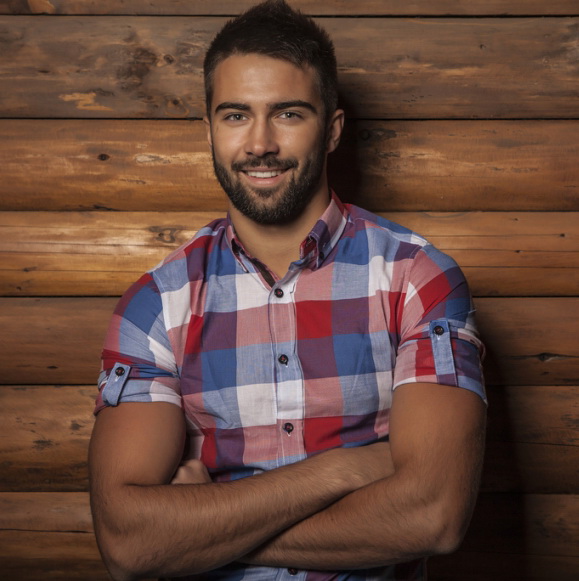 Hello, my name is James Longman.
I'm a writer and editor at AudioReputation. I disassembled my first portable AM/FM radio when I was only 8. At the age of 11, I burned the circuit board on my old boombox cassette player. I'm not going to explain how but it was reckless and stupid.
Since then, I have become much more careful around radios, boomboxes, and other audio devices (at least, I like to think so) but I have never lost the passion for audio equipment. Throughout 20 years of my professional career, I've been working for various audio equipment manufacturers and even started building speakers on my own in my little workshop.
I love the work we do here at AudioReputation. Testing, comparing, and evaluating all kinds of audio devices (speakers, soundbars, headphones, home theater systems, etc.) is something I truly enjoy. I try to be unbiased and give you my honest opinion on every piece of equipment I test. Still, you should take my reviews with a pinch of salt and always be just a little bit skeptical. The fact that I liked some speaker or soundbar doesn't mean that you are going to love it. If you have the opportunity, you should test it/hear it before buying it.