AudioReputation is reader-supported. When you buy through links on our site, we may earn an affiliate commission Learn More
Looking for a flexible multichannel audio interface providing both high efficiency and pristine sound quality? Orion 32+ Generation 3 might be just the thing you need. It's the latest iteration from the Orion 32+ series and it brings some significant improvements when it comes to converters and dynamic range. In this review, we will discuss all the advantages and disadvantages of this powerful audio interface, check out the features, and test its capabilities. Let's see if Orion 32+ Generation 3 is worth the price.
Antelope Audio manufactures professional and audiophile audio. They have a lot of experience in manufacturing digital audio equipment. The company is also one of the pioneers when it comes to clocking – they were the first to improve the audio master clocks by implementing atomic clock generators. Antelope Audio is known for making high-end but also affordable audio equipment. The range of Antelope Audio's products includes audio interfaces, modeling mics, mastering converters, master clocks, and analog processors.
Orion 32+ Generation 3 is a perfect example of Antelope Audio's philosophy – it's an extremely capable and versatile audio interface offering amazing performance. It's perfect for both studio and home use. And it's also significantly cheaper than any other audio interface with a similar feature set and performance.
Orion 32+ Generation 3 has an amazing number of analog and digital inputs and outputs, which gives you a lot of flexibility in mixing and routing. The interface features four D-SUB inputs and four outputs, each of which supports up to 32 channels. There are also two analog ¼in outputs for monitors.
When it comes to digital inputs/outputs, Orion 32+ Gen3 houses one MADI input and one output (each supports up to 64ch), two ADAT inputs and two outputs (each supports up to 16ch), and one S/PDIF input and one output. For connecting to your PC or Mac, you can either use the Thunderbolt connection or the USB 2.0 Type-B. Thunderbolt connection is recommended since it supports up to 64ch. USB 2.0 Type-B supports only 32 channels but, in some situations, it may be less than that due to the bandwidth limitations some motherboards have regarding the USB 2.0 connection. This, of course, can be easily fixed with a dedicated PCIe USB 2.0 expansion card. Another thing we must not forget is the fourth generation of Acoustically Focused Clocking technology. Thanks to this technology, Orion 32+ Gen 3 supports sample rates of up to 192kHz.
Like all the other Antelope Audio interfaces, Orion 32+ Generation 3 comes with a software that's compatible with Windows 10 64bit (it may also be compatible with Windows 7 and 8, but it's not tested for these OS) and with Mac OS 10.1 and later. This software tool gives you access to routing matrix, mixers, and Antelope's FPGA Effects Platform with more than 35 classic equalizers and compressors for advanced effects processing. The software has its quirks but once you master it, you'll be very happy with the number of different options this control panel gives you. Some people may not like the fact that many effects are not included in the bundle and that you have to buy them separately but the included EQs and compressors are still more than enough, even for professional users.
Price may also be an issue to some people, but we assure you that you can't get anything better, more versatile, and more capable at this price point. Orion 32+ Generation 3 is your best choice if you're looking for an audio interface under $3,000. It's perfect for professional studio use and for recording at home.
More than affordable price for the given quality and performance (excellent value for money)

64 channels to your Mac/PC/DAW (via Thunderbolt)

Extremely low-latency monitoring

Amazing number of analog and digital inputs and outputs (D-SUB 25, ¼in, MADI, ADAT, S/PDIF)

USB Type-B backup connection (32channels max)

Flexible mixing and routing

AFX system offers numerous EQ emulators and vintage compressors
Thunderbolt cable is not included in the package (only USB Type-B)

Lacks USB Type-C connection

Lower number of available channels and higher latency over USB

Many effects are not included in the AFX range and are sold separately
Orion 32+ Generation 3 is a magnificent audio interface with a performance that significantly exceeds the price tag. This device can easily compete with much more expensive audio interfaces. The biggest selling points are extremely low-latency performance (especially over Thunderbolt connection), an amazing number of available channels via analog and digital inputs/outputs, impressive AD/DA capabilities, and a user-friendly control panel with onboard mixers and real-time effects. If you are looking for the best audio interface under $3,000, Orion 32+ Generation 3 is the answer.
Antelope Audio Orion 32+ Generation 3 – Official Video
What's in the box?
Orion 32+ Gen 3 comes nicely packed and protected. The packaging also contains the power cable, USB 2.0 cable (Type-B to Type-A), user manual, and a warranty card. For some reason, Thunderbolt cable (which is the preferred connection type) is not included and you have to buy it separately.
Official Unboxing Video
Specs
Orion 32+ Generation 3 Specifications
DIMENSIONS
Width
19in
Height 
1.75in
Depth
8.66in
Weight
6.6lb
ANALOG
Inputs
D-SUB 25 x4, 32ch
Outputs
D-SUB 25 x4, 32ch

¼in monitor out jacks x2
D/A Monitor Converter
Dynamic Range
129dB
THD
-108dB
A/D Converter
Dynamic Range
121dB
THD
-112dB
D/A Converter
Dynamic Range
120dB
THD
-107dB
DIGITAL
Inputs
MADI fiber optics x1 (up to 64ch)

ADAT x2 (up to 16ch)

S/PDIF x1
Outputs
MADI fiber optics x1 (up to 64ch)

ADAT x2 (up to 16ch)

S/PDIF x1
USB I/O
USB 2.0 Type B

Max data stream – 480Mbit/192kHz

Max number of channels – 32
Thunderbolt
Thunderbolt connection x1

Max number of channels – 64
CLOCKING
Clocking system
4th GEN, Acoustically Focused, Oven-Controlled Crystal Oscillator, 64bit DDS
Clock Aging
Less than 1ppm/year
Word Clock Input
x1 at 75Ω, BNC: 32kHz-192kHz
Word Clock Output
x2 at 75Ω, BNC: 32kHz-192kHz
Design
Antelope Audio Orion 32+ Generation 3 is a compact and slim device (1U unit size). The housing is made of metal and it's rock-solid.
On the front, there's a red anodized power button, 3 LED indicators for the clocking source (internal oven clock, external source, or Antelope's 10M clock), sample frequency selectors (up and down buttons), a small display (shows sample frequency and menu), and 5 preset buttons. The preset buttons can be used for saving the most common settings (for tracking a guitar player, tracking a drummer, tracking a vocalist, for mixing, etc.).
On the rear panel, you have 32 channels of analog I/O over D-SUB 25, 16 channels of I/O over optical, MADI I/O (with up to 64ch), Thunderbolt and USB Type-B connectors (for connecting your Mac or PC), ¼in monitor outputs, S/PDIF IN and OUT, Word Clock IN and OUT, 10M IN, and Word Clock IN.
Front and rear panels
Features
As mentioned earlier, some of the biggest selling points are the available connections, intuitive control panel, acoustically-focused clocking, extremely low latency, and exceptional AD/DA converting capabilities. The manufacturer is also very proud of its pack of real-time effects (FPGA FX platform).
Feature overview
As discussed in the introduction, Orion 32+ Gen 3 is packed with all kinds of inputs. It supports 64 channels over Thunderbolt or up to 32 channels over USB Type-B 2.0. Thanks to 4 D-SUB 25 input and four output ports, this audio interface can handle 32 analog input audio channels and 32 output channels. Along with analog inputs/outputs, you have multiple digital inputs/outputs including MADI connectors (one input, one output), ADAT connectors (2 inputs, 2 outputs), and S/PDIF connectors (one input, one output). Each channel supports 24bit/192kHz sample rates.
The unit features mastering-grade AD/DA converters, responsible for an improved dynamic range (up to 129dB for D/A monitor converter). The unit also enables monitoring with minimal latency and it features the fourth generation of Acoustically Focused Clocking, which provides you with perfectly naturally-sounding music and flawless clocking accuracy.
The unit comes with a recognizable Antelope Audio desktop app (control panel) for routing, mixing, and processing effects. This interface is available for both Mac and Windows OS. It consists of three main tabs – routing matrix, mixer, and effects (AFX).
The first screen you're going to see is a color-coded virtual patch bay (routing matrix). All the inputs are in the top half of the screen and all the outputs are in the bottom half. There're separate PLAY and REC paths for USB and for Thunderbolt. Also, there's a separate path for each physical analog and digital input/output. You can connect inputs to outputs or multiple inputs to different outputs by clicking and dropping the inputs (or blocks of inputs) to the appropriate outputs. It's pretty intuitive and hassle-free.
Flexible routing matrix
The second tab is reserved for mixing. There are four channels for the mixers and the first one allows you to apply the global reverb.
One of the most interesting features is the included bundle of real-time effects and vintage audio gear emulators (compressors and EQs). The bundle includes six free real-time effect plugins from the Antelope's AFX library – POWERFFC (feed-forward compressor), Clear Q (parametric EQ emulator), PowerEX (in-home expander), Auraverb (software-based reverb), Master De-Esser – (de-esser plugin for eliminating sibilant consonants), and PowerGate (noise gate plugin for eliminating unwanted background noise).
The range of available effects also includes vintage studio hardware emulators – there are 15 classic compressors and 19 EQs. Some of the emulated hardware units are BA-6A tube compressor/limiting amp, Lang PEQ2 (parametric EQ), Grove Hill Audio Liverpool (tube compressor), Tube 176 compressor/limiting amp, etc.
There's a bunch of other AFX plugins in the Antelope's Audio AFX library but you have to pay for them. The price varies from $55 to $95. In the AFX Library, you will also find the Antelope's AFX2DAW (priced at $195). This plugin will allow you to use all the Antelope FX in your DAW.
The effect processing runs on hardware within the unit and doesn't require the of use your computer's CPU, which gives you more freedom and unloads the burden from your PC.
The AFX plugins are present on 16 channels, while the AuraVerb plugin has a dedicated place in the first mixer channel.
Setup and Performance
Orion 32+ Generation 3 is not exactly plug-and-play device but the setup process is pretty quick if you know what you're doing. Even if you're new to the Antelope Audio equipment, or to audio interfaces in general, you should be able to set everything up in less than 20mins.
First, you have to download the driver and the software launcher from the Antelope's download page and install them (first, the driver, and then the Launcher). During the process, you will have to disconnect the unit or restart your computer (after the driver installation), and to activate your Antelope account and the product. After you activate the product, the control panel will appear and, after you install the updates, the control panel will be ready to use. Just remember to make changes in your DAW (select the Orion 32+ Gen 3 as your input and output in the DAW's audio settings). If you're using the Thunderbolt connection, you should also change the default routing on the monitor outs (from USB PLAY OUT 1 and 2 to Thunderbolt TB PLAY OUT 1 and 2). After this procedure, you can start using all of the unit's routing and converting capabilities.
Quick Setup Guide
One annoying thing about the control panel is that it asks you to install the updates quite often. The updates are not mandatory but those popup dialog windows are still distracting.
As discussed previously, routing and mixing through the control panel is quite easy and intuitive. The color-coded routing scheme allows you to quickly find the right input/output,
One thing to be aware of is that the number of channels (REC and PLAY points) when using the USB 2.0 connection is not 64. The max number of channels for the USB connection is 32 and with some PC builds less than 32, due to the USB 2.0 bandwidth limitations in some chipsets. OS X builds rarely suffer from this. The default number of USB channels is 32. In some cases, you will be prompted to use 24, but that won't be the case on all computers.
The control panel offers a lot of flexibility when it comes to routing, mixing, and playing with the effects. You can basically route any input to any output, make multiple monitor mixes, etc.
Routing Capabilities of Orion 32+
The latency during the AD/DA conversion and monitoring is extremely low and it's impossible to notice. In some cases (when using Thunderbolt connection) it's lower than a millisecond.
The audio output of the Orion 32+ Generation 3 is impressive. Every recording captured with this unit sounds very professional, practically impeccable.
Final Thoughts
Like all the Antelope's audio gear, Orion 32+ Generation 3 offers high-end performance, impeccable audio quality, and an amazing feature set at an affordable price. It has an enormous number of connections (both analog and digital), it can process up to 64 channels simultaneously (over Thunderbolt), it allows flexible routing through its desktop app, it features world-class AD/DA converters, it enables extremely low-latency monitoring, and it allows you to use mixers and a wide range of real-time effects. If your budget limit is set at $3,000, there's no better option than Orion 32+ Generation 3.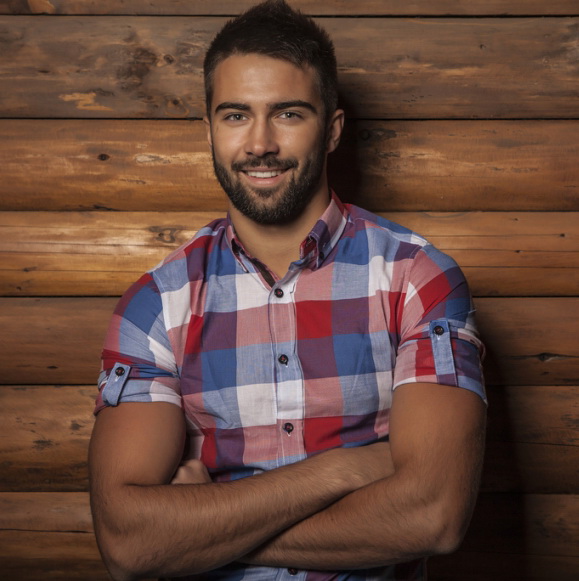 Hello, my name is James Longman.
I'm a writer and editor at AudioReputation. I disassembled my first portable AM/FM radio when I was only 8. At the age of 11, I burned the circuit board on my old boombox cassette player. I'm not going to explain how but it was reckless and stupid.
Since then, I have become much more careful around radios, boomboxes, and other audio devices (at least, I like to think so) but I have never lost the passion for audio equipment. Throughout 20 years of my professional career, I've been working for various audio equipment manufacturers and even started building speakers on my own in my little workshop.
I love the work we do here at AudioReputation. Testing, comparing, and evaluating all kinds of audio devices (speakers, soundbars, headphones, home theater systems, etc.) is something I truly enjoy. I try to be unbiased and give you my honest opinion on every piece of equipment I test. Still, you should take my reviews with a pinch of salt and always be just a little bit skeptical. The fact that I liked some speaker or soundbar doesn't mean that you are going to love it. If you have the opportunity, you should test it/hear it before buying it.