AudioReputation is reader-supported. When you buy through links on our site, we may earn an affiliate commission Learn More
AudioEngine has been in the audio industry for quite some time and they've been known for making high-quality products, mostly powered bookshelf/desktop speakers. Their first powered speaker A5 was a big hit. Then, they upgraded it to AudioEngine A5+ which is still one of the AudioEngine's bestsellers.
AudioEngine A5+ wireless 2.0 speaker system is the upgraded version of the A5+ Classic. The most noticeable difference between the two is the wireless connectivity. A5+ Wireless has a built-in Bluetooth module and can be wirelessly connected to any Bluetooth-enabled device. A5+ Classic didn't have this ability, but there was a way to make it wireless by connecting it to the AudioEngine B1 Bluetooth receiver. In a way, A5+ Wireless is the A5 Classic with a built-in B1 receiver.
The second difference between the A5+ Classic and A5+ Wireless is the tweeter position. They both feature the same tweeters and woofers, but the A5+ Classic has the tweeter positioned slightly off-center, while the A5+ wireless speaker system has a centered tweeter (tweeter is aligned with the woofer).
A5+ wireless speakers have that familiar studio monitor design, but they were not designed to be used in studios. These are relatively small bookshelf speakers and can be used as your desktop/PC speakers. They can be connected to your laptop, to your phone, mp3 player (3.5mm), to your turntable (RCA), and even to your TV (if it has analog (3.5mm, RCA) inputs).
The greatest highlight is, as you could assume, the sound. For a small bookshelf speaker system, A5+ wireless speakers deliver a striking performance. Thanks to 5in aramid fiber woofers and 0.75in silk dome tweeters, this system can reproduce a large range of frequencies with impressive authority and accuracy. The only problem (sound wise) are those really low sub-bass frequencies. It would be unreasonable to expect these small speakers to achieve that kind of impact. It is definitely recommended to pair this 2.0 system with some nice subwoofer. If you want to pair them with the AudioEngine sub, the only available option is the AudioEngine S8, but you can also pair it with some other powered subwoofer with RCA inputs.
The other important highlight is the Bluetooth connectivity. This is one of the rare speaker systems on the market featuring Bluetooth 5.0. This is the latest Bluetooth version and allows an extended range (not standard 33ft), faster data rate, and better connection and audio quality than any previous version. It also features the latest generation of apt X codec (aptX HD) which reduces the audio latency below 30ms.
The only real flaw of this 2.0 system is that there are no digital inputs. Adding one digital optical input would be a huge improvement, but we will have to wait for the new upgrade to see this feature.
At $500 price tag, AudioEngine A5+ wireless speaker system has to compete with many other bookshelf speakers (KEF, Edifier, ELAC, Yamaha, Sony, Polk, Dynaudio, Klipsch, Fluance, Definitive Technology). In this review, we will try to list and explain all the upsides, as well as downsides of the A5+ wireless speaker system so you can compare it with others. In our opinion, the A5+ wireless speaker system is one of the top 5 powered bookshelf speaker systems on the market.
Simple yet elegant design

Self-powered – doesn't require an amp, receiver or any other equipment

Simple and fast installation (all the cables included)

Relatively small footprint

Input versatility – Bluetooth/3.5mm/RCA inputs

Subwoofer output port

It features Bluetooth AptX HD and a built-in 24-bit DAC

Impressive audio performance for its size – nice mid-bass, perfect balance across the whole audible frequency spectrum, great clarity, airy soundstage, great separation
No digital inputs

Lacks input switch/button
AudioEngine A5+ Wireless is an amazing 2.0 speaker system. The system's audio performance is almost flawless and the only problem, in terms of audio reproduction, is the sub-bass reproduction. You should definitely consider combining these two speakers with a subwoofer. The system is very versatile – it allows you to connect all kinds of analog inputs and to stream music wirelessly via Bluetooth. The biggest issue is the lack of digital inputs and if you absolutely need them, you should look elsewhere.
What's in the box?
Inside the box, you will find your two speakers, each packed inside a cloth pouch that protects the finish from scratches. You will also get a pouch with all the necessary cables (2m-long RCA to RCA cable, 2m-long AUX cable, 3.75m-long 16-gauge speaker wire with banana plugs, detachable power cable), detachable wireless/Bluetooth antenna, remote, setup guide, and a 3-year warranty. The manufacturer included all the necessary installation equipment so you don't have to buy anything else to make them work. That kind of care and attention to details deserves some praise.
Speaker stands and all the optional equipment are sold separately.
Box contents
AudioEngine A5+ Specifications
DIMENSIONS
Width
7in
Height
10.75in
Depth
Left – 9in / Right – 7.75in
Weight
Left – 15.4 pounds / Right – 9.6 pounds
DRIVERS
Midrange woofers
5in x1, aramid fiber with rubber surrounds
Tweeters
0.75in x1, silk dome with Neodymium magnets
ENCLOSURE TYPE
Ported
POWERING OPTIONS
AC power cable
CONNECTIONS
3.5mm, RCA inputs, subwoofer output, Bluetooth
BLUETOOTH DETAILS
Bluetooth version
Bluetooth 5.0
Supported profiles
A2DP, AVRCP
Supported codecs
AAC, SBC, aptX, aptX low latency, aptX HD
NFC
No
Bluetooth range
Up to 100ft
Daisy chaining
No
Multipoint pairing
No
OTHER TECHNICAL DETAILS
Frequency response
50Hz to 22kHz (+/- 1.5dB)
Output power Peak/RMS
150W/100W
Sound to Noise Ratio
>95dB
THD
Less than 0.05%
ADDITIONAL FEATURES
Built-in monolithic class AB amps

Built-in 24-bit DAC

Variable/switchable input voltage (115V/240V)

Overheat protection

Subwoofer output
Design
AudioEngine A5+ wireless speakers feature simple boxy design, but they still look attractive. Those rounded edges, the lack of excessive branding, and the lack of unnecessary flashy details make it quite sophisticated. The speakers are available in three colors – satin black, glossy white, and solid carbonized bamboo.
AudioEngine A5+ wireless speakers are available in three colors
Each speaker features rubber covers on the bottom panel that keep them in place. Also, there's a threaded screw mount in case you want to mount them on a wall.
On the front panel of the left speaker (which is the main speaker because it features all the inputs), there is one woofer, one tweeter, a volume knob (you can also press it to put the system to sleep mode), LED power indicator, and the IR sensor. On the front panel of the right speaker, there are only woofer and tweeter (no knobs and LED indicators). These speakers don't have any kind of protective grille. The manufacturer claims that there is practically no need for the grille because the drivers are incredibly durable.
Left (main) speaker – front panel
Left, right, and top panels are perfectly clean, without logos, brand names, or anything else on them.
All the inputs and outputs are located on the left speaker. On the rear panel, you will see the wireless antenna, Bluetooth pairing button, LED Bluetooth indicator, RCA inputs and outputs, speaker outputs (for the right/passive speaker), power switch, voltage selector (115V/240V), fuse, AC power input, and a large meat heatsink that protects the built-in amplifier from overheating.
Left (main) speaker – rear panel
On the rear panel of the right speaker, you will only see two speaker terminals (5-way binding posts).
The rear panel of the right speaker
Features
The cabinet is made of 13mm thick MDF with a veneer finish. It looks solid and very durable. Even that finish seems scratch resistant which is a plus.
Each speaker features one 5in aramid fiber woofer and one 0.75in silk dome tweeter. This kind of material selection improves the durability of the woofers/tweeters but also affects the sound and makes it more accurate and less distorted. The left speaker also features a built-in class AB amplifier which means that you don't need an external amplifier/receiver to drive the speaker system. You just have to connect two speakers together and connect the left one to some audio source.
Highlighted features
The most emphasized feature is wireless connectivity. After all, that's the biggest difference between the A5+ and A5+ Wireless. A5+ wireless speaker system features Bluetooth 5.0 which is the latest Bluetooth version and has some advantages over the older versions. The pairing is not one of them. It's a standard procedure and it takes a few seconds. The speaker is in pairing mode when you plug it in. You don't even have to press the pairing button. The first advantage is the Bluetooth range. You can be 100ft away from the speaker and stream any audio content without issues. Most Bluetooth speakers on the market have less than 30ft range. Even if there are walls between the speaker and your device, the range is not shorter than 30ft. Another advantage is the support for aptX HD Bluetooth codec, as well as the support for the earlier versions of this codec (aptX and aptX low latency). This basically means that you can watch any video on your phone and stream the audio to the speaker system without experiencing any audio delay (your audio source (phone/PC/Mac) should also support aptX Bluetooth codec in order to achieve this kind of low latency). The speaker system doesn't support multipoint pairing (only one device can be paired with the speaker system at a time) but it can remember six devices and it will automatically pair with them when they are in range.
If you prefer a wired connection, you can connect any analog audio source to this speaker system. If a device/source features 3.5mm or RCA outputs, it can be connected to one of the inputs on the left speaker. You can connect your phone, iPod, mp3 player, CD player, etc. If your TV features 3.5mm input or RCA inputs, you can also connect it to this system. Also, you can connect your turntable.
The only issue is the lack of digital audio inputs (no digital optical input, no coaxial input, no HDMI). In case you have a new TV without analog audio outputs, you would have to buy some DAC (Digital to Analog Converter) to connect the TV to this speaker system.
Also, there is no input switch (and there are no input buttons on the remote) which basically means that all the inputs are active all the time. In theory, you can play the audio from multiple sources at the same time. This is not a huge problem but could cause some static when you leave your AUX cable plugged in while streaming audio via Bluetooth.
The remote that comes with the speakers looks nice and it's very solid but it has only four buttons and allows you to adjust the volume, mute the audio, and put the speaker system to sleep mode. That's about it – no advanced settings, no bass/treble settings, no EQ presets, no input buttons. Nobody likes complex remotes, but a few more buttons wouldn't hurt.
The remote is extremely simple
Performance and Sound Quality
A5+ wireless speaker system truly shines when it comes to sound quality. Our only complaint regarding the performance is that the volume knob regulates the volume independently from your phone. Some people prefer it that way so it's not really an issue.
There is absolutely nothing to complain about when it comes to sound quality. The sound signature is close to neutral. Anything above the sub-bass to the high treble is reproduced with high accuracy and an impressive authority.
The mid-bass frequencies are punchy and impactful. They lay the perfect foundation for the mids. The bass is surprisingly powerful considering the size of the speakers.
Recommended Reading :

Low mids are slightly elevated but not overwhelming. The mids are perfectly clear and pronounced. All the vocals, male and female, are put forward and sound natural and vibrant.
There are no noticeable peaks or roll-offs when it comes to treble reproduction. Also, there's no brightness or sibilance. The treble is clear but lacks just a little bit of detail.
The only thing this speaker system can't do is the sub-bass reproduction. The 5in woofer is simply too small to go down to 10 or 20Hz. It's definitely recommended to add a matching subwoofer to this system and set the crossover to 70-80Hz.
The Competition
---
AudioEngine HD6 Wireless
In a way, AudioEngine HD6 Wireless is the upgraded version of A5+ wireless we've talked about.
HD6 wireless speaker system is $200 pricier (both come with 3-year warranty). They are just a little bit bigger than the A5+ wireless speakers and feature 5.5in aramid fiber woofers and 1in tweeters.
Compared to A5+ speakers, HD6 wireless speakers can produce just a little bit more bass, but A5+ wireless speakers deliver slightly more accurate sound.
The biggest difference between the HD6 and the A5+ Wireless is the existence of digital optical input on the HD6.
All the other features are the same on both models. They are both powered, they both feature analog inputs (3.5mm, RCA) and they both feature Bluetooth 5.0.
---
Edifier S2000 Pro
If you are looking for something slightly cheaper than the A5+ wireless speaker system, you should check out Edifier S2000 Pro. Some of the older Edifier's powered bookshelf speakers (R1280T, R1700BT, R2000DB) are very popular and highly praised by customers. S2000 Pro is one of the latest and most advanced Edifier models.
S2000 Pro features that recognizable Edifier design with the wooden panels and slightly upward-angled front baffle. The speakers are significantly larger than the A5+ wireless speakers and require more space. A5+ wireless speakers are more suitable for desktop use.
Just like the A5+, this is a 2.0 system. Each speaker features one 5.5in aluminum woofer and one 1in flat diaphragm tweeter. Their frequency response spans from 48kHz to 20kHz. The sound is pretty neutral and well-balanced but there's just a little bit more punch compared to A5+. Also, Edifier S2000 Pro is a bit louder.
S2000 Pro is more versatile when it comes to connections. It has all the analog inputs you can find on A5+ wireless speakers (3.5mm, RCA), but it also features digital optical and coaxial inputs. It's a better choice if you want to connect the speakers to your new TV.
S2000 Pro also comes with a remote. The remote looks much better and has more buttons than the A5+ remote. It allows you to choose the source and select one of the 4 EQ presets (vocal, classic, dynamic, monitor). The left (main) speaker also features bass and treble knobs so you can adjust the sound to your likings.
S2000 Pro features Bluetooth, just like the A5+ wireless speaker system, but the A5+ delivers slightly better audio quality and better range than the S2000 Pro (Bluetooth 5.0 with aptX HD compared to Bluetooth 4.0 with aptX).
---
Klipsch R-15PM
Klipsch R-15PM powered 2.0 speaker system is another cheaper alternative. It's priced under $400.
The speakers feature recognizable Klipsch design with those fancy copper woofers and Tractrix horn tweeters.
Thanks to the impressive number of inputs, the speaker system can be connected to various analog and digital sources. In terms of connection versatility, R-15PM speakers are better than A5+ wireless speakers. Besides the analog AUX and RCA inputs, these speakers feature subwoofer output, as well as digital optical input and USB audio input. The main (right) speaker also has a built-in amplifier.
R-15PM can be used as a desktop/PC speaker system but it can also be connected to your TV via digital optical input and it can be connected to your turntable. It features Bluetooth and can be wirelessly paired with Bluetooth-enabled audio sources. When it comes to audio quality in Bluetooth mode, we definitely prefer A5+ wireless speakers. R-15PM doesn't support aptX codec.
The system comes with a simple and easy-to-use remote. You can use this remote to select the source, adjust the bass response, control the playback, and adjust the volume.
R-15PM packs some really strong punch followed by the nicely balanced and detailed mids and slightly elevated highs. Just like the A5+ wireless speakers, R-15PM can't reach those sub-bass frequencies and it's recommended to add a subwoofer (R-12SW, R-10SW) if you want a better/extended bass response.
---
Comparison Table
Final Thoughts
AudioEngine A5+ wireless is a sleek and relatively small speaker system. The installation is simple and takes just a few minutes. You have all the cables included in the package and you don't need any additional equipment to drive the speakers (the main speaker has a built-in amplifier).
A5+ wireless speakers can be connected to all kinds of analog audio sources via AUX and RCA inputs. They can also be connected wirelessly to any Bluetooth-enabled device. This is one of the best wireless/Bluetooth speaker systems on the market in terms of audio quality, range, and connection stability. A5+ wireless speaker system utilizes the latest Bluetooth 5.0 with the aptX HD codec.
When it comes to sound quality, this speaker system delivers flawless performance. The speakers can't reproduce those really deep sub-bass tones, but you can solve this issue easily by adding a subwoofer to your setup.
The only thing that could be a deal breaker is the lack of digital inputs. If you want to connect your speakers to some digital audio source, A5+ wireless speakers are not the best choice. If you need digital inputs, you can always go for the more expensive AudioEngine HD6 wireless speaker system or, you can try some cheaper alternatives made by other manufacturers (like Edifier S2000 Pro and Klipsch R-15PM).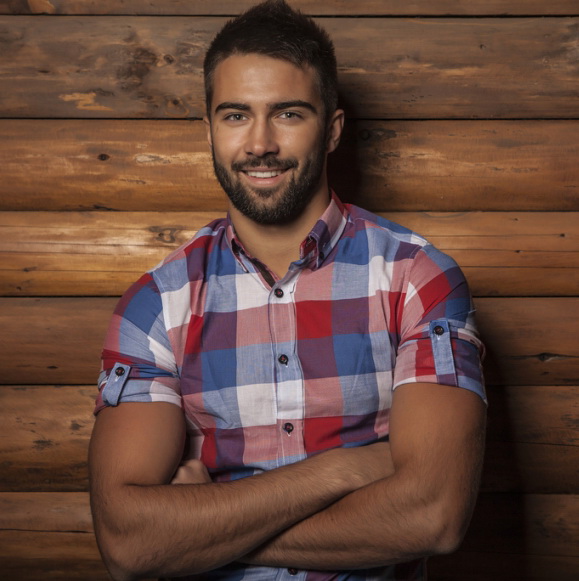 Hello, my name is James Longman.
I'm a writer and editor at AudioReputation. I disassembled my first portable AM/FM radio when I was only 8. At the age of 11, I burned the circuit board on my old boombox cassette player. I'm not going to explain how but it was reckless and stupid.
Since then, I have become much more careful around radios, boomboxes, and other audio devices (at least, I like to think so) but I have never lost the passion for audio equipment. Throughout 20 years of my professional career, I've been working for various audio equipment manufacturers and even started building speakers on my own in my little workshop.
I love the work we do here at AudioReputation. Testing, comparing, and evaluating all kinds of audio devices (speakers, soundbars, headphones, home theater systems, etc.) is something I truly enjoy. I try to be unbiased and give you my honest opinion on every piece of equipment I test. Still, you should take my reviews with a pinch of salt and always be just a little bit skeptical. The fact that I liked some speaker or soundbar doesn't mean that you are going to love it. If you have the opportunity, you should test it/hear it before buying it.