AudioReputation is reader-supported. When you buy through links on our site, we may earn an affiliate commission Learn More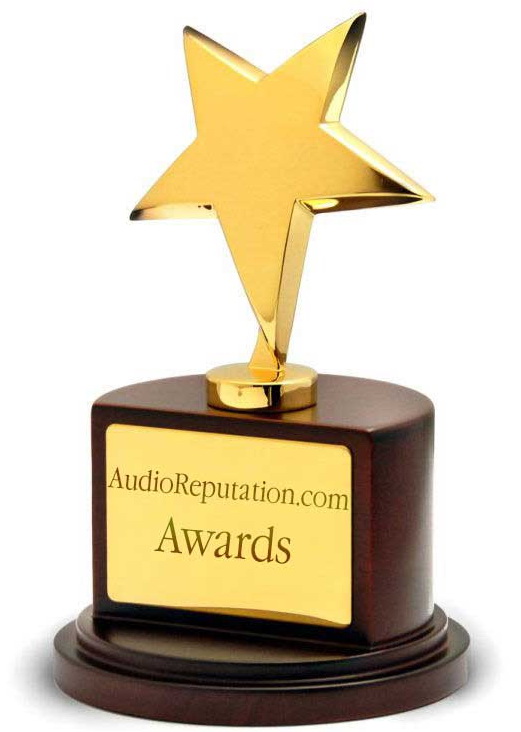 It's a common misconception that you can't get high-end audio performance from a pair of bookshelf or floorstanding speakers without spending a fortune. Even though many high-end manufacturers sell their speakers at unreasonably high prices ($5000+ or even $10.000+), you can still find a great-sounding pair of speakers with impeccable build quality and sleek design for much less. And they don't even have to be made in China. For the past few months, we've been researching the market looking for brands and speakers offering great bang for the buck. One of the brands we came across during our research is the Axiom Audio. Today, we're presenting to you the Axiom's flagship bookshelf speaker called M5HP.
Axiom Audio is a Canadian audio company based in Dwight, Ontario. For more than 30 years, they've been making all kinds of wired and wireless speakers, amplifiers, home theater systems, and speaker accessories (cables, stands, interconnects, etc.). The brand is known for making high-performing and reasonably priced audio equipment. Now, when we say reasonably priced, we don't actually mean cheap. Some of their speakers (especially towers) are quite pricey but are still much cheaper than the same-performing speakers made by other more hyped manufacturers.
M5HP is the Axiom's largest and most powerful bookshelf speaker. It's built around their high-power woofer that was originally developed for the flagship LFR1100 floorstanding speakers. HP in the M5HP actually stands for high-power and it refers to this robust 6.5 woofer. Its purpose is to unburden that smaller woofer that was previously used as a full-range driver and to enable much better overall audio quality, more linear sound reproduction, lower distortion, and wider sound dispersion.
Axiom Audio M5HP is a 3-way bookshelf speaker (the first one ever made by Axiom Audio). It features one 6.5in high-power aluminum woofer, one 5in aluminum mid-woofer, and one 1in titanium tweeter.
The design is not very unique and some people may find it a bit too ordinary and too boxy, but the build quality is absolutely impeccable and the speakers are available in many different finishes (veneer and real wood) so finding the right color for your setup will not be an issue.
When it comes to sonic performance, M5HP could easily be considered an audiophile material. A pair of these large bookshelf speakers can easily fill a large room with clear, detailed, accurate, and undistorted sound. The bass delivery is accurate, powerful, and perfectly controlled. The midrange reproduction is absolutely flawless and the vocals are clear and full. The high end is consistent, detailed, and engaging. M5HP bookshelf speakers can easily outperform much more expensive speakers.
The only two issues you may have with M5HP bookshelf speakers are the price and size. Even though they are much cheaper than other bookshelf speakers offering similar performance, they are far from something that an average guy would consider affordable. Depending on the finish, the price can go up to $1.300, while the standard versions with veneer finish are priced around $1.000. Also, the size and placement could be a problem since they are somewhat larger than the average bookshelf speakers.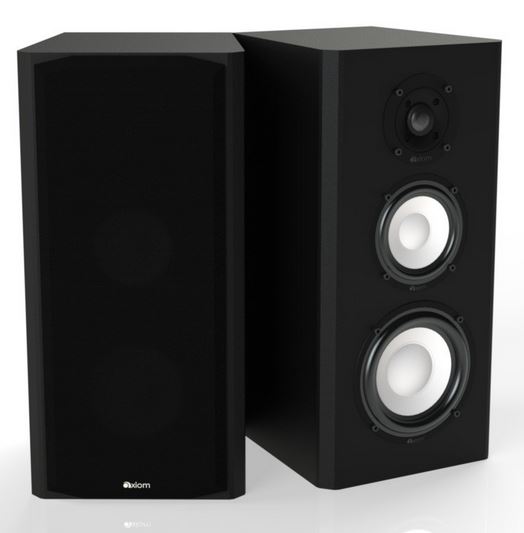 Sleek and attractive design

Impeccable build

HP (high-power) woofer

Vortex bass-reflex port

Flawless sonic performance – clear, accurate, and detailed sound with a wide soundstage, precise imaging, and extremely low distortion
Some people may still find it a bit too pricey (approx. $1.000 for a pair)

The placement could be an issue – M5HP speakers are larger than the average bookshelf speakers
M5HP is perfect for applications where you don't have enough space to fit floorstanding speakers but want the ultimate sound quality without having to spend a fortune. It's a wonderful speaker and it delivers very lifelike, clear, and neutral sound. M5HP is arguably one of the best bookshelf speakers you can get for $1.000.
What's in the box?
M5HP comes in a simple box with Axiom Audio's branding on it. Everything is nicely packed and protected. Along with the speakers, you'll get easily removable magnetic grilles, a simple user manual with the placement and hookup instructions, and Axiom's 5-year warranty.
The speaker cables and stands are sold separately. Axiom Audio offers two mounting options – full-metal FMS5 stand (floor stand) and full-metal brackets (for wall mounting). The stand is priced around $300 and the wall bracket is priced under $50.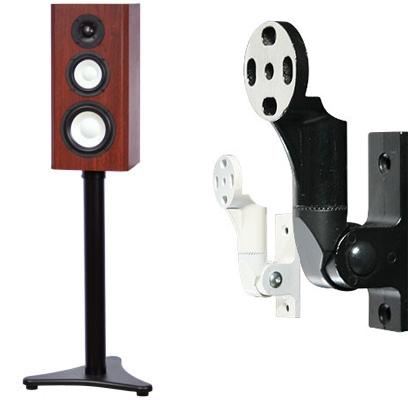 FMS5 stand and full-metal bracket (sold separately)
Specs
Axiom Audio M5HP Specifications
DIMENSIONS
Width
9.3 inches
Height
19 inches
Depth
10.5 inches
Weight
26lb each
DRIVERS
Woofers
6.5in, Aluminum x1
Mid-woofer
5.25in, Aluminum x1
Tweeters
1in, Titanium x1
ENCLOSURE TYPE
Ported, Vortex-ported cabinets
ENCLOSURE MATERIAL
Real wood
INPUTS
5-way gold-plated binding posts
CABINET FINISH
Ebony, Eggshell white, Boston Cherry, Black oak, custom
TECHNICAL DETAILS
Frequency response
45Hz to 20kHz (+/- 3dB)

30Hz to 20kHz (+3dB, -10dB)
Nominal impedance
8Ω
SPL (at 1W/1m)
Regular room – 91dB

Anechoic chamber – 87dB
Power handling
300W RMS

1200W Peak
Crossover freq.
Low-to-Mid – 250Hz

Mid-to-High – 2kHz
ADDITIONAL FEATURES
Optional full-metal wall mounting brackets

Optional FMSM5 stands
Design
M5HP features a simple boxy design. Axiom's speakers, in general, are not as flashy as speakers made by Sonus Faber, Focal, or Paradigm, but they are still quite likable. On the front, you have a nice-looking magnetic grille protecting three drivers. The cabinets are made of MDF and are ported. The Axiom's Vortex bass reflex port and 5-way binding posts are located on the back.
The speaker is available in 4 basic veneer finishes – Boston cherry, ebony, eggshell white, and black oak. You can also opt for one of 6 real wood finishes (cherry, knotty pine, maple, oak, rosewood, and walnut). The only finish you have to pay extra for is the rosewood. Furthermore, you can select the type of wood stain (6 options), the gloss finish (piano and satin low gloss), and the color of the grille (black, charcoal, and cool grey). Finally, you can select the type of inputs – standard pair of 5-way binding posts or bi-wire/bi-amp posts (2 pairs of 5-way binding posts). As you can see, there's a great number of customization options so finding the best color to match your room and furniture should not be an issue.

Four versions in veneer finish (plus numerous real wood and solid color custom finishes)
Features
The first thing you're going to notice when you open the box is the speaker size. M5HP is 19in tall, 10.5in deep, and 9.3in wide. So, it's larger than average and placement could be an issue. The best option is to place it on a stand (that you have to buy separately). So, think about the placement and do the measuring before you buy the speakers.
As mentioned, M5HP is the first Axiom's bookshelf speaker featuring a 3-way design. The speaker houses one 6.5in high-power (HP) woofer, one 5.25in mid-woofer, and one 1in titanium tweeter. Because of that 6.5in woofer, the HP is added to the original name (M5). The woofer is much heftier than the previous Axiom's 6.5in woofer you can find on older floorstanders. This one has a much thicker voice coil (1.5in), it can handle much more power, and has a greater excursion. These improvements are supposed to result in deeper and meatier bass with lower distortion.
The use of a three-way design also resulted in more linear and more accurate sound reproduction. You see, in Axiom's previous bookshelf designs, one driver was responsible for both low and mid frequencies. Adding a high-power woofer helped to unload the burden from that 5.25in aluminum cone woofer that is now responsible for midrange reproduction only. That way, the 5.25in mid-woofer doesn't have to move that much, which leads to much lower distortion. In addition, M5HP now has a much better and more powerful bass delivery, it creates a much deeper and wider soundstage, and it delivers much more detailed and more neutral sound reproduction.
The crossovers are set at 250Hz (low-to-mid) and 2.2kHz (mid-to-high). The impedance is rated at 8Ω and the sensitivity in an anechoic chamber is measured at 87dB. M5HP can handle 300W continuously (1200W peak). It can go down to 45Hz (-3dB).
Axiom's 3-way design – 6.5in HP woofer, 5.25in mid-woofer, 1in tweeter
On the back of the speaker, you will find one of the Axiom's trademarks called the Vortex port. It's basically a bass reflex port lined with some kind of dampening material. The purpose of this design is to eliminate distortion caused by the airflow around the port sidewalls. The result is much cleaner bass with a much nicer texture.
Axiom's Vortex port
At the bottom of the rear panel, there's a pair of 5-way gold-plated binding posts. You can either use bare wires, spade lugs, or banana plugs. When using spade lugs, it's recommended to use the ¼in type. As mentioned in the Design section, you can also opt for 2 pairs of binding posts in case you want to try to bi-amp/bi-wire the speaker.
Performance and Sound Quality
Now that you know all about the design, construction, and components, let's discuss the sound. For the purposes of this review, we have used two amps – Goldmund Telos 7 NextGen and PS Audio Stellar M700 Mono Amp (paired with PS Audio Stellar Gain Cell DAC). In both setups, the audio source was our Macbook Pro running on Roon. All the interconnects, USB cables, and speaker cables were from the Nordost Heimdall 2 line. The speakers were placed on the stands and the distance between them was almost 10ft.
In both setups, Axiom Audio M5HP delivered quite an enjoyable, engaging, and very balanced sound. It offered an audiophile-grade performance with an incredibly spacious soundstage and vivid and accurate imaging.
Telos 7 NextGen had no issues driving the speakers at low and mid volumes but it sounded like something was lacking at high volumes. The audio was clean, accurate, almost perfectly neutral. The bass was deep, powerful, and perfectly textured. The mids and vocals were crystal-clear and very rich in detail. The high-end was almost sparkling. But it felt like the speakers can do more than that. Like there's more to look for. That's why we decided to try a much more powerful amp.
Recommended Reading :

Connecting a pair of PS Audio's M700 monoblocks to M5HP brought the speaker performance to a whole new level. A pair of these monster amps drove the speakers with ease, even at max volume. They made the bass even thicker and more layered. M700 unraveled an impressive amount of detail in the midrange. The treble was consistent, accurate, very detailed. In one word – it was sparkling. It didn't sound bright or fatiguing. There was no sibilance or harshness of any kind.
The use of HP woofer, in our opinion, was an excellent idea. The bass delivery was so powerful yet perfectly accurate and controlled. There was no noticeable distortion, not even at max volume. The speakers handled all the low frequencies with ease. The only thing you may find lacking is that really deep low-end rumble, but that's perfectly understandable, considering the size of the driver.
The midrange clarity was exceptional. All the instruments sounded magnificent. The piano sequences were particularly impressive.
Those 1in titanium tweeters had no issues with the high-pitched tones and treble-heavy tracks. Everything sounded engaging, dynamic, and very well controlled.
Axiom Audio M5HP bookshelf speakers deliver lifelike soundstage with amazing width and depth. The separation between the instruments, singers, and backing vocalists is very good. You can effortlessly pinpoint the position of each artist in a band.
One thing we've noticed is that M5HP needs a powerful amp to show what it can do and PS Audio M700 mono amp was the perfect match. M700 can push these babies hard and it seems that they like it.
Final Thoughts
Axiom Audio M5HP bookshelf speakers are the perfect choice for those looking for an audiophile-grade sound at a reasonable price. Sure, $1.000 can hardly be considered affordable but you also have to consider the fact that they are made in Canada (not China), that the build quality is top-notch, and most importantly, that their performance can easily match and even surpass the performance of much more expensive speakers.
You can hardly find a better-sounding pair of bookshelf speakers at this price point and that's a fact.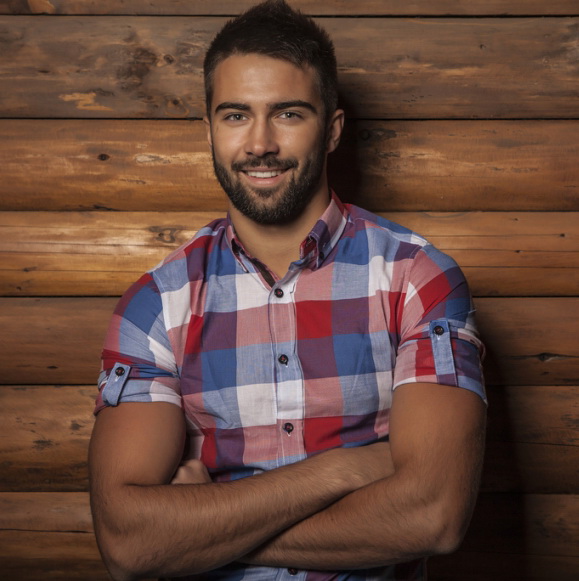 Hello, my name is James Longman.
I'm a writer and editor at AudioReputation. I disassembled my first portable AM/FM radio when I was only 8. At the age of 11, I burned the circuit board on my old boombox cassette player. I'm not going to explain how but it was reckless and stupid.
Since then, I have become much more careful around radios, boomboxes, and other audio devices (at least, I like to think so) but I have never lost the passion for audio equipment. Throughout 20 years of my professional career, I've been working for various audio equipment manufacturers and even started building speakers on my own in my little workshop.
I love the work we do here at AudioReputation. Testing, comparing, and evaluating all kinds of audio devices (speakers, soundbars, headphones, home theater systems, etc.) is something I truly enjoy. I try to be unbiased and give you my honest opinion on every piece of equipment I test. Still, you should take my reviews with a pinch of salt and always be just a little bit skeptical. The fact that I liked some speaker or soundbar doesn't mean that you are going to love it. If you have the opportunity, you should test it/hear it before buying it.