AudioReputation is reader-supported. When you buy through links on our site, we may earn an affiliate commission Learn More
Beosound Balance is the latest member of the Bang & Olufsen's line of ''flexible living'' speakers. It's a unique, artistic, compact speaker with an amazing set of smart features. It's the first smart speaker from B&O to have sound directivity and active room compensation, which are the features you can find on much pricier Bang & Olufsen speakers (like Beolab 90). And this is just the beginning. There are so many great things about this speaker and we will try to tell you all about it. So, without further delay, let's see what's so great (and what's not) about Bang & Olufsen Beosound Balance.
We'll start with the things we like. The first thing you're going to notice is the looks. Beosound Balance is a simple-looking, yet incredibly attractive speaker. The lead designer Benjamin Hubert from the LAYER DESIGN wanted it to be display-friendly. The designing team managed to make something that's very eye-catching, like a piece of art (a sculpture or a vase), but still not too flashy. Balance can fit almost any environment and any interior.
Design is just one part of the story about the B&O Beosound Balance. The most important thing is what lies beneath that beautiful enclosure. Balance is a smart wireless speaker with wi-fi (2.4GHz and 5GHz) and Bluetooth 5.0 connectivity. It also allows you to connect older pieces of audio equipment via 3.5mm/optical combo port. The speaker features multiroom capabilities (AirPlay 2 and Chromecast). It has built-in mics and you can choose whether you want Google Assistant built-in or not.
The most amazing thing, as always, is the sonic performance. B&O always tries to make a nice balance (hence the name) between the design and performance but the performance always comes first. Beosound balance has a unique driver arrangement which, in combination with proximity sensors, active room compensation, and sound directivity, allows you to suit the sonic performance to your likings (make the soundstage wider/narrower, direct the sound towards the listening position, adjust the EQ settings, etc.). It's a very powerful speaker with a big sound that surpasses the dimensions of the speaker.
The only real downside of the Beosound Balance is the price. Priced under $2,500, Beosound Balance is one of the most expensive smart wireless speakers of its size. For the price of one Beosound Balance, you can buy 5 Google Home Max speakers, up to 7 Bose Home Speakers 500, 4 SONOS Play:5 speakers, or up to 11 SONOS Play One (Gen 2) speakers. With its beautiful design, amazing feature set, and flawless sonic performance, Balance aims to attract wealthier buyers and maybe a few audiophiles and B&O fans who are crazy enough to splash that kind of money on just one speaker. Is it worth it? Well, if you are prepared to pay extra for the premium design and build and for the smart features that can only be found on much pricier speakers, then yeah – it's definitely worth the price.
Unique, eye-catching design

Premium build

Versatile connectivity – AUX/TOSLINK combo port, Ethernet ports, Wi-Fi (2.4GHz and 5GHz), Bluetooth 5.0

Multiroom capabilities (Chromecast and AirPlay 2 built-in)

Google Assistant built-in (optional)

Audiophile-grade sonic performance that exceeds the size

Customizable audio performance (sound directivity and active room compensation)
Bang & Olufsen Beosound Balance is an amazing wireless smart speaker. It may seem a little bit overpriced but all the features and its sound performance completely justify the price tag. Balance looks and sounds better than any other competitor (including Devialet Phantom line and Beosound 2).
Official video – Beosound Balance
What's in the box?
Beosound Balance comes in a premium box along with a premium fabric power cable, manuals, and a warranty card.
Box contents
Specs
Beosound Balance Specifications
DIMENSIONS
Dimeter
7.91in
Height
14.92in
Weight
15.98lb
DRIVERS
Woofers
5.25in x2
Full-range woofers
3in x2 + 2in x2
Tweeters
.75in x1
ENCLOSURE TYPE
Sealed boxes for all drivers
MATERIALS
Base – oak wood

Grille – aluminum and knitted fabric

Top and bottom panels – aluminum
BATTERY
No
POWER SUPPLY
100-240V (50Hz/60Hz)
CONNECTIONS
Ethernet port (10/100Mbit) x2

Wi-Fi (dual-band – 2.4GHz and 5GHz)

Bluetooth 5.0

Line-in/optical combo input
BLUETOOTH DETAILS
Bluetooth version
Bluetooth 5.0
Supported Bluetooth profiles
N/A
NFC
No
Bluetooth range
100ft+
TECHNICAL DETAILS
Frequency response
37Hz-23kHz
Max SPL
104dB
Amplification
Woofers – 200W x2 (Class D)

Full-range woofers – 100W x4 (Class D)

Tweeters – 80W x1 (Class D)

TOTAL – 880W (Class D)
ADDITIONAL FEATURES
Multiroom capabilities (Apple AirPlay 2 + Chromecast)

Stereo pairing (via Google Home app)

Built-in mics

Google Assistant support

Proximity sensors

Active room compensation

Sound directivity control

Tone touch
Design
According to the Balance's designers, the design was driven by the audio performance. The idea behind Beosound Balance was to achieve the best possible performance wherever you put it. So, whether you put it on a shelf by the wall or in the middle of the room, it will fill your room with precise, high-quality audio.
The designers used simple neutral forms that can be found and seen everywhere around us. They have tried to ''soften the technology'', to make it feel/look like an extension of the person using it or like the extension of the room it's placed in. They wanted to make a piece of audio that looks like a piece of ceramic or a nicely crafted piece of timber. They wanted it to look timeless.
Beosound consists of two parts – a solid oak base and a textile-covered enclosure sitting upon it. It almost looks like the top part is floating above the base unit.
Unlike some less reputable manufacturers, B&O uses real wood, pearl-blasted aluminum, premium fabric, and high-quality drivers. All these things can be found in Beosound Balance.
The speaker doesn't take too much space. It's not as tall as Beosound 2 but it's kind of chunkier. In a way, it looks like a mixture of Beosound 2 and M5.
Simple yet timeless design (source – LAYER)
The speaker comes in two versions – natural oak with sand knitted fabric and black oak with anthracite knitted fabric.
Available in two colors – natural oak and black oak
On the top, you have a pearl-blasted aluminum panel with backlit touch-sensitive controls. You can use them to control the playback (play/pause, next/previous), adjust the volume (swipe along the line), enable/disable Bluetooth, turn on/off the mics, and assign functions to those four favorite buttons (in case you have Google Assistant built-in).
Top panel
On the bottom, you have a concealed compartment with all the connections including power input, two Ethernet ports, AUX/TOSLINK combo input, USB-C port, and a mic on/off switch (in case you want to disable the mics permanently).
Bottom panel
Features
Design is only one side of the story when it comes to B&O products and, believe it or not, it's a slightly less important side. The main goal of the B&O team is to provide the best possible user experience and amazing listening experience. Balance truly shines when it comes to the features.
First of all, Beosound Balance allows you to connect wired audio sources (AUX/RCA/optical) or to stream music wirelessly. As far as wireless connectivity is concerned, you can choose between dual-band wi-fi connection (2.4GHz and 5GHz) and Bluetooth 5.0. You can also use the wired Ethernet connection if you want more reliable performance.
Google Voice Assistant is an optional feature so you can choose whether you want it or not. If you like controlling everything with your voice, then go for it. If you are too paranoid, ask for a speaker without Google Assistant.
The control scheme is simple and super-easy to use. You will master the controls in no time. The speaker comes with the upgraded B&O app (Android and iOS). The app is used for the initial setup, software updates, and for certain sound customizations.
Bang & Olufsen changed the approach when it comes to multiroom streaming. Instead of using Beolink multiroom like on some previous speaker, the manufacturer opted for Chromecast and AirPlay 2 because they are more common and allow you to combine Balance with other multiroom speakers made by other manufacturers. All the future B&O smart speakers will support Chromecast and Airplay 2. Since the speaker doesn't feature Beolink, you can't use the B&O app to join a multiroom system – you are supposed to use the Google Home app or the Airplay-enabled device with iOS 11.4 or higher. When using Chromecast, you can pair two Beosound Balance speakers in stereo mode (you have to use the Google Home app).
The most interesting thing about Beosound Balance is the driver arrangement and all the things this arrangement enables. The speaker houses 7 drivers – two 5.25in woofers, 4 full-range drivers (two 2in woofers and two 3in woofers), and one .75in tweeter. The base contains one up-firing woofer, while the upper part contains an opposing down-firing woofer. The other 5 drivers are located in the upper part and are arranged circularly. The two 3in woofers are located at the back and are supposed to enhance the low end. The tweeter is on the front, while the two 2in woofers are on the left and right. The combined peak power output is 880W.
Unique driver arrangement
This odd driver arrangement is one of the things responsible for such a refined and versatile sonic performance. Combining the drivers with an array of microphones on the top, advanced digital processing, and B&O app, allows you to get the best possible sonic experience wherever the speaker is located and to adjust the sound to your likings in many ways.
First of all, the B&O app will ask you, during the setup process, to measure your room and adjust the sound in accordance with the speaker's position (middle of the room/against the wall) and your room's acoustic characteristics. This feature is called active room compensation. After the initial installation, you can make further adjustments – change the directivity of the sound or change the entire sound signature. When it comes to directivity, you can choose between omnidirectional sound (360°) or you can make it more directional (coming from the left, right or front).
Sound directivity control through beam-forming technology
Setup and Performance
The setup process is fairly simple and it's done in just a few minutes. You just have to download the B&O app and follow the instructions.
When you connect the Balance to the power supply, the center button (play/pause) will flash white for a few seconds. When it changes to orange, you can open the app and start the setup. If you are opening the app for the first time, it will ask you to enter the wi-fi password and update the software. After that, you have to select the product you want to set up and start the installation. The next step is active room compensation. You can skip it but it's recommended to let the speaker calibrate the sound. The speaker will play a tone, it will measure the room characteristics and adjust the sound signature. After the room compensation is done, you can start using your speaker.
Initial setup (B&O app)
To control the speaker, you can use the controls on the top or voice commands (if the speaker features Google Assistant). The touch-sensitive panel is super-simple – you can tap it to play/pause, swipe along the line to control the volume, tap on the arrows to play next/previous song, turn the Bluetooth on/off by tapping the Bluetooth button.
When using Google Assistant, you can trigger it by saying ''Hey, Google'' or ''Ok, Google'', just like any Google Home speaker. You can also press the mic button and say your command.
If you want to temporarily mute the mics, long-press the mic button. If you want to disable mics permanently, use the mic switch on the bottom of the speaker.
On the top, you will also see four ''favorite'' buttons. You can use these buttons to save your favorite settings or common Google queries. To save a favorite/preset, long-press the button and say the command.
As mentioned in the previous section, Beosound Balance allows you to play with sound directivity (360° sound or focused sound coming from the left, right or front). You can also play with the visual EQ settings.
Sound Adjustments – EQ settings and sound directivity
Balance provides a perfectly reliable experience whether you are using Wi-Fi or Bluetooth. Bluetooth range is, naturally, shorter than the Wi-Fi range, but it extends well over 50ft which is much better than the average Bluetooth speaker.
Making a multiroom system is done in seconds. For that, you have to use the Google Home app (if other speakers support Chromecast) or a device with iOS 11.4 or higher (if other speakers support AirPlay 2). When using Chromecast-enabled speakers, you can pair two and use them in stereo mode. However, pairing two Beosound Balance will cost you at least $4,500.
Sound Quality
Even though it looks so beautiful and has so many smart features, the biggest highlight of the Beosound Balance is the sound reproduction.
I know people say this way too often, but Beosound Balance sounds much bigger than it actually is. When the speaker is sitting in the middle of the room, it creates such an enveloping soundstage. When placed in the corner, the soundstage is not that huge, but the bass extension is much bigger.
The low end is powerful and has a depth and texture you would never expect from such a small thing. It never gets overwhelming and it doesn't sound distorted, even at max volume. However, the bass somehow becomes thinner at higher volumes. Maybe that has something to do with smart signal processing – the DSP chip prevents the speaker from distorting the sound by lowering the bass response by a few dB.
Recommended Reading :

The midrange is particularly impressive. It's dynamic and detailed. The clarity, especially when it comes to vocals, is simply amazing. The midrange reproduction is definitely the biggest highlight.
The treble is consistent and fairly detailed. There's a little bit of brightness when treble-heavy songs are played, but it's not disturbing and it doesn't affect the overall experience.
Overall, Beosound Balance delivers a very musical and entertaining listening experience. It gets pretty loud (105dB – max SPL) and it never gets distorted.
Final Thoughts
There's a lot to like about B&O Beosound Balance and only one thing to hate. Its timeless design, an amazing set of features, and flawless sonic performance make it one of the most desirable wireless smart speakers on the market. Unfortunately, due to such a high price, most people can only dream about having it. If you, however, have enough money and are willing to spend it on a piece of audio equipment, you should give it a try. It will blow you away.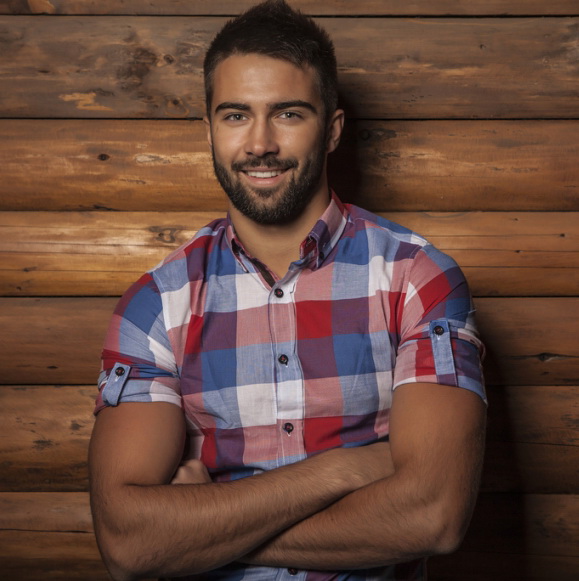 Hello, my name is James Longman.
I'm a writer and editor at AudioReputation. I disassembled my first portable AM/FM radio when I was only 8. At the age of 11, I burned the circuit board on my old boombox cassette player. I'm not going to explain how but it was reckless and stupid.
Since then, I have become much more careful around radios, boomboxes, and other audio devices (at least, I like to think so) but I have never lost the passion for audio equipment. Throughout 20 years of my professional career, I've been working for various audio equipment manufacturers and even started building speakers on my own in my little workshop.
I love the work we do here at AudioReputation. Testing, comparing, and evaluating all kinds of audio devices (speakers, soundbars, headphones, home theater systems, etc.) is something I truly enjoy. I try to be unbiased and give you my honest opinion on every piece of equipment I test. Still, you should take my reviews with a pinch of salt and always be just a little bit skeptical. The fact that I liked some speaker or soundbar doesn't mean that you are going to love it. If you have the opportunity, you should test it/hear it before buying it.