AudioReputation is reader-supported. When you buy through links on our site, we may earn an affiliate commission Learn More
Amiron Home high-end headphones by Beyerdynamic are one of the most enjoyable and exciting headphones we've ever reviewed. They don't have all those fancy features like Bluetooth connectivity, built-in controls, or built-in mic. They are all about the sound and comfort. Keep reading our review and find out what's so special about them.
Beyerdynamic is a famous German audio equipment manufacturer. Some of their products, especially studio headphones like DT 990 PRO or DT 1990 PRO are very popular and highly rated by the professionals and audiophiles. Their high-end headphones are one of the best on the market and we are about to review their last year's high-end stereo headphone model Amiron Home.
These headphones are designed for home use. This is actually one of the first headphone models made by Beyerdynamic that has a real name. As you probably know, most of the Beyerdynamic headphones have names that look like codes – DT 770, DT 990 PRO, T5p, T1, etc., but these headphones have a cool and recognizable name. That's a nice change.
Amiron Home headphones are made for audiophiles (you could've probably guessed that already). They deliver a unique listening experience. The sound is not perfectly neutral but it is very pleasant and enjoyable. The headphones are incredibly comfortable and can be used for hours.
When it comes to negatives, you should know that these are not the best choice for outdoor use (because of the long cable and loose fit) and that they really require some power in order to show their full potential (because of 250Ω impedance).
Beyerdynamic Amiron Home High-End Stereo Headphones Review
The Beyerdynamic Amiron Home Headphones are premium headphones that deliver a high-fidelity sound experience. They feature a comfortable, ergonomic design and advanced driver technology. Perfect for audiophiles and music enthusiasts who want to experience the full range of sound in their music collection. The build quality is robust, sleek, and elegant.
Great overall build quality
Very comfortable – you can use them for hours without feeling any fatigue
Detachable double-sided cable
Unique and enjoyable sound signature (not perfectly neutral but very pleasant and relaxing)
Loose fit
Quite demanding in terms of power
Very large
Poor noise isolation and sound leakage
Amiron Home headphones are truly amazing and offer an enjoyable and entertaining listening experience. If you have that kind of money (approx. $600) and you are ready to spend it on a pair of audiophile headphones, you won't regret buying these. You should also be prepared for some additional costs unless you already have some headphone amplifier.
Official video – Beyerdynamic Amiron Home
What's in the box?
The headphones come in a nice box but the packaging doesn't really look that premium. Inside the box, you will find a huge carrying case. The headphones and all the equipment are inside the carrying case. Along with the headphones, you will get one 3m long detachable double-sided audio cable with two 3.5mm gold-plated jacks on one side (one for each earcup), and one 3.5mm gold-plated jack on the other side. You will also get one ¼-inch adapter and 2-year warranty.
Box contents
Specs
| Beyerdynamic Amiron Home Specifications | |
| --- | --- |
| DIMENSIONS | |
| Weight | 12oz |
| TYPE | Over-ear, Open-back |
| MATERIAL | Plastic (earcups), metal (headband), Alcantara (earpads and headband) |
| DRIVERS | 45mm Neodymium Tesla drivers |
| CONNECTIONS | Audio cable with 3.5mm and 6.35mm gold-plated jacks |
| OTHER TECHNICAL DETAILS | |
| Frequency response | 5Hz to 40kHz |
| Impedance | 250Ω |
| Nominal SPL | 102dB (at 1mW/500Hz) |
| Max SPL | 125dB |
| THD | Less than 0.05% |
| ADDITIONAL FEATURES | Carrying case |
Design and Features
Amiron Home headphones feature that recognizable Beyerdynamic design. Beyerdynamic uses different materials for the headband and for the earpads and they also use different drivers/transducers but the basic shape of Beyerdynamic headphones is always the same (see the picture below).
Recognizable Beyerdynamic design
Amiron Home are open-back headphones. The earcups are made of plastic and the openings on the front/outer side of each earcup are covered with a nice-looking grille with a Beyerdynamic logo in the middle. The earcups are circular which is another thing all the Beyerdynamic headphones have in common. If you prefer oval earcup and earpad shape, you might want to try Sennheiser instead of Beyerdynamic. The earcups can swivel up and down but they cannot rotate. Also, the headphones are not foldable.
The earcups have grilles (open-back headphones) with the Beyerdynamic logo in the middle
The hinges connecting the earcups to the headband are made of metal, just like the headband itself. The overall build quality is quite impressive. They look like they can last for years.
The hinges and the headband are made of metal
The earpads are circular and really large. The earpad cavity is more than large and deep enough. Even if you have really large ears, the fit will not be an issue. The earpads are made of Alcantara microfibre and padding for the headband is made of Alcantara microvelour. It's not like we know the difference between the microfibre and microvelour but they are supposed to offer an incredible amount of comfort and to be ''velvety soft''. We will discuss the comfort and fit in the next section.
Softly padded earpads…
and headband
On the bottom of each earcup, there's the AUX input. The cable that comes with the headphones is really long which is both, good and bad. It's long enough to allow you to connect the headphones to your hi-fi system, lay down on your bed, relax, and enjoy your favorite songs. It's also bad since you could trip over it and it's kind of impossible to take the headphones outdoors. It's really hard to walk around with a 3m cable.
Detachable double-sided cable
Performance
Our first topic are the power requirements. In order to drive these headphones, you are going to need a headphone amplifier, preferably some high-end amp. Something like an older Beyerdynamic amp A20 or a new flagship model A2 will help your headphones reach their full potential.
We have already mentioned all the things the manufacturer did to make the headphones comfortable (Alcantara paddings, swiveling earcups, adjustable headband) and the results are amazing. The cushions are heavenly soft and offer an astonishing amount of comfort. On top of all that, the clamping force is minimal, almost nonexistent. That could also be considered a bad thing since they are kind of loose, especially if you have a smaller head. If you move your head too quickly, they will fall off or slip but since you are supposed to use them in your home while relaxing, that should not be a huge issue. Also, that kind of loose fit was probably the idea from the very beginning since they are made for home use and they are supposed to be really comfortable, even after hours of use.
In terms of removing/replacing parts, Amiron Home headphones are not easy to operate. We have tried to remove the earpads and it was really hard. We are not sure if there's an easy way to do this or not, and you will have to be really patient and try not to break something.
Sound Quality
We have finally come to the most important thing. Amiron Home headphones are made of high-quality materials and they are truly comfortable but what really makes them special (and expensive) is the sound quality. They are truly an audiophile material.
Amiron Home headphones use the same type of drivers as one of the most appreciated studio headphones made by Beyerdynamic DT 1990 PRO. These are 45mm Neodymium drivers with Beyerdynamic's Tesla technology. There are some noticeable differences between the two models when it comes to design, earcup grille, and earpads. All these subtle details make the sound slightly different but equally (if not more) enjoyable.
An inexperienced ear would probably perceive the sound signature as clean and neutral but it actually isn't perfectly neutral. And we are not saying that as a bad thing. The frequency response curve is maybe slightly V-shaped but still very close to flat.
The bass is punchy and detailed but still very relaxing. There are some real quality and depth behind the bass. Still, it never gets boomy or overpowering. The border between lows and low mids is super thin but it was never crossed. The bass is perfectly controlled and it doesn't muffle the low midrange at any point. The bass response is extended and accurate but it's not boosted. It's very natural.
Recommended Reading :

Low midrange brings some really nice punch and impact and compliments the bass.
Midrange and upper midrange are a little bit recessed but still very detailed and rich. All the vocals are elevated and don't get drowned out by the instruments. They are perfectly clear. Listening to a Capella choirs and operas was an exceptional experience.
The highs are just a little bit too sharp (or too bright) for some people but it's not ear-piercing or fatiguing. If you are extremely sensitive to treble, you might not be perfectly happy but if you can survive some barely noticeable sibilance, you will be more than happy with the treble.
The soundstage is really wide, wider than with any closed back headphone model. It's quite spacious and airy. The imaging is perfectly accurate and vivid.
The only sound-related issue is sound leakage. Since they feature open-back design, Amiron Home headphones leak a substantial amount of sound. That's another thing that makes them really bad for outdoor use (besides the long cable and loose fit). Due to this open design, they also let a lot of ambient noise inside (poor noise isolation) and that's one more reason to use them indoors.
The Competition
If you are still not convinced that Amiron Home are the best headphones for you, here are some alternatives. They are all over-ear, open-back headphones and they all deliver an amazing listening experience.
---
Beyerdynamic DT 1990 PRO
We have already mentioned these. They are basically priced the same as Amiron Home (depending on the seller, they can be $100 cheaper than Amiron Home). They use the same type of 45mmm Neodymium Tesla drivers. There are some subtle differences between Amiron Home and DT 1990 PRO that affect the sound signature. DT 1990 PRO headphones are even more accurate and the frequency response curve is very close to flat.
The frequency response spans from 5Hz to 40kHz, nominal SPL is rated at 102 dB, and the impedance is 250Ω.
They produce slightly stronger clamping force and offer better stability and fit than Amiron Home. They also come with more accessories – two pairs of earpads and two 3m long single-sided cables (straight and coiled).
---
Sennheiser HD 660 S
If you prefer oval earpads over circular ones, Sennheiser HD 660 S headphones are a perfect choice. These are also audiophile headphones and they deliver an incredible listening experience with an accurate reproduction across an extended range of frequencies. The headphones are very comfortable and offer better fit and stability than Amiron Home. They are also lighter (9.17oz compared to 12.8oz) which additionally improves the comfort. HD 660 S headphones come with 2 detachable double-sided cables. The only problem is that the cables are proprietary (4.4 mm Pentaconn jacks for the headphones).
The frequency response of Sennheiser HD 660 S headphones spans from 10Hz to 41kHz, nominal SPL is rated at 104dB, impedance is 150Ω, and THD is less than 0.04%.
---
HIFIMAN SUNDARA
HIFIMAN SUNDARA headphones are also an audiophile material. They are, just like Sennheiser HD 660 S, significantly cheaper than Amiron Home.
Unlike all the previously mentioned headphones, HIFIMAN SUNDARA headphones feature planar magnetic drivers. This is a relatively new technology – the drivers are significantly thinner and use different working principle than the old-school dynamic drivers. These drivers enable extended and flatter frequency response (compared to dynamic drivers), better accuracy, less distortion, and greater durability.
HIFIMAN SUNDARA headphones are very comfortable but a little bit bulky. They are slightly heavier than Amiron Home (13.1oz compared to 12.8) and comfort could be an issue for some people.
The frequency response spans from 6Hz to 75kHz, nominal SPL is rated at 94dB, and the impedance is 37Ω.
---
Comparison Table
Frequently Asked Questions
Does Beyerdynamic Amiron Home need an amp?
If you want to achieve a wider audio frequency range, then it would be best to pair your Beyerdynamic Amiron Home headphones with a DAC amplifier. This will help you receive the entire frequency range the headphones are capable of. The headphones' frequency range does not have to match that of the DAC, but the wider the better. It is up to your personal preference. 
Are Beyerdynamic headphones good for music?
The Beyerdynamic Amiron Home is one of the best high-end headphones on the market. Although it doesn't come with a lot of features, its sound quality is exceptional, and if you're an audiophile, it is a good option for you.
Are Amiron homes balanced?
No, the frequency curve  is not completely flat/neutral. However, the differences are extremely minute and barely noticeable. The bass is punchy but not overpowering and the border between the lows and low mids are very thin. The bass does not muffle the low mids art any point either. The sound quality is very natural.
Final Thoughts
Amiron Home headphones are an amazing piece of audiophile equipment. They are made of high-quality materials, they are extremely comfortable, and have a recognizable and exciting sound signature. The things that could be deal breakers for you are their bulkiness, the loose fit, and the cable which is 3m (approx. 10ft) long. The price could also be an issue since you can get similar performance from Sennheiser HD 660 S and HIFIMAN SUNDARA which are significantly cheaper. If you don't mind these downsides, Amiron Home is a perfect choice.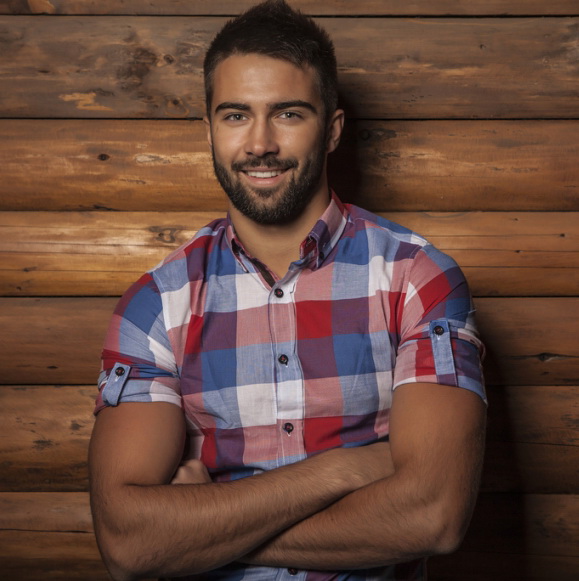 Hello, my name is James Longman.
I'm a writer and editor at AudioReputation. I disassembled my first portable AM/FM radio when I was only 8. At the age of 11, I burned the circuit board on my old boombox cassette player. I'm not going to explain how but it was reckless and stupid.
Since then, I have become much more careful around radios, boomboxes, and other audio devices (at least, I like to think so) but I have never lost the passion for audio equipment. Throughout 20 years of my professional career, I've been working for various audio equipment manufacturers and even started building speakers on my own in my little workshop.
I love the work we do here at AudioReputation. Testing, comparing, and evaluating all kinds of audio devices (speakers, soundbars, headphones, home theater systems, etc.) is something I truly enjoy. I try to be unbiased and give you my honest opinion on every piece of equipment I test. Still, you should take my reviews with a pinch of salt and always be just a little bit skeptical. The fact that I liked some speaker or soundbar doesn't mean that you are going to love it. If you have the opportunity, you should test it/hear it before buying it.