AudioReputation is reader-supported. When you buy through links on our site, we may earn an affiliate commission Learn More
If you like retro things, but still want to use the advantages modern times can give you, we have something that will blow your mind – the list of 9 best Bluetooth cassette adapters in 2023.
Let's say you drive an older car, and the music makes you enjoy your trips much more, but your car only has an old cassette player. In this case, you pretty much have only two options – either you will invest in a costly stereo system, or you will purchase an inexpensive Bluetooth cassette adapter. Of course, the cheaper solution always sounds more alluring, but it's important it does the job. So, do the Bluetooth cassette adapters do the trick? The answer is yes, but they don't only solve your main problem because they offer a lot more.
Best Bluetooth Cassette Adapters – Comparison Table
Why Should You Choose a Bluetooth Cassette Adapter?
You like your old cassette player, and when you choose a Bluetooth cassette adapter, you get to keep it and listen to your cassettes anytime you want. However, it will bring your old cassette player into the 21st century by instantly turning it into a wireless Bluetooth receiver. This will allow you to stream music from whichever modern electronic device you want, such as your phone or your Bluetooth music player. That all sounds amazing, but the installation of the Bluetooth cassette adapter must be complicated and require you to know a few things about this technology, doesn't it? No! Using this amazing device is super easy and simple, but we haven't even gotten to the best part yet.
I'm guessing that one of the reasons you have that cassette player is that you love the old times, and all the retro things. You still have a big collection of cassettes, and even if you don't listen to them all the time, they remind you of the good old times when things were simpler. Most of all, the way they look brings back good memories from the past. Well, I have a surprise for you that I know you're going to love! A Bluetooth cassette adapter looks exactly like a real cassette. You only need to pop it in, and it will automatically turn on.
---
We had your needs in mind when we tested these products, and we selected the best ones. Now it's your turn to choose one of the best Bluetooth cassette adapters in 2023 from our list.
---
Top 9 Bluetooth Cassette Adapters in 2023
1. Best Overall – Arsvita Car Audio Bluetooth
Do you have a vintage car that you wish could be a part of the 21st century without fading its classic charm? Well, this cassette adapter is your time machine. The Arsvita Cassette Adapter can easily convert your vintage cassette player into a Bluetooth receiver, which lets you play your best tunes from your smartphone, and that too without any need for an upgrade or refit.
What's in the Box
As you open the box, you'll find a Bluetooth receiver cassette adapter, a customer service card, and a product manual.
Things we like
The Arsvita Car Audio Bluetooth is compatible with almost all smartphones. This makes it very versatile for your home audio system or even your car. Seems like this cassette player has decided to leave no mark for error as it even comes with a very premium audio quality, thanks to its highly advanced audio equalization settings.
Coming to its battery life which is a deal-breaker, this Arsvita device promises to deliver a gigantic playtime of 8 hours and over 168 hours of standby time, and that too on a mere charging time of 1.5 hours.
And this is not just about music, but this device also maintains your car's authenticity, which lets you enjoy all the modern features without tweaking your gorgeous car's design.
Things we don't like
With so many positives, there are some downsides to this device as well. For starters, you don't get the feature of making a phone call which means that you'll have to switch to your phone when it comes to talking over a call while driving your car. Although this product is fantastic, some users have reported a drop in the sound quality of the device occasionally. However, you can fix it by simply resetting the device.
---
2. Best Battery – Arsvita Bluetooth Cassette Adapter
Whether you need this device for car or home audio systems, it will introduce them to the age of Bluetooth. This Bluetooth cassette adapter has all the great qualities others have, but what makes it better than the others is its amazing battery, which provides you with up to 8 hours of listening to music or taking. No matter how old your car is, you don't ever have to be bored by driving it again.
Things we like
You can control the music or answer phone calls on the receiver. It supports pretty much all devices whit Bluetooth connectivity. Enjoying music has never been easier, and this device has high-quality sound.
The built-in battery will provide you with up to eight hours of use, 168 hours of standby time, and when you need to charge it, it will be fully charged in 1.5 hours. Therefore, you get fast and stable transmission with a lot less power consumption.
This product comes with instructions and the customer service is very helpful and responsive, in case you have some problems despite it. It comes charged, so you can try it as soon as it arrives.
Arsvita Bluetooth cassette adapter is very convenient and sleek. It has a microphone, so you can answer calls even though your car hasn't had that option before. There's no need to pick up the phone, and you can talk while driving without that unnecessary hassle.
It's also very easy to pair. The connection is quite solid, so there's no signal dropping, and you'll be surprised at how loud it can be. The sound is pretty crisp, and there's no distorting while listening to loud music. There's minimal static.
We leave in an age where wires aren't necessary anymore, so why would you have the trouble of using them? That age also brings us the new purpose of cassette players, which will remind the older of the good memories, and will teach the younger about cassettes and how to put one in your cassette player. The modern times and the old times have joined together to bring us amazing devices such as Arsvita Bluetooth cassette adapter.
Things we don't like
Voice calls aren't of such a great quality since the person you're talking to has trouble hearing you. To them, it almost sounds like you're talking to them through a pillow. The instructions can be a little confusing.
---
3. Best for Old Devices – Aluratek Universal Bluetooth Cassette Adapter
Your car's cassette deck can become a Bluetooth Audio receiver once you transform it into it thanks to this Bluetooth cassette adapter. It can also bring back your Walkman's and old boomboxes into your life since it gives them Bluetooth receiving functionality. This device doesn't have a microphone, so if you're looking for one that is just for listening, not for talking, this is your best choice.
Things we like
Streaming your favorite music through the car's speakers is possible even though you have a cassette deck, and with this device, you can do it for 8 hours without stopping. That's great battery life, and you also get a USB charging cable. It charges very quickly, in less than an hour. The best part is that the device will automatically turn off after it's disconnected from the devices. It won't happen instantly when you disconnect your device but within 5 minutes. When the battery gets very low, you will notice an audible alert as well as the small LED light blinking blue and red, so you'll always know when you should charge your Bluetooth cassette adapter.
It's very easy to set it up, and you get a 1-year warranty. The sound is great with no static, and it will allow you to listen to all your favorite podcasts, music, and books on tape while you drive. It pairs very easily, and the range is surprisingly large.
You'll be glad that you don't need to replace the sound system in your car because this very convenient device gets the job done. Once you order it, it will arrive very quickly, and the customer service is very good if you happen to need any help or encounter any problems.
As for the volume, you can adjust it on your phone and on the radio. There's some gear sound, but you can remove the gears, and that will solve the problem. Your days of searching for a radio station or having to deal with bad reception are over thanks to Bluetooth cassette adapters. The connection this device has is excellent, and you'll enjoy hours and hours of your favorite music while driving your car.
Things we don't like
The adapter doesn't power up automatically when you insert it, so you have to do it manually. Another problem is that the battery life shortens over time, and the adapter isn't as loud as the others, in fact, the volume is pretty low.
---
4. DIGITNOW Car Audio Cassette Receiver
Remember those days when you could just take out your favorite mixtape and jam while driving your car? Well, it's time to bring back those memories with the DIGITNOW Car Audio Cassette Receiver, but with a twist. I say this because now you can enjoy your favorite playlist or podcast on Spotify directly from your smartphone, all while maintaining that serene vibe of your classic car.
What's in the Box
The package includes 1 Bluetooth 5.0 Receiver Cassette Adapter, a product manual, and 1 USB charging cable.
Unboxing the package, you'll come across a Bluetooth 5.0 Receiver Cassette Adapter, one USB charging cable, and a product manual.
Things we like
The DIGITNOW Car Audio Cassette Receiver is the ideal choice for you if you love a blend of old and new. This is because you can literally play your favorite music directly from your smartphone on your car's cassette deck. Isn't it amazing? On top of it, you even get a massive battery life of up to 8 hours, and that too with just a 1.5-hour charge.
Also, if you thought that this was it, you even get a stereo two-channel audio transmitter that gives you a surround sound experience. Along with this, you can even answer calls hands-free with just a single key that lets you have a safer driving experience.
Things we don't like
Although the sound quality is pretty good in this cassette adapter, you still can't expect it to perform like the modern car audio systems. For instance, some people reported that the audio output is pretty low, which makes the listeners increase their phone's volume to get to a decent listening level.
---
5. Elook Car Audio Receiver
Enough of those same tracks that keep playing on the old radio stations in your vintage car. It is time to bring the latest Taylor Swift hits on the road. How? Well, you can do it easily with the Elook Car Audio Reciever that connects your latest music library to the car tape deck. This makes your music experience escalate a level higher and feels premium.
What's in the Box:
You'll find the Elook Bluetooth Cassette Adapter, a manual guide for your guidance, and a service card.
Things we like
The Elook Car Audio Receiver comes with smooth Bluetooth 5.0 that creates a very strong connection between your smartphone and your car's audio. Through this, you can easily wake up your vintage car and give it a new lease on life.
Not just that, but even the design of the cassette adapter is pretty comfortable and easy to use. You can also use it with ease. All you need to do is to put it in your cassette player, connect your phone to it, and just rock the music. The company promises that this device has been tested thousands of times, and even the various materials are handpicked to minimize the noise and attain high-quality music enjoyment.
Things we don't like
Some users have reported that the device only plays the left channel, which might affect the stereo experience.
The sound quality might be a bit thin, and you might need to crank up the volume on your stereo to get a decent listening volume.
The device needs to be popped out and powered off after use, which might be a bit tricky for some users.
There seems to be a problem with the right channel of the adapter, as some users report that the device only plays the left channel at times which affects the stereo experience.
Along with this, you might find the sound quality to be a bit thin, and you might have to increase the volume on your stereo to get a decent music experience.
---
6. Best Color – White Arsvita Bluetooth Cassette Adapter
To some people, color is an important part of choosing a product they will buy. While all the Bluetooth cassette adapters we talked about are black, this one is white. It gives you eight hours of use, it has a microphone, and lets you enjoy the music from your phone even if you have a vintage car. If you're one of those people who care a lot about the color, you don't have to choose the Arsvita Bluetooth cassette adapter we mentioned earlier because there is a white one that gives you the same possibilities the black one does.
Things we like
Let me remind you that the Arsvita Bluetooth cassette adapter is the one that has the best battery. You can have 8 hours of continuous usage when you choose the white color too. The battery fully recharges in 1.5 hours, and you get to listen to an amazing sound with less power consumption.
This device is inexpensive, it connects easily, and there are visible LED lights that let you know when there's a connection and serve as power indicators as well.
Recommended Reading :

The sound is great, crisp and clear, but if you want to improve it, you can simply clean the head with a cotton swab and some alcohol before you use it. This device will connect to your phone quickly and reliably. Customer service is also very good and fast to respond, so if you have any trouble with the product, you don't have to be worried.
The price is very affordable, and you get unexpected quality for such a small price. It is very easy to use, and definitely a better choice than installing an expensive Bluetooth system.
All in all, this is a well built and designed product, it's very easy to use, and the delivery is fast. It does everything it should and does it well, but its special characteristic is that it's white, which could be a decisive factor. However, you have plenty of more reasons to chose it, and you won't regret it because Arsvita Bluetooth cassette adapter does everything you'd expect and more.
Things we don't like
LED lights continuously flash while you're using the device, so it can be a little distracting during the night. Even though this Bluetooth cassette adapter has a microphone, like most other adapters, it's not that good for phone calls.
---
7. iTape Cassette Adapter
iTape Cassette Adapter not only fulfills your dream of converting your car's audio system to a more modern system but also lets you get that experience without breaking the bank. This device very easily transforms your cassette player into a Bluetooth gadget, letting you stream your favorite tunes straight from your mobile. Let's check out the highlights of this device below.
What's in the Box:
The iTape Cassette Adapter comes packed with Bluetooth tape and a USB-type cable, and seriously that's all you need to roll.
Things we like
The primary thing that you'd look out for in a cassette adapter is its connectivity, and this iTape device doesn't disappoint in this field at all. Supported with Bluetooth 5.0, this adapter is compatible with almost all smartphones and tablets. Not just that, you even get a built-in microphone in this device that lets you do hands-free phone calls. So, you can consider safer rides thanks to the convenient iTape adapter.
But is that all? No chance! My favorite feature of this adapter is that it even works while you're charging it. So you don't have to worry about it running out of power. It feels like this device has the habit of surprising me when it comes to penning down the most useful features, as it you can even save your favorite beats on an 8GB Micro SD TF card and play them directly from the adapter. Not to mention, you don't get this card along with the device.
Things we don't like
Although it seems nice, too many functions make this device quite complex to use. That said, you'll get a grip on it with time. Also, the mic seems like an average pick, as many users have reported it as "not very accurate" and "cheap quality". And one of the most irritating features that you could find in this device is that it's manual. This means that you would need to manually turn it on every time you want to use it.
---
8. GEZICHTA Bluetooth 5.0
Remember the good old days when you'd pop a cassette into your car's tape deck and jam to your favorite tunes? Well, the GEZICHTA Bluetooth 5.0 Audio Aux Cassette Adapter is here to bring back those memories, but with a modern twist. This device turns your old-school cassette player into a Bluetooth-enabled music machine. Now you can stream your favorite playlists, podcasts, or audiobooks from your smartphone, all while keeping that vintage vibe alive. Imagine the nostalgia of a cassette with the convenience of Bluetooth. Sounds like a perfect road trip, doesn't it?
The GEZICHTA Bluetooth 5.0 is a power-packed cassette adapter that comes with a decent battery life and delivers stellar sound quality. Come, let's discuss the highs and lows of this device.
What's in the Box:
Opening the sleek box, you'll find the GEZICHTA Bluetooth 5.0 Audio Aux Cassette Adapter, a user manual, and a USB charging cable.
Things we like
One of the best things about this superb cassette adapter is its super-fast connectivity. Yes, you get Bluetooth 5.0, which ensures a very smooth connection and compatibility with many devices. It is even extremely easy to use. All you need to do is pair your device, insert the adapter in the cassette player, and rock your favorite tunes. That's not it; you even get a built-in 140 mAh battery that can be recharged while your adapter is playing music. So you don't have to worry about it running out of power. Lastly, the adapter is super lightweight and very compact, making it easy to carry around and store wherever you want.
Things we don't like
Talking about the negatives, some users say that the LED light present on the adapter is abnormally bright, which is a big distraction while driving at night. Also, the audio quality is only decent in this adapter and might not sound very intriguing to audiophiles or people with high-end audio systems. At last, the pairing process is quite tricky in this adapter, but once you get a grip on it, you'll be good to go.
---
9. Kedok Audio Cassette
Does your car stereo doesn't house a built-in AUX port? Well, no worries because the Kedok Audio Cassette Aux Adapter will make your life easier. It comes with great battery life and a stereo surround sound that gives you a theatre-like music experience in your car. It feels like you're watching a live concert while driving your car.
What's in the Box:
As you unbox the package, you'll come across the adapter, a USB charging cable, and a product manual.
Things we like
This cassette adapter is compatible with most smartphones, making it the best pick for your house or car audio systems. In fact, the adapter comes with a gigantic stereo two-channel audio transmitter to deliver a very surround sound that instantly improves the playback quality. You even get a solid battery back of up to 8 hours, thanks to the built-in lithium-ion batteries. Also, you can fully charge the device in around 2 hours.
If you get constant calls while driving, then the Kedok audio cassette can be a good choice as it has a call button and a built-in microphone, letting you do hands-free calls. This means that you can answer a call with a key on the handset of the Bluetooth tape adapter.
Things we don't like
With so many benefits, this Bluetooth adapter also comes with some downsides. For starters, the charging port is located in a place where you can't use it while using your adapter. That's why you would have to remove the adapter from the cassette player to put it on charge. Also, one of the biggest disadvantages is a constant humming/ static noise that comes out of the adapter while it is not playing anything but is turned on.
---
This was our list of best Bluetooth cassette adapters in 2023 and we hope that it has helped you learn more about these amazing products and pick the one you like best. If there are any questions that we haven't answered yet, you can take a look at our FAQ section. We also encourage you to tell us your opinions and experiences regarding Bluetooth cassette adapters, so feel free to leave a comment.
---
Types of Cassette Adapters
If you were thinking that there are only Bluetooth adapters in the market, you're in for a surprise. Check out the various types of cassette adapters available right now.
Wired Cassette Adapters
The first one is the wired cassette adapters which are like the traditional cassette adapters. It is surely a classic device that was on the rise during the era of portable CD players. So, this device is very simple to use and has a no-frills solution that connects directly with your device through a headphone jack. On the other side, the second end of the adapter is a cassette tape that simply works in your cassette player.
After you've set it up, the music plays through your car's speakers, just like a normal cassette tape would. The best part of this device is how simple and reliable it gets in daily use. On the contrary, the downside with these types of cassette adapters is that there is always a wire running from the cassette player to your phone, which is a little annoying at times.
Bluetooth Cassette Adapters
Next up, we have the Bluetooth cassette adapters. I'm sure you're very well aware of this device, but if you're not, it connects with your device through Bluetooth. This means that you can keep your phone at any place in your car or can even use it freely without the hassles of a wire. That said, you will realize a drop in the sound quality with this type of adapter as the music is coming through a wireless process.
MP3 Cassette Adapters
Finally, let's talk about the legendary MP3 cassette adapters. These adapters come with built-in memory and are capable of storing music files. So, all you have to do is load your favorite songs in the adapter through a USB connection. After this, you can play any song available on the adapter directly without any hassles. This type of adapter is suitable for those who do not have much faith in external devices or for those long road trips where you're expecting a hindrance in your phone's network. However, with the world and tech evolving every day, it's quite odd to use this type of adapter to this date, where you have to do so much just to play a song.
Still, I would say that there is not a particular adapter that is best or worst. It really depends on your needs and preference. So, if you want simplicity and reliability, you can go for a wired Bluetooth adapter. If you prefer the modern approach and want a hassle-free experience, a Bluetooth cassette adapter can be your best bet. And finally, if you're looking for a standalone solution that does not depend on any external device, an MP3 cassette adapter could be your number one preference.
Which Should You Pick – Wired Or Bluetooth?
Choosing between a wired and a Bluetooth cassette adapter is a decision that hinges on a few key factors: convenience, audio quality, compatibility, and personal preference. Let's break down these factors to help you make an informed choice.
Convenience
Hands down, the Bluetooth cassette adapters are your best bet when it comes to convenience. They completely erase your need for a physical wire, letting you play around with your device without bothering the cassette player. This is a great advantage for someone using this in a car. On top of this, these Bluetooth adapters also come with great features like hands-free calling and track control that make it even more convenient.
But wired adapters are different in this matter, as they need a direct connection between your adapter and your device. This means that you'll have to deal with a wire running across your device and your cassette player all the time. This is a bit inconvenient and can cause a nuisance. That said, these are plug-and-play devices, meaning they need no pairing process or setup.
Audio Quality
Audio Quality is the most important factor in any music player, and both wired and Bluetooth adapters do a good job in this matter. Still, wired adapters have a significant edge over Bluetooth adapters, thanks to the plug-and-play feature that adds a direct connection between the device and the player.
On the contrary, Bluetooth adapters are generally prone to interference from other wireless devices as well. However, they do manage to give a decent sound to the listener.
All and all, sound quality is almost similar in both these types of adapters, and you can only find the difference between them if you are a true audiophile.
Compatibility
When it comes to compatibility, both the wired and Bluetooth adapters have a vast list of devices that they are compatible with. This is because almost all the devices come with Bluetooth connectivity and a headphone jack. But, if we consider the technological advancements, headphone jacks will soon become a thing of the past. So, this gives a plus point to the Bluetooth adapters.
Personal Preference
To be honest, choosing between a wired and a Bluetooth cassette adapter directly comes down to personal preference. So, if you like a clean, wire-free setup and don't mind occasionally charging the adapter you're carrying, a Bluetooth model might be the best one for you. On the flip side, if you value simplicity, reliability, and slightly better audio quality and don't mind getting along with a wire, a wired adapter could be the way to go.
Things to Consider Before Buying Bluetooth Cassette Adapters
Before you go out there and grab your next cassette adapter, you should know the crucial factors that you must consider before buying a new piece. Let's check them out in detail below:
Connection
Obviously, the connection is a very integral part of any Bluetooth device, and that's why you should pay close attention to the quality and specifications of your cassette adapter. Try to find the latest version of Bluetooth technology for a reliable and stable connection. Also, don't forget to check the range of your Bluetooth connection, as a longer range gives you more flexibility.
Compatibility
Without compatibility, your device is as good as a piece of wood. Now, although most of the Bluetooth cassette adapters generally work with any device that supports Bluetooth, it's a good idea to re-confirm it. On top of it, check the cassette player that you'll be using, as the adapter should fit perfectly and play smoothly in your cassette deck.
Sound
Although Bluetooth cassette adapters normally don't deliver the same sound quality as a high-end audio system, they still manage to give decent and crisp audio. So, you can try out those adapters that come with noise reduction features that can minimize any interference or static.
Battery Life
Bluetooth cassette adapters always run on batteries as they are wireless. That's why you should focus on the battery life of the device. I say this because the longer the battery life, the less often it will need to be charged. This gets super important while you're out on a road trip. Not to mention, check how your adapter can be charged. For instance, some models can be charged through a USB cable, which is more convenient than those which require disposable batteries.
Ease of Use
See, the adapter is something that you'll be using very often. That's why you should go for a device that is easy to use. Try searching for features like automatic pairing, which lets the adapter connect to your device when it is in range. On top of this, make sure that the adapter comes with a control for track skipping and play/ pause. This comes in very handy for controlling your music system.
Durability
Last of all, check the build quality and durability of your cassette adapter. Ideally, it should be sturdy enough to bear regular use and have a good warranty to back it up. Remember, a Bluetooth cassette adapter is an investment, and choosing a durable model will ensure you get your money's worth.
FAQs
Q: What is a Bluetooth cassette adapter? 
A: A Bluetooth cassette adapter turns your cassette player into a wireless Bluetooth receiver, allowing you to stream music from your Bluetooth music player or your phone. It contains a long-lasting battery, which is rechargeable so that you can enjoy your long road trips.
Q: How does a Bluetooth cassette adapter work? 
A: This product looks exactly like a regular cassette, but it has a Bluetooth receiver. Once you insert it in the car's tape deck, it will automatically turn on and pick up the music streamed from your Bluetooth-enabled device such as a music player.
Q: Do cassette adapters sound good? 
A: The sound quality you get from cassette adapters is pretty good. When you play the same track via the cassette adapter and an external CD, you could notice a little difference. Since FM transmitters are there, when you compare it to the wired connection, there has to be some signal loss.
Q: Why does my Bluetooth cassette adapter keep coming out? 
A: Perhaps you have inserted your cassette player upside down. This can interfere with the adapter's tension controllers that can be found inside it. When the radio doesn't recognize the tension, it treats the tape as broken, so it ejects it. If you turn your cassette player over, it might solve your problem.
Q: What is the best Bluetooth cassette adapter? 
A: The best Bluetooth cassette adapter for you depends on your needs. We have narrowed down the search for you, so you can easily find exactly what you're looking for, you just need to read our list of 9 best Bluetooth cassette adapters in 2023.
Conclusion
Bluetooth cassette adapters have the power to instantly give you a modern audio experience in your vintage car. This not only lets you enjoy your favourite tunes in your car but also makes life easier for you.
Under this, there is always a question of whether the wired device is better or the Bluetooth one. To be honest, it completely depends on your personal preference. While Bluetooth adapters offer convenience and are more future-proof, wired ones deliver better audio quality and simplicity.
While heading out for your cassette adapter, make sure to consider some crucial factors as we mentioned above.
At last, being a tech-savvy person, I would just say that no matter whether you're a guy who loves to play his latest tunes in his vintage car or you're someone who wants to utilize the car's cassette player, there is a cassette adapter that can suit you. So, look out for all the options available in the market and remember what we talked about here. I'm pretty sure that you'll end up with a good cassette adapter.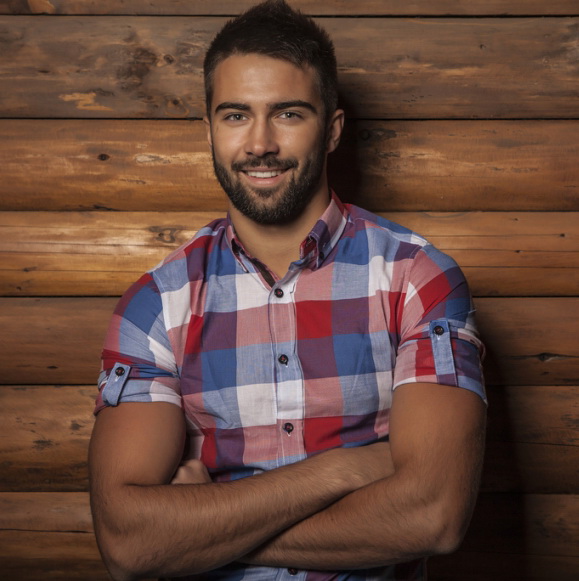 Hello, my name is James Longman.
I'm a writer and editor at AudioReputation. I disassembled my first portable AM/FM radio when I was only 8. At the age of 11, I burned the circuit board on my old boombox cassette player. I'm not going to explain how but it was reckless and stupid.
Since then, I have become much more careful around radios, boomboxes, and other audio devices (at least, I like to think so) but I have never lost the passion for audio equipment. Throughout 20 years of my professional career, I've been working for various audio equipment manufacturers and even started building speakers on my own in my little workshop.
I love the work we do here at AudioReputation. Testing, comparing, and evaluating all kinds of audio devices (speakers, soundbars, headphones, home theater systems, etc.) is something I truly enjoy. I try to be unbiased and give you my honest opinion on every piece of equipment I test. Still, you should take my reviews with a pinch of salt and always be just a little bit skeptical. The fact that I liked some speaker or soundbar doesn't mean that you are going to love it. If you have the opportunity, you should test it/hear it before buying it.