AudioReputation is reader-supported. When you buy through links on our site, we may earn an affiliate commission Learn More
Are you in need of a Bluetooth range extender? Then you're in luck because this list of 8 best Bluetooth range extenders in 2023 will have you find exactly what you're looking for.
We all know how Bluetooth technology has made our lives easier and offered us convenient solutions for our needs. Thanks to that amazing technology, physical wires are no longer necessary when we want to connect our devices, and we get the freedom to use our hands while talking on the phone when we use the hands-free headset, which is one of the popular Bluetooth devices.
Still, despite all this, there is a certain problem with the range the Bluetooth devices have. The range of those devices is often only 33 feet, but it can sometimes go up to 200 feet. However, that is only if no barriers exist in between. Barriers such as walls lower the field of strength of Bluetooth devices. The short-range will often limit your working distance. You are probably also familiar with the problem of lagging or dropping connections when you go somewhat further from them. These range limitations are a problem, but a problem you don't have to deal with.
The Purpose and Advantages of Bluetooth Range Extenders
All you need to do is to find a Bluetooth range extender that will extend the range. The range indoors can be extended to up to 100 feet, while outdoors, it can extend to up to 300 feet. However, that's not the only problem Bluetooth range extenders fix. They can even simultaneously connect to multiple Bluetooth devices, prevent sync delay, and boost the strength of the signal.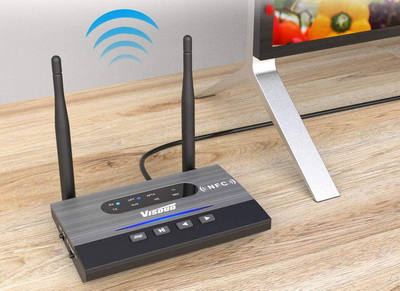 Why deal with unnecessary limitations the Bluetooth technology has when you can fix all the problems with a simple, very affordable device? The only problem left to solve is how to pick the best Bluetooth range extender, and we're here to help with that.
Best Bluetooth Range Extenders – Comparison Table
We had your needs in mind when we tested many Bluetooth range extenders, and we found the ones that are the best for you to choose from. Detailed research led us to this list of 8 best Bluetooth range extenders in 2023 that you're about to read, along with reviews that will help you decide which of these Bluetooth range extenders is the one that will make your life easier. The solution to all the problems you've been having when using Bluetooth technology is only one simple decision away. You won't make a mistake by choosing one of these Bluetooth range extenders.
8 Best Bluetooth Range Extenders in 2023
---
1. Best Tiny Device – TROND BT-DUO Bluetooth Transmitter and Receiver
Thanks to the latest aptX low latency, TROND minimizes the so-called "lip-sync" issues. This allows you to listen to wireless audio while watching a video, without noticeable lag. It wirelessly transmits stereo audio from your TV, PC, Nintendo switch, MP3, or book reader (non-Bluetooth audio sources) to your receiver, speaker, or headphones (Bluetooth enabled). You can connect this device with the wired headphones, car stereo, or speaker with a cable and pair it with your laptop, smartphone, or tablet to wirelessly enjoy music.
Things we like
This tiny device works perfectly on Nintendo Switch, but that's not all, because it works with old equipment as well. Whatever you use it with, you will enjoy excellent audio with no noticeable audio lag or break up.
An additional benefit is that two users can access the same feed because it allows pairing a second device. This device is great for traveling by plain, especially when you want to watch the same movie with the person you're flying with by connecting both headsets.
Trond technical support is very quick to respond if you happen to encounter any issue, and we think that's very good to know.
If you want to Bluetooth enable your TV, the process is very easy and simple, so you'll be able to enjoy loud sounds without disturbing anyone around you.
The sound is clear and crisp, the bass is strong and good, and the sound sync is perfect. Its reach is 33 ft, but you can extend it with an extension cable.
TROND BT-DUO supports aptX and aptX Low Latency in RX and TX mode. This compact, lightweight transmitter and receiver will even surprise you by having a better range than specified.
It is a very reasonably priced device with the instruction booklet that is written in English and easy to follow. You also get white and red RCA cables, which aren't usually included when it comes to this type of device. You'll also be happy to hear that you will have a good warranty for 18 months.
Things we don't like
Pairing isn't so easy, and you will need to read the instructions. Though tech support is quick to respond, they often only say things that are written in the manual.
Even though it works for the Nintendo Switch, it doesn't work for voice chat. Also, there is no warning before the battery gets low.
---
2. Best for Traveling – TaoTronics Bluetooth 5.0 Transmitter and Receiver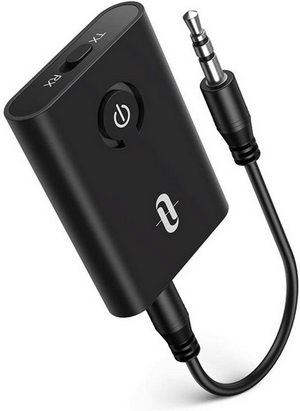 This is a very similar device to the previous one, except that the manufacturer is well known, unlike with the previous one. Of course, that means that it costs slightly more, but it's still very affordable, especially considering its quality. It also features aptX low latency, pairing with two Bluetooth receivers simultaneously is possible, and it works for Nintendo Switch, TV, car and home sound system. A nice perk is that it streams continuously, even while you're charging it.
Things we like
You can turn a non-Bluetooth device into Bluetooth transmitter, whether it's MP3/MP4 player, TV, iPod, CD player, or PC. The battery gives you 10 hours of use, and, as we already mentioned, the great part is that it can charge while operating.
This is a small and light device, so it's very portable and great for better flight experience. It pairs easily, and once paired, connects quickly every time. As for the aptX low latency, there's no lag, but you do need to have headphones that support it.
Customer service is very friendly, so you don't have to worry if something happens to be wrong with your product because you'll get a new one for free. The product is easy to set up and, of course, you get a warranty. Delivery time is always fast.
It has very reliable connectivity in both modes, and it's simple to use. The working range is 33 ft.
TaoTronics unit comes with an RCA adapter, which allows you to plug it into the RCA inputs of any pair of non-Bluetooth active speakers, select the RX mode, and start streaming music wirelessly from your phone. Connect the product to a non-Bluetooth audio source (TV, CD player), switch the product to TX mode, and you will be able to stream audio wirelessly from that audio source to any pair of Bluetooth speakers or headphones.
If you're looking for the perfect device that will always be a part of your baggage when you're traveling, you won't make a mistake by choosing this tiny product. Especially at this price point.
Things we don't like
The audio cable that is supplied is very short, so you'll have to get a longer one to avoid the problem of the product being behind the TV, which can cause a bit of lag.
There is a con in receiver mode since the Bluetooth device won't pair with the unit automatically when it powers on. You will have to enter the pairing mode every time by holding the power button.
---
3. Best Range – Avantree Oasis Long Range Bluetooth Transmitter and Receiver
We talked about tiny devices that you can easily carry with you, but it's time to talk about experiencing wireless freedom. Feel free to walk anywhere in your house once you get this Bluetooth range extender that has a proven range of 295 ft, tested with headphones, and 328 ft range if you're using it as a transmitter.
Things we like
The first thing we like is, of course, the amazing range, but other than that, this device is also supporting the aptX Low Latency, which means that there's no audio-visual lag. It is very easy to use and set up. The Oasis is compatible with most TVs.
When you use it as a transmitter, you can stream audio from your computer or TV to the Bluetooth headphones. When you use it as a receiver, you can allow your speakers or home stereo to play streaming music from the laptop or smartphone.
All the cables you need are provided with the product, and it has numerous connectivity options such as Bluetooth Receive and Transmit, Aux IN and OUT, and Optical IN and OUT. This amazing device is the perfect solution if you are looking for a long range, versatile connectivity, and easy connection. You will enjoy the greatly designed interface with voice and visual confirmation that the device is connected.
Pairing can take a couple of seconds the first time, but the subsequent connection is a lot easier. Its touch screen gives you the opportunity to read the important information, but you can also use it to control the volume and other functions.
This device is much more powerful than others, with the best range, so we highly recommend it. The voice alerts are pretty loud, but it's not an issue because you can always turn them off.
Things we don't like
As a receiver, it doesn't support aptX Low Latency, and it doesn't support it when using dual-link. Also, customer service is not that good, as the case was with the products we mentioned earlier, and it's not as cheap as those devices. It doesn't have a battery, so you have to connect it to the USB port on your TV.
It can accidentally pair to devices you don't want it to (like the ones in your neighbor's home), and when that happens, you have to reset all the devices that were previously paired so that it wouldn't keep reconnecting. Therefore, the small problem is that you can't unpair the current device.
---
4. Best Price/Quality Ratio – 1Mii B03 Bluetooth Transmitter and Receiver
Bringing your audio system or home theater into the wireless age has never been easier, and this device offers a great price/quality ratio. Bluetooth 4.2 technology allows you to stream music from your tablet, computer, laptop, or phone to your sound system. You can also connect your Bluetooth headphones or speakers to your TV. Its range is up to 230 ft in the open air and 80-110 ft indoors. AptX LL technology eliminates Bluetooth audio delay.
Things we like
There are both digital and analog inputs/outputs, which gives you the quality and flexibility you need for connecting to the audio system. All audio systems and TVs that have audio inputs/outputs are compatible with the B03 Bluetooth adapter. The setup is easy, and the device is simple to use. Even after a power failure, the device will remember your settings. If you, however, do have any trouble with the setup, you can simply consult the quick setup guide and the instruction booklet, which are well written and have many graphical references.
The sound quality is amazing. This product doesn't have a battery because it plugs into the wall, but the box you get includes the plug, while this is not often the case with other similar products. The box also includes a short TOSLINK cable.
This company is one of those who offer good customer service, so you won't have any problems with solving any issues you might encounter with their product.
The unit feels pretty solid, and it appears only high-quality components were used. The buttons have a tactile feel, and the inputs/outputs are located on the back. In the middle of the rear panel, there's a micro USB power input.
Another great thing about this unit is the on/off switch so that you don't constantly have to keep it on. It has two antennas that help spread the signal.
Things we don't like
Wireless TV adapters, Wi-Fi routers, etc. can affect the operation range. The range also depends on the receiving device, which is understandable. However, it appears that some things aren't as advertised, because the range seems to be significantly shorter and there's trouble with getting two devices to work simultaneously.
When it comes to TV optical output, setting the audio format to PCM is necessary because Dolby/DTS formats aren't supported.
---
5. Best Battery – Visoud B22 Bluetooth 5.0 Transmitter and Receiver
Almost all of your audio devices can be Bluetooth-enabled thanks to the three models this product has (BYPASS, RX, and TX). Get rid of all the wires and enjoy wireless audio throughout your home. Dual antennas design and Bluetooth 5.0 technology will allow you to enjoy a range of up to 262 ft when it comes to open-air, and 80-110 ft indoors. This will provide you with a stable connection, and you'll have a signal everywhere in your home. The unique feature is that this device has a 1.000mAh battery, so you can use it when the AC outlet is not an option.
Things we like
This unit features aptX HD and aptX Low Latency. This provides you with a listening experience that is better than a CD. Watching movies will be a lot more enjoyable with this product. However, to achieve low latency, the receiving device needs to support it too. You can also connect two Bluetooth headphones at the same time.
As for the unique feature in the form of a built-in battery, it gives you more than 15 hours of using in TX more, and 20 hours when it comes to RX mode. This means that you can listen to amazing sound all day and even enjoy long road trips without worrying about the battery running out. In 4.5 hours, it will be fully charged, but the best part is that you get to use it even while charging. When there's no connection for 6 minutes, the device will automatically go standby mode.
NFC for fast pairing is supported, and you get an optical cable, as well as RCA and AUX audio cables. This product is compatible with most audio systems and TVs. You also get to use the great on-board volume adjust option that works with all kinds of devices.
The fun fact is that you can double the range by using one B22 as a BT receiver, and the other one as a BT transmitter.
Things we don't like
The sound quality isn't as great as with other products we've talked about. Also, there are some problems with connecting two devices because it happens that one of them cuts off. Another problem we discovered is that it pairs with pretty much anything, even when you don't want it to, so it could easily pair with your neighbor's device.
---
6. Best Budget – TECBOSS KM20 Bluetooth Transmitter and Receiver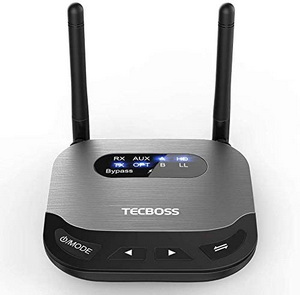 If you don't want a tiny device like the first two, and you're on a budget, this is the Bluetooth range extender you should choose. In the open air, its range goes up to 262 ft, and as for indoors, it goes up to 80-110 ft. It pretty much offers the same features other ones have, but at a lower cost. Keep reading to find out exactly what you're getting if you decide to buy this product.
Things we like
TECBOSS features Receiver (RX) Mode, Bypass Mode, and Transmitter (TX) Mode, and it's pretty easy to switch between them by using one button. It has both digital and analog inputs/outputs which allow you to establish the connection to the audio system.
This transmitter can stream audio to two Bluetooth headphones simultaneously, and there will be no lips/sync delay if you're watching a movie. Of course, the headphones or the receiving device will have to support Low Latency as well. If the device supports low latency as well as HD, you will be able to switch the priority between them as you wish, and it will be easy.
KM20 is able to remember your settings, so, once connected, it will auto-reconnect with your device that you last used. You also get a warranty which lasts for 18 months.
Recommended Reading :

Even though the device isn't as tiny as the first two, it is small, as well as lightweight and portable, so you can still carry it with you. It is powered by a micro USB, and even though the charger is not included, a cable of decent length is. It also has a battery inside, and it gives you 14 hours or more of constant usage.
The pairing process is simple and quick. You can now easily connect a Bluetooth headset even to your old devices that do not have Bluetooth. Sound quality is great, and it's really good to know that you can get all that at such a reasonable price that's lower than that of all the other products we've mentioned, except for the tiny ones that do not offer this kind of range.
Things we don't like
Instructions could be better, as well as the design of the buttons, so the setup isn't as easy as with other similar products. The main problem with the design is that using the buttons causes the unit to tip over.
---
7. 1Mii B06Pro
The 1Mii B06Pro Long Range Bluetooth Receiver is an innovative device that brings wireless connectivity to your home stereo system, enhancing your audio experience. Leveraging Bluetooth 5.0 technology and aptX Low Latency, this device can transform your home audio setup into a wireless wonder.
Things we like
The 1Mii B06Pro performs admirably with various audio equipment, both old and new. It seamlessly connects to your TV, PC, MP3 player, or other non-Bluetooth audio sources, and transmits high-fidelity stereo audio to your Bluetooth-enabled receiver, speakers, or headphones.
The device stands out for its ability to pair with two devices simultaneously, allowing two users to enjoy the same audio feed. This feature makes it an excellent choice for shared listening experiences.
If you run into any technical difficulties, 1Mii's customer support team is responsive and ready to assist. For those wanting to convert their TV audio to a Bluetooth connection, the setup process is simple and straightforward, ensuring an enjoyable, undisturbed audio experience.
Sound quality is commendable, delivering clear, crisp audio with a robust bass. The audio sync is on point, thanks to aptX Low Latency technology. This eliminates any noticeable lag between video and audio when watching TV or movies. With a 197ft range in open air and 50-70ft indoors, this device offers superior connectivity, exceeding expectations for a Bluetooth receiver.
The 1Mii B06Pro comes with a detailed, English instruction manual, making setup a breeze. The inclusion of optical, RCA, and 3.5mm cables provides added value. The device is reasonably priced for its features, and the provision of an 18-month warranty offers peace of mind.
Things we don't like
While the 1Mii B06Pro packs a punch with its features, there are a few drawbacks. Pairing, although not complicated, does require reading the instructions carefully. Although customer support is quick to respond, their advice often mirrors the instruction manual.
Moreover, while the device offers long-range connectivity, its performance may vary based on obstacles and signal interference.
---
8. TP-Link N300
The TP-Link N300 is an impressive Wi-Fi extender that effortlessly improves the reach and reliability of your home network. Utilizing the 802.11n Wi-Fi standard and offering up to 300 Mbps network speeds, this gadget can genuinely invigorate your Wi-Fi experience.
Things we like
The TP-Link N300 excels in bringing consistent Wi-Fi connectivity to corners of your house that your main router can't reach. Whether you want to stream videos in your attic or play online games in your basement, the N300 has got you covered.
The device shines in its compatibility with a wide range of routers and gateways. You can connect it to your existing router and enhance Wi-Fi coverage seamlessly. It also supports WPS for easy setup.
What sets the TP-Link N300 apart is its ability to work in two different modes: Range Extender and Access Point. This makes it versatile and well-suited to different network requirements.
If you encounter any issues, TP-Link's customer service is there to help. They have a responsive team that's always ready to assist. The setup process is also simple and intuitive, contributing to an excellent user experience.
The Wi-Fi coverage provided by the N300 is impressive, with a range of up to 800 square feet. This is further aided by two external antennas, which enhance signal stability and coverage.
The TP-Link N300 comes with a detailed English user manual, which makes the setup and usage effortless. The device is reasonably priced for its features, and the availability of a 2-year warranty provides an added layer of assurance.
Things we don't like
Despite the TP-Link N300's many strengths, there are a few areas where it falls short. Setting up the extender can be a bit tricky if you're not technologically savvy. Although the manual provides clear instructions, some users may find the process challenging.
Also, while the device promises substantial Wi-Fi coverage, its performance can fluctuate based on the number and type of physical barriers. This means that the actual coverage may vary from house to house.
Lastly, although the N300 supports up to 300 Mbps, this is a theoretical maximum. Real-world speeds are often lower, and the performance may drop when multiple devices are connected.
Also Read: 7 Best IR Remote Extenders.
---
This is the end of our list of 8 best Bluetooth range extenders in 2023. Hopefully, it has helped you make a decision and choose the best one. If you have some questions that haven't been answered yet, please read our FAQs section to find more information. You are also encouraged to leave a comment and share your opinions or experiences with Bluetooth range extenders.
---
Things You Should Look for Before Buying a Bluetooth Range Extender
Here are the most important factors you must consider before buying a bluetooth range extender:
1. Compatibility
Before purchasing a Bluetooth range extender, it is crucial to ensure that the device is compatible with your existing audio systems and devices. It should be capable of transmitting to all Bluetooth-enabled devices, such as speakers, headphones, and home audio systems.
2. Range
The range of the extender is a vital factor. If you want a connection across a larger area or between rooms, choose an extender that can cover a significant distance. Keep in mind that signal strength can be impacted by physical obstacles like walls and furniture.
3. Audio Quality
If you prioritize sound quality, look for extenders that support superior audio coding technologies such as aptX, aptX Low Latency, or aptX HD. These codecs ensure that the audio quality remains high even when transmitted over Bluetooth.
4. Multi-device Pairing
Some extenders offer the ability to pair with more than one device simultaneously. This feature can be handy if you wish to share the same audio stream with multiple speakers or headphones.
5. Ease of Setup and Use
Look for a device that has a simple setup process. The extender should be user-friendly and come with a comprehensive manual to guide you through the installation.
6. Build and Design
The design should be compact and should blend well with your other electronic devices. If you plan to move the extender around, a durable build quality would be beneficial.
7. Customer Support and Warranty
Check for a reliable customer service that can help you with technical issues or queries. Also, it's always a good idea to opt for a product that comes with a warranty, ensuring you are covered in case of defects.
8. Price
Price is always a consideration. Look for a device that provides the best balance of features and cost. High-end models may have more features, but sometimes mid-range devices can serve your needs just as well.
FAQs
Q:
At what distance does Bluetooth work, and can you extend the range?
A: The range of Bluetooth devices depends on the power of the transmitter. There are three classes of Bluetooth devices. The most powerful one is class 1, and its range can go up to 330 ft, while the most common kind is class 2, which range can go up to 33 ft. Class 3 represents devices with a range of only 3.3 ft. However, you can increase the range of your devices by getting a Bluetooth range extender.
Q:
How do I check the Bluetooth signal strength on my PC?
A: The Bluetooth preference panel allows you to check the Bluetooth signal strength in System Preferences. Once the connection is established, just place the mouse over it, hold the Option key, and you will see a negative number with the signal strength's graphical representation.
Q:
How can I boost my Bluetooth signal?
A: You can change the location or position of the connected device. Improving the communication distance can be achieved by taking the cover of the connected device off (if it has one). The best way to improve the signal transmission is to place the devices closer together.
Q: What is the difference between Wi-Fi and Bluetooth?
A: We use Bluetooth for transferring data between devices when the range between them is relatively short. For instance, a Bluetooth device that is often used is a headset for mobile phones, which enables hands-free calls. Wi-Fi, however, allows us to connect our devices to the Internet.
Q: What are the best Bluetooth range extenders and what are they for?
A: The purpose of the Bluetooth range extenders is to increase the range of your Bluetooth devices. For example, it will allow you to go further away from your speakers when streaming music wirelessly from your phone. If you need a suggestion, go through our list of 8 best Bluetooth range extenders in 2023 and pick the one that suits your needs best.
Q: Can a Bluetooth range extender work with any Bluetooth device?
Yes, a Bluetooth range extender should work with any device that has Bluetooth connectivity. However, it's important to check the product specifications to ensure compatibility, as some extenders may work better with specific Bluetooth versions or device types.
Q: Are there any limitations to using a Bluetooth range extender?
The main limitations of a Bluetooth range extender are related to range and signal interference. The extender's effectiveness can be affected by physical obstacles like walls or large objects. Also, other wireless devices in the vicinity can sometimes cause signal interference, reducing the extender's performance.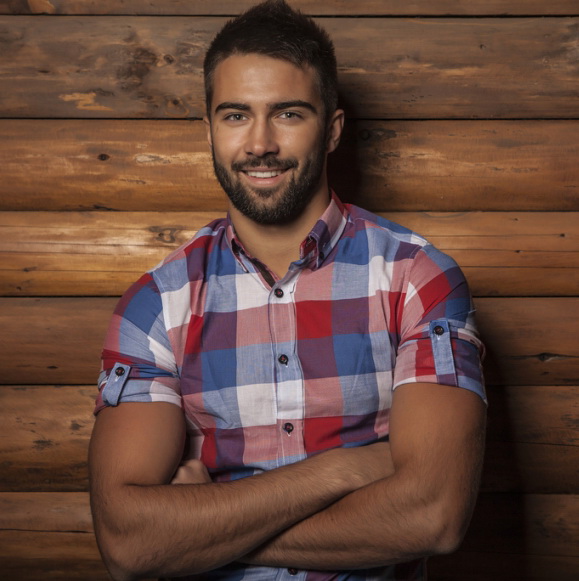 Hello, my name is James Longman.
I'm a writer and editor at AudioReputation. I disassembled my first portable AM/FM radio when I was only 8. At the age of 11, I burned the circuit board on my old boombox cassette player. I'm not going to explain how but it was reckless and stupid.
Since then, I have become much more careful around radios, boomboxes, and other audio devices (at least, I like to think so) but I have never lost the passion for audio equipment. Throughout 20 years of my professional career, I've been working for various audio equipment manufacturers and even started building speakers on my own in my little workshop.
I love the work we do here at AudioReputation. Testing, comparing, and evaluating all kinds of audio devices (speakers, soundbars, headphones, home theater systems, etc.) is something I truly enjoy. I try to be unbiased and give you my honest opinion on every piece of equipment I test. Still, you should take my reviews with a pinch of salt and always be just a little bit skeptical. The fact that I liked some speaker or soundbar doesn't mean that you are going to love it. If you have the opportunity, you should test it/hear it before buying it.