AudioReputation is reader-supported. When you buy through links on our site, we may earn an affiliate commission Learn More
Brainwavz HEX comes from the growing line of Brainwavz's 3D printed in-ear monitors. The practice of using 3D printers to make earphones is becoming very popular among manufacturers as it gives them a lot of freedom when it comes to shaping and introducing new and attractive designs. Design is just one of the things that make HEX earphones special. The second thing is the use of triple BA drivers made by Knowles. The third thing is the price tag, which is surprisingly low considering the overall performance. According to the Brainwavz, HEX can outperform any pair of in-ear monitors in its price range. In this review, we are going to put that claim to the test.
---
Brainwavz is a brand from Honk Kong owned by a company called GPGS. Brainwavz has been in the business since 2008 and it's famous for making high-value headphones, earphones, and headphone/earphone accessories. Two years ago, they have introduced their first 3D printed earphones/in-ear monitors with dual BA drivers called B200. After the first 3D printed earphones, Brainwavz launched the upgraded version with 4 BA drivers (B400) as well as entry-level single BA driver earphones named KOEL. HEX is the latest release and it's the only one that comes with a new BLU-MMCX detachable Bluetooth cable.
---
There are a few important selling points. Thanks to the flexibility given by the 3D printer, HEX headphones feature a unique design and very good build quality. Also, the number of included accessories and versatile connectivity should not be forgotten. The inclusion of two detachable cables (standard AUX cable with MMCX connectors and Bluetooth cable with MMCX connectors and inline controls) is definitely appreciated. However, the biggest selling point is supposed to be the sound quality. Brainwavz HEX monitors are not the most neutral and balanced in their price range but their sound signature is fun and engaging with a nice and punchy mid-bass emphasis and laid-back vocals.
The biggest downside is probably the earphone size. Although being light, the earphones are quite large and won't fit all ear types. If you have small ears, it's probably smarter to avoid these. However, if they fit your ears, you will be surprised by the amount of comfort they provide and by the noise isolation. Another thing we've noticed is the lack of aptX/aptX HD support. Because of that, the sound reproduction will be less detailed and less dynamic in Bluetooth mode.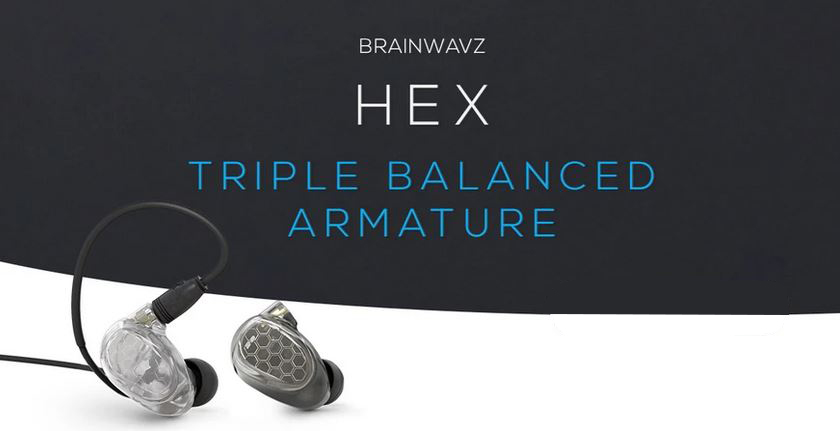 Affordable

Unique and interesting design with honeycomb faceplates

Great build quality and durability

Rich packaging with numerous accessories (two detachable cables included)

Good connection versatility (AUX + Bluetooth 5.0)

Satisfying Bluetooth performance and decent battery life (up to 8h at 50% volume)

Inline controls with a built-in mic

Engaging sound signature with nice and punchy bass and surprisingly wide soundstage
BLU-MMCX Bluetooth cable lacks aptX and

aptX HD

support

Comfort and fit depend highly on the size of your ears (the housings are quite large)
HEX in-ear monitors have a lot to offer for the price. Their innovative design, solid build, versatile connectivity, and engaging and detailed sound reproduction are the most important reasons to give them a try. So, if you are looking for a pair of universal in-ear monitors under $100 (and you don't have small ears), Brainwavz HEX deserves a place on your shortlist.
What's in the box?
The box looks a bit generic but the number of included accessories deserves some praise. Along with the earphones, you'll get two detachable cables – one standard AUX cable with Shure-compatible MMCX connectors and one Bluetooth cable with MMCX connectors and inline controls and a built-in mic. You will also get 6 pairs of silicone tips in three sizes (S, M, L), one pair of red foam tips, a shirt clip, Velcro tie for the cable, and a large carrying case. HEX earphones come with a 1-year warranty.
Specs
Brainwavz HEX Specifications
TYPE
In-ear, wired/wireless
DRIVERS TYPE
Triple balanced armature
MATERIAL
3D printed resin
BATTERY
Type
Li-ion, rechargeable
Capacity
N/A
Playtime
6-8 hours
Recharge time
2 hours
CONNECTIONS
3.5mm and Bluetooth
BLUETOOTH DETAILS
Bluetooth version
V5.0
Supported Bluetooth profiles
HFP, A2DP, AVRCP, AVCTP, AVDTP
Supported Bluetooth codecs
AAC, SBC
NFC
No
Multipoint pairing
No
Bluetooth range
Approx. 30ft
OTHER TECHNICAL DETAILS
Frequency response
20Hz-20kHz
Impedance
30Ω
Sensitivity
120dB
ADDITIONAL FEATURES
Two detachable cables included - MMCX with AUX connector and MMCX Bluetooth cable

In-line controls (Bluetooth cable)

Built-in mic (Bluetooth cable)

6 pairs of silicone tips in 3 sizes

1 pair of Comply Foam tips (T-100)
Design
Design is the first thing you are going to notice about HEX monitors. The use of a liquid resin 3D printer allowed the manufacturer to play with new shapes and forms. Their faceplates with honeycomb patterns are the perfect examples of the freedom and flexibility given by the use of a 3D printer. The surface of the earphones is nicely finished and smooth. We didn't notice any glue residue or rough edges. The earphones are available in two versions/finishes – ''stay frosty'' and black, both with semi-transparent faceplates.

The cables are light but well-made and durable. Both cables are braided and then wrapped in a nice and thick silicone coating. The connectors are over-molded. The cables feature ear hooks/guides that are supposed to improve the fit and stability.
3D printed earphones with honeycomb faceplates
Features
The manufacturer managed to pack quite an interesting feature set.
Each earphone features three custom-tuned Knowles BA drivers (bass, midrange, and treble driver), which is an unusual thing to see at this price point. IEMs with triple armatures are usually pricier. You can see the bass driver through the faceplate. It's pretty large and it's probably the main reason why the earphones are larger than average. The earphones have relatively low impedance (30Ω) and very high efficiency/sensitivity (120dB).
The first thing you're going to notice when you open the box, besides the 3D printed earphones, are the cables. As said previously, you will get 2 cables – standard AUX cable with 3.5mm gold-plated jack and a new BLU-MMCX Bluetooth cable. Both cables are detachable and can be bought separately. The AUX cable is 1.5m/5ft long and the Bluetooth cable is much shorter and features that familiar neckband design. They are both quite durable but the Bluetooth cable is a bit more flexible. There's no info on the waterproofness of the Bluetooth cable (no IPX rating) but we've used it for workouts and it worked just fine.
Two cables included – BLU-MMCX and AUX cable with MMCX connectors
The Bluetooth cable is compatible with all the previous 3D printed Brainwavz IEMs and all the other Shure-style earphones with MMCX connectors.
Bluetooth cable gives you so much more freedom and control over your music. It really is a great addition to the package.
BLU-MMCX cable – Feature overview
The cable features a small 3-button control pad with a built-in battery and mic. The controls are simple and responsive. You can use them to control the volume or playback, answer phone calls, or activate voice assistant.
The built-in battery will provide you with up to 8h of wireless playback at moderate volumes. The recharge takes less than 2 hours.
BLU-MMCX features the latest Bluetooth 5.0, but the range is not extended (standard 30ft) and there's no support for advanced aptX audio codecs. The headphones support only the most common AAC and SBC codecs. They also support HFP, A2DP, AVRCP Bluetooth profiles.
Performance
Aside from the size, we have no other complaints regarding the performance. The headphones are light but they are quite chunky and, if you have small ears, it will be hard to find the right fit. In fact, if you have small ears, you should probably avoid these. On the other hand, these are perfect for larger ears.
Once you find the right pair of tips (we preferred those foam tips), you'll get pretty decent noise isolation. The tips, combined with the molded over-ear hooks provide great stability for all kinds of activities, including workouts. Comfort was not an issue.
Recommended Reading :

Thanks to low impedance and high efficiency, HEX IEMs are really easy to drive (when used in AUX mode). So, you don't need any headphone amp – your phone will provide more than enough power. However, when used in combination with a powerful DAP or portable headphone amp, the earphones deliver more solid performance with thicker bass and better balance across the audible range.
The Bluetooth cable offered a satisfying performance. The range extends to 50ft under ideal conditions (without obstacles). The connection is reliable and stable within the 30ft range and the battery delivers 6-7h at 60% volume.
The built-in mic delivered average performance. It will muffle your voice a little bit but not to the point of making it incomprehensible. It works fine in quiet environments but it struggles with loud ambient noises.
Sound Quality
Brainwavz HEX earphones don't deliver the most accurate, balanced or detailed sound reproduction but they are fairly easy and fun to listen due to their warm signature.
Like many other earphones with BA drivers, HEX earphones are incapable of producing extremely low sub-bass frequencies. That's why the mid-bass frequencies sound so thick. The mid-bass emphasis is quite noticeable and it shapes the sound signature more than anything else.
The midrange reproduction is not the best thing about HEX earphones. It's sweet and dynamic but not extremely detailed. The vocals are clear but laid back. If you are into vocal-oriented music, you may find them too smooth-sounding. The good thing is that the mid-bass is not too emphasized or overwhelming and it rarely puts any shadow on the midrange (only when the bass-heavy tracks are played).
The treble response is just a little bit elevated, but not bright or harsh. This creates the impression of more detailed reproduction.
Due to slight mid-bass and treble emphasis, the frequency response is slightly V-shaped (or U-shaped). The sound signature is warm and the reproduction is energetic and engaging. HEX earphones are perfect for pop, R'n'B, rock, and other bassier genres. Also, they are great for movies and games, especially for special effects and explosions.
The earphones do a great job of hiding the flaws in compressed mixes but aren't the most analytical or accurate headphones. Audiophiles won't be amazed.
The soundstage is surprisingly wide considering their in-ear design. The instrument separation is more than satisfying and the imaging is fairly accurate. It's not exactly on par with similarly priced over-ear headphones but, for a pair of IEMs, HEX earphones are impressive.
The Competition
The number of similarly priced earphones, especially in this price range, is quite overwhelming. These are our top-three alternatives.
---
Brainwavz KOEL
KOEL earphones are HEX's predecessors. Just like the HEX, KOEL IEMs are 3D printed. However, KOEL earphones are more of an entry-level option (priced under $50).
KOEL IEMs feature only one BA driver but sound very balanced, more balanced than the HEX. However, HEX earphones provide thicker and more textured bass with more detailed sound reproduction. People that are into vocal-oriented music might prefer KOEL earphones.
Another advantage of KOEL earphones is their size. They are significantly smaller than the HEX earphones and represent a better choice for people with smaller ears.
---
Shure SE215-CL
SE215-CL earphones are one of the most popular Shure's IEMs, mostly because of their price. They are just a little bit cheaper than the HEX earphones and come with a detachable AUX cable with MMCX connectors but don't have a Bluetooth cable.
SE215-CL earphones have a warm sound signature, similar to HEX, but a little bit more balanced. Compared to the HEX, SE215-CL earphones offer less mid-bass emphasis and have more detailed and richer vocals. The treble reproduction is not as detailed and lacks some sparkle. Bass enthusiasts will prefer the HEX earphones.
---
FiiO FA1
Just like the Brainwavz HEX, FiiO FA1 earphones are 3D printed but look a bit more stylish and refined than the HEX. Their finish is cleaner and the shape is less generic – FiiO paid more attention to detail.
FA1 earphones are not exactly ergonomically designed but, compared to HEX, they provide better fit due to their smaller size.
The FA1 earphones have more emphasized upper midrange and vocals. The emphasis extends to treble reproduction and makes it almost sparkling. However, the bass is not impressive. HEX earphones are still a better choice for bass enthusiasts due to their mid-bass emphasis and wider soundstage.
---
Comparison Table
| Earphones | Impedance | Sensitivity (at 1mW) |
| --- | --- | --- |
| Brainwavz HEX | 30Ω | 120dB |
| Brainwavz KOEL | 30Ω | 105dB |
| Shure SE215-CL | 17Ω | 107dB |
| FiiO FA1 | 15Ω | 11dB |
Final Thoughts
Brainwavz HEX is a pair of very unique-looking and very versatile 3D printed earphones with an interesting and engaging sound signature. HEX's housings might be too large for people with small ears but, if your ears are large enough, HEX earphones will provide very good comfort and noise isolation. On the other hand, the size of the housings enabled the installation of large BA bass drivers which are responsible for the mid-bass elevation we've talked about. The earphones target the mainstream market and will be a perfect choice for bass enthusiasts while the audiophiles might find their sound reproduction a bit uneven/unbalanced.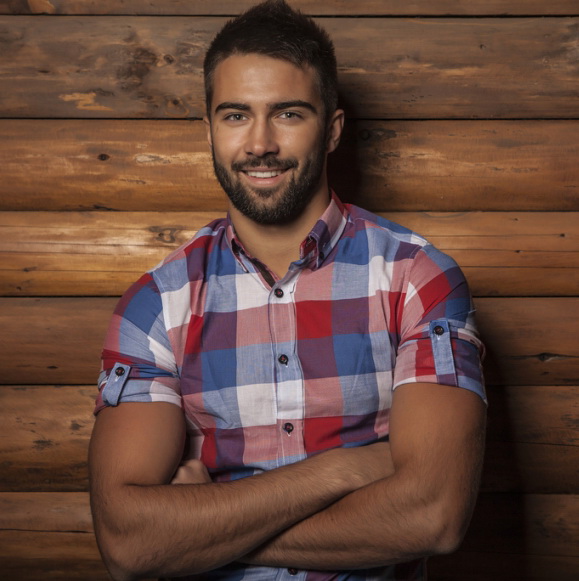 Hello, my name is James Longman.
I'm a writer and editor at AudioReputation. I disassembled my first portable AM/FM radio when I was only 8. At the age of 11, I burned the circuit board on my old boombox cassette player. I'm not going to explain how but it was reckless and stupid.
Since then, I have become much more careful around radios, boomboxes, and other audio devices (at least, I like to think so) but I have never lost the passion for audio equipment. Throughout 20 years of my professional career, I've been working for various audio equipment manufacturers and even started building speakers on my own in my little workshop.
I love the work we do here at AudioReputation. Testing, comparing, and evaluating all kinds of audio devices (speakers, soundbars, headphones, home theater systems, etc.) is something I truly enjoy. I try to be unbiased and give you my honest opinion on every piece of equipment I test. Still, you should take my reviews with a pinch of salt and always be just a little bit skeptical. The fact that I liked some speaker or soundbar doesn't mean that you are going to love it. If you have the opportunity, you should test it/hear it before buying it.