AudioReputation is reader-supported. When you buy through links on our site, we may earn an affiliate commission Learn More
If you're a fan of "old-fashioned" methods of playing music, we've got something great for you – 6 best CD cassette players in 2023!
Although most people prefer using modern technologies and streaming music directly from the Internet, some of us still have large CD and cassette collections carefully wrapped and stored in our basements. During the '80s and '90s, cassette players and boomboxes were extremely popular. However, the modern era has brought the Internet, Bluetooth, and portable devices in our lives. So why would anyone want to deal with CDs and tapes when they already have a small device that can store an incredibly large amount of songs or stream them directly from YouTube, iTunes, etc.?
The answer is – because we love it. Call us nostalgic or silly but we simply consider these media precious. Luckily, we don't have to give up on them just because the world has moved on. Some manufacturers still produce CD and cassette players that deliver amazing sound. Some of them even combine retro and modern technologies and include features such as USB, headphone outputs, AUX inputs, or even Bluetooth connectivity in order to offer as many options for music playback as possible. And we can tell you one thing – they come at very reasonable prices.
Best CD Cassette Players – Comparison Table
Having in mind all these reasons, we gathered a significant number of various players that can play both CDs and cassettes and decided to test all of them. During the process, our greatest concern was to find devices offering the best possible performance. Of course, we couldn't neglect the overall build quality, additional features, portability, and price. We've given our best to select the ones that meet all the important criteria and finally selected 6 best CD cassette players in 2023. The following players are our top picks.
The List of 6 Best CD Cassette Players in 2023
---
1. Best CD/Cassette Player with Detachable Speakers: NAXA Electronics NPB-426
The first product on our list of 6 best CD cassette players in 2023 is an affordable NPB-426 from Naxa. It doesn't cost a lot and it offers many useful features, well-combined with attractive and modern design and great ease of use.
Things we like
NPB-426 comes in black color with silver details and an LCD display with red backlight. Despite having twin detachable speakers, we can't say that the device is highly portable. It's 17.9 inches wide, 8.6 inches high, and 9.4 inches deep. It weighs approximately 8.8 pounds.
On the top, you'll immediately notice a handle and a CD compartment. On the front panel, there are the control buttons, cassette compartment, and an LCD display. On the sides, you have the right and the left speakers.
The device features separate CD and cassette control buttons, as well as one AUX input and a built-in condenser mic.
On the rear panel, there's a telescopic antenna, AC voltage selector, AC socket, speaker jacks, and a battery compartment.
Speaking of batteries, the player can be AC powered or it can use batteries, which is quite convenient if you want to use it outdoors. In that case, you'll have to get 8 UM-1 D-size batteries, as they don't come with the device.
When it comes to the cassette operation, you get a chance to play or record them as long as you use high-quality cassettes (IEC Type 1) for recording. One thing that's not recommended is using the C120 cassette type. Once the tape reaches its end, the auto stop feature will stop the operation by releasing the play/record buttons. However, this feature is available only for cassette operation, not in CD or radio modes.
Apart from being able to play cassettes, CDs or radio, you also have one AUX-IN port, which means you can connect other devices such as MP3 players and play the music through the speakers.
The sound this unit delivers is quite good and pleasant. If you like bass-heavy music, you'll be happy to learn that there's the X-bass button that boosts the lows.
Things we don't like
The greatest complaint consumers had about this product is related to its build quality. We don't think you should expect a military-grade device at this price point but we can agree that it's a bit cheaply made.
---
2. Best Design: Sony CFD-S70-BLK
Sony CFD-S270 is slightly pricier than the previously described model but it's also more compact, offers better recording quality, and is twice as light. CFD-S70 enables you to listen to FM/AM radio, cassette, and MP3 CDs. Also, it allows you to play music from an external device connected through AUX port or to connect headphones when you don't want to disturb others.
Things we like
The device comes in matte black and has a very elegant and appealing design. It's nicely rounded, quite light, and highly portable. It's approximately 9 inches deep, 6 inches high, 13 inches wide, and it weighs only 4.19 pounds. On the top, you'll see a plastic handle, a CD compartment, control buttons, and an LCD display. There are different kinds of buttons used to control the playback, volume, switch between modes and inputs, etc. On the front side, you'll see two 1.7W speakers and a cassette compartment. On the rear panel, there's the AUX input and headphone jack, as well as the battery compartment that requires 6 C batteries.
The AUX port enables you not only to play music from an external digital player but also to record from it. In case you need to use your S70 outdoors, you don't have to worry about disconnecting it from the wall socket. 6 batteries will provide up to 19 hours of constant playback. In addition, the device enables you to select up to 30 AM and FM presets, and even to memorize 3 favorite ones. Also, there's the sleep timer that you can set to automatically switch the radio off at a specific time.
Things we don't like
If this were some other device, we would say that we are completely satisfied with the audio performance. However, considering that this is Sony's product, we've expected better speakers and much better bass boost mode.
Also, we have to warn you that the recording quality is significantly improved when you record from a device connected via AUX port.
---
3. Most Affordable: GPX BCA209B
Small, compact, and portable, GPX BCA209B is the perfect solution for all of you who want to throw a good outdoor party. Besides AM/FM radio, BCA209B enables you to listen to CDs and even your old cassettes. It can be powered via cord or batteries, and it delivers a very enjoyable sound. The most important thing is that you get all these features at an incredibly low price.
Things we like
GPX BCA209B has a stylish design, with an all-black finish and nicely rounded edges. It's quite compact (9.53×8.87×4.88 inches) and light, which means it's highly portable and appropriate for all kinds of apartments, offices, and for outdoor use.
On the top, you'll see the FM radio antenna, plastic handle, CD compartment door, CD door handle, and a set of buttons used to control the cassette operation (pause, stop/eject, forward, rewind, play, record). On the front panel, there's an LCD display surrounded by CD control buttons (forward, rewind, program, repeat, play/pause, stop), as well as the left and right speakers covered with metal grilles, and a partially transparent cassette compartment door.
When you want to choose the source, you just have to reach for the button on the left side and select FM, AM, TAPE, CD, or AUX mode. Next to this button, you'll see the volume slider. Once you've chosen to listen to the radio, you will have to reach for the tuning slider on the right side and find your favorite radio station.
Finally, on the rear panel, you have an AC cord connector and a battery compartment. In case you decide to take your music with you to a place that has no electricity, you'll simply have to insert 6 C batteries and you're good to go.
As far as sound quality is concerned, we really have no major complaints, considering that this is one the cheapest product on our list of 6 best CD cassette players in 2023.
Things we don't like
Unfortunately, we really have to point out some downsides we've noticed while testing this player. First of all, we are really disappointed that the LCD display doesn't show the information about the current radio frequency.
Second of all, we have to disappoint all of you who are looking for a CD/cassette player with MP3 support as GPX BCA209B doesn't support MP3 CDs, just regular CDs.
---
4. Most Compact: NAXA Electronics NPB-268
No matter if you want to listen to the radio, play a CD, play an old cassette, or record the latest songs on it, Naxa NPB-268 is there for you. Significantly more compact, lighter, and portable than the previously described NPB-426, NPB-268 offers the same or even more pleasure for less money.
Things we like
NPB-268 comes in two attractive versions – black and silver. It has a slightly alien-like design, which we consider quite interesting.
On the top, you will immediately notice a handle and a CD compartment with the Naxa logo on it. Next to the CD compartment, there are all the control buttons for both CD and cassette playback management. In the center, you'll see a small LCD display that informs you about the active source, track number, radio station frequency, etc. On the left and right sides, there are the CD controls. There are some standard buttons you're probably familiar with (play/pause, volume controls, skip forward/backward, etc.) as well as some less common control buttons.
The PROGRAM button is used to create custom CD playlists. The MODE button allows you to switch between different CD playback modes (repeat/repeat all/random), while the FUNCTION button switches between different inputs (AUX, radio, CD, tape).
Below the LCD display, you'll see an array of cassette control buttons used to play/pause/stop/eject tape, fast forward/rewind, or record audio from another source.
On the front, you'll see two big speakers, a cassette compartment, headphone output, and AUX input ports. This actually means that you can connect other devices to your player (such as phones, iPods, etc.) and play music from them or even record music on tape.
On the rear panel, you'll find one AC port and a battery compartment that requires 8 UM-2 C-size batteries. This will enable you to take the player wherever you go and enjoy your music without any limits.
When it comes to the supported CD types, you should know that NPB-268 plays CD and CD-R/RW discs.
You should also know that the player can find up to 40 radio stations.
As far as sound quality is concerned, the consumers have been quite satisfied so far. We also have no major complaints.
Things we don't like
What seems to cause certain problems to some users is the build quality. We couldn't notice any important problems but some buyers seem to have problems with the LCD going out, discs that won't spin, the player that doesn't recognize CDs, etc.
---
5. Best CD/Cassette Player with Remote Control: Panasonic RX-D55GC-K
So far, we've presented to you some more affordable CD/cassette players and we have left two slightly pricier models for the end. The first one is the Japanese Panasonic RX-D55GC-K. The device offers a great combination of modern and retro style and features, along with amazing Sony-grade sound quality, and decent construction. It's quite compact and it weighs only 8 pounds.
Things we like
RX-D55GC-K comes in a black-silver color combination and has a retro design. The design is somewhat unusual for this kind of product, at least in comparison to the previously reviewed models. On the top, you'll only find a handle and an antenna, while all the compartments and controls are located on the front panel.
First, you'll notice an LCD display with yellow background light showing you radio frequency, source, etc. There's also the cassette compartment and control buttons, which are very responsive. In addition, there are one AUX input, headphone output, and a USB port. Strangely, the CD compartment isn't immediately noticeable as it ejects like a DVD player and is located at the bottom.
On the sides, there are four 2-way speakers with 10W of power output. On the rear panel, you'll see the AC cable connector and battery compartment (8 LR14 C-type batteries required).
We were very pleased to learn that this player supports all kinds of sources and CDs. It plays CDs and CD-R/-RW. It can also play audio from a USB stick and tape. The thing that makes it even more appealing is that it supports MP3.
The player itself sounds amazing. It supports MP3 re-mastering feature, its EQ has 4 modes (EQ presets), the bass and treble can be controlled, and there's also the sound ''virtualizer''.
It also comes with its own remote control that allows you to control its operation without getting up from your chair.
Things we don't like
Although the player sounds great, we have noticed certain problems regarding CD recognition, occasionally interrupted playback, etc. It's not something that happens very often but some users encountered these problems.
---
6. Most Feature-Rich: Victrola Nostalgic 6-in-1
Last but definitely not least, we present to you a 6-in-1 player – Victrola Nostalgic. Designed as a vintage turntable/radio, this is a very attractive and decorative device. It's quite compact (18x10x13.4 inches), it weighs approximately 16 pounds, and its total output power is 6W. At a very reasonable price, Victrola Nostalgic combines modern and retro features, Bluetooth, radio tuner, CD/cassette player, and a turntable. Also, you can connect it to a larger speaker system, headphones, or connect a portable music player.
Things we like
Victrola Nostalgic comes as a wooden box with built-in different types of players and two 2-way speakers. It is available in espresso, farmhouse oatmeal, ship grey, graphite, and mahogany colors. All the versions look equally attractive.
At first glance, you'll see just a nice-looking wooden box but we'll explain where are all the controls, CD and cassette compartments, additional ports, etc.
Once you open the top cover, you'll see a turntable with a speed selector (33 ½, 45, and 78 RPM), tonearm with a stylus, and a 45 RPM adaptor. On the front side, you'll see the display that indicates which station is selected, track number, selected CD program, and audio source. Around the large circle display, you'll see carefully designed control buttons as well as source selection knob, FM/BT slide switch, 3.5mm headphone output, AUX input, radio tuner, and volume knob.
Recommended Reading :

Below this set of controls, you'll find the power on/off button and CD open/close button. The CD compartment is just below them and it ejects like a DVD player.
On the right side, there's a less noticeable cassette compartment with an FF/eject button. Once you insert your cassette, you can push it hallway to fast it forward or all the way to stop and eject the tape.
On the rear panel, there's the radio antenna, RCA input port, and AC power cable.
As you can see, no matter how you want to play your music and which audio source you want to use, Victrola Nostalgic can make it happen in a second.
As we believe the build quality is obviously good, we will simply skip to the performance part. Truth to be told, we've got much more than we expected. The speakers are quite loud. They deliver very pleasant and detailed sound reproduction with good bass. If you decide to throw a party, you can always connect the player to a set of active speakers via the headphone jack. Bluetooth is a great extra feature and the younger users will be quite pleased with it.
Things we don't like
Although we don't think there are any major disadvantages or dealbreakers, here are some of the problems you may encounter while using this device.
First of all, the turntable arm is quite light and it can occasionally skip tracks.
Second of all, Bluetooth can't be used to connect to external speakers (it's a Bluetooth receiver, not transmitter).
Finally, Victrola Nostalgic not very portable or meant to be used outdoors (has to be plugged in at all times).
---
That was our list of 6 best CD cassette players in 2023. Hopefully, we've managed to present the selected devices in an interesting and informative manner. If you want to find out more about CD cassette players, go through our FAQs. If you have additional questions or want to share your experience, leave us a comment below.
---
FAQs
Q: Why do I need a CD/cassette player?
A: CD and cassette players are great options for all of you who don't want to throw away all your old CDs and cassettes. They deliver great sound and often support various audio formats (including MP3) or can play audio from external sources such as USBs, smartphones, tablets, or even Bluetooth-enabled devices, and they are often highly portable and can be used outdoors.
Q: Are CD/cassette players still available?
A: You wouldn't believe it but they are. Of course, we are talking about some modern improved versions, sold at quite affordable prices – the original models from the '80s and '90s can be quite expensive.
Q: What is a boombox?
A: A boombox is a portable player with a transistor, one or two cassette recorders or players, FM/AM radio, and, starting from the mid-80s, a CD player. Designed to be portable, they could be powered by batteries. They have a recognizable rectangular shape, large handle on the top, and radio antenna(s).
Q: What is the best CD/cassette player in 2023?
A: If you go through our list of 6 best CD cassette players in 2023, you'll see some great units that we have tested for you. We can't really say which one is the best for you because that depends on your needs and taste. However, we do hope that our reviews will be helpful and that you will find your perfect player.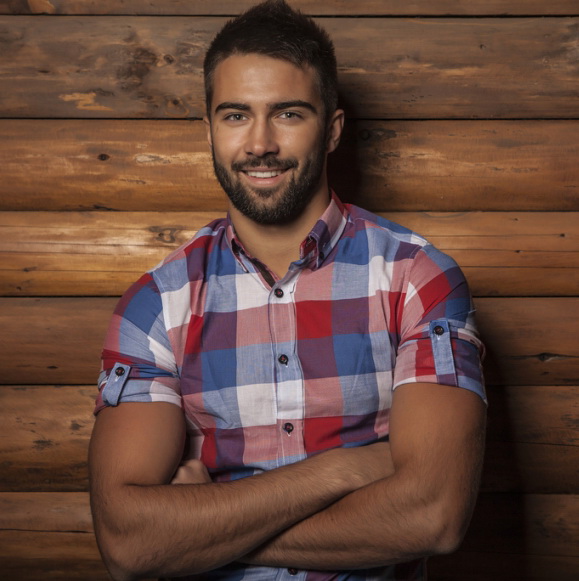 Hello, my name is James Longman.
I'm a writer and editor at AudioReputation. I disassembled my first portable AM/FM radio when I was only 8. At the age of 11, I burned the circuit board on my old boombox cassette player. I'm not going to explain how but it was reckless and stupid.
Since then, I have become much more careful around radios, boomboxes, and other audio devices (at least, I like to think so) but I have never lost the passion for audio equipment. Throughout 20 years of my professional career, I've been working for various audio equipment manufacturers and even started building speakers on my own in my little workshop.
I love the work we do here at AudioReputation. Testing, comparing, and evaluating all kinds of audio devices (speakers, soundbars, headphones, home theater systems, etc.) is something I truly enjoy. I try to be unbiased and give you my honest opinion on every piece of equipment I test. Still, you should take my reviews with a pinch of salt and always be just a little bit skeptical. The fact that I liked some speaker or soundbar doesn't mean that you are going to love it. If you have the opportunity, you should test it/hear it before buying it.