AudioReputation is reader-supported. When you buy through links on our site, we may earn an affiliate commission Learn More
Moving on with our series of articles related to CD players, we are happy to publish our list of 8 best CD lens cleaners in 2021. So far, we've presented to you some great CD players and some CD cassette player/boomboxes. For today's article, we've prepared some interesting information about how to keep your players and CDs in good shape and extend their lifetime.
---
What Are CD Lens Cleaners?
CD lens cleaners are cleaning products shaped like regular CDs. The only difference is that these discs have small brushes on the "playing" side that actually clean the inside of your player. Some of them are made only for CD players, while the others are meant for mixed usage and can be used to clean different DVD players, Blu-ray players, game consoles, etc. Depending on the brand and product's features, their price can vary. However, they are usually quite affordable.
Apart from being cheap and useful, CD lens cleaners are extremely easy to use. Basically, the only thing you need to do is take them out from their case, insert them in your player, and press play. The cleaners usually contain several tracks with instructions and pleasant music playing in the background.
Why Do I Need a CD Lens Cleaner?
CD players and boomboxes were extremely popular from the 1990s until the 2010s. Believe it or not, some people still find them quite amusing and use them on regular basis.
Most people have been following trends and have replaced CDs with SD cards, USB memories, iTunes, Deezer, etc. while players have been replaced by smartphones. However, in most houses, there's still a shelf with an old CD player on it. And you know what? We don't have to throw them away! CDs can still be very useful!
You probably don't think about it but there are still so many old songs that haven't been converted into some more flexible digital format and exist only on CDs and cassettes, especially when it comes to classical music. Also, CDs still offer pretty good sound quality, maybe even better than tracks played from your portable devices or streamed via the Internet. And don't forget how vinyl records have become popular lately. CDs may reach that level of popularity someday, too, so there's another reason to keep both CDs and CD players in good condition.
As you probably know, CD players contain small lasers with lenses that are responsible for reading discs and playing your favorite songs. Once they are damaged or dirty, the CDs start skipping or can't be played at all. Sadly, dust and dirt always find their way to all secret compartments of our devices, and CD players aren't an exception. As time passes, the lenses get covered in dust, which leads to the player malfunction.
Recommended Reading :

In order to prevent this from happening or repair an existing problem, we recommend buying a CD lens cleaner. After only one use (or several, if your player hasn't been cleaned for years), you'll be able to play some of the CDs you couldn't play for a long time and was determined to throw away. We also recommend to get used to cleaning your devices regularly. You really don't know when you're going to need them.
Best CD Lens Cleaners – Comparison Table
In order to write this article and complete the list of 8 best CD lens cleaners in 2021, we acquired all the CD lens cleaners available on the market. First, we set some basic rules and conditions, and then we tested the cleaners to find the best among them. Finally, we selected the 8 models reviewed below. Our goal was to single out those that aren't too expensive, that are easy to use, as well as those that do their job well. These are our top suggestions.
The List of 8 Best CD Lens Cleaners in 2022
---
1. Best Deal: Optimum Superior Lens Cleaner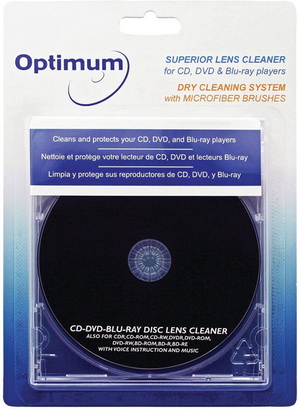 If you own a CD, DVD, or Blu-ray player and have experienced some skipping and reading problems lately, you don't have to buy a new device and throw the old one away before you try one of the best CD lens cleaners in 2021 – Optimum Superior Lens Cleaner.
It comes at a more than affordable price and in a rather simple, partially transparent packaging. On the packaging, you can see most of the information you need to use this cleaner properly. As the instructions imply, the cleaner can be used only with CD, DVD, and Blu-ray players, so we do not recommend applying it to game consoles such as Play Station because it won't be able to read the disc. However, you can normally use it with all the players compatible with CD-R, CD-ROM, CD-RW, DVDR, DVD-ROM, DVD-RW, BD-ROM, BD-R, and BD-RE formats.
Once you insert the cleaner in your player, pleasant piano music starts playing. Soon after that, you'll hear voice instructions. They are slowly played in English so everyone can understand them. Stick to those instructions and we assure you that you'll be able to play any old CD in your collection.
The manufacturer recommends using this cleaner every 8h of play or every 3-4 weeks if the player is not in everyday use. It should be replaced when you notice that the small microfiber brushes on the bottom are worn out, damaged, or very dirty.
---
2. Best Price-Quality Ratio: Maxell Safe and Effective Disc Cleaner CD-340
The next product on the list of 8 best CD lens cleaners in 2021 is a reliable and affordable model from a trusted and well-known brand – Maxell. CD-340 is an automatic CD lens cleaner that comes in simple packaging. On the packaging itself, you'll notice the basic instructions you should follow – the cleaner shall be used only with CD players (supporting CD and CD-ROM formats) and CD gaming systems. Sadly, it won't work with DVD or Blu-ray players, Play Station, laptops, etc.
The disc uses Thunderon Brush System. It efficiently removes the dust and dirt from old players and restores their ability to play any CD you can think of. And the use is rather simple, as well. It's enough to remove the wrapping from the disc and insert it in your player. After a few seconds, you'll hear pleasant jazz music playing. Soon after that, you'll hear the voice instructions guiding you through the process.
---
3. The Cheapest: Endust for Electronics, CD/DVD Lens Cleaner
Here it is – the cheapest product on the list of 8 best CD lens cleaners in 2021! Affordable and efficient, Endust cleaner is an excellent choice if you need a quick solution for an old player that accumulated some dust and debris on its lens. Endust cleaner comes in a simple, partially transparent box with both written and voice instructions.
The cleaner uses a special micro brush system that reduces static preventing the dust from building up on your player's lens. It can be used for cleaning CD, DVD, and Blu-ray players, as well as gaming consoles such as Sony PlayStation 3, XBOX 360 & XBOX One. It works with Mac computers and PCs as well.
Once you insert the disc into your player, you will hear some pleasant introductory music and voice instructions. If you don't want to go through the entire instruction section, we recommend skipping to track 3, where the cleaning process begins. Once the cleaning is done, eject the disc and voila – you get a completely clean player able to play any disc you want.
The manufacturer recommends repeating the process every 10 days.
---
4. Digital Innovations CleanDr 4190500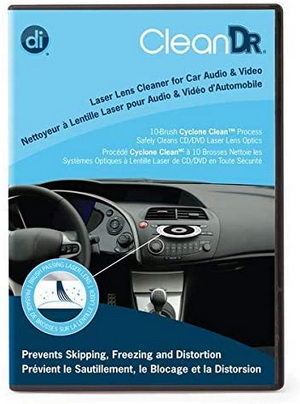 Most of us remember to clean our home players but we usually neglect CD and DVD players that we use in our cars. As they need to be regularly and properly maintained just like any other player, we've decided to present to you this Digital Innovations car audio-and-video lens cleaner.
It comes at a very affordable price and in a simple plastic case that reminds us of a DVD case. It uses a 10-brush Cyclone cleaning system that gently removes dust and debris from your player's lens, resolving issues related to slow loading, skipping, and freezing.
The cleaner can be used with regular car CD and DVD players or computer players, XBOX/XBOX360, and PS1/2. However, we don't recommend using it with Blu-ray players, XBOX One, Wii U, or PS3/4.
The use is simple – once you insert the disc into a player, it starts playing automatically. First, you'll hear some music and then the voice instructions available in English and French.
---
5. Allsop CD Laser Lens Cleaner
Allsop CD laser lens cleaner is a cheap cleaner that comes in a partially transparent green and white box. It is supported by DVD and CD players, as well as game consoles (XBOX, XBOX 360, PlayStation, PlayStation 2). It supports DVD R/RW and CD R/RW formats and it can be used for cleaning your home and car players. However, Blu-ray players, XBOX One, and PlayStation 3/4 won't be able to read it.
The cleaner uses 8-feather soft carbon brush cleaning technology that gently removes dust and dirt from your player's lens, enabling you to play all the discs you weren't able to play and improving audio/video performance.
It comes with the voice and on-screen instructions available in five languages.
All in all, this is a great and efficient cleaner that can be yours for only a few bucks.
---
6. RCA RD1142 Discwasher
RD1142 is a multipurpose CD/DVD cleaner that works well with most CDs, DVDs, and even game consoles.
It comes in a partially transparent black and white packaging and at a slightly higher price than average. However, the feature that distinguishes it most from the other lens cleaners isn't the price but the fact that it comes with only two brushes and an additional cleaning solution. Of course, if you don't want to place any kind of liquid into your player, you can use the cleaner only for dry cleaning but the best results are definitely achieved when wet cleaning is applied.
In order to do it properly and safely, drill a small hole on the solution bottle and place only one drop of fluid on one of the brushes on the bottom of the cleaning disc. After that, simply insert the disc into your player and let it do its job.
Once you clean your lens, you can run one of the 8 diagnostic tests to check the audio quality of your device and repair it if the tests show that something is wrong.
---
7. CD & DVD Laser Lens Cleaner by Philips
Philips laser lens cleaner is the most expensive cleaner on our list of 8 best CD lens cleaners in 2021 but if you don't want to risk with no-name products, it's worth trying.
It comes in a fully transparent typical CD case. Right there on the case and the disc itself, you'll see the areas of application and basic characteristics. It's perfectly compatible with any CD or DVD player and it supports DVD, CD, CD-R/RW/ROM, and gaming consoles.
Philips cleaner uses a multiple-brush dry cleaning system that safely and gently removes all the dust and dirt from your laser lens. It's also quite easy to use if you follow the voice instruction available in even 14 different languages. After the cleaning process is finished, you can also run some diagnostic tests to check your audio/video quality.
---
8. Digital Innovations 60120-00 CleanDr Laser Lens Cleaner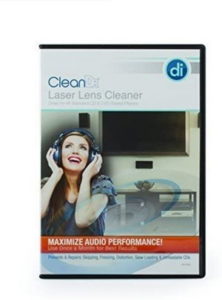 We have another Digital Innovations cleaner for you. This time, it's the 60120-00 model that comes in a non-transparent DVD case with the company logo and basic information on it.
The cleaner uses a 10-brush three-stage Cyclone cleaning system that not only cleans the player's lens from dust and dirt but also demagnetizes it and improves audio and video performance.
The use is extremely easy and fast. It's enough to take the disc out from the case, insert it with the brushes facing down, and press play. The voice instructions will guide you through the process accompanied by pleasant and calming background music.
The cleaner shall be used once a month with regular CD and DVD players, XBOX/XBOX360, and PS1/2 but it's not compatible with multi-disc CD/DVD and Blu-ray players, Nintendo, XBOX One, or PS3/4.
---
This was the list of 8 best CD lens cleaners in 2021. We gave our best to do some quality testing and write honest reviews and useful tips that will help you preserve devices you have and extend their lifetime. In case we didn't manage to answer all your questions in the sections above, you'll probably find what you're looking for in the FAQ section. If that's not the case, feel free to share your questions and doubts in the comments below and we'll try to get in touch with you as soon as possible.
---
FAQs
Q: Can a CD player be cleaned?
A: Yes, a CD player can be cleaned and it's easier than you think. You don't have to buy different brushes or find a piece of cloth that will remove the dust and dirt without leaving its microfibers on the lens. CD lens cleaners will clean your CD player in just a few minutes.
Q: How can I clean my CD player?
A: All you have to do is to go through our list of 8 best CD lens cleaners in 2021, find the product that fits your needs (in terms of features and price), insert it in your player, press play, and let the cleaner do all the job for you. The small brushes on the cleaner will carefully but efficiently remove all the dirt accumulated on the lens without leaving any scratches or causing any kind of malfunction.
Q: Do CD lens cleaners really work?
A: Yes, they do. We admit it may seem a bit hard to believe that a few fibers on the bottom of a CD can clean lens so thoroughly but we've had many opportunities to see for ourselves how efficient they are.
Q: What is the best CD lens cleaner?
A: Our article has to offer 8 great CD lens cleaners and they are all available at quite affordable prices. They achieve great results, customers are pretty satisfied with them, and they are very easy to use. However, we can't really say which model is the best because this is only your decision and it depends on your current needs.
Q: What features shall a good CD lens cleaner have?
A: A good CD lens cleaner shall be easy to use. Also, it should work without any interruptions and should leave your CD lens undamaged and perfectly clean. Finally, you should be able to use the CD lens cleaner multiple times and not just once.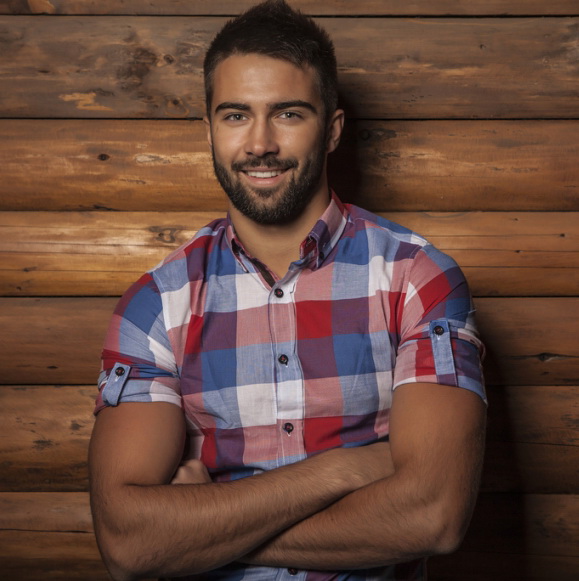 Hello, my name is James Longman.
I'm a writer and editor at AudioReputation. I disassembled my first portable AM/FM radio when I was only 8. At the age of 11, I burned the circuit board on my old boombox cassette player. I'm not going to explain how but it was reckless and stupid.
Since then, I have become much more careful around radios, boomboxes, and other audio devices (at least, I like to think so) but I have never lost the passion for audio equipment. Throughout 20 years of my professional career, I've been working for various audio equipment manufacturers and even started building speakers on my own in my little workshop.
I love the work we do here at AudioReputation. Testing, comparing, and evaluating all kinds of audio devices (speakers, soundbars, headphones, home theater systems, etc.) is something I truly enjoy. I try to be unbiased and give you my honest opinion on every piece of equipment I test. Still, you should take my reviews with a pinch of salt and always be just a little bit skeptical. The fact that I liked some speaker or soundbar doesn't mean that you are going to love it. If you have the opportunity, you should test it/hear it before buying it.