AudioReputation is reader-supported. When you buy through links on our site, we may earn an affiliate commission Learn More
HDMI cables have been around for quite some time now, and the truth is most people use them regardless of the type of device they are trying to connect. However, we must not forget that there are still some people who use some older devices that do not support HDMI connection. Sometimes, they don't want to spend more money than they have to, sometimes they are simply emotionally attached to their equipment, but it also happens that you have all the devices that support HDMI, but you don't have the cable itself.
Either way, you should know that there are other ways to make your devices work together and provide you a great listening/watching experience. This is why we have decided to write this article and help you discover several options and find the one that works best for you.
This time we are dealing with establishing the connection between a TV and a soundbar without HDMI ARC, so stay with us, and we guarantee you will not regret it. In fact, you may just learn some interesting new facts.
How do I connect tv to soundbar if no HDMI arc?
In case of no HDMI audio return channel, then the next best thing to do is connect your TV to the soundbar using Bluetooth. Make sure that your TV has a bluetooth transmitter, then pair the TV with the soundbar. If your TV doesn't support bluetooth, then the next best option is to use a digital optical cable.
What Is HDMI/HDMI ARC and Why Is It So Important?
As we have said, HDMI cables have taken roots and become the primary way to establish a reliable connection between two or more electronic devices (TVs, AVRs, PCs, monitors, projectors, etc.). Because of their quality, reliability, and ease of use, HDMI cables are a must-have especially when it comes to establishing complex connections within a home theater system that consists of multiple sources and output devices. HDMI (especially HDMI ARC) makes our lives much easier because it literally eliminates numerous ugly and messy cables from our lives and replaces them with a single cable. It looks so much cleaner, it takes less time to connect everything, and it's easier.
But What Exactly is HDMI (ARC)?
HDMI stands for High Definition Multimedia Interface, and its main purpose is to transmit digital signals (audio, video) between devices. Almost all modern audio/video devices have at least one HDMI port including TVs, PC monitors, DVD and BluRay players, video projectors, cable boxes, laptops and PCs, amplifiers, receivers, soundbars, etc. Considering that different devices featuring HDMI connection are used in different situations, places, and under different conditions, there are different types of HDMI cables. All of them have different capabilities adjusted to the capabilities of the devices they connect.
Recommended Reading : Types of HDMI Audio Extractors
Due to this fact, you can choose between the following types of cables:
Standard HDMI cables: They are used to establish the connection to HDTVs, their bandwidth capacity goes up to 5 Gbps, and they can usually be found as 1.0 or 1.2a versions;
High-speed HDMI cables: They support video resolutions from 1080p and higher, up to 4K, they can handle 3D and deep color video content, as well as bandwidths up to 10 Gbps. They are usually available as 1.3 and 1.4a versions;
Premium high-speed cables: They are designed for ultra-reliable performance for 4K/60p HDR content with BT.2020 support. They have better EMI protection than standard and high-speed HDMI cables, and you can recognize them by the 'premium' label on the package.
(High-speed) automotive HDMI cables: Automotive HDMI cables have the same capabilities as standard/high-speed HDMI cables, but they are used in cars to connect different kinds of car players to car video displays;
Ultra-high-speed HDMI cables: These cables can transmit 4K/120p and 8K/60p resolution, they have 48Gbps bandwidth and are used with devices featuring HDMI 2.1.
HDMI cables with built-in Ethernet: This type of cable has an HDMI Ethernet channel, and it allows several devices connected via HDMI to share a single Ethernet connection. These cables are rarely used.
---
In addition to this, all the cables feature different connectors and the type of connector depends on the cable application. Subsequently, we have four main types of connectors used for HDMI cables:
Type A: This is the regular connector size used to establish the connection with different players, PCs, cable boxes, gaming consoles, and other source devices.
Type C: These are mini-sized connectors used mainly to establish the connection between a regular source device and a tablet of a regular size or a DSLR camera.
Type D: This type of connector is also called a micro connector. It is used to connect a TV, projector, or a PC to small portable devices such as small tablets, smartphones, etc.
Type E: These are automotive connectors that can be found only on automotive HDMI cables and are used only with in-car devices.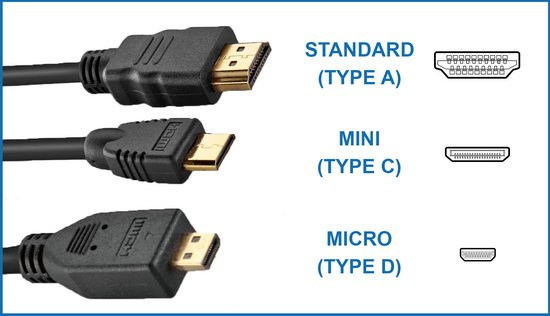 Types of HDMI cables
Now, HDMI ARC is even better than all the previously mentioned connections. Why? Well, because it additionally reduces the number of cables used to connect audio/video equipment, especially when it comes to connecting a TV/projector to a home theater system or a soundbar. The point here is that this connection enables signals to travel both ways, acting as both input and output. HDMI ARC enables video signals to travel from AVR or soundbar to your TV/projector and, at the same time, it enables audio to travel from your TV/projector to travel to your AVR/soundbar.
What to Do When There Is No HDMI ARC Cable?
No matter how great HDMI (ARC) is, the lack of it is not a reason to panic. There is always another solution for every problem, and so it is for this one. Of course, the type of connection you will be using depends exclusively on the types of ports on the connection panel of both of your devices.
Let's see what other cables and connections you can use to connect your TV to your soundbar and still be able to listen to some amazing audio.
---
Note: Whatever connection you are using, don't forget that in most cases, you will have to change the output in your TV's audio settings. These do not automatically change, and this is a common mistake that usually causes additional problems.
---
Bluetooth Connection
Let's start with the most convenient option. And what's more convenient than Bluetooth? The connection is established quickly, it is reliable, and it is cable-free.
To connect your TV to your soundbar via Bluetooth, you must have Bluetooth-enabled devices, and this is something that you can easily check in your devices' specifications. Be careful when checking the specs – have in mind that you need a TV with a Bluetooth transmitter. Most TVs actually have just a Bluetooth receiver.
If they both support Bluetooth, it is necessary to initiate pairing on both devices. Once they are paired, you simply select the content you want to watch and hit the play button.
---
Note: If your TV doesn't support Bluetooth and you prefer this type of connection, you can solve it easily by spending a small amount of money on a Bluetooth transmitter.
Note 2: If your TV or your Bluetooth speaker doesn't support aptX LL, you may experience more or less noticeable audio delays.
---
Airplay 2
Just like Bluetooth, Airplay 2 is also a very convenient way of connecting your TV to your soundbar. It's also wireless and very clean. However, it only works if you have an Apple TV HD or Apple TV 4K and Airplay2-enabled soundbar (like Bose Soundbar 300/500/700, TCL Alto 9+, B&O Beosound Stage soundbar, Sonos Beam, etc.).
Airplay is even more reliable and offers better wireless performance than Bluetooth with a significantly lower audio delay.
Establishing the connection is fairly easy and hassle-free. You have to incorporate your TV and your soundbar into a multiroom system. After that, you have to adjust your Apple TV's default audio output settings, and then you can stream audio from your Apple TV to your soundbar.
How to stream audio from your Apple 4K TV to Airplay 2 speakers/soundbars
Digital Optical Cable
If your devices do not support Bluetooth, you may want to try using a digital optical cable.
To establish such a connection, you have to check the connection panel of your TV and look for a port marked as Digital Audio Output (or simply TOSLINK). If it does, it means you have to check your soundbar as well and find a matching input port. If the devices are compatible, you simply insert one end into the output port of your TV and the other into the input port of your soundbar.
This type of connection is widely appreciated because it is reliable and it provides great audio quality.
---
Note: Do not forget to remove those plastic tips that come with the cable and cover the connectors.
---
Analog Connection
The majority of modern soundbars support two-channel audio and have at least one RCA or 3.5mm audio input. If your soundbar has them, you can consider yourself a lucky person because you can easily establish the connection between your TV and your soundbar via an RCA/AUX cable. These cables are usually red and white, and they can transmit only stereo audio signals. You will have to connect one end of the cable to your soundbar and the other to your TV.
The analog connection could be the only possible connection if you have an old TV with only analog output ports.
If Nothing Helps – Use Adapters!
If your TV and your soundbar have no matching ports and you can't establish none of the above-mentioned connections, the only thing you can do is get an adapter. The kind of adapter you will buy will depend on the type of available output ports on your TV and input ports on your soundbar. The adapter market is so big and versatile today that you are most definitely going to find any IN/OUT combination you need.

Since the time I got my first pair of headphones in 2012, I've been fascinated by these little gadgets that have the power to change our moods through our favorite music. Whether it was the cheap $5 earphones or the premium JBL headphones, I have played my favorite music on tons of different audio devices for all these years.
At AudioReputation, I test and review headphones of all kinds. From popular earbuds like the Airpods pro to the expensive HIFIMAN Susvara, I always perform a deep test and present my honest and unbiased opinion to my readers.