AudioReputation is reader-supported. When you buy through links on our site, we may earn an affiliate commission Learn More
Since the introduction of the Voigt cone assembly with whizzers, many speaker and driver manufacturers have tried to perfect this design and make a great-sounding single-driver full-range speaker. 80 years after the introduction of the first Voigt cone driver, the debate on whether single-driver speakers (also known as wide-banders) are better or worse than the multi-way speakers, is ongoing. The most common arguments you can hear from the fans of single-driver speakers are that the absence of a crossover results in a more linear phase response and smoother polar response. They often swear by the coherence and beautiful midrange of wide-banders. On the other hand, some of the known downsides of the single-driver designs are the inability of one driver to perform all the tasks (reproduce all frequencies) equally well, intermodulation distortion, and Doppler distortion.
---
A manufacturer from Poland called Cube Audio, claims it managed to fix (or at least mitigate) most of the downsides, while preserving the dynamics, micro/macro detail reproduction, impeccable midrange delivery, and a great level of openness single-driver speakers are known for. Today, we are reviewing one of Cube Audio's first speakers called the Bliss C. Here's a short summary.
Cube Audio Bliss C is the result of 4 years of research and development. After numerous prototypes, Grzegorz Rulka (founder of the Cube Audio) and Marek Kostrzynski (Grzegorz's collaborator), came up with the right kind of full-range driver and the right kind of enclosure, and finally created the Bliss C.
The heart of the Bliss C is the proprietary Voigt-cone-style 8in full-range driver called the Fc8. According to the manufacturer, Fc8 is one of the most advanced, most capable, and best-sounding single full-range drivers ever. They customized every component of this driver and built it from the scratch, paying attention to every little detail in the process. Some of the components had to be CNC-machined and assembled manually. This dedication and precision resulted in a magnificent full-range driver that can better any other full-range driver on the market. Fc8 can easily outperform any Fostex or Lowther full-range driver.
The Fc8 driver is combined with a Tapered Quarter Wave Tube enclosure (aka Voigt pipes enclosure), which is a perfectly natural choice for a Voigt cone driver and is frequently used when it comes to full-range speaker designs.
The manufacturer recommends matching the Bliss C with at least 3Wpc tube amps. Some of the recommended tubes are 2A3, 45s, and Px4. The speakers will deliver magnificent performance with solid-state amps, too, especially Class-A solid-state amps. The recommended room size is 15-30m2 (160-320ft2).
As far as performance is concerned, Cube Audio Bliss C truly is a work of art. Its sound delivery is transparent, accurate, and dynamic. The greatest highlight is, expectedly, the midrange reproduction. Single-driver speakers are known for their immaculate mids and Bliss C is not an exception. In fact, it's better than any other full-range driver we've ever heard.
The bass reproduction is a common downside of the single-driver speakers. But that's not the case with Bliss C. Well, almost. Bliss C loudspeaker delivers clean and undistorted bass, which is already a huge success for a single-driver speaker. However, it rolls-off a bit too soon (around 80Hz) for a full-range speaker, which implies that you should probably use it in combination with a subwoofer. Also, Bliss C performs above expectations when it comes to treble. Most wide-banders tend to deliver a bit uncontrolled treble that lacks refinement and detail. But Bliss C is different. It's much more detailed, more consistent, and fairly extended for a single-driver speaker.
So, is Cube Audio Bliss C worth it? If you're a fan of single-driver designs, you should most definitely give it a try. It's arguably one of the best wide-banders on the market.
Great mixture of raw industrial design and sleek piano-gloss finish

Impeccable build quality

Fc8 – one of the most capable full-range single drivers ever made

Fairly easy to drive

Amazingly natural midrange reproduction

Clean and undistorted bass delivery

Consistent and refined highs

Airy and tremendously big soundstage
Bass rolls-off around 80Hz (to get the best experience, it's recommended to combine Bliss C with a 10in or 12in subwoofer)
Cube Audio Bliss C could easily be one of the best single-driver speakers in its class. Like most wide-banders, it delivers incredibly natural and detailed midrange, but it's much better than other wide-banders when it comes to bass and treble reproduction, transparency, and overall musicality. Of all the full-range drivers we've heard, the only one that could compete with the Cube Audio's full-range drivers is the Manger Transducer, but that's a completely different design. When it comes to speakers based on Voigt cone assembly with whizzers and Voigt's pipe, there's nothing like Cube Audio Bliss C loudspeaker.
What's in the box?
Cube Audio Bliss C comes in a simple box protected with large foam pieces and tucked inside a white satin-like sack. The only thing you have to do before you connect it to your amp is to install and adjust those long spiky footers that come with it. You have to install only one pair (front feet) while the back feet are preinstalled and rubberized.
Specs
| Cube Audio Bliss C Loudspeakers Specifications | |
| --- | --- |
| DIMENSIONS | |
| Width  | 9.8in/25cm |
| Height  | 39.4in/100cm |
| Depth  | 15.75in/40cm |
| Weight  | 55lbs/25kg |
| DRIVERS | Single Fc8 full-range driver |
| ENCLOSURE TYPE | Sealed |
| CONNECTORS | 5-way binding posts (one pair) |
| OTHER TECHNICAL DETAILS | |
| Frequency response | 40Hz-18kHz (+/- 6dB) |
| Impedance | 6Ω |
| Max Power | 40W |
| Efficiency | 92dB |
Design
Cube Audio Bliss C loudspeaker represents a great amalgam of raw industrial design and a very attractive, eye-catching piano-gloss finish. The speaker is available in two versions – black and white. Bliss C could easily fit all kinds of interior designs.
Great fusion between industrial design and classic piano-gloss finish
The front panel is reserved for Cube Audio's proprietary Fc8 full-range driver, located right at the top. The driver is packed inside a relatively small (for a floorstanding speaker) enclosure.
On the rear panel, you have one pair of high-quality 5-way binding posts. You don't have two pairs since there's no need for bi-amping – the speaker is already fairly efficient and easy to drive.
Rear panel – one pair of 5-way binding posts
On the bottom, you have a pair of adjustable spikes (front) and two rubberized fixed feet (back).
Features
It's not a secret what the key elements of the Bliss C loudspeaker are. You have two crucial things – the Fc8 full-range driver and Voigt Pipe cabinet. But there're so many special things about the driver and the cabinet. In order to deliver the final product, guys from Cube Audio had to come up with special cone materials, coatings, motor assemblies, spider designs, voice coils, etc. So, let's take a closer look at some of the most important components of the Fc8 driver.
Cube Audio's Fc8 driver
Many components of the Fc8's magnetic motor are CNC-machined. The voice coil is underhung. The excursion within the 100% magnetic field is +/-3mm, while the max excursion is +/-6mm. Since the voice coil never leaves the magnetic gap, its movement is perfectly linear and the distortion is minimal.
After many tests of all kinds of available spiders, the manufacturer concluded that all these spiders dissipate way too much energy that's supposed to be transferred to the cone and transformed into sound. That's what caused the drivers to sound dull and lifeless. So, they decided to create their own spider – a more efficient one that doesn't dissipate energy. And they made a wonderful job. Their new spider is perfectly linear within the previously mentioned +/-6mm excursion and it doesn't absorb energy – it only transfers it. The only downside is that manufacturing such a component raised the price of production since they had to use a CNC machine.
Cube Audio spider is more linear and doesn't dissipate energy
The manufacturer opted for one of the oldest driver designs – the Voigt cone assembly with whizzers. However, this design has some known downsides (we've talked about them in the introduction), especially when it comes to bass and treble reproduction. So, naturally, they tried to improve the original design. They came up with a proprietary full-range driver with one main 8in cone and three whizzers. The smallest whizzer is now responsible for the lowest frequencies and allows this full-range driver to reach 18kHz, which is quite impressive for this kind of design. However, whenever you add a whizzer to the main cone, you have to deal with the interference between the main cone and the whizzer. The manufacturers had to precisely calculate the diameter, geometry, stiffness, and all the other parameters in order to eliminate the interference and make the sound purer. The solution they opted for is adding whizzers to the original design. Finally, they've found a perfect geometry that enables the most natural sound and most transparent sound delivery.
The cones and whizzers are heavily coated and the coating is not there to make the drivers more distinctive – it's supposed to provide the best possible protection against moisture. The basket is another part that's been CNC-machined to fit perfectly the geometry of the driver.
After developing all the technologies for the Fc8 driver, the manufacturer had to choose the right kind of cabinet and they opted for one of the most popular designs (especially when it comes to single-driver speakers) – the Voigt Pipe cabinet. When combined with the Fc8 driver, this cabinet should enable the speaker to go down to 40Hz.
The frequency response of Cube Audio Bliss C (measured at 0/30/60° off-axis)
Performance and Sound Quality
As per the manufacturer's instructions, we've tried to pair Cube Audio Bliss C with two tube amps – single-ended Auris Audio Adagio 2A3 (4W per channel) and Adagio 300B (8W per channel). Both are integrated amps. The music was streamed from our iMac Pro and we used the Auris Audio HDA 1 DAC to decode the signal. We have mostly used lossless ALAC/FLAC audio files. All the listening tests were done in our fairly small office (15x15ft), which was just perfect ambient for the speakers of this size.
Even the less powerful Auris Audio Adagio 2A3 was capable of driving the speakers but we have still opted for Adagio 300B because it gave us more volume and more dynamics.
Expectedly, Bliss C speakers were more coherent than any 2 or 3-way speaker. The transition from lows to highs was seamless – you couldn't hear that tweeter kicking in like you can with some multi-way speakers. The reproduction was dynamic and energetic, especially at higher volumes.
What Bliss C does the best is the midrange reproduction, especially vocals. Female vocals, to be precise. The speakers didn't sound artificial at all. The vocal reproduction was natural and effortless. In this aspect, Bliss C is, without a doubt, one of the best speakers we've ever heard.
The treble extension is quite impressive, especially for this kind of driver. Depending on the position (off-axis), you will get brighter or more rolled-off highs. You can experiment with different positions and different amps and try to figure out what suits your taste. Overall, the highs are consistent up to 12-13kHz and then they roll off gently. It's not the most consistent (compared to multi-way speakers) but it's the best and most extended treble response you can get from a single-driver speaker.
Recommended Reading :

The bass reproduction is balanced with the mids, well-textured, and quite fast. However, it feels a bit light and rolls off a bit too soon. You won't get the kind of slam and rumble you would get from a large floorstander with a 10 or 12in dedicated bass driver. Placing the speaker closer to the wall will give you a bit more thump. Overall, the bass was perfectly accurate and smooth. The only thing it lacks is that heart-pumping low-bass/sub-bass extension.
The speakers created quite an impressive soundstage – both wide and deep. Oh, and tall, too. The imaging was precise, even with more crowded and busy passages. Bliss C remained musical and coherent at all times.
So, what are Cube Audio Bliss C speakers best for? Well, they do a pretty good job with most instrumental music and especially with vocal-oriented music. Acapella and jazz sound great with these speakers. Female vocals (like Celeste, Dolores O'Riordan, Nora Jones, Ella Fitzgerald, Nina Simone) are simply divine. If you're a fan of EDM and other electronic bass-heavy genres, you're probably not going to like the bass-light sound signature of Bliss C.
Check out our article on 'Auris Audio Nirvana'.
Final Thoughts
Many manufacturers around the world are building single-driver speakers, but Cube Audio is quite unique. They have managed to implement a Voigt cone assembly with whizzers and eliminate most of the weaknesses commonly related to single-driver speaker designs. Their full-range driver design deserves some praise and they have every right to be proud of their achievement. Great job, Cube Audio!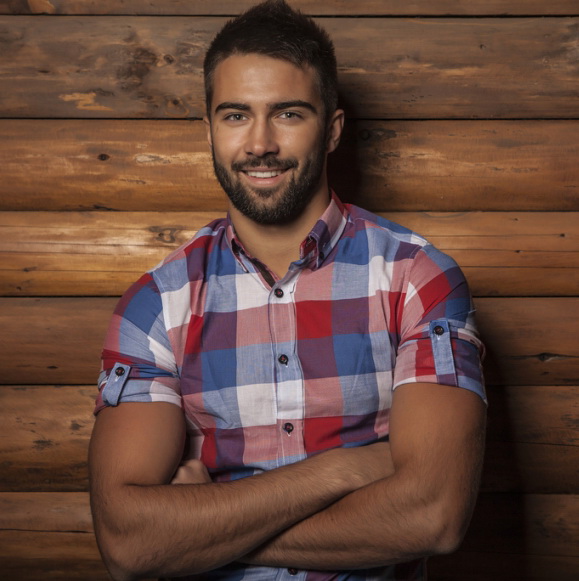 Hello, my name is James Longman.
I'm a writer and editor at AudioReputation. I disassembled my first portable AM/FM radio when I was only 8. At the age of 11, I burned the circuit board on my old boombox cassette player. I'm not going to explain how but it was reckless and stupid.
Since then, I have become much more careful around radios, boomboxes, and other audio devices (at least, I like to think so) but I have never lost the passion for audio equipment. Throughout 20 years of my professional career, I've been working for various audio equipment manufacturers and even started building speakers on my own in my little workshop.
I love the work we do here at AudioReputation. Testing, comparing, and evaluating all kinds of audio devices (speakers, soundbars, headphones, home theater systems, etc.) is something I truly enjoy. I try to be unbiased and give you my honest opinion on every piece of equipment I test. Still, you should take my reviews with a pinch of salt and always be just a little bit skeptical. The fact that I liked some speaker or soundbar doesn't mean that you are going to love it. If you have the opportunity, you should test it/hear it before buying it.