AudioReputation is reader-supported. When you buy through links on our site, we may earn an affiliate commission Learn More
After a huge success of the Goldmund Telos 590 NextGen integrated stereo amp and the whole Goldmund Telos NextGen line, this high-end audio equipment manufacturer from Switzerland released the upgraded version of the Telos 590 Nextgen called NextGen II and a more affordable but slightly less capable and less versatile Telos 7 NextGen. In this review, we will discuss all the advantages and disadvantages of Goldmund Telos 7 NextGen and give you our opinion on its overall performance. Is this really one of the most amazing stereo power amps currently made by Goldmund? Let's find out.
Goldmund was founded in 1978 in France. Two years after, it was acquired by Michel Reverchon and moved to Geneva, Switzerland. Since then, Goldmund has been making high-end turntables, preamps, power amps, speakers (passive and active), DACs, CD transports, and digital processors for home cinemas and surround sound systems. The company is known for its extraordinarily high standards of audio quality. Some of the iconic Goldmund products are Apologue and Epilogue speaker lines, Reference vinyl record turntable, Telos 590 NextGen high-performing integrated power amp, and all the other power amps from the Telos line.
Telos 7 NextGen comes from the same famous Telos line of power amps. It uses the same Goldmund-patented Telos amplification with separate input and output stages, improved linearity, and incredibly low distortion. The amplifier features the latest version of Alize DAC circuits which enables easy coupling with Goldmund preamps. Thanks to its very low output impedance, the amplifier achieves an impressive control over the drivers' behavior and delivers incredibly pure and transparent audio, without any noticeable distortion.
Telos 7 NextGen features a satisfying number of inputs (USB 2.0 Type B, TOSLINK optical, Coaxial, and RCA analog inputs) but if you want to connect more sources (especially if you want to connect multiple analog sources), you will definitely need a preamp. In spite of its small size, Telos 7 NextGen can push an impressive amount of power (175W per channel) and can drive almost any pair of speakers with ease. And it can do that with amazing authority. The sound delivered through Telos 7 is so transparent and energetic. It's perfectly natural and lifelike.
Goldmund Telos 7 NextGen Review
Goldmund Telos 7 NextGen is a high-end audiophile-grade loudspeaker that delivers an immersive listening experience. It features advanced driver technologies and an advanced crossover design that gives a natural, accurate, and uncolored sound. The build quality is of the highest standard, and the finish is sleek and elegant. It is perfect for audiophiles and music enthusiasts who want to hear the music exactly how it was intended to be heard.
Minimalistic and simple, yet very stylish and very attractive design

Impeccable build

Impressive power output – 175W x2 (it can drive literally any pair of speakers)

Extremely low distortion (less than 0.08%)

Flawless, accurate, and perfectly natural sound reproduction
Expensive (priced around $12,000)

The number of available inputs is somewhat limited (3 digital + 1 analog)
Goldmund Telos 7 NextGen is meant for true audiophiles and audio enthusiasts. Even if you are a hardcore tube lover, you will be amazed by the musicality, realism, and accuracy of this beautiful solid-state amp. Sure, it's expensive but it's also worth it. Telos 7 NextGen is one of the best integrated amplifiers in its price range.
What's in the box?
Goldmund Telos 7 NextGen comes nicely packed and protected. Along with the amp, you will get a power cable, remote, user manual, and a 3-year warranty. Don't forget to buy all the necessary connection cables since they don't come with the unit.
Specs
Goldmund Telos 7 NextGen Specifications
DIMENSIONS
Width
17.3in
Height
3.9in
Depth
14.2in
Weight
10kg/22.05lbs
INPUTS
Digital
USB 2.0 Type B x1 (up to 32bit/384kHz)

Optical TOSLINK x1

S/PDIF Coaxial RCA x1
Analog
RCA x1
LINE VOLTAGE
Switchable (110V/230V)
RMS POWER OUTPUT
175W x2 (@8Ω)
FREQUENCY RESPONSE
20Hz-20kHz (+/- .5dB)
THD (+N)
Less than .08% (20Hz-20kHz)
GAIN
35dB
Design
Telos 7 NextGen features quite a minimalistic and somewhat industrial design. It's surprisingly compact (considering the power output and capabilities) but it's also very solid and robust. It weighs 22 pounds and its dimensions are 17.3×14.2x3in.
The front panel could not be any simpler – there's a large dial for digital volume control, one old-school input selector, and two LED indicators (power and lock).
On the rear panel, there's the ON/OFF power switch, voltage input selector (110V/230V), and RS232 command connector. Input and output stages are separated. The amp features three digital inputs – USB 2.0 Type B, TOSLINK optical input, and coaxial input. There's also a pair of analog RCA inputs. In the middle, there are two pairs of high-quality binding posts for connecting the speakers.
Simple minimalistic design
Features
The first thing you're going to notice, even before you connect all the equipment and start listening, is the simplicity of the user interface. Goldmund truly mastered this kind of approach. Handling the unit is completely hassle-free. Also, the included metal remote is super-simple and allows you to control everything from the comfort of your chair.
The amp has a satisfying number of connections (3 digital + 1 analog). I mean, you won't be amazed and you're probably going to need a preamp if you want to connect multiple analog sources but it's still a great choice if you are trying to make a clean and compact setup.
Even though it's fairly small, this thing can push 175W continuously into each channel. It is slightly less powerful than its big brother 590 NextGen but still very impressive and more than enough, even for some very demanding floorstanding speakers. Damping factor is maybe not incredibly high (220 @1kHz, 8Ω) but, as you probably know, you can't really get an idea on how the amplifier sounds just based on the specs. Telos amplification is not about the specs – it's about the final outcome and sonic performance.
Telos amplification technology has been one of the key factors for such a sophisticated performance of all the Goldmund Telos amps. It's been meticulously developed and improved over the years (or rather decades). This technology is responsible for improved linearity and reduced distortion of the Telos amps. Thanks to the use of Leonardo time correction, Telos amplification reduces the group delay distortion to a minimum. The use of the latest Alize DAC circuits improves the resolution and dynamics and allows easy coupling with the Goldmund preamps.
One of the key upgrades in the latest version of the Telos circuits is the so-called ''driver control''. Thanks to incredibly low output impedance, the quality of the control over the drivers, especially over the large woofers, is almost impeccable. You won't hear any artificial or boomy sounds.
To conclude, Telos amplification boosts the audio signal without introducing any distortion or coloration. It amplifies it with an impressive amount of transparency, precision, dynamism, and purity.
Setup and Performance
Goldmund Telos 7 NextGen is super-easy to set up and handle. Probably one of the easiest you've ever seen. Everything is pretty intuitive. You just need the right sources, right cabling, and a great set of speakers.
In our testing, we've used some of our favorite speakers like FOCAL SOPRA No3 and Paradigm Persona 5F. For connecting the sources and speakers to the amp, we've used NORDOST Frey 2 interconnects, USB cables, and speaker cables. AURALIC VEGA G2 was used for digital streaming from Macbook running on Roon.
Telos 7 NextGen proved to be a very capable integrated stereo amp and it showed some real character. It drove all those demanding speakers fairly easily. Somehow, it managed to achieve a great level of synergy with both speaker models. It allowed the speakers to show their real potential without introducing any noise or distortion. Telos 7 NextGen just supplied the right amount of power at all times and had an impeccable control over the reproduction. It provided us with such a delicate, refined, and transparent sound. It was a perfect match for both FOCAL SOPRA No3 and Paradigm Persona 5F. It complimented their sonic capabilities and allowed them to shine. Listening to both FOCAL SOPRA No3 and Paradigm Persona 5F towers coupled with Telos 7 NextGen, was pure joy.
Goldmund Telos 7 NextGen didn't make the sound artificial or too analytical. It just supplied the power, controlled the drivers, and allowed the speakers to express their musicality. It did exactly what a true audiophile-grade integrated stereo amplifier is supposed to do. 
Final Thoughts
Although relatively small and relatively affordable (compared to other high-end stereo amps with similar characteristics), Goldmund Telos 7 NextGen truly is one of the most capable and best-performing integrated amplifiers in its price range. This little thing can drive even the most demanding high-end speakers and it can do that with such authority and ease.
This amazing solid-state amp will win the hearts of all the audiophiles out there, even those who are into tubes. Its sound delivery is musical, realistic, accurate, natural, and perfectly pure, without any noticeable distortion. The performance is simply flawless.
We have nothing but praise for the Goldmund Telos 7 NextGen. It is a unique device and it deserves our honest recommendation.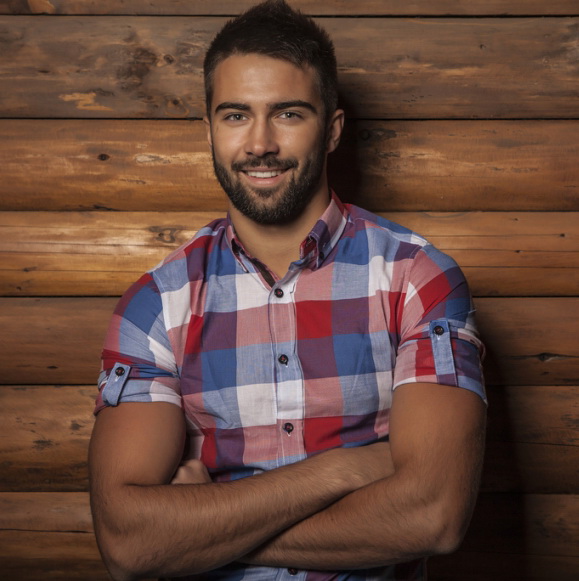 Hello, my name is James Longman.
I'm a writer and editor at AudioReputation. I disassembled my first portable AM/FM radio when I was only 8. At the age of 11, I burned the circuit board on my old boombox cassette player. I'm not going to explain how but it was reckless and stupid.
Since then, I have become much more careful around radios, boomboxes, and other audio devices (at least, I like to think so) but I have never lost the passion for audio equipment. Throughout 20 years of my professional career, I've been working for various audio equipment manufacturers and even started building speakers on my own in my little workshop.
I love the work we do here at AudioReputation. Testing, comparing, and evaluating all kinds of audio devices (speakers, soundbars, headphones, home theater systems, etc.) is something I truly enjoy. I try to be unbiased and give you my honest opinion on every piece of equipment I test. Still, you should take my reviews with a pinch of salt and always be just a little bit skeptical. The fact that I liked some speaker or soundbar doesn't mean that you are going to love it. If you have the opportunity, you should test it/hear it before buying it.