AudioReputation is reader-supported. When you buy through links on our site, we may earn an affiliate commission Learn More
Looking for a reasonably priced and great-looking smart speaker? As long as you prefer Google Assistant over Alexa and Siri, Harman Kardon Citation ONE deserves a place on your shortlist. It may not be the most versatile or best-sounding smart speaker on the market, but then again, Citation ONE is one of the most affordable options. This thing could easily be one of the best in its price range ($200-$250).
---
Since the introduction and great success of Amazon Echo and Google Home speakers, many manufacturers have entered the smart speaker market. Today, you have Apple, SONOS, JBL, Sony, Marshall, LG, Klipsch, Riva, B&O, Bose, Anker, and many others trying to get their piece of the market share. Harman Kardon entered a highly competitive smart speaker market in August of 2018 with the introduction of the Citation line. The line includes tower speakers, tabletop speakers, surround speakers, and even Citation subwoofer and soundbar. According to the specs, some of the Citation speakers are WiSA-certified (Citation Bar, Citation Sub, Citation Towers, and Citation Surrounds) and you can use them to make a wireless surround sound system.
Harman Kardon Citation line
The line also includes 4 smart tabletop speakers – Citation ONE, Citation 100, Citation 300, and Citation 500. Citation ONE is the smallest and most affordable speaker in this line.
Citation ONE can stream music via Bluetooth or via Wi-Fi (2.4Ghz and 5GHz). It can be controlled with your voice thanks to Google Assistant and it has a built-in Chromecast. It delivers powerful sound with strong bass emphasis but with clear mids and energetic highs.
More from Harman Kardon:

The biggest downside is the lack of physical audio inputs. It doesn't even have an AUX jack. It also lacks an Ethernet port. Some people may not like the sound signature due to the bass emphasis that can be quite overwhelming, especially when bass-heavy music is played.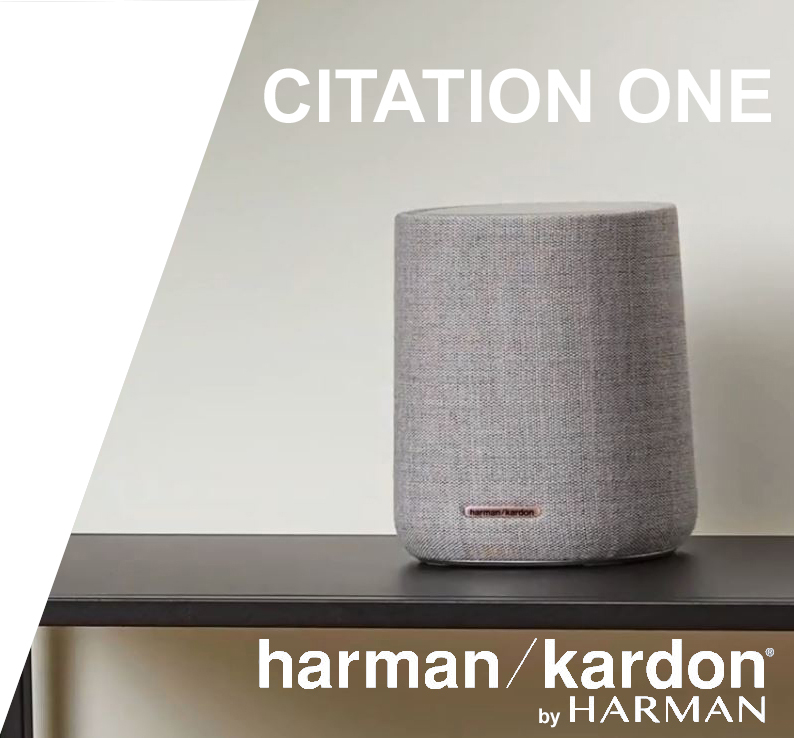 Reasonable price (for a smart speaker)

Clean and elegant design

Simple and responsive controls

Bluetooth + Wi-Fi connectivity

Google Assistant

Chromecast built-in

Google Home app

Multiroom capabilities

Sounds bigger than it looks
No physical audio inputs

There is no Ethernet port

The bass can be boomy, especially when bass-heavy tracks are played
For less than $250, you are getting a solid smart speaker that sounds much bigger than it actually is. It has Bluetooth, Wi-Fi, Google Assistant, and Chromecast. It delivers reliable wireless performance and has decent voice recognition. Depending on the song, the bass can be overwhelming or even boomy, especially at high volumes.
What's in the box?
Inside the box, you will find your Citation ONE, power cable, and all the paperwork (manuals, warranty, booklets). You will also get a flier with a 3-month free subscription for Google Play Music, so you can use it if you want to.
Box contents
Specs
Harman Kardon Citation ONE Specifications
DIMENSIONS
Width
5.5in/140mm
Height
7.4in/188mm
Depth
5.5in/140mm
Weight
4.4lbs/2kg
DRIVERS
Woofers
89mm x1
Tweeters
20mm x1
ENCLOSURE TYPE
Sealed
POWERING OPTIONS
AC power
CONNECTIONS
Bluetooth

Wi-Fi
BLUETOOTH DETAILS
Bluetooth version
4.2
NFC
No
Bluetooth range
33ft
Daisy-chaining
No
Wi-Fi DETAILS
Frequency band
2.4GHz

5GHz
Supported audio formats
FLAC, LPCM, WAV, LC-AAC, HE-AAC, MP3, Vorbis, Opus
OTHER TECHNICAL DETAILS
Frequency response
55Hz-18kHz +/-6dB
RMS power
40W
ADDITIONAL FEATURES
Google Home app

Chromecast built-in

Multiroom capabilities 
Design
Citation ONE is a simple and elegant-looking speaker. It's not flashy or eye-catching but it's still handsome. And maybe a little bit chubby.
The whole speaker is wrapped in a thick cloth grille. There are two available colors – gray and black.
Available in two colors
On the front side, you will see a tiny metal plate with the Harman Kardon logo at the bottom and 4 LED status indicators hidden behind the grille.
Front panel
On the back, there's a thin rubberized strip going from the top to the bottom. At the bottom, there's a Wi-Fi LED indicator (it shows the strength of the Wi-Fi connection).
Rear panel
Top panel has a chamfered edge and it's reserved for touch-sensitive controls. You have one central multifunction button (play/pause/activate Google Assistant). At the top, there are two microphones and, at the bottom, you have volume controls. On the left and right sides of the multifunction button, there are the ''mic mute'' and Bluetooth/pairing buttons.
On the bottom, you will see a recessed slot with power input, USB-C port for service purposes (not for music playback), and the reset button.
Top and bottom panels
Features
Citation ONE is not an incredibly feature-rich speaker but it has everything a smart speaker is supposed to have.
Feature overview
The control scheme is simple and intuitive. You can use the buttons to control everything or, you can use your voice and ask Google Assistant to do that for you. One thing to have in mind is that the buttons are touch-sensitive, just in case you prefer physical buttons. The buttons are not backlit which is a minor downside.
Simple control scheme
When it comes to inputs, you should be aware that you are limited to Chromecast Audio (streaming over Wi-Fi) and Bluetooth. There are no physical connections. Not even a standard 3.5mm input.
However, the lack of physical connections should not be a huge issue, since we are all used to wireless streaming. Also, there are already hundreds of Chromecast-enabled apps and streaming services (including YouTube, Spotify, Deezer, Google Play Music, Pandora, iHeartRadio, TuneIn, etc.).
Inputs
The heart of this tiny smart speaker represents Google Assistant with Chromecast built-in. You can activate Google Assistant by pressing the multifunctional button for more than 2sec or just say – Hey, Google and ask a question. If you want some privacy, you can simply turn off the microphones by pressing the ''mic mute'' button.
Google Assistant and Chromecast built-in
Citation ONE also features multiroom capabilities so you can combine it with other Citation speakers and build a nice system that's going to stream music all over your home. According to the product description, you can even pair two Citation ONE speakers (via Wi-Fi) and get stereo sound. However, we've had some issues with this feature (read about in the next section).
The speaker is also equipped with Bluetooth 4.2, which is a backup option, in case your Wi-Fi doesn't work. Bluetooth works flawlessly. The advertised range is 33ft. Citation ONE doesn't support NFC pairing and it has no support for aptX and other advanced Bluetooth audio codecs.
Another feature that makes this speaker smart are automatic updates. So, you don't have to check if there are new updates – Citation ONE will do everything for you.
Setup and Performance
The setup procedure is simple and hassle-free. Just like with any other smart speaker with Google Assistant, you have to download the Google Home app and follow the instructions.
Google Home app (Android and iOS)
You will be asked to connect the speaker to your home Wi-Fi network, to teach the Google Assistant to recognize your voice (voice match) and to integrate all the music services you use with Google Home app. The whole process takes 5mins max.
You can also use the Google Home app to group speakers and make a multiroom system. Also, according to some data on Harman Kardon's website and YouTube channel, you can pair two speakers via Wi-Fi and get stereo sound. However, this thing doesn't work. We were able to get dual mono but not stereo playback (the speakers didn't act as left and right channels).
After a few minutes of setup, you will be able to use your speaker. Before you start streaming music, be sure to check the strength of your Wi-Fi connection. Depending on the color of the LED on the rear panel, you will know if the Wi-Fi signal is strong enough. If it's not, try relocating the speaker and place it as close as possible to the wireless router.
Wi-Fi connection indicator
The indicators on the front panel are also quite intuitive – white for Wi-Fi and Google Assistant, blue for Bluetooth, red when the mic is muted. We didn't find a way to turn them off but they are not too bright or distracting.
LED indicators
Bluetooth performance is satisfying and the connection is reliable. The range is not extremely extended but we were able to get 45-50ft. We didn't experience any signal interruptions or any other issue.
Google Assistant also worked fine. The microphones on the top can pick up your voice from across the room, even if the music is played. If the music is too loud, the speaker will automatically lower the volume to hear you better. The range of actions, commands, and questions you can ask is pretty much the same as with any other smart speaker with Google Assistant. You can ask it to play a certain song and control other smart devices in your home (dim the lights, for example).
Sound Quality
Citation ONE features one 20mm tweeter and one 89mm woofer paired with a passive bass radiator. Power output is rated at 40W.
Driver arrangement
The first thing you will notice the moment you start streaming music is how powerful and bassy this thing is. It really sounds bigger than it looks. It gets pretty close to Google Home Max, even though it's significantly smaller.
If you are not into bassy sound, you may find this kind of sound signature unsatisfying. If you are into bass, you are going to love it. When playing the music at low volumes, the bass emphasis is not extremely noticeable and it doesn't affect the midrange. The vocals are clear and the overall midrange reproduction is dynamic and sweet but not extremely detailed. The highs are energetic and fun. When you crank up the volume, the bass becomes stronger and, depending on the type of music, it may have some negative effect on the mids. When bass-heavy music is played, the bass puts a shadow onto the low midrange.
Recommended Reading :

Naturally, you can always play with the EQ settings and get a more balanced response. However, you will have to use some third-party EQ software since there are no in-app EQ settings.
When it comes to stereo separation, imaging, and soundstage, you shouldn't raise your hopes too high. As you can see from the driver configuration, Citation ONE is a mono speaker and doesn't offer any stereo separation. The manufacturer claims that you can pair two for stereo sound but, as mentioned in the previous section, we've had no luck with our test units. According to some comments on other websites and audio forums, there's a bug that causes two speakers to output mono sound instead of stereo and the manufacturer (in cooperation with Google) is trying to fix it.
The Competition
The smart speaker market is growing constantly. You already have so many manufacturers involved and the number of viable choices is almost overwhelming. You just have to set your budget limit and choose your favorite voice assistant (Google Assistant, Alexa, or Siri). Smart speakers rarely come with two voice assistants so you have to select the preferred assistant before you start your search.
---
Harman Kardon Citation 100
Harman Kardon Citation 100 is the second speaker in the Citation line. Compared to Citation ONE, Citation 100 is bigger and has larger woofer (102mm VS 89mm). It's also more than $100 pricier than the Citation ONE.
Two speakers feature the same design and the same kind of cloth grille. Citation 100 looks a bit slimmer than ONE. Their control panels and inputs are exactly the same. Citation 100 also supports Bluetooth and Wi-Fi and it doesn't have AUX input.
The biggest difference between the two models is the difference in sound. Citation 100 is more powerful. It can deliver deeper and stronger bass and it's also louder.
---
SONOS One (Gen 2)
SONOS is one of our favorite brands when it comes to wireless audio, mostly because of the reliability of their speakers but also because of the sound quality. Sonos ONE (Gen 2) is a great choice for those who prefer Alexa over Google Assistant and have a limit set at $200.
SONOS One Gen 2 originally had Alexa built-in, but now, it also supports Google Assistant. So, it's more versatile than Citation ONE. SONOS One also has an Ethernet port. Just like Citation ONE, it doesn't have physical audio inputs. SONOS One Gen 2 features Apple AirPlay2 but doesn't have Chromecast built-in.
Unlike Citation ONE, SONOS One doesn't have Bluetooth.
SONOS One Gen 2 delivers a more balanced sound and it's not as bassy as Citation ONE. You can pair two SONOS One speakers for stereo sound and you can also use them as part of your multiroom system. In the end, you can even use them as surround speakers in your SONOS wireless surround sound system.
---
Bose Home Speaker 300
Bose Home Speaker 300 is a little bit pricier than the Citation ONE. In terms of design, they are both handsome, but Citation ONE features more of a Scandinavian design while Home Speaker 300 looks a bit more industrial.
Home Speaker 300 has Alexa built-in but it's also compatible with Google Assistant. It features both Bluetooth and Wi-Fi, and it supports Apple AirPlay2.
You can combine Home Speaker 300 with other Bose smart speakers and make a multiroom system.
Both speakers are mono, but Bose Home Speaker 300 delivers a more balanced sound with perfectly clear mids. Unlike Citation ONE, Home Speaker 300 delivers 360-degree sound. You can't pair two speakers for stereo sound.
---
Comparison Table
| Speaker | Voice Assistant | Wi-Fi/Bluetooth |
| --- | --- | --- |
| HK Citation ONE | Google Assistant | Yes/Yes |
| HK Citation 100 | Google Assistant | Yes/Yes |
| Sonos One (Gen 2) | Alexa | Yes/No |
| Bose Home Speaker 300 | Alexa | Yes/Yes |
Final Thoughts
At $200 price tag, there's a lot to like about Citation ONE. It has user-friendly controls and reliable wireless performance. It features both Bluetooth and Wi-Fi, and it has Chromecast built-in. Google Assistant works like a charm. Its sound signature is obviously bassy, but you can use some third-party EQ software and make a better balance. The lack of physical audio inputs is just a minor downside, especially when you know that many smart speakers in this price range don't have physical audio inputs. Citation ONE could easily be one of the best smart speakers in its price range.
If you don't prefer bassy sound or you need a speaker with Alexa, there's a bunch of viable options out there. We have picked out three but you should also check out Amazon Echo Plus, RIVA Concert, JBL Link, UE MEGABLAST, LG WK7, etc. If you can spend more, you can try Google Home Max, Klipsch THE THREE, Marshall Stanmore II, some larger Citation, Bose, and SONOS smart speakers, and many others.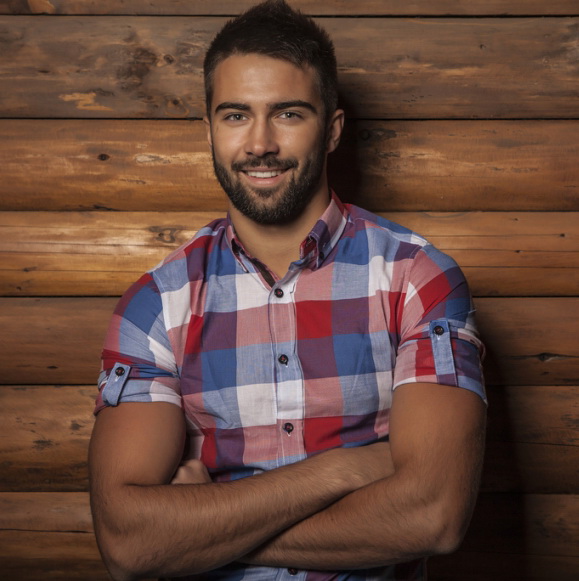 Hello, my name is James Longman.
I'm a writer and editor at AudioReputation. I disassembled my first portable AM/FM radio when I was only 8. At the age of 11, I burned the circuit board on my old boombox cassette player. I'm not going to explain how but it was reckless and stupid.
Since then, I have become much more careful around radios, boomboxes, and other audio devices (at least, I like to think so) but I have never lost the passion for audio equipment. Throughout 20 years of my professional career, I've been working for various audio equipment manufacturers and even started building speakers on my own in my little workshop.
I love the work we do here at AudioReputation. Testing, comparing, and evaluating all kinds of audio devices (speakers, soundbars, headphones, home theater systems, etc.) is something I truly enjoy. I try to be unbiased and give you my honest opinion on every piece of equipment I test. Still, you should take my reviews with a pinch of salt and always be just a little bit skeptical. The fact that I liked some speaker or soundbar doesn't mean that you are going to love it. If you have the opportunity, you should test it/hear it before buying it.