AudioReputation is reader-supported. When you buy through links on our site, we may earn an affiliate commission Learn More
What is, besides a wallet, phone, and keys, a "must-have" object in your bag or pocket? The answer is, in fact, quite simple – headphones. Even though the original headphone use wasn't related to listening to music at all, they've been present in our lives for almost 140 years and they have significantly evolved since the day they first appeared. Regardless of their purpose and way of use, headphones have been an extremely important part of our lives and our love for them has been growing for decades.
It seems that no human can go outside without a pair of headphones. No matter if they are full-size headphones or earbuds, they are a mandatory accessory of every modern person. When they were first produced, there was only one model of headphones, while today, there is something for everyone. Full-size, open, closed or semi-open headphones, earbuds, wired or Bluetooth – just name it. All of them have their purpose, sound signature, and way of use. Depending on the type, you can use them indoors (basically all types, as well as open back and semi-open headphones) or outdoors (closed-back headphones, earbuds, all Bluetooth models, etc.), while commuting, working out, etc.
Having in mind the role that they play in our lives now, let us take you on an interesting journey and present to you a short history of headphones.
The History of Headphones – Early Works
1881
This is the most important year in the process of headphone evolution as the first headphones were invented in 1881. Their purpose was far from the purpose headphones have today and it was related only to the telephone industry. The first headphones were used only by telephone operators and they were bulky and massive weighing over 10 pounds per earpiece.
1890s
Back in the days, after the invention of the first headphones, switchboard operators used them as work gear. From the 1890s through World War I and World War II, many women worked as telephone operators. They had big switchboards in front of them and wired headphones with jacks that were supposed to be plugged and unplugged from the switchboards in order to operate and transfer calls from one home/institution/office to the other. Those headphones had only one earbud attached to a very thin headband, which was connected to a mic in the form of a horn, which was placed on the operator's shoulder.
1891
After the success of the first headphones, a set of in-ear headphones was invented and patented by a French engineer Ernest Mercadier, who improved the area of telephone reception by implementing handsfree headphones and was awarded for that. The new improved headphones were a success due to their weight, which was significantly lower than the weight of the first headphones, and that made them easier to use. The main reason for weight reduction was the installation of miniature receivers, which weighed less than 1.75oz. The receivers were adapted to human ears, which made the insertion easier, especially due to a rubber cover. These headphones can be considered the first ancestor of the modern in-ear headphones.
Telephone earbuds patented by Mercadier in 1891
(source – Google Patents – US Patent Number US454138A)
1895
A few years later, Britain announced a great new invention – the electrophone system. By this, we mean a cross-shaped headset that looked like a combination of a tennis racket and a stethoscope. The headphones that were supposed to be placed on both ears were connected below chin by a long stick that the users held in their hands. When the hand-held device was separated from the ears, everyone around the user was able to hear the same audio content and it created the possibility of group listening.
Electrophone system was created mainly to enable opera enthusiasts to listen to live performances in London theaters while sitting comfortably in their homes. The system was based on an annual subscription that cost approximately 5 pounds.
Electrophone system (source – British Telephones)
1910 – 1919
There were no major inventions or patents in the headphone industry until the early decades of the 20th century when one of the true predecessors of modern headphones was invented by a religious man Nathaniel Baldwin with the main aim to amplify the sound of sermons at Mormon temple he loved to visit.
Although they were created on a kitchen table, Baldwin's headphones became very popular in military circles. The headphones had a long copper wire connected to both cups but they received sound without using electricity. The cups were made of brass, they looked a lot like modern headphone cups, and they were even connected by two elegant bands. They were lighter than Electrophone headphones and they certainly looked better and were easier to use.
When the U.S. Navy found out about Baldwin's invention, they bought his product to outfit sailors and isolate them from distracting ambient sounds. Once they established the headphone benefits, U.S. Navy offered Baldwin to patent the product, increase production and move from Utah. However, Baldwin was convinced that the invention was trivial so he didn't want to proceed with the production. On the other hand, his movement to another area was basically impossible since he was a polygamist.
After Baldwin's refusal, Wireless Specialty Apparatus Co. took advantage of the situation and decided to build a factory in Utah, manufacture Baldwin's headphones and sell them to U.S. Navy but only at the original price that was never to be raised under any circumstances.
1937
Almost two decades later, some of the future leaders in the headphone industry took their place and changed the course of headphone history. The first pioneer was Beyerdynamic, the company that manufactured the first dynamic headphones on the market – DT-48. To this day, dynamic headphones are the most common type of headphones on the market. This specific model is still available.
The first Beyerdynamic DT48 dynamic headphones (source – Beyerdynamic)
1949
Ten years after, AKG released its new model called K120 DYN. This was the moment when AKG, as the leader in the film industry gave up on movies and focused on manufacturing audio equipment.
Despite the fact that neither of these products was very successful, these moments are extremely important to remember in terms of headphone development as these companies set the trends and values of headphone production that led to the status they have today.
The History of Headphones – Historical Changes
1958
The year 1958 is one of the most important years in the history of headphones since it's the year when the first hi-fi stereo headphones were created.
A jazz musician and entrepreneur from Milwaukee, founder of the Koss Corporation, John C. Koss, heard some stories about binaural audiotapes and when he actually heard them through a pair of military-grade headphones, he simply had to share his experience with other people. He was determined to make the sound available to ordinary people, so he created a "private listening system" called Koss Model 390 phonograph, which contained a phonograph, speaker and headphone jacks set in a small package. However, there were no commercial headphones, which could work with his phonograph because all the headphones that were compatible with it were made for military purposes – communication and warplanes. Despite this, Koss was so determined to execute his plan that he made a deal with an audio engineer, who helped him create the prototype headphone compatible with the phonograph.
Koss 390 phonograph (source – Koss)
The first pair was nothing but mini speakers covered in cardboard and foam but he managed to improve them and create the first hi-fi stereo headphones. They got the name Koss SP/3 and they consisted of two brown plastic cups, 3-inch speakers covered by a light plastic cover, and foam cushions for extra comfort. The cups were connected by a headband made from metal and the whole appearance is quite similar to the modern headphones. The headphones were much lighter than before with the overall weight of 3-5 pounds. Apart from the looks, their sound was improved as well, since the headphones used different signals for each ear, which approximated the sound of concert halls to the ordinary people.
Koss SP/3 headphones (source – Koss)
The headphones were first presented at a hi-fi trade show in Milwaukee in 1958 and they immediately became a huge hit. They even had a "privacy switch" that enabled private and silent listening. The headphones were popular among different groups, from ordinary people to soldiers. Other headphone manufacturers immediately started copying the model.
The first Koss headphones were based on Baldwin's design only with bigger cups and improved sound quality and audio technology. Koss kept Baldwin's thin headband but added padding to the cups for better fit and comfort. This model was to be improved in the years to come and develop hi-tech looks, noise isolation, wider headbands, etc.
Truth to be told, Koss SP/3 would probably never become so popular if John Koss hadn't used a smart trick. In order to promote his headphones, Koss engaged celebrities such as Bobby Hacket and Tony Bennett but the greatest success was achieved when he closed a deal with the Beatles and released the Beatlesphones. Their release coincided with the popularization of Rock 'n' Roll, which made teenagers the major part of Koss fans and customers. Subsequently, Koss dominated the headphone market during the next 10-20 years while some new brands such as Sennheiser, Philips or Onkyo were preparing to take the leading position with their affordable models, great sound and trendy designs.
Beatlephones advertising poster (source – Amazon)
1959
1959 is the year that brought us the first pair of electrostatic headphones. Stax company presented them in Tokyo as SR-1 – the first open-back headphones ever. The headphones were officially released the next year.
Stax SR-1 (source – YouTube)
1966 – 1968
This period also can be considered a part of the Koss era because all these years were marked by Koss's achievements and innovations.
In 1966 Koss released the first mid-line headphones with celebrity signature – Beatlesphones, which were a huge hit thanks to the Beatles sticker on them.
1968 brought the first Koss electrostatic headphones made in the USA. The headphones were called ESP/6 and their main characteristics were low weight (approximately 2 pounds which, at that point, was a huge success) and distortion reduction.
Koss ESP/6 electrostatic headphones (source – Koss)
1969
After Koss improved stereo headphone sound quality as well as noise reduction, its greatest rival, Sennheiser, decided to work on the design. They came up with an idea to open headphone cups a bit and let some sound in. As a result, the first open-back headphones called Sennheiser HD414 with yellow foam cushions and proto-80s neon vibe were born. They were light, they allowed human ears to breathe, they were a huge hit, and approximately 100,00 pieces were sold by the end of the same year they appeared. This Sennheiser's model had one of the most popular designs ever and, with more than 10 million units sold, it's also one of the best-selling Sennheiser headphones ever.
Sennheiser HD414 is one of the best-selling headphones in history (source – Sennheiser)
1979
Although some of the previously mentioned years were very important for the headphone evolution, the year 1979 brought the true revolution thanks to a company that is now well known all over the globe – Sony. This company released the first portable device that fits a bigger pocket and could be taken anywhere you go. If Walkman is the first thing that crossed your mind – you are right. The first Walkman was named TPS-L2 and it enabled its users to take their favorite music with them no matter where they were and still be able to enjoy it privately without disturbing other people.
TPS L2 – The first Walkman
1980s
These are the years when the first earbuds and in-ear headphones similar to the modern models appeared. Finally, the people had a chance to replace those big and bulky headphones with much smaller, lighter, and more portable and practical headphones. They were cheaper than full-size headphones, easier to use, they could fit any pocket, and they were ready for use whenever the user needed them. Besides the fact that they were lighter, soft foam or rubber ear tips added to the overall comfort.
In 1989, Dr. Amar Bose created the first noise-canceling headphones. He was inspired by the fact that people were starting to travel more than before, even by planes, which made noise isolation/cancellation a necessary feature. The headphones weren't a huge success at the beginning, certainly not as huge as they are today, but frequent flyers/travelers were more than grateful to Mr. Bose.
1990s
The 90s are the era of the expansion of portable music technologies. This was enabled by producing cassettes, CDs, DATs, and mini discs. As players became smaller, the headphones did the same. Besides, they were more common and a lot cheaper than before, which made them more affordable and available to ordinary people. Of course, that was partially caused by using cheaper materials as more and more headphones were made of plastic. These are the years when the manufacturers started sending free headphones included in the package containing a new music player, just like you now get a new pair of headphones whenever you buy a new smartphone.
The tradition of inventions continued with the release of Sony's neckband headphones in 1997, which weren't very popular, and the invention of Bluetooth technology in 1999. Bluetooth, however, was not to become popular until the early 2010s but its invention was extremely important for the further development of audio technology.
The first neckband headphones – Sony MDR-G61 (source – Sony)
The History of Headphones – Modern Times
2000s
This is the point in time when extreme headphone popularization starts. Along with that, experts develop new audio technologies that make different kinds of audio devices more affordable to everyone. The main purpose of all modern audio equipment has become to make the user trendy and stylish while their actual audio quality is being partially neglected.
The 2000s are marked by the popularization of in-ear headphones with improved noise isolation and a better and tighter fit in the ear canal. They are also marked by the release of Bose QuietComfort product line that improved noise-canceling technology and set some new standards.
2001
The most important year in the modern era is 2001. This is the year when the first iPod was released. This pocket-sized device that could store over 1000 songs brought the love towards earbuds to a culmination. It seemed that even their sworn enemies decided that they loved these miniature headphones. The iPod was lighter, smaller and it operated faster than any audio device before but when combined with amazing earbuds, it created a stylish and prestigious set that everyone wanted to own. Apple used the same trick that Koss used before and increased iPod's popularity by including celebrities in promoting this interesting device. Since then, Apple has been one of the leading brands on the market and the synonym for prestige and quality.
YouTube Video – The First iPod commercial
2003 – present
After the success Apple achieved with iPods, other companies decided to work harder on their promotion. Some of them decided to improve sound quality but almost all of them, at least partially, focused on experiments in the design area.
In 2003, the famous Skullcandy started releasing headphones with stylish and unique designs that could satisfy almost any customer. They make affordable products with not so great overall sound and build quality but they have managed to remain the leader in "the best design" category.
In 2004, V-MODA introduced extremely resistant and durable military-grade headphones that can survive many drops and all kinds of heavy use.
A few years later, in 2008, there was a true revolution that could probably be compared to the revolution that Apple made. Dr. Dre and Jimmy Lovine created Beats by Dre – the headphones with a special bassy sound signature. The marketing and their quality (but mostly marketing) made them prestigious and desirable among all generations.
After the appearance of Beats, almost all brands decided to work with celebrities to popularize their products. It seems that they have succeeded because today we can't imagine our lives without headphones. No matter if they are full-size or in-ear headphones, they are always with us – on a bus, on a plane, in the gym, at a library, etc. They have become an inseparable part of our lives and a sign of a stylish person, almost like a piece of jewelry.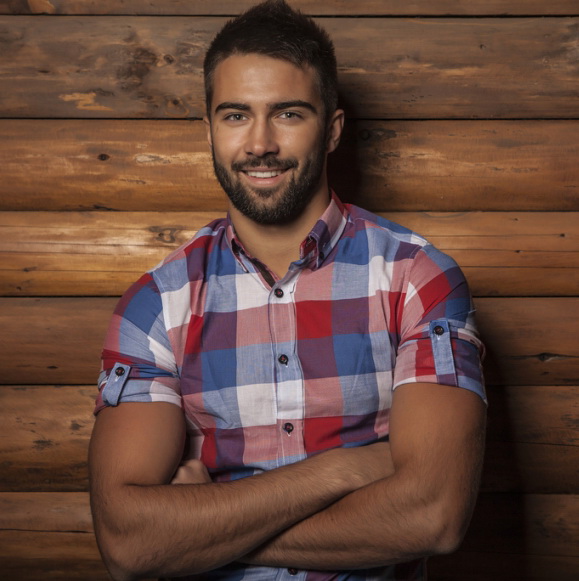 Hello, my name is James Longman.
I'm a writer and editor at AudioReputation. I disassembled my first portable AM/FM radio when I was only 8. At the age of 11, I burned the circuit board on my old boombox cassette player. I'm not going to explain how but it was reckless and stupid.
Since then, I have become much more careful around radios, boomboxes, and other audio devices (at least, I like to think so) but I have never lost the passion for audio equipment. Throughout 20 years of my professional career, I've been working for various audio equipment manufacturers and even started building speakers on my own in my little workshop.
I love the work we do here at AudioReputation. Testing, comparing, and evaluating all kinds of audio devices (speakers, soundbars, headphones, home theater systems, etc.) is something I truly enjoy. I try to be unbiased and give you my honest opinion on every piece of equipment I test. Still, you should take my reviews with a pinch of salt and always be just a little bit skeptical. The fact that I liked some speaker or soundbar doesn't mean that you are going to love it. If you have the opportunity, you should test it/hear it before buying it.