AudioReputation is reader-supported. When you buy through links on our site, we may earn an affiliate commission Learn More
Building a home theater system can be quite exhausting. You have to choose the right speaker layout, find the speakers you like, look for the matching AV receiver, buy the connection cables (HDMI, audio cables, etc.), buy the speaker wire, plan and execute the wiring, and finally connect everything.
This process requires a lot of research and can be very confusing from time to time. Especially the part when you have to find the right receiver for your surround sound system.
Luckily, there's an easier way. If you opt for a home theater in a box, you won't have to spend hours looking for the right receiver – the receiver will be included in the package.
This article is designed to explain the purpose of a home theater in a box (HTIB), discuss the upsides and downsides of HTIBs, and analyze the scenarios in which buying an HTIB is a smart choice. After a short introduction, you can find our selection of best home theaters in a box.
What is a Home Theater in a Box or HTIB?
Home theater in a box or HTIB, as the name implies, is a bundle containing everything you need for setting up your home theater system. At least it used to be. Earlier, it used to contain absolutely everything, including video sources like DVD or Blu-ray players.
Most of today's HTIBs contain a set of speakers (usually a 5.1 speaker system) and a matching AV receiver with a remote. In some cases, you will also get all the necessary speaker wire and all the video and audio cables for the initial setup. But you must remember that they don't all come with wires and cables. If you find this important, make sure to check if the wires and cables are included.
Recommended Reading :

There's also one special kind of home theater in a box that doesn't look the same as those old-school HTIBs. We are talking about wireless home theater systems. These systems usually don't come with a receiver because there's no need for one. Instead of a receiver, they usually come with a large central unit (center speaker or a soundbar that replaces three front channels in a home theater system) and this unit serves as a hub or a receiver, if you will. These systems are pricier than the old-school HTIBs and are usually priced over $1,000. The most reputable manufacturers in this section of the HTIB market are SONOS, Nakamichi, JBL, Enclave Audio, Samsung, Sony, Polk, Bose, Klipsch, etc. Our selection of best home theaters in a box also includes one wireless system. If you want more suggestions, you should read our article about the best wireless surround sound systems.
What are the Advantages of Home Theaters in a Box?
The two biggest and most important advantages of HTIBs are convenience and cost-effectiveness. They are convenient because you don't have to buy each piece of equipment separately – everything comes packed in one box as a bundle. Also, they are convenient because they are fairly easy to install. However, the job of hiding the cables and speaker wire is still there and cannot be eliminated.
Home theaters in a box are also fairly affordable. Why? Well, because most of these systems are entry-level systems and don't include high-end components. Most, but not all. You can also find a pretty great and quite large HTIB with a powerful and versatile AV receiver. You just have to look harder.
Home theater systems in a box are usually very compact. That's kind of expected when you know that they are usually so affordable. The included speakers are small, which makes them perfect for space-limited areas.
So, to sum up, the biggest advantages of HTIBS are convenience, price, and compactness.
What are the Disadvantages of Home Theaters in a Box?
More often than not, convenience comes at a price. In most cases, that literally means that you have to pay a higher price. But not in this case. In this case, you have to sacrifice some quality. HTIBs are not bad for the price but you can't expect high-end performance from an entry-level unit. If you consider everything we've said in the previous section, it is perfectly understandable that you can't get the best possible performance from a compact and cheap system.
Also, these systems are made for movies and optimized for surround sound performance, while the music reproduction is of secondary importance. Again, not all HTIBs are like that. Some are really amazing and sound like they are designed for music. But they are also much more expensive than average.
Another disadvantage, closely related to their size and quality, is their performance in large rooms. Affordable home theater systems in a box are simply not designed for large rooms. They are compact and not very loud.
Finally, HTIBs are a bad option if you're planning on upgrading your system in the future. The receiver that comes with the system is the optimal choice for the included speaker system. So, if you try to replace the included speakers with something bigger, you may find out that the receiver is not powerful enough for those new speakers. Also, if you try to add more speakers to your systems (expand from 5.1 to 7.2 or 7.2.4), you may find out that the included receiver is not that versatile and that the number of speaker outputs matches the number of speakers in the included speaker system.
---
To sum up, most HTIBs deliver average performance and are not the best choice for music or for large rooms. Also, buying an HTIB is not a smart choice if you want to upgrade your system in the future.
---
So, Are They Worth It?
Considering all the pros and cons we listed in the previous two sections, there're certain scenarios when buying a home theater system in a box is a viable option and it is actually worth it.
If you are dealing with some serious budget limitations but are still looking for a way into the world of surround sound, then buying a home theater in a box is the perfect solution. Also, if you're not a very techie person and you don't want to spend hours or rather days looking for the perfect AV receiver for the speakers you like, buying an HTIB is a convenient and cost-effective solution. Basically, home theaters in a box are worth it in any scenario that includes budget, space, and time limitations.
HTIBs are not the best choice if you are looking for a high-end home theater system that's great for both music and movies. Or when looking for a large and powerful surround sound system for your entertainment center. Or when trying to make a future-proof system suitable for future upgrades.
---
Now that you are familiar with home theaters in a box and are aware of their advantages and disadvantages, let's move onto our selection of best home theaters in a box. You will find here the best options for different budgets as well as one wireless home theater system for those looking for the most convenient solution.
---
Best Cheap Home Theater in a Box – Pioneer HTP-071
Looking for a cheap and compact system under $400? Try Pioneer HTP-071. It's an elegant system perfect for smaller rooms. The system includes the Pioneer AV receiver with a remote, AM/FM radio antennas, and a 5.1 speaker system (passive 6.3in subwoofer, 4 satellites, and a center channel). It also comes with a cheap and thin speaker wire, but it's recommended to buy higher-quality wire.
The receiver is a little bit outdated and lacks some of the latest features but it's good enough if you're just looking for an entry-level solution. It definitely sounds way better than your TV speakers.
The receiver has 4 HDMI inputs and one HDMI output (without ARC feature). Also, you have two composite video inputs, one optical output, one coax output, and 4 analog RCA inputs. As far as speaker outputs are concerned, there are 6 poor-quality spring-clip terminals. The subwoofer is passive and it also has to be connected to one of the terminals. The unit is compatible with 6-16Ω speakers. The output is 50 W per channel (8Ω loads, 20 Hz – 20 kHz, 0.06% THD). The unit decodes Dolby and DTS 5.1 formats as well as Dolby TrueHD and DTS-HD Master Audio.
Small and compact speakers can't really get very loud but are perfectly suitable for a 10x10ft or 15x15ft room. The sound is clean and engaging. The bass tends to sound distorted at high volumes but you can fine-tune the output to make it more enjoyable.
---
Best Budget Home Theater in a Box – Yamaha YHT-4950U
Yamaha YHT-4950U is the perfect budget-friendly option. If your limit is set around $500, this is your go-to HTIB. It includes Yamaha's RX-V385 receiver with a remote, 5.1 speaker system (powered sub, 4 satellites, one center channel), AM/FM antennas, YPAO mic for sound optimization, and all the necessary speaker wire.
The included receiver is not crazy versatile, but it should be good enough for most users. You have 4 HDMI inputs, one HDMI output with ARC support, one TOSLINK input, two coaxial inputs, two RCA inputs, and three composite video inputs. All HDMI inputs allow 4K/60p pass-through and are HDCP 2.2 compliant. They all also support HDR10, HLG, Dolby Vision, and BT.2020. The receiver features Bluetooth connectivity (BT 2.1 + EDR) but doesn't support wi-fi, multiroom, or multi-zone connectivity.
When it comes to speaker outputs, there's one subwoofer pre-out and five 5-way binding posts (which is a much better option than spring-loaded terminals). The advertised power output is 70W per channel (2 8Ω channels, 20 Hz – 20 kHz, 0.09% THD).
The unit can decode DD and DTS 5.1, as well as DD+, DTS-HD MA, and Dolby True HD.
Each satellite has one full-range 2.75" driver. The center channel also has one 2.75" driver. The subwoofer is active and has an 8" front-firing bass driver with a side-firing bass reflex port.
The sound output is accurate and engaging. The subwoofer delivers just the right amount of bass and complements the rest of the systems. The bass can be overpowering at high volumes but you can easily fine-tune the bass response.
---
Best Deal Under $1000 – Onkyo TX-SR373 + Polk
If you can afford to spend $1000 on a home theater system, this Onkyo/Polk bundle will blow you away. The bundle includes Onkyo's TX-SR373 AV receiver (remote included), Polk's 5.1 speaker system (two Polk floorstanders, two Polk bookshelf speakers, one center channel, and one powered subwoofer), and AM/FM antennas.
The included receiver is not extremely versatile but the available number of inputs should be good enough for most users. You have 4 HDMI 2.0 inputs and one HDMI output with ARC functionality. All these ports support 4K UHD video pass-through. Aside from HDMI ports, you have three composite video inputs. There are also two digital audio inputs (optical and coaxial) and 3 RCA inputs. The unit also features Bluetooth 3.0 for wireless streaming from any Bluetooth-enabled phone/tablet/PC/laptop.
The receiver supports 5.2 surround sound speaker configuration. It has 2 subwoofer pre-outputs and 5 speaker terminals. 2 of those five terminals are 5-way binding posts (FL and FR) and three are poor-quality spring-loaded terminals (C, SR, SL). The advertised output is 70W per channel but the manual says that the output is 100 W/ch (8Ω speaker, 20 Hz – 20 kHz, 0.09% THD).
The receiver decodes basic 5.1 surround sound formats as well as Dolby TrueHD and DTS-HD MA.
The included 5.1 speaker system by Polk is truly impressive and you can hardly get anything better at this price point. Two floorstanding speakers have a 2-way design and feature two 6.5" woofers and one 1" tweeter. Their impedance is 6Ω and the peak power input is 150W. The center channel houses two 5.25'' woofers and one 1" tweeter. The peak power input is 100W. Two included bookshelf speakers also feature two-way design and have a single 6.5" woofer and one 1" tweeter. The subwoofer is active. It has a 10" front-firing bass driver and can handle 100W (peak).
Polk's speakers and Onkyo's AV receiver are a perfect match. The sound output is loud, accurate, dynamic, and very engaging. The subwoofer perfectly matches the speakers. The bass is fast, punchy, and clean.
---
Best Home Theater in a Box Under $1,500 – Sony STR-DH790 + Sony Blu-ray player + 5.1.2 Sony speaker system
Along with previously reviewed Yamaha/Polk HTIB, this Sony bundle is one of our favorites under $1500. The bundle includes Sony's 7.2 AV receiver, Sony Blu-ray player, and a 5.1.2 speaker system (two floorstanders, two bookshelf speakers, two Atmos modules, and one center channel). You will also get a remote for the receiver and an FM antenna (AM antenna is not included since the unit doesn't have an AM tuner). Speaker wire and HDMI cables don't come with the system.
The included receiver has 4 HDMI 2.0 inputs and one output with ARC support. You also have one TOSLINK input, one coaxial input, and 4 RCA inputs. Furthermore, the unit supports wireless streaming via Bluetooth.
As far as outputs are concerned, this system has two subwoofer pre-outputs and 7 speaker terminals. Two of those seven (FL and FR) are 5-way binding posts, and the rest of them are spring-loaded terminals. The last two terminals are assignable and can be used for bi-amping, as surround speakers, or as height speakers. The advertised output is 90 W/ch (two 6Ω speakers, 20 Hz – 20 kHz, 0.09% THD).
The included speaker bundle is really impressive. You have two 3-way floorstanding speakers. Each speaker houses two 5" woofers, one 1" main tweeter, and one 0.75" super-tweeter. The max input is 145W and the impedance is 6Ω. Each bookshelf speaker has the same tweeter arrangement (main and super-tweeter) and one 5in woofer. The center channel houses two 4in woofers and a single 1in tweeter. The included Atmos modules can be wall-mounted or simply placed atop your floorstanding speakers. The included subwoofer is active. It has a 10" front-firing bass driver, it can handle 115W continuously, and can go down to 28Hz.
The sound quality is amazing. It's loud and accurate. The soundstage is huge and the overall experience is highly immersive.
---
Best Wireless Home Theater System in a Box – Nakamichi Shockwafe Ultra
As discussed in the introduction, wireless home theater systems are, in a way, home theaters in a box. That's why we decided to recommend one such system. Nakamichi Shockwafe Ultra is the largest system from the Nakamichi Shockwafe line. Shockwafe Ultra is maybe not the most versatile or the smartest system in its class but, in our opinion, it's the best-sounding and creates the best movie-watching experience. If you are looking for the smartest and most convenient system, try some of the SONOS systems.
The system includes a large soundbar, two wireless 10in subwoofers, 4 satellites (surround and rear surround speakers), and a remote. You will also get all the necessary power and speaker cables, as well as some audio cables and HDMI cables. Finally, you will get all the necessary mounting equipment.
The soundbar is quite wide (45.5in) and it's supposed to replace all three front channels (FL, C, FR). It houses six 2.5" drivers arranged in three channels. Also, there are two smaller 1" drivers on the left and right ends (they are supposed to widen the soundstage). The soundbar serves as a hub (it basically does one part of the AV receiver's job). It has 3 HDMI 2.0 inputs, one HDMI output with ARC support. All HDMI inputs support 4K/60p video pass-through and are compliant with HDCP 2.2. Aside from HDMI inputs, you have one optical, one coaxial, one 3.5mm input, and a USB port.
Each wireless subwoofer has one 10" down-firing bass driver and a rear-firing bass reflex port. On the rear panel of each sub, you have one pairing button and speaker outputs for two speakers (you are supposed to connect two satellites to each subwoofer).
Each satellite has two drivers – one 3" woofer and one 1in tweeter.
Like similar wireless systems, Shockwafe Ultra features different DSP sound modes designed for different types of content (Music, Movie, Night mode, Entertainment, Clear Voice, Pure Direct, Stereo). All the common Dolby and DTS surround sound formats are supported. That includes object-based sound formats (Atmos and DTS:X).
If you want to stream audio wirelessly, you have Bluetooth 4.1 with aptX.
Shockwafe Ultra delivers close-to-flawless performance. It's dynamic, precise, and incredibly engaging.
The biggest downsides are the lack of wi-fi connectivity, the lack of app, and the lack of auto-calibration tool.
---
This concludes our selection of best home theaters in a box. If you are still looking for some answers, you may find them in our FAQs section.
---
FAQs
Q: What components do you need for a home theater system?
A: First of all, you need a room. Ideally, you will have a dedicated room (or basement) for your home theater system but since we are not all that lucky, with a little bit of effort, you can turn your living room into a great entertainment center.
Second, you need audio and video equipment – you need a video output device (TV or a projector with a screen), video source devices (Blu-ray player, DVD player, cable box, etc.), speaker system, and naturally, you need an AV receiver as a hub that connects the rest of the equipment together.
Third, you need cables – audio cables, HDMI cables, and speaker wire.
Finally, you need a plan and a lot of patience.
Q: Do home theater systems need an amplifier?
A: In order for the speakers to work, some sort of amplification is required. That being said, you don't always need external amplification (you don't need a dedicated AV receiver). In some cases, especially when it comes to wireless home theater systems, each speaker in a home theater system has a built-in amp. They don't need an external amplification but they need to be plugged-in to work. Rarely, wireless surround sound speakers have built-in amplification and are battery-operated (like in the case of JBL 5.1 soundbar-based system).
Q: What is the difference between a soundbar-based and a traditional home theater system?
A: The most obvious difference is in the speaker configuration. Most soundbar-based systems come with fewer speakers than traditional systems. So, instead of a center, front right, and front left speaker, you get only one soundbar. The soundbar will usually have multiple drivers arranged in three (or more) channels.
Another important difference is that most soundbar-based systems are wireless (they come with wireless subwoofers and sometimes even wireless surround speakers) while most (but not all) traditional systems are wired and require an AV receiver.
When it comes to performance, most movie enthusiasts and audiophiles will argue that traditional wired systems with dedicated speakers for each channel deliver much better separation, better soundstage, and more immersive experience. This is very noticeable when comparing soundbars that are supposed to simulate height effects and traditional home theater systems with dedicated height channels.
Q: Are home theater systems good for music?
A: It depends. If you choose the right receiver for music and the right speaker system, then absolutely yes. If you, on the other hand, buy a cheap home theater in a box, the chances are you will hardly get a great music reproduction since most of these systems are optimized for movies.
Q: Are wired home theater systems better than wireless?
A: If you compare two same-priced systems, one wired and the other wireless, there's a great chance you will get better performance from a wired system, especially if you have a good AV receiver paired with those speakers.
Another advantage of wired systems is their reliability. Some wireless systems are incredibly reliable and rarely lose connection but only one hiccup is sufficient to completely ruin the whole movie-watching experience.
On the other hand, wired systems will never be as convenient as wireless and if that's what you're looking for, wireless is the way to go. Some renowned brands (like SONOS, Nakamichi, or JBL) make reliable, easy-to-use, and great performing wireless HTIBs.
Q: How do wireless speakers in a home theater system get power?
A: All wireless speakers in wireless home theater systems have built-in amplifiers. In most cases, they get the power from the electrical outlet. All the wireless subwoofers and most wireless surround speakers come with power cables and require an outlet (they have to be plugged in). In some cases (JBL Bar 5.1, for example), wireless surround speakers also have built-in batteries and don't require an external power supply.
Q: What is the best home theater system?
A: It depends. The answer to this question is different for different budgets, different room sizes, and different preferences. If you are looking for some suggestions, check out our selection of best home theaters in a box.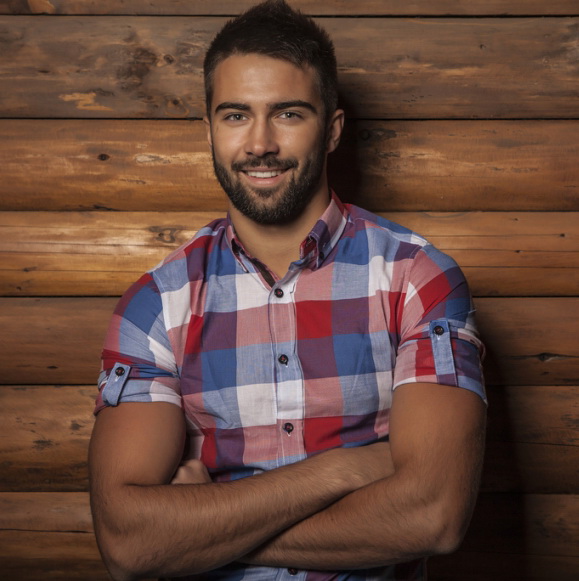 Hello, my name is James Longman.
I'm a writer and editor at AudioReputation. I disassembled my first portable AM/FM radio when I was only 8. At the age of 11, I burned the circuit board on my old boombox cassette player. I'm not going to explain how but it was reckless and stupid.
Since then, I have become much more careful around radios, boomboxes, and other audio devices (at least, I like to think so) but I have never lost the passion for audio equipment. Throughout 20 years of my professional career, I've been working for various audio equipment manufacturers and even started building speakers on my own in my little workshop.
I love the work we do here at AudioReputation. Testing, comparing, and evaluating all kinds of audio devices (speakers, soundbars, headphones, home theater systems, etc.) is something I truly enjoy. I try to be unbiased and give you my honest opinion on every piece of equipment I test. Still, you should take my reviews with a pinch of salt and always be just a little bit skeptical. The fact that I liked some speaker or soundbar doesn't mean that you are going to love it. If you have the opportunity, you should test it/hear it before buying it.