AudioReputation is reader-supported. When you buy through links on our site, we may earn an affiliate commission Learn More
Today, everybody's talking about wireless speakers – that's the next big thing in the audio industry. You have probably heard your neighbor or your coworker bragging about his new wireless speaker system. You may have been a little bit jealous, even. Don't be ashamed, we've had those moments, too. I mean, what's not to like. The very idea of not having to stretch and hide all those wires sounds very tempting. We all want one of those wireless speaker systems.
However, there are at least two things that could stop you from buying a new wireless speaker system.
First, there's the price. Wireless speaker systems, especially great-sounding and reliable systems, usually cost more than $1,000. For example, SONOS 5.1 system is priced around $1.700. It's a significant amount of money and not all people can spend that much on a speaker system.
Second, you have to ask yourself – do you really need them. What if you already have a 5-year old, perfectly functional 2.0 or 2.1 or 5.1 wired speaker system. And what if you really like those speakers? Throwing them away sounds stupid. So, what are your options? You can either sell them, add a few hundred bucks, and buy a new wireless system, or you can make your regular speakers wireless.
In this article, we are going to talk about different ways of making your regular speakers wireless. There are numerous ways and, depending on your requirements and intended purpose, you will have to use different devices and you will have to pay more or less, but it is most definitely going to be cheaper than buying a new wireless speaker system.
How to Make Regular Speakers Wireless [The Easiest Way]
Yes, you can turn your regular speakers wireless by using a wireless speaker kit which makes this extremely simple. These wireless speaker kits make standard speakers wireless by transmitting audio signals using radio frequency (RF) (radio-frequency).
Different Ways of Making Your Regular Speakers Wireless
Depending on the desired purpose and on the type of speakers you want to make wireless, you are going to need a different kind of device and different equipment. Some of these ways are simple and quite cheap while others can be pricey and may require some additional equipment (amplifier, for example). Let's start with some simple solutions.
Making Active (Powered) Speakers Wireless
Let's assume that you have some 2.0 or 2.1 active speaker system with a built-in amplifier and you want to make it wireless. The first thing you should ask yourself is what do you want to achieve.
If you only want to stream music from your phone or from your PC to your speakers, you just need to connect a simple Bluetooth receiver to your main speaker (in a 2.1 system, the subwoofer is usually the main speaker). Instead of a Bluetooth receiver, you can use Google Chromecast Audio or Amazon's Echo Dot. Each of these devices has its own advantages and disadvantages, but they all have one thing in common. They are all pretty cheap.
Option 1 – Bluetooth receiver
There are all kinds of Bluetooth receivers. The simplest Bluetooth receivers cost less than $25. They usually have RCA and/or 3.5mm outputs and you are supposed to connect them to your speaker's analog inputs. More expensive Bluetooth receivers have digital outputs and newer Bluetooth versions (4.1, 4.2, 5.0), and some of them even support aptX low latency codec. If you want something really cheap, you should check out Logitech Bluetooth receiver and if you want something more advanced with digital outputs (you will have to buy those if your speakers have only digital inputs), you could check out Avantree TC417 transceiver (transmitter and receiver in one device). If you don't want to buy generic brands, you can try Harman Kardon's Bluetooth receiver (BTA-10) which actually has inferior specs, but costs more.
Logitech Bluetooth receiver
Option 2 – Google Chromecast Audio
Chromecast Audio uses Wi-Fi instead of Bluetooth. It's supposed to deliver better sound quality than Bluetooth and, if you think about it, it's pretty much obvious why. Wi-Fi is simply more reliable than Bluetooth and delivers better speeds and data rates. Chromecast audio comes only with a short AUX cable that you are supposed to connect to your speaker. After that, you have to download the Google Home app and set up the speakers. Then, you can stream music from your phone, but only if you are using some Chromecast-enabled app. The first version of Google Home allowed you to stream music from your phone's storage (there was a cast screen/audio option), but they decided to remove this option. So, now you need an app that's Chromecast-enabled. If you want to stream music from your internal storage, you should download a media player that's Chromecast-enabled (VLC player, for example).
Chromecast Audio allows you to make a multi-room speaker system. If you have multiple wired speakers installed in different rooms, you can buy multiple Chromecast Audio dongles, connect them to your speakers, group the speakers together, and control them with the Google Home app.
Google Chromecast Audio
When it comes to downsides, one of the most annoying things is that there's no app for PC/Mac. If you want to stream music from your PC, you have to use Google Chrome and activate Cast tab/Cast desktop feature. After an hour of search, we have found an app called Audio Cast (which is not the official Google app). This app allows you to stream music from your PC's internal storage but doesn't work flawlessly.
The most irritating thing about Chromecast Audio is the fact that there's a noticeable delay when watching videos on YouTube. No idea why.
Option 3 – Amazon Echo Dot
Echo Dot is the smallest and cheapest speaker from the Amazon Echo series of smart speakers. Echo Dot connects to your home Wi-Fi network and you need to install Amazon Alexa app to set it up. After the setup, you can use this speaker and Alexa voice assistant to stream music wirelessly (there's a bunch of supported streaming apps including Pandora, Spotify, Apple Music, TuneIn, IHeartRadio, etc.), make/receive calls, make shopping lists, etc.
What's important for our topic is the fact that Echo Dot features 3.5mm output and has a built-in Bluetooth. You can connect Echo Dot to your large wired speakers via AUX cable. That way, you will redirect all the sound from your Echo Dot to your speakers. There are two ways to listen to music – you can stream it from your phone via Wi-Fi, or you can pair your phone with Echo Dot via Bluetooth and use it as you would use any Bluetooth receiver.
Amazon Echo Dot
Just like Chromecast Audio, Echo Dot allows you to group all the speakers in your home and make a multi-room system. You just have to set up your system first through the Alexa app.
Amazon Echo is also not a good choice for watching YouTube videos. First of all, there's no support for YouTube app and, if you want to watch YouTube videos and send audio to your Echo Dot you will have to pair your phone with the speaker via Bluetooth. Second of all, audio and video won't be in sync.
Option 4 – Wi-Fi receiver
Well, Chromecast Audio and Amazon Echo Dot are basically wi-fi receivers, but there are also some other high-end receivers that allow you to stream music wirelessly and get high-quality sound. They feature much better DACs and they are more versatile in terms of inputs/outputs. These receivers will allow you to connect multiple speakers together and make a multi-room system, just like Echo Dot and Chromecast Audio. Depending on the receiver you choose, you can integrate some wireless and wired speakers into a system. For example, SONOS Connect allows you to connect two or more wired speakers and integrate multiple SONOS wireless speakers with them. Other great choices when it comes to wireless receivers are Bluesound Node 2, ARIES MINI, etc.
Bluesound Node 2 Wi-Fi receiver
If you want not only to stream music but also to watch movies on various devices (and wirelessly send audio to your speakers), you will need something more advanced and a bit more expensive. The type of device you are going to buy depends on your audio/video source. If it's your phone, your TV with a built-in Bluetooth or some other Bluetooth-enabled device, you can simply buy a Bluetooth receiver that supports aptX, aptX Low Latency or aptX HD codec. It's not going to be hard to find a device with aptX support because the manufacturers usually advertise this feature.
Option 5 – Bluetooth receiver or Bluetooth transceiver with aptX support
Bluetooth receivers and transceivers with aptX support are relatively cheap. One thing you should pay attention to (besides the aptX low latency support) are the outputs. Depending on the inputs on your speaker, you should be looking for a device (receiver) with matching outputs. So, if your active speakers have 3.5mm or RCA inputs, you can use a receiver with analog outputs. If your speakers have digital inputs, you might want to buy some receiver with digital outputs.
Naturally, receivers/transceivers with analog outputs are cheaper. Some really cheap Bluetooth transceivers are priced around $30 (like TaoTronics TT-BA07). If you need something with digital outputs, you will have to pay more. In the end, it all depends on the inputs on your speaker. One of the best high-end Bluetooth receivers and the one we really like is AudioEngine B1.
AudioEngine B1 Bluetooth receiver
If you want to connect your non-Bluetooth TV or some other non-Bluetooth audio device wirelessly to your regular speakers, you are going to need a wireless kit that consists of a transmitter and a receiver.
Option 6 – Wireless kit (transmitter + receiver)
Based on the wireless technology the kits are using, they can be divided into two groups – Bluetooth kits and RF kits.
Bluetooth kits
This is usually the cheapest option. You need one Bluetooth transmitter and one Bluetooth receivers (or two Bluetooth transceivers). If you are trying to send the sound wirelessly from your TV to your speakers, pay attention to aptX low latency support. Both the transmitter and receiver should support this feature. If that's not the case, you will experience those annoying sound delays.
The installation is relatively simple. As always, you should pay attention to outputs on your non-Bluetooth audio source (TV, CD player, etc.) and inputs on your speakers and buy matching receivers and transmitters. You should connect the transmitter to your TV or some other non-Bluetooth device. After that, you are supposed to turn your transmitter and receiver on and pair them (some transmitter/receiver kits are already pre-paired) and then connect the receiver to your speakers. Pretty simple.
Avantree HT3187 Bluetooth transmitter/receiver kit
RF kits
RF kits are basically the same thing as Bluetooth kits. You have a transmitter and a receiver. They use radio frequency (usually 2.4GHz but they can also use 5.8GHz and other frequencies) to communicate. Connect the transmitter to your non-Bluetooth device (audio source) and receiver to your speakers, turn them on, and you are ready to go. As always, before you buy some RF kit, check the available outputs on your non-Bluetooth audio source and available inputs on your speakers. The inputs/outputs on your RF kit have to match the inputs/outputs on your audio source and your speakers.
Making Passive Speakers Wireless
If you have a 5.1/7.1/9.1 home theater system and you want to make the whole system wireless or you just want to make the rear speakers wireless, you are going to need a wireless kit or multiple wireless kits. People usually buy wireless kits for their surround and rear speakers, as well as wireless kits for their subwoofers. Wiring center and front speakers is very simple and hassle-free, so there's no need to make them wireless. Also, some people may want to make their passive 2.0 stereo speakers wireless, or at least to make them able to receive a digital signal from your phone or some other device.
If you are going to use your wireless kit for the rear speakers, which are usually passive, the receiver should either have a built-in amplifier or you must buy a separate amplifier for those speakers. You are supposed to connect the transmitter to your AV receiver/amp and connect the wireless receiver to the speaker. If the receiver doesn't have a built-in amp, you are supposed to buy one. After you buy it, you should connect the wireless receiver to the amp, and then, connect the amp to the speaker. Buying a receiver with a built-in amp is obviously a more convenient option.
If you want to make your passive stereo speaker system wireless so you can stream music from your phone or some other device and if you already have a stereo amplifier, you can use one of the previously mentioned wi-fi receivers (SONOS Connect, Bluesound Node 2) or Bluetooth receivers (AudioEngine B1). These receivers don't have built-in amplifiers so you can't connect them directly to your speakers, but you can connect them to the amplifier and then connect the amplifier to the speakers.
If you don't have an amplifier, you could buy one of those wi-fi/Bluetooth receivers with built-in amps. Some of them are really powerful and can easily drive two large bookshelf speakers. Most of the manufacturers that make wireless speaker systems make these wi-fi receivers/amps (or streaming amps). Just like wi-fi receivers without amps, they allow you to make a multi-room speaker system and integrate some wireless speakers with your existing wired stereo systems. Some of the most capable wi-fi receivers/amps are Klipsch POWERGATE, YAMAHA WXA-50, SONOS Connect: Amp, Denon HEOS amp, MARTIN LOGAN Forte, etc. These wi-fi receivers/amps are the most expensive of all the devices we've mentioned in this article, but there's a reason for that. They are so much more than simple receivers. They are multipurpose devices and feature high-quality DACs and amps. In some cases, they can be used as headphone amplifiers. Also, they usually have multiple analog and digital inputs and outputs.
Klipsch POWERGATE streaming amp
As you can see, there are numerous ways to make your regular speakers wireless. Some of them are really cheap like Bluetooth receivers or Bluetooth kits. RF wireless kits (transmitter + receiver) are also quite affordable. Wi-fi receivers and streaming amps are the most expensive, but also the most versatile and the most reliable option.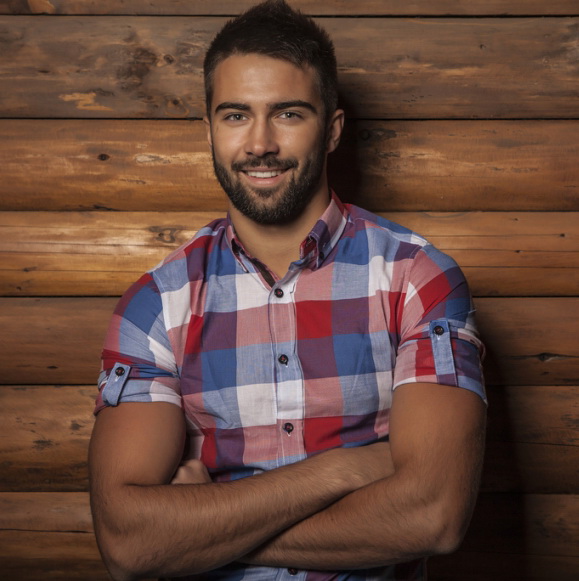 Hello, my name is James Longman.
I'm a writer and editor at AudioReputation. I disassembled my first portable AM/FM radio when I was only 8. At the age of 11, I burned the circuit board on my old boombox cassette player. I'm not going to explain how but it was reckless and stupid.
Since then, I have become much more careful around radios, boomboxes, and other audio devices (at least, I like to think so) but I have never lost the passion for audio equipment. Throughout 20 years of my professional career, I've been working for various audio equipment manufacturers and even started building speakers on my own in my little workshop.
I love the work we do here at AudioReputation. Testing, comparing, and evaluating all kinds of audio devices (speakers, soundbars, headphones, home theater systems, etc.) is something I truly enjoy. I try to be unbiased and give you my honest opinion on every piece of equipment I test. Still, you should take my reviews with a pinch of salt and always be just a little bit skeptical. The fact that I liked some speaker or soundbar doesn't mean that you are going to love it. If you have the opportunity, you should test it/hear it before buying it.