AudioReputation is reader-supported. When you buy through links on our site, we may earn an affiliate commission Learn More
If you are in the market for an affordable and compact desktop DAC/headphone amp, iFi Zen DAC could be just the thing you need. Along with great looks, compact design, and affordable price, iFi Zen DAC delivers very nice, distortion-free sound and can drive the most demanding headphones (up to 600Ω). In this review, we will discuss the features and performance of this very nice entry-level DAC/headphone amp.
iFi is a young audio company, founded in 2012. The company headquarters are located in Southport, UK. iFi makes all kinds of headphone amps, DACs, audio cables, and other audio equipment. Their products have quickly become very popular, mostly because of the value they offer for the price. iFi Zen DAC is another product that justifies iFi's reputation.
iFi Zen DAC uses a Burr-Brown chipset that delivers a warmish and punchy sound signature. It sports both balanced (4.4mm) and unbalanced (6.3mm) headphone outputs as well as RCA inputs and another balanced output for connecting to your stereo amp or to your powered speakers. The input stage consists of only one USB Type-B 3.0 input. iFi Zen DAC supports hi-res streaming as well as MQA. It also supports DSD (up to DSD256), DXD (up to 24bit/384kHz), and PCM (up to 384kHz) files. iFi Zen DAC has a variable gain (high-low) so you can match the power output to your headphones and it also has the bass boost feature.
When it comes to negatives, you should know that this DAC/headphone amp doesn't come with a DC adapter even though it has a DC input. Also, it doesn't have the OFF button and the only way to turn it off is to unplug it. The biggest downside is the lack of versatility. This thing has only one USB input. There are no optical or coaxial inputs. Also, iFi Zen doesn't feature Bluetooth.
iFi Zen DAC Review
The iFi Zen DAC is a high-performance digital-to-analog converter that delivers an immersive and detailed sound experience. It's compatible with a wide range of devices and offers multiple connectivity options. It has a sleek design and is easy to use. It's perfect for audiophiles and music enthusiasts who want to improve the sound quality of their digital music collection.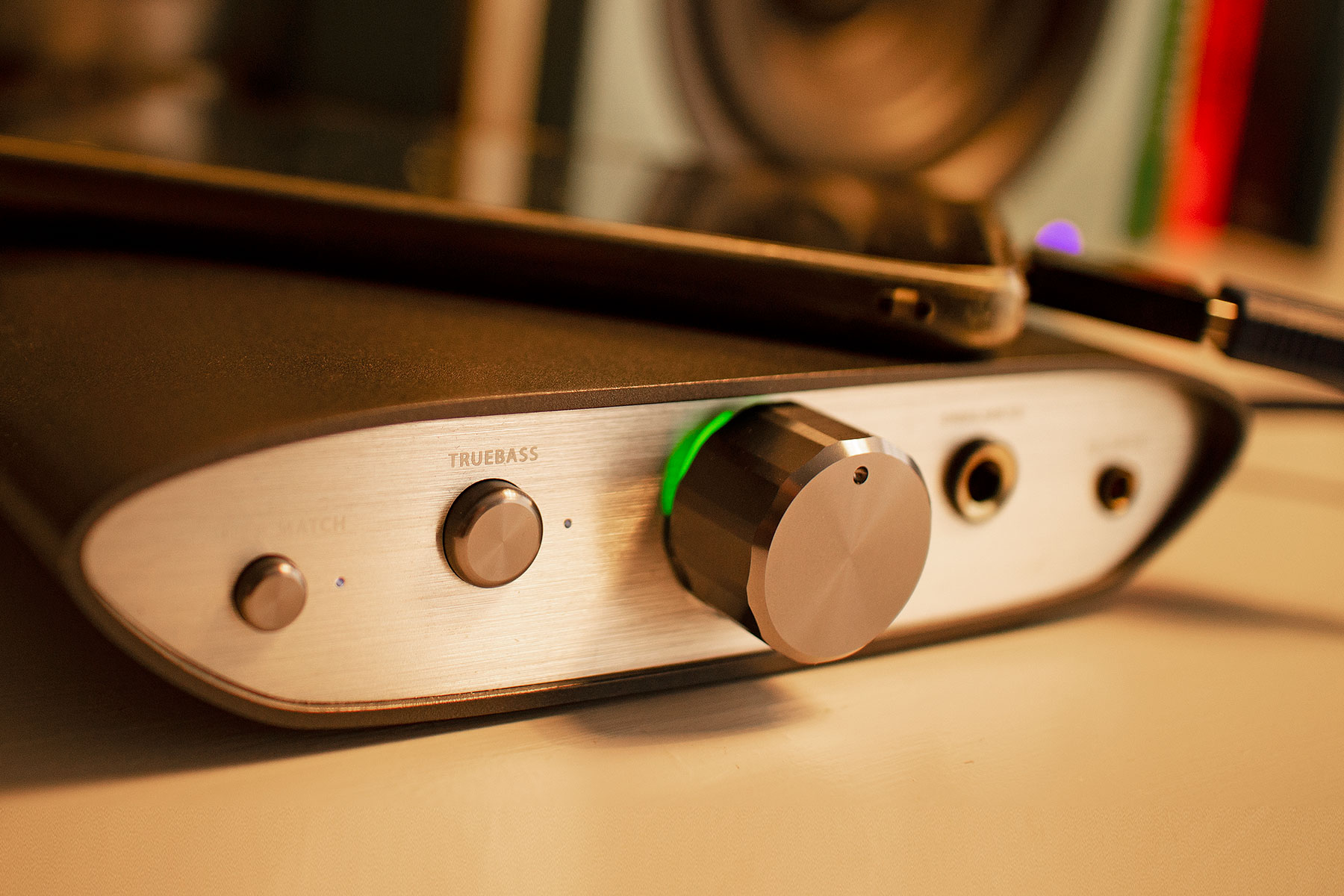 Affordable price

Stylish, eye-catching design

Solid build quality

Balanced (4.4mm) and unbalanced (6.3mm) headphone outputs

Balanced (4.4mm) and unbalanced (RCA) line outputs

USB 3.0 input

Supports hi-res streaming and MQA

Supports DSD256, DXD (up to 384kHz), and PCM (up to 384kHz)

Variable gain

Bass boost

Fairly balanced sound with a great punch
DC adapter is not included in the package

There's no OFF button (the Zen DAC stays on all the time)

Only one digital input (no optical, no coaxial)
iFi Zen DAC is a great choice if you are looking for a compact and relatively affordable DAC/headphone amp. It's one of only a few DACs in its price range with balanced outputs and that certainly makes it very attractive. It's not extremely versatile when it comes to connectivity but if you are only looking for a DAC to stream files from your PC or Mac, that's not going to be an issue.
Official video – iFi Zen DAC
What's in the box?
Inside the box, you will find your iFi Zen DAC/headphone amp, USB 3.0 (Type-A to Type-B) cable, RCA cable, user manual, and a warranty card.
iFi Zen has a DC input but, for some reason, iFi decided not to include the adapter. You can buy the iFi 5V DC adapter separately (priced at $50) or buy some cheaper third-party adapter if you want to save some money. The good news is that you don't have to buy it since iFi Zen can get the necessary power supply from your PC/Mac via the included USB cable. However, if you want the best possible performance, you should probably buy the adapter.
Box contents
Specs
iFi Zen DAC Specifications
DIMENSIONS
Width
4.6in/117mm
Height
1.18in/30mm
Depth
3.9in/100mm
Weight
1.08lb/491g
INPUTS
USB 3.0 (Type-B) x1
HEADPHONE OUTPUTS
BALANCED – 4.4mm Pentaconn

UNBALANCED – 6.3mm
LINE OUTPUTS
BALANCED – 4.4mm Pentaconn

UNBALANCED – RCA
DAC DETAILS
Supported sampling rates
DSD – up to DSD256

DXD – up to DXD 24bit/384kHz

PCM – up to 384kHz
HEADPHONE SECTION
Supported headphone impedance
6.3mm unbalanced output
12-300Ω
4.4mm balanced output
12-600Ω
6.3mm unbalanced output power
Output power into 32Ω
280mW
Output power into 300Ω
36mW
4.4mm balanced power output
Output power into 50Ω
380mW
Output power into 600Ω
70mW
THD (125mW at 32Ω)
Lower than .005%
SNR
Greater than 113dBA
LINE SECTION
Zout
4.4mm BALANCED – up to 200Ω

RCA UNBABALANCED – up to 100Ω
SNR
Lower than -116dB(A)
DNR
Greater than 116dB(A)
THD
Lower than .0015%
ADDITIONAL FEATURES
Bass boost (TrueBass feature)

Adjustable gain (PowerMatch – switchable gain)
Design
Although inexpensive, iFi Zen feels quite premium. At $130, you would expect some plastic but it's all metal. The controls, as well as the front and rear panels, are made of brushed aluminum. The housing is also made of thick and sturdy metal. All in all, the craftsmanship is really impressive.
The control/input scheme is quite simple. On the front panel, you'll see the PowerMatch button (variable gain), TrueBass button (bass boost), and large volume knob. The PowerMatch button is used to match the power requirements of your headphones. When using some high-sensitivity and low-impedance headphones or IEMs, you can turn it off (low power) and you will get perfectly satisfying performance. When using more demanding over/on-ear headphones (lower sensitivity, high impedance), you can press it and get a higher power output.
The front panel also houses two headphone outputs – standard 6.3 unbalanced and 4.4mm Pentaconn balanced output.
iFi Zen DAC – front panel
On the rear panel, you have 4.4mm balanced and RCA unbalanced line outputs, variable/fixed switch, USB input, and DC input.
iFi Zen DAC – rear panel
Features
iFi Zen DAC is not extremely capable or versatile DAC/headphone amp but, for a pocket-sized device priced under $150, it packs a nice set of features.
Feature overview
The heart (and brain) of this device represents the Burr-Brown's chipset. Burr-Brown chips are known for their warm character so you can already guess what kind of performance and sound you get. According to the iFi's claims, this chipset will leave your audio files unchanged.
iFi Zen DAC can stream Hi-Res audio files including DSD (up to DSD256), DXD (up to DXD384), and PCM (up to 384kHz).
It also supports MQA audio so you can stream music from Tidal Masters if you already have Tidal HiFi membership. In case you don't know how to stream from Tidal, you have video tutorials on the official iFi's YouTube channel.
In case you have Max or Linux, you can download the firmware update to unlock DoP256 support.
Also, if you want to experience a cleaner sound and better digital signal processing, you can install the 5.3C firmware update to add a special GTO filter.
iFi firmware updates – unlock DoP256 and GTO filter (source – iFi download page)
The iFi Zen DAC also features iFi's proprietary TrueBass technology. It's just a fancy name for the bass boost. When activated, it will emphasize the bass response by a few dBs and it will make it a little bit thicker.
One of the greatest highlights is the existence of balanced outputs (headphone output and line out) which is quite unexpected at this price point. Like some high-end iFi products, Zen DAC features separate circuitries for the left and right channels. Balanced outputs reduce the interference, crosstalk, and noise which results in clearer sound.
Balanced 4.4 Pentaconn outputs
Setup and Performance
Setting up the iFi Zen DAC is done in just a few minutes. The unit will work perfectly fine with a USB cable but it's still recommended to buy the DC adapter. For the purposes of this review, we used our desktop PC running on Windows 10. Tidal Masters was used as a source. We have only tried it with Sennheiser 660S headphones since they come with a cable with 4.4mm Pentaconn connector and we really wanted to try the balanced output. 4.4mm Pentaconn balanced connection is not exactly industry standard and there aren't many headphone models that come with this kind of cable. However, many audio stores sell all kinds of headphone cable adapters and you can buy the adapter you need if you want to experience all the benefits of balanced connection.
We did the testing with and without DC adapter. Also, we tested the Zen DAC with and without the GTO filter. The first thing to know is that you are not going to get a reference-grade detail but it would be unreasonable to expect something like that from such an affordable device. Having the price in mind, Zen DAC delivers quite an impressive performance with a very nice balance, accuracy, and just a little bit of warmth.
Without the firmware update and GTO filter (by default, Zen DAC uses a linear phase filter), you will get warmish and punchy sound with perfectly clear and detailed mids and just a little bit laid-back treble. The update brings GTO filter which offers the same kind of fluid and relaxed sound reproduction but more detailed, more textured, with cleaner vocals, and more extended and more energetic highs. These were our observations without the adapter.
The adapter will give you a bit more stable power supply than USB. When you plug in the cable, the iFi Zen will restart and you will be able to use it in a few seconds. The adapter reduced the noise and interference and made the sound even fuller and weightier. The bass had a better impact and the soundstage expanded and became cleaner. It was quite an enjoyable experience.
So, to conclude, Zen DAC does a great job for the price. It's precise and balanced. It also brings a little bit of warmth which compliments genres like rock and hip-hop. That warmth never gets excessive or distracting.
The Competition
Finding a device with similar characteristics and balanced outputs at this price point is really hard. You can find similarly priced amps but without balanced outputs. If you are interested in balanced outputs and you don't like iFi Zen DAC, you will have to pay a little bit more.
---
FiiO K5 Pro
FiiO K5 Pro is just a little bit pricier than iFi Zen DAC ($10 price difference). It's also very sleek and it's solidly built.
Compared to iFi Zen DAC, it has more digital inputs (additional coaxial and optical inputs) and it also has RCA line inputs. Like iFi Zen, it has RCA line outputs. However, FiiO K5 Pro does not have balanced outputs. It only has a 6.3mm unbalanced headphone output.
FiiO K5 Pro has a very high output (up to 1.5W at 32Ω) and can drive the most demanding headphones. K5 Pro also supports very high sampling rates (up to 786kHz and up to DSD512).
K5 Pro, like the iFi Zen, features variable gain (low/medium/high).
K Pro delivers a very accurate, balanced, and detailed sound without any obvious colorations.
---
Schiit Fulla 3
Schiit Fulla 3 is significantly cheaper than the iFi Zen DAC (the price varies from $99 to $119) and it's also less capable.
Fulla 3 is a pretty basic device. It looks nice but it's not very versatile and it's not as capable as iFi Zen DAC. It only has one micro USB input for connecting to your PC/Mac. There's an additional micro USB port for power supply. On the front, there's a 3.5mm headphone output and mic input (this DAC/headphone amp is designed for gaming). There are no balanced outputs and no additional digital inputs.
Fulla 3 has a decent power output (up to 400mW at 16Ω) and it only supports sampling rates up to 24bit/192kHz.
The sound output across the audible range is nicely balanced and relatively flat but not as detailed and exciting as the sound output of iFi Zen.
---
Audioengine D1
AudioEngine D1 is pricier than iFi Zen ($40 difference) and, in our opinion, it's a little bit overpriced. It's maybe a bit more versatile when it comes to inputs but it's not as capable when it comes to power output. D1 doesn't have variable gain and it doesn't have balanced headphone output.
AudioEngine D1 has USB and optical inputs. It also has high-quality analog RCA line output and 3.5mm headphone output. No balanced outputs.
There's no info on the power output but we can tell you that D1struggles with high-impedance headphones and can't deliver the same kind of power output and performance as iFi Zen DAC.
---
Comparison Table
Frequently Asked Questions
What does a ZEN DAC do?
A ZEN DAC is a compact desktop amplifier. Even though it is an entry-level amp, it delivers nice, distortion-free sound and can drive the most demanding headphones (up to 600 Ohms). On top of that, it is very affordable and a good addition to your desktop setup.
Do I need a DAC with iFi Zen CAN?
Yes, you will need a separate DAC for your iFi Zen CAN since it is a standalone amplifier. Most common sources, like phones and laptops, have built-in DACs, so if you're hesitant about buying a separate DAC, you can just connect to it directly from the headphone jack.
Does a DAC increase sound quality?
Yes, a DAC definitely improves your sound quality. A high-quality DAC will give you a cleaner sound background and improve the overall soundstage of your sound system. Moreover, it creates a wider, deeper soundscape.
Final Thoughts
We really enjoyed testing this budget-friendly device. It's attractive, it's small, it has balanced outputs, and it sounds really good for the price. It has only one digital input but it's still worth the money. If you are looking for an entry-level DAC/headphone amp with balanced outputs under $150, iFi Zen DAC is your best option.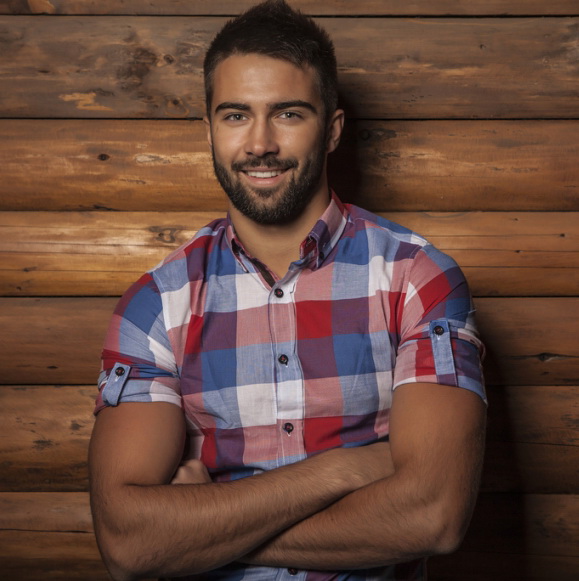 Hello, my name is James Longman.
I'm a writer and editor at AudioReputation. I disassembled my first portable AM/FM radio when I was only 8. At the age of 11, I burned the circuit board on my old boombox cassette player. I'm not going to explain how but it was reckless and stupid.
Since then, I have become much more careful around radios, boomboxes, and other audio devices (at least, I like to think so) but I have never lost the passion for audio equipment. Throughout 20 years of my professional career, I've been working for various audio equipment manufacturers and even started building speakers on my own in my little workshop.
I love the work we do here at AudioReputation. Testing, comparing, and evaluating all kinds of audio devices (speakers, soundbars, headphones, home theater systems, etc.) is something I truly enjoy. I try to be unbiased and give you my honest opinion on every piece of equipment I test. Still, you should take my reviews with a pinch of salt and always be just a little bit skeptical. The fact that I liked some speaker or soundbar doesn't mean that you are going to love it. If you have the opportunity, you should test it/hear it before buying it.