AudioReputation is reader-supported. When you buy through links on our site, we may earn an affiliate commission Learn More
Klipsch Reference Premiere series of home theater speakers was released in 2015 and in three years, it has become one of the most popular and highest rated lines of speakers on the market. We are presenting to you the largest bookshelf speaker from the Reference Premiere series – Klipsch RP-160M.
Klipsch RP-160M is maybe larger and heavier than an average bookshelf speaker but it is almost perfect in every other way. It features sophisticated and instantly recognizable Klipsch design with spun copper woofer and Tractrix horn tweeter. It's made of quality materials – MDF was used for the cabinet, polymer veneer was used for the finish, the woofer is made of Cerametallic (which is a combination Ceramic and Aluminum) with polymer baffle, and the tweeter is made of Titanium and it's placed inside the enhanced 90×90 Tractrix horn.
What's even better than the build quality is the sound. A pair of RP-160M will deliver an incredible listening experience. The sound is rich, detailed, and powerful. Klipsch even managed to make the upper midrange and high frequencies softer and more neutral by enhancing the design of the Tractrix horn (customers complained about the previous Reference line of speakers because the treble was too harsh).  They will still be a bit too intense, especially in a small room but if your room is large enough, the speakers will show their full potential and you will notice that they really managed to make more neutral (and even wider) frequency response compared to the previous Reference series.
Impressive and recognizable Klipsch design

Immersive listening experience, powerful sound

Low impedance, high efficiency

Doesn't require a high-end powerful amplifier
It needs some space to shine (Not a great choice for small rooms)
If you are looking for a great pair of bookshelf speakers for your home theater system or for a home audio system and if your room is large enough, Klipsch RP-160M is one of the best choices under $500 (for a pair). If you have a smaller room and you still want Klipsch bookshelf speakers, you might want to try the smaller version RP-150M.
Official video – Klipsch Reference Premiere Series
What's in the box?
Both speakers come in one large cardboard box and they are both nicely protected with Styrofoam. Along with the speakers, you will get only user manual and 5-year warranty. Speaker wire is not included and it's recommended to use 16, 14, or 12-gauge wire.
Specs
Klipsch RP-160M Specifications
DIMENSIONS
Width
8.8 inches
Height
16.7 inches
Depth
12.9 inches
Weight
20lb
DRIVERS
Woofers
6.5-inch x1, Cerametallic cone
Tweeters
1-inch x1, Titanium woofer with a Tractrix horn
ENCLOSURE TYPE
Ported, bass reflex port (aka Tractrix port) on the rear panel
ENCLOSURE MATERIAL
MDF
INPUTS
Dual binding posts – single wire/bi-wire/bi-amp
CABINET FINISH
Piano Black, Ebony, Walnut, Cherry
TECHNICAL DETAILS
Frequency response
45Hz to 25kHz (+/- 3dB)
Nominal impedance
8Ω
Sensitivity
96dB (at 2.83V/1m)
Power handling
100W – Continuous Power input

400W – Peak Power Input
Crossover frequency
1,500kHz

Design
It's not a secret that the Klipsch speakers are easily recognizable and it's not because there's a Klipsch logo on the front panel. It's the mixture of high-quality materials and Klipsch patents used in each speaker. When you see that spun copper woofer and Tractrix horn tweeter, you instantly know that you are looking at a Klipsch speaker. We find these trademarks incredibly attractive and sophisticated but that's the matter of taste. The cabinet is made MDF and the finish is made of veneer polymer. There are four different finish colors – piano black, ebony, walnut, and cherry
The speaker comes with a nice-looking transparent cloth grille. The grille is magnetically attached to the speaker and it's easily removable.
Picture 1 – Front panel (with the grille)
When you remove the grille, you will see two drivers – spun copper Cerametallic woofer and a Tractrix horn with an LTS Titanium tweeter. You can use the speaker with or without the grille but we prefer the look without it.
Picture 2 – Front panel (without the grille)
On the rear panel, you will see the bass reflex port at the top (it looks similar to Tractrix horn on the front side and it's called Tractrix port) and dual binding posts at the bottom. These dual binding posts are designed for bi-amp or bi-wire connection but you don't really have to use bi-wiring or bi-amping since these speakers are quite easy to drive. You can simply use a single 16, 14, or 12-gauge wire with 2 banana plugs and plug them into 2 posts (one red and one black).
Picture 3 – Rear panel (bass reflex Tractrix port and dual binding posts)
The speaker rests on a slightly angled wooden base. The whole enclosure is angled backward.
Features
MDF Enclosure – You won't find any plastic on this Klipsch speaker. The whole enclosure is made of MDF which is the best replacement for wood (it's dense, rigid, and non-resonant and it minimizes the distortion and improves efficiency).
Enhanced 90×90 Tractrix horn and enhanced LTS (linear travel suspension) tweeter – Klipsch paid attention to customers' complaints regarding upper-midrange and treble reproduction on the previous Reference series of speakers. Treble was too harsh and they decided to make it less intense (more natural and accurate). They decided to change the shape of the horn and combined circular shape around the tweeter (horn throat) with a square ending (horn mouth). They also used molded rubber to cover the horn surface in order to dampen the treble. Also, Klipsch used titanium for the tweeter in order to make the frequency response more linear.
Picture 4 – Improved design of the Tractrix Horn (left – RB81 II, right RP-160M)
Cerametallic 6.5-inch woofer – Unlike the tweeter, the woofer remained basically the same as the woofer on the previous Reference line. The Klipsch used traditional spun copper Cerametallic woofer which combined with the enhanced tweeter and Tractrix horn makes RP-160M one of the most efficient speakers on the market.
Tractrix (bass reflex) port – This is another enhancement compared to the previous line of Reference speakers. The previous line had front-firing racetrack-shaped bass ports, while the new Reference premiere series has a rear-firing port that's shaped similar to Tractrix horn. That way, Klipsch achieved faster airflow and cleaner low-end reproduction.
Dual binding posts – You don't have to use all four ports but if you want to experiment with bi-amping (which could bring some improvements) or bi-wiring (which is kind of meaningless), you can. In our opinion, single wire connection works just fine but the bi-amp connection brings some improvements.
Performance
First, let's discuss a few things about the setup and speaker placement.
When it comes to placement, you should follow the guidelines from the Klipsch manual. Klipsch RP-160M bookshelf speakers are supposed to be your front left and front right channels (but you can also use them as surround channels). They should be 6-15ft apart. The distance between the speakers and your listening position (couch, sofa) should be 1-1.5 times the distance between the speakers. So, if the distance between the speakers is 15ft, your listening position should be no more than 23ft away from the speakers. You are supposed to direct them toward your listening position and place them on stands so the tweeters are at your ear level. Also, the speakers should not be placed too close to the wall (try to place them 2ft away from the wall).
When it comes to the setup and wiring, there are three options – simple single wire connection, bi-wiring, and bi-amping. All the Klipsch Reference Premiere bookshelf speakers will perform just fine if you connect them to your amplifier via single wire (16-gauge, 14-gauge, or 12-gauge) with two banana plugs but they are all equipped with dual binding posts which means that you can experiment and try to bi-wire or bi-amp the speaker. Based on the experience of many audiophiles around the world, bi-wire connection doesn't actually make a noticeable difference but the bi-amp connection could improve the speaker performance. In order to bi-amp your speaker you have to use two sets of wires and two separate amps for one speaker – one amp drives the woofers and the other drives the tweeters. Bi-amping is more often used for wiring floorstanding speakers but you can definitely bi-amp your RP-160M bookshelf speakers.
Picture 5 – Bi-wiring and passive bi-amping the speaker with dual binding posts (provided by Klipsch)
Sound Quality and Listening Experience
When it comes to sound quality and listening experience, we can't really ask for more. Every type of music we have tried sounded authentic and vigorous. It doesn't matter if you are listening to some classical piece performed by a symphony orchestra, power metal song, or a bass-heavy EDM, Klipsch RP-160M will deliver an authentic and powerful sound with an incredible amount of detail. The bass is deeper than you could possibly expect from an average bookshelf speaker but it's also rich and perfectly clean without any distortion at high volumes. Treble was the biggest issue with the previous line of Klipsch Reference speakers but they managed to solve this issue by enhancing the design of the Tractrix horn and by enhancing the tweeter construction. RP-160M delivers much cleaner and less intense highs than the bookshelf speakers from the previous Reference series but they really need some space to shine. The highs will still sound too harsh in a small room, when your listening position is too close to the speaker and when the walls are too close. Midrange and vocals sound perfectly clear and dynamic. You will be able to hear the smallest detail – it's almost like you are listening to a live event.
To conclude, Klipsch RP-160M delivers a wide and neutral frequency response, wide soundstage and accurate stereo imaging. The sound is very detailed, rich, and powerful.
The Competition
---
1. KEF Q150
The Klipsch RP-160M has a higher sensitivity of 95 dB, allowing it to play louder with the same amplification power as the KEF Q150. It's because of the larger woofer size of 6.5 inches and a lower crossover frequency, resulting in a deeper and stronger bass performance that the KEF Q150 cannot match.
Additionally, the Klipsch RP-160M features dual binding posts that enable bi-amping or bi-wiring connections, which is impossible with the KEF Q150. However, you should note that the Klipsch RP-160M is larger and heavier, which requires a bigger base surface area and may affect placement options in smaller spaces.
The KEF Q150 generates a higher frequency response of 28k Hz, while the Klipsch RP-160M's frequency response is capped at 25k Hz.
Moreover, the KEF Q150 is shorter at 303mm, making it easier to fit into smaller spaces, and it takes up less floor space due to its smaller base surface area of 500 cm² compared to the Klipsch RP-1640M's 732 cm².
---
2. Wharfedale – Denton
Check Price on Amazon
Wharfedale Denton is another great choice in case you need something smaller than RP-160M. This speaker really excels when it comes to midrange and treble but it's not as deep and loud as RP-160M. Denton is priced slightly higher but it's still under $500 (for a pair) and it performs equally great. The main reasons for buying Denton instead of RP-160M are the size and more detailed and cleaner treble.
---
3. JBL Studio 530
The Klipsch RP-160M has a larger woofer, which may provide a slightly better bass response than the JBL Studio 530.
The RP-160M also has a horn-loaded tweeter, which can help improve clarity and detail in high frequencies. The RP-160M has a higher sensitivity rating and slightly lower power range than the JBL Studio 530, which means it can produce more volume with less power input.
Further, the Studio 530 has a slightly more balanced sound overall, with a smooth and natural midrange. It may not have as much bass as the Klipsch RP-160M, but it still has a good low-end response. The Studio 530 also has a slightly wider soundstage, which can make it a great option for home theater setups.
---
Comparison Table
FAQs
Do Klipsch speakers need an amplifier?
Yes, Klipsch speakers are passive and require an amplifier or receiver to power them. They do not have built-in amplifiers, unlike active or powered speakers. An amplifier will provide the power to drive the speakers and produce sound. That's why you should make sure to match the power handling capabilities of the speakers with the amplifier to avoid distortion.
Are Klipsch speakers loud?
Yes, Klipsch speakers are generally known for their loud and powerful sound. They are designed with high-efficiency drivers and horn-loaded tweeters that allow them to produce a lot of volume with minimal distortion. However, this also means they may not be suitable for small spaces or those who prefer a more subdued listening experience.
Are Klipsch speakers better than Yamaha or Bose?
Klipsch speakers, known for their high sensitivity and dynamic range, are often preferred by audiophiles. Yamaha, on the other hand, is praised for their well-balanced sound and versatile features, while Bose is renowned for their noise-canceling technology. Ultimately, the best choice depends on personal preference and specific needs.
Are bookshelf speakers better than a sound bar?
Bookshelf speakers offer superior audio quality and a wider soundstage compared to soundbars. They require a separate amplifier or receiver but can be customized and upgraded for optimal performance. Soundbars are more compact and convenient, often with built-in features like Bluetooth and voice control. They are a good option for smaller spaces or those seeking a simple setup.
Final Thoughts
Klipsch RP-160M meets all the sound principles established by the founder of Klipsch corporation (Paul W. Klipsch) and it's probably better than any previous bookshelf speaker made by Klipsch – it has a wide and neutral frequency response, the distortion is practically nonexistent, and it's highly efficient. A pair of RP-160M will deliver a wide soundstage with a perfect stereo imaging, excellent directivity, and a nice balance between low, mid, and high frequencies. RP-160M is, without any doubt, one of the best choices when it comes to bookshelf speakers under $500.
Recommended Reading :
Klipsch RP-160M can be a part of your home theater system or home audio system. You can use a pair of RP-160M speakers as your front left and right channels or even as your surround channels. For the best results, you should combine RP-160M with other speakers from the Klipsch Reference Premiere series. If you need a center channel, you should check out RP-250C or RP-450C. The best choices for surround channels are RP-240S or RP-250S and depending on the size of your room, you can get a 10-inch, 12-inch, or 15-inch Klipsch Reference Premiere subwoofer (R-110SW or R-112SW or R-115SW).
In case you have a really large room and want even bigger sound, you can always use Reference Premiere floorstanding speakers instead of bookshelf speakers. There are two available versions RP-280F (larger) and RP-260F (smaller).
If you want a bookshelf speaker made by Klipsch but you need something smaller, you might want to check out RP-150M which comes from the same Reference Premiere line.
All the speakers we've mentioned in the previous chapter (KEF 100, Wharfedale – Denton, and DALI – ZENSOR 3) are great choices, too. Your final decision depends only on your sound taste and your budget.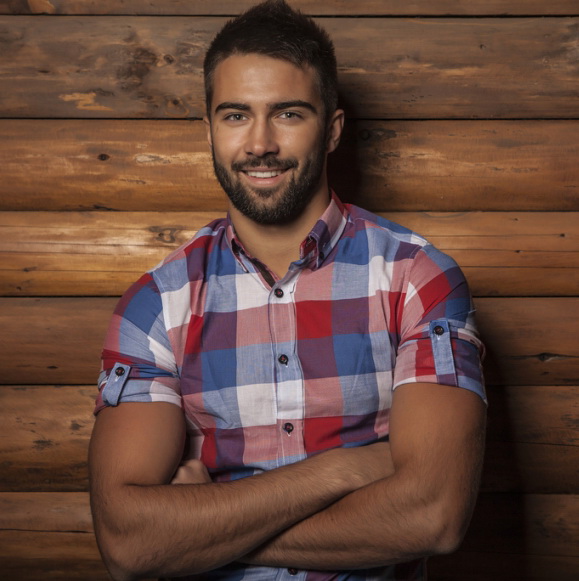 Hello, my name is James Longman.
I'm a writer and editor at AudioReputation. I disassembled my first portable AM/FM radio when I was only 8. At the age of 11, I burned the circuit board on my old boombox cassette player. I'm not going to explain how but it was reckless and stupid.
Since then, I have become much more careful around radios, boomboxes, and other audio devices (at least, I like to think so) but I have never lost the passion for audio equipment. Throughout 20 years of my professional career, I've been working for various audio equipment manufacturers and even started building speakers on my own in my little workshop.
I love the work we do here at AudioReputation. Testing, comparing, and evaluating all kinds of audio devices (speakers, soundbars, headphones, home theater systems, etc.) is something I truly enjoy. I try to be unbiased and give you my honest opinion on every piece of equipment I test. Still, you should take my reviews with a pinch of salt and always be just a little bit skeptical. The fact that I liked some speaker or soundbar doesn't mean that you are going to love it. If you have the opportunity, you should test it/hear it before buying it.