AudioReputation is reader-supported. When you buy through links on our site, we may earn an affiliate commission Learn More
Klipsch RP–280F is the largest floorstanding speaker from the Klipsch Reference Premiere line of home theater speakers. Reference Premiere line of speakers is the successor of the Reference line.
Klipsch RP-280F represents an enhanced version of the R-28F floorstanding speaker from the Reference series. Klipsch made some cosmetic changes but they also improved the performance of the speaker. The most noticeable changes are related to the design of the tweeter and Tractrix horn.
R-28F (Reference line) VS RP-280F (Reference Premiere line)
You will notice that both speakers have that recognizable Klipsch design with the famous Klipsch trademarks like Tractrix horn and woofers with the spun copper finish but there are some important differences. R-28F features aluminum LTS tweeters, injection molded graphite woofers, and front-firing bass reflex port while the RP-280F has titanium LTS tweeters, cerametallic woofers (with the same recognizable spun copper finish), and rear-firing bass reflex port (Klipsch calls it Tractrix port). The design of the Tractrix horn and bass reflex port has been modified, too.
All these changes resulted in wider and flatter frequency response. The most important sound-related improvement is the treble response. Many customers complained about highs being too harsh and fatiguing on the previous version. Klipsch changed the look of the Tractrix horn, they also used a different material for the tweeter, and they coated the horn surface with a rubber and made the treble less fatiguing and more neutral.
Klipsch RP-280F is one the best floorstanding speakers under $1,000 on the market. It delivers room-filling, immersive sound with a punchy bass, detailed mids and voices, and clear highs. You can't get much better listening experience for less than $1,000.
Rich, detailed, and room-filling sound

Sophisticated design

Highly efficient and easy to drive
Too large for a small room
Klipsch RP-280F is a huge and powerful floorstanding speaker. It delivers incredibly detailed, rich, and balanced sound with punchy and accurate bass, dynamic mids, and sparkling highs. The most improved aspect compared to the previous Reference line of speakers is the treble reproduction. Highs are not fatiguing and harsh anymore – Klipsch managed to dampen the treble reproduction by enhancing the design of the Tractrix horn. RP-280F is not the biggest floorstanding speaker on the market but it's still huge and if you have a small room, some Klipsch bookshelf speaker from the same Reference Premiere line might be a better option.
Official video – Klipsch Reference Premiere Series
What's in the box?
The RP-280F floorstanding speaker comes in a huge cardboard box. It's nicely packed and protected. Inside the box, you will also find the user manual and 5-year warranty. Speaker wire is not included and you should order it online or buy it in a local audio store.
Specs
Klipsch RP-280F Specifications
DIMENSIONS
Width
10.5 inches
Height
43.1 inches
Depth
16.4 inches
Weight
62.5lb
DRIVERS
Woofers
8-inch x2, Cerametallic cone
Tweeters
1-inch x1, Titanium woofer with a Tractrix horn
ENCLOSURE TYPE
Ported, bass reflex port (aka Tractrix port) on the rear panel
ENCLOSURE MATERIAL
MDF
INPUTS
Dual binding posts – single wire/bi-wire/bi-amp
CABINET FINISH
Piano black, Ebony, Cherry
TECHNICAL DETAILS
Frequency response
32Hz to 25kHz (+/- 3dB)
Nominal impedance
8Ω
Sensitivity
98dB (at 2.83V/1m)
Power handling
150W – Continuous Power input

600W – Peak Power Input
Crossover frequency
1,750kHz

Design
Klipsch RP-280F is different from some previous Klipsch floorstanding speakers in many ways but the design is still recognizable. That's probably the only thing that Klipsch is never going to change. All the famous trademarks are still there.
The cabinet is made of MDF and the finish is made of polymer veneer. There are three different versions of RP-280F (three different finish colors) – cherry, black, and ebony.
The speaker is placed on a pedestal that's angled backward.
The front panel is covered with a transparent black grille. The grille is magnetically attached and it can be removed quite easily.
Picture 1 – The front panel of the RP-280F (with the grille)
The speaker looks even better and more sophisticated without the grille. When you remove it, you will see one 90×90 Tractrix horn with a 1-inch LTS titanium tweeter and two 8-inch cerametallic woofers with a spun copper finish.
Picture 2 – The front panel of the RP-280F (without the grille)
The design of the rear panel is also different from the previous Reference floorstanding speaker. RP-280F has a rear-firing bass reflex port. The shape of the port is modified and it now looks like a Tractrix horn. That's why Klipsch calls it Tractrix port.
Below the Tractrix port, you will see dual binding posts which allow you to experiment with different types of connection – single wire, bi-wire, and bi-amp connections.
Picture 3 – The rear panel of the RP-280F (Tractrix bass reflex port and dual binding posts)
Features
MDF cabinet – Klipsch speakers are not made of plastic. Klipsch always uses MDF for their speaker cabinets. The finish is made of polymer veneer.
Improved 90×90 Tractrix horn and LTS (linear travel suspension) tweeter – RP-280F features one 1-inch horn-loaded tweeter which is not a surprise since all the tweeters in all the Klipsch home theater speakers are horn-loaded. Still, Klipsch decided to change and improve the design of the Klipsch horn and use complex geometry. The new Tractrix horn is a combination of a circular horn throat and square horn mouth. The horn is made of molded rubber which is supposed to dampen the resonance, improve the treble response, and make the treble less fatiguing.
The tweeter is made of titanium. Klipsch used the same LTS (linear travel suspension) principle but changed the material the tweeter is made of (titanium instead of aluminum).
Picture 4 –Enhanced design of the Klipsch Tractrix horn (LEFT – Reference series, RIGHT – Reference Premiere series)
Two cerametallic 8-inch woofers – There are two large woofers that can play down to 32Hz which is pretty low for a floorstanding speaker. The cones are made of cerametallic and spun copper was used for the finish.
Tractrix (bass reflex) port – this is another improvement compared to the previous Reference line of speakers. All the Reference Premiere floorstanding and bookshelf speakers have rear-firing ports (Reference speakers have front-firing posts). Klipsch also changed the shape of the bass reflex port. It now looks more like a Tractrix horn and that's why it's called Tractrix port. This kind of design improves the airflow and prevents the air from piling up.
Dual binding posts – most of the floorstanding speakers have dual binding posts which give you more flexibility when it comes to connection. These Klipsch floorstanding speakers (like all the other Klipsch speakers) are highly efficient and can be driven by low-power amplifiers, so you don't even need some high-end AVR. You can use a simple single-wire connection and only one amp but you can also experiment with more complicated types of connection and try to bi-wire or bi-amp your speaker.
Speaker placement and setup
When it comes to placement you just need to follow a few simple instructions from the user manual. Floorstanding speakers are used as front left and right channels. The distance between the speakers should be no more than 15ft and no less than 6ft. The distance between the listening position and the speakers should be 9-23ft. The speakers should be slightly angled (directed) toward the listening position.
Picture 5 – Speaker placement (source – Official Klipsch YouTube channel)
Klipsch RP-280F features dual binding posts which means that you can wire the speaker in three different ways. The simplest connection is a single-wire connection. You will have to use only two posts at the back of your speaker (you shouldn't remove the connecting bars). RP-280F works perfectly fine when a single-wire connection is used.
If you want better performance, you can always try to bi-amp your speaker (use two amps – one for the woofers and the other for the tweeter). Bi-wiring is the third wiring option but we don't really recommend bi-wiring since it's kind of meaningless. There's almost unanimous opinion that bi-wiring doesn't improve the speaker performance.
Picture 6 – Bi-wiring/Bi-amping RP-280F (provided by Klipsch)
Also Read: Klipsch RP-160M Bookshelf Speaker Review.
Sound Quality and Listening Experience
Klipsch RP-280F is one of the best sounding floorstanding speakers under $1,000. A pair of these magnificent speakers can truly deliver an audiophile experience at a reasonable price. The bass is incredibly deep and powerful. Most of the music genres will sound great even without the sub (simple 2.0 system) but if you want the best possible listening experience, you should consider buying some Klipsch 12-inch or 15-inch subwoofer and make a 2.1 system.
Mids and vocals are perfectly clear and dynamic. Highs are smooth and sparkling and not at all fatiguing or ear-piercing. That new Tractrix horn eliminated almost all the resonance and made the frequency response flatter (more neutral).
Thanks to 98dB sensitivity, a pair of RP-280F speakers will play incredibly loud without even trying hard. Even at low volumes, you will get very loud, undistorted, rich, and room-filling sound.
A pair of RP-280F floorstanding speakers delivers an incredibly wide soundstage, great stereo separation, and a precise stereo imaging.
The Competition
---
KEF Q500
KEF Q500 is slightly more expensive and also smaller than Klipsch RP-280F. It features three 5.25-inch woofers and one 5.25-inch UNI-Q driver with a coaxial 1-inch tweeter. KEF Q500 could never be as loud as RP-280F and the sound distorts a little bit at full volume which is not the case with RP-280F. Klipsch's floorstanding speakers also handle the bass with more enthusiasm and authority. RP-280F has wider and flatter frequency response with better bass reproduction.
---
ELAC Uni-fi UF5
Uni-fi UF5 is priced almost the same as RP-280F. It's slightly smaller but heavier than RP-280F. Unlike Klipsch's floorstanding speaker, UF5 is a three-way speaker – it features three 5.25-inch aluminum cone woofers arranged in an array, one 4-inch aluminum cone midrange woofer, 1-inch soft dome tweeter, and 3 rear-firing bass reflex ports. The speaker doesn't have dual binding posts (just a regular 5-way binding posts) so you can't use the bi-amp connection. UF5 delivers an incredibly accurate and perfectly balanced sound but it's not nearly as loud as RP-280F. Also, RP-280F is much better when it comes to bass response. UF5 offers an audiophile listening experience but in order to get the best possible results, you really need a subwoofer.
---
Fluance Signature Series
If you need something cheaper than RP-280F, Fluance Signature Series floorstanding speakers are the best choice. They are almost $300 cheaper. Fluance Signature floorstanding speakers are 3-way speakers – they feature two 8-inch woofers, one 5-inch midrange woofer, one 1-inch neodymium tweeter, and two rear-firing bass reflex ports. These speakers deliver pretty balanced sound and almost the same amount of bass as RP-280F but RP-280F delivers cleaner more accurate bass. RP-280F is also louder.
---
Comparison Table
Also Read: Klipsch ProMedia 2.1 Speaker System Review.
FAQ
1. How sensitive are Klipsch RP-280F?
The Klipsch RP-280F speakers are highly sensitive, rated at 98 decibels (dB) at 2.83 volts/1 meter. This means that they can produce a robust sound output with relatively low power input, making them suitable for both small and large rooms and compatible with a wide range of amplifiers.
2. How much power does a Klipsch RP-280F take?
The Klipsch RP-280F speakers can handle up to 150 Watts RMS and 600 Watts peak power, but the actual power consumption depends on the amplifier used, and volume levels played. These speakers can work well with a range of amplifiers, and it's important to match the amplifier's power output to the speaker's power handling capacity to prevent equipment damage.
3. Does Klipsch RP-280F produce a cinematic sound? 
Yes, the Klipsch RP-280F floor-standing speakers are designed to produce a cinematic sound, thanks to their high sensitivity and powerful performance capabilities. They are ideal for use in home theaters and can create an immersive listening experience that mimics the feeling of being in a movie theater.
4. What is the difference between Klipsch RP-280F and premiere rp 280f?
The main difference between the Klipsch RP-280F and the Premiere RP-280F is that the latter has upgraded features, such as a redesigned horn and a new tweeter, resulting in improved sound quality. On the other side, the Premiere has a more elegant look with a real wood veneer finish. Lastly, the Premiere has a slightly higher sensitivity, requiring less power to produce the same volume level. 
Final Thoughts
Klipsch RP-280F is arguably one of the best floorstanding speakers under $1,000. It is a great choice in case you need a simple 2.0 audio system. A pair of these large speakers will deliver an audiophile listening experience but it can be also used for parties since it's extremely loud.
The greatest downside of RP-280F is the fact that it won't sound great in a small room because of too much bass. You would have to play with the EQ settings and adjust the bass response.
Recommended Reading :
Although RP-280F doesn't really need a subwoofer, pairing two RP-280F with Klipsch's 12-inch (R-112SW) or 15-inch (R-115SW) subwoofer is not meaningless. It will add some depth to bass heavy songs and it will blow your mind.
If you want to make your own home theater system, you can pair two of these with one of the previously mentioned subwoofers, one RP center speaker (RP-440C or RP-450C), and 2 surround speakers (RP-240S or RP-250S). That way, you will get an amazing 5.1 system. You can then expand this system to 5.1.2 with two Atmos speakers (RP-140SA or R-14SA).
Klipsch RP Atmos speakers
If Klipsch RP-280F is too large for your room, there are 2 Reference Premiere bookshelf speakers you should check out – RP-160M and RP-150M.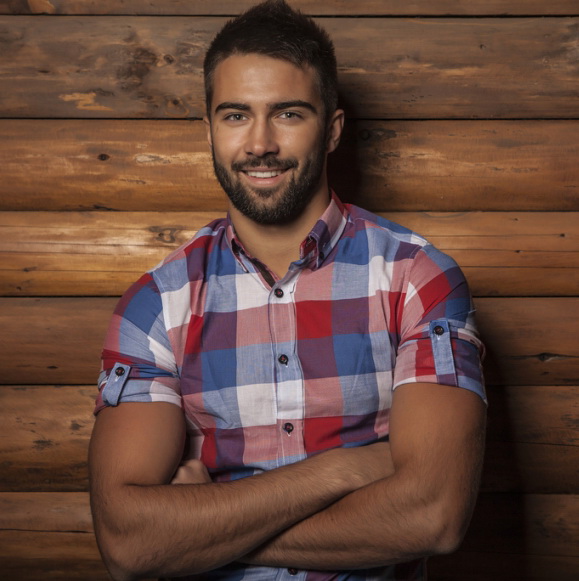 Hello, my name is James Longman.
I'm a writer and editor at AudioReputation. I disassembled my first portable AM/FM radio when I was only 8. At the age of 11, I burned the circuit board on my old boombox cassette player. I'm not going to explain how but it was reckless and stupid.
Since then, I have become much more careful around radios, boomboxes, and other audio devices (at least, I like to think so) but I have never lost the passion for audio equipment. Throughout 20 years of my professional career, I've been working for various audio equipment manufacturers and even started building speakers on my own in my little workshop.
I love the work we do here at AudioReputation. Testing, comparing, and evaluating all kinds of audio devices (speakers, soundbars, headphones, home theater systems, etc.) is something I truly enjoy. I try to be unbiased and give you my honest opinion on every piece of equipment I test. Still, you should take my reviews with a pinch of salt and always be just a little bit skeptical. The fact that I liked some speaker or soundbar doesn't mean that you are going to love it. If you have the opportunity, you should test it/hear it before buying it.