AudioReputation is reader-supported. When you buy through links on our site, we may earn an affiliate commission Learn More
If you are the kind of person who loves to turn the volume all the way up, you've come to the right place. Our article about the top 8 loudest wireless earbuds in 2023 is here to present to you 8 great pairs of earbuds that don't only deliver loud and clear sound output but also are wireless.
---
Why Do We Need Loud Wireless Music?
Even though wireless music doesn't offer the same quality as wired music, we are all witnesses of how wireless devices have become a true necessity over the years. People are rushing into the cordless future and we really can't blame them for that. The world is getting busier and so are we, so why would we lose so much time on untangling long cables or getting through a busy day with no music at all?
We need wireless music to get us through our daily activities with as little stress as possible and often, we need it loud. People living in big cities know how loud car engines and public transport can be. Even if this is not your case, some people simply love to turn the volume up and get lost in the music.
Loudest Wireless Earbuds – Comparison Table
Having in mind all the previously listed reasons, we've tested many wireless earbuds, especially those advertised as very loud. During the testing, we selected the top 6 loudest wireless earbuds that proved to be not only very loud but also very powerful in terms of features, stable connection, good battery life, attractive looks, durability, and, of course, great audio reproduction.
The List of Top 6 Loudest Wireless Earbuds in 2023
---
1. Best Deal: Enacfire E60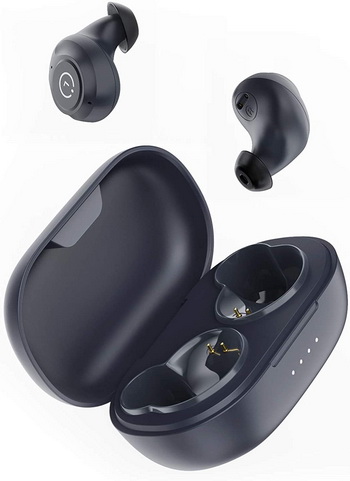 Things we like
Enacfire E60 buds are budget-friendly wireless earbuds with good performance and attractive design. They look rather simple, yet elegant, and they come in several color options: black, blue, gray, red, and white.
The earbuds weigh only 0.32oz and they're quite small. They're made from slick plastic and they feel fairly durable. They are quite easy to use and pleasant to wear. They don't put too much pressure on user's ears and their controls (play/pause, skip track, voice assistant, volume controls) are very responsive and don't require strong presses to react. Plus, they come with a bunch of different spare ear tips, which means you can easily find the right size.
They don't have the deepest or the strongest in-ear fit but they are stable enough for moderate workouts.
Enacfire E60 buds also come with their slick and compact charging case and a USB-C charging cable. The earbuds can provide up to 7h of playtime per charge, while the charging case offers additional 5 charging cycles. The recharging time takes approximately 1.4h. In addition, there's the Bluetooth 5.0 with over 140ft of signal range and stable wireless connection.
When it comes to the audio reproduction, we must say the earbuds have mostly neutral sound signature with a subtle bass emphasis. They're suitable for listening to different music genres. They won't be able to completely isolate you from the engine sound or from the noise of the public transport but they'll reduce the noise level and shut out the human voices, so we can recommend them for commuting or traveling.
Things we don't like
Sadly, the built-in mic delivers quite a poor performance, especially when it comes to separating ambient noise from voices, making the speech unclear and muffled.
Apart from this, we really feel that the earbuds are missing app support. It would be more convenient to be able to control playback from a phone or use an equalizer.
Finally, we have to mention that the earbuds don't support NFC or multipoint pairing.
---
2. The Loudest: Anker Soundcore Liberty Air 2
Things we like
Adding a bit more money to the price of the previously reviewed buds will get you not only high-end features like app support, wireless charging, or better noise isolation, but also one of the loudest existing truly wireless earbuds.
The design reminds us of Apple AirPods and it looks quite appealing and catchy. The earbuds are rather simple and come in black and white versions. They both look very elegant. The buds weigh 0.32oz and provide a nice fit. In case you need a different tip size, Anker sends you five versions to choose from.
The earbuds seem nicely built and durable. The case is even better as it feels less plasticky and sturdier. It has a nice matte finish that makes it look quite elegant. However, the buds should do just fine, especially because they're IPX5 rated.
When it comes to features, Liberty Air 2 earbuds run on Bluetooth 5.0. The connection is stable and the range is almost 230ft. Also, there's the app that works fine with both Android and iOS devices and it allows users to adjust the EQ settings to their taste. Finally, the buds have a good battery that provides approximately 6h of playtime per charge. The case provides 3 additional charges and the charging lasts up to 3h.
The audio performance is quite good. They have a generally neutral sound signature with a bit of extra bass kick, enough to sound great and still be adequate for different music genres. Plus, they have decent sound isolation that makes them good for commuting, office environment, etc.
Things we don't like
Despite the fact that the control scheme seems decent, the earbuds have only 4 control buttons that can be customized and programmed within the app. Also, there's no feedback – just a sound signaling when pairing them or powering on/off.
In addition, there's the mic issue. The mic performance is only mediocre and we wouldn't really rely on their noise handling because the mic makes your voice sound thin and muffled to the person you're talking with.
---
3. Best Budget – Tozo T6
Things we like
Tozo T6 buds are one of the simplest and cheapest earbuds on our list of top 6 loudest wireless earbuds in 2023 but also one of the most popular. Why? Because of the great performance, attractive looks, and tempting price.
The case is compact, the buds are small, and they come in 5 different colors: black, blue, green, white, and rose gold. The control scheme is easy to use and the buttons will allow you to control the volume, playback, manage calls, and activate voice assistants.
T6 seem nicely built and quite durable. Their IPX8 rating confirms the durability. Being completely sweatproof and waterproof, T6 are great for both indoor and outdoor workouts. Plus, they're very comfortable, stable, and have a good in-ear fit.
Similar to their design, the T6's feature-set is also very simple. The buds use Bluetooth 5.0 that ensures stable connection, even at 150ft distance (without obstacles). Apart from this, T6 buds have a great battery life considering their price range. The recharging takes 1.2h and you will get enough juice for 6 full hours of playback. The case offers 4 additional cycles.
Skipping to the sound quality, we must say – Tozo T6 earbuds sound great. They have a very pleasant sound signature with the bass slightly pushed forward but still suitable for various music genres. Also, the buds don't leak too much sound and their passive noise isolation does a good job when it comes to eliminating engine noise, chatter, etc.
Things we don't like
On the downside, we really don't like the glossy finish the earbuds and the case have. Even if it looks attractive to some people, it stops looking good the minute you take it in your hands as the fingerprints will be all over them and will be quite visible.
In addition, the buds don't come with an app and there's no equalizer.
---
4. Longest Battery Life: SoundPeats TrueShift2
Things we like
SoundPeats may come in black color only but their design significantly differs from other truly wireless earbuds. They have an elegant matte finish and their front side is shaped like a shield, making them look very attractive in your ears. The logos aren't there only to look good but also to be used as soft-touch controls that you don't have to press hard to manage calls, control the playback, skip tracks, or adjust the volume. Also, they allow you to initiate the pairing process and activate voice assistant.
TrueShift2 buds are made from ABS plastic and they do seem to be very durable. In fact, they are completely waterproof (IPX7 certified) and they can be submerged in 1m deep water for 30 minutes. Thanks to this and the fact that they are very comfortable and provide a stable fit, the buds are perfect for active users, especially those who love to work out.
The earbuds use Bluetooth 5.0 that provides a stable connection with high-bitrate audio and low latency. Probably the most amazing thing about these earbuds is their battery life. Even though it provides 5h per single charge, the earbuds have an amazing case that provides even 20 additional charges, which totals in 100 hours of playtime. Also, the case features one regular USB port so it can be used as a power bank for charging different gadgets.
In terms of sound quality, we must say that the earbuds have a quite pleasant audio reproduction. The sound is clear, the instruments can be distinguished, and the buds can get pretty loud. The mids are very good and the vocals are smooth. The integrated mic works fine enabling you to make phone calls without any problems. Passive noise isolation is decent.
Things we don't like
The highs may sound a bit tinny and, honestly, the lows could be more exposed.
---
5. Loud Wireless Earbuds with the Best ANC: Amazon Echo Buds
Things we like
Amazon Echo Buds aren't the cheapest earbuds on our list of top 6 loudest wireless earbuds in 2023 but they're definitely one of the cheapest ANC wireless earbuds currently available on the market. They come in black color only with a slightly larger than average carrying/charging case but if you buy these, we guarantee you won't regret it.
First of all, the Echo Buds look rather simple but also very sleek. They come in a nice combination of glossy and matte plastic, while the glossy part actually features touch-sensitive controls. The controls are also customizable and you can use the Echo Buds app to assign the functions to the buttons (activating voice assistant, ANC on/off, playback control, skipping tracks, microphone mute).
The earbuds are made from dense but not too heavy plastic, so they seem well-built and durable, while remaining light (0.48oz) and comfortable to wear. They even feature an IPX4 rating.
Second of all, the earbuds have an interesting set of features. They support Bluetooth 5.0 with approximately 170ft of signal range, while their battery offers more than 5 hours of playtime per single charge. Having in mind that the case can provide 5 additional charges, the total playtime is almost 32 hours, which is not bad at all. Plus, the recharging takes only 0.8 hours.
Finally, Echo Buds have a well-balanced sound signature and they sound good with different music genres. Some may find the lows a bit thin but you can always use the in-app equalizer and adjust the sound to your taste. Also, the earbuds feature ANC technology that makes them perfect for commuting, sports, office workers, and many other everyday situations.
Things we don't like
Unfortunately, Amazon Echo Buds seem to enter the ear canal deeper than other earbuds, which some users may find uncomfortable. Luckily, there's a great choice of spare ear tips and wings in different sizes, making them easier to adjust to the shape of your ears.
---
6. Best App Support: Samsung Galaxy Buds+
Things we like
The improved version of Samsung Galaxy Buds has the same stylish design, compact size, and lightweight. The earbuds come in a few interesting colors (black, blue, purple, and red) and have an easy-to-use control scheme (playback controls, volume controls, track skipping, call management).
The greatest improvements have actually been made in the feature and functionality departments. Unlike Galaxy Buds, Buds+ have extended battery life (12h per single charge), while the case provides one additional charge. Also, they support the fast-charging feature that brings you a whole hour of playtime after only 3 minutes of charging.
Apart from the battery, Buds+ have a good and stable Bluetooth connection as they support Bluetooth 5.0 with up to 100ft of signal range.
Moreover, Buds+ are fully compatible with both Android and iOS devices and they can be used with their matching apps (Galaxy Wearable for Android users and Galaxy Buds+ app for the iOS fans). Both apps work quite well and enable you to customize the control buttons, use the equalizer, update the software, check the battery status, use the "Find My Buds" feature, etc. Also, there's a possibility to activate a special mode that enables you to stay aware of your environment during the outdoor activities – Ambient Aware2.
Recommended Reading :

Last but not least, Buds+ sound really good. The sound signature is well-balanced and even refined with powerful and accurate bass, sweet and detailed mids, and consistent treble. In addition, passive noise isolation works fine and eliminates a great amount of noise, which makes the buds perfect for commuting, office workers, phone calls, etc.
Things we don't like
On the negative side, the buds feature only an IPX2 rating, which is the only thing that should be immediately improved, considering the price. Also, the buds don't feature NFC pairing or aptX support.
7. Beats Fit Pro
Things we like
The Beats Fit Pro comes with a punchy bass that is perfectly balanced and doesn't overpower the other frequencies, taking your workouts to the next level. And let's not forget the Spatial Audio – it's a game-changer!
The Fit Pro has a ton of features that make it stand out from the crowd. The built-in mics work seamlessly for voice and video calls, and the "Hey Siri" functionality is super convenient when you need to make a call or change your music. Plus, the wingtips are a lifesaver for workout enthusiasts – they optimize the fit and keep the earbuds securely in place, unlike the Studio Buds that just can't keep up.
And the best part? You don't have to break the bank to get your hands on the Beats Fit Pro. For a lower price than the AirPods Pro, you get equally good ANC, longer battery life, and a more stable fit. It's the perfect choice for anyone who wants a flashy and great-sounding earbud that's perfect for workouts. Just keep in mind that you won't get the full AirPods Pro experience, but trust us, the Fit Pro comes pretty close.
Things we don't like
As much as we love the Beats Fit Pro, a few things didn't quite hit the mark for us. Firstly, there's no wireless charging, a feature that has become somewhat of a standard in the world of wireless earbuds. It's a small inconvenience, but it's worth mentioning.
Additionally, its case is bulkier and less sleek than other buds'. While it's not a deal-breaker, it's something to keep in mind if you're looking for something more compact.
One of the more frustrating things about the Fit Pro is the volume controls. Adjusting the volume requires sacrificing the noise-canceling feature, which can be annoying when you want to lower or raise the volume quickly.
Lastly, the water-resistance rating is just average, so if you plan on using them for water sports, you might want to consider other options.
Overall, while the Beats Fit Pro is an excellent choice for workout enthusiasts and casual listeners alike, a few drawbacks might make you think twice before purchasing.
---
8. Apple AirPods Pro (2nd generation)
Things we like
The Apple AirPods Pro (2nd generation) are wireless earbuds that offer exceptional sound performance and active noise cancellation, making them one of the best options on the market. These earbuds provide louder sound performance, crisp highs, detailed midranges, and deep bass making them enjoyable to listen to.
They feature adaptive EQ, which automatically tunes the music to your ears, and touch controls that allow you to adjust volume, change soundtracks, and answer calls by pressing and holding on to the earbud. The AirPods Pro also has sweat and water resistance for outdoor sports and comes with a MagSafe charging case for easy charging. Additionally, they come with several ear tips to help you find the ideal fit for your ears.
One of the best features of the Apple AirPods Pro is their adaptive transparency listening mode, which filters out sounds over 95dB and lowers surrounding sounds so you can hear them without interfering with your listening experience.
The earbuds also come with a spatial audio feature that adds a lot of soundstage and depth to the music, providing an immersive experience. The active noise cancellation feature effectively eliminates all background noise and low-frequency sounds, making it perfect for noisy environments like airplanes.
Things we don't like
Despite its popularity and high quality, the Apple AirPods Pro 2nd generation has some downsides that users should be aware of.
Firstly, no EQ adjustments are available, meaning that users cannot fine-tune the sound to their personal preferences. Additionally, the Siri feature is not always reliable and may not activate perfectly all the time.
Another negative aspect is that the design of the AirPods Pro remains the same as the previous model, which some users may find unexciting. Moreover, the AirPods Pro still uses the Lightning connector instead of the universal USB-C port.
Finally, the product does not support hi-res codec, which may disappoint audiophiles who want the highest quality sound.
---
Choosing the right pair of loudest Earbuds?
Here are the factors you should consider while buying a pair of earbuds with a loud sound.
Noise Isolation
Noise isolation is a crucial factor to consider when buying earbuds that provide loud sound. Look for earbuds that come with noise isolation to block out external sounds and distractions, which eventually enhances your audio experience.
Frequency Response
The frequency range determines the hearing capacity of a human. This range generally ranges between 20 Hz to 20 kHz. So, you should check out the frequency of the earbuds as it hugely impacts your listening experience and even determines how loud they can get.
High-Quality Drivers
High-quality drivers play a significant role in delivering the best audio experience. The purpose of the driver is to convert the electrical signals into sound waves which leads to better audio quality. So, always keep a check on the quality of the drivers used in the earbuds.
Earbud Style
When it comes to earbud style, you must choose between over-ear, in-ear, and on-ear models. It's important to pick an earbud style that provides a secure and comfortable fit for your ears when worn. On top of that, you should choose the style based on the size of your ear, as everyone has a different preference when it comes to the comfort and fit of the earbuds.
Noise Level
If you want to have a pair of earbuds that offer maximum volume levels, look for models that come with a volume limit or an adjustable volume feature that can be utilized as per your hearing capacity. This will help prevent hearing loss or damage caused by exposure to high volumes.
Additional Features
Lastly, you can also look for additional features in your earbuds, such as water resistance, wireless connectivity, built-in microphones, and many more. These features can enhance the overall usability and functionality of your earbuds.
Conclusion
With this, we wrap up our list of the top wireless earbuds in 2023 that have the loudest sound. Keep in mind that we have curated this guide for all types of listeners, whether they are music savvy or someone who just wants to have a crisp bass while traveling.
From here, it depends on you to pick earbuds that match your requirements and needs. Ideally, you should choose a pair that is long-lasting and doesn't come with a short battery backup, as it is the most common shortcoming of an earbud.
Lastly, if you haven't gone through it till now, we highly recommend you read our buying guide as it will help you a lot in choosing the best earbuds for you.
---
Heading towards the end of our article about 8 loudest wireless earbuds in 2023, we sincerely hope that you've found our reviews useful and interesting and that we've managed to help you find your next pair of wireless earbuds. In case you have an additional question, please read our FAQs section or ask us anything in the comments below.
---
FAQs
How loud can wireless earbuds be?
Wireless technology has been significantly improved over the past few years and the devices that once were very quiet can now reach 110dB.
Do wireless earbuds sound good?
Actually, some wireless earbuds sound amazing. Of course, they haven't still been able to reach the quality level of wired headphones but they're definitely heading towards it. Wireless earbuds are the devices of the future and they certainly deserve our attention.
Can listening to loud music be dangerous?
Listening to loud music can have a serious impact on anyone's hearing but only if it's uncontrolled and continuous. To prevent such problems, we recommend taking the earbuds or headphones off as often as possible to enable your ears to take a break.
What are the loudest wireless earbuds?
According to our tests, the loudest pair of earbuds on our list of top 6 loudest wireless earbuds in 2023 is Anker Soundcore Liberty Air 2 with 108dB. Of course, if loudness is your only criterion, you can easily find even louder wireless earbuds on the market but you must never forget about the sound quality. It's just as important as loudness.
How many DB is too loud for earbuds?
When it comes to earbuds, it's crucial to keep in mind that different models can produce varying sound levels. Some can even go beyond 100 dB! To protect your hearing, it's recommended that you listen to music at a level no higher than 60% to 70% of the maximum volume, or about 75 dB, for a maximum of 60 minutes at a time. And, to avoid straining your ears, take breaks and give them a chance to rest.

Most smartphones and audio devices today have built-in volume limiters or warnings to help prevent excessive exposure to loud sounds. Don't ignore these warnings, and be sure to adjust the volume accordingly.

Are normal earbuds louder than AirPods?
The volume output of earbuds can vary depending on their specific model and brand, so it is difficult to make a general comparison between "normal" earbuds and AirPods. However, in terms of maximum volume output, AirPods have a similar or slightly lower maximum volume than most traditional earbuds. Now, although AirPods beat most normal earbuds in terms of loud volumes, it still fails to beat elite audio brands like Sony and Bose.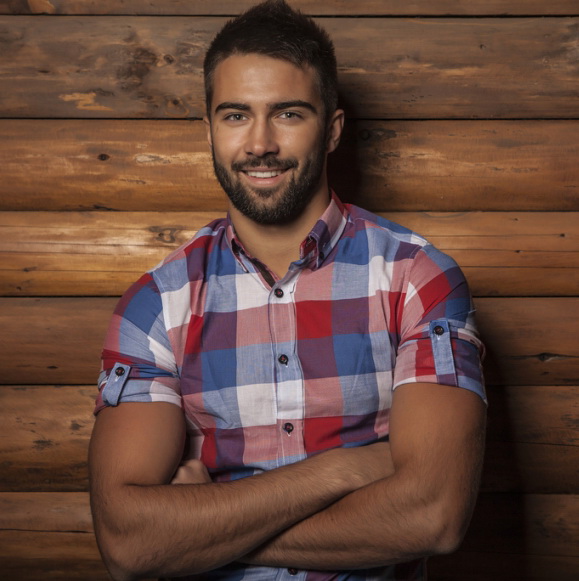 Hello, my name is James Longman.
I'm a writer and editor at AudioReputation. I disassembled my first portable AM/FM radio when I was only 8. At the age of 11, I burned the circuit board on my old boombox cassette player. I'm not going to explain how but it was reckless and stupid.
Since then, I have become much more careful around radios, boomboxes, and other audio devices (at least, I like to think so) but I have never lost the passion for audio equipment. Throughout 20 years of my professional career, I've been working for various audio equipment manufacturers and even started building speakers on my own in my little workshop.
I love the work we do here at AudioReputation. Testing, comparing, and evaluating all kinds of audio devices (speakers, soundbars, headphones, home theater systems, etc.) is something I truly enjoy. I try to be unbiased and give you my honest opinion on every piece of equipment I test. Still, you should take my reviews with a pinch of salt and always be just a little bit skeptical. The fact that I liked some speaker or soundbar doesn't mean that you are going to love it. If you have the opportunity, you should test it/hear it before buying it.