AudioReputation is reader-supported. When you buy through links on our site, we may earn an affiliate commission Learn More
The introduction of Bluetooth and wi-fi speakers had a serious effect on home stereo systems and made them less popular but it didn't kill the market. Some very reputable brands (like Sony, Sharp, Bose, Denon) are still in the business of making these systems and we are here to help you find the loudest home stereo system on the market.
---
What Are Home Stereo Systems?
Home stereo systems are convenient all-in-one devices. They combine multiple audio playback options into one simple device. So, you get a CD player, cassette deck, AM/FM radio, and two speakers – all packed inside one relatively small cabinet. More often than not, you will also get some additional audio inputs for connecting different audio sources (AUX, RCA, USB, SD card slot) as well as Bluetooth connectivity. Some models have turntables, too. High-end home stereo systems even feature wi-fi connectivity.
Some home stereo systems have everything packed inside a single wooden or ABS chassis. More often, you will get three units – two speakers and the main unit. In that case, the only thing you have to do is connect the speakers to the main unit and you're ready to go.
Advantages of Home Stereo Systems
Compared to today's Bluetooth and wi-fi speakers, home stereo systems have at least a few advantages. Most of these advantages are related to performance and versatility.
As you are probably aware, most Bluetooth and wi-fi speakers are primarily designed for wireless streaming and have a very limited number of additional inputs and playback options. Most of them only have an AUX input and that's it. Some Bluetooth speakers may have FM tuners and some have USB ports and SD-card slots. However, that's not so common. In most cases, it's just Bluetooth connectivity and AUX input.
Home stereo systems, on the other hand, have one or multiple CD trays, cassette decks, and AM and FM tuners. These features are pretty much present in all the available stereo systems. AUX and RCA inputs as well as headphone outputs are also pretty common. Sometimes even digital audio inputs.
Denon D-M41 home stereo system features two optical audio inputs
Since Bluetooth technology is not as expensive as it used to be, many modern home stereo systems feature Bluetooth connectivity. More expensive units also feature wi-fi connectivity and all the smart features that come with wi-fi connection (multiroom capabilities, support for popular music streaming platforms, voice control, dedicated app, etc.).
Bose Wave SoundTouch Music System IV features Bluetooth and wi-fi connectivity
To conclude, home stereo systems are, almost by default, more versatile than Bluetooth and wi-fi speakers. They offer more playback and connection options than a simple Bluetooth speaker or wi-fi speaker.
The second, maybe even more important advantage of home stereo systems is their sonic performance (sound quality and loudness). When you think about it, it's perfectly understandable why is that. Bluetooth speakers are usually designed to be portable, which means that they are small, compact, and light. Home stereo systems are also relatively compact, at least considering all the features they have but are still significantly larger than the average Bluetooth speaker.
With that kind of size comes better bass reproduction and louder sound. In most cases, especially when it comes to stereo systems with separate speakers, you will also get better-quality drivers and more refined sound.
Naturally, there are always exceptions to this rule and there are also some very large and great-sounding Bluetooth speakers.
Disadvantages of Home Stereo Systems
The biggest disadvantage of home stereo systems is their size. They are not as small and compact as most Bluetooth and wi-fi speakers. They are not portable and most of them have to plugged-in all the time. Even those that can be battery-operated and have battery compartments are not very practical for portable use.
We should probably also discuss aesthetics, even though we know that there can hardly be a consensus when it comes to the perception of beauty. Many of today's home stereo systems look quite elegant, stylish, and eye-catching, but still aren't as aesthetically pleasing as some modern wi-fi speakers or some Bluetooth-enabled active bookshelf speakers. And, due to their size, they are also a bit too visible and too obtrusive. They can hardly blend seamlessly into your room's décor like some stylish wi-fi speaker. We are perfectly aware that this is just our subjective opinion, but we felt it's important to mention it.
What Specs Are the Most Important for Loudness?
Unless there's a 'max SPL' listed in the specifications, which is rarely the case, you have to take two important specs into account – sensitivity of the speakers and power rating (power input). Only by looking at these two specs together, you can get the idea of how loud your home stereo system can be.
Sensitivity
Sensitivity is often described as the feature that tells you how loud a pair of speakers can be. However, that's only partially true. This feature is expressed in decibels (dB) at 1W/1m or dB at 2.83V/1m. It basically tells you the loudness of a sound that a speaker produces when supplied with 1W of power (or 2.83V of voltage) and it's measured at a 1m distance.
So, the sensitivity tells you the loudness, but only for 1W power input. That's not the same thing as max loudness. In order to calculate the max loudness, you also have to consider the total power input.
Power rating
Speaker's power rating tells you how much power that speaker can handle continuously (RMS power rating) or for a very short period (peak power rating). Many manufacturers publish only one rating and that's usually peak power rating. Reputable manufacturers publish both.
To calculate the max loudness, you just need to know the sensitivity, the peak power rating, and the relationship between these two features. The relationship is very simple – when the power is doubled, the SPL level (aka loudness) is increased by 3dB.
So, if the sensitivity is 90dB (at 1W/1m), you will get 93dB when the speaker is supplied with 2W, 96dB when supplied with 4W, 99dB when supplied with 8W, etc.
Important notes
You should also have in mind that these SPL values are measured at 1m distance and that the perceived loudness of an audio source decreases as the distance increases. The relationship between distance and loudness is also simple – when you double the distance, the loudness goes down by 6dB. So, if the loudness (measured at 1m distance) is 99dB, when you move 3 steps away and measure it from a 2m distance, you will get 93dB. If you measure it from a 4m distance (and no other conditions are changed), you will get 87dB.
Another thing to remember is that high sensitivity and high power output don't guarantee great sound quality. There's so much more to look for if you want your home stereo system to be not only loud but also great-sounding.
What Are Other Important Specs to Look for When Buying a Home Stereo System?
Besides sensitivity and power rating (which is usually the most advertised feature), you should pay attention to the frequency response, distortion values (THD), and overall speaker quality (the materials used for the cabinet and for the drivers).
Frequency response tells you the range of frequencies a certain speaker can reproduce (something like 20Hz-20kHz). Since no speaker in the world can deliver perfectly accurate reproduction across the audible spectrum, the response is usually given with a certain deviation (most commonly +/- 3dB).
Rarely, you will also find a frequency response curve in the specs list. This thing is even better than the frequency response expressed in numbers because it tells you what kind of sound the speaker delivers. So, based on the frequency response curve, you can figure out whether the speaker delivers bassy, treble-heavy, midrange-oriented, or balanced sound. In other words, it gives you information about the sound signature.
Recommended Reading :

Distortion value (THD) is pretty much self-explanatory. Distortion is a bad thing. It basically tells you how much the signal alters from the moment it enters the speaker to the moment it gets reproduced by the speaker. What you should be looking for are low values. The lower, the better.
You should also pay attention to the overall quality of your home stereo system. So, for example, wooden cabinets are definitely better than plastic. Not only because they are more durable but also because they deliver better sound quality. Another thing to pay attention to is driver quality. Cheaper units have poor-quality pressed-paper drivers while higher-end home stereo systems have high-quality drivers made of different alloys and other materials.
In the end, it's always recommended to have a real-life test and hear that stereo system you like before buying it. Since that's often impossible, you should try finding a few trusted reviews and see what other people have to say about the system you like. That's the only way to make the right decision and choose the best (and loudest) home stereo system.
---
Hopefully, you're now thoroughly informed and ready to start your search. To make things easier for you, we've picked out three units. The following models are, in our opinion, the loudest home stereo systems for different budgets.
---
Loudest Home Stereo Under $200 – Sharp XL-BH250
Sharp XL-BH250 is a quite compact and surprisingly loud 5-CD home stereo system. We like its design, build quality, versatility, and its performance. It's an amazing all-in-one stereo system that incorporates all the most common playback options including Bluetooth.
The unit comes with two speakers, a speaker wire (permanently attached to the speakers), main unit, radio antennas, and a fully-featured remote.
The main unit looks very stylish and has a nice and well-organized and intuitive button layout. At the top, there're 5 CD trays. Below the CD trays, you have a backlit display and, below the display, there's a set of 12 buttons arranged in two rows. They allow you to select the source and control the playback. At the bottom, you'll find a USB port, a large volume knob, and two 3.5mm ports (AUX IN and headphone OUT).
Remote offers additional control and is even better than the main unit since there's a button for each function. You can use it to control the bass and treble levels, activate the X-Bass function, set the timer, alarm, clock, etc.
The rear panel of the main unit houses two speaker terminals (spring-clip terminals), connectors for the radio antennas, and power input (power cable is not detachable).
Besides the previously mentioned playback options (CD, AUX-IN, USB, AM and FM tuners), you also have the option to stream audio wirelessly via Bluetooth. The unit features Bluetooth 2.1 and it supports NFC quick pairing.
The speakers feature a 2-way design and have ported enclosures (rear-firing bass reflex ports). The cabinets are made of wood and feel fairly durable. Each speaker has one 4″ woofer and one 2″ tweeter. The max power input per speaker is 25W (50 W in total).
This beautiful home stereo system delivers surprisingly loud sound output. It's fairy punchy but without that very deep rumbling bass. The mids are clear, accurate, and detailed. The treble response is fairly flat. It doesn't get fatiguing or harsh. The only downside is the low-end reproduction. The bass is fast and accurate but lacks depth.
---
Bassiest Home Stereo System Under $200 – LG CM4590 XBOOM
LG CM4590 XBOOM home stereo system is one of the largest, loudest, and bassiest in its class. Unlike most other home stereo systems, this one includes 4 separate units – the main unit, two speakers, and one subwoofer. Along with the system, you will get a pretty long FM antenna (AM is not supported), remote with batteries, speaker wire, and a manual.
The whole system is made of fairly thick ABS. All the units have a black finish and some subtle red details. The system is larger than average so you should check out the dimensions and see if you have enough space for it.
The main unit houses all the control buttons and all the inputs/outputs. The controls are nicely organized and clearly labeled so finding the right button should not a problem.
At the top, there's a backlit display, two USB ports, and the REC button. The REC function allows you to record any audio source to a USB drive. You can record songs from CDs, USB drives, analog inputs, and anything that's being transmitted through FM.
Below the display and USB ports, there's a control panel with a huge volume dial and playback controls around it. There are also buttons for special features like EQ, AUTO DJ, sleep/clock/alarm, and BASS BLAST. At the bottom, you will find a CD tray, 3.5mm audio input, and an eject button.
On the rear panel, you have speaker terminals for two speakers and one subwoofer. Furthermore, there's one RCA input and an FM antenna connector.
To sum up, the unit enables you to play audio from a USB (two ports), from an external analog audio source (AUX and RCA inputs), from a CD, and it also has an FM tuner. And you can even record everything onto a USB drive.
Besides all the above-mentioned playback options, you can also stream audio via Bluetooth from your phone or tablet. The system features Bluetooth 4.0 and is compatible with both iOS and Android devices. Along with Bluetooth connectivity, LG CM4590 also supports the so-called LG Sound Sync. This feature allows you to wirelessly pair compatible LG TVs with the unit. To control the system and stream music via Bluetooth, you can also use the Music Flow app (Android and iOS). The app is quite basic without any advanced functions.
Each of the two included speakers has one 5.5″ woofer and one 1″ tweeter. The subwoofer houses one 6.5″ bass driver. The total power output is rated at 700 W (230 W x2 + 240 W). However, have in mind that this is measured at 1 kHz (not the whole audible spectrum) and with 20% THD.
The system sounds quite bassy and is pretty loud, even at moderate volumes. It doesn't deliver the most balanced sound. The mid-bass and high-bass frequencies are elevated which has a negative effect on midrange clarity, especially when listening to music at very high volumes. You can try balancing the sound and explore numerous available EQ presets designed for different music types and other audio content. If you're really crazy about the bass, you can even engage the BASS BLAST function. In our opinion, there's plenty of bass even without the BASS BLAST.
---
Best-Sounding Home Stereo System Under $500 –
Although surprisingly loud for its size, Denon RCD-M41 is not exactly louder than the previous LG home stereo system. However, it's much more advanced and it delivers much more refined sound. If you consider yourself an audiophile, this might be the perfect system for you. The system is not loud enough for large rooms but it's perfect for small ones and can handle medium-sized rooms.
Inside compact packaging, you will find the main unit, two SC-M41 bookshelf speakers, AM/FM antennas, speaker wire (banana plugs are not included), remote, and a user manual.
The main unit is very compact and features a very stylish and clean design. On the front panel, there's just a CD tray, long backlit display, and a few buttons (power, volume, source, Bluetooth pairing, and playback controls). The headphone output is also located on the front.
On the back, there are AM/FM terminals, two optical inputs, one analog RCA input, subwoofer pre-output (in case you decide to add a subwoofer to the system), a set of high-quality 5-way binding posts for connecting two speakers, and a power input.
Besides the physical inputs and above-mentioned playback options (optical x2, RCA x1, AM, FM), the unit also features Bluetooth connectivity so you can stream music wirelessly.
The speakers have strong wooden cabinets with removable magnetic grilles. The cabinets are ported. The speakers feature a 2-way design. Each has one 4.75″ woofer and one 1″ silk-dome tweeter. Their RMS power input is rated at 60 W (2 x 30 W), while the peak is 120 W.
The best thing about this system is not its versatility, even though it is quite versatile. The best thing is its sonic performance. The sound well-balanced, accurate, and noiseless. The low-end is punchy and fast (although not very deep), the mids are dynamic and detailed, and the high-end is smooth and silky. Denon RCD-M41 is not the loudest home stereo system on the market, but it's definitely one of the best-sounding under $500.
---
This concludes our selection of the loudest home stereo systems. If you feel like you need more info, read our FAQ section. As always, we encourage you to share your experience and ask questions. Leave us a comment below and tell us what you think.
---
FAQs
Q: What is the best stereo system for the home?
A: There can hardly be just one answer to this question. There are simply too many factors that make a certain stereo system good for someone's needs. The best advice we can give you is to stick to trustworthy brands (Sony, Yamaha, Sharp, Denon, Bose, etc.) and avoid no-name brands. In case you need some suggestions, check out our selection of home stereo systems for different budgets and different setups. Or, you can scroll up and check out our top picks when it comes to loudest home stereo systems.
Q: How much does a good home stereo system cost?
A: A good stereo system can be found for less than $200. Even a great-sounding one doesn't have to cost more than $300. If you are looking for a high-end stereo system, something with wi-fi and digital audio inputs, be prepared to pay $500 or even more.
Q: What is the best small stereo system?
A: Our top picks when it comes to home stereo systems with a very small footprint are Yamaha MCR-B020BL and KEID CD/MP3 Player. Onkyo CS-265 is also a pretty great compact option. Bose Wave SoundTouch IV is also very compact and very feature-rich but it's also very expensive.
Q: How do I choose the loudest stereo system for my home?
A: As discussed in the introduction, the most important features that determine the loudness are sensitivity and power rating. However, you must not base your decision just on these two features. You have to go through all the specs – pay attention to frequency response and distortion. Also, pay attention to the overall build quality and quality of the speakers.
Furthermore, look for all the connections and playback options you need. If you want a multi-CD tray, or multiple analog connections, or digital connections, or Bluetooth connectivity, make sure that the stereo system you want to buy has all those features.
Finally, do a real-life listening test if possible. Nothing compares to an actual listening test and it's best to base your decision on your own impressions.
Q: Do expensive speakers sound better?
A: You get what you pay for. That's an old rule and it applies to almost everything. Naturally, there are always exceptions and you may find a great-sounding and incredibly versatile unit at an affordable price. However, in most cases, you have to be prepared to pay more to get more.
Q: Are old stereo speakers worth anything?
A: They might be. And not just because they are 'vintage' but also because they sound pretty great, even by today's standards. Some old stereo speakers are actually quite expensive. So, even if you don't want to keep your old stereo speakers, you should contact a professional or post a question on some audio forum that gathers audio enthusiast and vintage equipment collectors, and try to find out how good they are.
Q: Who makes good home stereo systems?
A: Our advice is to always stick to trustworthy and well-known brands. Luckily, there're still many famous brands in the home stereo system market, so you get to choose between Bose, Sony, Sharp, Yamaha, Onkyo, Denon, Philips, LG, Samsung.
If you don't find home stereo systems useful and if you don't really need a CD player or AM/FM tuners, you could try a pair of active bookshelf speakers. That will expand the number of viable choices even more (Edifier, KEF, ELAC, Jamo, Kanto, Klipsch, PSB, AudioEngine, DALI, Q Acoustics, etc.).
Q: Is stereo or surround better for music?
A: Stereo systems are designed to recreate the sound field and a stage that matches the conditions in which the recording was made. And it does that magnificently. If the music is recorded in stereo, then there can hardly be any benefit from upscaling two-channel stereo to 5.1 surround sound.
Surround sound, on the other hand, is optimized for movies and, if a movie has a surround sound audio track, then you will experience some benefits from surround sound.
Now, if you have to choose between a very good stereo system and a decent home theater system, and you don't have an unlimited budget, our advice would be to get a stereo system. That way, you get to spend more money per speaker, and you can get a much better-sounding system. In the end, you will get a lot when it comes to music and you won't lose that much when it comes to surround sound.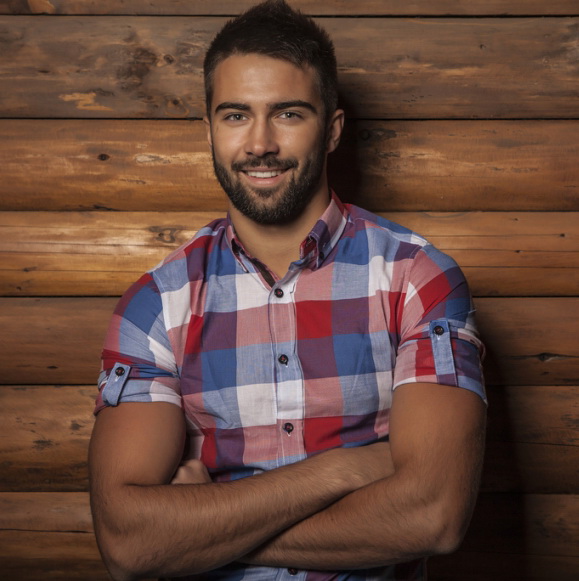 Hello, my name is James Longman.
I'm a writer and editor at AudioReputation. I disassembled my first portable AM/FM radio when I was only 8. At the age of 11, I burned the circuit board on my old boombox cassette player. I'm not going to explain how but it was reckless and stupid.
Since then, I have become much more careful around radios, boomboxes, and other audio devices (at least, I like to think so) but I have never lost the passion for audio equipment. Throughout 20 years of my professional career, I've been working for various audio equipment manufacturers and even started building speakers on my own in my little workshop.
I love the work we do here at AudioReputation. Testing, comparing, and evaluating all kinds of audio devices (speakers, soundbars, headphones, home theater systems, etc.) is something I truly enjoy. I try to be unbiased and give you my honest opinion on every piece of equipment I test. Still, you should take my reviews with a pinch of salt and always be just a little bit skeptical. The fact that I liked some speaker or soundbar doesn't mean that you are going to love it. If you have the opportunity, you should test it/hear it before buying it.