AudioReputation is reader-supported. When you buy through links on our site, we may earn an affiliate commission Learn More
If you're an audiobook enthusiast and you wonder what would be the best MP3 player for audiobooks in 2023, you've come to the right place. Our article is about to reveal to you 10 amazing models, most of which also come at surprisingly low prices.
---
Audiobooks were invented during the previous century and, at the time, they were available on CDs. Thanks to the rapid technology development, everything has become available in smaller formats. The devices are getting smaller and smaller, their storage space is getting larger and larger, and it really seems that there's no part of our lives that we can't store on a single tiny gadget. We do that with correspondence, photos, videos, so why would audiobooks be an exception.
Today we can store hundreds (or even thousands) of audiobooks on one device such as tablet, notebook, or smartphone. We can even listen to them on a TV or stream them to Bluetooth speakers. However, we strongly believe that using MP3 players to listen to audiobooks has many advantages. Although many people believe these devices belong to the past, that's not true at all and let's see why.
Advantages of MP3 Players for Listening to Audiobooks
Long time ago, we replaced paper books with audiobooks. While some people still prefer the smell and the feel of paper in their hands, many have moved away and they don't plan to come back. We can't say that we don't love to hold a real book in our hands, reading an exciting story while sitting in a comfy chair and drinking coffee. However, audiobooks have some important advantages nobody can deny, especially when you listen to them using your MP3 player. If we need to sum it up to only two advantages that would be compactness and convenience.
MP3 players are small and compact. They usually come with large internal storages. That means that you don't need a whole room to store your books – you just need one tiny device.
MP3 players are much simpler than phones and tablets as they have fewer features. Also, they are much faster and offer significantly better audio performance.
Recommended Reading :

MP3 players are practical – it's much easier to use an mp3 player while commuting or traveling than to carry a book around with you. You don't have to worry about it being torn apart in a crowded bus. You don't even have to hold it. Simply put your headphones on and start enjoying.
Best MP3 Players for Audiobooks – Comparison Table
Due to all the previously listed reasons and the fact that many people still love audiobooks and MP3 players, we have decided to test a great number of these devices and choose the best among them. We've tried really hard to find different types of players so that anyone can find the best option for himself. Hopefully, you'll find something you like on our list of 10 best MP3 players for audiobooks.
The List of 10 Best MP3 Players for Audiobooks in 2023
---
1. Best Budget: YFFIZQ MP3 Player
The YFFIZQ MP3 Player is ideal if you're looking for a media player with a large memory and a long battery life. The biggest advantage of purchasing this MP3 player is its touch screen, which works like magic. It is responsive and simple to use. Unlike other mp3 players that use scroll wheels, odd buttons, or arrows, this one is far more effective.
The player is also equipped with 16 GB of internal storage to ensure that there are no audio limitations. The perfect finish adds glitz to the metal case. Despite the fact that it has a plastic back, there's metal finish on each side and a glass screen. This player is also equipped with the most recent Bluetooth 5.1 technology. It is also compatible with a range of Bluetooth versions, including 2.0, 4.2, 4.1, 4.2, and 5.0.
Additionally, built-in speakers give you a great audio experience. Some of the features include FM, radio, e-book, pedometer, and voice recorder.
However, the FM's performance is surprisingly disappointing in this MP3 player. Another issue is that the earphones included with this player are subpar. They are enormous and barely stay in place.
---
2. Best Design: Apple iPod Touch
The next product is definitely the most expensive (but also the most popular) on our list of 10 best MP3 players for audiobooks in 2023. It's also the fastest (thanks to the A10 chip) and the most beautiful.
The device has a typical iPod design only without the plastic housing that the previous versions had. It comes in six different colors and it really looks great. On the top, you'll find the power button, while the volume controls are on the left side. On the front, you have a front 1.2MP camera, 4-inch display, and the Home button. On the back, you have an 8MP camera (basically the camera of iPhone 6) and a set of antennas protected with a black cover. On the bottom, there's the headphone jack, charging port, and a speaker.
Apart from listening to music and audiobooks, the player enables you to watch and record videos, take photos, surf the Internet, read books, play video games, etc. The sound quality is quite amazing and the device comes with earbuds with a regular headphone jack.
Also, iPod Touch supports Bluetooth 4.1 and Wi-Fi connection, while its battery can last up to 40 hours. It's available in 32, 128, and 256GB versions.
Sadly, the player doesn't support lossless audio formats.
---
3. Most Compact: SanDisk Clip Jam MP3 Player
SanDisk Clip Jam MP3 player is a compact and budget-friendly device that comes in several attractive colors: black, blue, green, lime, pink, red, and yellow. USB to micro USB charging cable (that is also used for file transferring) and earphones are included in the price.
On the front side of this tiny and incredibly light player, you'll find a small bright display and a set of standard control buttons. On the left side, there are micro USB port and volume controls, while the AUX jack and an SD card slot are on the right side. It also has a clip on the back, which is great if you plan to use it while jogging or working out.
Clip Jam has 8GB internal storage that can be extended up to 64GB with an SD card. You don't get to stream music as the device can't be connected to Wi-Fi and it doesn't support Bluetooth but you'll definitely be able to store a great number of audiobooks and songs on it. The device supports MP3, WMA, WAV, and AAC file formats and it has a great battery that shall last 18 to 20 hours. If you get bored with the stored music, you can always switch to FM radio.
The audio performance is quite good and, unless you're an audiophile, you really won't notice any downsides. If you're looking for a basic player that gets the job done and doesn't cost a lot, SanDisk Clip Jam is the right choice for you.
---
4. Sony NWE394/B 8GB Walkman
Providing an excellent listening experience, the small and versatile Sony NWE394/B 8GB Walkman is a digital audio player worth considering. It's user-friendly interface and sleek design make it a reliable way to indulge in your favorite music and audio content anytime, anywhere.
Featuring a capacious 8GB internal storage, the NWE394/B is remarkable in the world of gadgets. This impressive storage enables you to store numerous music tracks in addition to a collection of podcasts or audiobooks, thereby keeping you entertained around the clock. Moreover, this gadget is incredibly versatile since it supports various audio formats, hence allowing compatibility with an extensive range of audio sources.
With an ergonomic design, navigating and holding the device is a breeze. Its vivid 1.77-inch color display makes it a piece of cake to go through your music library, settings, and playlists.
With Sony's proprietary sound technology, this portable music player provides a high-fidelity listening experience with deep bass and clear treble tones. The battery life is impressive, delivering hours of uninterrupted playtime on a single charge. Unlike some pricier models, the NWE394/B does not offer app integration or internet access, but it's dependable operation and easy-to-navigate interface more than compensate for those limitations.
---
5. Dyzeryk MP3
The portable Dyzeryk MP3 player comes with a 16GB microSD card and can hold up to 128GB (not included). The best part of it is that you can download and save all of your favorite music and videos. MP3, WMA, APE, WAV, FLAC, and more audio formats are
supported by this compact player. This MP3 player is popular for its long-lasting battery life and can play audio and videos for up to 10 hours. To fully charge the device, it'll take about 2-3 hours.
Because of the player's small and lightweight design, you can easily slip it into your pocket or backpack and listen to music whenever and wherever you choose. Dyzeryk MP3 players are cheap and can be a throwaway player if you want something that can act as a backup player.
On the downside, there's no lock button available. The player requires multiple commands, and even the UI is pretty basic. A big disappointment to some could be that it does not show the album/cover art of the track. For casual use, the player would suffice the needs, but it could be a bad option if you are looking for an MP3 that'll accompany you during your workout or training sessions.
---
6. Longest Battery Life: RUIZU X02 Ultra Slim Music Player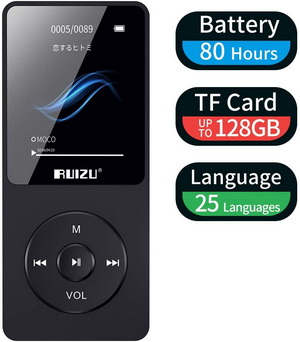 The last product on our list of 10 best MP3 players for audiobooks in 2023 is definitely not the worse. On the contrary, it has quite an attractive design, it's extremely light (1.05 oz), and has an extremely long battery life of even 80 hours.
Ruizu X02 player comes in black, blue, red, white, and rose-gold colors with an amazing matte finish that doesn't attract fingerprints. It has a small 1.8-inch display. All the controls are located on the front panel. An SD card slot is on the right side. AUX input, micro USB charging port, and on/off switch are located on the bottom.
The device is incredibly compact which makes it perfect for any bag or pocket. Thanks to its lightweight and extreme thinness, it's also a great solution for all people who love listening to music while doing sports.
No matter what do you need it for – listening to music or audiobooks, watching videos, listening to the radio, voice recording, etc., Ruizu X02 will be able to store all your files. It comes with 8GB of internal storage but it also supports micro SD cards (max SD card size – 128GB). It supports MP3, FLAC, APE, WMA, and WAV formats. The audio performance is quite great. You might only need to use some other earphones because the ones the player comes with aren't the best on the market.
Sadly, the player doesn't support Bluetooth and it can't be connected to Wi-Fi but we believe that it still has a lot of useful features for such a cheap device.
---
7. Aiworth MP3 Player
Aiworth MP3 player has built-in Bluetooth 5.0, which provides quicker data transfer speed ( up to 40%), a more reliable connection, as well as a longer connection distance. Likewise, power consumption is also minimized, extending battery life. The player includes the most recent DAC audio decoder chip, which improves audio resolution and preserves original sound quality. The treble is pleasant, the midrange is precise, and the bass is powerful.
The player comes with an impressive storage of 32GB, which can be upgraded to 128 GB. You can even use in-device Bluetooth to connect it to most vehicle stereos and play audio in your car or on a Bluetooth speaker. Apart from it, as mentioned, the internal memory is decent enough to store up to 5,000 songs.
Aiworth MP3 player provides a 2.4-inch screen and an efficient dial UI design that allows you quickly choose a function such as a music player, FM radio, voice recorder, E-book, videos, and tools. The lack of a "shuffle all songs" feature, especially with such a mega-storage, makes the player a failure.
The player does not support importing iTunes playlists. Unfortunately, it does not appear to support the standard.m3u file format for playlists as well, which is easily created. Likewise, the player also fails to have decent functionality.
---
8. TIMMKOO Q5
The TIMMKOO Q5 is an excellent MP4 player; it can play 720p and 1080p high-definition videos with ease, and you can customize the audio track, captions, video zooming, speed, decoding technique, and so on. It additionally supports breakpoint playback, allowing you to resume from the point where you left off.
The Q5 Bluetooth music player includes a 1800mAh lithium-ion battery and a low-power solution, allowing the player to constantly play 50 hours of music or 8 hours of video, as well as 670 hours of standby time. Meet all of your travel or sporting needs. The bundle includes a Q5 Player, a USB-C Cable, a 64GB SD Card, and wired headphones, as well as a User Manual.
Regardless of what the experts say, a 512GB card does not appear to operate properly in this player. Getting this gadget to boot up again and again, may also seem ridiculous. Although most MP3 players lack ANC, this one makes you long for it. The tracks are sometimes inaudible in public locations, causing you to lose track of your progress. This becomes the biggest downside of a product like this which offers various features and is also pocket friendly.
---
9. 128G Innioasis Mp3 Player
The 128GB internal storage of the Innioasis Y1-128 ensures that you have access to all of your favorite music tracks. The device's compact and sleek design is not only visually appealing but functional. The player comes with a responsive and vibrant 2.4-inch color touchscreen display. Talking about the interface, then one can say that its simplicity makes it easy to navigate your music library, playlists, and settings.
Not to mention Y1-128's audio quality, which is truly exceptional. It delivers a clear, detailed sound with deep bass & crisp highs, and it also includes advanced audio processing software that makes you enjoy a variety of genres. The equalizer settings allow you to fine-tune the audio to your personal tastes, making it ideal for listening to various types of music.
The Bluetooth MP3 player includes a 1250mAh lithium battery, and all of it is powered by a low-power consumption model that allows you to play music constantly for 25-35 hours. It is a one-of-a-kind walkman-like music player for travel or sports.
The FM radio works great as well, but you can only enjoy it if you plug in the provided wired headphones. This is due to the radio's usage of the earphone wire as an antenna. This severely limits the radio's usability as an FM radio, but it's not a feature people like using in general. My primary issue with this player is the difficulty of making a playlist. With 128 GB of storage, this device can contain a lot of music — far too much to scroll through to discover what you want to listen to.
---
10. JOLIKE MP3 Player
The JOLIKE Bluetooth MP3 player is a great pick for someone who is looking for an MP3 player that includes the latest features with a stylish finish. This Bluetooth-enabled player has a 1.8-inch touchscreen panel and is made of zinc alloy. It is scratch resistant and a full touchscreen MP3 player that may be used on a single charge. It also has a one-touch screen locking feature. It can also control and touch the entire display, making it easier to use the MP3 player.
JOLIKE player is Bluetooth 5.0 enabled, which implies quicker transmission speed, more reliable performance, and more anti-interference ability. This allows you to listen to music via Bluetooth speakers or headphones. The player supports almost all common audio formats, including MP3, WAV, APE, WMA, FLAC, ACELP, and others. Like other MP3 players of this range, it also provides the FM feature.
What really sets it apart from other MP3 players is the fact that it comes with an equalizer setting and an option to choose from funk, rock, hip-hop, classical, jazz, and many other preset options. A pedometer is another stark function that can record steps and footprints in real time.
One can store over 8000 tracks and more by expanding the memory up to 128 GB. The player also allows one to record tracks and surprisingly, there's no compromise in the audio quality of these files.
Some users have experienced difficulty in using the screen as the display and expressed the need for a stylus. The current software also leads to some minor glitches that do not hinder the functioning of the player but seem odd.
Also Read: Burson Audio Conductor 3.
---
This concludes our article about 10 best MP3 players for audiobooks in 2023. Hopefully, we have managed to provide you with the most important information about MP3 players. In case some things have remained unresolved, check the questions and answers below or leave us a comment. We will get in touch with you in no time.
---
How to Pick Up the Best MP3 Player for Audiobooks
Here is the complete buying guide on choosing your next MP3 player for audiobooks.
Portability
Consider the size, weight, as well as the aesthetic of an MP3 player for audiobooks. Choose a device that can easily slip into your pocket or bag. A portable player allows one to enjoy long listening sessions, making it ideal for on-the-go use.
Display
A clear and readable display is essential for navigating through audiobook tracks and menus. In such a case, it is best to get a player with a large enough screen that clearly displays text and icons. Touchscreens provide easy access, while backlit displays are useful in low-light situations.
Storage
Adequate storage becomes extremely important when saving a large number of audiobook files. Choose an MP3 player with enough memory to hold your audiobook collection. Consider whether the player has expandable storage options, such as microSD card slots, to allow you to increase capacity as needed.
Audio Quality
MP3 players with clear and balanced audio output should be one's priority because otherwise, it isn't worth it. Look for players with adjustable equalizer settings so you can fine-tune the sound to your preference. High-quality audio output ensures an immersive audiobook listening experience.
Battery Life
It is a must-do thing to go for a player that ensures prolonged battery life for your uninterrupted audiobook enjoyment. Select a player that offers extended playback time on a single charge. This is particularly important for long trips or extended periods without access to charging.
Connectivity
Do check that the MP3 player you choose has a variety of connectivity options. File transfers from your computer or smartphone are made simple with USB or Bluetooth connectivity. Bluetooth connectivity enables wireless pairing with headphones or speakers, increasing listening versatility.
Bookmarking
This feature can help you like anything. Yes, the bookmarking feature allows you to keep track of your progress in audiobooks. Choose an MP3 player that allows you to effortlessly configure and manage bookmarks, allowing you to seamlessly resume playback from where you left off.
File Format Compatibility
Apart from all the factors, the last one remains the most important. Always choose a player that supports a variety of audio formats, such as MP3, AAC, FLAC, and others. This ensures compatibility with a variety of audiobook sources, removing any restrictions on your audiobook selection.
How to Transfer Audiobooks to MP3 Players
Transferring audiobooks to MP3 players is an easy process, allowing you to enjoy your favorite literature anytime, anywhere.
Step 1: Prepare Your Audiobook
Before you begin, make sure you have audiobooks that you want to transfer in a compatible digital format, such as MP3 or AAC. If the audiobook is in physical CD format, you may need to convert it to a digital file using software such as iTunes or a specialized audiobook conversion tool.
Step 2: Connect your MP3 player
Connect the MP3 player to the computer with a USB cable. Most modern MP3 players are recognized as external storage devices when connected.
Step 3: Find your MP3 player
Once your MP3 player is connected, it should appear as a removable disk on your computer. On Windows, you can usually access it from My Computer or This PC. On macOS, it appears on the desktop or in the Finder.
Step 4: Create Audiobook Folder
To keep your audiobooks organized, create a special folder on your MP3 player just for audiobook files. This makes it easier for you to find and manage your audiobooks.
Step 5: Copy Audiobook Files
Open the folder on your computer where you saved your audiobook files. Just drag and drop your audiobook files or copy and paste them into the audiobook folder you created on your MP3 player. Make sure the file is in a format compatible with your MP3 player.
Step 6: Eject the MP3 Player
After the files have been successfully copied to the MP3 player, safely remove the device from the computer. This ensures that all data is written correctly and prevents potential data corruption.
Step 7: Check your MP3 player
Disconnect the USB cable and turn on the MP3 player. Browse the menu for the Audiobooks folder and verify that your audiobook files exist and are accessible.
Step 8: Playback
Once the files are in your MP3 player, you can start listening to your audiobook. Depending on the model of your MP3 player, you can select and play audiobook files in the device's menus.
Step 9: Bookmark and Play Progress
Some MP3 players may offer a bookmark feature that allows you to pick up where you left off. Familiarize yourself with these features (if available on your device) to enhance your audiobook experience.
Step 10: Safely disconnect
When finished listening, properly disconnect your MP3 player from your computer to avoid data loss. Also, if your MP3 player requires a firmware update or software upgrade, follow the manufacturer's instructions to keep your device up to date.
FAQs
Q: Can I play audiobooks on an MP3 player?
A: Yes. MP3 players can play audiobooks. However, you should be careful when choosing a new player and a new audiobook because audiobooks come in different file formats that some players don't support. Luckily, all of them can be converted to MP3 format, which all MP3 players support, but you have to be prepared for a significant decrease in sound quality.
Q: What is the best MP3 player for audiobooks?
A: Our list of 10 best MP3 players in 2023 gathers different types of players with different features (supported file formats, size, design, battery life, and storage space). Now, we can't say which of them is best for you because every user has its own needs and preferences. We can only advise you to scroll back to our reviews, read them, and find the player that meets your requirements.
Q: What features should a great MP3 player have?
A: Every great MP3 player shall be small and compact so it can fit your pocket. In case you want to use it while working out, it should be very light. Also, a good MP3 player shall have enough storage space or at least have the ability to be upgraded. In addition, it shall have a durable battery, so you can rely on it at least for a whole day. Finally, we must not forget about the audio performance and supported file types. 
Q: What MP3 players are compatible with Audible?
A: Audible is one of the most popular audiobook and podcast platforms at the moment. Many modern MP3 players, such as iPod Nano 7, Creative Zen, SanDisk Sansa, etc. are compatible with this platform. Some of the players on our list of 10 best MP3 players for audiobooks (like SanDisk Clip Jam) are also compatible with Audible. 
Conclusion
Do you have a large digital music collection? Many MP3 players come with microSD memory slots. So your favorite tunes and artist collection will never stop growing. Expandable storage also means you can play all your music at the highest possible quality without worrying about large files taking up all of your player's storage.
However, if you truly want something that works for you, we provide a comprehensive list of factors to consider when buying an MP3 player. These factors include storage space, battery life, playback options, sound quality, file format support, pricing, screen size, connectivity, user interface, and build quality. All of the models included in this list are among the best on the market.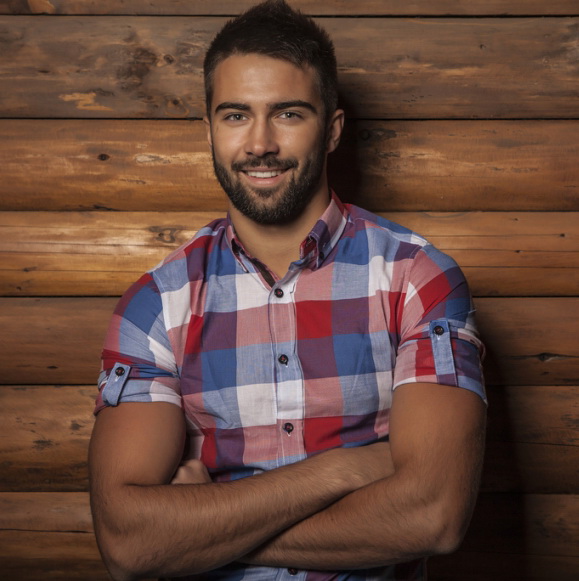 Hello, my name is James Longman.
I'm a writer and editor at AudioReputation. I disassembled my first portable AM/FM radio when I was only 8. At the age of 11, I burned the circuit board on my old boombox cassette player. I'm not going to explain how but it was reckless and stupid.
Since then, I have become much more careful around radios, boomboxes, and other audio devices (at least, I like to think so) but I have never lost the passion for audio equipment. Throughout 20 years of my professional career, I've been working for various audio equipment manufacturers and even started building speakers on my own in my little workshop.
I love the work we do here at AudioReputation. Testing, comparing, and evaluating all kinds of audio devices (speakers, soundbars, headphones, home theater systems, etc.) is something I truly enjoy. I try to be unbiased and give you my honest opinion on every piece of equipment I test. Still, you should take my reviews with a pinch of salt and always be just a little bit skeptical. The fact that I liked some speaker or soundbar doesn't mean that you are going to love it. If you have the opportunity, you should test it/hear it before buying it.