AudioReputation is reader-supported. When you buy through links on our site, we may earn an affiliate commission Learn More
Looking for a compact high-end all-in-one audio system? Well, you can stop your search – Naim Uniti Atom may be just the thing you need. It's a hi-fi stereo receiver, wireless music streamer, amplifier, music player, and so much more. The number of different features packed in this small and compact device is simply remarkable. In this review, we are going to go through all the highlights of Naim Uniti Atom, give you our opinion on the performance, talk about downsides and, finally, evaluate it and suggest some alternatives. So, without further ado, let's dive into this review.
Naim has been one of the synonyms for high-end audio equipment, especially when it comes to amplifiers, for more than 4 decades. It's a British audio company established in 1969. The last 10-15 years have been a huge success for Naim. They have started pretty successful cooperation with Bentley, introduced a highly-praised Naim Uniti line of all-in-one players as well as their high-end NAC S1 preamp and NAP S1 power amp, and made Mu-so and Mu-so Qb wireless players/streamers/speakers. It's been a really busy decade for Naim. We are about to review the simplest and cheapest (cheap is maybe not the best word to describe it) Naim Uniti all-in-one player called Uniti Atom. If you want something more advanced and more capable, you should check out the other two Naim Uniti players – Uniti Star and Uniti Nova.
Naim Uniti Atom is a very simple and compact yet very attractive and luxurious device. It's a successor of Naim UnitiQute 2 and it's better than UnitiQute 2 in many ways. Unfortunately, it's also significantly pricier. The manufacturer sometimes calls it all-in-one music player, but that's an understatement. It's a full audio system packed inside a super-small chassis. This device is, at the same time, an amplifier, hi-fi receiver, multi-source music player, wireless streaming device, and DAC.
Naim put a lot of effort to pack all kinds of software and hardware inside the Uniti Atom. Atom features built-in Chromecast, it can be wirelessly connected to your Bluetooth devices, it supports Airplay and UPnP streaming. It also supports TIDAL, Spotify Connect, and Internet radio.
Uniti Atom features 2 speaker outputs (+ subwoofer out). Inside the Atom, there are Class A/B analog amplifiers. Amp's output power is 40W per channel (for 8Ω load) which is more than enough for any kind of bookshelf speakers and it can even be good enough for your floorstanders. Still, you are probably going to need something more powerful for more demanding floorstanding speakers.
There's a lot of great things about Naim Uniti Atom and we are going to try to mention them all, but there are also some negatives. First, you have to think about the price. Uniti Atom is priced around $3,000 which is definitely not cheap. This could be the biggest deal breaker for most people. Still, if you have that kind of money and if you are willing to spend it on a high-end receiver/amp/streaming device/music player, you won't regret it. Flawless performance and luxurious design definitely justify the price tag. Another thing we've noticed is that the Naim app, which is one of the ways to control the Atom, can be buggy. The app is very user-friendly and we don't have any complaints regarding the interface, but it crashed once or twice during our 1-week test.
Luxurious design with a beautiful 5in colorful LCD screen and a unique volume wheel on the top

Versatile connectivity – analog and digital inputs, Ethernet port, Wi-Fi (2.4GHz and 5GHz), Bluetooth

Great streaming capabilities – Chromecast, Airplay, Spotify Connect, TIDAL, UPnP, Internet radio, Roon-ready

Supports various audio formats including lossless FLAC, AIFF, and ALAC

Comes with a

Zigbee remote

Impressive sound quality and detailed and dynamic music reproduction
Expensive – priced around $3,000
Naim Uniti Atom is a remarkable all-in-one audio system. It performs almost flawlessly and it's incredibly versatile when it comes to connectivity and streaming capabilities. Everything about Uniti Atom is very luxurious and very premium, including the design, build quality, remote, hardware components, and performance. In our opinion, Naim Uniti Atom is definitely worth the price tag. The only question is – are you prepared to spend $3,000 on a piece of audio gear.
Official video – Naim Uniti Atom All-In-One Audio System
What's in the box?
Uniti Atom comes in a simple white box with Naim Uniti logo on it. It doesn't look very premium which is kind of surprising considering the price. Still, it's more important that all the equipment is carefully packed and protected. Inside the box, you will find your Naim all-in-one audio system, Zigbee (not IR) remote with 4 AAA batteries, power cable, 2 Naim speaker plugs, cleaning cloth, all the documentation, and 2-year warranty.
Box contents
Naim Uniti Atom Specifications
DIMENSIONS
Width
245mm/9.6in
Height
95mm/3.74in
Depth
265mm/10.4in
Weight
7kg/15.4lb
INPUTS
Analog
RCA x1
Digital
Coaxial x1

Digital optical (TOSLINK) x2

USB Type A x2

HDMI (ARC) x1
OUTPUTS
Headphone out x1

Preamp output x1

Speaker outputs x2
AMP OUTPUT
40W per channel (8Ω load)
WIRELESS CONNECTIVITY
Ethernet port x1

Bluetooth (with aptX support) x1

Chromecast x1

Airplay x1

UPnP
SUPPORTED AUDIO FORMATS
FLAC

ALAC

WAV

MP3

AIFF

OGG

DSD64

AAC
SUPPORTED STREAMING SERVICES
Spotify Connect

Internet Radio

TIDAL

Roon-ready
ADDITIONAL FEATURES
Naim app (for iOS and Android)

5in full-color LCD display

Zigbee remote
Design
Naim Uniti Atom is maybe boxy and simple, but there's nothing ordinary about this beautiful device. The whole chassis is made of aluminum. It looks very hard and very premium.
Large 5-in LCD screen occupies a large portion of the front panel. The colors are so vivid and every info written on the screen is perfectly clear. It actually looks like a touch screen, but it's not. You have to use the control buttons located on the right side. There are four button – power, play/pause, input, and favorites. On the left side near the bottom end, there is one USB Type A input and one headphone output. At the bottom, there's a backlit Naim logo.
Front panel
The rest of the inputs and outputs are located at the back. Besides the AC input and speaker inputs, you have one Ethernet port, another USB port, 2 digital optical inputs, one coaxial input, one HDMI ARC input (for connecting your TV), RCA input, preamp output, and a ground switch.
Rear panel
Huge backlit volume wheel located on the top panel is one of the greatest highlights and the thing you are definitely going to notice when you look at this device for the first time. It's really fun to play with it. I mean you can use the remote or the app to adjust the volume, but it's not as fun as using the wheel. It's definitely worth getting up every single time.
Hypnotizing backlit volume wheel
On the left and right panels, you will see large heat sinks. They give the Atom a more robust look, but they are not there because of the looks – that kind of cooling system is necessary for the Class AB amplifiers built inside the device.
Large heatsinks on the left and right panels
One thing we should also mention is that, unlike UnitiQute 2, Uniti Atom has Wi-Fi antennas (2.4GHz and 5GHz) built inside. There are no parts sticking out which makes it more stylish and more compact.
Features
The number of features and modules built inside this beautiful device is truly impressive. It takes some serious effort and work to make something like Uniti Atom. The manufacturer basically tried to build all the popular technologies into Atom and make it compatible with all kinds of services.
Highlighted features
You can use Uniti Atom as your stereo receiver/amplifier. Just attach your two speakers and input devices (analog or digital) and start playing music. You have three digital inputs as well as RCA analog input, but that's just the beginning.
If you want to, you can connect your TV to the Uniti Atom (via HDMI ARC port or via TOSLINK port) and send all the audio to your external speakers.
Furthermore, you have 2 USB inputs (one on the front and one on the rear panel) and you can attach your external storage (flash drive or external HDD) and play the music directly from it.
Uniti Atom has one Ethernet port and it also features Wi-Fi module (2.4GHz and 5GHz). Naturally, the wired connection is more reliable and it's recommended, but we haven't experienced any issues with wireless connection.
This device is also UPnP-compliant and Roon-ready.
Atom supports both Chromecast and Airplay so it doesn't matter if you have an Android, Apple, or Windows device. This thing allows you to stream any audio content no matter which device you are using. It also has a built-in Bluetooth with aptX support, which is probably not going to be used as much as Chromecast and Airplay, but it's good to know that you can always stream the music via Bluetooth (just in case your mp3 player is not Wi-Fi enabled).
On top of all these streaming services, you have preinstalled music streaming services like Spotify Connect, TIDAL, and Internet Radio.
Uniti Atom can be a part of your multiroom system. You can easily connect multiple (up to 6) Uniti Atom audio systems or even different Uniti audio systems. Just place them in different rooms and use the Naim app to set up your multiroom system.
This audio system supports a wide variety of audio formats including FLAC and ALAC (max 24bit/384kHz). It also supports WAV (32bit/384kHz), MP3, AAC, OGG, and DSD formats.
When it comes to controls, you have three options – control buttons and volume wheel on the unit itself, Zigbee remote, and Naim app. We have already mentioned the controls on the unit itself. They are simple, intuitive, and easy to use.
The Zigbee remote that comes with the Atom is really special. It looks much better than all those plasticky IR remotes that come with more affordable hi-fi receivers. It's very premium and all the buttons are backlit.
Zigbee Remote
Naim App is another way to control the unit and it's the most capable one. You can use it for all the stuff you would use the remote, but you can also play with UPnP libraries, adjust multiroom settings, make playlists, discover and connect different Naim streaming products together, update the unit, etc. The app is very user-friendly and has a nice interface. It's available for iOS and Android devices.
Setup and Performance
The setup was pretty smooth and quick. You can use banana plugs for connecting speaker wires to the unit. You will find those Naim speaker plugs included in the package, but they really look finicky. Simple banana plugs seem like a better option. Once you connect the speakers, you should connect all the audio sources (TV, players, external USB storage, etc.), plug in the power cable, and turn on the unit. Before you start using it, you should pair the remote with the Atom (press and hold the Home button on the remote for three seconds), and install the Naim app on your phone/tablet. You can use the app to perform the initial setup, arrange playlists and UPnP libraries. The whole installation should not take more than an hour. Placing the Atom could be the trickiest thing. You'll want to place it in a way that allows you to use and, more importantly, to see that volume wheel. I mean, what's the point if you can't see it and maybe even brag to your friends about it.
Setting Up Naim Uniti Player
Once you connect everything, you can start playing music from any of the connected audio sources or stream audio through one of the available streaming services. Uniti Atom really does everything that's supposed to do and it's all done with ease. Shifting between various sources is done in no time and every single source sounds amazing.
This little unit can handle everything, from compressed lossy audio formats to lossless FLAC and ALAC. Of course, the performance depends on your speaker set, too and we recommend some more sensitive speakers (90dB+). Uniti Atom can handle some 85dB florstanding speakers, but it definitely sounds better (more revealing, more detailed, more powerful) with more sensitive speakers. That being said, we have tested the Uniti Atom with MA Silver 6 floorstanders and Focal Aria 906 bookshelf speakers.
The amount of clarity and detail this small unit delivers with only 40W per channel is simply amazing. That kind of dynamic and spacious reproduction was not expected. It really allows you to hear the tiniest detail hidden in lossless tracks. The reproduction is consistent across various genres. It's energetic, refined, and very lifelike. If you compare it to some more powerful Naim all-in-one players and amps, you may notice a small lack of depth and texture in the bass department but, even if you are an audiophile, you won't be disappointed. Uniti Atom is a magnificent performer.
Controlling the unit is super easy. There are a few things we want to praise. First, the volume wheel. It is, without any doubt, beautifully crafted and very addictive thing. Then, the remote. It's very reliable, responsive, easy to use, and it doesn't require line of sight. In the end, there's the app. It's beautiful and simple. It crashed once during our testing but we've had no major problems using it. And, of course, we should not forget the LCD screen. It shows you all the changes and adjustments you make. The picture is perfectly clear and vivid.
The Competition
---
Yamaha Hi-Fi Receiver R-N803BL
Yamaha R-N803BL Hi-Fi receiver is a much cheaper yet very capable and versatile device. It's priced around $750.
In terms of design and build quality, you can't really compare these two. Naim Uniti Atom is simply much more sophisticated and aesthetically pleasing. You won't find flashy and eye-catching details on Yamaha R-N803BL.
They are both very versatile when it comes to connections. Yamaha R-N803BL features even more analog inputs/outputs than Atom (multiple RCA inputs/outputs, phono inputs, subwoofer outputs). They both have digital optical and coaxial inputs, but R-N803BL doesn't have HDMI input. They both have Ethernet ports and support Wi-Fi and multiple streaming services including Airplay, TIDAL, Spotify, and Internet Radio. They also both feature Bluetooth. Yamaha R-N803BL is also Alexa-enabled and MusicCast-enabled (can be integrated into a large multiroom system).
Yamaha R-N803BL also comes with a remote and MusicCast app. They don't look as sophisticated as the Atom's remote and Naim app, but they are very much usable.
The amp delivers 100W of continuous power (per channel) into an 8Ω load which makes it more powerful than Atom. Still, Atom sounds more sophisticated and fuller when it comes to audio reproduction. We don't have any complaints regarding Yamaha Hi-Fi receiver, especially considering the price. This is a very good and viable option, especially if you can't afford to splash $3,000 on a high-end all-in-one system.
---
Naim Uniti Nova
Uniti Nova has all the same features as Uniti Atom, and then some more. It's the most capable and most expensive all-in-one audio system from the Naim Uniti line and it's priced around $7,500.
Uniti Nova is an upgraded Uniti Atom. It has all the same inputs/outputs plus some additional digital (BNC) and analog (5-pin DIN) inputs. It also features one micro SD card slot. Both systems support the same streaming services and have wireless and multiroom capabilities (up to 6 devices).
Unlike Uniti Atom, Uniti Nova features CD player/ripper. Because of the additional CD compartment, Nova is larger and heavier than Atom.
Nova is also much more capable than Atom in terms of power output. They both feature Class A/B amplifiers, but Nova delivers 80W per channel (at 8Ω) while Atom can deliver only 40W. Nova delivers even more accurate, more detailed and dynamic sound reproduction than Uniti Atom.
---
Moon ACE all-in-one player by SIMAUDIO
In our opinion, Moon ACE is the greatest rival of the Uniti Atom. They are basically priced the same and each device has its own advantages and disadvantages.
There's no doubt which one is more sophisticated and more aesthetically pleasing. Moon ACE looks too ordinary compared Uniti Atom. Atom also comes with better-looking remote and has a better screen. Naim definitely put more effort into designing the housing than Moon.
Both audio-systems are very versatile in terms of connectivity, but Moon Ace has a few additional inputs (multiple RCA inputs including phono inputs, additional SPDIF input, headphone input, RS 232 port). They both have Ethernet ports and they both feature Wi-Fi and Bluetooth.
When it comes to wireless streaming, Atom is our favorite. They both support TIDAL and internet radio. ACE Moon supports Deezer Hi-Fi and Qobuz while Atom supports Spotify Connect. They are both Roon-ready, UPnP-compliant, and can be parts of your multiroom system. Atom features Chromecast and Airplay while ACE Moon doesn't.
ACE Moon can deliver more power than the Uniti Atom. It features Class A/B amplifier and it delivers 50W of continuous power per channel at 8Ω load (85W at 4Ω).
---
Comparison Table
Final Thoughts
Uniti Atom is an impressive performer. It's a mixture of a high-end hi-fi system and modern streaming device, and it's all packed inside a beautifully crafted housing. There's literally nothing to complain about when it comes to performance, sound quality, connection versatility, design or build quality. Naim has covered all the fields and made an audiophile-grade all-in-one audio system.
The only problem we have with this device is the price. It's not actually overpriced, especially when you consider all the technology built inside, but it's still expensive. You can always combine some nice, or even great Hi-Fi receiver (like Yamaha R-N803BL) and some great pair of speakers (like Focal Aria 906) and even save some money, but most of these devices won't be as versatile and they most definitely won't be as beautiful, compact, and convenient as Naim Uniti Atom. Atom is a great example of how the future hi-fi systems should perform and look like.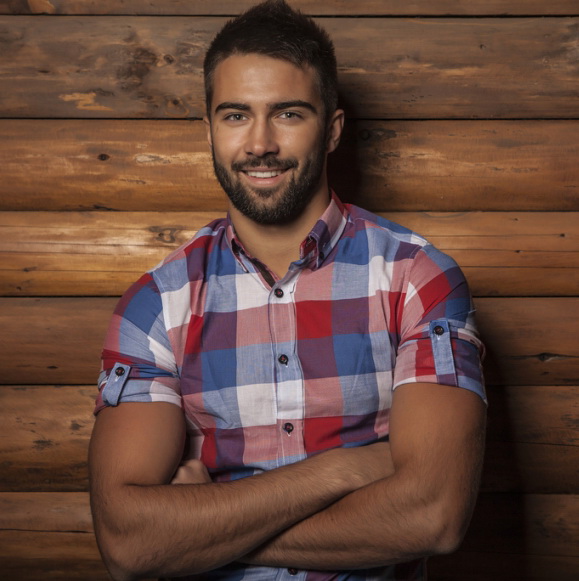 Hello, my name is James Longman.
I'm a writer and editor at AudioReputation. I disassembled my first portable AM/FM radio when I was only 8. At the age of 11, I burned the circuit board on my old boombox cassette player. I'm not going to explain how but it was reckless and stupid.
Since then, I have become much more careful around radios, boomboxes, and other audio devices (at least, I like to think so) but I have never lost the passion for audio equipment. Throughout 20 years of my professional career, I've been working for various audio equipment manufacturers and even started building speakers on my own in my little workshop.
I love the work we do here at AudioReputation. Testing, comparing, and evaluating all kinds of audio devices (speakers, soundbars, headphones, home theater systems, etc.) is something I truly enjoy. I try to be unbiased and give you my honest opinion on every piece of equipment I test. Still, you should take my reviews with a pinch of salt and always be just a little bit skeptical. The fact that I liked some speaker or soundbar doesn't mean that you are going to love it. If you have the opportunity, you should test it/hear it before buying it.