AudioReputation is reader-supported. When you buy through links on our site, we may earn an affiliate commission Learn More
Optoma NuForce BE2 is the cheapest version of Optoma NuForce sports Bluetooth earbuds. The manufacturer tried to make a few compromises but keep a certain level of performance and overall quality you would expect from this brand. NuForce BE2 is not far behind more expensive models from the same line of sports earbuds (BE Sport3 and BE Sport4), but it still lacks some features and accessories you would get with those more expensive models. It all comes down to your willingness to make compromises in order to save money.
When it comes to things we like, it's important to mention the design (which is practically the same as the design of the BE Sport3 earbuds but without the ear wings and colorful ear tips). We also liked the in-line controls, IPX5 water resistant rating, battery life, and sound quality (which is very similar to the sound quality of BE Sport3).
On the other hand, we were not happy about the lack of support for aptX and multipoint pairing. Also, we didn't like the mic performance and we were surprised to hear that these earbuds don't perform equally well with all Bluetooth-enabled devices. They sound better when paired with Apple devices than with Android devices.
The bottom line is that Optoma NuForce BE2 delivers a performance which is on par or better compared to other competitors within the same price range, but only when paired with Apple devices. If you are an iPhone user, you should definitely check them out but if you have an Android device, you might want to try some other cheap earbuds or go for pricier BE Sport3 version.
Elegant design

Very good build quality

IPX5-certified (water resistant)

Very good

noise isolation

with TwinBlade ear tips

Good sound quality

Affordable
Bluetooth issues with some Android devices (it works better with Apple devices)

Lack of aptX support (you will experience audio delays when watching videos)

Poor mic quality

Possible comfort issues

Doesn't support multipoint pairing
Optoma NuForce BE2 doesn't feature the same premium build quality as more expensive earbuds from the same Optoma NuForce line (BE Sport3 and BE Sport4), it lacks some features (like aptX support), and it comes in a modest packaging, but for the price, NuForce BE2 offers very good performance. So, if you are looking for a pair of sports earbuds under $30, Optoma NuForce BE2 earbuds are worth buying.
Official video – Optoma NuForce BE2
What's in the box?
As you already know, Optoma NuForce BE2 earbuds come in a more modest packaging than those pricier models and you won't get the same number of accessories. Still, you will get all that you need – your BE2 earbuds, 3 pairs of regular silicone ear tips (in S, M, and L sizes), one pair of SpinFit TwinBlade ear tips (probably M size), one charging cable, user manual, and 1-year warranty. Carrying pouch is not included.
Box contents
Specs
Optoma NuForce BE2 Specifications
DIMENSIONS
Weight
0.5 ounces
Cable length
22.8in
DRIVERS
6mm, dynamic x2
MATERIALS
Plastic, rubber, silicone
BATTERY
Type
Li-ion, rechargeable
Capacity
150mAh, 75mAh x2
Playtime
Up to 10 hours (at 50% volume)
Recharge time
2-3 hours
CONNECTIONS
Bluetooth
BLUETOOTH DETAILS
Bluetooth version
4.1
Supported Bluetooth profiles
A2DP, AVRCP, HSP, HFP, SBC, AAC
NFC
No
Bluetooth range
Up to 33ft
OTHER TECHNICAL DETAILS
Frequency response
20Hz to 20kHz
Impedance
16Ω
Sensitivity
100dB +/- 3dB
Mic sensitivity
-42dB +/- 3dB
ADDITIONAL FEATURES
In-line controls

Built-in mic

IPX5-certified (water resistant)

Ear tips in different sizes + SpinFit TwinBlade ear tips

Magnetic ends
Design
Optoma NuForce BE2 is a perfect example of how something simple can look really elegant. You have two small earbuds connected with a 23in-long cable. So simple, yet so attractive. The earbuds are available in two colors – frost white and jet black.
Simple but elegant
The earbuds are slightly angled in order to provide a better fit. Unlike many other sports earbuds, BE2 earbuds don't have ear wings (or in-ear hooks) which are supposed to improve stability and provide a better fit.
Ergonomically angled earbuds
On the cable connecting the earbuds, closer to the right earbud, there are in-line controls with a built-in mic. You have three buttons – 2 volume/track buttons and one multifunction button in the middle. Below the VOLUME DOWN button, there's an LED Bluetooth/battery status indicator.
In-line controls are on the right side, near the right earbud
Features
The build quality is on par with the price. It's not as premium as the build quality of the more expensive NuForce BE Sport3. The housings are made of hard plastic and not aluminum like the BE Sport3. The cable is the same on both models – it's flat and feels durable.
Very good build quality and durability
NuForce BE2 earbuds are water resistant and feature IPX5 rating. This means that they can survive small water jets and they should also be able to survive some heavy sweating. So, working out in the gym or running in the rain should not be a problem.
The earbuds are IPX5-certified (water resistant)
The earbuds have magnetic ends so you can connect them and wear around your neck when not in use.
The earbuds have magnetic ends
Along with the earbuds, you will get one pair of SpinFit TwinBlade ear tips which are supposed to be more stable and should provide better noise isolation and improve bass response. There's no way that only one pair will fit all types/sizes of ears but if it fits yours and if you can tolerate something that goes so deep in your ear, you will experience all those benefits. If it doesn't fit, you can always use one of those regular silicone ear tips. Foam tips are not provided and you will have to buy them separately.
You will get one pair of SpinFit TwinBlade silicone ear tips
NuForce BE2 earbuds feature Bluetooth 4.1 and have the advertised Bluetooth range of up to 33ft. The Bluetooth module features support for AAC audio coding standard which offers better sound quality than the mp3. AptX coding is not supported so you will definitely experience some audio delay when watching videos. Multipoint pairing is also not supported – you cannot pair two devices with the earbuds simultaneously.
Optoma NuForce BE2 feature Bluetooth 4.1 with up to 33ft range
The battery is one of the most impressive features. It has the capacity of 150mAh (two 75mAh batteries) and delivers almost 10 hours of playtime at 50% volume.
150mAh battery for 10 hours of playtime
Performance
NuForce BE2 offers more than satisfying performance for the price but we have also experienced some issues and heard about some glitches we would like to mention.
The controls are simple and user-friendly. You can see the functions of each button on the control pad in the picture below. The middle button could be tricky since it's used for so many things and you will need some time to adapt, but it's not that hard.
Control buttons and charging port
The manufacturer claims that you will get maximum comfort, but we don't agree completely. Shure, they are not the most painful earbuds but you will definitely feel some discomfort after 2-3 hours of use, even with those regular ear tips. TwinBlade tips are quite uncomfortable and they became unbearable after an hour of use. This doesn't necessarily mean that you are going to experience the same issues – this depends on the size and type of your ears as well as on your tolerance. You should probably know that we are not earbud fans and that these are not worse nor better than other earbuds when it comes to comfort. We have also tried some foam tips and they really felt nicer and more comfortable. Unfortunately, you will have to pay extra for those.
When it comes to stability, NuForce BE2 earbuds delivered average results. The lack or ear wings (in-ear hooks) is really noticeable and compared to pricier BE Sports3, they are less stable. TwinBlade ear tips were better than regular tips in terms of stability. TwinBlade tips are also better when it comes to noise isolation. When you insert them correctly, you will be able to eliminate a great amount of ambient noise.
We have noticed some important issues when it comes to Bluetooth connection. The earbuds don't work with Pixel, Pixel XL, and some other Android phones. The manufacturer says that it has something to do with Bluetooth protocols but we don't know the exact answer. Pairing the earbuds with iPhone 8 was not a problem and it was done in 5 seconds. We have also paired it successfully with Samsung S8. It's probably safe to say that it is compatible with most Bluetooth-enabled devices but it works better with Apple devices.
Recommended Reading :

The Bluetooth module doesn't support AptX codec which means that you will experience some delay/lag when watching videos. This delay is much more noticeable on Android devices. It was barely noticeable on iPhone 8.
We have absolutely no complaints regarding the battery performance. It works exactly as advertised.
The built-in mic is of secondary importance but you should still know that it's really awful. It is not completely unusable but we were not impressed by the performance. It doesn't pick up the voice very well and it muffles it a lot.
Sound Quality
The sound signature of BE2 is very similar to the sound signature of its pricier relative, BE Sport3. The frequency response is pretty flat with a small bump in the low midrange. The bass is present but not as impactful as you might expect it from a pair of sports earbuds. The bass heads are not going to be satisfied. BE2 earbuds don't deliver the most detailed and rich sound but it's good enough for casual music listening. The sound gets distorted at high volumes and the high frequencies suffer the most.
The Competition
---
Optoma NuForce BE SPORT3
We have previously reviewed NuForce BE Sport3 and you can read our in-depth review if you want to find out more.
BE Sport3 is more expensive than Optoma NuForce BE2 and it comes in more premium packaging with more accessories. They are also more durable and have aluminum housings. BE Sport3 earbuds have ear wings and deliver better stability. They are IP55-certified and BE2 are IPX5-certified.
Both earbuds have the same 150mAh batteries and deliver the same playtime. They also use the same Bluetooth version and deliver the same range. BE Sport3 features support for aptX while BE2 doesn't.
They also have a similar sound signature.
---
Anker SoundBuds Slim
Anker SoundBuds Slim earbuds are slightly cheaper than the Optoma NuForce BE2.
They come with more accessories (more ear tips, carrying pouch, ear wings in different sizes).
They both have the same basic shape but SoundBuds Slim have in-ear hooks and provide better stability and slightly better fit. Both earbuds have 3-button in-line controls and built-in mics.
BE2 and SoundBuds Slim are very similar when it comes to build quality, and they both feature IPX5 rating.
SoundBuds Slim deliver shorter playtime (7 hours compared to 10 hours) and have a bassier sound signature.
---
VAVA MOOV 28
VAVA MOOV 28 earbuds are just a few bucks pricier than BE2 but cheaper than BE Sport3.
They come in more premium packaging and have better build quality and aluminum housings.
VAVA MOOV 28 earbuds are also more stable and fit better because of in-ear hooks (ear wings).
The overall build quality of VAVA MOOV 28 is slightly better and they are IPX6-certified.
VAVA MOOV 28 earbuds feature Bluetooth 4.2 and have similar range as BE2.
Optoma NuForce BE2 earbuds deliver slightly longer playtime (10 hours compared to 9 hours).
VAVA MOOV 28 earbuds produce more bass but BE2 has better and cleaner mids and highs.
---
Comparison Table
Final Thoughts
Optoma NuForce BE2 earbuds are great budget Bluetooth earbuds. They deliver warm and nicely balanced sound, they are water resistant (IPX5-certified) and deliver quite amazing playtime. They work better with Apple devices, so you should think twice if you have an Android device. If you don't mind those flaws we've mentioned (Bluetooth connection issues, lack of ear wings, and lack of aptX support), and if your budget is set at $30, NuForce BE2 is a very good option. If you can spend a little bit more and you like the design of BE2, you should check out BE Sport3.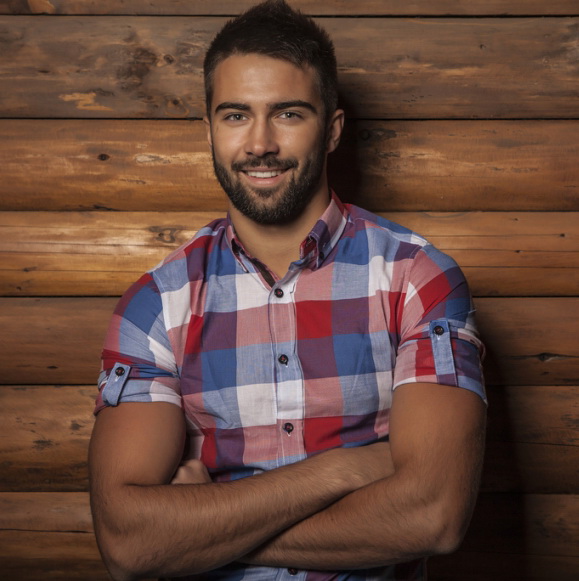 Hello, my name is James Longman.
I'm a writer and editor at AudioReputation. I disassembled my first portable AM/FM radio when I was only 8. At the age of 11, I burned the circuit board on my old boombox cassette player. I'm not going to explain how but it was reckless and stupid.
Since then, I have become much more careful around radios, boomboxes, and other audio devices (at least, I like to think so) but I have never lost the passion for audio equipment. Throughout 20 years of my professional career, I've been working for various audio equipment manufacturers and even started building speakers on my own in my little workshop.
I love the work we do here at AudioReputation. Testing, comparing, and evaluating all kinds of audio devices (speakers, soundbars, headphones, home theater systems, etc.) is something I truly enjoy. I try to be unbiased and give you my honest opinion on every piece of equipment I test. Still, you should take my reviews with a pinch of salt and always be just a little bit skeptical. The fact that I liked some speaker or soundbar doesn't mean that you are going to love it. If you have the opportunity, you should test it/hear it before buying it.