AudioReputation is reader-supported. When you buy through links on our site, we may earn an affiliate commission Learn More
For all of you who love small rounded players and their larger cousins, boomboxes, we have prepared a special treat – a list of 5 best Panasonic radio CD players in 2021.
In one of our previous articles, we presented to you the best CD cassette players – a list that gathers different brands, some of which are the leaders in the audio industry. However, as Panasonic is the company that has been present on the market for decades, producing transistors, tape recorders (and later CD players), we strongly believe they've deserved a special list.
We agree that using new technologies is fancier, better, and more practical but let's face it – many of you still have numerous tapes and CDs lying around your houses. Also, some people still prefer using the technologies they are used to, instead of learning about new ones. No matter if you are one of them or you simply want to remember how it felt to go for a jog or a walk with a portable CD player in your hands, we believe you can find an interesting product on our list. It's even better if it supports FM/AM radio. That way, you can always switch to something new in case you get bored with the songs on your CD.
Best Panasonic Radio CD Players – Comparison Table
As we wanted to select the finest Panasonic players for you, we've tested a great number of their products. We've been trying to put on the list the ones that combine great sound quality, durability, and good looks. Some of them are highly portable, while others belong to the group of boomboxes, which are also portable although not equally small. We sincerely hope that the list of 5 best Panasonic radio CD players in 2021 will help you find the best player for you. For us, testing all these products has been so much fun.
The List of 5 Best Panasonic Radio CD Players
---
1. The Lightest Panasonic Radio CD Player: Panasonic SL-SV550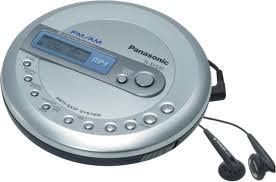 If you need an affordable and rather simple portable CD player with built-in radio, we suggest you consider Panasonic SL-SV550. It's small (1.09×5.3×5.3 inches), highly portable, and extremely light (0.40 pounds) – a perfect old-fashioned companion for jogging, walking, hiking, etc.
Things we like
Panasonic SL-SV550 is a thin and nicely shaped, rounded portable CD player that comes in silver color. On the top, you'll find an LCD display with blue background lighting and all the buttons necessary to control the CD playback and radio operation. The control scheme is simple to use, the buttons are very responsive and nicely distributed to follow the shape of the player itself.
The player reads CD, CD-R, CD-RW, and MP3 formats. It can also find up to 20 FM and 10 AM radio stations. In addition, its operation requires only 2 AA batteries, providing up to 35 hours of constant playback. This means the unit has a low power consumption, perfect for the situations when you want to spend some quality time in the woods, far away from the Internet, Bluetooth, electricity, etc.
SL-SV550 features hold function, which enables you to "freeze" the device when not in use and prevent unintentional pressing of buttons and commands. After you "unfreeze" it, the playback will be resumed and it will pick up right there where it stopped.
When it comes to sound quality, we can say that this Panasonic player offers satisfying quality for the price.
Things we don't like
Unfortunately, we noticed that the device is rather plasticky and it won't last long if exposed to severe use. The headphones aren't great as well. Some customers complained about their wires sticking out. However, the good thing is that you can choose other headphones to use with SL-SV550, some that fit you better.
Also, we have to warn you that the AA batteries necessary to operate the device aren't included in the package.
---
2. Best Deal: Panasonic SL-SV500
The next model on the list of 5 best Panasonic radio CD players is SL-SV500. It's quite affordable, small, and practical for outdoor use. It can be AC or battery powered. The package doesn't include an AC power cord or batteries but you do get the device, user manual, and Panasonic on-ear headphones.
Things we like
Panasonic SL-SV500 comes in a silver/black color combination. It's very thin, small (5.3×1.2×5.2 inches), and light (it weighs 9.3 oz).
Almost all the controls are right on the top. The CD compartment is also located there. You will see a rectangular LCD display that shows information about the current mode, FM/AM stations, tracks, battery status, etc. The controls are distributed in two circles. In the inner circle, you'll find memory/recall, tuning mode, monoaural/stereo, S-XBS, radio/band, and play mode buttons. In the outer circle, there are the stop/operation off, tuning/skip/search, volume controls, and play/pause buttons.
On the back panel, you'll find a connector for the car adapter and a 4.5V DC IN jack. The battery compartment is on the bottom and it stores 2 LR6, AA, or UM-3 alkaline batteries that will provide you with 25 hours of CD playback or 75 hours of radio operation.
On the left side, you'll see a CD release button as well as the hold button that prevents accidental or unwanted turning on while not in use or unintentional pressing of any buttons. This is a very useful function as it saves battery life and enables you to resume the playback just where it stopped.
On the front, there's only one button – the open switch that opens the cover to access the CD compartment.
SL-SV500 synthesizer tuner enables you to store up to 30 radio stations (15 FM and 15 AM). Once it memorizes them, they stay put. Also, the player supports anti-skip technology and enables you to program the listening of 24 tracks.
The sound is very pleasant and clear enough even for more classical music. The device is also decently loud.
Things we don't like
While we understand that batteries don't have to be included in the package, we would really love to have an AC power cable included.
When it comes to build quality, we noticed the device is a bit too plasticky. Although we don't recommend testing it by dropping on a hard surface, we believe it can survive a few scratches. Not perfect but quite passable for the money.
---
3. Most Compact: Panasonic SL-SX289V Jogger
Here's another great Panasonic player made for active people who work out every day. SL-SV289V Jogger is small, affordable, and it performs great. It supports anti-shock and anti-skip technologies, as well as hold feature. The player can be AC or battery-powered.
Things we like
Panasonic SL-SV289V Jogger comes in a great combination of black, silver, and blue colors, as well as its Panasonic on-ear headphones. On the top, you'll immediately notice the LCD display that informs you about the chosen mode and radio stations. It also shows track numbers and length, as well as battery status.
Around the display, there are control buttons that make managing radio and CD operation quite easy. On the left, you'll find memory/recall, tuning mode, anti-shock/FM mono/stereo buttons, and the buttons that enable you to fast forward, rewind, or skip tracks. On the right side, there are the play/pause, stop/operation off, repeat, radio/band, and S-XBS buttons.
The open button on the front side lets you fully open the CD compartment and easily replace your CD. There are also headphone volume controls, headphone jack, hold switch, and play mode selector.
On the back panel, there's a 4.5V DC IN jack, while the battery compartment is on the bottom.
The player is easy to use and it works like a charm. The sound is great and its 40-second anti-shock memory enables smooth operation even while jogging. This means that when certain shock causes an error, the system prevents your ears from hearing it by playing back music from the memory buffer. Also, the MSH 1-Bit D/A system makes sure that all your CD R/RW discs sound great.
Panasonic Jogger has a built-in radio tuner that enables you to save up to 30 stations (20 FM and 10 AM). In fact, as the tuner is digital, it helps the device to memorize the chosen stations and prevents it from drifting off in different circumstances.
As we've said, the device operates when connected to a wall socket but also when powered by 2 AA batteries. The great thing is that these 2 batteries can provide you with up to 25 hours of CD and up to 75 hours of radio playback.
Things we don't like
Unfortunately, the device supports only standard CDs, so you won't be able to listen to MP3 discs using Panasonic Jogger.
In addition, the player doesn't come with batteries or AC cord.
---
4. Most Feature-Rich: Panasonic RX-D55GC-K Boombox
If you think that Panasonic makes only small radio CD players, you are wrong. Panasonic released some amazing boomboxes and we are going to present one of called RX-D55GC-K. It's a very unimaginative name for such a feature-rich device.
Things we like
RX-D55GC-K is an interesting combination of retro design and modern technologies. It comes in a silver-black color combination with four large 5W 2-way speakers on the sides and CD and cassette players and radio tuner in the middle.
On the top, you'll see a handle, which is quite useful if you want to bring it with you. There's also the cassette compartment. The antenna and the battery compartment are located on the rear panel, while all the controls and the CD compartment are on the front.
The device has an LCD display with yellow background light. There you can find the information about the radio station, the current CD track number, selected input source, etc. Right there, you'll find the control buttons, headphone output, AUX input, and a USB port. The CD compartment is almost at the bottom and it ejects by pressing a button, just like a DVD player.
As you can see, you can use the device both indoors and outdoors. When you use it outdoors, you can power it with 8 LR14 C batteries. It supports CD-R/RW and MP3 disc types. You can play music from a USB, an external device such as a smartphone, tablet, player, etc. or you can plug in your headphones when you want to listen to some music without disturbing people around you. Another option is to choose your favorite radio station and let it shuffle your favorite music.
The product is rather compact and it weighs only 8 pounds. It's mostly made from plastic, while the speakers are protected with a metal grille. When it comes to its durability, we believe that this is a fairly solid unit and that it will last you for quite some time.
The sound that comes from the Panasonic RX-D55GC-K is quite good. In fact, some even compare it to the sound of Sony's players. It has a great equalizer with 4 preset modes, sound virtualizer, and MP3 re-mastering features. The treble and bass can be controlled. In addition, the boombox comes with its own remote, so you don't even have to move to control the playback.
Things we don't like
We couldn't notice any major flaws but we have read what other users said and you should know that some of them experienced problems with the CD recognition and playback interruptions.
---
5. The Most Unique Design: Panasonic SL-SW960V
Panasonic SL-SW960V is probably the most interesting portable Panasonic radio CD player. It has quite a unique appearance with Active Spin design on the top, which makes the player even more amusing than it seems. It offers great performance, it's very compact (5.5×1.1×5.5 inches), and highly portable (10 oz).
Things we like
As you can see, the design of SL-SW960V is somewhat different from the design of the other reviewed portable players and that's one of the most important reasons why we decided to include it in our list of 5 best Panasonic radio CD players in 2021.
It has a round shape, just like the other portable CD players, but the build quality, the control scheme, and the display itself are quite different. On the top, you'll see all the controls – there's a small LCD display surrounded by nicely distributed buttons. On the left side, you'll find the volume controls, S-XBS button, memory/recall button, FM, and mode buttons. On the right side, there are the tuning mode, radio/band, play/pause, and stop buttons, as well as buttons for playback control.
Recommended Reading :

On the front side, you'll notice the dual-lock mechanism that prevents the CD compartment from being unintentionally opened, protecting discs from getting damaged. Also, the housing around the CD has an excellent seal because the device is water-resistant. This also refers to the battery compartment on the bottom that stores 2 AA rechargeable or non-rechargeable batteries. Apart from the CD compartment, the headphone jack and the AC power connector are also well protected from liquid intrusion with nice rubber caps.
Just like the other reviewed players, SL-SW960V features anti-shock and anti-skip technology with 100-second backup memory for MP3 CDs and 45-second memory for regular CD-R/RW discs. Aside from being shock-proof and waterproof, the player is also heat-resistant.
The digital tuning system enables you to save up to 30 preset stations (20 FM, 10 AM).
The device can be AC or battery-powered. You can insert rechargeable or non-rechargeable batteries. However, different batteries mean different operating times. With two alkaline batteries, you'll get up to 35 hours of playback time for MP3, 23 hours for regular discs, and even 75 hours for listening to the radio. With rechargeable batteries, these times reduce to 14 hours for MP3, 10 hours for CD-DA, and 30 hours for radio mode.
Things we don't like
One of the most important complaints about this product relates to its audio performance. Some users claim that they experienced problems with a muffled sound, non-balanced bass, etc. Also, some of them reported that the unit isn't very loud.
---
At the end of the list of 5 best Panasonic radio CD players in 2021, we just want to say that we gave our best to present to you the finest players made by this well-known Japanese company. We hope that this article was intriguing and helpful. In case you have any additional questions or need additional explanations, please check out our FAQ section. Also, feel free to share your experience and leave a comment below.
---
FAQs
Q: Is Panasonic a Good Brand?
A: Panasonic is an old brand that was quite famous for its audio equipment, especially CD players. However, the expansion of other brands and new technologies on the audio equipment market has resulted in Panasonic losing its leadership. Today, they aren't as popular as Bose, Sennheiser, or some other audio brands but they still have numerous satisfied customers that buy their products every day.
Q: Do All CD Players Have Built-In Radio?
A: No, not all CD players have built-in radio tuners, especially those more modern ones. We guess that this happens because new technologies are constantly replacing the old ones as people lose their interest. For example, the implementation of SD cards caused MP3 discs to become old-fashioned because SD cards are smaller, more durable, and portable, and they can store more songs than a disc. Somehow, listening to radio stations has also become old-fashioned less popular, and mostly older people still love it. Luckily, players with built-in radio tuners still exist and all of you who love the sound of radio can enjoy it.
Q: What Panasonic Radio CD Player Is the Best?
A: We did our best to put together our list of 5 best Panasonic radio CD players. Apart from testing and reviewing them, we've also categorized them to make your search even easier. Hopefully, these reviews will help you find your perfect player easier and faster.
Q: What Features a Good Radio CD Player Should Have?
A: Every good radio CD player shall at least look decent. After all, we're living in the era of thoughtfully designed devices and gadgets, so why shouldn't your player look good. In addition, the player shall be as compact and portable as possible and shall support wireless use. Also, it shall support as many CD formats as possible (especially MP3) and be able to memorize many radio stations. Last but not least, a device like this should definitely sound good.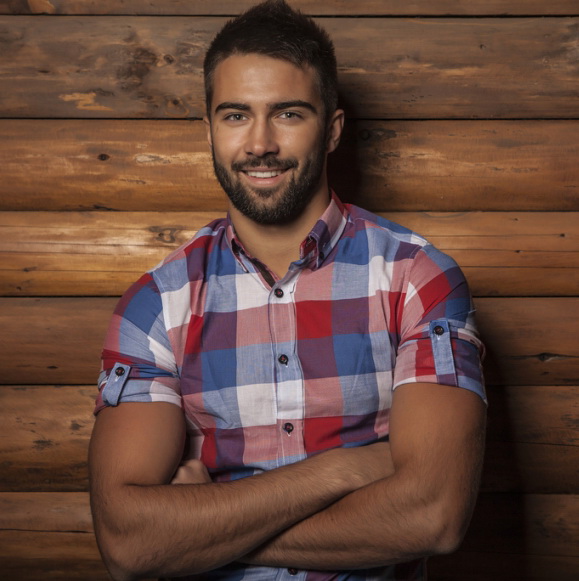 Hello, my name is James Longman.
I'm a writer and editor at AudioReputation. I disassembled my first portable AM/FM radio when I was only 8. At the age of 11, I burned the circuit board on my old boombox cassette player. I'm not going to explain how but it was reckless and stupid.
Since then, I have become much more careful around radios, boomboxes, and other audio devices (at least, I like to think so) but I have never lost the passion for audio equipment. Throughout 20 years of my professional career, I've been working for various audio equipment manufacturers and even started building speakers on my own in my little workshop.
I love the work we do here at AudioReputation. Testing, comparing, and evaluating all kinds of audio devices (speakers, soundbars, headphones, home theater systems, etc.) is something I truly enjoy. I try to be unbiased and give you my honest opinion on every piece of equipment I test. Still, you should take my reviews with a pinch of salt and always be just a little bit skeptical. The fact that I liked some speaker or soundbar doesn't mean that you are going to love it. If you have the opportunity, you should test it/hear it before buying it.