AudioReputation is reader-supported. When you buy through links on our site, we may earn an affiliate commission Learn More
Looking for a pair of high-end floorstanders for your stereo system or your surround sound system? Paradigm Persona 5F loudspeaker might be just the thing you need. A pair of these beauties will cost you as much as a nice car but, if you still decide to buy them, you will be awarded the best listening (and visual) experience of your life.
Paradigm is a famous speaker manufacturer from Canada. They've been in the business since 1982 and, up until three years ago, they've been known for their high-performing and relatively affordable speakers and home theater solutions. Before the Persona line, Paradigm's previous flagship floorstanders were priced around $5000 per piece. Shure, that's not cheap but it was still much cheaper than the high-end speakers made by KEF, Focal, B&W, Sonus Faber, etc.
After 35 years, this reputable manufacturer finally decided to enter the high-end market. Paradigm invested all of its expertise and experience into this magnificent speaker line. The flagship floorstanding speaker from the Persona line is called 9H and it's priced at $35,000 (for a pair). Paradigm also offered a few cheaper and smaller alternatives including 7F, 5F, and 3F floorstanding speakers. Today, we are reviewing their Persona 5F floorstanders. 5F speakers are considerably cheaper than the 9H flagship but, with a $17,000 price tag, they are still very much high-end speakers. So, let's see what kind of performance these monsters deliver.
The list of things we loved about Persona 5F starts with the visual appearance. Now, we know that terms "impeccable craftmanship" or "dazzling design" are clichés but there's no better way to describe their appearance. Also, their ability to blend into any environment is simply amazing. And this is just the beginning. 5F's performance is its greatest highlight. Paradigm used many of its patented technologies including Truextent Beryllium tweeters and, surprisingly, Truextent Beryllium midrange drivers. Also, the manufacturer used its X-PAL pure aluminum low-frequency drivers, ART surrounds, and perforated phase-aligning driver lenses. The results are magnificent – exquisite midrange performance, detailed and natural treble, accurate and dynamic bass response, uniform sound dispersion with a wide soundstage, and neutral frequency response. So, everything you could possibly expect from this kind of speaker.
The biggest ''downside'' is the speaker's price. A pair of these will cost you approx. $17,000. And this is not the only cost. You will also have to buy a powerful amp (or preamp and amp). If you are building a home theater system, you'll need a center speaker, surround speakers, and a subwoofer. A minor downside is also the lack of that really low-end rumble. Those 7in low-frequency X-PAL drivers simply have some limitations, which is perfectly natural. They will outperform any other driver of their size but they can't do the sub-bass. Pairing two Persona 5F floorstanders with a nice subwoofer (preferably the SUB from the Persona series) will eliminate an excessive burden from the floorstanders and improve the overall audio performance.
Striking design

Impeccable build quality

Surprisingly easy to drive (thanks to high sensitivity)

Accurate, punchy, and textured bass response

Unmatched midrange response

Sparkling treble

Neutral frequency response

Incredibly wide and enveloping soundstage
Expensive

Lacks sub-bass rumble (adding a powerful subwoofer would be a noticeable upgrade)
Paradigm Persona 5F delivers everything you would expect from a high-end floorstanding speaker in its price range. The manufacturer didn't make any compromises and delivered a product of the highest possible quality. Paradigm Persona 5F is one of the best speakers we've ever heard.
What's in the box?
Persona 5F comes in a huge box with two large pieces of foam on the top and bottom. Along with the speakers, you will get carpet Spikes, rubber feet, Allen key, user manual, and a 5-year limited warranty.
Specs
Paradigm Persona 5F Loudspeaker Specifications
DIMENSIONS
Width
9.5in
Height 
46.5in
Depth
16.9in
Weight
95lbs/43kg
DRIVERS
Low-frequency drivers
7in high-excursion X-PAL drivers x3
Midrange driver
7in Truextent Beryllium driver x1
Tweeter
1in Truextent Beryllium dome tweeter x1
ENCLOSURE TYPE
Ported, down-firing bass reflex port
ENCLOSURE MATERIAL
Seven-layer HDF wood
INPUTS
Dual 5-way binding posts
CABINET FINISH
High gloss – black and white

Metallic gloss – silver and blue
TECHNICAL DETAILS
Frequency response
45Hz-45kHz (+/-2dB)
Low-frequency extension
23Hz
Nominal impedance
8Ω
Sensitivity
93dB
Max power input
300W
Recommended amp power
15-500W
Driver architecture
3-way
Crossover type
3rd order electro-acoustic
Crossover frequencies
Bass/mid – at 450Hz

Mid/treble – at 2.4kHz
Design
Persona 5F is a striking speaker. Every single line was carefully designed and curved. Paradigm did an immaculate job and made no mistakes. You won't see any imperfections or rough edges. The moment you see it and touch it, you'll know that you're dealing with a premium product. 5F's design is unique, maybe somewhat industrial, but still able to blend into any interior.
5F is available in two high gloss and two metallic gloss finishes – vanta black, harmony white, sonic silver, and aria blue. These are standard versions but, if you are prepared to pay more, Paradigm can customize the speaker for you.
Available in 4 standard colors
There's a special section of the Paradigm called Paradigm design studio that performs all the customizations. There are 18 premium cabinet finishes and two versions of the metal works (black and silver). You can also select the color of the lenses, woofers, and grilles. Speaker customization will cost you approx. $2,500.
Paradigm design studio can customize your speaker to match the existing interior
Features
All the speakers from the Persona line use the most advanced Paradigm's patents including Truextent Beryllium drivers, X-PAL woofers, perforated phase-aligning lenses, and ART surrounds.
All the components are packed inside a beautifully crafted enclosure made from HDF wood.
Non-resonant cabinet made from 7-layer HDF wood composite material
All the drivers are aligned along the vertical axis on the front panel. The enclosure houses one beryllium 1in tweeter, one 7in beryllium midrange driver, and three 7in X-PAL woofers. It's a 3-way design with 3rd order electro-acoustic crossovers. The crossover frequencies are set at 450Hz and 2.4kHz. Due to the relatively high sensitivity (93dB), the speaker is relatively easy to drive and doesn't require an extremely powerful amp. The max power input is 300W.
Persona 5F has two sets of externally connected input terminals with jumper bars. In case you feel that your speaker needs more power or if you want to achieve better performance, you can bi-wire or bi-amp the speaker (you can find all the instructions in the user manual, pages 15 and 16).
Two sets of 5-way binding posts connected with jumper bars
Now that we've covered some basic features, let's dig a little bit deeper and find out more about the components.
Feature overview
---
Truextent Beryllium tweeter
You've probably heard before about Beryllium tweeters. Beryllium has been used for tweeters for decades. You can find it on many high-end speakers made by other manufacturers (KEF, Focal, etc.).
Beryllium tweeters are one of the Paradigm's trademarks. Paradigm patented Truextent pure Beryllium foil, which is incredibly stiff and light which is a perfect combo for a speaker driver.
Thanks to its physical characteristics, the Beryllium tweeter should deliver transient, transparent, and very detailed treble response.
---
Truextent Beryllium midrange driver
While there are a few manufacturers using Beryllium for their tweeters, Paradigm is the only one using its pure Beryllium foil for the midrange drivers. In fact, Persona is the only speaker line in its class with Beryllium midrange drivers.
The use of the same material for the tweeter and midrange driver makes the transition between the mids and highs much smoother.
The beryllium midrange driver is also responsible for perfectly accurate and uncolored midrange reproduction.
---
Perforated phase-aligning driver lenses
PPA lenses are, just like Truextent Beryllium drivers, one of the Paradigm's patents.
These lenses protect the Beryllium tweeter and midrange driver but they are also supposed to smoothen the audio reproduction by blocking the frequencies that are out of phase without affecting the sound or adding any coloration.
---
ART surrounds
Active Ridge Technology (aka ART) is another Paradigm's patent. ART surrounds are made from injection-molded thermoplastic elastomer and are directly over-molded onto the cone woofers.
They are more durable and provide greater excursion and lower distortion than the regular driver surrounds.
---
X-PAL bass drivers
Persona 5F floorstanders also use three Paradigm-patented X-PAL drivers. The drivers are made of pure aluminum.
The lightness and stiffness of aluminum, combined with ART surrounds, should provide you with accurate, consistent, and uncolored low-end response. Also, the distortion is almost eliminated from the equation.
---
Installation and Performance
Persona 5F speakers are quite flexible in terms of placement. You have some useful placement suggestions in the manual for achieving the best timbre, the most accurate bass, and optimal imaging. If possible, you should try to follow these instructions.
Also, 5F speakers are not as crazy demanding and power-hungry as some other audiophile speakers. Their power requirements are quite modest thanks to their high sensitivity. They will definitely benefit from a powerful high-end amp, but they will shine even with something much cheaper and less powerful.
After placing and connecting the speakers to our preamp/power amp combo (PS Audio's Stellar Gain Cell preamp/DAC and two M700 mono amps), we've started our testing.
Just a few minutes into our test, we were dazzled by the 5F's musicality and its detailed and smooth audio reproduction.
Two 5F speakers handled every possible music genre in such an effortless fashion. We were impressed by the enveloping soundstage created by these two speakers. The listening experience was so vivid, almost lifelike. The speakers didn't show any sign of struggle, even with the most complicated orchestral music.
The bass was very tight, controlled, punchy, and fast. It was pretty good but not earth-shaking. If we would have to pinpoint one thing that's not perfect, it would probably be the bass. It's not about the quality (which is, by the way, impressive). It's more about the quantity (or rather depth). This speaker features three 7in bass drivers and their bass extension is impressive (considering their size) but, adding a powerful high-end subwoofer to the equation would strengthen the foundation and improve the overall performance.
Recommended Reading :

The midrange was simply flawless. The refreshing clarity, remarkably detailed and dynamic reproduction, full and rich vocals, are the biggest highlights when it comes to mids.
The transition from mids to highs (and vice versa) was so smooth and seamless. The use of Beryllium for both driver types (tweeter and midrange driver) proved to be an excellent idea and the implementation was even better. You can hardly get this kind of smooth transition, even with much more expensive speakers (excluding larger floorstanding speakers from the Persona line).
Another huge highlight is the treble reproduction. It's perfectly clear, detailed, and crispy, without any signs of brightness or harshness.
The sound dispersion was uniform and the soundstage was huge. The speakers easily filled our 20×20 test room with sound. Two 5Fs have the ability to cover surprisingly large listening areas. The sound is not concentrated onto the ''sweet spot'' – it envelops the whole listening area.
The overall sound signature is perfectly neutral. The imaging is accurate and the separation between different vocals and instruments is simply amazing.
The Competition
It may surprise you, but the number of viable high-end alternatives at this price point is actually quite large. We've picked out three, but there are quite a few brands you should also check out if you are in the market for a high-end floorstanding speaker – Bowers & Wilkins, Monitor Audio, Dali, Revel, Vandersteen, Klipsch, etc.
---
Paradigm Persona 3F
Sometimes, the siblings can be the best substitute, especially if you are looking for a similar performance at a more affordable price.
Persona 3F is priced at $7,000 and it features the same kind and size of drivers – Beryllium tweeter, Beryllium midrange driver, and X-PAL bass drivers. It only has two bass drivers instead of three and it's all packed inside the same-looking but smaller enclosure.
The smaller enclosure and the lack of one bass driver resulted in some minor downsides. The bass response is equally tight and accurate but slightly less deep and the dispersion of sound is not as wide. Persona 3F is a perfect choice for smaller rooms (up to 15×15).
---
Focal Kanta No3
Kanta No3 is another ''cheaper'' alternative – you can have a pair of these for $12,000. Just like the Persona line, Focal Kanta No3 features a very unique and attractive design but this is not the only similarity between the two speakers.
Both Kanta No3 and Persona 5F feature 3-way designs and have pure Beryllium tweeters. Also, both speakers are quite sensitive and don't require a huge amount of power to shine. Kanta No3 also features Focal's 6.5in Flax midrange driver and two 8in Flax bass drivers.
Kanta No3 goes lower and deeper than the 5F, while the 5F delivers better sound dispersion and wider soundstage with slightly smoother treble and smoother transition between mids and highs. They are both amazing high-end speakers offering very neutral and dynamic sound reproduction.
---
KEF Reference 5 Ultimate
KEF Reference 5 Ultimate floorstanders are a little bit pricier alternative. They are usually priced around $20,000. They are a bit more ordinary-looking than the Persona 5Fs or Focal's Kanta No3s, but they offer equally impressive audiophile-grade performance.
KEF is best known for its proprietary Uni-Q driver arrays with coaxially arranged tweeters and midrange drivers. Reference 5 Ultimate speakers feature the latest iteration of the Uni-Q drivers with a 1in aluminum dome tweeter and 5in midrange driver. They are paired with four 6.5in aluminum alloy bass drivers. Everything is packed inside a large non-resonant ported enclosure. Reference 5 speakers are also fairly sensitive and don't require a lot of power.
Compared to Persona 5F, the Reference 5s deliver similar bass response – it's textured and controlled but you're going to need a subwoofer to cover those really low frequencies. The midrange and treble are immaculate. The reproduction is balanced, musical, and very enjoyable. The sound dispersion is even and the transition from mids to lows is super-smooth.
---
Comparison Table
| Speaker | Sensitivity | Impedance |
| --- | --- | --- |
| Paradigm Persona 5F | 93dB | 8Ω |
| Paradigm Persona 3F | 92dB | 8Ω |
| Focal Kanta No3 | 91dB | 8Ω |
| KEF Reference 5 Ultimate | 90dB | 8Ω |
Final Thoughts
If you are in the market for a high-end floorstanding speaker under $20,000, Persona 5F is one of the best options. A pair of 5Fs will undoubtedly meet your expectations no matter how high they are. Their musicality, refinement, and neutral sound reproduction will make your audiophile ears so happy.
This speaker really has everything – unique look, tight and punchy bass, flawless midrange, natural and detailed treble, smooth mid-high transition, uniform sound dispersion, extremely wide and deep soundstage, and perfect imaging. The only ''flaw'', aside from the price, is the lack of the rumble but that can be ''easily'' solved by adding a powerful subwoofer (preferably SUB from the Persona line).
If you're building a high-end home theater system, you should consider pairing two 5Fs with the Persona SUB, Persona C (center channel), and two Persona Bs (bookshelf speakers).
Persona speaker line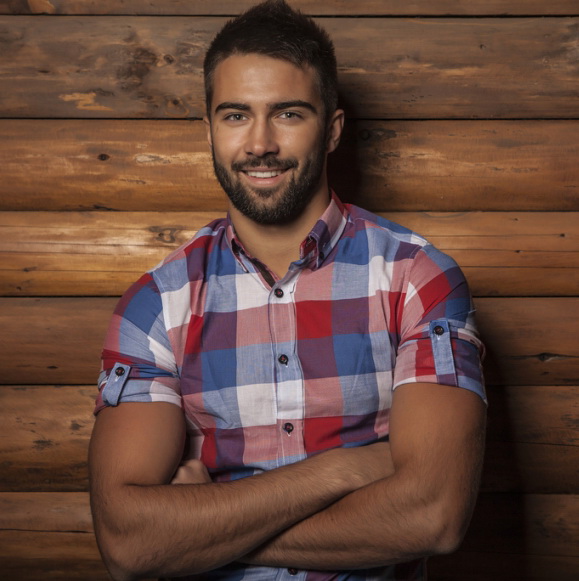 Hello, my name is James Longman.
I'm a writer and editor at AudioReputation. I disassembled my first portable AM/FM radio when I was only 8. At the age of 11, I burned the circuit board on my old boombox cassette player. I'm not going to explain how but it was reckless and stupid.
Since then, I have become much more careful around radios, boomboxes, and other audio devices (at least, I like to think so) but I have never lost the passion for audio equipment. Throughout 20 years of my professional career, I've been working for various audio equipment manufacturers and even started building speakers on my own in my little workshop.
I love the work we do here at AudioReputation. Testing, comparing, and evaluating all kinds of audio devices (speakers, soundbars, headphones, home theater systems, etc.) is something I truly enjoy. I try to be unbiased and give you my honest opinion on every piece of equipment I test. Still, you should take my reviews with a pinch of salt and always be just a little bit skeptical. The fact that I liked some speaker or soundbar doesn't mean that you are going to love it. If you have the opportunity, you should test it/hear it before buying it.