AudioReputation is reader-supported. When you buy through links on our site, we may earn an affiliate commission Learn More
Looking for a reasonably priced and versatile pair of powered stereo speakers? Peachtree Audio M25 might be just the thing you need. They can be attached to any analog or digital audio source in your house, including your turntable (no phono preamp needed) and they deliver an impressive sonic performance for their size. In this review, we will discuss the most noticeable features and performance of this amazing and affordable stereo system. Keep reading if you want to find out more.
---
Peachtree Audio M25 is an upgraded version of the M24. The term ''upgraded'' mostly refers to the size of the cabinet and size of the drivers. In other words, M25 is larger than M24 and has larger drivers, which basically means bigger sound. So, while M24 is a great choice if you need desktop speakers, M25 could be a great choice for your home stereo system. Both stereo systems feature the same connections and they are both equally versatile.
M25 speaker set is simple, boxy, but still elegant in its simplicity. The input panel on the back panel allows you to connect numerous audio sources including turntable (no preamp needed), desktop or laptop computer, CD player, TV, streaming devices, CD player, or some analog audio source (via RCA inputs). There's also the Bluetooth connectivity so you can stream music from your phone. You can even attach an additional subwoofer if you want more bass. As you can see, an impressive number of features is packed inside these compact boxes.
The audio performance is on par with the price. It's very balanced, rounded, with sparkling highs and detailed mids. Some people may find the bass tiny, but if you need more punch, you can always buy an additional powered subwoofer (nothing extremely powerful – 8in sub will be just enough).
Simple and aesthetically pleasing design

Impeccable build quality

Great connection versatility – RCA (phono/aux), TOSLINK, USB Type-B

Sub output – you can connect an additional subwoofer

Bluetooth connectivity

USB charging port

Balanced and enjoyable sound signature

Adjustable bass and treble (you have to use the remote)
Lack of aptX support

The volume controls are not integrated in Bluetooth mode (you have two separate volume controls – one on the unit itself and the other on your phone)
Considering all the features, connections, and sound quality, Peachtree Audio M25 represents one of the best choices under $400. It's hard to call it affordable, but that kind of flexibility and performance comes at a price and the price is reasonable. You can connect a variety of devices, including your turntable (no external phono preamp needed), and you will get amusing and enjoyable audio with each of these audio sources.
What's in the box?
The package includes 2 speakers, removable grilles, remote, angled rubber stands, AC power cable, RCA and digital optical cable, speaker wire, user manual, and 1-year warranty. It's a nice and very generous package. We haven't expected rubber stands (the manufacturer calls them M bases) – it was a nice and thoughtful detail.
Peachtree Audio M25 Specifications
DIMENSIONS
Width
168mm/6.6in
Height
260mm/10.2in
Depth
204mm/8in
Weight
8.7lb
DRIVERS
Midrange woofers
5.25in x1, fiberglass cone
Tweeters
1in x1, soft dome
ENCLOSURE TYPE
Ported
POWERING OPTIONS
AC power cable (100V-240V)
INPUTS
RCA x1

Digital optical x1

USB Type-B x1

USB Type-A x1
OUTPUTS
Sub out x1
OTHER CONNECTION OPTIONS
Bluetooth
OTHER TECHNICAL DETAILS
Frequency response
50Hz-20kHz
Output power
50Wx2
Sensitivity (1W at 1m)
85dB
THD
Less than 0.1%
Nominal impedance
4Ω
ADDITIONAL FEATURES
Remote

AUX/PHONO switch

USB charging port

Bass and treble controls
Design
M25 speakers are simple, compact, and boxy but still elegant and sophisticated. All the edges are rounded which adds a little bit of style. You can choose between two finishes – glossy piano black and real bamboo. For some reason, the bamboo version is $50 pricier.
The cabinets are made from MDF. They are 6.6in wide, 10.2in tall, 8in deep. The right one is the main speaker (has all the inputs, outputs, and controls) and it's much heavier than the left one.
Available in two versions – piano black and real bamboo
The speakers come with removable fabric grilles. You can leave them on or remove them – it's entirely up to you. There's one odd thing, though. On the front panel of the right speaker, there's a volume/input knob and you won't be able to use it if the grille is on. Luckily, you can always use the remote.
As we have said, all the inputs/outputs and controls are on the right speaker. On the front panel, you can see 2 drivers (5.25-in woofer and 1-in tweeter), volume/input knob on the right side (rotate it to adjust volume or press it to change the input), and a small window with the LED status indicator and IR receiver (for the remote). The LED status indicator changes colors depending on the source (red-standby, white-optical, green-RCA, orange-USB).
On the rear panel, there's a great selection of inputs. You have RCA input with the RCA switch (two positions – phono and AUX), digital optical input, USB Type-B (for connecting the computer), ground screw terminal (for the turntable), sub output (for connecting an additional subwoofer), USB charging port (5V/1A), AC input (100V-240V), power switch, and speaker outputs for the left speaker. Above the input panel, there's a bass reflex port which improves the bass response.
Right (main) speaker – front and rear panel
On the left speaker, you will find only two drivers on the front side and speaker terminals and bass reflex port on the back.
Left speaker – rear panel
Features
These compact speakers are packed with all kinds of features. There's a built-in amp as well as DAC inside the right speaker.
Each speaker features one 5.25in fiberglass cone woofer and 1-inch soft dome tweeter paired with a 2-inch rear-firing bass reflex port at the back. The built-in amp can output 50W of RMS power per channel which doesn't seem much but it's more than enough for small or medium-sized rooms (up to 15x15ft).
The inputs are what make the Peachtree M25 powered speakers unique and so desirable. You have RCA input with the RCA switch. You can use it to connect your turntable (an external phono preamp is not necessary – there's one already built inside) or you can turn the switch to AUX and use it to connect other analog audio sources with RCA or 3.5mm AUX output.
Then, you have digital connections – one TOSLINK digital optical input and one USB Type-B port. You can use that digital optical port to connect your TV or some streaming box, while the USB Type-B port is for connecting your computer. The built-in DAC handles hi-res audio files of up to 24bit/96kHz.
For connecting two speakers together you have 5-way binding posts compatible with banana plugs.
The right speaker also features a USB Type-A charging port. You can use it to charge your phone and other devices, but you can't use it for music playback (there's no way to plug in your USB flash drive and play the music from it). We could question the necessity of a USB charge-out port in a desktop speaker, but we are not going to – any additional feature is welcome (even if you are not going to use it often).
M25 also features Bluetooth connectivity. We haven't found any info on the Bluetooth version and supported Bluetooth profiles. What we know is that it doesn't support aptX low latency codec.
In the end, the package also includes the remote. The controls on the right speaker are pretty basic – you have a small knob that you can use to adjust the volume and switch inputs, but if you want more control you will have to use the remote. You can use it to control the playback (play/pause, forward/rewind), adjust volume, to select the input (AUX, OPT, USB, Bluetooth), and to play with the EQ settings (adjust bass and treble). If you want to bring back the default EQ settings, you can simply press the Flat button. The remote is small and simple, but it's very useful. Especially because of the EQ settings.
Simple but useful remote
Performance and Sound Quality
After you set up the system, connect all the audio sources, and connect two speakers together, you can turn them on and start enjoying. Connecting everything should not take you more than 10 minutes (if you have all the right cables).
We haven't noticed any glitches. The transition between different sources is very smooth and super-fast. There's no noticeable lag when shifting between sources. Bluetooth connection works just fine. The range is pretty much standard (approx. 30ft within the line of sight) but the audio quality is not impressive. The Bluetooth module doesn't support aptX low latency Bluetooth codec and you will notice this if you try watching videos on your phone while sending the audio to the speakers. There's a noticeable sound lag.
All the other connections (both analog and digital) deliver better sound quality and more detailed sound than Bluetooth.
M25 can handle 24bi/96kHz hi-res audio with digital audio sources, but some of you might still prefer the good-old vinyl.
We were also quite happy with the audio reproduction of our Deep Purple vinyl collection. The sound is well-balanced, full, and detailed. The speakers did a great job with vocals and mids in general. They are all perfectly clear and very natural. The highs are nicely composed with the midrange. They don't sound bright or overwhelming. The bass could be an issue – we have noticed the lack of definition and depth in songs like Highway Star and Burn. So, we were not impressed by the bass but it's probably better for it to be unimpressive or to lack body than to be overwhelming and distorted. Why? Because you can always attach a subwoofer and get a much better experience.
When connected to some digital source (via TOSLINK or USB Type-B port), the sound becomes more detailed and the bass improves. It becomes more textured and punchier but still lacks some depth.
The other aspects of the audio reproduction are also pretty much on par with the price. The soundstage is quite wide. It's not like live-concert wide, but still airy. Stereo imaging is not perfectly accurate and you can notice that when playing orchestral music. It's more than enough for rock, pop, R&B, and any vocal-oriented music.
Loudness is not an issue for small rooms and it can fill them with sound easily, but it is problematic for large rooms, and it could be insufficient for some medium-sized rooms. The good thing is that it doesn't get distorted at high volumes.
Comparison of The M24 And M25
The Peachtree M24 and M25 are almost identical, both high-quality powered bookshelf speakers, but some differences set them apart. The M24 is smaller and more compact, making it perfect for desktop use, while the M25 is larger, has a larger woofer, and can fill a larger room with sound. Talking about it's bass, the M24 has a 4" woofer, while the M25 has a 5 ¼" woofer, which, coupled with the increased cabinet size, allows the M25 to produce deeper bass notes.
Both speakers are available in gloss black or real bamboo color varients and have removable grills. The build quality is excellent, with the woofers and tweeters being of audiophile quality. The speakers have a rear-ported design that enhances the bass response and a 1" silk dome tweeter that produces crisp and clear high notes.
All the connections, DAC, and amplifier are housed in the right speaker, and you only need to plug it into AC power and run the included speaker wire to the left speaker. The M Speakers feature a dual-purpose knob on the front of the right speaker that can adjust the volume and scroll through the various inputs. There is also a little window on the left side of the speaker with different colored lights that indicate which input you are on. The M25 has a more solid knob than the M24.
Both the M24 and M25 have a variety of connectivity options. They have a built-in MM phono stage to connect a turntable directly to the speakers and a standard aux input for more flexibility. The built-in Bluetooth allows you to stream music from your smartphone or tablet. You can also use an external streaming device with optical digital input, take advantage of the built-in DAC inside the M Speakers, or use a TV with optical out. For use as a computer speaker, the USB connection on the back of the M Speakers is recommended, and they both include a USB charging port on the rear.
Both products also have a subwoofer out on the rear panel to increase the bass output, and the M25 has more bass response than the M24. The M25 could be the heart of a full stereo system, while the M24 is perfect for desktop use or in a smaller room.
The Competition
As we have already said, the market is crowded with powered speakers and the competition is huge. Depending on how much you are prepared to pay, you can get even better sound with more bass, but you can hardly get better connection versatility. It is practically impossible to get all the inputs and outputs in one unit for that kind of money. It's actually impossible to find all these inputs/outputs in much more expensive units. Peachtree M25 basically sets the limit when it comes to versatility.
---
We have reviewed AudioEngine A5+ wireless speakers a few weeks ago and we were pretty impressed. AudioEngine A5+ speakers are more expensive than the M25. The price difference varies between $100 and $150 (depending on the version).
Both speaker sets are very similar in terms of design and size. AudioEngine A5+ has slightly smaller woofers and tweeters which doesn't make a big difference when it comes to bass but it slightly extends the treble response.
Both speakers feature RCA inputs and subwoofer outputs. The advantage of the AudioEngine A5+ is the Bluetooth connection. A5+ features Bluetooth 5.0 with aptX support and an extended range of 100ft. M25 is much more limited when it comes to Bluetooth connectivity. The advantage of the M25 are all the digital inputs. A5+ has none. So, even though it's cheaper, M25 is more versatile.
Both sets of speakers deliver a similar sound signature with very detailed mids and clear highs, and they both struggle with the bass response. Luckily, they both have sub outputs. AudioEngine A5+ delivers slightly more detailed sound. M25 has adjustable bass and treble, while A5+ doesn't.
---
Edifier S1000DB and Peachtree Audio M25 are both similarly priced (around $350). Edifier S1000DB has a slightly larger footprint and has a slightly larger woofer. They both come with all the necessary cables and with a remote.
Both, Edifier S1000DB and Peachtree Audio M25 feature analog RCA and digital optical inputs. Edifier S1000DB features coaxial input while the M25 features USB Type-B port. M25 also features USB charging port. Edifier S1000DB requires a phono preamp for connecting a turntable, while you can directly connect it to the M25.
We are happier with Edifier's Bluetooth connection. It features Bluetooth 4.0 with aptX support and better range.
Edifier S1000DB delivers slightly deeper and firmer bass, while the M25 has slightly more detailed mids and highs.
---
Klipsch The Sixes are a little bit out of the M25's league. They are priced at $600 which is significantly more than M25 speakers. The Sixes have a beautiful vintage vibe and look really attractive.
In terms of connections, The Sixes are absolutely identical to M25. They both have RCA inputs with the RCA switch (phono/AUX), digital optical and USB Type-B inputs, as well as sub output. They both have USB Type-A charging ports. The only difference it the additional 3.5mm AUX input on the Sixes. So, there is no noticeable difference when it comes to inputs.
Also, both sets feature Bluetooth and allow you to stream music wirelessly.
Klipsch Sixes, like all the Klipsch speakers, have Tractrix horn tweeter which is Klipsch's trademark. Some people don't like them because they tend to produce brighter highs, but the Klipsch managed to soften the treble response by improving the horn design. There's also one 6.5in woofer responsible for the low frequencies.
The biggest difference between the two sets (besides the $300 price difference) is the sound. The Klipsch Sixes deliver more layered and more detailed sound with better, deeper, and firmer low end. They are also significantly louder than the M25 speakers. Just like with M25, you can always connect a powered subwoofer to the Klipsch Sixes and get an impressive 2.1 system.
---
The Kanto YU6 speakers feature a larger 5.25″ Kevlar woofer and a wider frequency response range of 50Hz – 20kHz, with Bluetooth connectivity, RCA, AUX, and optical inputs, and a more powerful built-in Class D amplifier of 200W peak power, compared to the Peachtree M24 speakers who have a 4.5″ woven-fiberglass woofer, a frequency response range of 60Hz – 23kHz, and a built-in Class D amplifier with 50W peak power, but offer USB, optical, and 3.5mm inputs for greater connectivity options.
The Kanto YU6 speakers have a lower frequency response range, indicating that they can produce deeper and more powerful bass. However, the Peachtree M24 speakers have a slightly higher frequency response range, which suggests that they may deliver slightly more detailed and nuanced sound in the upper ranges.
The Kanto YU6 speakers have a sleek, modern design with a matte finish and rounded corners. They are available in various colors, including gloss black, gloss white, and bamboo. They also come with removable grilles that allow you to switch up the aesthetic look of the speakers.
In contrast, the Peachtree M24 speakers have a more traditional design, with a wooden cabinet and a rectangular shape. Although they have a more classic look, the Peachtree M24 speakers' wooden cabinets are designed to reduce internal resonances, reducing distortion and enhancing sound quality. Overall, the Kanto YU6 is larger and heavier than the Peachtree M24.
Both the Kanto YU6 and Peachtree M24 speakers have adjustable treble and bass controls, allowing you to tailor the sound to your preferences. The speakers also have a remote control that lets you adjust the volume and other settings from a distance. However, the Kanto YU6 speakers have a subwoofer output that allows you to connect an external subwoofer and enjoy powerful bass. This is particularly useful if you're a bass lover and have the flexibility to upgrade your sound system.
Comparison Table
Frequently Asked Questions
Peachtree M24 vs M25 Powered Speakers – Which Is Better?
When it comes to bass impact, detail, and bigger sound, the Peachtree M25 Powered speakers are definitely the winner. The M24 is good as a computer speaker, but the M25 has enough output to fill a good-sized room. It makes the perfect addition to a home theatre system as it is larger as well.
Peachtree M25 vs Audioengine A5+ – Which Is Better?
This is a purely subjective topic since both the Peachtree M25 and Audioengine A5+ are both fantastic speakers with very similar features. What makes the Peachtree M25 stand out is its impeccable sound quality, compact size, and output ability enough to fill a good-sized room. The Audioengine A5+, on the other hand, offers a bigger sound and more bass, allowing it to fill a larger room. It boils down to what you're looking for in a speaker.
Final Thoughts
Peachtree Audio M25 truly impressed us. Finding this kind of connection versatility is almost impossible at this price point. These speakers have an integrated amp as well as DAC that can decode 24bit/96kHz hi-res audio. You can directly connect your turntable to the speakers (without an additional phono preamp).
Combine this kind of versatility with accurate and balanced sound reproduction and you'll get a highly desirable and affordable home stereo system. Probably one of the best under $400.
The only real problem could be the lack of depth in the bass department but you can easily solve this by adding some nice subwoofer.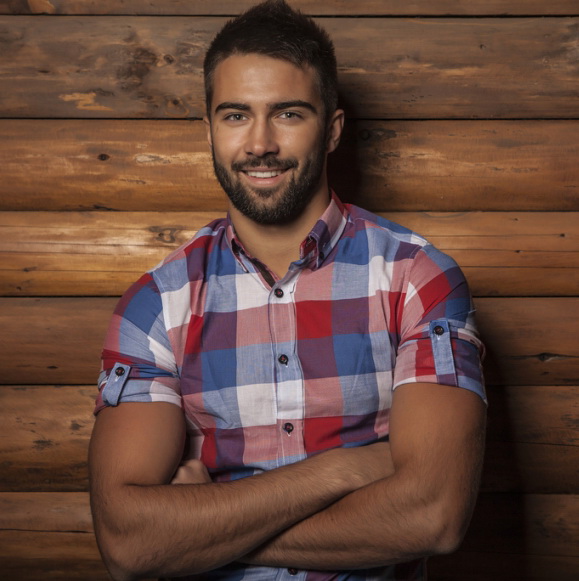 Hello, my name is James Longman.
I'm a writer and editor at AudioReputation. I disassembled my first portable AM/FM radio when I was only 8. At the age of 11, I burned the circuit board on my old boombox cassette player. I'm not going to explain how but it was reckless and stupid.
Since then, I have become much more careful around radios, boomboxes, and other audio devices (at least, I like to think so) but I have never lost the passion for audio equipment. Throughout 20 years of my professional career, I've been working for various audio equipment manufacturers and even started building speakers on my own in my little workshop.
I love the work we do here at AudioReputation. Testing, comparing, and evaluating all kinds of audio devices (speakers, soundbars, headphones, home theater systems, etc.) is something I truly enjoy. I try to be unbiased and give you my honest opinion on every piece of equipment I test. Still, you should take my reviews with a pinch of salt and always be just a little bit skeptical. The fact that I liked some speaker or soundbar doesn't mean that you are going to love it. If you have the opportunity, you should test it/hear it before buying it.