AudioReputation is reader-supported. When you buy through links on our site, we may earn an affiliate commission Learn More
Whether you're old enough to remember listening to cassette tapes or young but love all vintage things, you're going to love our list of 7 best portable cassette players in 2023.
In the 80s, you were considered rich if you had a cassette player, and these devices were a big hit back then. However, they were not used only for listening to music, but for expressing love or friendship. What I'm talking about is creating a mixtape, which you've probably heard of, no matter how young you are. The best gift you could give a person you care about back then was a mixtape you created by recording songs and your voice, and you know about that from many movies and TV shows. How about surprising someone you love with a gift like that? Well, it's still very possible, easy, and it doesn't cost much.
Best Portable Cassette Players – Comparison Table
Are Portable Cassette Players the Same as They Were When They First Appeared?
Whether you want to buy a cassette player for someone you care about, or for yourself, you should know that they aren't the same as they were… They're better. Now you don't have to use them only for listening to cassette tapes and making mixtapes. Do you have a lot of old tapes and even mixed tapes that mean a lot to you? These portable cassette players will allow you to convert all of them into MP3s! I remember recording myself on cassette tapes when I was just a little kid, and now I have those recordings on my computer!
Back in the day, when portable cassette players first appeared, we called such a player a "Walkman" because it allowed us to take it for a walk. It was the closest thing we had to today's iPods. As we did back then, you will have an FM radio and a sound recorder on your device. However, not everything about new portable cassette players is vintage! These improved versions of Walkman come with Bluetooth, too.
---
When we tested these products, we thought about you who want to take a trip down the memory lane and remember the good old times, as well as you who want to experience time travel and understand what your parents and grandparents are talking about it, and what being young was like for them. No matter which one of these two groups you belong to, your needs were taken into consideration when we created our list of 7 best portable cassette players in 2023 to help you choose the right one for you. 
7 Best Portable Cassette Players In 2023
1. Best for Both CD and Cassette: Sony Stereo CD/Cassette Boombox
If you're don't want a portable cassette player that looks like a Walkman and would rather have something that can be useful for CDs as well, this is the best possible choice. The full-function stereo sound will make it easy for you to enjoy being able to play CDs, as well as CD-R/RW, and your MP3 CDs. Sony never lets us done, and 19 hours of battery life bring this amazing product to the top of our list.
Things we like
The design and engineering of this cassette/CD player seem very good. This boombox can be easily carried around because it's very light and quite small, so it's really practical, portable and doesn't take up much space. The headphone jack is pretty easy to use. Using the cassette player is easy and simple as well, so it's perfect even for the elderly. All controls are clearly labeled, and they're in logical positions. The battery compartment easily and quickly opens and closes, but the batteries are sold separately (6 size C).
It has an excellent FM reception, and you can save up to 3 favorite stations. The sound quality is very good, and the speakers are quite loud. They project the sound over a quite long distance. The best part is that it has an AUX IN, which allows you to plug your iPod or phone in and listen to your favorite music or podcasts through the unit's speakers. It also has the mega-bass feature, so you can enhance the bass performance by simply touching a button.
If you use it as a recorder, you'll notice that it records pretty clean. You can even put your favorite CD's on cassette since that recording option is also available, which makes it easy for you to create a mixtape for the person you care about.
The product arrives on time, and you will see that it's just as described, expected, and pictured. A nice and often overlooked feature is an alarm clock. Sony is a very reliable brand, and their products are of great quality. If you want to have all three options – to listen to CDs, cassettes, and radio, this is the right product for you. You also get a one-year warranty.
Things we don't like
The unit doesn't feature Bluetooth connectivity. However, this problem can be solved by purchasing a Bluetooth cassette player adapter. There is also no remote.
---
2. Best Budget – Byron Statics Portable Cassette Player
Bring out your old cassette tapes and listen to the soundtrack of the good old times, when things were simpler. You can do that thanks to this easily portable, compact, and small cassette player. This is the most affordable portable cassette player on our list, so if you're looking to save as much money as possible and still get a decent device, this is the choice you should make.
Things we like
It uses a USB power supply or 2 AA batteries, however, make sure to take out the batteries before using a USB power supply. If you don't want to listen to your cassettes, you can always listen to the radio, thanks to the 3.5 mm headphone output (the earphones are included). However, you can listen to your cassette tapes even without using the earphones. The external speaker is of pretty good quality, so there are no distorted words or sounds, and it's quite loud. It's also easy to use its record option. The fun part is that you can choose the color because this player comes in blue or pink, and it's very easy to carry around wherever you go.
This product is compact and simple to use. When it comes to radio, it picks up a pretty good signal. Every button on this device works perfectly. When you order it, it arrives even sooner than you'd expect it to, and as described. It's a very inexpensive product, but you still get a one year warranty.
It has a belt clip, which makes it easy for you to walk around with the cassette player, and feel like you're back in the 80s.
Things we don't like
The earphones that are included are fine, but not of great quality, and buttons are somewhat hard to push. You might get concerned if it plays the tapes too slowly or quickly, but there's no reason to be worried that your cassette player is useless, even though we count the possibility of this happening a problem. Actually, the speed can be easily adjusted by using a thin flathead screwdriver through the hole in the back, however, make sure that the problem is not with the batteries by trying the new ones. Also, make sure that the batteries don't have an output lower than 1.5V.
---
3. Best Retro Stereo – Studebaker Portable Retro Home Audio Stereo
This is also a nice choice if you don't want a cassette player that looks like Walkman. This is a retro stereo for those of you who love this type of design. The retro style of this cassette player will bring back memories or make you feel like you traveled through time and visited the age you never lived in. Though other devices will bring you to the 80s, this one will remind you of the late 60s and early 70s. So, if you're looking for a possibility to play cassettes and record on them on the oldest looking device, this is a great choice. It's also perfect as a present for your grandparents and it will surely make them remember their youth!
Things we like
The plastic case is of good quality, and the tape controls feel pretty solid. It has a solid carrying handle, which will make it easy to carry it around with you. As for the radio reception on FM and AM, it's quite good. A radial style knob is used to change stations, but the internal tuner for tuning uses a digital receiver, like with many modern radios.
This portable cassette player can be pretty loud and still produce a clear sound. There's no distortion even when you play the tape at full volume. It has an auxiliary input.
When you order this portable cassette player, you will receive it on time as well as in good condition, and it will perform well. If you're a nostalgia addict, you're going to love this retro design, and if you're not, you can get it as a gift for your grandparents or any other elderly person you know! It will bring back memories, and they'll enjoy being able to listen to their old cassette tapes.
Things we don't like
Auto-stop doesn't work for RW or FF tape, even though it's included for playback mode. The sound isn't so great with all tapes, and even though the high-quality ones work great, some of the lower quality can jam. The microphone could be better, and the speaker is quite small. It picks up FM stations pretty well, but AM radio is not so good. Another small thing we don't like is that the buttons are hard to push.
---
4. Best Converter – MYPIN Portable Cassette Player
If you want to record your tape onto a USB flash drive, so that you can transfer it anywhere, this portable cassette player is the right choice for you. It can be done automatically or manually. With the auto mode, MYPIN portable cassette player will save each song into a separate track as an MP3 file. You can also use this option manually, by pressing a button. Of course, you can use it as a standard Walkman, and a nice perk is that it comes with a carry bag, so that it can always be protected when not in use.
Things we like
A computer is not required if you want to convert your cassette tapes with this portable cassette player, because, as we said, you only need to have a USB flash drive. It is compatible with USB3.0 and USB2.0 flash drives. For the best performance and prevention of skipping during playback when it comes to the recorded files, it's best to use a fast USB drive, which has a higher read rate.
As for the power source, you can use two AA batteries or a USB port, which is more stable. MYPIN Portable Cassette Player has a classic Walkman look which all of us who used to use Walkmans love. This cassette player comes with headphones, but you also get a carry bag, as we mentioned earlier.
The sound quality is impressive, but we recommend you to use your own headphones and not the ones that are included because they aren't of such great quality. You will get a very well manual that will help you understand how to convert your tapes.
Things we don't like
This portable cassette player mostly exists for the purpose of converting your tapes to MP3 files, so it doesn't give you the option to record on them as many others do. It also doesn't have a radio or a speaker.
The biggest advantage of this device in comparison to other similar ones is the automatic conversion directly on your USB flash drive since this is the easiest way to do this. However, in that case, you don't have any control over how it will select tracks, so it could happen that two songs end up on the same track, and it's better that you do it manually, especially for audiobooks.
---
5. Best Walkman Style – Eyesen Portable Cassette Player
We tried to look for the portable cassette player which style reminds us the most of the old Walkman, and we picked out this one. However, that is not the only reason it got on our list. A very nice perk you get when you buy this portable cassette player, which can convert your old cassette tapes to MP3 files, is that you also get the Audacity software to do it easily and edit your files until you're perfectly satisfied with your converted tapes.
Things we like
This portable cassette player does everything it should at a reasonable price. It's very easy to use; it's great that it comes with Audacity software, and it works exactly like advertised. Don't forget to use the noise reduction feature that the software provides you with so that the quality of the sound of your converted files would be better.
This device is small, handy, very durable, and lightweight, so you can easily carry it around with you wherever you go. When you play your cassette tapes, you will notice that the bass is pretty good and there is very little hiss.
When you order this portable cassette player, it arrives quickly and as described. As for the sound quality, it's very important to mention something that applies to all of the similar products. When you are converting your cassette tapes to MP3 files, you should stay aware that they are old cassette tapes. Therefore, the sound you get cannot compare to the sound you are used to in these modern times. You can improve the sound in the software, but you need to keep in mind how cassette tapes sound and that it's not the same quality as the music you are used to listening to. Cassette tapes didn't have a perfect sound when they were bought, and in addition to that, now they've gotten old, so you shouldn't be disappointed if the sound quality isn't perfect.
Things we don't like
The USB cable, which is included, is pretty short, so you will probably have to get another one. The instructions aren't very good, but since it's easy to use, it shouldn't be a very big problem. As for the included headphones, like with many others, we recommend that you use the ones you already had since they aren't of great quality. You could encounter a problem with the play button.
---
6. Best Recorder – The Pyle PCASRSD17 Portable Cassette Player
This player/recorder is a USB reader as well. You can save your files to a USB flash drive, and, much like the players we already mentioned, it gives you the option to record manually or automatically. The difference is that the automatic mode of this cassette player is somewhat better, and the price is slightly higher. Most of the portable cassette players really "eat the batteries", just like the old Walkman did, but this one doesn't, so it seems that you can use it a little longer than the others while using the same batteries.
Things we like
The sound quality is great, and the music plays perfectly fine. It comes with headphones included, and you can put it in your pocket and walk around listening to your favorite old cassette tapes. The USB connector is also included. This portable cassette player is very easy to use, and the recording function is quite simple.
The player converts very well and very quickly your old cassette tapes into MP3 files that you can now listen to on all of your modern devices. Of course, the sound quality depends on the original recording's quality. All you need to do is plug in your USB flash drive, press the PLAY button, and then, on the back of the device, press RECORD. It will record the cassette output to the flash drive in real-time, and just like that, your favorite cassette tapes will now be MP3 files. As you can see from this, it's very easy and simple to use.
Recommended Reading :

This device includes a reverse side play option, which is quite handy since the recording can continue without flipping the tape. The cassette player is lightweight and somewhat fragile. It is affordable, and it does everything it's supposed to.
All in all, once again you get the chance to listen to your old cassette tapes and save them forever as MP3 files, so you don't have to worry about cassette tapes getting too old or too damaged to use. You will be reminded of your youth and recall all the great memories, or you will understand what your parents were telling you about regarding theirs.
Things we don't like
The instruction manual is very poorly written. The buttons are small and black, which is somewhat problematic since the icons on them are black as well, which makes it hard to see them.
---
7. Philips Portable Boombox CD Player
The Philips Portable Boombox CD Player, with its sleek and retro design, offers a blend of old and new, merging the functions of a CD player with a boombox. This versatile device also includes an FM/AM radio tuner and an option for Bluetooth connectivity, truly elevating the level of convenience and mobility for users.
The ability to switch between an AC power source and batteries only adds to its appeal. Its fantastic sound quality and the robust 15-hour battery life definitely make it a product to consider.
Things we like
The Philips Portable Boombox CD Player has been thoughtfully designed and engineered, showcasing the excellent quality associated with the Philips brand. The boombox is lightweight and compact, making it highly portable and an ideal choice for outdoor gatherings or road trips.
Ease of use is the product's key feature. All buttons are clearly labeled and logically positioned, ensuring seamless operation. The boombox has a user-friendly CD player that supports CD, CD-R, and CD-RW, enhancing its versatility. It also includes an FM/AM radio tuner with good reception and a preset option for your favorite stations.
One standout feature is Bluetooth connectivity, allowing you to easily connect your smartphone or other devices and enjoy your favorite tracks or podcasts through the unit's speakers. This modern touch certainly sets it apart.
The sound quality is commendable, with a clear treble and surprisingly deep bass, thanks to its Bass Reflex Speaker System. Whether it's CDs, FM/AM radio, or Bluetooth streaming, this boombox delivers a rich and robust sound that fills the room.
The product arrives as described, is well-packaged, and on time. The company also offers a one-year warranty which adds to its appeal.
Things we don't like
While the Philips Portable Boombox CD Player boasts a range of features, there are a few areas that could be improved. For instance, the buttons are relatively small, which might be an issue for some users.
The LED display is quite basic and could be more advanced with more detailed information.
It also tends to consume batteries quickly when used in portable mode, especially during Bluetooth streaming or CD playback. As such, users are advised to invest in rechargeable batteries for frequent use without an AC power source.
---
This was our list of 7 best portable cassette players in 2023, and we hope that it has helped you understand what you can use them for and find the one that best suits your needs. If you still have some questions, be sure to check out our FAQs section, because you're very likely to find your answer there. If there's something you would like to say about your experience or share opinion regarding these products, don't hesitate to leave a comment. 
---
FAQs
Q: Are cassette players still available?
A: Yes. As you can see from our list of 7 best portable cassette players in 2023, you can still buy one, even today. However, they are somewhat different than they used to be. They are now improved to provide you with possibilities they never could before, such as Bluetooth and converting your old tapes to MP3 files.
Q: What can I do with old audio cassettes?
A: Don't throw them away, because, thanks to the portable cassette players, you can listen to them, and not only that. Portable cassette players allow you to record your voice, make a mixtape to someone you care about or convert tapes to MP3 files so that you have that music on your computer.
Q: How can I play my old cassette tapes on my computer?
A: Take your new portable cassette player, make sure it has batteries in it, and connect it to your computer via USB cable. Loading the audio recording program is your next step (software like this can be found for free), and all that's left to do afterward is to click the play button on your cassette player.
Q: What is the best portable cassette player?
A: There are various great choices when it comes to portable cassette players, but to find the best one for you, we suggest you go through our list of 7 best portable cassette players in 2023.
Conclusion
Keeping in mind the features and considerations outlined in this article, it's possible to find a portable cassette player that truly meets your needs and offers great value for your investment.
We recommend that you explore all of the models listed in our guide and remember that these options aren't mutually exclusive: consider these players as strong candidates for your next music listening experience, and, if possible, use this article as a checklist before making your final purchase.
We hope this review was informative and useful in your search for the best portable cassette player in 2023. Be sure to explore our related guides about portable music devices and improving the quality of your audio experience. Don't hesitate to share this page with fellow music lovers, and feel free to contact us if you have any questions!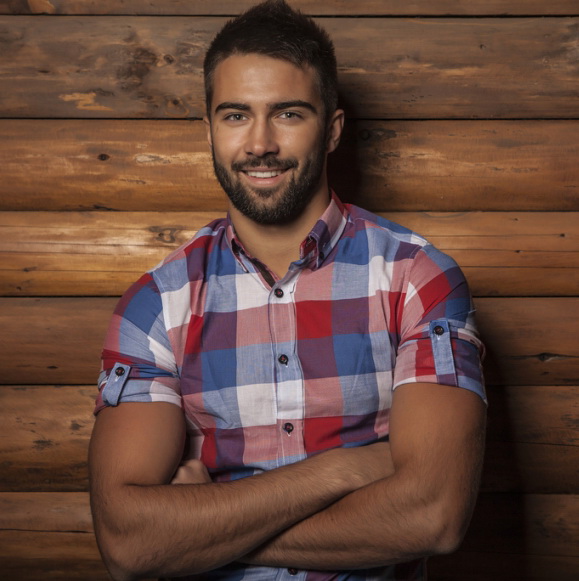 Hello, my name is James Longman.
I'm a writer and editor at AudioReputation. I disassembled my first portable AM/FM radio when I was only 8. At the age of 11, I burned the circuit board on my old boombox cassette player. I'm not going to explain how but it was reckless and stupid.
Since then, I have become much more careful around radios, boomboxes, and other audio devices (at least, I like to think so) but I have never lost the passion for audio equipment. Throughout 20 years of my professional career, I've been working for various audio equipment manufacturers and even started building speakers on my own in my little workshop.
I love the work we do here at AudioReputation. Testing, comparing, and evaluating all kinds of audio devices (speakers, soundbars, headphones, home theater systems, etc.) is something I truly enjoy. I try to be unbiased and give you my honest opinion on every piece of equipment I test. Still, you should take my reviews with a pinch of salt and always be just a little bit skeptical. The fact that I liked some speaker or soundbar doesn't mean that you are going to love it. If you have the opportunity, you should test it/hear it before buying it.