AudioReputation is reader-supported. When you buy through links on our site, we may earn an affiliate commission Learn More
You won't find many class A/B power amps under $1,000 on the market, especially if they are designed and made in the US. Still, it's not completely impossible – Vidar power amplifier made by the Schiit is exactly that. At $700 price point, Schiit Vidar is one of the cheapest high-end power amps on the market and it is also one of the best power amps under $1,000.
Schiit is an American audio equipment manufacturer. The company was founded in 2010 and it's been instantaneously recognized as a high-quality brand. There are a few reasons for that.
First, Schiit's founders Jason Stoddard and Mike Moffat have decades of experience in the audio industry. That experience was definitely an important factor – they already knew how to make a high-quality product.
Furthermore, Jason and Mike decided not to outsource production. All their products are assembled in the US and most of the parts are made in the US. All the amps, DACs, pre-amps, etc. are actually assembled manually. The fact that something is made in China, Vietnam, or Indonesia doesn't mean it's bad, but it's good to know that we haven't outsourced everything. And, it makes us happy to see high-quality components packed inside all-metal chassis instead of cheap plastic or thin aluminum.
In the end, choosing the right name is also important and what's better than Schiit. Ok, it is a little bit cheesy, but it's super catchy and it's easy to advertise, play with, and remember. Look at some of their advertisements:
With this kind of name, catchy slogans simply write themselves
And this is just the beginning. We've seen their workers wearing T-shirts with writings SCHIIT HAPPENS and MY LIFE IS SCHIIT. We have also seen slogans like YOU AREN'T GONNA BELIEVE THIS SCHIIT (Asgard headphone amp) and THIS SCHIIT IS BANANAS (Magni 2 and Modi 2). Ok, we are maybe a bit too fascinated with the name and all the advertisement options, but we are stopping now. No more SCHIIT-TALK. Ok, that's it. Let's get serious.
We are about to review Schiit's first power amplifier called Vidar. It's a simple-looking all-metal box with 5-way binding posts, RCA inputs, and balanced XLR mono input.
It can output 100W of power per channel into 8Ω or 200W into 4Ω in stereo mode. It can also be used in mono mode (and dual mono mode with 2 units) and it can output 400W per channel into 8Ω.
Schiit Vidar delivers solid performance and when combined with the right preamp (Schiit Saga, for example) and the right set of speakers, it will deliver an impressive audiophile experience.
The most surprising thing about this power amp is the price. You will get a class A/B amplification, 100W per channel output (into 8Ω), stereo and dual mono modes, impressive build quality and a great audio performance from this amazing $700 amp. Combine it with $350 Saga preamp and some nice stereo speakers and you will get a great stereo system for less than $2000. Considering the fact that some A/B amps cost much more than $2,000, Schiit Vidar is a steal.
Simple and raw industrial design

Solid construction

Audiophile-grade Class A/B amplification

100W power output per channel (into 8Ω) + double power output into 4Ω

Mono and stereo mode (400W per channel into 8Ω in mono mode)

Impressive sound reproduction – controlled and powerful bass, detailed and dynamic mids, clear highs
No volume controls

No standby mode
It's really hard to call something that costs $700 cheap, but it is actually an affordable option when it comes to high-end audio gear. If you are an audiophile on a budget or if you are looking for a cheap entry-level audiophile-grade A/B amp, Schiit Vidar is an awesome choice. One Vidar can drive almost any speaker set, but it's actually much better to buy two and use them in mono mode.
What's in the box?
Schiit Vidar comes in a simple white cardboard box. The packaging is not that premium. You will only get your Vidar amp, power cable, user manual, and 5-year limited warranty. You won't get any speaker wire, XLR, or RCA cables. You have to buy all the cables separately. Still, we are very happy about the 5-year warranty.
Schiit Vidar Amplifier Specifications
DIMENSIONS
Width
9in
Height
3.9in
Depth
13in
Weight
22lb
INPUTS
Stereo
Left and right RCA jacks
Mono
Single XLR
RMS POWER OUTPUT
100W into 8Ω (stereo)

200W into 4Ω (stereo)

400W into 8Ω (mono)
FREQUENCY RESPONSE
20Hz-20,000Hz +/-0.1dB

3Hz-5,000kHz +/-3dB
THD
Less than 0.01 (100W into 8Ω, 20Hz-20kHz)
SNR
>115dB
GAIN
27dB
Design
Schiit usually takes a simplistic approach when it comes to design. Their Vidar amp is a perfect example. It's boxy and compact. There's some kind of industrial vibe about it, mostly because of all-metal chassis and huge heatsinks. You can choose between black and silver chassis. In our opinion, black looks cooler.
Although it has a small footprint, it's actually quite hefty. The amp is 9in wide, 13in deep, 3.9in tall, and it weighs 22lb. Schiit is actually smaller than most high-end amps on the market.
All the components are packed inside a hard metal chassis. The chassis is made of steel and aluminum. The assembly process is entirely done manually as you can see in the video below.
Schiit Vidar Assembly
On the front panel, you will see VIDAR sign, one LED operation indicator (just below the VIDAR sign), and two small rectangular heatsinks.
Front panel
On the left and right sides, you will see two huge heatsinks. They are black, entirely made of metal, and kind of sharp. This amp needs huge heatsinks because it doesn't have any active cooling system. The manufacturer wanted quiet performance but you have to release all the heat somehow and these large heatsinks are their solution.
Large metal heatsinks on the left and right panels
All the inputs and outputs are on the rear panel. There are two RCA inputs, one balanced 3-pin XLR input, AC input (before you order it, the manufacturer will ask you if you want 115V or 230V version), and stereo speaker outputs (5-way binding posts).
The on/off switch is located at the back which is a little bit odd decision and we don't really like it. Once you place the amp on a rack or inside some cabinet, it's going to be hard to reach the switch.
Features
The first and most important thing about power amps is their power output and amplification type. Schiit decided to use cleaner and better-sounding class A/B amplifiers instead of more efficient class D amps. Analog A/B amplification is preferred by most audiophiles because it offers cleaner sound and less distortion. That doesn't mean that class D amps are bad. They were maybe too noisy when they were first introduced, but they've been improved a lot during the last decade and they are definitely the future of amplification. Class A/B amps are less efficient, more linear, and get heated a lot, but they still deliver better sound and they are still preferred by audiophiles.
Power output per channel is rated at 100W into 8Ω speakers. If you connect two 4Ω speakers, the output power doubles to 200W. These are all power outputs in stereo mode. You could maybe even drive 2Ω speakers, but it's not recommended. The greatest thing about this amp is that you can buy two and use them in dual mono mode (each amp drives one speaker). Vidar can output 400W into 8Ω speakers in mono mode.
There is no fan or some other active cooling system inside the housing. All the produced heat is handled passively through those large heatsinks and apertures on the chassis (front and top panels). Naturally, having an active cooling system would allow ''cooler'' work but, on the other hand, having passive cooling system reduces the noise and enables ''cleaner'' performance.
Interior composition of Schiit Vidar
In order to prevent overheat issues as well as excessive current draw, the manufacturer installed an active protection circuit with a microprocessor that monitors all the critical processes and enables optimal operation. Any issue that could jeopardize optimal operation will trigger the microprocessor and it will stop the amp. You will know that there's something wrong if the LED indicator on the front panel starts flashing. If something like that happens, you would have to turn the amp off, unplug it, give it a rest for a few minutes, and turn it back on. Thanks to this monitoring microprocessor, Schiit Vidar will serve you for years, if not decades.
Vidar is not the greenest power amp on the market, but that's the thing with many class A/B amps. Vidar will stay turned on even if there is no input signal until you turn it off. There is no auto-standby or anything like that. Many class A/B amps have standby buttons, but this one doesn't.
Also Read: Peachtree Audio M25 Powered Speakers
Setup and Performance
The setup procedure is pretty much straightforward and you really have to try hard to mess it up. All the connectors are at the back. You are supposed to connect your speakers to speaker terminals (5-way binding posts), connect your preamp via RCA or XLR input depending on the mode (stereo or mono), and connect your audio source to the preamp. Depending on the configuration you choose (one amp driving two speakers or two separate amps, each driving one speaker), the setup process will be slightly different. In the picture below, you can see the instructions for stereo and mono connection.
It's probably smart to combine Schiit Vidar with some Schiit preamp. If you are going to use only one Vidar amp in stereo mode, you can buy cheaper Saga preamp, but if you are going to use one or two Schiit Vidars in mono mode or dual mono, you are going to need a more expensive balanced preamp. Our recommendation is Schiit Freya preamp.
After you are done with the installation, you can start enjoying. We have paired Schiit Vidar with KEF Q950 floorstanders (8Ω nominal impedance) and with Focal Aria 906 bookshelf speakers. Vidar drove them both with ease. We are pretty sure that we would get even better results with a pair of Vidar amps, each driving one Q950. Unfortunately, we've had only one. But that doesn't change our positive impressions.
Vidar delivers very solid performance across all kinds of music genres. The sound coming from both of our speaker sets was incredibly accurate but not to the point when it becomes analytical. It was actually quite natural. It was almost like a live performance, especially with some complex classical music pieces with many instruments and many layers of music. The reproduction was extremely detailed and it gave us completely new insight into our favorite songs. The output was perfectly clean without any hissing or humming.
We've had no issues with overheating, but Vidar was pretty hot, especially at high volumes. You should definitely leave some space on the left and right sides and allow it to ''breath''. Placing the amp inside a closed cabinet would be a mistake and could trigger the safety circuits.
The Competition
At $700 price tag, it's pretty difficult to find audiophile-grade A/B amplification and this kind of performance, build quality, and expandability. At this price point, Marantz MM7025 could be the best alternative. If you are prepared to pay a bit more, you could check out Monolith 2X or Emotiva XPA-2 Gen3, and if the price is not an issue, the number of viable choices increases significantly.
---
Marantz MM7025 Stereo Power Amplifier
Marantz MM7025 stereo amp is similarly priced and it offers a lot for the price, just like the Schiit Vidar.
MM7025 features both RCA and balanced XLR inputs, 4-way posts, DC trigger input and output, flasher input, and remote-control connectors. Unlike Vidar, MM7025 has a power button located on the front panel.
MM7025 also offers class A/B amplification and it can output 140W into 8Ω or 170W into 6Ω. The user manual says it's not recommended to use MM7025 with 4Ω speakers. So, in a way, Schiit Vidar is more capable and more versatile.
Like Vidar, MM7025 has circuit protection, it's very reliable, and it doesn't have overheat issues. Unlike Vidar, MM7025 has a standby button.
MM7025 delivers very solid performance and controlled sound but, compared to Vidar, it's kind of muddy and a bit loose.
---
Emotiva XPA-2 Gen3
Emotiva XPA-2 Gen3 is slightly pricier power amp, but it's still under $1,000.
Just like Vidar, XPA-2 Gen3 features balanced XLR and RCA inputs as well as 5-way gold-plated speaker binding posts. Unlike Vidar, XPA-3 Gen3 has DC trigger input and output. The power switch is located at the back.
XPA-2 Gen3 offers class A/B amplification but with class H power supply topology which improves efficiency. XPA-2 can output 300W per channel into 8Ω speakers or 490W per channel into 4Ω speakers.
XPA-2 can be expanded (via DC triggers). The max number of channels is 7.
XPA-2 has a standby button on the front side and it can be put on standby when not in use.
Emotiva XPA-2 Gen3 delivers smooth and detailed sound and it can drive almost any pair of speakers.
---
Monoprice Monolith 2X Two-Channel Stereo Power Amplifier
Monolith 2X is also a bit pricier than Schiit Vidar, but it's still close to $1000. This is another amp made in the US (well, actually, designed and engineered in the US). The chassis is made of metal and it looks pretty good, maybe even better than Vidar.
It features both balanced XLR and unbalanced RCA inputs. It also features 5-way binding posts, DC trigger input, and chassis ground.
Monolith 2X also delivers Class A/B amplification and it can output 200W per channel into 8Ω loads or 300W per channel into 4Ω loads.
Unlike Vidar, Monolith 2X features standby button on the front panel and can be put on standby when not in use.
The sound is very pleasant and natural, it's nicely balanced and very detailed.
---
Comparison Table
| Amplifier | Power output per channel (into 8Ω loads) |
| --- | --- |
| Schiit Vidar | 100W |
| Marantz MM7025 | 140W |
| Emotiva XPA-2 Gen3 | 300W |
| Monoprice Monolith 2X | 200W |
Final Thoughts
Schiit Vidar is not cheap, but if you look at other Class A/B stereo amps, you'll realize that you can hardly get better performance for $700.
Since this is a power amp (not an integrated amp), you will have to buy a preamp (preferably some Schiit preamp) if you don't have one already. So, don't forget to take the preamp price into account.
Schiit Vidar is a great choice if you are an audiophile on a budget or if you are trying to find your first entry-level audiophile-grade power amp. It looks great, it's solidly built and has high-quality components, it can be used in dual mono mode, and it delivers perfectly clean and powerful output. You cannot expect more at this price point.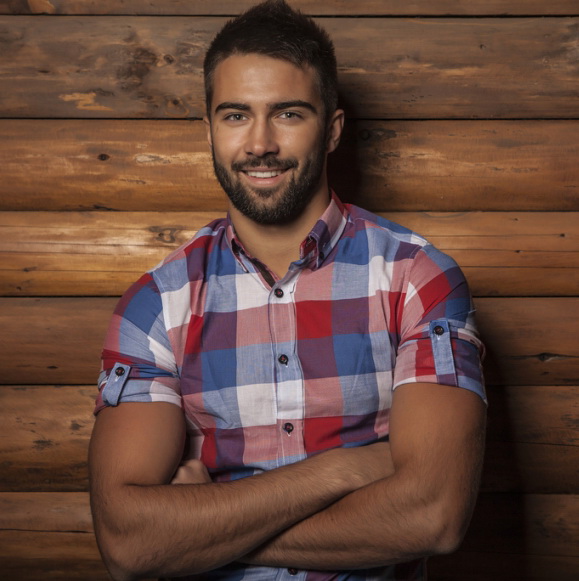 Hello, my name is James Longman.
I'm a writer and editor at AudioReputation. I disassembled my first portable AM/FM radio when I was only 8. At the age of 11, I burned the circuit board on my old boombox cassette player. I'm not going to explain how but it was reckless and stupid.
Since then, I have become much more careful around radios, boomboxes, and other audio devices (at least, I like to think so) but I have never lost the passion for audio equipment. Throughout 20 years of my professional career, I've been working for various audio equipment manufacturers and even started building speakers on my own in my little workshop.
I love the work we do here at AudioReputation. Testing, comparing, and evaluating all kinds of audio devices (speakers, soundbars, headphones, home theater systems, etc.) is something I truly enjoy. I try to be unbiased and give you my honest opinion on every piece of equipment I test. Still, you should take my reviews with a pinch of salt and always be just a little bit skeptical. The fact that I liked some speaker or soundbar doesn't mean that you are going to love it. If you have the opportunity, you should test it/hear it before buying it.