AudioReputation is reader-supported. When you buy through links on our site, we may earn an affiliate commission Learn More
Looking for a compact, capable, but also affordable Bluetooth headphone amp? Shanling UP2 is one of the amps that checks all those boxes. In this review, we will take a closer look at the Shanling UP2, analyze its strengths and weaknesses, and give you our verdict.
Shanling UP2 is a Chinese audio company, founded in 1988. For more than 30years, they've been making all kinds of audio devices – AV receivers, CD players, FM tuners and radios, DAC/amps, integrated amps, stereo systems, digital music players (M series), etc. Since recently, they also make earphones (ME series) and Bluetooth amps. Two things all Shanling products have in common are affordability and great performance that usually exceeds the price tag and your expectations. Let's see if UP2 is that kind of device.
We definitely appreciate the looks and compact form factor of the Shanling UP2. The amp has a single control button that doubles as the volume dial, which additionally improves the clean look. The volume dial has 64 steps which allow you fine-tuning (important for sensitive earphones). The amp features USB-C charging port. The USB-C also enables you to connect the UP2 to your computer and use it as a DAC. The amp has a built-in battery with a pretty good playtime (up to 11h). The amp features Bluetooth 5.0 and supports a wide variety of Bluetooth codecs. Aside from the most common SBC and AAC, it also supports aptX, aptX LL, aptX HD, LDAC, and HWA LHDC. UP2 is not the most powerful Bluetooth amp on the market but it can still drive with ease any 32Ω or 50Ω headphones. It can even drive some high-impedance headphones and earphones (up to 100Ω). In the end, it's important to mention that UP2 has a built-in mic, which is a convenient and useful extra feature.
Sonic performance is one of the greatest qualities of the UP2. It's accurate, detailed, and dynamic. Overall, the sound signature is quite neutral. The soundstage is incredibly airy and the imaging is precise.
When it comes to downsides, we've had a little bit of trouble with the only control button on the unit. It's great for controlling the volume but it also controls everything else (power, pairing, playback, call management) and it can be hard to get used to. Also, the button is quite sensitive and gets easily pressed accidentally. One more thing we've noticed is that UP2 has to be charged with a 5V/1A DC adapter (info from the user manual). Fast charging adapters could damage the amp.
Affordable (priced under $100)

Super-compact

Rugged build

64-steps volume control

USB-C charging port

Bluetooth 5.0 with multipoint pairing

Impressive Bluetooth codec support (aptX, aptX LL and HD, LDAC, HWA LHDC)

Hi-res streaming (96kHz/24bit)

Good battery life – up to 11h of playtime

Perfect for 30-50Ω headphones and IEMs

DAC capabilities (when connected to a computer via USB-C cable)

Built-in mic (Knowles mic)

Dynamic and detailed sound reproduction with a wide soundstage and accurate imaging
Using only one button to control everything can be confusing

Glossy front and back panels are huge fingertip magnets and are prone to scratching
At $80 price point, we can easily recommend Shanling UP2 to anyone looking for a small, light, and capable Bluetooth DAC/AMP. UP2 is so much more convenient for on-the-go use than some expensive and hefty DAPs. It can do a lot of things – it supports various Bluetooth codecs, it can stream hi-res files (up to 96kHz/24bit), and it can be used as a USB DAC. You can hardly get more features or better performance at this price point.
What's in the box?
The UP2 comes nicely packed inside a tiny box. The packaging also includes a simple plastic clip case, a long USB Type-A to USB-C cable, user manual, and a warranty card. There are no extra accessories, which is not a huge disappointment (at least, not at this price point).
Box contents
Specs
Shanling UP2 Specifications
DIMENSIONS
Width
27mm/1.1in
Height 
55mm/2.2in
Depth
12mm/0.5in
Weight
26g/0.9oz
INPUTS
USB-C charging port
OUTPUTS
3.5mm headphone output
BATTERY
Battery Type
Li-ion, rechargeable
Battery Capacity 
400mAh
Playtime
11h
Recharge Time
2h
BLUETOOTH DETAILS
Bluetooth version
Bluetooth 5.0
Supported profiles and codecs
AAC, SBC, aptX, aptX LL, aptX HD, LDAC, HWA LHDC
TECHNICAL DETAILS
Power output
67mW into 32Ω load
Output impedance
0.25Ω
SNR
116dB
Distortion
Less than 0.05%
Crosstalk
72dB
Max resolution
96kHz/24bit
USB DAC input
Up to 48kHz/16bit
Audio chip
Sabre ES9218P
ADDITIONAL FEATURES
Built-in mic

USB DAC/AMP capabilities

Clip case included
Design
Shanling UP2 features a simple, boxy, but very stylish design. The first thing you're going to notice is the size and robustness of this thing. It's really tiny. The chassis is made out of aluminum alloy. Front and rear panels are covered with a shiny glass that looks attractive but it's also a huge fingertip magnet. On the front, you have the Shanling logo at the bottom and a simple LED indicator in the upper part.
On the right panel, you have one (and only) control button that also doubles as the volume dial. You can use this button to control everything (playback, volume, calls, pairing, etc.). The dial has a nice tactile feeling to it and it's split into 64 steps.
Front and back
On the top, you have a standard 3.5mm AUX output for connecting your headphones and, on the bottom, there's a USB-C port for charging and connecting Shanling UP2 to your computer (if you want to use it as a USB DAC).
Top and bottom
Features
The manufacturer really packed this tiny amp with all kinds of features. Below, you can see the most important ones.
Feature overview
The heart and brains of the UP2 are two chips – Qualcomm's CSR 8675 Bluetooth chip and ESS Sabre's ES9218P DAC/AMP chip.
The volume dial is really great and, because it's split into 64 steps, you can fine-tune the volume, even when listening to the most sensitive headphones and IEMs.
Sensitive volume dial with 64 steps
Thanks to the Qualcomm's chip, the UP2 features Bluetooth 5.0. The pairing is hassle-free and fast, and the connection is perfectly stable within the standard 30ft range. The chip also supports multipoint pairing (you can pair two Bluetooth-enabled sources with the DAC/AMP). The list of supported Bluetooth codecs is quite impressive. The most important are the aptX HD, LDAC, and HWA LHDC. Thanks to these codecs, UP2 can stream hi-res files (up to 96kHz/24bit). Also, thanks to aptX LL support, you can watch videos on your phone/tablet/PC and stream audio wirelessly to your amp without any audio lag.
Shanling UP2 is not extremely powerful, but it's still a great choice for any 30-50Ω headphones. It can push 67mW into 32Ω headphones. It could probably drive some 100Ω cans but that's probably its limit. If you want to drive more power-hungry headphones, you should probably invest more and buy something more powerful.
The battery inside the amp has 400mAh capacity and the advertised playtime is 11h (measured at 50% volume while using SBC codec for Bluetooth streaming). When using aptX HD or LDAC codecs the playtimes will be shorter. The recharge takes less than 2 hours. The fast charge is not supported – the manufacturer recommends using only 5V/1A DC adapters for charging.
Decent battery life – 11h (at 50% volume and with SBC codec)
Shanling UP2 is primarily a hi-fi Bluetooth amp but, thanks to the ESS Sabre ES9218P chip and USB-C port, UP2 can be connected to any PC and used as a DAC. DAC capabilities are definitely a big plus. In DAC mode, the input resolution is limited at 48kHz/16bit.
On the amp's top panel, right next to the AUX output, there's a built-in mic. The mic is made by Knowles and it features CVC 8.0 passive noise-canceling technology.
Performance
Generally speaking, we're pretty happy with the performance of the Shanling UP2. There are maybe some minor imperfections but, overall, UP2 is a great performer.
We really loved the design, compactness, and ruggedness of this little device. It looks great and it can fit just any pocket. The included clip case is a very useful accessory and makes the amp even more portable.
The control scheme is very clean – there's only one button/dial and you can use it to control everything. It may take some time to get used to this scheme but, once you master it, it will be a breeze. The volume dial is really good. The button is perfectly responsive and maybe a bit too sensitive. You will probably pause the song occasionally when trying to reach for your pocket.
Single multifunction button/dial controls all the functions
The amp has only one LED indicator, located on the front panel. The indicator shows which Bluetooth codec is active and it warns you when the battery is low (red light). Since it's only an LED and not a display, you will need some time to learn which color represents which codec.
LED Bluetooth codec and battery status indicator
We have no complaints regarding the connection quality and range. The UP2 worked flawlessly and the connection was perfectly stable at all times.
The battery life varies depending on the active codec. With the most common SBC codec, it's 11 hours. It's less than that with aptX and LDAC codecs. You will get 8-9 hours with aptX HD.
As we've discussed earlier, Shanling UP2 is a perfect match for 30-50Ω (up to 65Ω). Driving 100Ω is technically possible but not recommended. You should probably use something more powerful for 100Ω+ headphones and IEMs.
Another feature we liked is the DAC capability. The UP2 doesn't require any software in order to work with your PC – it's basically plug-and-play.
The built-in mic delivered a satisfying performance. It's nothing spectacular and it does pick up some ambient noise but it's still perfectly usable.
Sound Quality
For the purposes of the review, we've used FiiO M11 (because of the aptX HD, LDAC, and LHDC support), Samsung Galaxy S10, our Sennheiser HD 599 (50Ω) headphones and Beyerdynamic DT770 Pro headphones (the 32Ω version). These are our conclusions.
Shanling UP2 has a pretty neutral sound signature. The amp doesn't introduce any noticeable coloration and presents every note with perfect transparency and clarity. The bass is powerful, nicely textured, and perfectly controlled. The sub-bass extension is marvelous. The midrange is practically flawless and perfectly consistent with the bass. It's clear and detailed. The vocals are pushed forward. The treble is perfectly controlled and consistent. It's never too bright or, god forbid, fatiguing. Overall, the UP2 shows great control over the whole audible spectrum and delivers a very honest presentation.
The soundstage is large, layered, and airy. There's a very good separation between the instruments and the imaging is very accurate.
Final Thoughts
In case you haven't realized by now, Shanling UP2 is a high-performing Bluetooth amp/DAC and we love it. We can definitely recommend it to anyone looking for a simple, compact, feature-rich, and affordable Bluetooth headphone amp. This little device is worth the money.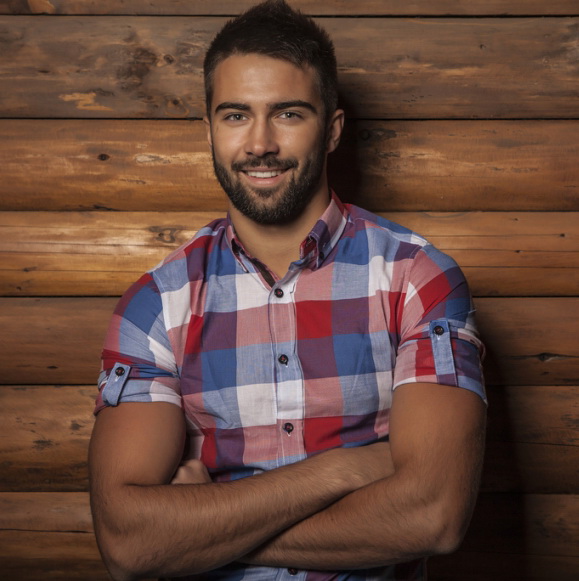 Hello, my name is James Longman.
I'm a writer and editor at AudioReputation. I disassembled my first portable AM/FM radio when I was only 8. At the age of 11, I burned the circuit board on my old boombox cassette player. I'm not going to explain how but it was reckless and stupid.
Since then, I have become much more careful around radios, boomboxes, and other audio devices (at least, I like to think so) but I have never lost the passion for audio equipment. Throughout 20 years of my professional career, I've been working for various audio equipment manufacturers and even started building speakers on my own in my little workshop.
I love the work we do here at AudioReputation. Testing, comparing, and evaluating all kinds of audio devices (speakers, soundbars, headphones, home theater systems, etc.) is something I truly enjoy. I try to be unbiased and give you my honest opinion on every piece of equipment I test. Still, you should take my reviews with a pinch of salt and always be just a little bit skeptical. The fact that I liked some speaker or soundbar doesn't mean that you are going to love it. If you have the opportunity, you should test it/hear it before buying it.