AudioReputation is reader-supported. When you buy through links on our site, we may earn an affiliate commission Learn More
If you're reading this, you're probably searching for a pair of small Bluetooth earbuds that will fit your tiny ears. And you've come to the right place. In this article we will discuss the advantages and disadvantages of small Bluetooth earbuds, answer the most common questions about small Bluetooth earbuds, and present to you our selection of top 9 smallest Bluetooth earbuds in 2023.
We are pretty sure that many people wonder why are small wireless earbuds so popular and why some people consider them better than over-ear and on-ear headphones, so let's say a few words about that.
The Advantages of Small Wireless Earbuds
If you skip to the list, you will see that we have chosen to review 9 models of true wireless earbuds that combine small dimensions, good performance, and decent price. We wrote about similar topics before so you should also check out our articles on the best earbuds for small ears or the best invisible earbuds. This time, we decided to focus on the smallest of all.
Even though many people always look for small earbuds, others prefer full-size models, either wired or wireless. Of course, they do it because they sound better and nobody can argue that but small and completely wireless earbuds have their advantages, too. So, let's find out what are the biggest advantages of small Bluetooth earbuds.
First of all, small earbuds occupy less space in your ears and on your head. They also occupy less space in your pocket or backpack. If you add a complete lack of cables to the equation, you get the most portable earbuds in the world.
Recommended Reading :

Second of all, these buds are almost always so light that people love to say they're practically weightless. It may seem strange but this is true. On average, the invisible buds weigh between 0.1 and 0.4 oz. In comparison to 10oz (or more), which is the average weight of larger headphones, this feels like you're not even wearing them.
In addition, they're called invisible because they're not bulky and people around you can hardly notice you're using headphones.
Lastly, they support numerous modern technologies that allow the buds to deliver great performance.
Top 9 Smallest Bluetooth Earbuds – Comparison Table
The Disadvantages of Small Wireless Earbuds
Like all the other products in the world, true wireless earbuds have their negative sides, and we won't hide them.
For starters, being so small and weightless, these buds can easily get lost. Since they're so light that you can forget that they're in your ears or in your pocket, it's also very easy not to notice when they fall out, especially when you are not playing the music through them.
Moreover, small Bluetooth earbuds have way smaller drivers than the full-size headphones and you can't really expect them to deliver such a powerful sound as large headphones do.
---
Having all the advantages and disadvantages in mind, we've tested a bunch of wireless earbuds and picked out 9 smallest Bluetooth earbuds that deserve your attention in 2023. This is our selection.
Top 9 Smallest Bluetooth Earbuds in 2023
---
1. Best Small Bluetooth Earbuds for Samsung Devices – Samsung Galaxy Buds
Despite being the priciest on the list, Samsung Galaxy Buds are quite affordable, especially considering all their features.
The buds come in black, yellow, and white colors. The touch-sensitive controls are located on the earpieces and they allow you to control the playback, calls, skip tracks, or activate voice assistant.
What's in the box?
Samsung Galaxy Buds come in a small branded box with the Samsung logo. Inside the box, you'll find the buds, user manuals, charging case, charging cable, and two spare pairs of silicone ear tips and fins.
Things we like
Let's start with the first thing you notice when you see the buds – design. They have rather simple looks that don't really stand out from the rest of true wireless buds. However, they are very attractive and elegant at the same time. They are also very compact. They may not be the smallest but they definitely don't look bulky and won't stick out from your ears.
Furthermore, Samsung Galaxy Buds are quite comfortable and stable. They weigh only 0.3 oz, which means you won't even notice they're in your ears. Thanks to their shape and provided tips and fins in different sizes, the buds provide a stable fit, which makes them great, even for running and intense workouts.
When it comes to build quality, we don't have any major complaints. The buds are plastic but the material feels very reliable and durable. The same is with their charging/carrying case, which is nicely built and seems to protect the buds well from any kind of damage.
The thing that makes Samsung Galaxy Buds so special, is their feature set.
First of all, they have more than a decent battery that provides approximately 6-7 hours of playback time per single charge. When you run out of juice, you can simply tuck the buds back into their case and you'll get one additional charge. Also, the buds support quick charge (15 minutes of charge gives you 1.7 hours of playback). In case you have Galaxy Note 10 or Galaxy S10, you'll be able to use them to charge the buds.
Second of all, they support Bluetooth 5.0 with up to 60 ft signal range. They also have on-board memory, allowing you to store some music directly on your buds and leave your phone at home.
The earbuds pair and connect quickly. They have a stable connection with both Android and Apple smartphones. Only Android devices support Galaxy Wearable App that monitors battery status, allows you to use Find My Buds option, and enables adjusting different settings, including equalizer.
Finally, the buds can be used in both mono and stereo modes.
When it comes to sound, Samsung Galaxy Buds deliver neutral and balanced sound with pleasant bass and consistent mids and treble. They also provide good noise isolation with reduced sound leakage.
Things we don't like
The buds are, in general, rather average in comparison to other buds on this list.
We would also like to point out that the sound is not very bassy, which would be very useful for people who work out regularly.
In addition, we wouldn't recommend using the mic. While it sounds acceptable indoors, it becomes almost useless and muffled outdoors.
In the end, if you have an iOS device, you won't be able to use the app and won't get the same kind of user experience as Android users.
---
2. Best Single True Wireless Earbud – Focuspower F10
If you're looking for an earbud that allows you to drive, answer calls, listen to podcasts or music, Focuspower F10 should be a great choice.
It comes as a single earbud, in black color only, and it comes at a very reasonable price. The controls on the bud's faceplate enable you to control the playback and answer calls.
What's in the box?
The bud comes in an interesting black & orange cardboard box with their zippered black & orange carrying case, two spare silicone tips (in different sizes), and a USB magnetic charger.
Things we like
The design of Focuspower F10 is rather simple (some may even say boring and undistinguished) but the earbud looks very nice. The best thing about its design is the size. Being one of the smallest available invisible earbuds, F10 fit nicely in-ear – it doesn't look bulky and doesn't stick out of it. In fact, it's quite difficult to notice it's even there.
F10 weighs only 0.16oz, which makes it pretty much weightless. Thanks to the small weight, small size, and ergonomic design, it fits nicely in ear, especially if you manage to find the right tip size that makes the perfect seal.
Passing to the bud's features, we can say that F10 has all the basic features you may need for answering phone calls, listening to podcasts, working in an office, etc. If you find their sound signature satisfying, you can also use them for listening to music, although the bud is mostly made for the previously mentioned purposes (and not for music).
This single earbud is equipped with hands-free controls which make it perfect for in-car use, office use, etc. The thing is – the bud doesn't come with a regular charging cable but with a practical magnetic USB charger. When not in use, the bud can be safely tucked into the charger connected to a player in your car, to your laptop, etc.
Moreover, F10 supports Bluetooth 4.1 version with a decent signal range and a good battery that offers 5 to 7 hours of playback or talk time per one charge. Recharging takes approximately 45 minutes, which is quite fast considering the juice you get per single charge.
In addition, the bud can normally be used with all kinds of Bluetooth devices. Both Android and iOS operating systems are supported.
Let's now skip to the most important segment – sound quality. As we have already said, the bud is not primarily made for listening to music. However, its audio quality is decent for a single true wireless earbud and it can be quite loud. Some even say that the sound gets better after "breaking the bud in".
Things we don't like
We have to say that the sound signature of F10 is rather mid-centric. In case you're planning to use it for listening to music, even occasionally, you have to be aware that it delivers almost no bass.
You should also know that the signal range is a bit shorter than advertised and closer to 20 than 33 ft.
---
3. Smallest and Most Affordable Bluetooth Earbud – Nenrent S570
Nenrent S570 is often defined as the smallest invisible earbud currently on the market. As this may be true, we are sure that it's the smallest on our list of 9 smallest Bluetooth earbuds in 2023.
The bud comes as a single earpiece, in black, rose gold, and nude colors. The price is slightly higher than expected, especially considering that it doesn't come in pairs.
What's in the box?
S570 comes in a shiny black box. Apart from the bud, the box contains a nice black & orange zippered carrying case, user manual, 12-month warranty card, two ear tips, and one short USB charging cable.
Things we like
At first glance, Nenrent S570 doesn't have an original design. It looks rather simple and ordinary in black and nude versions, but the rose gold color makes it look very attractive. However, the thing that makes this bud so special is its size. Being so small, the bud is truly invisible, so you don't have to worry that it will look bulky or that people will even notice that you're wearing it.
Thanks to its size and small weight (0.13 oz), the bud can be considered weightless. You may even not notice it's in your ear and it definitely won't cause any discomfort, pressure, or pain. In fact, this earbud is famous for fitting perfectly. It will even fit people with extremely small ears.
Besides its decent looks and high comfort level, S570 is easy to pair and connect to any device (smartphone, tablet, and laptop) regardless of the OS (Apple or Android). Once paired, the bud can be used at 10m distance from the source device thanks to the Bluetooth 4.1 support.
Furthermore, Nenrent has quite a powerful battery for a single affordable bud. It lasts up to 6 hours and its charging takes 1-2 hours.
In addition, the bud sounds pleasant. It doesn't deliver very powerful bass but we have to take into account the fact that it wasn't primarily designed for listening to music. On the other hand, the calls are clear and the mic works great.
Considering all the mentioned quality, the bud is more than a good choice for different activities such as driving, working out (when you want to stay aware of your surroundings), listening to podcasts, making hands-free phone calls, etc.
Things we don't like
The negative side of being so "weightless" is that it can easily be lost during an intense workout, while running, etc.
In addition, the bud doesn't seem very durable due to its plastic build.
---
4. Best Price-Quality Ratio – Tozo T10
If you're looking for an affordable pair of true wireless small earbuds with great design and excellent IPX rating that are available in numerous colors and have many useful features, we recommend Tozo T10.
The buds come in khaki, blue, gray, black, and white colors. Each earpiece has its own multifunctional button and, together, they enable you to control the playback, pairing, and calls.
What's in the box?
T10 come in a small and simple cardboard box, tucked inside their charging/carrying case with their manual, 12-month warranty card, one USB charging cable, and spare ear tips in different sizes.
Things we like
First, let's say a few words about the design. The buds look very attractive in all the available colors and they have a nice shape. The faceplates have a stylish matte finish, which means that using them won't leave any fingerprints on the surfaces. The case is also nicely designed. Actually, it's probably one of the best-designed and most compact cases for this type of earbuds. It's mainly matte with partially transparent cover – just enough for you to see if the buds are charging (red light on each earbud) and battery status (four blue indicator lights).
In addition to their small size, the buds weigh only 0.16oz, which makes them pretty much weightless. They're also very stable in ears and provide quite a tight fit. Subsequently, T10 are a great choice for all active people who need a pair of buds for their intense workouts. Thanks to their flexible ear tips in different sizes, most users will be able to find the best fit.
Tozo T10 have an IPX8 rating, too. Along with their good build quality, this is the feature that we didn't expect at this price point. So, the buds can even be submerged in 1-meter deep water. Sadly, when submerged, they will disconnect from the source device, so this is something you should keep in mind – they are not made for swimming.
Moreover, T10 come with a great set of features.
Their battery provides up to 4 hours of playback/talk time, while the case can provide 4 charging cycles in total. Besides this, the buds use Bluetooth 5.0 to enable quick and easy pairing and a good-quality connection.
When it comes to the sound, we can say that the buds deliver a nicely balanced sound. They are quite pleasant for listening, especially if you consider their price. The bass and treble sound great, which shall motivate you while exercising. The good news is they provide anti-wind protection, so you won't have any problems when using them on a windy day.
Things we don't like
One thing we would like to warn you about is the build quality of the case hinges. Be careful when using the case because these things tend to break easily.
---
5. Kissral Wireless Earbuds
As the next pair of earbuds on our list of 9 smallest Bluetooth earbuds in 2023, we present to you the Kissral true wireless earbuds – a great replacement for some more expensive branded models.
The buds come at a reasonable price and in black color only. As most invisible earbuds, Kissral earbuds come with hands-free controls that are touch-sensitive and enable you to control the playback and volume, manage calls, skip tracks, or activate voice assistant.
What's in the box?
The buds come in a nice cardboard box with all the necessary instructions, user guides, and manuals, 24-month warranty card, two spare pairs of ear tips in different sizes, charging box, and one USB charging cable.
Things we like
When you take the case out of the box, you will immediately notice how well designed and build the case is. It looks nice and has a matte finish with a partially transparent cover that enables you to see the battery and pairing status. On the case, you will see input and output charging ports. The first one is used for charging the case. Since the case has a 3,000mAh battery with more than 90 hours of juice, you can plug in your phone into the output port and use the case as a power bank.
The case holds the buds quite tightly and protects them perfectly from falling out and getting damaged. Once you open it, you'll see the LED display showing the battery status. You'll also see the buds, the left with red and the right with blue circle on the faceplates, which are used as touch-sensitive controls.
Both the buds and the case seem nicely constructed and quite durable. They are made from plastic but the material doesn't feel cheap at all. If you add an IPX7 rating, you get a pair of decently built earbuds with full protection against water, rain, and sweat.
Furthermore, the earbuds come with a set of different tips that help you find the best fit and increase stability. The buds will remain stable no matter what you're doing and they won't stick out of your ears. Due to their small size, some people even claim they can sleep with them.
In addition, the buds sound quite pleasant. Thanks to their shape and design, they leak almost no sound, which means they can be used in noisy places. Thanks to the powerful battery, you'll be able to enjoy the music for 6.5 hours straight before you need to charge them again.
Things we don't like
Sadly, despite being small like most true wireless earbuds, Kissral earbuds are a bit heavier. They weigh 0.52oz, which is heavier than the average. This may cause certain discomfort and the necessity to take them out and let your ears rest after an hour or two of wearing.
Also, the buds aren't the loudest on the market, which is fine if you're not a fan of extremely loud music.
---
6. Longest Total Battery Life – Enacfire Future Plus
Enacfire Future Plus – one of the highest-rated, most affordable, and smallest Bluetooth Earbuds on the market with a great set of features and good IPX protection. We recommend these for most daily activities, including sports.
The buds come in dark version only and they have built-in controls for managing playback, calls, skipping tracks, or activating voice assistants. Future Plus buds also have a built-in mic, which allows you to take important calls no matter where you are and what you're doing.
What's in the box?
The earbuds come in a simple box with their user manual, 18-month warranty, charging cable, snap-in carrying bag, charging case, and spare ear tips in different sizes.
Things we like
Despite the fact that you don't get to choose between various colors, we do like the Enacfire design. It is simple and universal but still attractive. You can use these on a bus, in an office or in a gym – everywhere you go.
Along with an attractive design, you get an ergonomic shape, small size, and lightweight (0.35oz), that make the buds very comfortable and easy to wear without much pressure or soreness. As the package includes three pairs of ear tips in S, M, and L sizes, you should be able to find the matching size and establish snug fit so that the buds don't fall out.
Moreover, their build quality seems quite good. They are made from durable plastic and don't look flimsy or cheap. In addition, Enacfire Future Plus are IPX8 rated, which means they're fully protected against water or sweat intrusion.
Also, these buds come with many features that you won't find in similarly priced earbuds. Some of the features can't be found in more expensive earbuds. Besides hands-free controls and Bluetooth 5.0, the buds offer a total battery life of 104 hours. Their case houses 2,600mAh battery and it offers 25 charging cycles for the buds. It can also be used as a power bank for charging tablets and smartphones. The recharge takes only 30 minutes.
Finally, the sound quality is more than decent with distinctive lows, mids, and highs. Actually, you get to choose between regular and "booming bass" modes, depending on your taste and on the environment. The lows are emphasized and powerful, while the mids and highs are nicely balanced and pleasant. The buds are pretty loud, too.
Things we don't like
On the negative side, the charging case is larger than average and it's too edgy. We understand that it has a very powerful battery but the problem is that it doesn't fit any pocket. The buds tend to look a bit bulky in ears, too.
In addition, there's no possibility to control the volume with those multifunctional buttons on the earpieces (you will have to use your phone). Also, despite being able to work in mono or stereo modes, you won't be able to use all the features when only one earbud is used.
We also have to warn you to avoid turning up the volume to the max, especially when the "booming bass" mode is engaged. If it exceeds 80% volume, it tends to get seriously distorted.
Also Read: Moshi Vortex 2 In-Ear Headphones.
---
7. SoundPeats TrueFree True Wireless Earbuds
As the last product on the list, we are presenting to you SoundPeats TrueFree Bluetooth earbuds. These earbuds come at a more than reasonable price. They offer decent sound quality, many useful features, and an attractive design.
They come in black color only and support hands-free playback and call management. By pressing each control button once, you can answer a call, play, or pause music. By pressing the right side twice, you can skip forward, and by pressing the left side twice, you go backward. The buds can be used in mono or stereo modes.
What's in the box?
The buds come in a nice black box with their manual, USB charging cable, three spare pairs of ear tips in different sizes, and their charging case.
Things we like
SoundPeats TrueFree earbuds have quite an attractive design that allows the user to wear them in different situations. They are also pretty small and barely noticeable in-ears, so you don't have to worry that people will see them or that they will stick out of your ears. This also applies to their charging case, which is quite compact and easily fits a pocket.
Apart from the small dimensions, the buds can "brag" about their small weight. With only 0.32oz, the SoundPeats TrueFree buds feel almost weightless and fit well almost all ear sizes. You also get different tips so you can easily find the pair that fits you perfectly and provides a tight but comfortable fit. Thanks to this, the buds remain stable in ears no matter what you do, even during running/jogging sessions and intense workouts.
When it comes to build quality, we can say that the buds are rugged and durable enough.
Moreover, they are very easy to pair and use. It's enough to take them out of the case and the pairing is done in just a few seconds. In case you want to use only one bud, it's enough to take it out of the case but if you want to wear both, you have to start pairing with the right earpiece. When used in mono mode, you can pair one bud with your phone and the other with your tablet, give one bud to a friend, etc.
In addition, the buds support Bluetooth 5.0 with a great signal range and stable connection.
SoundPeats TrueFree wireless buds also sound better than we expected. Despite their low price, these buds deliver very pleasant, mainly neutral sound, with powerful bass and distinctive mids. They don't leak much sound but, at the same time, they can isolate a decent amount of ambient noise. The mic also works fine and your voice is clear on the other end.
Things we don't like
Unfortunately, the buds come with an open case. Although the charging case and the buds have very strong magnets that keep the buds in place and prevent them from falling out, the lack of cover could cause some damage or scratches on the earbud faceplates. Besides, there're no indicator lights on the case that would show you the battery status.
Speaking about the battery, we must say that 3.3 hours of playback time per single charge is below the average. The case provides up to 15 hours of battery life but every charge takes 1.3 hours and it can be quite annoying to charge the buds after every 3 hours.
Furthermore, you'll have to control the volume on your phone as the buds don't have built-in volume controls.
In addition, the buds aren't the loudest on the market. If you love listening to loud music, you should check out some of our previous suggestions.
---
8. Best Wireless Earbuds for Music – Wireless Bluetooth Stereo Earbuds by Erligpowht
With an aesthetic appeal as striking as their sound quality, Erligpowht Wireless Bluetooth Stereo Earbuds are here to elevate your audio experience without burning a hole in your pocket.
The design is a classic, blending in effortlessly with the horde of true wireless buds, yet radiating an undeniable charm. The buds themselves, along with the charging case, adopt a neutral hue. Their compact size, far from being bulky, offers a snug fit that doesn't protrude from your ears.
What's in the box?
Unwrapping the sleek box with the Erligpowht logo, you'll find the earbuds, user manuals, charging case, charging cable, and three pairs of silicone ear tips for customized comfort.
Things we like
The earbuds weigh as little as a feather, ensuring your ears feel as free as a bird while you're jamming to your favorite tunes. Thanks to the included tips in different sizes, these earbuds provide a stable fit that's excellent for everything from a leisurely stroll to an intense workout.
In terms of build quality, the earbuds, although plastic, feel sturdy and durable. The charging case, too, is well-constructed and offers robust protection for the buds, safeguarding them from potential damage.
But what sets the Erligpowht earbuds apart is their rich feature set.
Boasting an impressive battery life, the earbuds offer approximately 4-5 hours of playback time on a single charge. When drained, simply nestle them back in their charging case for a swift two-hour charge up. The built-in 2000 mAh rechargeable battery case extends this playtime by offering up to 18 additional charges.
The earbuds support Bluetooth, ensuring swift pairing and a stable connection. They are equipped with an auto-pairing feature that reconnects them to the last device automatically, making the entire process seamless.
The sound output is phenomenal, presenting a balanced sound profile with pleasant bass and consistent mids. The noise reduction feature further enhances the audio experience, offering good noise isolation albeit not complete noise cancellation.
Additionally, the earbuds support both mono and stereo modes, catering to your every audio whim.
Things we don't like
There's always room for improvement, and the Erligpowht earbuds are no exception.
While their compact design is a plus, they are not waterproof or sweatproof. This might be a deal-breaker for fitness enthusiasts who prefer their music accompaniment during intense workouts.
They are also unable to maintain a connection with multiple devices simultaneously. Occasionally, users may experience synchronization issues between the pair, but these can typically be resolved with a quick reset in the charging case.
In terms of sound, they could do with a bit more punch in the bass department, especially for those who love their beats hard and heavy.
Lastly, while they offer noise reduction, they don't provide complete noise cancellation, which might be a letdown for users seeking a fully immersive audio experience.
---
9. Best Invisible Earbuds for Work – Back Bay Tempo 30
Back Bay Tempo 30, an affordable entry in the wireless earbuds market that comes as a pleasant surprise. These buds prove that you don't need to break the bank to find quality audio and a comfortable fit.
What's in the box?
Inside the neat and compact packaging, you'll find the Back Bay Tempo 30 earbuds, a compact aluminium charging case that is noticeably smaller than the AirPods Pro case, and six different sizes of rubber ear tips, allowing for a highly customizable and comfortable fit.
Things we like
Straight out of the box, the Tempo 30 earbuds are easy to pair with your device. Despite not having an app for tinkering with EQ settings, the buds come with an effective active noise canceling feature.
The earbuds are equipped with a Bass Boost mode that can be activated by tapping the right bud. The feature enhances the listening experience, especially for bass-heavy tracks.
A standout feature of the Tempo 30 is their battery life. They last for eight hours on a single charge, and the charging case provides an additional 32 hours. Even after several days of use, the battery life remains impressive.
Additionally, the Tempo 30 earbuds are rated IPX7, meaning they can withstand being submerged in water up to 1 meter deep for 30 minutes. This makes them perfect for use in all weather conditions, and even during sweaty workouts.
The earbuds are designed to fit comfortably and securely in your ears. Even during high-intensity activities like rock climbing or running, they stay in place. Plus, their light weight makes it easy to forget you're wearing them.
Things we don't like
Despite their impressive features, the Back Bay Tempo 30 does have some drawbacks.
While the bass is strong and can be further enhanced with Bass Boost mode, the earbuds lack clarity in the high range. They may not be suitable for audiophiles seeking the absolute best in audio reproduction.
The call quality on the Tempo 30 leaves something to be desired. The earbuds have dual mics, which make the call sound decent on the other person's end, but the sound may come across as somewhat tinny on your end.
Lastly, the Bluetooth connection isn't as strong as it is on some higher-priced buds. Leaving your phone on a table or moving around a corner may cause the sound to cut out.
Choosing the best earbuds for small ears can be a challenge, but knowing what to look for can make the process a lot easier. Here are some factors you should consider when shopping for earbuds that will fit comfortably and securely in smaller ears.
---
10. Longest Total Battery Life – JLab Go Air Pop
The Go Air Pop comes in an array of vibrant colors, making them a trendy and expressive accessory. Not just about aesthetics, they are priced impressively, making quality wireless audio more accessible to the masses.
What's in the box?
Unboxing the JLab Go Air Pop, you'll find the earbuds neatly nestled in a compact charging case. Also included are three pairs of silicone ear tips in different sizes to ensure the right fit for all users.
Moreover, it also has a short integrated USB charging cable that's built right into the case – a handy feature that eliminates the worry of misplacing your charger.
Things we like
The Go Air Pop earbuds embrace a minimalist yet practical design. With a tiny form factor and a weight of just 0.2oz each, they sit snugly and discreetly in the ear without causing discomfort even during prolonged use.
Moreover, JLab has skillfully integrated touch controls on each earbud that allow for easy control of playback, calls, and voice assistant access. This makes them an excellent companion for your daily commute, workout, or leisurely music listening sessions.
One impressive feature of the Go Air Pop is its impressive battery life. They offer up to 8 hours of playback time on a single charge, and the charging case provides an additional 24 hours, summing up to a substantial 32 hours. That's more than enough to get through a few days without reaching for a charger.
On the technical side, these earbuds support Bluetooth 5.0, ensuring a stable connection and a respectable signal range. They are compatible with both iOS and Android devices, demonstrating a versatile performance across different platforms.
As for the sound quality, the Go Air Pop offers a balanced sound signature that's decent for a budget set. They come with JLab's signature EQ settings (JLab Signature, Balanced, and Bass Boost), allowing users to tailor the sound to their preferences.
Things we don't like
Despite the several positives, there are a few downsides to the Go Air Pop. Firstly, although the built-in USB charging cable is a unique and practical feature, it is rather short and might be inconvenient in some situations.
While the sound quality is pretty good for a budget pair, it might not fully satisfy the audiophiles. The earbuds offer a balanced sound but do not provide a deep, booming bass that some users may prefer.
Also, during high-volume levels, the sound tends to distort slightly.
Lastly, the Go Air Pop's IPX4 rating ensures resistance against splashes and sweat, which is nice, but they're not completely waterproof. Therefore, they may not be ideal for extreme sports or use in heavy rain.
---
How to Choose the Best Earbuds for Small Ears
1. Size of the Ear Tips: The size of the ear tips is crucial when it comes to comfort and fit for those with small ears. Many earbuds come with interchangeable ear tips in different sizes, allowing you to find the best fit. Look for models that include smaller sizes in their ear tip selection.
2. Shape of the Earbuds: The shape of the earbuds themselves can also affect how well they fit. Some designs may be too large or awkwardly shaped to fit comfortably in small ears. Consider trying different styles, such as in-ear, semi-in-ear, or those with a more ergonomic design, to see which works best for you.
3. Stability Features: Features like ear hooks or fins can make a significant difference in keeping earbuds secure, especially during activities like exercising. They can also help ensure a more snug fit in smaller ears.
4. Weight of the Earbuds: Lightweight earbuds can be more comfortable for people with small ears as they exert less pressure and are less likely to cause discomfort over prolonged periods.
5. Sound Quality: Regardless of the size of your ears, sound quality is always an essential factor. Look for earbuds with a balanced sound profile, good bass, and clear mids and highs. Depending on your preferences, you might also want earbuds with active noise cancellation or customizable EQ settings.
6. Wireless or Wired: Wireless earbuds are more convenient for activities like exercising, but they require charging and can sometimes have connection issues. Wired earbuds, on the other hand, provide a steady connection and don't require charging, but the wires can get in the way.
7. Battery Life (for wireless earbuds): If you decide to go with wireless earbuds, consider how long the battery will last on a single charge. Also, check if the charging case provides extra battery life.8. Price: Lastly, consider your budget. While higher-priced earbuds often have superior sound quality and features, there are also many affordable options with excellent performance.
FAQs
Q: What are the smallest Bluetooth earbuds?
A: Although many people think that the size is mostly determined by the earpiece size, we believe that the smallest available wireless earbuds are true wireless earbuds because they don't have any cables or extensions. When you put them in your ears, there're just the earpieces and nothing else. No wires, no inline remotes, no jacks, etc. Everything is utterly minimized, which means that there's no additional weight, no distractions, or tangling. It's simply you and your music. 
Q: Are the smallest Bluetooth earbuds good for small ears?
A: The size of small BT earbuds varies between different models. The fact that these are the smallest available earbuds doesn't mean they fit every small ear. Just like human ear size is individual, the size of these devices is also individual. This is why we can't claim that they can fit every small ear. The only thing we can say is that small size of their housings/earpieces should fit better than bulky earpieces that can hurt your ears. 
Q: Are the smallest wireless earbuds good?
A: Small wireless earbuds hide many advantages and disadvantages in their name. The fact they are small can be considered an advantage because it increases their portability, reduces weight, bulkiness, etc. However, this can also be considered a disadvantage because it increases the chance of being lost.
Apart from this, the connection with your phone, tablet, or laptop they establish via Bluetooth increases your movability as there're no cables that can annoy you or tangle around. On the negative side, Bluetooth technology is still not as good as wired connection, which means that you don't get a perfectly reliable connection or the perfect sound quality.
Q: Which are the best smallest Bluetooth earbuds?
A: Our list gathers 9 models of the smallest and best truly wireless earbuds we could find. They all deliver great performance and have amazing features, while their prices don't exceed their real value.
We have tried to point out their best qualities that make them stand out from the crowd but we can't really tell you which pair is the best for you. Your choice depends on your needs and preferences. If you have the chance, it would be smart to try the earbuds before buying them.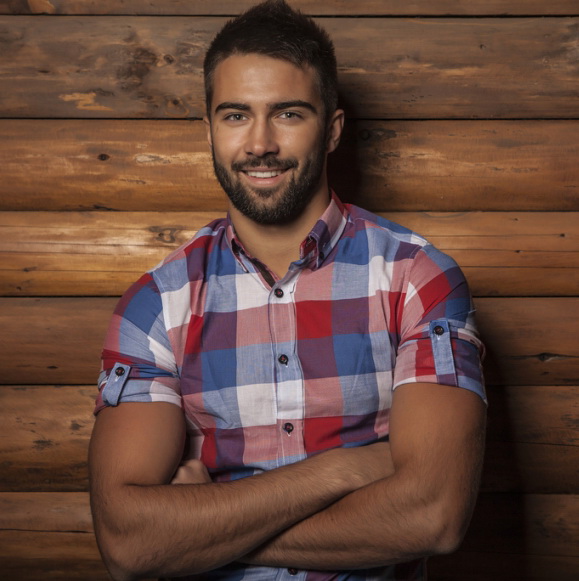 Hello, my name is James Longman.
I'm a writer and editor at AudioReputation. I disassembled my first portable AM/FM radio when I was only 8. At the age of 11, I burned the circuit board on my old boombox cassette player. I'm not going to explain how but it was reckless and stupid.
Since then, I have become much more careful around radios, boomboxes, and other audio devices (at least, I like to think so) but I have never lost the passion for audio equipment. Throughout 20 years of my professional career, I've been working for various audio equipment manufacturers and even started building speakers on my own in my little workshop.
I love the work we do here at AudioReputation. Testing, comparing, and evaluating all kinds of audio devices (speakers, soundbars, headphones, home theater systems, etc.) is something I truly enjoy. I try to be unbiased and give you my honest opinion on every piece of equipment I test. Still, you should take my reviews with a pinch of salt and always be just a little bit skeptical. The fact that I liked some speaker or soundbar doesn't mean that you are going to love it. If you have the opportunity, you should test it/hear it before buying it.