AudioReputation is reader-supported. When you buy through links on our site, we may earn an affiliate commission Learn More
Did you ever notice a weird-looking input on the back of your TV that says "optical"? If you did, you will be happy to know that the input actually presents another way you can connect your TV to a speaker or soundbar and get a high-quality sound! The optical input is designed for optical cables that transmit a digital signal.
Optical cables work differently than other popular digital cables you know, such as HDMI. That's because they use laser light to pass on an audio signal between two gadgets. Nowadays, people usually go for the HDMI cable and most of them don't even know they can connect their devices in other ways as well.
So, if you're interested to learn how to work with the optical cable, as well as connect your TV to the soundbar with it, you've come to the right place! We will show the easiest way to connect the soundbar to your TV using an optical cable.
---
When to opt for an Optical Cable for Connecting Your Devices
Both optical cable and HDMI are a much better option than analog cables, which are red and white ones. They can transmit high-res audio and work with various formats. But, there is a difference between the two digital options. Besides the fact that they work differently, HDMI is believed to be a better option because it can pass a higher quality of sound than an optical cable. That is why many households opt for HDMI cable. Still, an optical cable is a decent choice which is why a lot of people continue to use it. Furthermore, there are instances when using an optical cable will be much smarter, and sometimes, the only choice.
Your Device Doesn't Have an HDMI Input
Some older TVs as well as some soundbars don't have an HDMI port, so it can be a problem to connect them to a soundbar. If your TV is newer, this option is highly unlikely. However, your HDMI might not work for some reason. In that case, most people settle for an analog cable and a lower sound quality. But, you now know that you don't have to. By purchasing an optical cable and connecting your devices, you can still have a great digital connection between the soundbar and your TV.
Some soundbars, like SONOS PLAYBAR, have only optical input
You Need to Eliminate a Humming Noise
Do you have a problem with that annoying humming noise coming out of your speaker? In many cases, a humming noise occurs when there is a ground loop in your house. So, you will need to isolate the device in question. You can do that with the help of an optical cable. That's because, due to the materials they are often made of, optical cables cannot transfer that kind of noise.
Recommended Reading : What Are Stereo Amplifiers and How Do They Work?
You Want to Separate the Audio
If for some reason you need to isolate the sound from a digital source, you should know that you will be able to achieve that with both – HDMI and optical cable. However, the whole process of isolating the sound with an HDMI cable will be much harder and you'll definitely need some additional equipment. Thus, an optical cable is a better way to go.
Connecting the Soundbar to the TV with an Optical Cable
Now that we covered what is an optical cable and why you'll need to use it in some situations, let's get your TV and soundbar connected!
Remove the caps from the optical cable
Is your optical cable new? Well, if it's your first time using the optical cable you're about to connect, you'll need to remove the plastic caps that are protecting the ends of the cord. They are located on both ends of the cable.
Find the optical ports on the devices
Before you move to the next step, we recommend that you switch off both of your devices (your TV and your soundbar). Then, find the digital audio ports in the back of both the soundbar and the TV. After finding the ports, you will need to insert one end of the optical cable to the TV (optical OUT) and the other into the soundbar (Optical IN).
Set up the TV and the soundbar
Now it's time to switch on your devices and set them up. On both the TV and the soundbar, you should go to the source selection and switch the source to digital. If you see a "D-IN" notification on the screen of the soundbar, you managed to successfully connect the soundbar to your TV with an optical cable!
Recommended Reading : How to Make Regular Speakers Wireless
You should check if you did a good job by playing something on your TV. In case you managed to connect everything, and you still can't hear the sound coming from the soundbar, don't panic just yet! You should check if the audio is coming from the TV speakers. Sometimes, it won't turn off automatically when you connect your devices with an optical cable. Your soundbar should be working properly in a minute.
Other Ways to Connect the Soundbar to the TV
In case you realized that your TV doesn't have an input for the optical cable, don't worry. As we mentioned before, there are other ways to connect your devices together. We will show you how to work with other types of connections as well.
Alternatives to an optical cable
Use the HDMI Cable
When it comes to transmitting audio, using an HDMI cable is the best option. It passes on a high-quality sound and it's pretty easy to connect. If both your soundbar and your TV have HDMI ARC ports, you'll just have to insert one end of the cable into the soundbar and the other end into the TV. Then, you should change the source (audio output) to digital on both devices, and you're ready to go.
Try the AUX/RCA Cable
AUX cables transmit a 2-channel analog signal. That is why they are not the best option if you are looking for a better sound or for surround sound. But, if you just want to connect both of your devices and you don't have a digital cord in possession, the auxiliary cable will do.
Recommended Reading : How Important is a Subwoofer in a Home Theater System?
Just like with other types of cables, you'll need to connect both ends of the cord to your devices. You should make sure that ends are connected properly since AUX cables tend to get loose easily. The next step is to switch the source to AUX in the settings, and you'll be good to go.
Connect Your Devices via Bluetooth
In case you don't want to go through the hassle of finding ports and connecting cables, you can always go with the wireless option and pair your devices via Bluetooth. Of course, you need to check if both your soundbar and your TV have Bluetooth. In case they do, enable it on both devices. Don't forget to make both of the gadgets discoverable in the settings. Then, wait for your TV to detect the soundbar and connect to it. You should give your TV a few minutes and then play something to check if you did everything the right way.
In most cases, connecting your TV and your soundbar via Bluetooth will cause some audio delay which can be quite noticeable and quite annoying. Using Bluetooth to connect the soundbar and TV is only recommended if both – TV and soundbar support aptX LL codec. And even in that case, audio and video may not be in perfect sync. So, unless you really have to, don't use Bluetooth to connect a soundbar to a TV.
In Conclusion
We told you it was easy to connect the soundbar to the TV with an optical cable! In just a few simple steps, you can enjoy a high-quality sound. On the other hand, if your devices don't have an optical cable input, you will still be able to connect them with the help of HDMI, aux cable, or Bluetooth, just like we explained.
Did you find this article helpful? Please tell us in the comments below and make sure to stay tuned for more useful articles!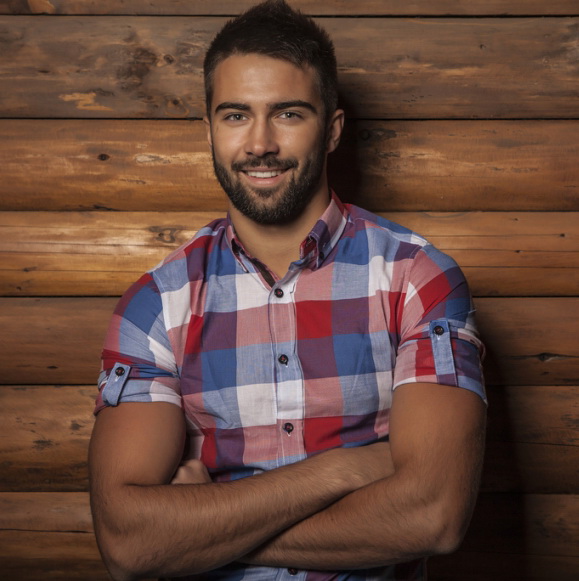 Hello, my name is James Longman.
I'm a writer and editor at AudioReputation. I disassembled my first portable AM/FM radio when I was only 8. At the age of 11, I burned the circuit board on my old boombox cassette player. I'm not going to explain how but it was reckless and stupid.
Since then, I have become much more careful around radios, boomboxes, and other audio devices (at least, I like to think so) but I have never lost the passion for audio equipment. Throughout 20 years of my professional career, I've been working for various audio equipment manufacturers and even started building speakers on my own in my little workshop.
I love the work we do here at AudioReputation. Testing, comparing, and evaluating all kinds of audio devices (speakers, soundbars, headphones, home theater systems, etc.) is something I truly enjoy. I try to be unbiased and give you my honest opinion on every piece of equipment I test. Still, you should take my reviews with a pinch of salt and always be just a little bit skeptical. The fact that I liked some speaker or soundbar doesn't mean that you are going to love it. If you have the opportunity, you should test it/hear it before buying it.