AudioReputation is reader-supported. When you buy through links on our site, we may earn an affiliate commission Learn More
If you need a speaker that has more options for music playback and not just Bluetooth connection or if you need a device that can charge your phone or tablet in case of emergency, you've come to the right place. Our list of 5 best portable Bluetooth speakers with USB ports in 2023 gathers 5 models that offer much more than a simple Bluetooth experience.
Why Do We Need Bluetooth Speakers with USB Ports?
We are aware of the fact that we're living in the wireless era and that Bluetooth is an integral part of our lives. We use it to stream music from our phones, tablets, computers, and other Bluetooth-enabled devices all the time. We also use Bluetooth speakers to stream podcasts or even answer important calls hands-free. Handy, isn't it? It saves space, sets you free from cable clutter, and gives you more freedom to move around. But what happens when your phone battery dies and you can't play music from it anymore?

If you're outside hiking, camping, etc. and your phone is about to run out of battery, the first thing you have to do is find a way to charge it. When there're no wall sockets or power banks nearby, Bluetooth speakers can be very useful. They usually have quite powerful batteries that can be used for charging other devices such as phones. And this is something that requires a USB port.
Apart from charging capabilities, in some cases, the port can also be used to connect a USB flash drive and play music directly from it. Their storage capacity is really impressive and you can play music from them for hours without getting bored. At the same time, your phone won't run out of battery so fast.
Best Portable Bluetooth Speakers with USB Ports – Comparison Table
In order to create our list of 5 best portable Bluetooth speakers with USB ports in 2023 and write the following reviews, we've tested numerous interesting devices. After a thorough inspection, we've selected five speakers that meet all or at least the most important requirements: attractive design, sturdy construction, good battery life, good audio reproduction, and the existence of at least one USB type-A port meant for charging other devices or playing stored music. Take a few minutes and go through our reviews – you may come across something you really like.
The List of 5 Best Portable Bluetooth Speakers with USB Ports in 2023
---
1. Best Design: JBL Charge 4
There are many amazing speakers on the market but we truly believe that JBL Charge 4 deserves the opening position on our list of 5 best portable Bluetooth speakers with USB ports in 2023. It's not cheap but also not unreasonably expensive. The speaker is available in plenty of attractive colors, it has a quite long battery life, and great audio reproduction. To top it all, this speaker is completely waterproof, which makes it a great companion at different outdoor parties, gatherings, etc.
Things we like
JBL Charge 4 comes in a recognizable cylindrical shape with two passive radiators on each side, control buttons on the top, and waterproof IPX7-rated protective acoustic fabric. On the bottom, you'll find five LED lights that will help you monitor the battery status and a set of ports (USB-C, USB-A, and AUX ports) protected by a waterproof cover.
Although it's not very small (8.6×3.7×3.6 in) or too light (34 oz), the speaker is highly portable and completely adequate for most daily indoor and outdoor activities. Even if you want to go for a walk or hiking, it can easily be thrown in a backpack and used for up to 20 hours. Thanks to such a powerful battery and the included USB Type-A port, you can even use the speaker to charge your phone or some other gadget.
The speaker is easy to use, pair, and connect. It supports Bluetooth 4.2 that enables stable connection within the 30ft range. Also, it supports the new JBL Connect+ app that allows you to daisy-chain up to 100 JBL speakers wirelessly.
Last but not least, JBL Charge 4 sounds really good. Of course, it delivers quite a powerful bass and it's recommended for use in larger rooms and outdoors. This is the way to get the most out of this speaker.
Things we don't like
Truth to be told, there's not much difference between this model and its predecessor JBL Charge 3. The design and the sound quality are pretty much the same with just slight improvements in the battery life department.
The vocals and the mids aren't as good as the lows and they lack some clarity.
The speaker also doesn't have a built-in mic, so don't count on answering important phone calls using it.
Also Read: Is JBL Better than Bose?
---
2. Best Portable Speaker with a Subwoofer: AXESS SPBT1031BL
If you don't want to pay more than $100 for a JBL speaker, there are always some significantly cheaper options offering satisfying quality and numerous features. Axess SPBT1031BL is one of them. It's a nicely designed cylindrical speaker that offers good sound quality, reliable Bluetooth connection, several ways of playing music. Most importantly, it comes at a very reasonable price.
Things we like
Axess SPBT1031 comes in several colors: black, blue, gray, red, and yellow. It has sporty looks and it is supposed to be used both indoors and outdoors. It has two 2-inch woofers and one 3-inch subwoofer. On one side, you'll notice a set of control buttons (on/off, play/pause, forward/backward, and mode buttons) as well as a USB Type-A, AUX input, micro USB charging port, and an SD card slot.
The speaker is relatively small (11.5×6.3×6.7 inches) and it weighs 3lbs, which makes it highly portable. Apart from the compact design, this speaker has sturdy plastic construction with rubberized ends for increased stability and protection. Although it has small legs on the bottom and can be placed on any surface, it also comes with a strap that can be attached to it and worn on a shoulder or hung somewhere.
Axess SPBT1031 supports Bluetooth connectivity and provides a stable connection within the 30ft range without obstacles. When used in a house with many walls and other obstacles, you can get up to 15ft.
Surprisingly enough, this speaker delivers a very pleasant and somewhat bassy sound. Of course, this happens thanks to the fact that it doesn't use a passive radiator but a true subwoofer that enables you to listen to rich and powerful bass that doesn't overwhelm the mids and the vocals.
Things we don't like
Sadly, using a subwoofer instead of a passive radiator has its downsides. Most importantly, it has a negative effect on battery life. It can deliver up to 6h of playtime but it shortens with the subwoofer usage. For example, if most of the played songs are bass-heavy, the battery life decreases to only 5 or even 4 hours per charge.
---
3. Longest Battery Life: W-KING D8 Mini
The minute you see W-King D8 Mini, you will realize that it was built to last. Rugged design, water resistance, Bluetooth, NFC, several backup options for playing music – you get all that for less than $50. Plus, it sounds really good and enables you to enjoy its sound for many hours.
Things we like
W-King D8 Mini comes in an all-black version and has a kind of sporty rugged design. It's made from sturdy plastic and it's IPX6 rated, which means that the device is completely water-resistant. On the top, you'll see a strap that enables you to carry it on your shoulder or hang somewhere, as well as a set of basic controls (play/pause, volume controls, power on/off), a built-in mic, and a set of LED indicator lights. On the back, you'll find a waterproof flap that protects one USB Type-A port, one USB Type-C port, a micro SD card slot, and an AUX input. On the bottom, there are sticky feet that increase the device's stability.
The speaker uses two 15W drivers and 2 passive radiators to deliver a very pleasant sound. Also, there's Bluetooth 5.0 with a stable connection and a good signal range. The battery is also quite powerful with its 24h playback time (when listening to music at moderate volumes). The recharge takes up to 3h.
Apart from all the above-mentioned features, fast pairing and connecting, and great ease of use, the D8 Mini speaker provides surprisingly good audio reproduction. The lows, mids, and highs are all well balanced and sound great with different music genres. The speaker can be paired with another D8 Mini creating a stereo experience that can be quite loud, especially when used indoors. Apart from that, it has a built-in equalizer that enables you to slightly adjust its sound signature to your own taste.
Things we don't like
Despite the built-in equalizer, we wouldn't recommend this speaker to people looking for a bass-heavy device. If you need the kind of bass that overpowers everything else, you should keep searching – this isn't really the speaker for you.
---
4. Best Deal: Tenmiya Bluetooth Speaker
The next product on the list of 5 best portable Bluetooth speakers with USB ports in 2023 is perfect for anyone looking for a portable party speaker. It's small (14×6.3×8.3 inches), compact, and suitable for both indoor and outdoor use. The speaker is sold at a reasonable price, it has an interesting design, decent battery life, and many useful features.
Things we like
Tenmiya Bluetooth speaker is a compact device that comes in black color. Thanks to its colorful lights, its design is very interesting and suitable for different kinds of parties. The speaker has a cylindrical shape with a handle on the top that enables you to carry it around.
On the front side, you'll see the entire control scheme. There's a digital display and a set of control buttons (mode, recording, mic/EQ, volume dial, play/pause, skip track). Apart from this, you will see a series of ports that allow you to charge the device, play music from a TF card or a USB drive, connect the speaker to another device via 3.5mm port, or to organize a karaoke party and sing songs (mic input).
The device seems to be of good quality. It feels sturdy and durable. It's made of hard plastic and it can be used outdoors, which is great for anyone who loves camping, hiking, picnics, etc. It pairs easily and it supports Bluetooth 4.2 with up to 33ft of signal range. The Bluetooth connection is not your only option – you can always play music from your phone via AUX cable, from a flash drive, or from a memory card. The speaker provides up to 10h of playtime at 50% volume but it's quite loud so you won't have to crank it up.
We were pleasantly surprised by the sound quality. Apart from the loudness, this speaker also has a very interesting sound. The lows are slightly dominant but you can use the equalizer and choose between several modes: Jazz Effect, Rock Music, Classical Sound, and Pop Sound Effects.
Things we don't like
The only thing that disappointed us about this amazing speaker is its battery. When compared to its competitors, 10 hours seems quite below average for a Bluetooth speaker at this price range.
---
5. Most Powerful: Pyle PPHP844B
Suitcase? No, it's Pyle PPHP844B portable speaker. Yes, it's shaped like a small suitcase and it has a telescoping handle but this is exactly what makes it so attractive and eye-catching. It's a relatively compact (12x13x20 inches) and reasonably priced 400W speaker that offers great audio reproduction and a bunch of useful trendy features. Let's check it out.
Things we like
Pyle PPHP844B comes in black color with all the control buttons and available ports located on the front side. There's a digital display, power, input, EQ button, play/pause button, skip track button, and a set of ports (USB Type-A, 3.5mm input, micro USB charging port, and a ¼" mic input port. In the middle, there's a big round volume dial.
The speaker features one 8-inch woofer and a tiny tweeter. Its total output power is 400W, which makes it quite loud and suitable for different kinds of parties, indoor and outdoor individual and group workouts, etc. Thanks to Bluetooth connectivity, the speaker can be paired with any modern Bluetooth-enabled device. Apart from streaming music via Bluetooth, you can also insert an SD card or a flash drive and use them as source devices. In addition, thanks to the fact that the speaker can be connected to a microphone, it's perfect for karaoke parties.
The thing that makes this speaker particularly interesting is its lighting scheme. It features multi-color automatic party LED lights that not only make the speaker look good but also create a special atmosphere.
Recommended Reading :

Pyle PPHP844B also comes with its own small remote that you can use to navigate the settings and control your playback without even getting up from your sofa.
When it comes to sound quality, we have no major complaints. The speaker is decently loud, the sound signature is bass-oriented and the speaker sounds best with bass-heavy music genres.
Things we don't like
We honestly believe that a 2-hour battery with a 4-hour recharge time is hardly acceptable, especially at this price point.
Also Read: Top 7 Bluetooth Speakers With Alarm Clock.
---
This was the list of 5 best portable Bluetooth speakers with USB ports in 2023. We've given our best to make an interesting selection for you and help you find your perfect speaker. In case we haven't answered all of your questions, please scroll down to our FAQs section or leave us a question in the comments below.
---
Check out our article on 'Ways to Connect Speakers to an Amp'.
FAQs
Q: What kinds of USB ports are installed in Bluetooth speakers?
A: Different Bluetooth speakers have different USB ports. Older portable Bluetooth speakers have micro USB charging ports. Others have replaced it with a faster USB Type-C charging port. Apart from these ports that are used to charge the speaker, some speakers also have standard USB Type-A ports that can be used to charge another device using the speaker battery or to insert a USB flash drive and play music directly from it.
Q: Can I plug a USB into a speaker?
A: If a speaker has a USB Type-A port, you can insert your USB flash drive and use it to play music whenever you need to save your phone's battery.
Q: How do I play a USB through a Bluetooth speaker?
A: In order to play music from a USB, a speaker should have a matching port. In the case of portable Bluetooth speakers, the port is usually protected by a protective flap. Once you remove the cover, you'll see the port (along with a charging port and optionally AUX port or an SD card slot). You can simply insert your USB drive, select the mode (change it to USB) with a mode button, and press "play". The party can start now!
Q: What's the best portable Bluetooth speaker with a USB port in 2023?
A: Our list of 5 best portable Bluetooth speakers with USB ports in 2023 gathers 5 great devices with different features and different price tags. We can't really say which one of them will be the perfect speaker for you, but you should be able to find at least one that meets your requirements.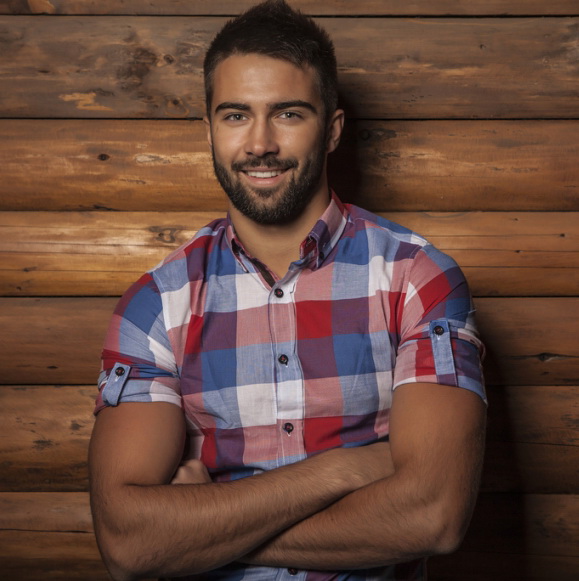 Hello, my name is James Longman.
I'm a writer and editor at AudioReputation. I disassembled my first portable AM/FM radio when I was only 8. At the age of 11, I burned the circuit board on my old boombox cassette player. I'm not going to explain how but it was reckless and stupid.
Since then, I have become much more careful around radios, boomboxes, and other audio devices (at least, I like to think so) but I have never lost the passion for audio equipment. Throughout 20 years of my professional career, I've been working for various audio equipment manufacturers and even started building speakers on my own in my little workshop.
I love the work we do here at AudioReputation. Testing, comparing, and evaluating all kinds of audio devices (speakers, soundbars, headphones, home theater systems, etc.) is something I truly enjoy. I try to be unbiased and give you my honest opinion on every piece of equipment I test. Still, you should take my reviews with a pinch of salt and always be just a little bit skeptical. The fact that I liked some speaker or soundbar doesn't mean that you are going to love it. If you have the opportunity, you should test it/hear it before buying it.