AudioReputation is reader-supported. When you buy through links on our site, we may earn an affiliate commission Learn More
TaoTronics is one of many Chinese audio brands but it's not as generic (or as bad) as some others. All their products are affordable and usually offer decent performance for the money. We have tested their Taotronics TT-BH22 ANC headphones and ended up quite surprised. These headphones offer much more than the price implies. Keep reading our review and find out more about these amazing headphones.
Taotronics TT-BH22 are closed-back over-ear Bluetooth headphones. Compared to over-ear Bluetooth headphones made by well-known manufacturers like Sennheiser, Sony, or Bose, Taotronics TT-BH22 headphones are very affordable but since they are active noise-canceling headphones, they are more than affordable – they can be considered cheap. You can buy them for less than $70 and for the price they deliver an unsurpassable performance.
The greatest things about these headphones are a great comfort (lightweight, soft earpads and nicely padded headband), satisfying noise cancellation, incredible playtime, and more than decent sound quality. We didn't like the build quality (they are mostly made of plastic and look cheap) and the sound without the ANC (unlike other cheap ANC headphones, Taotronics TT-BH22 headphones actually sound better when the ANC is on).
Foldable design, swiveling and rotating earcups, adjustable headband
Very comfortable – nicely padded and soft earpads and headband
Satisfying active noise isolation
Pretty good sound quality in ANC mode
Great battery – very long playtime
Affordable – great overall quality for the price
Poor sound quality when the ANC is off
Average build quality
Airplane adapter and wall adapter are not included
TaotTronics TT-BH22 are surprisingly affordable ANC headphones. For the price, these headphones offer more than you can possibly imagine. We dare to say that Taotronics TT-BH22 ANC headphones are one of the best ANC headphones under $100. If you are on a budget, you can't go wrong with Taotronics TT-BH22.
What's in the box?
Taotronics TT-BH22 ANC headphones come in a minimalistic black and white box. The presentation is simple but stylish. Inside the packaging, you will find semi-hard zippered carrying case with a TT logo on it. The headphones are folded inside the case. Along with the headphones, you will get 3ft long charging cable, 4ft long AUX cable, user manual, and 18-month warranty.
Package contents
Specs
| Taotronics TT-BH22 Specifications | |
| --- | --- |
| DIMENSIONS | |
| Weight | 4.5oz |
| Earpad cavity size | 2.25in x 1.5in |
| DRIVERS | 40mm, large-aperture x2 |
| TYPE | Over-ear, Closed-back |
| MATERIAL | Plastic |
| BATTERY | |
| Type | Li-ion, rechargeable |
| Capacity | N/A |
| Playtime | Up to 25 hours (at 50% volume) |
| Recharge time | Up to 3 hours |
| CONNECTIONS | Bluetooth, AUX cable |
| BLUETOOTH DETAILS | |
| Bluetooth version | 4.2 |
| Supported Bluetooth profiles | A2DP, HSP, HFP |
| NFC | No |
| Bluetooth range | 33ft |
| ADDITIONAL FEATURES | ANC, wired/wireless modes, built-in microphone |
Design
Taotronics TT-BH22 headphones look simple and sleek but they feel kind of cheap because of all the plastic. They have large oval cups with a TT logo on them. The protein earpads are very soft and thick. The headband is adjustable and has a thick layer of padding on the top. The headphones are available in four colors – black, blue, pink, and red.
Taotronics TT-BH22 ANC headphones are available in 4 colors
Since these are wireless, all the control buttons and all the inputs are located on the earcups.
On the right earcup, you will see three multifunction buttons (play/pause, and 2 volume/track buttons), LED Bluetooth/Battery/Charging indicator, and a micro USB charging port.
Right earcup
On the left earcup, you will find the ANC switch, ANC LED indicator, and the AUX input (when you run out of battery, you can plug in the audio cable and use them in wired mode).
Left earcup
The headphones actually look really good but we can't get over all the plastic. This plastic is kind of thin and makes the headphones look cheap and fragile. Still, considering the price, Taotronics TT-BH22 are durable and sturdy enough. The market is flooded with expensive headphones that look even cheaper and more fragile than these.
Features
The manufacturer really did everything to make the headphones comfortable. These headphones are very lightweight, the earcups can swivel and rotate, and the headband is adjustable. The earcups and the headband have thick layers of protein padding with a vinyl finish.
The earcups can swivel and rotate
The headphones feature Bluetooth 4.2 with a 33ft Bluetooth range. TT-BH22 headphones don't support NFC pairing but you shouldn't expect NFC support at this price point. The headphones can be paired with two devices simultaneously.
The battery is one of the most impressive features. The manufacturer claims that you can get up to 25 hours of playtime at 50% volume. In reality, you will get up to 20 hours if the ANC is on all the time. And you can always use the headphones in wired mode if the battery dies. The recharge takes 3-4 hours. When it comes to battery life, TT-BH22 can compete with much more expensive headphone models. For example, the best ANC headphones on the market, Bose QC-35, deliver up to 20 hours of playtime (in wireless mode with the ANC on).
Performance
We don't have any major complaints regarding comfort. The manufacturer did everything right. To be completely honest, Taotronics TT-BH22 are one of the most comfortable cheap headphones we have ever tried. They are lightweight, the clamping force is just perfect, and they don't put too much pressure on your head. You can wear them for hours without feeling any discomfort.
The control buttons are simple and easy to use but you will need some time to master the controls since you can't see them while wearing the headphones. All the buttons on the right headphone are multifunction buttons. The first one (play/pause) is used to turn on/off the headphones (the headphones are in pairing mode the moment you turn them on – you don't have to press any button to start pairing). The first button is also used to play/pause the music and answer/end calls.
The other two buttons are used to increase the volume (short press)/switch to the previous song (long press) and to decrease the volume (short press)/play the previous song (long press).
There is only one switch on the left earcup and it's used to activate the ANC feature. We prefer the sound when the ANC is on but you can decide for yourself.
The charging port is located on the right earcup and the AUX input is on the left. The ANC works in wired mode, too (not only in wireless/Bluetooth mode).
Control buttons and inputs
When the battery is low, the LED light on the right headphone blinks red. You can charge the headphones through the micro USB charging cable.
LED indicator on the right earcup is red while charging and blue when the battery is fully charged
Bluetooth works as advertised. The pairing is simple and quick (although NFC pairing is not supported). The signal is stable within the advertised range and we haven't experienced any signal loss. If there are walls or other obstacles the range is much shorter (10-15ft). There have been some claims that Taotronics TT-BH22 headphones feature aptX Bluetooth chipset but we don't think that's correct. This chipset is supposed to enable a certain type of compression which would allow you to watch videos on your phone/tablet/PC while wearing headphones without experiencing any audio delay. In our experience, there's a noticeable delay which means that Taotronics TT-BH22 headphones don't feature aptX.
The ANC feature delivers satisfying performance but it's not on par with more expensive competitors. The leader in this category is Bose Quiet Comfort 35 but the difference in price tags between the two is huge ($70 compared to $350). Still, Taotronics TT-BH22 performs much better than you would assume based on the price. We didn't do the measuring, but our impression is that they can isolate up to 70% of the surrounding noise. They do a great job at eliminating constant low-frequency noise (especially if it's not too loud) but they are not equally great when it comes to high-pitched sounds like car sirens, alarms, etc. For the price, that's more than enough. They also manage to passively isolate a decent amount of noise.
The microphone is always a nice additional detail and it's even better when it works. The mic on Taotronics TT-BH22 will make your voice sound distant and maybe just a little bit muffled but still very much understandable. It won't attenuate all the sounds around you (especially when it's windy or when you are in the middle of the street) but it will make your phone calls much more pleasant.
Sound Quality
First, a few words about the sound without the ANC. Most of the cheap ANC headphones actually sound worse and quieter when the ANC is on but Taotronics TT-BH22 is the complete opposite. When the ANC is off, they sound kind of muffled and quiet (even at full volume).
Once you turn the ANC on, everything gets boosted, especially the mids and highs. It's probably smart to download some EQ app and use it to adjust the sound if you want to use the headphones without the ANC since the original tuning is not the best.
When the ANC is on, the bass is punchier but it is controlled. It doesn't become overwhelming and it doesn't affect the low midrange frequencies. The mids (especially the voices) are clear but could have been better. They definitely lack some detail and dynamics. The highs are a bit too intense. Even though the headphones sound better when the ANC is on, you might still need some EQ app to adjust the sound signature and maybe boost the midrange a little bit more.
Recommended Reading :

When used in wired mode, the headphones perform slightly better – there's more detail in the midrange and the voices are just a little bit clearer. The highs are still a little bright.
Taotronics TT-BH22 headphones start to leak sound at 70% volume but if you crank up the volume up to 90%, the person standing or sitting 5ft away from you will hear everything. The headphones are pretty loud so you don't really have to increase the volume that much. One more reason for not increasing the volume is the distortion which kicks in at about 80% and becomes really noticeable at 90%.
When the ANC is on and there's no playback, you will hear a very quiet but constant hissing noise. Once the playback starts, the noise disappears.
These headphones offer mediocre soundstage and stereo imaging. When there are too many instruments involved, everything gets jumbled up.
All in all, these headphones don't deliver an audiophile experience but it would be unreasonable to expect that at this price point. With a slight emphasis on the bass and treble, they are a great choice for EDM, hip-hop, and similar music genres.
The Competition
In case you don't like Taotronics TT-BH22 or want to try some other headphones, you don't have to look elsewhere. We have picked out for you three alternative options under $100.
---
Sennheiser HD 4.40
HD 4.40 headphones are one of the cheapest Sennheiser's Bluetooth headphones but they are still more expensive than TT-BH22. HD 4.40 are not ANC headphones but they have pretty good passive noise isolation. They feature Bluetooth 4.0 with aptX codec (TT-BH22 don't support aptX). They also support NFC pairing and have a Bluetooth range of 33ft. Just like Taotronics TT-BH22 headphones, HD 4.40 headphones are entirely made of plastic. Taotronics TT-BH22 headphones offer better comfort (partially because of the weight but also because of the softer paddings) but HD 4.40 headphones sound better (the emphasis is on the bass which can be overpowering but the sound, in general, is richer, louder, and more detailed with less distortion at high volumes). HD 4.40 feature foldable design and the earcups can swivel. The headphones can deliver up to 25 hours of playtime in wireless mode and can be used in wired mode, too. The only available color is black.
---
COWIN E7 Pro
E7 Pro is an upgraded version of a very popular bestseller COWIN E7. The new version features an improved professional-grade ANC technology and improved drivers. COWIN E7 Pro has a recognizable design and interesting triangular control buttons. The headphones are foldable, the headband is adjustable, and the earcups can swivel. Still, Taotronics TT-BH22 are more comfortable because they are lighter and have softer paddings. E7 Pro also puts more pressure on the head. Just like Taotronics TT-BH22, they are entirely made of plastic and can be considered affordable. E7 Pro headphones isolate a greater amount of ambient noise than Taotronics TT-BH22. Even when the ANC is turned off, they manage to passively isolate great amount of noise. E7 Pro delivers up to 30 hours of playtime (at 50% volume and with the ANC on). They can also be used in wired mode. E7 Pro doesn't feature support for aptX. They deliver pretty loud sound and have a bassy sound signature with dynamic mids and bright highs. E7 Pro headphones are available in 4 colors – black, pink, red, and white.
---
Mpow H3 ANC Headphones
Mpow is another Chinese manufacturer. This is a cheaper alternative. They are also full-size over-ear Bluetooth headphones. They are foldable, the earcups can swivel, and the earpads are soft but the padding on the headband is not thick and soft enough. They are not as comfortable as Taotronics TT-BH22 but they are pretty close. The ANC works as advertised and it can isolate similar amount of ambient noise as Taotronics TT-BH22. The battery delivers up to 25 hours (in Bluetooth mode and with ANC on) or up to 50 hours (in wired mode with the ANC on). Mpow H3 doesn't feature aptX chipset. The sound is pretty good for the price – it's not that rich and detailed but the bass is punchy, the mids are pretty sweet, and the highs are clear. Mpow H3 headphones are available in black color only.
---
Comparison Table
Final Thoughts
If you really need ANC headphones but don't want to spend $300+ on a pair of wireless noise-canceling headphones, Taotronics TT-BH22 is a great alternative. They offer surprisingly good performance at an affordable price. You can hardly get better sound quality, noise cancellation, and comfort for less than $70. Build quality is not the best (all the parts are made of plastic) but you have to make some compromises if you are on a budget.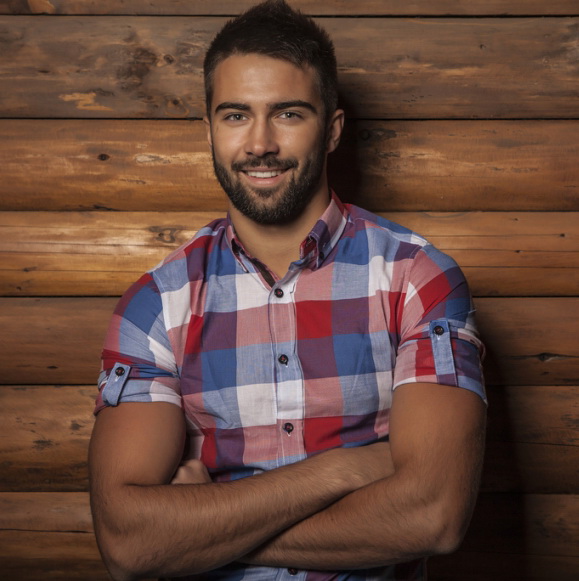 Hello, my name is James Longman.
I'm a writer and editor at AudioReputation. I disassembled my first portable AM/FM radio when I was only 8. At the age of 11, I burned the circuit board on my old boombox cassette player. I'm not going to explain how but it was reckless and stupid.
Since then, I have become much more careful around radios, boomboxes, and other audio devices (at least, I like to think so) but I have never lost the passion for audio equipment. Throughout 20 years of my professional career, I've been working for various audio equipment manufacturers and even started building speakers on my own in my little workshop.
I love the work we do here at AudioReputation. Testing, comparing, and evaluating all kinds of audio devices (speakers, soundbars, headphones, home theater systems, etc.) is something I truly enjoy. I try to be unbiased and give you my honest opinion on every piece of equipment I test. Still, you should take my reviews with a pinch of salt and always be just a little bit skeptical. The fact that I liked some speaker or soundbar doesn't mean that you are going to love it. If you have the opportunity, you should test it/hear it before buying it.