AudioReputation is reader-supported. When you buy through links on our site, we may earn an affiliate commission Learn More
If you're looking for a pair of earbuds that will remain stable in your ears even during an intense workout, we suggest you try a pair of wireless earbuds with ear hooks. We know that most of the earbuds with this type of accessories come with ear wings. They really make the buds feel more comfortable and stable but they simply aren't as good as the hooks. As they go over and behind your ears, ear hooks increase the overall earbud stability and ensure they stay in your ear canal no matter what you do. In addition, the hooks are usually made from silicone, a soft and flexible material, that makes the buds more comfortable and easily adjustable to different ear shapes and sizes. Based on our experience, earbuds with ear hooks are the best solution for people with both small and large ears, as it is quite difficult for them to find the buds that won't pop out.
We know how important the earbud stability is, not only when you're running or working out but also during any other activity like walking, riding a bike, or doing household chores. We wanted you to feel cozy and relaxed in all of these situations, so we made this article about 6 best wireless earbuds with ear hooks to help you find the earbuds that can be used anytime and anywhere without any concerns.
Best Wireless Earbuds With Ear Hooks – Comparison Table
Our team tested many devices with different features and specifications. After a thorough analysis, we've created this list of 6 best wireless earbuds with ear hooks in 2023. While creating the list, we were trying to include as many different models as possible and allow you to choose the best pair based on your budget and other requirements regarding comfort level, battery life, controls, etc. Let's see what we have prepared for you.
6 Best Wireless Earbuds with Ear Hooks in 2023
---
1. Best Overall: Senso ActiveBuds S-250
We're opening our review section with an amazing pair of Bluetooth earbuds that combine good quality, decent battery life, high comfort level, and shockingly low price. Moreover, they also have an IPX7 waterproof rating, which makes them more than adequate for any kind of activity.
Things we like
Senso ActiveBuds S-250 don't look very fashionable or trendy. They have a rather simple and sporty design, appropriate for any situation. They come in black and black/red versions. Also, they have all the controls and ports you may need (a multifunction button for pairing, powering on/off, etc., volume controls, small built-in mic, and a USB charging port).
Apart from decent looks, ActiveBuds are very comfortable. They come with flexible silicone ear hooks that prevent them from sliding or popping out. If you need additional support, you can always try a different pair of ear tips as they come in different sizes. The cable connecting the earbuds is flat and it doesn't tangle but it tends to bounce when you move or jump. If the bouncing during workouts is too annoying, you can always clip it to your clothes or simply shorten it and reduce its movements.
Furthermore, S-250 buds support Bluetooth 4.1 with a good signal range. The battery offers up to 8 hours of listening time after only 1.5h of charging.
Also, they can withstand some heavy sweating thanks to the IPX7 rating, which significantly increases their overall durability.
When it comes to sound quality, S-250 earbuds are more than decent. They deliver rich bass and clear highs, while their CVC 6.0 noise reduction technology ensures better call clarity.
Things we don't like
Truth to be told, considering the price range, we don't want to be too critical about these earbuds. However, we have to mention a few disadvantages that we honestly don't consider deal-breakers.
First, you should know that ActiveBuds don't have very clear mids, which means the vocals won't always be as clear as you'd like them to be.
Second, the flap on the charging port gets worn out after numerous charging series, so it gets difficult to close the port and protect it from dirt or liquids and maintain its proper functioning.
Also, it's not very pleasant to run with these in your ears on windy days because the wind triggers some weird rattling inside the buds, which can be quite distracting.
---
2. The Most Affordable Wireless Earbuds with Ear Hooks: Otium BT Headphones
If you need a pair of great consumer earbuds that come at a more than affordable price, we recommend you to consider buying Otium Bluetooth earbuds. The buds are light and comfortable but also quite durable, especially because of the IPX7 rating, which is quite a surprising feature at this price point.
Things we like
Otium BT buds come in black color with few red discreet details. They have a tangle-free flat cable and large housings. On the right bud, you'll find all the basic controls and a USB charging port. The buds come with a compact zippered case so you can store them inside along with spare tips and charging cable. This comes in handy when traveling. You simply throw the case in your backpack and you're all set.
We don't have any complaints about the comfort. The buds feel good in-ears. Thanks to their large, flexible, and soft ear hooks, they won't pop out no matter what you do. In addition, they have a matte finish and kind of rubbery feel, so they don't attract fingerprints and don't get messy and dirty.
Otium buds are great for any activity from walking to indoor and outdoor exercising. Even if you get caught in the rain, they won't suffer any damage or malfunction.
The buds support Bluetooth 4.1 with a decent signal range. We don't have any complaints about their connectivity. The pairing process is smooth and simple, and once you pair them, you'll be able to enjoy your music for approximately 8 hours per single charge.
The sound quality is not amazing but, considering the price, it's more than acceptable. The bass is present and the mids sound good. At 80% volume or less, the buds sound just fine. Also, they deliver decent passive noise isolation and good call quality.
Things we don't like
The only thing we don't like about these earbuds is their lack of clarity, especially when listening to music at high volumes (above 80%).
---
3. The Longest Battery Life: Anker SoundBuds Curve (Upgraded)
These earbuds are the upgraded version of the old Anker SoundBuds Curve. They have kept their affordability and improved several important features: battery life, controls, and water resistance.
Things we like
Anker SoundBuds Curve are good-looking earbuds, even though they come in black color only. They have nicely rounded and elegant-looking housings. This qualifies them for use on almost any occasion.
Aside from the good looks, the earbuds are very light and easy to use, which makes them comfortable in every sense of the word. They come with many useful accessories, such as a cable clip and various ear tips and ear wings. The hooks are flexible and soft, and they successfully keep the buds inside users' ears regardless of the activity.
Moreover, the buds are pretty durable and even IPX7-certified, which is quite surprising considering the price.
In addition, they support Bluetooth 5.0 version with a great signal range. The battery is powerful – it delivers up to 18 hours of playtime per single charge. All these features make Anker SoundBuds Curve the perfect choice for all active people who do sports, as well as for frequent commuters or even office workers.
The buds offer mostly neutral sound signature with a slightly elevated bass response that makes them great for any music genre but also keeps you pumped up in the gym. Although they don't offer ANC, passive noise isolation is surprisingly good.
Things we don't like
Truth to be told, we don't have many things to complain about. However, we have to mention that their sound is not perfectly balanced. They aren't a good choice for activities like gaming and they don't offer good call quality.
When it comes to build quality, we have noticed that the buds have a very thin cable, which could cause problems after a certain period of use.
---
4. Best-Looking Wireless Bluetooth Earbuds with Ear Hooks: Powerbeats Pro
Our next choice is the earbud model made by Beats. As you can guess, they are quite expensive but their features and looks partially justify the price. Some of the main reasons why we included them on our list of 6 best wireless earbuds with ear hooks in 2023 are their trendiness, battery life, connection reliability, ease of use, and sound quality.
Things we like
Let's start with the design. Powerbeats Pro are truly wireless earbuds but they are uniquely designed, which makes them very distinctive among numerous similar products. Most truly wireless earbuds don't have ear hooks. They sometimes have in-ear wings (aka stability fins) but hooks are quite rare. Luckily, Powerbeats Pro have them, which increases their stability and comfort level. Also, you get to choose between black, blue, pink, red, yellow, ivory, moss, and navy versions.
The buds are nicely built and they feel pleasant under fingers because they are covered with silicone. Also, they have an IPX4 rating, which means they are sweat-resistant and more than adequate for sports.
Moreover, Powerbeats Pro are very easy to use. They have touch-sensitive control buttons on both sides and you can use them to control playback, incoming calls, and volume. The buttons are very responsive and the pairing process is quick and easy.
These earbuds support BT 5.0 with a special H1 chip, which boosts performance when they are used with Apple devices. However, these work just fine with any other Bluetooth-enabled device, regardless of its OS.
In terms of the features, we have to mention that they have a pretty great 11-hour battery life, while the charging case provides additional 14 hours. They also support fast charging, so you get approximately 90 minutes of playback after a 5-minute charge. Furthermore, the buds have proximity sensors, which means they save battery life by pausing the music when you take them out.
Last but not the least, we love their sound. The bass is punchy and accurate but not as overwhelming as with other Beats headphones. The mids are nicely balanced and detailed.
Things we don't like
The first thing we noticed is the bad treble performance and the highs that sound a bit dull.
Also, the Powerbeats Pro app needs significant improvements. Enabling its users to only check the battery status is like not having the app at all, especially at this price point.
---
5. The Loudest Wireless Earbuds with Ear Hooks: Mpow Flame2
Mpow Flame 2 is the upgraded version of the older Mpow Flame. Although they don't look so different at first glance, you will soon start to notice all the improvements. The products come in almost the same packaging and with the same numerous accessories. However, with Mpow Flame 2, you get improved stability, higher comfort level, and more battery juice. Of course, it all comes at a similar, quite affordable, price.
Things we like
In comparison to the previous version, Mpow Flame 2 earbuds have a slightly upgraded design. They were really trying to make ergonomic earbuds and we can say they've succeeded. The buds have large housings with flexible and soft ear hooks but they also come with a set of ear tips and ear fins that additionally support the buds and keep them in your ears. The fins position can't be adjusted but they really reduce fatigue.
The buds seem nicely built and durable, all the way from the control buttons and tangle-free cable, to the IPX7 rating, which makes them submersible in water
Mpow Flame 2 buds are extremely easy to pair and use. The pairing lasts only a few seconds, the buds support Bluetooth 5.0 with a great signal range. They can be paired with two different devices simultaneously.
When it comes to sonic performance, we like their loud and clear sound. The bass response is not extremely powerful or extended but it's quite punchy.
All in all, Flame 2 is a great choice if you need something that can be used at any place and any time, for both indoor and outdoor activities. Their 12-hour battery will certainly be able to cover it.
Things we don't like
In terms of disadvantages, we were not happy about the reduction in the number of different color options in comparison to the previous version. Also, we found the mic very disappointing – callers seem to hear more of the background noise than the voice of the person they are talking to.
---
6. Best Budget: Vislla Bluetooth Sport Earbuds
The last pair on our list of 6 best wireless earbuds with ear hooks in 2023 is a pair of sport earbuds by Vislla. These buds are significantly cheaper than the same-looking earbuds made by more reputable brands but they still are a decent rival, especially in terms of battery life and bass response.
Things we like
Vislla Bluetooth earbuds come in black, blue, green, and red colors and have quite a recognizable design. Actually, they are a bit unusual truly wireless earbuds with large housings and ear hooks. On both sides, you will find touch-sensitive controls used to manage playback, adjust the volume, activate voice assistant, and initiate pairing.
The buds seem to be of good quality and their IPX5 rating makes them perfect for sports, especially indoor workouts because they're sweat resistant.
They come in an unusual zippered carrying/charging case.. Once you open it, you'll see two earbuds connected to their charging points with a USB charging port in the middle.
Vislla earbuds are very comfortable and lightweight. They provide a tight seal and their flexible ear hooks keep the buds in your ear canal and offer a high level of comfort.
Recommended Reading :

The buds support Bluetooth 5.0. The signal range and connection quality are surprisingly good. One of their coolest features is their ability to enter pairing mode immediately, right after you take them out. Apart from this, they have a great battery. 8 hours of playback is guaranteed per charge but the case provides additional 2-3 charges. Enough for a couple of days, don't you think?
We were also happy with the sound quality, especially bass reproduction. The buds are suitable for listening to any genre.
Things we don't like
Our biggest (and only) complaint is related to the ease of use. The fact that you get to control so many features with only two touch-sensitive buttons will cause some confusion at first. The good news is that the controls are perfectly responsive.
---
This was the list of 6 best wireless earbuds with ear hooks in 2023. We sincerely hope that you found our reviews useful and that they helped you choose the model that fits your budget and lifestyle. If you still have some doubts or questions, please see our FAQs section. We have tried to answer the most common questions that may concern any customer. In case there's still something unclear, feel free to leave us a comment. We will give our best to answer as soon as possible.
---
Buying Guide
If you enjoy working out or engaging in physical activities while listening to music, then wireless earbuds with ear hooks are perfect for you. However, before making a purchase, there are several factors you need to consider to ensure that you get the best value for your money. Here are some of the factors you should keep in mind:
Comfort and Fit
The comfort and fit of the earbuds are crucial for ensuring that you can use the product effectively. Since the hook may not fit properly to your ear size, it is essential to check this before purchasing. You can find the best solution by buying adjustable and multiple ear tips to ensure the earbuds are comfortable and fit securely.
Sound Quality
Sound quality is a crucial factor to consider when purchasing earbuds. Look for top brands and models that offer crisp high-end frequencies, good bass response, clear mid-range, noise-canceling, or noise-isolating features if you want to shut off outer noise and enhance overall sound quality.
Battery Life
The earbuds' battery retention is essential, particularly if you use them frequently for extended periods. Look for earbuds with a long battery life that can be recharged quickly using a fast-watt USB cable. Ensure that the earbuds suit your needs, and consider how long it takes to recharge them before use.
Connectivity
Quick and reliable connectivity is vital for ensuring that your earbuds work effectively. Choose earbuds with Bluetooth 5.0 or higher for a stable and quick connection. You can also look for additional connectivity features like NFC pairing or multi-device pairing.
Durability and Water Resistance
If you want your wireless Bluetooth earbuds to last longer, you must ensure they are durable and water-resistant. Look for water-resistant or sweat-proof earbuds, and check for the depreciation that can be returned on your earbuds to calculate the warranty and durability.
Price
Your budget is an essential factor to consider when purchasing earbuds. Look for earbuds that fit within your budget or are less expensive. Several brands offer cost-effective earbuds with good sound quality.
Brand Reputation
Before purchasing, research the brand's reputation and reviews to get an insight into its features, qualities, and customer preferences. This information will help you make wise and clear decisions.
FAQs
Q: What are the most stable wireless earbuds?
A: The most stable wireless earbuds are the earbuds that fit perfectly the shape of your ears. When they read this, most people usually roll their eyes because they find it almost impossible to achieve a goal like this.
However, it's not all that complicated. It may take some time to find the right buds but the only way to do it is to keep trying. The perfect buds have the right shape, the right tip shape and size, and they probably have ear wings/fins or ear hooks that improve the overall stability.
Q: What are the best wireless earbuds for sports?
A: A perfect pair of wireless sport earbuds must have two important features – proper design and proper sound signature.
When it comes to design, sport earbuds shall have an ergonomic shape and certain add-ons that provide better comfort and stability. When we say add-ons, we mean accessories such as ear tips, ear wings, ear fins, and ear hooks. Ear tips usually come in various sizes but the best option is to have both silicone and foam tips. The foam tips provide a better fit and better isolation but they are usually not included in the package and you have to pay extra for them. Ear hooks are usually detachable. They should be soft and flexible so they don't cause fatigue. They are very important because they wrap around your ears and keep the buds inside ears during physically demanding activities such as running, jumping, etc.
The other important thing is the sound. If your main goal is an effective workout, you probably don't mind if the sound isn't perfect. You just want the music to energize you and make your hurt pumping faster. Bass-enhanced earbuds and headphones proved to be a great choice in these situations.
Q: Are wireless earbuds more prone to falling out?
A: Different types of headphones lay in/on/over your ears and feel completely different. Earbuds are often considered the most uncomfortable type because they are inserted in your ear canal, which causes fatigue more often than larger on or over-ear models. However, that doesn't mean that wireless earbuds are more prone to falling out than wired. In fact, the cable that connects them to your phone can sometimes be the one that pulls the earbuds down and forces you to readjust them over and over again.
So, our answer is – no. Wireless earbuds aren't more prone to falling out than wired.
Q: How to prevent my earbuds from falling out?
A: The best way to prevent your earbuds from constantly falling out is to make sure that you're buying the earbuds that come with the additional equipment necessary to keep the buds in place. This means to try out different forms and sizes of ear tips, and find the pair that provides a tight seal and doesn't cause any major discomfort. Furthermore, you should get some fins or wings, in case you feel that the tips alone don't provide enough stability. If this doesn't help, we suggest you buy a pair of wireless earbuds with ear hooks. They should lock the buds inside your ears and keep them inside until you take them out on your own.
Q: What are the best Bluetooth earbuds that stay in your ear?
A: Although many earbuds out in the market deliver excellent fit, some of the models that stood out among the rest when it came to their stability were:
Sony LinkBuds S Truly Wireless

Beats Flex Wireless

Apple AirPods (2nd generation)

Sony WI-C310 Wireless
Q: Are ear hooks good?
A: Ear hooks can provide a more secure fit for earbuds during physical activities, making them a good choice for some individuals. However, they may not be comfortable for everyone and can cause discomfort or irritation for some users. Whether ear hooks are right for you depends on your personal preference and ear shape.
Q: Is over-ear safer than on-ear?
A: There is no clear evidence to suggest that over-ear headphones are safer than on-ear headphones. Over-ear headphones provide better noise isolation and can be more comfortable, while on-ear headphones are more portable and allow for greater situational awareness. The choice between these two types of headphones ultimately depends on personal preference and intended use.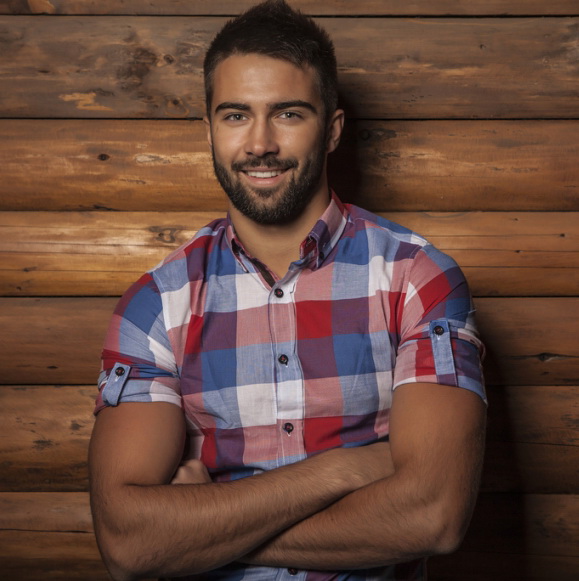 Hello, my name is James Longman.
I'm a writer and editor at AudioReputation. I disassembled my first portable AM/FM radio when I was only 8. At the age of 11, I burned the circuit board on my old boombox cassette player. I'm not going to explain how but it was reckless and stupid.
Since then, I have become much more careful around radios, boomboxes, and other audio devices (at least, I like to think so) but I have never lost the passion for audio equipment. Throughout 20 years of my professional career, I've been working for various audio equipment manufacturers and even started building speakers on my own in my little workshop.
I love the work we do here at AudioReputation. Testing, comparing, and evaluating all kinds of audio devices (speakers, soundbars, headphones, home theater systems, etc.) is something I truly enjoy. I try to be unbiased and give you my honest opinion on every piece of equipment I test. Still, you should take my reviews with a pinch of salt and always be just a little bit skeptical. The fact that I liked some speaker or soundbar doesn't mean that you are going to love it. If you have the opportunity, you should test it/hear it before buying it.