AudioReputation is reader-supported. When you buy through links on our site, we may earn an affiliate commission Learn More
Our team really loves to use wireless earbuds and one particular problem we often encounter made us select the 7 best wireless earbuds with volume control in 2022 and help others avoid the same problem. As you can probably guess, our problem is caused by the complete lack of volume controls on many wireless earbuds, especially true wireless models.
Some may wonder why is this so important when you can always adjust the volume by using a smartphone, tablet, or some other audio source. Well, if you've ever owned a pair of wireless earbuds without volume controls, you probably know how annoying it can be. Imagine hurrying down a busy street holding bags in your hands or riding a bike down the same street. Which one is easier – to move your hand up and press the volume button or reach to your pocket (or backpack), take your phone out, unlock it, open the app or phone settings, adjust the volume, lock the phone, and take it back to the pocket? You get our point? Where are your bags? Can you keep walking/riding safely during the process?
Having the volume controls on earpieces or audio cables is not a must-have feature but it can definitely save you some time and nerves.
Best Wireless Earbuds with Volume Control – Comparison Table
Considering all the previously mentioned reasons, we've decided to do our research and find the earbuds that have onboard volume controls, so you don't have to bother with apps or phones anymore. We've tested numerous models and ended up with 7 best wireless earbuds with volume control in 2022. We did our best to include earbud models with various useful features, great performance, and build quality. Some of them are quite cheap and the others are a bit pricey. Hopefully, this list will satisfy different tastes and requirements.
The List of 7 Best Wireless Earbuds with Volume Control in 2022
---
1. Best True Wireless Earbuds with Volume Control: Powerbeats Pro
This section deserves to be opened with an amazing pair of modern, great-looking, and high-quality true wireless earbuds. Powerbeats Pro is one of the highest-rated and best-performing earbud models on the market and it's our top pick when it comes to wireless earbuds with volume control. The price is the only thing that's not so amazing but we believe that these are really worth buying.
Things we like
The first thing you notice when you see Beats products is their looks. Beats has always been famous for its attractive design and Powerbeats Pro buds are not an exception. They come in many visually appealing colors (navy, blue, black, pink, yellow, red, moss, and ivory) and they have quite a unique design. The uniqueness comes from the large ear hooks, which are very rare on true wireless earbuds.
After a detailed analysis of their design, let's take the earbuds in our hands and see how they feel. They're well built, slick, and they feel very nice under fingers due to the silicone coating. Powerbeats Pro earbuds definitely seem quite durable and their IPX4 splash-proof rating adds to it.
Now, let's turn them on and see how easy they are to use. The earbuds have a touch-sensitive control scheme on both earpieces enabling you to control the playback, pairing, manage calls, and volume. Thanks to the responsive buttons, pairing and connecting will be a breeze, while the Bluetooth 5.0 with H1 chip will boost performance and provide stable connection (especially with iOS devices).
Depending on the volume, you'll get 9 to 11 hours of playtime. The included charging case provides additional 14h and the fast-charge feature gets you 90 minutes of playtime after a 5-minute charge. The buds also feature proximity sensors that make the music pause the second you take them out of your ears, which leads to some serious battery savings.
Finally, we've come to sound quality. As we could expect, the sound signature is bass-enhanced, the lows are powerful, punchy, and accurate. However, they don't overwhelm the mids, which are rich in detail and nicely balanced.
Things we don't like
The Powerbeats Pro app could use some improvements. Adding an equalizer and some EQ presets would be a great upgrade.
Also, we have to warn you about the treble performance and slightly dull-sounding highs.
---
2. Longest Battery Life: Samsung Galaxy Buds Plus
Our next choice is an improved version of the Samsung Galaxy Buds that we reviewed in one of our previous articles. The buds are called Samsung Galaxy Buds Plus and they're the latest release from the Samsung Galaxy true wireless line. We've included them on the list of 7 best wireless earbuds with volume control in 2022 because of their good looks, great build quality, performance, and battery life. If you add their relatively affordable price to the equation, you get an almost perfect pair of earbuds.
Things we like
When you look at the Samsung Galaxy Buds Plus, you won't see almost any difference in comparison to the previous Galaxy Buds version. They are stylish, small, and light. They come in black, purple, red, and cloud blue colors. Apart from the design, they've preserved good build quality and stability.
The most important improvements have been made in the performance department. The new Buds have a more powerful battery that offers over 12h of playtime. The case can provide 12 more hours, while a 3-minute charge gets you a whole hour of playtime. There's also the incredible Bluetooth 5.0 that makes pairing simple and connection stable even at 100ft distance.
Unlike the previous version, the buds are compatible with both iOS and Android. Subsequently, they use two apps – Galaxy Buds+ for iOS users and Galaxy Wearable app for Android fans. Both apps allow you to use the equalizer, adjust the functions of control buttons, check the battery status, update software, find lost earbuds, etc.
One of the greatest things about these apps is the possibility to activate Ambient Aware2 mode, which enables you to stay aware of your environment when walking down noisy streets.
Adding volume controls was probably the most important improvement. As we were unable to control the volume with the previous Samsung Galaxy Buds, the new version enables you to do it by double-tapping the right earbud to turn the volume up or the left one to turn it down.
We're very satisfied with the sonic performance of Buds Plus. They sound quite refined and well-balanced. The bass is there, powerful and accurate. The mids are sweet and detailed, while the treble is quite consistent. In addition, each earbud has two built-in external and one internal mic, which isolate a great amount of ambient noise, making your voice surprisingly clear during phone calls.
Things we don't like
Despite being quite sturdy, the buds have only IPX2 rating, which isn't enough for a sweaty workout.
Also, the earbuds lack multipoint or NFC pairing features, as well as aptX LL support.
---
3. Best NC and TV Earbuds: Sony WF-1000XM3
If you're looking for a pair of amazing earbuds with volume controls that can be used for watching TV and isolate a great deal of ambient noise, we present to you Sony WF-1000XM3. They're the most expensive earbuds on the list but they certainly offer more than most wireless earbuds.
Things we like
Sony WF-1000XM3 buds have quite a sleek design. They may seem a bit larger than average true wireless earbuds but that doesn't diminish their elegant and attractive appearance. They come in black and silver colors with an amazing matte finish.
The earbuds have touch-sensitive controls that allow you to manage calls, control playback, and activate Ambient Aware mode or voice assistant. Originally, these didn't have volume controls but Sony solved that issue by releasing a software update that enables you to adjust the volume by tapping the multifunction button.
Besides this, WF-1000XM3 buds seem quite durable and easy to use. The Headphones Connect app that comes with the earbuds is compatible with both Android and iOS, and it allows you to change the functions of the control buttons, control the volume, activate ANC, Ambient Aware Mode, or use the equalizer. The buds support NFC fast pairing, too.
Thanks to the Bluetooth 5.0, pairing is easy and the connection remains stable even at 200ft distance. The Bluetooth antenna is built in the pointy part of the buds and both sides use a simultaneous transmission system. This reduces latency, enabling you to watch TV without annoying audio delay.
The battery lasts approximately 9h per single charge. Charging takes less than 1.5h and the case provides 3 additional cycles.
Last but not least, Sony WF-1000XM3 earbuds deliver a very pleasant sound. Their sound signature is rather flat and detailed with punchy bass, well-balanced treble, and clear vocals. The mic and ANC offer above-average performance.
Things we don't like
Sadly, we're disappointed by the comfort level of WF-1000XM3. Their elliptical design simply doesn't follow the natural shape of the human ear, causing slight discomfort.
Moreover, the app allows you to assign different functions to the control buttons but you can't use all of them at once. For example, if you want to be able to control the volume, you'll have to give up on the ability to activate Ambient Aware mode by tapping the button.
Despite being great for watching TV, you'll need to buy a separate Bluetooth transmitter if you don't own a Bluetooth-enabled Sony TV.
Finally, you should be aware that using ANC reduces your battery life to only 6-7 hours per charge.
---
4. Best Sports Wireless Earbuds: Bose SoundSport
During the testing described in the introduction, we came across two amazing pairs of Bose wireless earbuds. We couldn't decide which one is better so we decided to include both of them on the list. The first Bose model that we want to present to you is Bose SoundSport – wireless earbuds with inline controls.
Things we like
You don't have to know their name to realize they are made for sports. It's enough to see their unusual sporty design. They come in black, white, red, and blue colors. The power on/off button is on the right earbud and inline control pad with volume controls, mic, charging port, and the pairing button is just a few inches away from the right earbuds.
The earbuds have slightly bulky earpieces with ear wings that add to the overall stability. They're also IPX4 certified, which means they're resistant to sweat, rain, and small water splashes. The rubberized cable is flexible but also strong and durable.
Bose SoundSport buds weigh only 0.8 ounces and they don't cause any discomfort even after a few hours of wearing. They also don't go too deep in-ear but manage to isolate a lot of ambient noise.
Although Bose doesn't disclose Bluetooth specs, we assure you that the pairing is simple and that connection is quite stable. The earbuds have a decent battery that offers up to 6h of playtime and they support NFC pairing as well. In addition, there's the Bose app that makes organizing playlists for your workouts much easier. Luckily, it also enables you to use the equalizer and adjust the sound to your own taste.
Speaking of sound, we must say that the buds have a bass-boosted sound signature. Although quite dominant, the bass isn't unpleasant. The earbuds deliver a very energetic sound that motivates users to work out harder.
Things we don't like
The major complaint about Bose SoundSport earbuds is related to their battery life. We are not saying that it's not good but it could certainly be improved, considering that many cheaper earbuds have more powerful batteries.
---
5. Best Design: Bose SoundSport Free
If you find Bose SoundSport amazing, Bose SoundSport Free earbuds are even better because they offer what their name claims – freedom. They are completely cordless, they sound and look good, and they are the right choice if your goal is a pair of true wireless earbuds with separate volume controls, designed for all active people who love doing sports.
Things we like
Bose SoundSport Free buds have an attractive sporty design. They come in ultraviolet, orange, and blue colors. For all those who love more discrete colors, there's also the subtle black version.
The control scheme is simple and efficient. The multifunction button is on the left earbud and it's used to manage calls, control playback, initiate pairing, etc. On the right side, you'll find the volume controls. Say goodbye to touch-sensitive buttons – those two small but useful buttons are there and they're very responsive.
As the looks and controls don't make a decent pair of earbuds, we have to dig deeper. Bose SoundSport Free earbuds are light and comfortable, with a good seal and tight fit. Their semi-open design allows your ears to breathe and keeps you fully aware of your environment, which is quite important in crowded places with a lot of traffic.
The Bose Connect app works great with any operating system and it allows you to check the battery status, control the playback, activate standby timer, etc. The battery offers up to 6h of playtime, while the case provides 2 additional cycles. Pairing is simple and easy, and the Bluetooth 4.1 ensures good performance and stable connection within the 50-60ft range.
Sound quality is one of the most important features of Bose SoundSport Free. The sound signature is rather neutral but the buds deliver very pleasant lows. The mids are well-balanced and the treble is accurate and consistent. Thanks to the design, the soundstage is way wider than average and perfect for different music genres.
Things we don't like
Unfortunately, this true wireless model has the same problem as its predecessor. The battery is subpar to the competition, especially considering the price range, and it needs to be improved as soon as possible.
---
6. Best Deal: Tozo T6
They may not be the most attractive or the most expensive earbuds on our list of 7 best wireless earbuds with volume control in 2022 but they are certainly worth your attention. In fact, Tozo T6 earbuds seem to have all that a regular customer may need, including more than affordable price.
Things we like
Tozo T6 earbuds don't have an elegant and shiny design but they certainly look good and they're perfect for discrete design lovers. Apart from the standard black, they're available in rose and white colors. The earbuds are mostly made from matte plastic, except the glossy touch-sensitive area.
The control scheme is simple and easy to use. You'll be able to control the playback, calls, adjust the volume, and activate the voice assistant.
The earbuds seem nicely built and feel fairly comfortable. They may not have any stability fins or hooks but they provide a secure fit and remain stable in ears even while doing sports. In addition, they're IPX8 certified, which means they're fully waterproof and sweatproof.
In terms of features, you don't have many options. The buds support Bluetooth 5.0 with over 150ft of signal range and the battery that offers up to 6h of playtime. The small compact case offers 4 additional charges, while the recharging takes 1.2h.
All in all, Tozo T6 buds are decent affordable earbuds with a very pleasant sound signature. The bass is slightly emphasized but the buds are suitable for listening to different music genres. Also, they passively isolate a great amount of ambient noise and leak almost no sound, which makes them suitable not only for sports but also for commuting or office jobs.
Things we don't like
Tozo T6 buds don't use any apps, equalizers, etc. Also, their treble performance is a bit uneven.
---
7. Best Budget: Senso ActivBuds S-250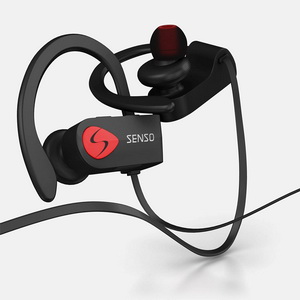 The last product on the list of 7 best wireless earbuds with volume control in 2022 is an old model made by Senso. We recommend ActivBuds S-250 to all of you who don't want to spend a lot of money on earbuds but do want to enjoy listening to music during different activities.
Things we like
S-250 earbuds have quite a simple sporty design with large housings and ear hooks. They aren't eye-catchy but they definitely aren't ugly. The buds come in black and red/black colors.
The control scheme is very simple and easy to use. All you need is on the housings – multifunction and power on/off buttons, built-in mic, USB charging port, and separate volume controls.
They may not be the smallest earbuds on the market but they're definitely very comfortable. They feel rather stable in ears and provide a secure fit, while the flexible silicone ear hooks lay nicely around your ears providing extra stability. The cable is flat and tangle-free. If you find the bouncing too disturbing, you can easily clip it to your clothes with a clip provided in the package.
Recommended Reading :

The buds are meant to last and their IPX7 rating significantly extends their lifespan.
In addition, S-250 buds support Bluetooth 4.1 and their battery offers up to 8h of continuous playtime, while the recharging takes approximately 1.5h.
In terms of sound quality, you shouldn't expect much but we found it more than satisfying. The bass is present and powerful, and the highs are quite clear.
Things we don't like
Sadly, the quality of the mids is questionable as the vocals aren't very clear. They are somewhat muffled.
Also, be careful with the charging port flap as it tends to get worn out after a while, making the process of closing the charging port quite difficult.
---
This was our list of 7 best wireless earbuds with volume control in 2022. Hopefully, we've reduced your search time and helped you find your perfect buds. In case of any further questions, please read or FAQs section or leave us a comment below.
---
FAQs
Q: Do wireless earbuds have volume controls?
A: Although you'd expect all earbuds to have volume controls, this is not the case. Fortunately, many manufacturers are trying hard to add these buttons or update their software so you can assign different functions to different touch-sensitive buttons. However, many devices still lack volume controls, so you should be very careful when buying wireless earbuds.
Q: Do I need wireless earbuds with volume controls?
A: Buying a pair of wireless earbuds with or without volume controls is up to you. Different people have different needs and preferences but we find these controls very useful.
Q: Where are the volume controls located?
A: Location varies from model to model. True wireless earbuds have touch-sensitive or regular buttons on their housings, while regular wireless earbuds with an audio cable connecting two earpieces have inline volume controls.
Q: How do I adjust the volume on my wireless earbuds?
A: If you have standard wireless earbuds with inline controls, you should have two separate buttons (+/-) on your control pad. They are usually also used to skip tracks. In case you own a pair of true wireless earbuds, you should read the user manual carefully and see how many times you should press or tap the multifunction button to turn the volume up or down. Only a few true wireless earbuds have physical volume controls and some of them are on our list of 7 best wireless earbuds with volume control in 2022.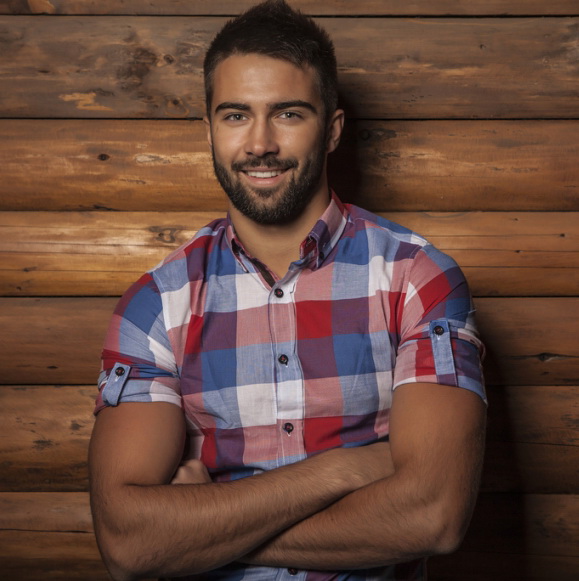 Hello, my name is James Longman.
I'm a writer and editor at AudioReputation. I disassembled my first portable AM/FM radio when I was only 8. At the age of 11, I burned the circuit board on my old boombox cassette player. I'm not going to explain how but it was reckless and stupid.
Since then, I have become much more careful around radios, boomboxes, and other audio devices (at least, I like to think so) but I have never lost the passion for audio equipment. Throughout 20 years of my professional career, I've been working for various audio equipment manufacturers and even started building speakers on my own in my little workshop.
I love the work we do here at AudioReputation. Testing, comparing, and evaluating all kinds of audio devices (speakers, soundbars, headphones, home theater systems, etc.) is something I truly enjoy. I try to be unbiased and give you my honest opinion on every piece of equipment I test. Still, you should take my reviews with a pinch of salt and always be just a little bit skeptical. The fact that I liked some speaker or soundbar doesn't mean that you are going to love it. If you have the opportunity, you should test it/hear it before buying it.