AudioReputation is reader-supported. When you buy through links on our site, we may earn an affiliate commission Learn More
Our team really loves to use wireless earbuds and one particular problem we often encounter made us select the 8 best wireless earbuds with volume control in 2023 and help others avoid the same problem. As you can probably guess, our problem is caused by the complete lack of volume controls on many wireless earbuds, especially true wireless models.
Some may wonder why is this so important when you can always adjust the volume by using a smartphone, tablet, or some other audio source. Well, if you've ever owned a pair of wireless earbuds without volume controls, you probably know how annoying it can be. Imagine hurrying down a busy street holding bags in your hands or riding a bike down the same street. Which one is easier – to move your hand up and press the volume button or reach to your pocket (or backpack), take your phone out, unlock it, open the app or phone settings, adjust the volume, lock the phone, and take it back to the pocket? You get our point? Where are your bags? Can you keep walking/riding safely during the process?
Having the volume controls on earpieces or audio cables is not a must-have feature but it can definitely save you some time and nerves.
Best Wireless Earbuds with Volume Control – Comparison Table
Considering all the previously mentioned reasons, we've decided to do our research and find the earbuds that have onboard volume controls, so you don't have to bother with apps or phones anymore. We've tested numerous models and ended up with 8 best wireless earbuds with volume control in 2023. We did our best to include earbud models with various useful features, great performance, and build quality. Some of them are quite cheap and the others are a bit pricey. Hopefully, this list will satisfy different tastes and requirements.
The List of 8 Best Wireless Earbuds with Volume Control in 2023
---
1. SAMSUNG Galaxy Buds2
Imagine you're fully focused on your workout, and your favorite tunes are playing on your earbuds. Suddenly, it stops, and you're now listening to the annoying beats of your gym. This happens when you get a pair of earbuds with a poor battery backup. Enter the Samsung Galaxy Buds2. These buds not only have a good battery life but even boast a splendid sound quality. Let's talk about it in detail below.
Things we like
The Galaxy Buds 2 are not just about listening; they're about experiencing. The sound quality is immersive, making you feel as if you're part of a live concert. Their active noise cancellation is a boon in noisy environments, blocking out distractions and letting you focus on your tunes. The ambient sound mode is a thoughtful addition, ensuring you're not entirely cut off from your surroundings.
To be honest, they're a treat for your ears. With a very sleek and compact design, which is 10% lighter than its older version, it delivers massive comfort for those long-music sessions. But what if you want a pair of earbuds that can withstand long calling hours? Well, these buds stand tall in this segment as well, thanks to three microphones and its noise reduction technology that removes all the unnecessary noise from your background, and the other person receives your crystal clear voice. And what about the touch controls? Well, they are literally the cherry on top, as they offer many features at your fingertips.
Things we don't like
Like everything, these earbuds also have their Achilles' heel. Talking about the international version, you might see a gap in some region-specific warranties. Even the compact design, which is also their USP, might not work well with people who are used to misplacing their things and then forgetting about them. Lastly, even though its touch controls are supreme, they might feel a little too sensitive at times.
---
2. Longest Battery Life: Samsung Galaxy Buds Plus
Our next choice is an improved version of the Samsung Galaxy Buds that we reviewed in one of our previous articles. The buds are called Samsung Galaxy Buds Plus and they're the latest release from the Samsung Galaxy true wireless line. We've included them on the list of 8 best wireless earbuds with volume control in 2023 because of their good looks, great build quality, performance, and battery life. If you add their relatively affordable price to the equation, you get an almost perfect pair of earbuds.
Things we like
When you look at the Samsung Galaxy Buds Plus, you won't see almost any difference in comparison to the previous Galaxy Buds version. They are stylish, small, and light. They come in black, purple, red, and cloud blue colors. Apart from the design, they've preserved good build quality and stability.
The most important improvements have been made in the performance department. The new Buds have a more powerful battery that offers over 12h of playtime. The case can provide 12 more hours, while a 3-minute charge gets you a whole hour of playtime. There's also the incredible Bluetooth 5.0 that makes pairing simple and connection stable even at 100ft distance.
Unlike the previous version, the buds are compatible with both iOS and Android. Subsequently, they use two apps – Galaxy Buds+ for iOS users and Galaxy Wearable app for Android fans. Both apps allow you to use the equalizer, adjust the functions of control buttons, check the battery status, update software, find lost earbuds, etc.
One of the greatest things about these apps is the possibility to activate Ambient Aware2 mode, which enables you to stay aware of your environment when walking down noisy streets.
Adding volume controls was probably the most important improvement. As we were unable to control the volume with the previous Samsung Galaxy Buds, the new version enables you to do it by double-tapping the right earbud to turn the volume up or the left one to turn it down.
We're very satisfied with the sonic performance of Buds Plus. They sound quite refined and well-balanced. The bass is there, powerful and accurate. The mids are sweet and detailed, while the treble is quite consistent. In addition, each earbud has two built-in external and one internal mic, which isolate a great amount of ambient noise, making your voice surprisingly clear during phone calls.
Things we don't like
Despite being quite sturdy, the buds have only IPX2 rating, which isn't enough for a sweaty workout.
Also, the earbuds lack multipoint or NFC pairing features, as well as aptX LL support.
---
3. Best NC and TV Earbuds: Sony WF-1000XM3
If you're looking for a pair of amazing earbuds with volume controls that can be used for watching TV and isolate a great deal of ambient noise, we present to you Sony WF-1000XM3. They're the most expensive earbuds on the list but they certainly offer more than most wireless earbuds.
Things we like
Sony WF-1000XM3 buds have quite a sleek design. They may seem a bit larger than average true wireless earbuds but that doesn't diminish their elegant and attractive appearance. They come in black and silver colors with an amazing matte finish.
The earbuds have touch-sensitive controls that allow you to manage calls, control playback, and activate Ambient Aware mode or voice assistant. Originally, these didn't have volume controls but Sony solved that issue by releasing a software update that enables you to adjust the volume by tapping the multifunction button.
Besides this, WF-1000XM3 buds seem quite durable and easy to use. The Headphones Connect app that comes with the earbuds is compatible with both Android and iOS, and it allows you to change the functions of the control buttons, control the volume, activate ANC, Ambient Aware Mode, or use the equalizer. The buds support NFC fast pairing, too.
Thanks to the Bluetooth 5.0, pairing is easy and the connection remains stable even at 200ft distance. The Bluetooth antenna is built in the pointy part of the buds and both sides use a simultaneous transmission system. This reduces latency, enabling you to watch TV without annoying audio delay.
The battery lasts approximately 9h per single charge. Charging takes less than 1.5h and the case provides 3 additional cycles.
Last but not least, Sony WF-1000XM3 earbuds deliver a very pleasant sound. Their sound signature is rather flat and detailed with punchy bass, well-balanced treble, and clear vocals. The mic and ANC offer above-average performance.
Things we don't like
Sadly, we're disappointed by the comfort level of WF-1000XM3. Their elliptical design simply doesn't follow the natural shape of the human ear, causing slight discomfort.
Moreover, the app allows you to assign different functions to the control buttons but you can't use all of them at once. For example, if you want to be able to control the volume, you'll have to give up on the ability to activate Ambient Aware mode by tapping the button.
Despite being great for watching TV, you'll need to buy a separate Bluetooth transmitter if you don't own a Bluetooth-enabled Sony TV.
Finally, you should be aware that using ANC reduces your battery life to only 6-7 hours per charge.
---
4. Cleer Audio ARC
Cleer Audio ARC is one of the few open-ear design earbuds available in the market, and trust me when I say they perform extremely good in outdoors, and their comfort is unbeatable. In fact, they're super safe to wear as they sit very comfortably on your ears. Now, let's look at what makes these earbuds good and bad.
Things we like
The ARC's unique open-ear design is its standout feature. These buds come with a twist-on design that rests securely on the ear without even going inside the ear canal. This lets users relish their music experience while realizing an acute awareness of their surroundings. This is especially beneficial for people who wish to remain alert to traffic or other potential hazards.
The connectivity of these earbuds stands tall with the powerful Bluetooth 5.0. They deliver an extended connection range with your smartphone, liberating users from the confines of their devices. They also seamlessly pair with computers, both Android and iOS devices, and even TVs equipped with Bluetooth. In short, audio quality is paramount, and the ARC earbuds deliver on this front.
These buds come with a rich, detailed, and powerful audio quality, thanks to their 16.2mm geodynamic drivers. On top of this, you even get to tailor your sound preference through the Cleer+ App, which is absolutely free to use. When it comes to the controls, the Cleer Audio ARC seems like the LeBron James of the NBA. The Best!
I say this because their touch controls let the users manage volume, tracks, calls, and even access their device's native voice assistant with ease. The Cleer+ App also gives independence with various options to customize these controls. Finally, the battery life of the ARC earbuds deserves special mention. These buds offer around a commendable 7-hour battery life, making sure that the user's audio sessions remain uninterrupted. Also, the carrying case, thoughtfully designed with an in-built charging cable, makes sure that the earbuds are always ready for action.
Things we don't like
While the ARC earbuds have a lot going for them, they aren't without their drawbacks. The product is primarily designed for US outlets and voltage, which means international users might need to invest in adapters or converters.
This can be a significant inconvenience for those residing outside the US or frequent travelers. Additionally, while the carrying case is durable and well-crafted, some might find it a tad bulky, especially if they're seeking a more compact solution for their on-the-go audio needs.
---
5. Soundcore by Anker Liberty 4 NC
These latest wireless earbuds coming from Soundcore do stand a very strong chance of making it to our list. I say this because it only has a cutting-edge noise-cancellation, but these buds give a top-notch music experience to the users. So, let's have an in-depth look at this product.
Things we like
The noise cancellation in the Liberty 4 NC is more than just awesome, as it reduces unwanted noise by up to 98.5%. These buds also come with a high-sensitive internal sound sensor. Innovative noise isolation chamber and even a large driver that makes it stand out of the crowd. Through this, you can get a very serene music experience even when you're in the noisiest of settings. Not just that, these buds take your music sessions to the next level through their Adaptive ANC 2.0 technology which basically makes real-time calculations and adjustments through your ear canals and the outside environment.
Audio quality is everyone's number one priority when it comes to an audio device, and the Liberty 4 NC stands tall in this matter. The custom drivers deliver a very crisp and detailed sound, with the added benefit of high-resolution wireless audio and LDAC technology. This transfers three times more data than standard Bluetooth, which instantly improves your music experience. Moving forward, the HearID 2.0 feature allows users to find their perfect sound profile, and for those who like to tweak, there's a fully adjustable equalizer and 22 preset settings. Battery life is another strong suit, with a single charge providing up to 10 hours of playback and a total of 50 hours when combined with the charging case.
The earbuds also offer a seamless Bluetooth pairing experience, especially with Android devices, and come with Bluetooth 5.3 for multi-point connections. Lastly, the IPX4 water resistance ensures that unexpected rain or accidental spills won't hamper your journey.
Things we don't like
With so many plus points, there are some downsides to these earbuds as well. For starters, you can't find out the weight and size of the earbuds, which can be a deal breaker for many people. Also, with so many features and customizable options, people who prefer a simple, plug-and-play device might feel overwhelmed with so many features.
---
6. Best Deal: Tozo T6
They may not be the most attractive or the most expensive earbuds on our list of 8 best wireless earbuds with volume control in 2023 but they are certainly worth your attention. In fact, Tozo T6 earbuds seem to have all that a regular customer may need, including more than affordable price.
Things we like
Tozo T6 earbuds don't have an elegant and shiny design but they certainly look good and they're perfect for discrete design lovers. Apart from the standard black, they're available in rose and white colors. The earbuds are mostly made from matte plastic, except the glossy touch-sensitive area.
The control scheme is simple and easy to use. You'll be able to control the playback, calls, adjust the volume, and activate the voice assistant.
The earbuds seem nicely built and feel fairly comfortable. They may not have any stability fins or hooks but they provide a secure fit and remain stable in ears even while doing sports. In addition, they're IPX8 certified, which means they're fully waterproof and sweatproof.
In terms of features, you don't have many options. The buds support Bluetooth 5.0 with over 150ft of signal range and the battery that offers up to 6h of playtime. The small compact case offers 4 additional charges, while the recharging takes 1.2h.
All in all, Tozo T6 buds are decent affordable earbuds with a very pleasant sound signature. The bass is slightly emphasized but the buds are suitable for listening to different music genres. Also, they passively isolate a great amount of ambient noise and leak almost no sound, which makes them suitable not only for sports but also for commuting or office jobs.
Things we don't like
Tozo T6 buds don't use any apps, equalizers, etc. Also, their treble performance is a bit uneven.
---
7. Best Budget: Senso ActivBuds S-250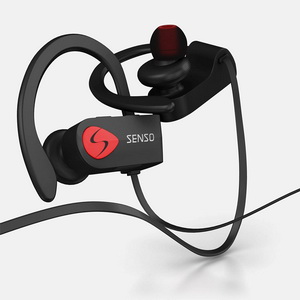 The last product on the list of 8 best wireless earbuds with volume control in 2023 is an old model made by Senso. We recommend ActivBuds S-250 to all of you who don't want to spend a lot of money on earbuds but do want to enjoy listening to music during different activities.
Things we like
S-250 earbuds have quite a simple sporty design with large housings and ear hooks. They aren't eye-catchy but they definitely aren't ugly. The buds come in black and red/black colors.
The control scheme is very simple and easy to use. All you need is on the housings – multifunction and power on/off buttons, built-in mic, USB charging port, and separate volume controls.
They may not be the smallest earbuds on the market but they're definitely very comfortable. They feel rather stable in ears and provide a secure fit, while the flexible silicone ear hooks lay nicely around your ears providing extra stability. The cable is flat and tangle-free. If you find the bouncing too disturbing, you can easily clip it to your clothes with a clip provided in the package.
Recommended Reading :

The buds are meant to last and their IPX7 rating significantly extends their lifespan.
In addition, S-250 buds support Bluetooth 4.1 and their battery offers up to 8h of continuous playtime, while the recharging takes approximately 1.5h.
In terms of sound quality, you shouldn't expect much but we found it more than satisfying. The bass is present and powerful, and the highs are quite clear.
Things we don't like
Sadly, the quality of the mids is questionable as the vocals aren't very clear. They are somewhat muffled.
Also, be careful with the charging port flap as it tends to get worn out after a while, making the process of closing the charging port quite difficult.
---
8. OpenRock Pro
For many, the constant need to recharge earbuds has become a daily hassle. The struggle of realizing your earbuds are dead right when you need them most can be frustrating. Enter the OpenRock Pro, the first portable open-ear headphones of 2023 that come with a massive battery backup and even multiple control options.
Things we like
The OpenRock Pro is specially made in such a way that they wrap around your ears perfectly without plugging or covering your ear canals. This comes in very handy when you want to be aware of your surroundings while listening to your favorite tunes. This is very crucial for those who want to enjoy outdoor activities but at the same time don't want to compromise with the sound quality.
One of the standout features of the OpenRock Pro is its sound quality, enhanced by the TubeBass technology. The dual dynamic drivers, which are three times larger than typical drivers, ensure a transparent and smooth sound performance. With a distortion rate of less than 1%, users can expect crystal-clear audio. The TubeBass technology further amplifies the bass, making every beat resonate with depth and clarity.
The best part about the OpenRock Pro is its impressive battery life. A single charge can last up to 19 hours of music or call time at a decent 70% volume. On top of it, the powerful 400 mAh charging case boasts a massive 27-hour battery backup. So, all in all, you get a remarkable 46 hours of battery life. This playback time helps those who are always moving and don't get the time to put their devices on charge
Things we don't like
Yet, no product is without its drawbacks. While the OpenRock Pro boasts many features, its open-ear design might not be for everyone. Some might prefer the noise isolation that traditional in-ear headphones offer. Additionally, while the patented ergonomic ear hook technology ensures a secure fit, it might take some time for users to adjust and find the perfect fit.
---
This was our list of 8 best wireless earbuds with volume control in 2023. Hopefully, we've reduced your search time and helped you find your perfect buds. In case of any further questions, please read or FAQs section or leave us a comment below.
---
Factors to Consider When Choosing the Best Wireless Earbuds With Volume Control
Here are the factors that you must consider before buying your next earbuds.
Sound Quality
A balanced sound profile is a no-brainer in any audio device. What I mean to say is that the bass, mids, and treble should always be in harmony. This stops any frequency range from overpowering the others. So, when you're jamming to rap music that comes with heavy bass or even enjoying the soothing classical symphony, your earbuds should deliver consistent and immersive sound quality.
Noise isolation capability is another very important factor for your earbuds. Like, good noise isolation can block any unwanted noise without disturbing your music experience. Now, this gets super handy if you're someone who likes to get away from the bustling of the outside environment while traveling. Not just that, some premium earbuds like the Apple AirPods Pro even offer Active Noise Cancellation (ANC), which uses advanced algorithms to avoid external noises.
In the end, the soundstage and imaging of the earbuds also play a very crucial role in your daily experience. For instance, a wide soundstage feels like the music is coming from all around you rather than just from two points in your ears. On the other hand, Imaging allows you to pinpoint the exact location of each instrument in a track.
Connectivity
In today's modern world, when everyone is just trying to dump wires, connectivity plays a very crucial role in the buyer's mentality. That's why these wireless earbuds' feature to seamlessly connect with multiple devices is no more a luxury but a necessity. Imagine the frustration of earbuds that constantly get disconnected while you're grooving to your favorite tunes or you're on an important call. That's why connectivity should be a top priority for you when buying a pair of earbuds.
Bluetooth technology is the backbone of most wireless earbud connections. The latest Bluetooth version, as of my last update, is Bluetooth 5.2, which offers faster speeds, a longer range, and a more stable connection than its predecessors. When shopping, it's advisable to opt for earbuds that support the latest Bluetooth version or, at the very least, Bluetooth 5.0.
Moreover, multi-device pairing is a feature that tech enthusiasts often seek. This allows your earbuds to be connected to multiple devices simultaneously, such as your phone and laptop, enabling a smooth switch between them without the need for manual re-pairing.
Battery life
The comfort of your wireless earbuds feels useless when you're constantly looking for your charger. The battery life of your earbuds is very crucial, and you should definitely consider it. On average, most of the earbuds available in the market offer anywhere between 4 to 8 hours of playback time on a single charge. That said, the charging case can extend your battery backup by up to 24 hours.
We should also consider the earbuds' ability to support fast charging. Some earbuds can provide up to multiple hours of playback with just a 10-minute charge. This feature is very handy for those who are always in a rush. On top of this, the USB-C charging that is now available in almost all earbuds boasts universal compatibility and even helps charge your device faster. In fact, there are many premium earbuds that have wireless charging capacity, which lets you boost your earbuds through a Qi-compatible charging pad.
In short, while the allure of impeccable sound quality and sleek design might attract you, you should never underestimate the importance of strong connectivity and long-lasting battery life. These factors can significantly influence your overall wireless earbud experience.
Comfort and fit
The best features of any earbuds' can get ignored if they are not comfortable to wear or have an uneasy fit. As wireless earbuds are prone to falling off, this feature comes in very handy at times when you're out for a jog, or you're riding a cycle.
Ergonomics plays a pivotal role here. The best earbuds are designed with the natural contours of the ear in mind, ensuring a snug yet comfortable fit. Many brands include multiple ear tip sizes in the box, allowing users to find the perfect fit for their unique ear shape. Some even offer foam tips, which can adapt to the ear's inner structure, providing both comfort and superior noise isolation.
Moreover, for people who have an active lifestyle, getting earbuds that come with wingtips or even ear hooks can be an instant upgrade as they stay fully intact during all these times.
Controls and features
In the age of smart devices, consumers expect more than just play and pause buttons. The controls and features of wireless earbuds can greatly enhance user convenience and overall experience.
So, if you want to navigate your favorite tunes without using your smartphone, the touch controls present on your earbuds can help you do that. Even when you need to adjust the volume or answer/ reject calls, these controls can help you instantly. You also get customization options that let you play around with your controls through a companion app.
Voice assistance integration is another sought-after feature. With a simple command, users can ask their preferred virtual assistant—be it Siri, Google Assistant, or Alexa—to play a song, set a reminder, or even check the weather.
Furthermore, features like ambient or "transparency" modes are becoming increasingly popular. This mode allows external sounds to filter in, ensuring users remain aware of their surroundings—a crucial feature for safety during outdoor activities.
Compatibility
With the introduction of so many new devices, compatibility has become very critical recently. Be it your laptop, smartphone, tablet, smartwatch, or even your earbuds; compatibility is a cornerstone for any tech device. After all, what's the point of buying an earbud that can't seamlessly connect with your device ecosystem?
Most wireless earbuds use Bluetooth technology, ensuring a broad compatibility range with devices that support Bluetooth connectivity. However, it's essential to check for specific compatibility features. For instance, certain earbuds might have features optimized for Android or iOS, affecting functionalities like automatic pairing or battery life indicators.
On top of this, the compatibility of your earbuds with various apps and software can instantly elevate your experience. In fact, some earbuds are equipped with dedicated apps that let you customize sound profiles, update firmware, or even locate misplaced earbuds.
Water and Sweat Resistance
If you're an athlete, who is constantly involved in physical activities, be it the gym, running, or just enjoying a day by the pool, water, and sweat resistance features in your earbuds can play a very crucial role.
While evaluating earbuds for water and sweat resistance, it is very important to understand the IP (Ingress Protection) of them. For example, the IPx7 rating tells that the earbuds can be submerged in water up to 1 meter deep for half an hour without any internal or external damage. On the contrary, an IPx4 rating proves that your earbuds are sweat-resistant and can handle light water splashes, but submersion is not supported.
For fitness enthusiasts or those living in unpredictable climates, investing in earbuds with a high IP rating is advisable. Not only does it ensure durability, but it also provides peace of mind, knowing that a little water or sweat won't render your earbuds useless.
Price
No matter how many preferences you have in your mind, until that product meets your budget, it is of no use. Even if you have a mid-range budget, you can get an earbud that comes with decent sound quality and good features. This criterion is perfect for those who are casual listeners and are not going to put their earbuds to professional use. That said, you should carry many expectations, especially from this price range. I say this because, generally, the cheaper versions come with a short battery life, are less durable, and lack advanced features.
Mid-range earbuds present a balance between price and performance. Often, they incorporate many of the features found in premium models, such as touch controls, water resistance, and decent battery life, but at a more affordable price point. They might not have the absolute best sound quality or the most advanced noise-cancellation technology, but for many, they strike the right balance between cost and quality.
Then there are the premium earbuds. These are the crème de la crème of the wireless audio world, boasting top-tier sound quality, advanced features like superior active noise cancellation, longer battery life, and often, a brand name to match. They're an investment designed for audiophiles or those who demand the best of the best.
Also Read: 10 Best Invisible Bluetooth Earbuds
FAQs
Q: Do wireless earbuds have volume controls?
A: Although you'd expect all earbuds to have volume controls, this is not the case. Fortunately, many manufacturers are trying hard to add these buttons or update their software so you can assign different functions to different touch-sensitive buttons. However, many devices still lack volume controls, so you should be very careful when buying wireless earbuds.
Q: Do I need wireless earbuds with volume controls?
A: Buying a pair of wireless earbuds with or without volume controls is up to you. Different people have different needs and preferences but we find these controls very useful.
Q: Where are the volume controls located?
A: Location varies from model to model. True wireless earbuds have touch-sensitive or regular buttons on their housings, while regular wireless earbuds with an audio cable connecting two earpieces have inline volume controls.
Q: How do I adjust the volume on my wireless earbuds?
A: If you have standard wireless earbuds with inline controls, you should have two separate buttons (+/-) on your control pad. They are usually also used to skip tracks. In case you own a pair of true wireless earbuds, you should read the user manual carefully and see how many times you should press or tap the multifunction button to turn the volume up or down. Only a few true wireless earbuds have physical volume controls and some of them are on our list of 8 best wireless earbuds with volume control in 2023.
Conclusion
Overall, a good pair of wireless earbuds with volume control can fulfill all your requirements. From listening to good quality music to navigating your songs and calls without the need for your smartphone, these earbuds can do it all.
We have mentioned many earbuds under different price points, and that too with different USPs to give you a broad list of options. Overall, all the products are top-notch and can help you attain the best music experience that you want.
Even if you get stuck or are very confused about your ideal device, we recommend heading to our buying guide. Under this, we have covered almost all the aspects that you must consider before buying an earbud, and we're pretty confident that once you set your priorities straight, it will be a cakewalk for you.
So, what is stopping you? Go on and grab your ideal piece of earbuds from our list, and don't forget to let us know your thoughts in the comments section below.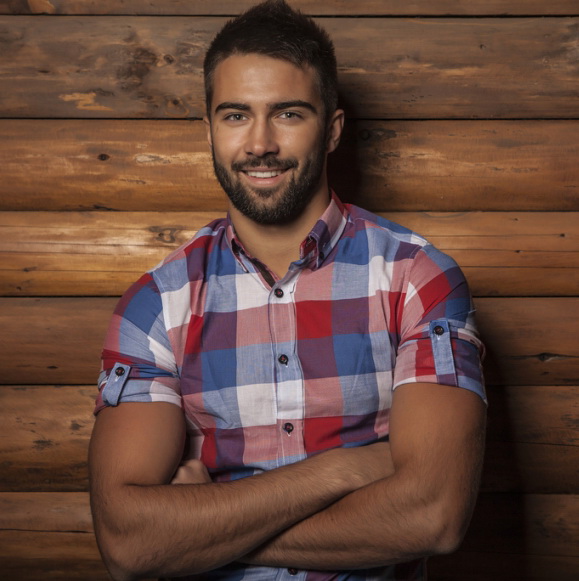 Hello, my name is James Longman.
I'm a writer and editor at AudioReputation. I disassembled my first portable AM/FM radio when I was only 8. At the age of 11, I burned the circuit board on my old boombox cassette player. I'm not going to explain how but it was reckless and stupid.
Since then, I have become much more careful around radios, boomboxes, and other audio devices (at least, I like to think so) but I have never lost the passion for audio equipment. Throughout 20 years of my professional career, I've been working for various audio equipment manufacturers and even started building speakers on my own in my little workshop.
I love the work we do here at AudioReputation. Testing, comparing, and evaluating all kinds of audio devices (speakers, soundbars, headphones, home theater systems, etc.) is something I truly enjoy. I try to be unbiased and give you my honest opinion on every piece of equipment I test. Still, you should take my reviews with a pinch of salt and always be just a little bit skeptical. The fact that I liked some speaker or soundbar doesn't mean that you are going to love it. If you have the opportunity, you should test it/hear it before buying it.