AudioReputation is reader-supported. When you buy through links on our site, we may earn an affiliate commission Learn More
Altec Lansing ALP-XP800 Xpedition 8 is one of the best large outdoor Bluetooth speakers with lights. This huge thing is a perfect choice for tailgating and outdoor parties. Truth to be told, there is a certain gap in the market when it comes to large speakers, especially if you are looking for a portable (battery operated) and powerful speaker with lights. The gap gets even bigger if you want that speaker to be rugged or waterproof. The number of possible choices is not huge but you still have some options and one of the best ones is Xpedition 8.
We were really skeptical about the Altec Lansing's flagship model called ALP-XP800 Xpedition 8 but this large speaker actually performed better than we've expected and proved that it can compete with other rivals (like SONY XB90, XB60, or ION Audio Road Warrior). In some aspects, Xpedition 8 is even better than the competition.
This speaker is simply great for outdoor parties, especially for pool parties, beach parties, and tailgating. It is completely waterproof and dustproof (IP67), it is battery-operated and has a DC input so it can be powered by your car battery. It has nice party lights and it looks attractive. The sound is really loud and punchy, and if you want even stronger bass, there's the ''beast mode'' button for an enhanced bass response.
We were not impressed by the battery performance (even though the manufacturer claims that you can get up to 24h of playback per one charge) and that's maybe the biggest issue. Also, the speaker doesn't have a mic input and track/play/pause buttons.
Altec Lansing ALP-XP800 Xpedition 8 Review
The Altec Lansing ALP-XP800 Xpedition 8 is a powerful portable Bluetooth speaker that delivers clear and powerful sound with deep bass. It's perfect for outdoor activities, parties, and travel. It has a long battery life, IP67 rating for dust and water resistance, and a built-in LED light show. A great option for people who want a portable speaker with powerful sound and a durable design.

Attractive design and mesmerizing light show

Great build quality

The speaker is waterproof and dustproof (IP67-certified) and it floats

It has a built-in rechargeable battery

AC and DC charging inputs

USB charge out port

Loud and powerful sound/perfect for outdoor parties
Playtime is significantly shorter than advertised

The lack of play/pause/track buttons

The lack of mic input

Expensive
If you need a large multipurpose outdoor speaker, you are going to love this one. If you want to throw a pool or a beach party, this is the speaker for you. Not only that it is waterproof and dustproof, but it also floats so even if it ends up in the pool, it won't go straight to the bottom and it won't be damaged. If you need a powerful speaker for a tailgate party, this one is a perfect choice. Not only because it's waterproof/dustproof but also because it's rugged and it has a DC input so you can connect it to your car's cigarette lighter and power it by your car battery. Besides all the amazing physical features, the sound is impressive and the lights are mesmerizing.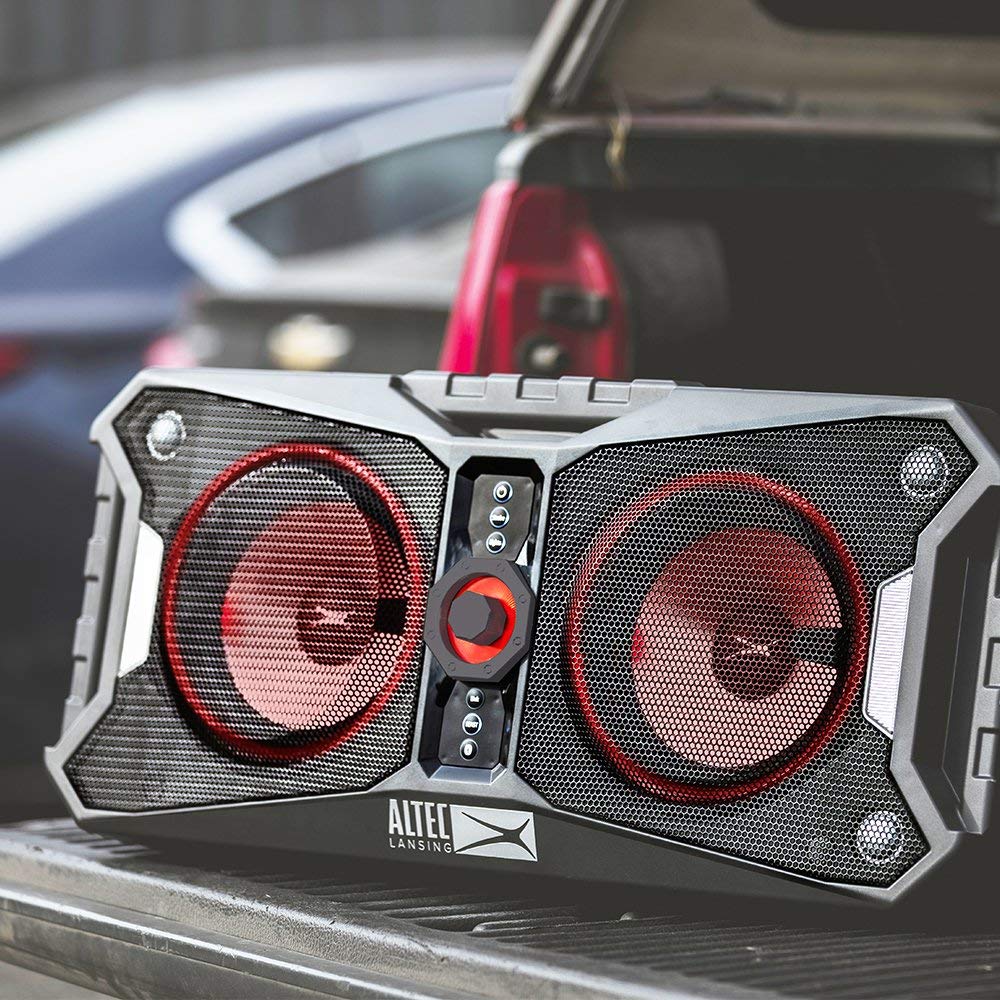 Altec Lansing ALP-XP800 Xpedition 8 is a great choice for tailgating
What's in the box?
The packaging doesn't really look impressive or premium but the speaker is nicely protected and that's more important. Besides the speaker, you will get one AC power cable, one DC cable with a car charger, user manual, and 1-year warranty card.
Specs
Altec Lansing Xpedition 8 Specifications
DIMENSIONS
Width
28in
Height
13in
Depth
15in
Weight
25.1lb
DRIVERS
Woofers
8-inch x2
Tweeters
1-inch x3 (2 out of 3 tweeters are active depending on the speaker placement)
ENCLOSURE TYPE
2 passive bass radiators on the rear panel
BATTERY
Type
Li-ion, rechargeable
Capacity
5,000mAh
Playtime
Up to 14 hours at 50% volume (without the lights)
Recharge time
Up to 5 hours
OTHER POWERING OPTIONS
AC input, DC input
CONNECTIONS
Bluetooth, AUX
BLUETOOTH DETAILS
Bluetooth version
N/A
Supported Bluetooth profiles
N/A
NFC
Yes
Bluetooth range
100ft
Daisy chaining
Yes, link two (not multiple) Xpedition 8 speakers
OTHER TECHNICAL DETAILS
Frequency response
N/A
Peak output power
420W
ADDITIONAL FEATURES
IP67-certified (fully dustproof and waterproof)

DC car charger

Lighted woofers and strobe lights

Charge out (powerbank) USB port
Design
Altec Lansing ALP-XP800 Xpedition 8 looks very attractive, especially with the lights turned on. It doesn't look as sophisticated as Sony XB90 but they still look alike. Comparing the designs of these two similar speakers is like comparing the designs of the new Ford Mustang Bullitt and the old one. There is no doubt they both look great; the only question is what kind of shape and line you like more. XB90 has more rounded edges while the Xpedition 8 looks more robust and boxier (the edges are not completely straight but they are kind of sharper).
The enclosure is slightly angled upward in order to enable better sound dispersion. It's made of thick and strong plastic and some parts are rubberized.
On the front panel, there are two 8-inch woofers and three 1-inch tweeters. They are all protected with a transparent black grille. There are lights around each woofer and strobe lights on the left and right end. At the bottom, there's the Altec Lansing logo, and in the middle, between the two woofers, there's the control panel.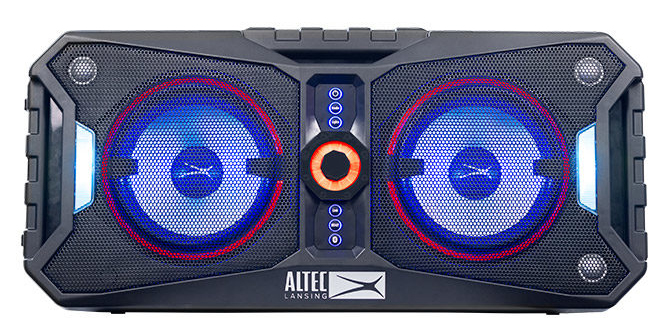 Front panel – lighted woofers and tweeters are protected with an aluminum grille; the control panel is in the middle
There are six buttons and one knob on the control panel. All the lights are backlit. A large octagonal knob located right in the middle is used to adjust the volume and check the battery status (by pressing it shortly). Around the knob, there's an LED ring which tells you the battery percentage and the volume level (there are 12 fields – each field represents roughly 8%). Above the knob, there are the power button, strobe button, and lights button. Below the knob, there are the link button (for pairing two Xpedition 8 speakers together wirelessly), BEAST button (for enhanced bass response), and Bluetooth button (for pairing).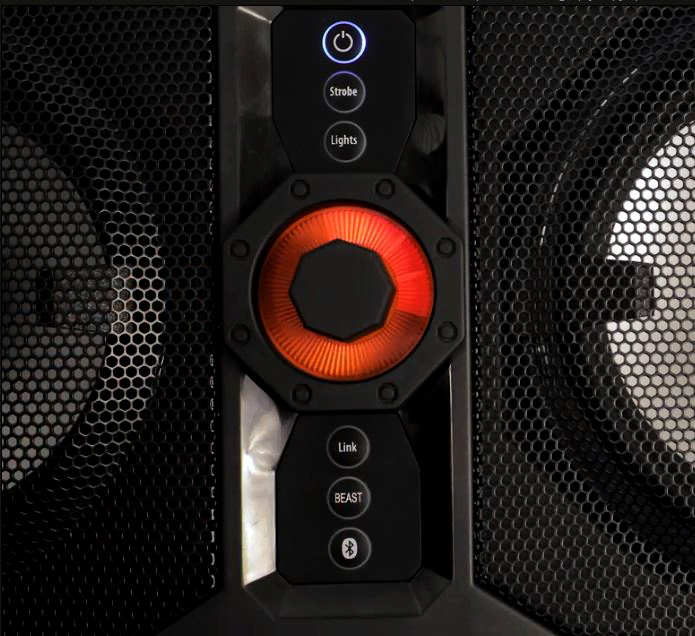 Control panel – 6 control buttons and volume knob
On the rear panel, you will see two passive bass radiators on the left and right, and a large waterproof plastic cap in the middle.
Rear panel – two passive bass radiators and a waterproof plastic cap
This cap protects all the inputs and when you unscrew it, you will see the AC input, DC input, standard AUX input, and a USB charge out port.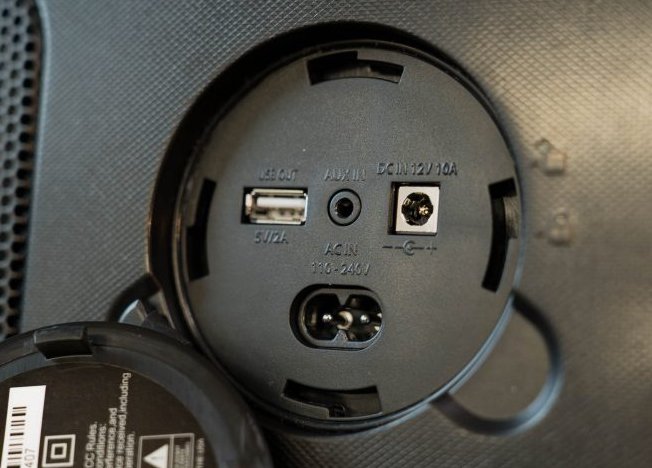 Inputs on the rear panel
There are strong carrying handles on three sides – top, left, and right. The NFC logo for quick pairing is on the top.
There are three strong carrying handles on the top, left, and right panels
Features
Thanks to its design and to driver placement, this speaker can be positioned horizontally or vertically. This might seem familiar since you have already seen this feature on Sony XB90. It's one of many features these two rivals have in common. They both have ''smart'' tweeters. There are three tweeters but only two are active, depending on the position/placement of the speaker.
ALP-XP800 Xpedition 8 can be positioned horizontally or vertically
What you don't get with XB90 is waterproofness. Altec Lansing ALP-XP800 Xpedition 8 is more rugged and looks more durable. It is completely waterproof and dustproof (IP67-certified) which makes it a better choice for outdoor use. You don't have to worry about splashes of water or even about the rain. This speaker is able to withstand everything.
Note: You should know that freshwater is used for IP/IPX testing. If a product is waterproof (IPX7 certified) it doesn't mean that the saltwater could not damage it or at least cause some rusting.
It's fully waterproof and dustproof (IP67-certified)
And not only that. This speaker also floats. It's a fascinating feature and the best thing is that it really works.
It floats
Xpedition 8 features Bluetooth with an advertised Bluetooth range of 100ft. The manufacturer didn't provide any info on the Bluetooth version. The speaker also features NFC capability and if your phone or any other device supports NFC pairing, you don't have to go through the standard pairing process. You just have to tap the NFC logo on the top panel with your phone and you are paired in 2 seconds. If you have a non-Bluetooth device that you want to connect, you can use the AUX port.
You can also pair two speakers together wirelessly (daisy chain) but you cannot pair multiple speakers together (party mode). You can do that with Sony XB90 (if you can afford multiple speakers).
You can pair (wirelessly) two ALP-XP800 Xpedition 8 speakers
Xpedition 8 also has a built-in rechargeable battery. Battery capacity is 5,000mAh (written on the waterproof cap on the back of the speaker). The advertised playtime is 24 hours but the manufacturer didn't tell anything about the circumstances under which this measuring was performed (the volume level and the lighting status) and we will discuss this issue in the Performance section.
The speaker also has one charge out USB port so you can charge your phone/tablet while listening to music. You cannot use the USB port for music playback (you can't insert a USB flash drive and play the music from it).
One additional, and if we may add, very useful feature, is the DC input which makes Xpedition 8 a perfect choice for tailgating. You can use that DC cable with a car charger that comes with the speaker to power the speaker from your car.
The lights are another great thing that makes Xpedition 8 special. They look cool and very fashionable.
Performance
Most of the advertised features work well and we were quite happy with them.
We have no complaints regarding the build quality, design, and IP67 rating. All those features are great.
The control panel is simple, intuitive, and easy to use. You can control the lights around the woofers (turn them off or choose one of 4 lighting modes) by pressing the light button. You can also select the color of the lighting by pressing the volume knob for 2sec and turning it clockwise (you can see the lighting color chart in the picture below). You can also turn on/off the strobe lights by pressing the dedicated strobe button.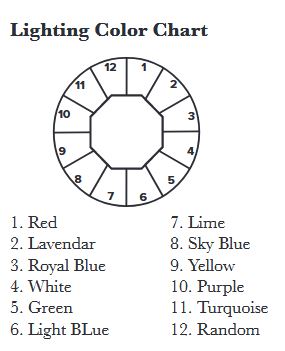 You can choose the color of the lighting by turning the volume knob (source: user manual)
Lighting Up
If you want to check the battery status, you can press the volume knob shortly and estimate the percentage based on the number of lighted fields on the LED ring surrounding the volume knob.
Below the volume knob, there's the link button for daisy chaining. If you want louder sound, you can pair two but there's no stereo mode. You will get the same audio output on both speakers (there are no left and right stereo channels).
Below the link button, there's the beast button which boosts the bass. We will talk about our impressions regarding the sound quality in the next section.
The pairing process is simple and quick, especially if your device supports NFC pairing. When a device is connected via AUX port, it's impossible to use the Bluetooth (AUX connection is prioritized).
Pairing
Our only real complaint is related to battery performance. Well, actually, it's not the battery itself but the claims made by the manufacturer. The battery capacity is 5,000mAh and the specs on the box state that you can get 24 hours of continuous playback per one charge. There is no any additional info on the volume level or the lighting status. In reality, you will get up to 14 hours at 50% volume and without the lights, which is not bad but it's significantly shorter compared to those advertised 24 hours. If the lights are on and the volume is at approx. 80%, you will get 4-5 hours. We are not surprised or unsatisfied with that kind of playtime; we simply don't like the false advertisement. To be honest, Altec Lansing is not the only manufacturer that does this. Most of them (if not all of them) don't give us all the necessary info about the playtime. That way, you can end up disappointed when you realize that the advertised playtime is nowhere near the actual playtime.
Recommended Reading :

So, to conclude, the playtime is satisfying but you will get those advertised 24 hours of playtime only if you keep the volume at 20-30% and if the lights are turned off all the time.
The Bluetooth range is also somewhat problematic. The actual range (without obstacles) is approx. 50ft. If the distance between your phone and the speaker is larger than that, there will be some signal loss and cutting out.
Sound Quality
Altec Lansing ALP-XP800 Xpedition 8 delivers powerful sound, perfect for all kinds of parties. It is very loud and it can fill out large rooms with sound.
The bass is very much present and punchy. It's not perfectly accurate and refined but you can really feel it. We find that bass boost feature quite useful for outdoor parties but it doesn't sound great indoors.
The mids are sweet but not perfectly detailed. The vocals are clear and they don't get muffled because of the bass. Even if the BEAST mode is active, there will be more than enough clarity in the midrange. The highs are present but not sparkling and they definitely lack some clarity.
Stereo separation is not impressive and you won't get better separation if you pair two Xpedition 8 speakers since there is no stereo mode. You will only get a louder sound.
This speaker doesn't deliver rich and perfectly balanced sound but this is not something you should expect from a party speaker. Considering its purpose, the sound signature is very enjoyable.
The Competition
---
Sony GTKXB90
Sony GTKXB90 is another great party Bluetooth speaker with lights but this one is more suitable for indoor use. It can be used outdoors since it has a built-in battery but it's not waterproof, which makes Xpedition 8 more versatile. They both have attractive lighted woofers and strobe lights.
XB90 is a bit more expensive but you can always find some nice discount, so the price doesn't have to be the decisive factor when it comes to your choice.
XB90 has a smaller battery but delivers greater playtime (16 hours compared to 14 hours). XB90 will deliver only 3 hours at max volume and with the lights on, while Xpedition delivers 4-5 hours.
XB90 features RCA inputs and outputs but doesn't have AUX input. It has a USB port but you can only use it for music playback (you can't use it to charge your phone). Xpedition 8 has a DC input while XB90 doesn't have one.
XB90 supports wireless pairing of multiple speakers while you can pair only two Xpedition 8 speakers.
XB90 comes with two apps which you can use to control the lighting, playback, and EQ settings. These apps are not perfect but they are still useful.
Compared to Xpedition 8, XB90 delivers bassier and less balanced sound.
---

ION Audio Road Warrior
ION Audio Road Warrior is another large Bluetooth speaker with lights. The lights are not equally attractive as the lights on Xpedition 8 and XB90 but they are still fun.
Road Warrior is significantly cheaper than the Xpedition 8 and if you can't afford to pay $400 for Xpedition 8, this is a nice alternative.
Road Warrior is not waterproof and it's not dustproof, but it's very rugged and more suitable for outdoor use than Sony XB90. Still, it's not better than Xpedition 8.
It has a larger battery (7,000mAh compared to 5,000mAh) but delivers shorter playtime (12h compared to 14h). Road Warrior features lead-acid battery while Xpedition 8 features Li-ion battery.
Road Warrior offers greater Bluetooth range but cannot be paired with another or multiple Road Warrior speakers.
Both speakers have AC and DC inputs as well as AUX inputs and USB charge out ports. Road Warrior features an additional mic input and has a built-in FM tuner.
---
The SOUNDBOKS 2
Yes, we know that SOUNDBOKS 2 is out of Xpedition 8 league but we like to mention this speaker whenever possible. This is a large, very rugged, and very expensive outdoor party speaker. And it's all about the sound. This one doesn't have all those fancy features you can find on previously mentioned speakers.
SOUNDBOKS 2 is better than Xpedition 8 in terms of sound (louder, punchier, more detailed and richer sound) and delivers much longer playtime.
In all the other aspects, Xpedition 8 is better – it has lights, it can be wirelessly paired with another Xpedition 8 (two Xpedition 8 speakers are still cheaper than 1 SOUNDBOKS 2), it is fully waterproof and dustproof, it floats, etc.
---
Comparison Table
Frequently Asked Questions
What app is needed for an Altec Lansing speaker?
The Altec Lansing Just Listen app enhances your speaker's features, and you get the most out of the product. It is available in both Google Playstore and Apple's App Store.
How loud is the Altec Lansing Xpedition 8?
The Altec Lansing Xpedition 8 is a party speaker and therefore delivers extremely powerful sound. It is extremely loud and can fill large rooms. The bass is powerful and punchy, and the speaker's bass boost feature is perfect for outdoor parties.
How many Altec Lansing speakers can you connect together?
The House Party Mode, present in select Altec Lansing speakers, allows you to connect up to 50 speakers simultaneously. This can be used to create a multi-room surround sound experience. You can create the ultimate house party with the parent speaker and its multiple "child" speakers.
Final Thoughts
Well, now you have all the necessary info to make an informed decision. In our opinion, Altec Lansing ALP-XP800 Xpedition 8 is a great outdoor speaker. It is IP67-certified (which is a unique feature when it comes to large Bluetooth party speakers with lights), it can be powered through by car battery (which is another thing you won't find on many large Bluetooth speakers) and it delivers impressive performance in terms of sound quality, light show, and playtime. It's maybe a little bit overpriced, but the price is still on par with Sony XB90 which is the main competitor.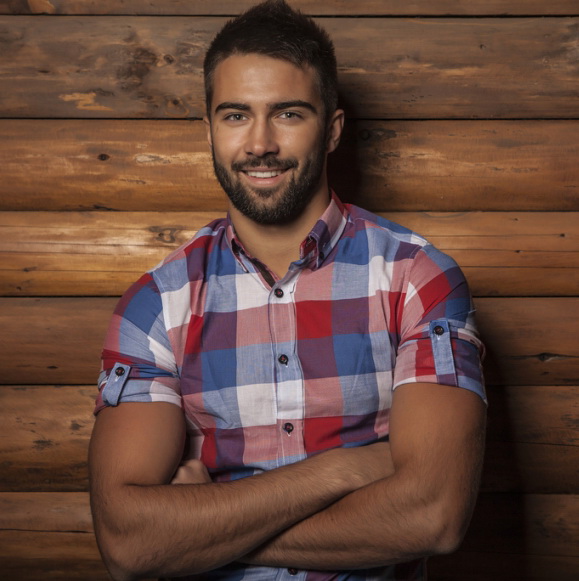 Hello, my name is James Longman.
I'm a writer and editor at AudioReputation. I disassembled my first portable AM/FM radio when I was only 8. At the age of 11, I burned the circuit board on my old boombox cassette player. I'm not going to explain how but it was reckless and stupid.
Since then, I have become much more careful around radios, boomboxes, and other audio devices (at least, I like to think so) but I have never lost the passion for audio equipment. Throughout 20 years of my professional career, I've been working for various audio equipment manufacturers and even started building speakers on my own in my little workshop.
I love the work we do here at AudioReputation. Testing, comparing, and evaluating all kinds of audio devices (speakers, soundbars, headphones, home theater systems, etc.) is something I truly enjoy. I try to be unbiased and give you my honest opinion on every piece of equipment I test. Still, you should take my reviews with a pinch of salt and always be just a little bit skeptical. The fact that I liked some speaker or soundbar doesn't mean that you are going to love it. If you have the opportunity, you should test it/hear it before buying it.