AudioReputation is reader-supported. When you buy through links on our site, we may earn an affiliate commission Learn More
Certain events, like parties and other group gatherings (both indoor and outdoor), require and depend heavily on the speaker quality and loudness. You can't throw a large party without a big and powerful speaker (or speakers). That is simply unacceptable.
Today, we are here to help you get a better understanding of all the specs related to speaker loudness and to present to you our selection of the biggest, most powerful, and loudest Bluetooth speakers in 2022. We may also give you a few tips on what to look for and what to pay attention to when looking for a loud Bluetooth speaker. Ready? Let's go.
---
Fun Facts About the Human Perception of Sound
Fact 1: The human ear is a very complex and very sensitive organ. The smallest change in loudness (aka SPL or Sound Pressure Level) an average ear can perceive is 1dB.
Fact 2: A seemingly small change in loudness/SPL can be perceived as significant by the human ear. For example, a 10dB change is perceived as twice as loud. So, if one speaker can reach the max SPL of 127dB, and the other goes only to 112dB, the difference in perceived loudness between the two is really big (the first one is perceived as more than twice as loud).
Fact 3: The difference between dangerous and acceptable loudness (aka SPL or sound pressure level) is actually very small and subtle. For example, exposure to 90dB SPL for more than 8 hours/day can already cause noise-induced hearing loss. 90dB is the average noise that a lawnmower produces. If the noise level (SPL) increases by only 10dB (to 100dB), the max allowed exposure time is only 2h/day. Anything longer than that will, in the long run, cause some damage.
If the noise level is 110dB, acceptable exposure time is less than half an hour. Just to put it into perspective for you – 70dB is the average SPL of a vacuum cleaner and the noise created by an alarm clock is rated at 80dB. So, even a speaker that plays at 80dB SPL can hardly be considered quiet (unless you already have some kind of hearing damage).
Fact 4: 120dB of noise is, by many authors and scientists, considered the threshold of pain, and any sound louder than 120dB can cause immediate damage. So, 120dB can be considered dangerously loud. Having in mind Fact 2, 120dB noise is 32x louder than a normal speech (approx. 70dB).
8 Loudest Bluetooth Speakers – Comparison Table
Max SPL (Loudness) Comparison Table
Things You Should Know About Speaker Loudness
There are a few important things to know about speaker loudness before you start your search. These things can help you find the biggest, toughest, and loudest Bluetooth speaker.
What Determines the Loudness of a Speaker?
To simplify things, two characteristics you can usually find in the specs list determine the max SPL of a speaker and can tell you how loud a speaker can be at max volume. The first one is the sensitivity (usually measured in dB at 1m distance while only 1W of power is supplied). The second one is the power rating (peak power output, to be more specific). The power output is measured in Watts (W). When you know these two values, you can tell how loud a speaker can be. You just need to know one more rule – when the power doubles, the SPL level increases by 3dB.
Example: Assuming that a speaker has 88dB sensitivity (at 1m/1W) and the peak power output is 250W, the max SPL (when standing 1m away from the speaker) is 112dB. How? Supplying 1W of power created 88dB, 2W creates 91dB, 4W creates 94dB, 8W→97dB, 16W→100dB, 32W→103dB, 64W→106dB, 128W→109dB, 256W→112dB.
---
During the past few months, we've come across quite a few large and powerful Bluetooth speakers. For the purposes of this article, we gathered them all, tested them, compared them, and even did some measuring on our own (although we don't really have the best conditions to perform the measuring and get perfectly accurate results). Finally, we came up with the following selection of 8 loudest Bluetooth speakers in 2022.
8 Loudest Bluetooth Speakers in 2022
---
1. Loudest Portable Bluetooth Speaker – NEW SOUNDBOKS
NEW SOUNDBOKS is our top recommendation and it's the loudest portable Bluetooth speaker on the market. It's also one of the biggest Bluetooth speakers and the most powerful Bluetooth speakers you can find. NEW SOUNDBOKS is a perfect choice for both indoor and outdoor use, especially for parties. It can also be used as a PA system.
This is the third version of the highly praised SOUNDBOKS speaker line. The manufacturer kept all the great features of the previous two SOUNDBOKS speakers (powerful battery, durable and rugged design), improved some things that were already very good (Bluetooth connection, sound signature, loudness), and added a few new features (wireless/wired daisy-chaining, mic inputs, app).
Things we like
Just like the SOUNDBOKS 1 and 2, the NEW SOUNDBOKS has the same shape and rugged design. The corner balls are now made of silicone (the SOUNDBOKS 2 had aluminum balls), which improves the impact absorption and lowers the vibrations. The speaker also has an aluminum frame protecting all the edges and a thick removable grille with big honeycomb perforations protecting the drivers. You can also paint the grille or remove the SOUNDBOKS logo from it.
The speaker houses a large battery compartment on the left side. The battery (also called the BATTERYBOKS 2) is removable/replaceable and rechargeable. You can buy as many batteries as you want and never stop partying. One battery will provide 40h at moderate volumes (or 5h at max volume).
On the right side of the speaker, there's a new control panel that looks very similar to the old one but has one additional button. Aside from the large volume dial and power button, there's the HOST button for wireless daisy-chaining (allows you to pair multiple NEW SOUNDBOKS speakers together).
On the back, you have an additional compartment with 4 analog inputs/outputs – one AUX input (for connecting non-Bluetooth sources), one AUX OUT (for connecting any two SOUNDBOKS speakers), and two combo XLR/6.35mm inputs (for connecting mixer, mic, or any other device featuring ¼-in connection).
The speaker features Bluetooth 5.0 for connecting Bluetooth devices and music streaming. The connection is perfectly stable within the 100ft range. The unit doesn't use Bluetooth for wireless daisy-chaining. Instead, it uses a proprietary SKAA connection. This connection allows you to pair up to 5 NEW SOUNDBOKS speakers together.
Probably the greatest change, compared to the previous two SOUNDBOKS speakers, is in the driver arrangement and design. Consequently, these changes brought us a completely new, more refined sound signature, with a much better balance. The unit houses two large 10in woofers and one compression driver tweeter. Instead of front-firing bass reflex ports, the new SOUNDBOKS speaker has a large pulse reflex port (it's basically a hole going through the speaker).
The NEW SOUNDBOKS stayed very loud, even louder than the previous two speakers (126dB). The advertised RMS power output is 216W. The sound has a much better balance, with clearer mids, more consistent highs, and powerful bass (but not as overwhelming as it was on the SOUNDBOKS 2).
The new SOUNDBOKS comes with a companion app called the SOUNDBOKS app. The app allows you to control the playback, volume, play with the EQ settings, control the volume of XLR channels, etc.
Things we don't like
NEW SOUNDBOKS is not as bassy as the previous SB2. If all you are looking for is overwhelming bass, the SOUNNDBOKS 2 is a viable alternative. And it's also cheaper than the NEW SOUNDBOKS.
The speaker still has no playback controls. To stop the music or change the song, you still have to use your phone.
Even though it has a huge battery, the speaker doesn't have any USB charge-out ports for charging other devices.
---
2. Loudest Party Speaker with Lights – JBL PartyBox 300
A great party speaker, if you ask us, has to be loud and should have built-in lighting. Our top choice in this category is the JBL's PartyBox speaker line. For the purposes of this article, we reviewed the PartyBox 300, but there's an even louder speaker from this line called PartyBox 1000. If you are looking for a cheaper and more portable party speaker, try PartyBox 100 or 200.
PartyBox speaker line is similar to the SONY's GTK XB line, only more powerful, more versatile, easier to use, louder, and with a much stronger battery. XB90 is the biggest Bluetooth speaker from the XB line and it still can't compete with the PartyBox 300.
Things we like
In terms of design, PartyBox 300 is fairly similar to the GTK XB speakers. It's a similar boxy design with lighted woofers on the front, controls on the top, and inputs on the back. Just like the XB speakers, PartyBox 300 can be oriented either vertically or horizontally, thanks to its driver arrangement.
The front panel is fully covered with a strong black grille. The grille protects two woofers (6.5in each) and three tweeters (2.25in each). The tweeters are strategically positioned in three corners, enabling you to place the speaker horizontally or vertically.
On the top, there's a simple control panel with playback and volume controls on one end, and power, lighting, and Bluetooth buttons on the other end.
All the physical inputs and some additional controls are on the back. The speaker has a 12V DC input as well as AC input. You also have one AUX input, one RCA input, one RCA OUT, and two ¼-in inputs (guitar and mic) with dedicated volume dials. Finally, PartyBox 300 has one USB port that can be used for both – music playback and charging.
The speaker has a large and powerful 10.4Ah rechargeable battery. At moderate volumes, you will get almost 18h of playback (5h at full blast). You can charge the battery and power the speaker via DC or AC input.
PartyBox 300 uses Bluetooth 4.2 with up to 50ft of wireless range. The connection is stable and reliable within that range. You can also pair two speakers wirelessly or you can pair them by connecting the RCA output port of one speaker to the RCA input port of the other speaker. To switch between stereo and party mode, you can use the L/R button on the back.
The most impressive thing about JBL PartyBox 300 is the sound output. It's quite powerful but also nicely balanced, with clear mids, and engaging highs.
Things we don't like
Unlike Sony's GTK XB speakers, JBL Party Box speakers don't come with an app.
JBL PartyBox 300 is not very rugged and it has no IPX rating, so you should be careful around pools.
---
3. Loudest Bluetooth Speaker Under $300 – Aiwa Exos-9
Aiwa Exos-9 is one of the loudest Bluetooth speakers under $300 and, more importantly, it's also one of the best-sounding Bluetooth speakers in this price range. It's portable, easy to use, versatile, and reliable. The most important disadvantage is the build quality. This thing is not rugged at all and it's not IPX rated, which makes it slightly less suitable for outdoor use. The manufacturer recently released the upgraded version called Exos-9X. Unfortunately, they didn't improve the build – they only doubled the battery life.
Things we like
Exos-9 looks like a good old boombox player. It resembles the old Aiwa boomboxes but it's stylized and more attractive.
The front panel is almost entirely protected by a removable, semi-transparent grille. At the top, right above the grille, you have a simple LCD display and a volume knob. The grille protects 5 drivers – a 6.5in bass driver, two 3in mid-woofers, and two 1in tweeters.
On the top, there's a touch-sensitive control panel that allows you to control the playback, adjust the EQ settings (4 available presets + 5 independently adjustable frequency bands), and pair two speakers wirelessly (True Wireless Stereo).
On the back, in the right corner, there's the power input, USB power-out port (for charging other devices), micro USB port for updates, and a standard 3.5mm input.
The wireless connection runs on Bluetooth 4.2. The speaker supports NFC pairing and provides a stable connection within the 50ft range.
The battery is located on the back. It's removable/replaceable and rechargeable. At moderate volumes (around 85dBs), you will get up to 9 hours (3-4h at full blast). It takes more than 5h to fully charge the battery and you can play the music while charging.
The best thing about Exos-9 is, without a doubt, the sound quality. Not only because it's loud but also because it's very sophisticated and smooth. The bass is strong and punchy, the mids are clear and detailed, and the treble is consistent and accurate.
Things we don't like
The lack of ruggedness makes Exos-9 a bit less suitable for outdoor use than some other Bluetooth speakers. It can be used outdoor but you have to be careful with it.
---
4. Loudest Bose Bluetooth Speaker – Bose S1 Pro
If you are wondering what's the loudest portable Bluetooth speaker from Bose, it's this one – S1 Pro. It is a great PA speaker and it can be used for parties and other outdoor events. This speaker is also a great choice for musicians. You can connect a guitar or a mic to it, and you can control the volume of each source independently.
Things we like
S1 Pro is a stylish and easily recognizable Bluetooth speaker. It features an angular design that allows you to place it on a side or vertically. You can even mount it on a stand. It feels rugged and durable, but it is not water-resistant or waterproof.
All the inputs and controls are located on the left panel. You have two combo XLR/6.35mm inputs that allow you to connect the guitar or mic. For each of these two inputs, there's a guitar/mic selector, dedicated volume dial, as well as reverb, bass, and treble dials. The speaker also has an AUX input, Bluetooth button, and AUX output for daisy-chaining two speakers together.
S1 Pro has a rechargeable battery that can provide you with 11 hours of continuous playtime at 50% volume (up to 4h at full volume).
The speaker also features so-called ToneMatch technology. ToneMatch is responsible for the automatic sound equalizations and allows you to have the best possible sound output, regardless of the speaker orientation and your surroundings.
If you want more control over the playback and EQ settings, you can download and install the Bose Connect app.
S1 Pro delivers pretty great sound. It's loud but it's also clear, detailed, and engaging. If you're a bass-head, you may want something with bigger bass output.
The last thing we have to mention is that Bose S1 Pro comes with a Shure mic and one XLR cable.
Things we don't like
S1 Pro is the loudest portable Bluetooth speaker from Bose but it's not the loudest in its price range. You can find quite a few Bluetooth speakers that are louder than the S1 Pro and cost less.
---
5. Loudest Bluetooth Speaker for Tailgating – ION Audio Tailgater iPA77
ION Audio Bluetooth speakers, in general, are perfect for tailgating. They are large, rugged, loud, feature-rich, and easy to use. Today, we're reviewing the Tailgater. It can be used as a PA system, party speaker, karaoke speaker, etc. If you're interested in similar speakers, you should also check out other ION Audio speakers (Block Rocker Plus, Pathfinder, Raptor, Road Warrior, and Explorer).
Things we like
Tailgater features a simple boxy design. The enclosure is made of MDF and has reinforcements along the edges. The corners are additionally reinforced. The whole speaker looks durable and very solid. There are two handles on the left and right ends so you can carry it around. Considering the size, adding a pair of wheels and a telescoping handle would've been a better idea.
The largest portion of the front panel is protected by a strong metal grille. At the top, there's a simple control panel. The panel is angled backward and houses all the controls and inputs. In the middle, you have an LCD display (shows the battery status, Bluetooth connection status, AM/FM frequency). The control panel houses one AUX input, one 6.35mm mic input (one mic is included in the package), and one charge-out USB port. Also, the control panel houses two volume dials (mic volume and master volume), and 5 control/mode buttons (Bluetooth button, AM/FM button, two tuning buttons, and play/pause button).
Tailgater features Bluetooth connectivity. It provides a stable wireless connection and has a pretty good range of up to 50ft. Aside from wireless connectivity, you can play music from any source with a 3.5mm output, you can listen to the radio (AM and FM tuners), or you can connect the included mic and use the speaker for karaoke or as a PA system.
The built-in battery delivers 35-40 hours of continuous playtime. The recharge takes less than 6 hours.
The Tailgater houses two drivers – a 6.5in woofer and 1in horn tweeter. The bass is strong, punchy, but not very deep and thumping. The mids are not the most detailed but are fairly clear. The treble is pretty consistent and accurate.
Things we don't like
Tailgater iPA77 is rugged and durable but it's not waterproof. It's not IPX rated at all.
---
6. Loudest Waterproof Bluetooth Speaker – JBL Boombox
Many loud Bluetooth speakers are rugged and maybe even have some IPX rating but very few are fully waterproof. If you're looking for the loudest waterproof Bluetooth speaker, our top suggestion is JBL Boombox. Altec Lansing Xpedition 8 is the second-best.
JBL Boombox is IPX7-certified, it has a simple control scheme, powerful battery, and it's very loud. Until the introduction of the JBL PartyBox line, Boombox was the biggest and loudest portable Bluetooth speaker made by JBL. Now, it's ''only'' the loudest waterproof Bluetooth speaker.
Things we like
JBL Boombox is a supersized version of those very popular JBL Bluetooth speakers like JBL Charge, Extreme, or JBL Flip. It has the same cylindrical design with a strong waterproof fabric wrapped around the speaker. On the bottom, you have a rubberized base and, on the top, there's a nice and durable handle. On the left and right ends, you have those recognizable JBL passive bass radiators.
The speaker has a very simple control scheme, just like the smaller JBL Bluetooth speakers. There are 6 buttons on the front side. You can use those buttons to control the playback, volume, initiate pairing, or pair multiple JBL Boombox speakers together (Connect + feature).
The speaker has a fully rubberized stand. On the front side of the stand, there's a simple battery status indicator. On the back, you have two mode buttons and a hidden compartment with all the inputs. Those two mode buttons allow you to switch between indoor and outdoor sound – they are basically two different EQ settings. The input panel houses one AUX input, two USB charge-out ports (they can't be used for music playback), a micro USB port, and a power/charging port.
JBL Boombox has an amazing battery. The capacity is 20Ah and the advertised continuous playtime is 24h (at moderate volumes). The recharge takes up to 7h and you can use it even while charging.
The speaker features wireless connectivity – it runs on Bluetooth 4.2 and it's reliable and stable within the standard 30ft Bluetooth range. Multipoint pairing is supported – you can connect two phones wirelessly at the same time. Also, thanks to the Connect + feature and JBL's Connect + app, you can pair two JBL Boombox speakers or any two speakers that support Connect + and play the music in stereo or party mode.
JBL Boombox houses two 4in woofers and two 0.8in tweeters. They are all front-firing so you won't get 360-sound, but you will most certainly get a very loud, bass-heavy sound, especially when the outdoor mode is engaged. The speaker has a lower power output when battery-operated (40W). It's louder in AC mode (60W).
Things we don't like
JBL Boombox doesn't support NFC quick pairing.
The JBL Connect app doesn't offer any EQ settings.
The speaker doesn't deliver 360-sound.
---
7. Loudest Multiroom Bluetooth Speaker – Bose SoundTouch 30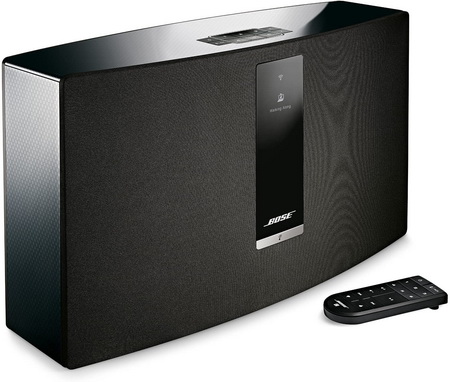 Unlike all the previous big Bluetooth speakers, Bose SoundTouch 30 is not portable, but it features Bluetooth connectivity and it's loud, which means it meets the most important requirements. That's why it's on the list and it's our top recommendation if you are looking for the loudest multiroom speaker.
SoundTouch 30 features both Bluetooth and wi-fi connectivity, it's super easy to use, it is compatible with other SoundTouch speakers and with Alexa-enabled devices,
Things we like
SoundTouch is a simple, boxy speaker but just like any other speaker made by Bose, it looks very attractive. Most of the front panel is protected with a fabric grille. In the middle of the front panel, there's a great-looking vertical display.
All the controls are on the top. You have 6 preset buttons (for saving your favorite internet stations and music services), a power button, Bluetooth/AUX selector, and two volume buttons. You will also get a remote with all these buttons (+ two additional thumbs up/thumbs down buttons) and the SoundTouch app. So, in total, there are three ways to control the playback and everything else.
On the rear panel, there's the AC input, Ethernet port, AUX input, and two USB ports for service purposes.
SoundTouch 30 features both – Bluetooth ad wi-fi connectivity so there are many ways to stream music wirelessly. Also, the SoundTouch 30 is compatible with numerous music streaming services and internet radio stations including Pandora, Spotify, Amazon Music, iTunes, TuneIn, Deezer, iHeart Radio, etc. And it's compatible with Alexa-enabled devices.
SoundTouch 30 is a multiroom speaker and is compatible with all the Bose SoundTouch speakers.
The speaker houses two 2in Twiddler speakers and one 4.5in woofer. The sound is very well balanced. The bass response is fast, punchy, and accurate. The mids are clear and detailed, and the treble is a little bit recessed (but it's not dull). For a speaker of its size, SoundTouch 30 can be quite loud. Sure, it's nowhere near the NEW SOUNDBOKS or other big Bluetooth speakers, but it's still more than most people need (especially for indoor use).
Things we don't like
SoundTouch 30 doesn't have a built-in battery and has to be plugged in.
Real bass-heads will need something with more thump.
---
8. Loudest Bluetooth Speaker for Indoor Use – Marshall Woburn II
Once known for its guitar amps and professional audio equipment, Marshall is now also a very reputable name on the Bluetooth speaker and headphone market. Marshall's line of Bluetooth speakers has been highly praised for its design, ease of use, and sound quality.
Marshall Woburn II is the biggest Bluetooth speaker made by Marshall and, naturally, it's also the loudest. This one is our absolute favorite when it comes to desktop Bluetooth speakers. The only downside of this speaker is the lack of battery. Just like Bose SoundTouch, Woburn II is not portable.
Things we like
Woburn II and the whole Marshall speaker line is one of the most attractive on the market. Woburn II features a very recognizable, some would even say iconic Marshall guitar amp design. It has a solid wooden cabinet wrapped in a nicely textured vinyl. The drivers are protected with a great-looking grille with the Marshall logo on it. Overall, it looks very refined, very sophisticated.
The controls are simple and easy to use. All the buttons are located on the top. There's one input selector (AUX/RCA/Bluetooth), three dials with backlit scales (volume dial, bass dial, and treble dial), play/pause button, and a power switch.
The speaker is fairly versatile. It features Bluetooth 5.0 and has aptX support. It also has one AUX input on the top and one RCA input on the back. The Bluetooth connection works like a charm and the range extends over 50ft. The speaker supports multipoint pairing (you can pair two phones with it at the same time). Also, you can pair two Woburn II speakers together and get a louder mono sound (Ambient mode) or stereo sound (Stereo mode). In order to daisy-chain two speakers and select the mode, you have to use the Marshall Bluetooth app. This app also allows you to play with the EQ settings and control the playback.
Marshall Woburn II houses two 5.25in woofers and two 0.75in tweeters. Each driver is driven by a dedicated Class-D amp (50Wx2 for the woofers and 15Wx2 for the tweeters). The speaker sounds exactly the same as it looks – very refined. The bass is present, fast, and punchy. The midrange is clear, detailed, and sweet. The highs are accurate and consistent. All in all, it's an engaging and quite enjoyable sound signature.
Things we don't like
Woburn II is not portable – it has no built-in battery.
The Marshall app is not very stable and needs some improvements.
At this price point (approx. $450), you can also find a speaker with wi-fi connectivity and some additional features (Alexa compatibility, Chromecast, Airplay). Woburn II is just a Bluetooth speaker with two additional analog audio inputs (AUX and RCA).
---
This was our selection of 8 loudest Bluetooth speakers in 2022. Hopefully, it helped you find the most powerful Bluetooth speaker for your needs or at least figure out what to look for in a Bluetooth speaker if you want a loud one. If you need more info, scroll through the FAQs section and see our answers. If you have an opinion or experience you want to share, leave a comment below.
---
How is Loudness Measured?
The manufacturers rarely (almost never) publish the max loudness (max SPL) of their speakers. The only exception is when their speakers are much louder than the competition and they want to brag about it. There's no international standard for measuring sensitivity and max SPL, but most manufacturers do it in an anechoic room with a calibrated mic at a 1m distance. The mic is placed in the sweet spot (usually in-line with the axis passing through the center of the speaker cabinet). The measuring is done multiple times. Some manufacturers do it while the speaker plays only one frequency (usually 1kHz), or a range of frequencies (300Hz-3kHZ), or a full audible range.
So, how to compare these values when the process is not standardized? Can you compare them at all? Honestly, without any extensive knowledge and understanding of speaker sensitivity or without your own research, you can hardly compare the max SPL values of different speakers. So, what's the point of the whole story, you may ask. Well, it's important because it can help you understand marketing gimmicks some unethical manufacturers use.
You see, the manufacturers sometimes advertise unrealistic values and try to trick you into buying their product. Some would say that their speakers are super-compact yet incredibly loud. Some would even show you the pictures of a decibel meter standing right next to the speaker measuring 130dB. Some YouTube reviewers also measure the loudness by placing the dB meter right next to the speaker. But you must always be aware of one thing – the measuring should be done at 1m distance. Why? Because every increase/decrease in distance results in significant changes in perceived loudness.
You already know, intuitively, that the loudness decreases when you move away from the speaker. What you don't know is that it decreases by 6dB when you double the distance. The opposite thing happens when you move closer to the speaker – if you are 2m (6.6ft) away and reduce the distance to 1m (3.3ft), the perceived SPL increases by 6dB. Also, if you reduce the distance from 1m (3.3ft) to 0.5m (1.65ft), the loudness increases again by 6dB. If you approach again, you get another 6dB increase.
Recommended Reading :

Placing the decibel meter right next to the speaker can increase the loudness by up to 40dB (compared to the SPL measured at 1m). So, if some manufacturer claims that its speaker can play at 130dB and shows you the picture or video of a decibel meter placed right next to the speaker, you should know it's a lie. We are not going to tell what manufacturers use this trick, but you will know if you stumble upon a speaker like that.
---
FAQs
Q: What Bluetooth speaker is the loudest?
A: Our current top recommendation is the NEW SOUNDBOKS. However, this is not your only option when it comes to extremely loud, extremely powerful Bluetooth speakers. Here are some more suggestions – JBL PartyBox 1000 ($1,200), DiamondBoxx XL2 ($1,800), Bumpboxx UpRock V1S ($900). Our list of 8 loudest Bluetooth speakers in 2022 gathers all kinds of very loud Bluetooth speakers for different purposes, so make sure to check it out. You may also want to check out our articles about the best portable Bluetooth speakers with wheels, best Bluetooth speakers with stands, and best tailgating speakers. All these articles gather some of the biggest and most powerful Bluetooth speakers on the market.
Q: What is the loudest cheap Bluetooth speaker?
A: What's cheap for you? Is it anything under $50, under $100, or under $300? For some people, even $500 is not too much (but most of us will agree that 500 bucks or even $300 can hardly be considered cheap). If you want a relatively cheap but quite loud and powerful Bluetooth speaker, try ION Audio speakers. Most of them are priced between $100 and $200. ION Audio speakers are probably the loudest cheap Bluetooth speakers on the market. Our top recommendations when it comes to speakers under $300 are Bumpboxx Flare 6, Aiwa Exos-9, Altec Lansing Xpedition 8, BRAVEN BRV-XXL/2. If you want something more refined with better sound quality, and much louder sound, you will have to spend more than $300.
Q: What is the loudest Bose Bluetooth speaker?
A: The loudest Bose Bluetooth speaker is Bose S1 Pro.
Q: What is the loudest portable Bluetooth speaker?
A: The loudest portable Bluetooth speaker that we know of is the NEW SOUNBOKS. The previous two SOUNDBOKS versions are also extremely loud and powerful and are viable alternatives. The same goes for JBL PartyBox 1000 ($1,200), DiamondBoxx XL2 ($1,800), Bumpboxx UpRock V1S ($900).
Q: Which Bluetooth speaker has the best sound?
A: The loudest sound and best sound quality are not necessarily synonyms. Of all the speakers on our list of 8 loudest Bluetooth speakers in 2022, we loved Marshall Woburn II the most. It has a very refined and almost perfectly balanced sound output. Aiwa Exos-9 sounds great, too. The same goes for the NEW SOUNDBOKS and JBL Partybox 300.
Q: What is the loudest waterproof Bluetooth speaker?
A: The loudest fully waterproof Bluetooth speaker that we know of is JBL Boombox. Altec Lansing Xpedition 8 is a good alternative and it's also fully waterproof.
Q: How loud is 140 decibels?

A: 140dB is extremely loud. It's much louder than the human ear can handle and it can cause immediate damage. Many types of firearm can produce this kind of noise (or higher). Also, an aircraft engine can produce more than 140db during takeoff.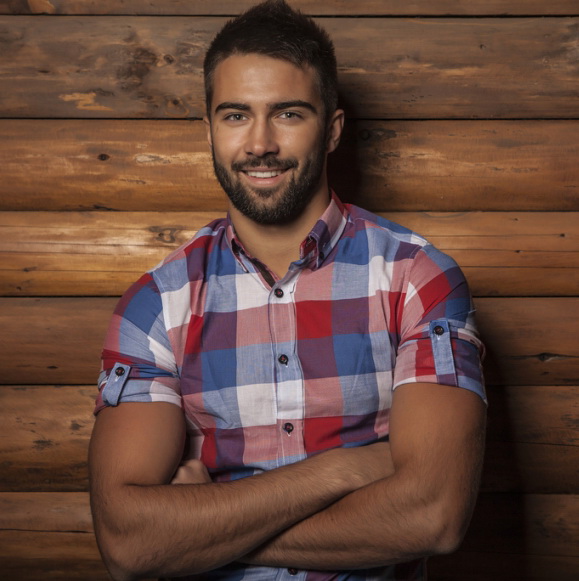 Hello, my name is James Longman.
I'm a writer and editor at AudioReputation. I disassembled my first portable AM/FM radio when I was only 8. At the age of 11, I burned the circuit board on my old boombox cassette player. I'm not going to explain how but it was reckless and stupid.
Since then, I have become much more careful around radios, boomboxes, and other audio devices (at least, I like to think so) but I have never lost the passion for audio equipment. Throughout 20 years of my professional career, I've been working for various audio equipment manufacturers and even started building speakers on my own in my little workshop.
I love the work we do here at AudioReputation. Testing, comparing, and evaluating all kinds of audio devices (speakers, soundbars, headphones, home theater systems, etc.) is something I truly enjoy. I try to be unbiased and give you my honest opinion on every piece of equipment I test. Still, you should take my reviews with a pinch of salt and always be just a little bit skeptical. The fact that I liked some speaker or soundbar doesn't mean that you are going to love it. If you have the opportunity, you should test it/hear it before buying it.