AudioReputation is reader-supported. When you buy through links on our site, we may earn an affiliate commission Learn More
In the past, we did quite a few articles about home theaters, home theater speakers, surround sound systems. Today, we're doing another one but this time we will be dealing only with high-end speakers and speaker systems. If you are looking for the best possible speakers for your home theater setup, you've come to the right place. Our article on 7 best high-end home theater speakers in 2021 is here to make your search much easier, to answer all the questions you may have about high-end speakers and home theater systems, give you a few pieces of advice, and present to you our top suggestions.
Before we dive into the matter, here are a few things you should know about high-end home theater speakers.
These speakers are rarely sold as HTiBs. Since they are quite expensive, they can be bought separately, which is a great thing if you want to make a high-end speaker system but don't have the money to buy all the speakers at once.
These speakers and speaker systems don't come with all the necessary speaker wire – you have to buy all the wire and connectors (usually banana plugs) separately.
It goes without saying but we're going to say it anyway – these speakers are quite expensive. Most of them are significantly pricier than average and only a few speaker systems are priced under $1.000.
Best High-End Home Theater Speakers – Comparison Table
After thorough research, testing, and comparing, we made an interesting selection of 7 best high-end home theater speakers in 2021. The list includes both wired and wireless home theater systems, large and small speakers/speaker systems, 5.1 systems, and smaller systems. Most of them are priced over $1.000 or even over $2.000, but there are at least two systems under $1.000 so even if you don't have a limitless budget, there will be something for you. Just go through our list and find a speaker system that meets your requirements. The following high-end speakers are our top picks.
Top 7 High-End Home Theater Speakers in 2022
---
1. The Smartest High-End Home Theater Speaker System – Sonos Arc 5.1 Speaker System
Looking for a wireless home theater system? SONOS is one of the pioneers of wireless audio and it's arguably the safest choice. Our 5.1 speaker system includes the latest SONOS's Arc, SONOS SUB (2nd GEN), and two SONOS One SL smart speakers. Instead of SONOS Arc, you can also use the SONOS PLAYBAR, SONOS Beam, or SONOS PLAYBASE.
What's in the box?
Since each speaker is also sold separately, they all come packed in separate boxes. Each speaker comes with its own power cable. The latest soundbar called SONOS Arc comes with an HDMI cable and an HDMI-to-optical adapter. The system comes without a remote but, luckily, you don't really need one since you can either use the SONOS S2 app or your TV remote (when using HDMI/eARC port to connect the Arc to your TV).
Things we like
Arc is the latest soundbar from SONOS and it's definitely the most capable, most powerful, and most feature-rich of all the SONOS bars and bases. In terms of size and sonic performance, it can only be compared to SONOS PLAYBAR but it looks much more sophisticated than the PLAYBAR and it has more features. SONOS Arc has one HDMI eARC input as well as optical input (for older TVs). It has one Ethernet port and it supports wi-fi. Just like all the other SONOS products (except for the SONOS Move), Arc doesn't feature Bluetooth.
Thanks to the HDMI eARC, you can use your TV remote to control the volume of the bar. For all the advanced controls and for the initial setup, you have the SONOS S2 app.
Arc also has an array of built-in speakers for voice controls. It features Alexa and Google Assistant, and it also supports Airplay 2.
The Arc has 11 drivers – 8 woofers and 3 tweeters. It even features two side-firing and two-up firing drivers, which guarantees incredibly spacious and enveloping soundstage.
The included subwoofer is the second generation of SONOS SUB. Compared to the 1st gen, this one is just slightly modified but still looks very attractive and recognizable. Low-end reproduction was significantly improved but the same drivers were used.
The system also comes with two SONOS ONE SL surround speakers. They are also part of the next generation of SONOS speakers with Airplay 2 support. In terms of design and controls, ONE SL speakers are fairly similar to the old SONOS ONE.
To perform the initial installation and connect the Arc to your home wi-fi, you have to use the latest SONOS S2 app. The app is also necessary for the SONOS custom tuning (aka Trueplay tuning) and for many other things (making a multiroom system, grouping speakers, engaging different sound modes, etc.).
The latest Arc is more capable than any other SONOS bar when it comes to supported surround modes. This is the first one that supports all Dolby surround sound modes, including Dolby Atmos.
As you may know, SONOS bars, especially the latest SONOS Arc, are a perfect option for hearing impaired. Thanks to the speech enhancement sound mode, Arc can improve dialog intelligibility and deliver every word clearly. Like all the previous versions, Arc supports the Night Mode, which levels the sound and makes all the quiet dialogs much clearer.
Just like all the previous SONOS bars and speakers, the included speakers also have multiroom capabilities and can be combined with a wide variety of other SONOS speakers.
Things we don't like
The remote is not included in the package but you don't really need it since you can use your TV remote to control the basic things and you can use the amazing SONOS S2 app for all the advanced settings.
If you are a SONOS fan, you already know this but we still have to emphasize that SONOS speakers don't feature Bluetooth (only wi-fi).
You can't add more than one sub to the home theater system.
DTS:X is not supported.
---
2. Best 5.0 Home Theater System Under $500 – Fluance SXHTB-BK
Fluance is one of our top options when it comes to affordable but great-sounding home theater and stereo systems. Fluance SXHTB-BK is our favorite 5.0 high-end home theater speaker system under $500.
What's in the box?
The packaging includes 5 speakers – two floorstanding speakers, two bookshelf speakers (used as surround channels), and one compact center channel. Along with the speakers, you will also get removable fabric grilles and all the standard paperwork – manuals and warranties. Speaker wire and mounting equipment are sold separately.
Things we like
All the speakers are simple, boxy, but still attractive and likable. They are available in three colors – black ash, white, and natural walnut.
The speakers are made of thick MDF wood for improved audio reproduction and reduced resonance.
Each floorstanding speaker houses three drivers – two 6.5in poly-coated woofers and one 1in silk dome tweeter. The enclosures are ported (two bass reflex ports on the back). The lower limit when it comes to bass reproduction is 49Hz. The speakers have high sensitivity (89dB) and 8Ω impedance. They don't require an extremely powerful receiver (50-160W). Each floorstanding speaker features dual gold-plated binding posts.
The center channel is not too big and it should fit most setups. It's a two-way speaker with two 4in poly-coated woofers and one 1in Neodymium tweeter. The speaker can handle 30-100W and has a very wide frequency response (80Hz-20kHz). On the back of the speaker, you'll find a bass reflex port in the middle and 5-way gold-plated binding posts.
The surround speakers also have a 2-way design with one 4in woofer and one 1in tweeter. Two small bass reflex ports are located on the front side. On the back, the speakers feature the same 5-way binding posts.
The system delivers an enjoyable performance with punchy lows (but not extremely deep), detailed and dynamic mids, and consistent treble.
Things we don't like
The Center channel doesn't come with any mounting equipment and it doesn't even have mounting holes. The manufacturer wants you to place it on a TV stand, under your TV.
Adding a 10in or 12in subwoofer is definitely recommended. One sub would make this great system much better.
---
3. Best 5.1 HTiB Under $3000 – Klipsch RP-250F + Yamaha RX-A760
As mentioned in the introduction, HTiBs are quite rare when it comes to high-end home theater speakers but some manufacturers, like Klipsch, have something to offer even in this category. In cooperation with Yamaha, Klipsch offers their high-end home theater systems pre-paired with an appropriate AV receiver. In this case, it's the Klipsch RP-250F system and Yamaha RX-A760 receiver.
What's in the box?
The packaging includes 6 speakers with removable grilles – two floorstanding speakers (RP-250F), one large center channel (RP-440C), two dipole surround speakers (RP-240S), and one large subwoofer (R-112SW). The receiver comes with a power cable. The speaker wire is sold separately.
Things we like
RP-250F speakers feature 2-way design. Each speaker houses three drivers – two 5.25in spun copper woofers and Klipsch's famous 1in Tractix Horn Titanium tweeters. The cabinets are made of MDF and have a nice veneer finish. Each floorstanding speaker has one rear-firing bass reflex port and dual 5-way binding posts. They can handle 100W continuously (500W peak). They can go as low as 35Hz and as high as 25kHz.
The included center channel is quite large. It's a two-way speaker with four 4in spun copper woofers and one 1in Titanium tweeter with a hybrid Tractrix horn. It can handle 125W continuously.
The included RP-240S surround speakers are dipole speakers. Each speaker houses two 4in woofers and two 1in Titanium tweeters with the same Tractrix horn. The speakers can handle 75W continuously.
The subwoofer is pretty big. It houses a large 12in woofer, paired with a front-firing bass-reflex port. The subwoofer has line inputs, phase switch, low-pass and gain knobs, as well as WA port for attaching a WA-2 Wireless Subwoofer Kit (optional). The subwoofer is powered. It can handle 300W RMS (600W peak) and it can go down to 24Hz.
The included Yamaha receiver (RX-A760) supports 7.2 or 5.1.2 surround sound which means that you can add one more subwoofer and two height speakers or height modules to the system. The receiver features 5 HDMI 2.0 inputs and one HDMI ARC output. They are all HDCP 2.2 compliant and support 4K pass-thru and HDR. The receiver also has two optical and two coaxial inputs, phono inputs, and 4 RCA audio inputs. It supports wi-fi and has an Ethernet port. In the end, it features Bluetooth and AirPlay.
This bundle is probably one of the best you can get for less than $3.000. It's loud, powerful, immersive, and has a very strong bass reproduction.
Things we don't like
The system is a bit too large for small rooms. You definitely need a big room for this setup (at least 20×20).
For a high-end system, $3.000 is not a lot but we can't pretend that the price isn't high.
---
4. The Slimmest High-End 5.1 Speaker System Under $2.500 – KEF T305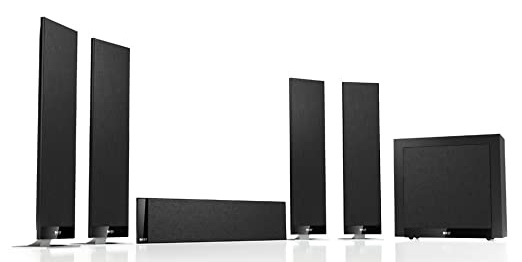 If you are dealing with serious space limitations or you just want something thin and unobtrusive, KEF T305 is a perfect choice.
What's in the box?
The system comes in a super-compact packaging. There's one box for the speakers (four T301 speakers + one T301C) and one box for the T2 subwoofer. The speakers also come with mini stands and wall mounting equipment (template, brackets, screws). If you want, you can buy larger Selecta-mount floor stands separately.
Things we like
For the front left and right and surround left and right, you are supposed to use T301 speakers. For the center channel, you have a modified T301 (named T301C). Each of these five speakers is only 1.25in thin, which is amazing. You can either mount them on walls (three around your TV and two on your left and right side) or place them on stands. They definitely look much better when mounted.
Each T301 and T301C features 2.5-way design with two 4.5in midrange woofers and one 1in aluminum tweeter. The speakers have fairly modest power requirements (10-150W). Their sound delivery is clear, detailed, dynamic, and quite loud. The bass is lacking but that's why you have the T2 sub. The subwoofer houses one front-firing bass driver. The sub is powered and has a built-in class-D amp (250W). The subwoofer is also surprisingly slim compared to 10in subwoofers made by other manufacturers.
T305 high-end home theater speaker system delivers an impressive listening experience. The bass won't blow you away but, other than that, you won't have any complaints.
Things we don't like
Even though T305 is quite powerful for its size, it can hardly be compared with the same priced full-size systems. Take previously reviewed Klipsch RP-250F for example – this thing is much louder and more powerful than KEF T305 and it's also more affordable.
---
5. Best WiSA-Certified 5.1 System – Axiim Q HD Wireless Home Theater System
WiSA-certified wireless home theater systems are perfect for those who don't really have any advanced technical knowledge and don't want to deal with all the speaker wire. All the WiSA-certified speaker systems are basically plug-and-play devices. Judging by the specs, Axiim Q HD is the most capable and most advanced WiSA-certified wireless system. It's also very compact, which makes it perfect for small rooms. If you don't have any space limitations, you can also try a much larger Axiim Q UHD.
What's in the box?
The packaging includes 6 speakers (subwoofer, center channel, and 4 bookshelf speakers for the left and right front and surround channels) and a highly capable Axiim's AVR. Each speaker is packed in a separate box and each comes with its own power cable (just like SONOS speakers). The receiver comes with a power cable, one HDMI cable, and a Bluetooth remote.
Things we like
The whole bundle looks very sleek, very attractive, and it's also quite compact and doesn't take up too much space. Each of 4 bookshelf speakers features one 5in woofer and one 1in tweeter. The center channel houses two 5in woofers and one 1in tweeter, while the subwoofer has one down-firing 10in bass driver.
The included receiver is the heart of the system and it's very capable. All the inputs and outputs are on the back. The receiver houses 6 HDMI inputs and one HDMI ARC output. Each HDMI port is HDCP 2.2 compliant, it supports HDR and 4K 60fps as well as 1080p 3D. The receiver also houses one Gigabit Ethernet port and supports Wi-Fi. There are also two USB ports and one eSATA port for connecting external storage devices. As you can see, it's an impressive set of inputs for such a small device.
The installation and initial setup are pretty simple. You just have to follow the on-screen setup instructions. To control the system, you can use the included Bluetooth remote, your TV remote (if your TV supports CEC), or the Axiim Q app.
The receiver can send audio to 8 channels simultaneously, but it can only deliver 7.1 sound (it can't deliver 5.1.2) sound. It supports all the Dolby and DTS surround sound formats, up to Dolby TrueHD and DTS-HD Master Audio.
The system is quite reliable. You won't be having any sync issues with it. The sound is super-clear, punchy, and quite engaging. It's not the most immersive experience you can get at this price point, but it's still very enjoyable. And the lack of cables is great.
Things we don't like
Axiim Q HD doesn't support object-based surround sound (it doesn't support Dolby Atmos and DTS:X).
---
6. Best 3.0 System Under $3.000 – Definitive Technology BP9040 + CS9040
If you don't have enough space for the full 5.1 system but still want the best possible sound, the Definitive Technology 3.0 system is an excellent choice. This system can also be considered 3.2. since each tower has a built-in powered 8in subwoofer.
What's in the box?
Each speaker is packed separately and comes with standard paperwork (warranties and manuals). Tower speakers come with power cables for the subwoofers.
Things we like
Each floorstanding speaker is equipped with bass drivers, midrange woofers, and tweeters. They are capable of delivering the whole audible spectrum. Inside of each BP9040, there's one side-firing 8in 300W subwoofer paired with two passive bass radiators. On the front, there are two 4.5in midrange woofers and one 1in tweeter. On the back, there are two more drivers – one 4.5in woofer and one 1in tweeter.
CS9040 center channel speaker houses two 4.5in midrange woofers, one 1in tweeter, and one up-firing passive bass radiator.
For a pair of floorstanding speakers, those two BP9040 speakers deliver an impressive amount of bass. The low-end reproduction is also tight and well-controlled. The lack of a dedicated subwoofer is barely noticeable.
The included center channel delivers the entire midrange and treble with impressive clarity and detail. The synergetic effect achieved by combining it with two BP9040 floorstanding speakers is truly magnificent.
The system is easily expandable. BP9040 speakers feature docking ports for connecting A90 height modules (sold separately). Adding two surround speakers is also highly recommended.
Things we don't like
To get the best possible surround sound experience, you really need to add two surround speakers to this system. Our recommendation is to get two SR-9040 surround speakers. It will cost you up to $600 but it will add a whole new dimension to your listening experience.
---
7. The Most Compact High-End Home Theater Speaker System Under $2.000 – Focal SIB EVO Dolby Atmos
Looking for a compact home theater speaker system for your small apartment or a tiny entertainment room? You can hardly find anything better than Focal SIB EVO. SIB EVO is also one of the smallest speaker systems with Dolby Atmos support.
What's in the box?
The speaker set comes in two boxes – one for the CUB EVO subwoofer and the other for 5 SIB EVO satellites (2 Dolby Atmos speakers and 3 satellites). The subwoofer comes with a dedicated power cable and all the satellite speakers come with stands and mounting brackets.
Things we like
The packaging includes 5 satellites, two of which are a bit larger than the rest. Those two are Dolby Atmos speakers and are supposed to be used as front left and front right channels. The other three satellite speakers are used as center and surround channels. Each satellite speaker comes with an adjustable base – you can set the angle of the speaker to get the best possible performance or you can remove the base and mount all the speakers on walls.
Each satellite houses one 5in woofer and one .75in tweeter. Dolby Atmos channels also have one additional up-firing 4in woofer for height effects. Each of the satellites requires 25-200W amplification. They all have spring clip connectors, not banana plugs.
Recommended Reading :

The subwoofer houses one down-firing 8in subwoofer. It's a powered sub with a built-in 200W Class-D amplifier.
The speaker system delivers very clear, accurate, and quite immersive sound. To get the best Dolby Atmos experience, you really need to play with those Dolby Atmos channels and find the right angle.
Things we don't like
Dolby Atmos delivery depends on the environment (room size, ceiling height, and even ceiling material). Dolby height modules base their performance on the sound bouncing off the ceiling, which is a tricky thing. In-ceiling speakers are a safer option when it comes to height effects.
A set of the same-priced larger speakers would deliver bigger, more powerful, and more immersive sound.
---
This was our list of 7 best high-end home theater speakers in 2021. Hopefully, it helped you find the perfect speakers for your setup. In case you have additional questions, we recommend you to go through our FAQ section. If you want to share your thoughts about home theater speakers or recommend a speaker system, feel free to leave a comment.
---
FAQs
Q: What is the best brand of home theater speakers?
A: This question is practically impossible to answer. With so many available brands and models, it's simply impossible to give you just one answer. That's why you have our list of 7 best high-end home theater speakers in 2021. But even this list is just a small fragment of what the market has to offer when it comes to high-end speakers. The number of high-end brands and great models is huge. If you can spend more than $5.000 on a home theater speaker system you should also check out brands like Focal, Paradigm, Vandersteen, DALI, Bowers & Wilkins, Bang & Olufsen, Martin Logan, Q Acoustics, Dynaudio, etc.
Q: What are the best high-end home theater speakers?
A: Just like we said – it's impossible to pinpoint just one. You can find some great suggestions in our article and you should also check out those brands mentioned in the previous answer.
Q: Is 5.1 system good enough for cinema-like experience?
A: I guess you can say that 5.1 is the optimal solution for a home theater setup. A system smaller than that, especially a system without surround speakers (like 3.1) can hardly deliver cinema-like experience. A system larger than 5.1 is always desirable but it requires more space, more money, and the installation can be really tricky, especially if you want to add in-wall/in-ceiling speakers. For most users, 5.1 is more than enough. You can always start with a 5.1 system and then upgrade it by adding more speakers or an additional subwoofer.
Q: Are wireless home theater systems worth it?
A: One thing you have to know about wireless home theater speaker systems is that none of them are completely wireless. The term wireless refers to the speaker wire but doesn't refer to power cables. So, in a wireless home theater system, you don't have to connect the speakers to the receiver. In fact, there's no need for the receiver. These systems either come with a special wireless receiver or they use the central unit (center channel or soundbar) as a hub and that hub sends the audio signal wirelessly to all the other speakers.
Now that you know the basics, we can answer the question. The answer is yes. Sometimes. You see – not all wireless home theater systems deliver the same audio performance and, more importantly, they are not all equally reliable. You can find our 2 favorite wireless home theater systems (SONOS and Axiim Q HD) on our list of 7 best high-end home theater speakers.
Q: Should all the speakers in a home theater system be of the same brand?
A: That's definitely recommended. Matching the speakers made by different brands is a really hard thing to do, even if you have perfect hearing. It's definitely smarter to stick to one brand and even one speaker line made by that brand, especially when it comes to speakers that are in-line with your ears. In-ceiling speakers are responsible for height effects only and they don't have to match the rest of the system, but it's still better if all the speakers are made by the same manufacturer and if they all come from the same speaker line.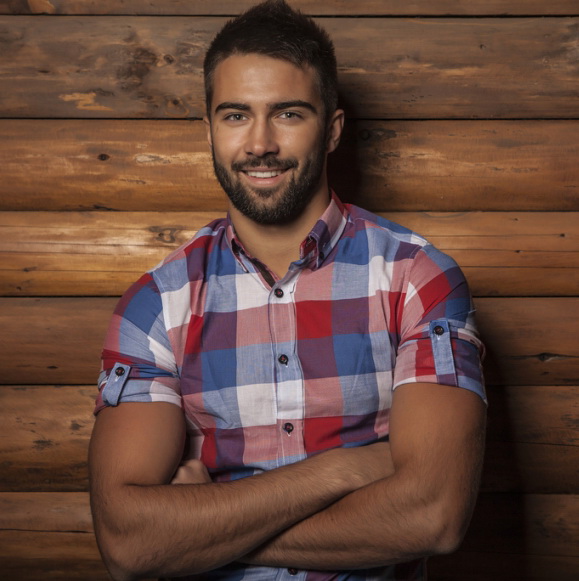 Hello, my name is James Longman.
I'm a writer and editor at AudioReputation. I disassembled my first portable AM/FM radio when I was only 8. At the age of 11, I burned the circuit board on my old boombox cassette player. I'm not going to explain how but it was reckless and stupid.
Since then, I have become much more careful around radios, boomboxes, and other audio devices (at least, I like to think so) but I have never lost the passion for audio equipment. Throughout 20 years of my professional career, I've been working for various audio equipment manufacturers and even started building speakers on my own in my little workshop.
I love the work we do here at AudioReputation. Testing, comparing, and evaluating all kinds of audio devices (speakers, soundbars, headphones, home theater systems, etc.) is something I truly enjoy. I try to be unbiased and give you my honest opinion on every piece of equipment I test. Still, you should take my reviews with a pinch of salt and always be just a little bit skeptical. The fact that I liked some speaker or soundbar doesn't mean that you are going to love it. If you have the opportunity, you should test it/hear it before buying it.