AudioReputation is reader-supported. When you buy through links on our site, we may earn an affiliate commission Learn More
Looking for a reasonably priced audiophile-grade floorstanders for your stereo or home theater system? MartinLogan Motion 40i definitely deserves a place on your shortlist. This is arguably the best speaker in its price range and it's our top choice when it comes to entry-level high-end floorstanding speakers. The price will be a dealbreaker for most people (up to $2,500 for a pair) but if you know anything about audiophile equipment, you know that prices can be much higher.
MartinLogan is an American speaker manufacturer best known for its electrostatic speakers and, especially, for its hybrid speakers from the Masterpiece and ElectroMotion series. The biggest and probably the only issue we have with these speakers is their price. They are all very expensive. In order to expand its reach, MartinLogan tried to offer similar performance at a more affordable price. The result of that effort was the first Motion series, released in 2012. The speakers were highly praised for their performance and looks.
In 2019, MartinLogan introduced the redesigned and upgraded Motion series. Motion 40i is one of the speakers from this line. Motion series also includes Motion 60XTi (flagship floorstanding speaker) and Motion 20i floorstander, Motion 30XTi and Motion 30i center channels, and Motion 35XTi and Motion 15i bookshelf speakers. In this review, we will only discuss the performance of Motion 40i, but if you are building a whole surround sound system, you will get the best match by combining two Motion 40i speakers with some of the available Motion center channels and Motion bookshelf speakers. And don't forget to add a powerful subwoofer.
MartinLogan Motion Series
All the Motion speakers, including Motion 40i, are inspired by the performance of MartinLogan's famous electrostatic speakers. The biggest highlights of the Motion line are the so-called Folded Motion tweeters, high-quality aluminum woofers, and hand-made VOJTKO crossovers. Motion 40i looks, feels, and sounds like a premium speaker. When compared to some other high-end floorstanding speakers, it doesn't even cost too much.
The only ''problem'' could be the bass response. Motion 40i delivers clear, punchy, accurate, and very controlled bass, but can't hit those really low frequencies. It's simply a matter of physical limitations of 6.5in bass woofers. So, if you want the best possible performance, it's recommended to pair them with a powerful 10 or 12in subwoofer.
Check Price on Amazon
Reasonably priced (compared to other high-end floorstanding speakers)

Elegant and stylish design

Custom-made bass and midrange woofers

MartinLogan's proprietary Folded Motion tweeters

Hand-made VOJTKO crossovers

Audiophile-grade sound

Huge soundstage and excellent imaging
In order to hit the sub-bass frequencies, you'll have to add a powerful subwoofer
If you are in the market for a high-end pair of floorstanders, especially if you are looking for something with a small footprint and reasonable price, Motion 40i deserves your attention.
What's in the box?
Inside a chunky box, you will find your Motion 40i speaker with preinstalled removable jumper clips, 4 spikes, 4 rounded feet, user manual, some brochures, and a warranty card. The moment you buy the speakers, you'll be provided with an automatic 90-day warranty and, in order to get a limited 5-year warranty, you have to register your speaker (no additional costs) within 30 days of purchase.
Specs
| MartinLogan Motion 40i Specifications | |
| --- | --- |
| DIMENSIONS | |
| Width | 7.56in |
| Height | 42.49in |
| Depth | 12.81in |
| Weight  | 45lb/20.4kg |
| DRIVERS | |
| Low-frequency woofers | 6.5in x2, aluminum cone with cast polymer basket |
| Midrange driver | 5.5in x1, aluminum cone with cast polymer basket |
| Tweeters | 1in x 1.4in, folded motion |
| ENCLOSURE TYPE | Ported, rear-firing bass reflex port |
| ENCLOSURE MATERIAL | MDF |
| INPUTS | 5-way bi-wire binding posts |
| CABINET FINISH | Gloss black, red walnut, matte white |
| TECHNICAL DETAILS | |
| Frequency response | 40Hz-25kHz (+/- 3dB) |
| Nominal impedance | 4Ω |
| Sensitivity | 92dB (at 2.83V/m) |
| Power handling | 20-300W |
| Crossover frequencies | 500Hz and 2.6kHz |
Design
Motion 40i is a very simple but also incredibly elegant speaker. Compared to the original Motion line, the manufacturer has made a few cosmetic changes but didn't change any of the things that were already great (like the Folded Motion tweeters and VOJTKO crossovers).
Instead of the heavy metal grilles, the new version has much lighter separate fabric grilles (one for the woofers and the other for the midrange driver and tweeter). The grilles have plastic frames and are easily removable. Between the two grilles, there's a grey metal strip with the MartinLogan logo on it.
The speakers are still relatively slim and inconspicuous, especially considering their power-handling abilities.
Motion 40i is available in three stylish finishes (with matching grilles) – matte white, red walnut, and glossy black.
Available in three stylish finishes
The cabinet is made of .7in MDF and has 1.2in thick front baffle. It feels very premium.
On the front side, you'll see two 6.5in aluminum cone bass drivers at the bottom, one 5.5in aluminum cone midrange woofer right above the MartinLogan logo, and one 1in x 1.4in Folded Motion tweeter. You can use the speaker with or without the grilles – it looks great either way.
Front panel (with and without grille)
On the back, you will see a bass reflex port at the bottom and proprietary 5-way binding posts above it. These posts have preinstalled jumper clips but you can remove them if you want to bi-wire or bi-amp the speakers.
Rear panel
Features
Motion 40i features two 6.5in custom-made aluminum cone bass woofers with cast polymer baskets. They are positioned at the bottom in order to minimize the so-called floor-bounce effect and deliver flatter, more controlled bass response.
The speaker also has an aluminum cone woofer. It's slightly smaller than the bass woofers (5.5in) and also has a cast polymer basket. The manufacturer used stiffened suspension for the midrange woofer in order to achieve higher resonant frequency and more accurate and natural midrange reproduction.
All the aluminum cone woofers have concave dust caps (aka Rigid Structured Dust Caps) that are supposed to strengthen the cones and improve their rigidity.
Aluminum cone woofers
The biggest highlight is the use of so-called Folded Motion tweeter instead of more common dome tweeters. Folded Motion tweeter is basically MartinLogan's version of the ''Air Motion Transformer'' (AMT). AMT is an electroacoustic transducer invented and designed by the German engineer and scientist Oskar Heil. He sold the patent to ESS and, for decades, ESS was the only company to produce speakers with AMT transducers. In 2004, the patents for this kind of driver expired and many other manufacturers started using it. Today, you can find it on ESS speakers, ELAC speakers, Monitor Audio speakers, etc.
AMT may look like a planar magnetic driver, but its work is based on a different principle.
The diaphragm of the AMT looks like an accordion or like bellows. MartinLogan's folded motion tweeters use folded Polyamide diaphragm with an aluminum etched folded sheet membrane. The diaphragm is sandwiched between Neodymium super magnet and steel housing. The Neodymium magnet holds the charge and gives it to the membrane. Depending on the signal, the charge gets reversed continuously and causes the diaphragm to move laterally and to squeeze the air (like an accordion).
Folded Motion tweeter has a significantly larger surface than the same-sized traditional dome tweeter which reduces the required excursion and improves the treble response and sound dispersion.
Folded Motion tweeter
Seamless integration between bass woofers, midrange driver, and Folded Motion tweeter is achieved by using the hand-made VOJTKO crossover. This crossover is designed and made by Joe Vojtko, who works at MartinLogan as an audio technology engineer. The crossover frequency between lows and mids is set at 500Hz. The crossover between mids and highs is set at 2.6kHz.
Proprietary VOJTKO crossover network
As mentioned before, the speaker is equipped with two sets of custom-made 5-way binding posts that accept banana plugs, wires, and spade lugs.
5-way tool-less binding posts
Setup and Performance
You can find the layout scheme in the user manual and it's pretty simple. It's recommended to avoid placing the speaker right next to a wall. The recommended distance between the wall and your speaker is 24in.
Thanks to two sets of binding posts, you can wire the speaker in different ways. If your amp is powerful enough, you can use the standard single-wire connection.
Single wire connection
If, on the other hand, you think you can achieve better performance by bi-wiring or bi-amping the speaker, you can do that, too.
Bi-wiring is often argued as a meaningless procedure since you are separating wires for highs and lows but connect them to the same amp output. However, there are still enthusiasts that claim that there's a subtle improvement, especially when it comes to midrange reproduction. You can always try it and see if you can hear the difference.
Bi-wiring
Bi-amping, unlike bi-wiring, definitely brings the difference since you are not only separating the wires for highs and lows. You are also using two separate channels, which doubles the power supplied to the speaker.
Bi-amplification
For the purposes of this review, we have coupled a pair of Motion 40i floorstanders with a PS Audio's Stellar Gain Cell DAC and Stellar S300 stereo amp. And boy, what an experience that was.
All the MartinLogan's claims proved to be true. Motion 40i delivered perfectly clean, undistorted, tight, and accurate bass. It was surprisingly clear for a bass-reflex design. However, there are certain limitations caused by the size of the drivers and cabinet. Motion 40i will go deeper than you would expect from a speaker of its size but it can't hit the low-bass and sub-bass frequencies.
The aluminum cone midrange driver delivers clean and well-balanced mids. The transition between lows and mids is seamless. Vocals are perfectly clear and airy.
Due to the Folded Motion tweeters, the greatest highlight is the treble reproduction. It's very consistent and clear. It has the right amount of detail and sparkle and it never gets bright.
The soundstage created by a pair of Motion 40i speakers is huge and enveloping. It's both wide and deep. As usual, with that kind of soundstage comes very good separation between instruments and perfectly accurate imaging.
We didn't have the chance to try Motion 40i in a home theater configuration, but we have no doubts that they can deliver the same (or even better) level of excellence.
The Competition
The market is crowded with all kinds of affordable high-end speakers. Almost every manufacturer has at least one set of similarly priced floorstanders and the number of viable options can be quite overwhelming. The next three speakers are our top recommendations.
---
MartinLogan Motion 40
Motion 40 is the original version of the Motion 40i and, in many ways, they are quite similar. However, a pair of Motion 40 speakers is $800 cheaper.
Both speakers have the same woofers, midrange drivers, folded motion tweeters, and VOJTKO crossovers. Even the crossover frequencies are the same.
Aside from some cosmetic changes (different grilles, MartinLogan logo on the Motion 40i), there are some construction-related upgrades like the rigid structured dust caps.
In terms of performance, Motion 40i delivers a bit thicker bass and slightly wider soundstage.
---
SVS Ultra Tower
Ultra is SVS's flagship tower speaker. It's a little bit cheaper alternative to Motion 40i. A pair of SVS Ultra tower speakers is priced just under $2,000.
SVS Ultra speakers have a significantly larger footprint which could be a problem if you don't have enough space.
Ultra floorstanders have a unique shape and driver arrangement. The speaker has side-firing 8in bass woofers, located at the bottom. On the front panel, there are two 6.5in composite glass-fiber midrange drivers and 1in aluminum dome tweeter.
When it comes to performance, SVS Ultra towers deliver thicker bass and can reach lower frequencies but they also sound a little bit less controlled and refined. The biggest advantage of Motion 40i is treble reproduction. SVS Ultra also delivers pretty good and well-extended treble but, compared to 40i, it's not as detailed and it sounds kind of metallic. Both speakers have excellent midrange reproduction.
---
Focal Aria 926
Focal Aria 926 is just a little bit cheaper alternative (priced under $2.300). Focal Aria 926 speakers are the smallest floorstanders from the Aria line but they still have a little bit bigger footprint than the Motion 40i.
Aria 926 features Focal's proprietary 6.5in flax cone bass and midrange woofers and 1in TNF inverted dome tweeter. Bass-reflex ports are located at the bottom of the front panel. The crossovers are set at 290Hz and 2.4kHz.
Focal Aria 926 is an excellent floorstanding speaker with a very coherent and balanced sound reproduction across the whole range. It delivers punchy and accurate bass, dynamic mids, sweet vocals, and smooth but very detailed treble. Motion40i has a bit thicker and deeper bass and more extended treble response but the difference in listening experience is not huge.
---
Comparison Table
Final Thoughts
MartinLogan Motion40i is a great-sounding and fairly affordable entry-level audiophile speaker. Its elegant design, accurate, punchy, and controlled bass, clear and dynamic mids, and sparkling treble make it one of the best floorstanding speakers under $2,500.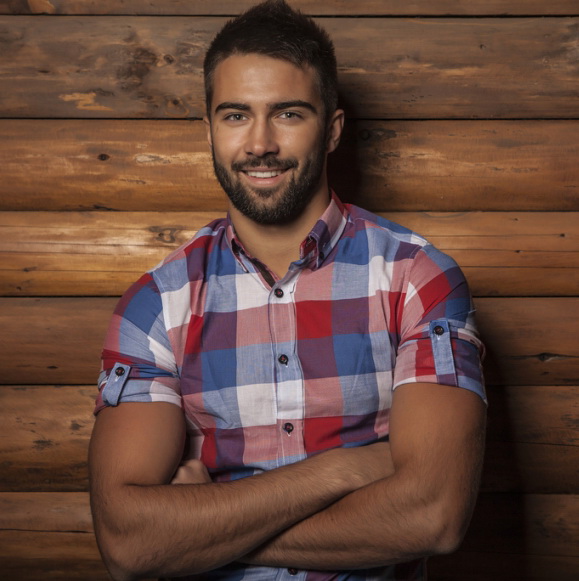 Hello, my name is James Longman.
I'm a writer and editor at AudioReputation. I disassembled my first portable AM/FM radio when I was only 8. At the age of 11, I burned the circuit board on my old boombox cassette player. I'm not going to explain how but it was reckless and stupid.
Since then, I have become much more careful around radios, boomboxes, and other audio devices (at least, I like to think so) but I have never lost the passion for audio equipment. Throughout 20 years of my professional career, I've been working for various audio equipment manufacturers and even started building speakers on my own in my little workshop.
I love the work we do here at AudioReputation. Testing, comparing, and evaluating all kinds of audio devices (speakers, soundbars, headphones, home theater systems, etc.) is something I truly enjoy. I try to be unbiased and give you my honest opinion on every piece of equipment I test. Still, you should take my reviews with a pinch of salt and always be just a little bit skeptical. The fact that I liked some speaker or soundbar doesn't mean that you are going to love it. If you have the opportunity, you should test it/hear it before buying it.