AudioReputation is reader-supported. When you buy through links on our site, we may earn an affiliate commission Learn More
Are you looking for the best way to connect your wireless speakers to your receiver? Well, you will be happy to know that we are offering you great and easy solutions to pair your devices and achieve the best possible listening experience! Let's get to the article immediately!
How to connect wireless speakers to receiver in easy steps
Here's how you connect wireless speakers to a receiver:
You can use Bluetooth to connect the wireless speakers to the receiver.

If your receiver doesn't have the option to connect with Bluetooth, you'll need to buy a Bluetooth transmitter.

Connect the receiver to the Bluetooth transmitter, then turn the wireless speakers on.

Pair all the devices together, and you're all set.
Connect Wireless Speakers to a Receiver via Bluetooth
The first and easiest way to connect your wireless speakers to the receiver is via Bluetooth. Today, many wireless speakers use Bluetooth technology for a smooth and easy connection. In addition, numerous manufacturers produce AV receivers with built-in Bluetooth. Therefore, if you're still looking for an AV receiver to buy, you can always opt for the one that already has this technology. Manufacturers offer many affordable solutions you can look into.
Pairing via Bluetooth is the easiest (and cheapest) option
To pair your receiver with wireless speakers via Bluetooth, you will first have to enable the Bluetooth transmitter mode on your AVR. Then, you should make sure that all of the devices you want to connect have Bluetooth turned on and that they are visible. The next step depends on the model you have. We recommend you to check out the manuals your speakers and your receivers came with. They should include instructions on how to connect the device to other gadgets via Bluetooth.
How to connect DENON AVR to Bluetooth speakers/headphones (source – DENON)
In general, on some devices, you will just need to enable Bluetooth, and they will automatically connect to another gadget that has it enabled as well. For others, you'll have to go to the Bluetooth settings and then find the devices with Bluetooth on. After finding the device you want to connect, simply pair them and wait for a few seconds for the connection to be established. You can then play some music to check whether you managed to connect everything properly. If you did, the process is done!
Recommended Reading : How to Connect a Soundbar to TV with an Optical Cable?
Note 1: For this setup to work, you need a receiver with a built-in Bluetooth transmitter. Bluetooth transmitter enables your AVR to send audio to speakers. Unfortunately, most of today's receivers have only a built-in Bluetooth receiver, which allows them to receive the signal from some other device (like your phone, tablet, or PC).
Note 2: If you're going to use your wireless speakers for movie watching (or if you are going to use them for any video content), it's highly recommended that both devices – your AVR and your wireless speakers support aptX LL Bluetooth codec. If you're going to use them for music only, aptX LL is not absolutely necessary.
What if My Receiver Does Not Have the Option for a Bluetooth Connection?
In case your receiver doesn't feature Bluetooth, or if it only has a built-in Bluetooth receiver, that's fine! There is an option that will allow you to connect your wireless speakers to your receiver via Bluetooth, even if one of them doesn't have that feature. The gadget you'll need is a Bluetooth transmitter.
So, what is a Bluetooth transmitter? Well, Bluetooth transmitters give a device without Bluetooth the ability to connect and send audio to another device that has this feature (that has a built-in Bluetooth receiver). There are so many great and affordable options on the market. Thus, you won't have trouble finding the perfect unit for your AV receiver.
If your AVR doesn't have a Bluetooth transmitter built-in, you can buy an external Bluetooth transmitter
Once you buy the Bluetooth transmitter, you can connect it to your receiver without any additional settings. In most cases, transmitters have a headphone plug, which means that you'll have to find a corresponding port on your receiver where you'll plug it in. Some transmitters also have RCA inputs or even optical and coax inputs. Once you connect the transmitter to your receiver, you should turn both devices on. Then, select the right output on your AVR, initiate Bluetooth pairing, and the transmitter and your Bluetooth speaker should be paired automatically. That's it! We recommend you to play some music to verify that everything works smoothly.
You should also be mindful of the distance between the receiver/Bluetooth transmitter and your speaker. It's best to check your speakers' manual check the max Bluetooth range. Usually, the maximum distance will be no further than 30 feet, or 9 to 10 meters.
Tutorial – How to Connect a Bluetooth transmitter to a non-Bluetooth AVR
Can I Connect Wireless Speakers to My Receiver with Wi-Fi?
Does an AV receiver with built-in Wi-Fi exist? Yes! Can you connect it to your wireless speakers using Wi-Fi? YES. But there's a catch. Or maybe two.
First of all, if you have a wi-fi-enabled AVR, and you want to connect it to wireless speakers, you need wi-fi-enabled speakers, not Bluetooth speakers.
Recommended Reading : How to Connect Speakers to TV Without Receiver?
Second, you can't connect just any wi-fi speaker to any wi-fi AVR. You need a specific brand of speakers that is compatible with the given AVR. This is not because of some limitations of wi-fi technology – it's only because the manufacturers want to keep you in their ecosystem and 'force you' to buy more of their products.
So, if you, for example, have one of the latest Denon or Marantz AVRs (by the way, these two brands are part of the same company), you can only connect them to HEOS-enabled wi-fi speakers made by Denon. So, you can choose between two series – Denon HEOS speakers (HEOS 1, HEOS 3, HEOS 5, HEOS 7) and Denon Home speakers (Home 150, Home 250, Home 350, and Denon Home Soundbar).
Denon and Marantz AVRs can be connected via wi-fi to HEOS-enabled wireless speakers
If you, on the other hand, own one of YAMAHA's wi-fi-enabled AVRs with the MusicCast support, you can only connect them to Yamaha MusicCast wireless speakers (MusicCast 20, MusicCast 50, MusicCast SUB 100) and Yamaha MusicCast soundbars.
Latest Yamaha AVRs can be connected via wi-fi to Yamaha MusicCast speakers
Onkyo and Pioneer are also popular brands when it comes to AV receivers, but they don't make their own wi-fi speakers. Still, thanks to their cooperation with SONOS, a number of Onkyo and Pioneer wi-fi AVRs are compatible with SONOS wi-fi speakers. They all have the label 'Works with SONOS'.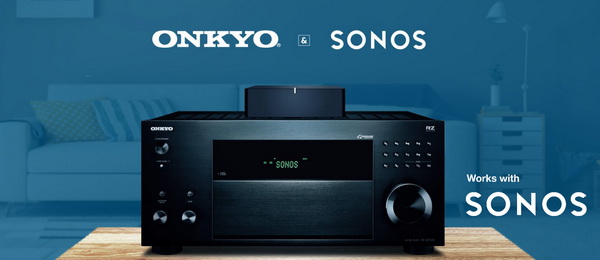 Select Onkyo and Pioneer Elite AVRs are compatible with SONOS wireless speakers
The only problem is that you can't just buy SONOS wireless speakers and connect them to the AVR – you also have to buy the SONOS Connect.
Once you connect your AV receiver to SONOS Connect and adjust the settings, the AVR will be integrated into your wireless multiroom system. You can use the SONOS app to group it with other SONOS speakers and to send audio to your Onkyo AV receiver. You can also send audio from the receiver to other SONOS speakers in your multiroom system.
How to set up ONKYO receiver to work with SONOS Connect
Most of today's high-end AV receivers also have Airplay/Airplay2 and/or Google Chromecast built-in. In that case, you can integrate your AV receiver into a larger multiroom speaker system along with other Airplay or Chromecast-enabled speakers, stream music from your iOS/Android devices (and other Apple devices) to your AV receiver and other Airplay/Chromecast-compatible speakers, but you can't stream audio from AV receiver to your Airplay/Chromecast-enabled speakers. It's one-way communication.
Connect Wireless Speakers to a Receiver with Cables
You certainly didn't purchase your wireless speakers only to turn them into wired! However, sometimes, things go wrong, Bluetooth doesn't work, or your receiver and your speakers won't connect for some reason. So, here is a way to save the day without purchasing additional equipment.
Also Read: How to Make Regular Speakers Wireless.
A lot of wireless speakers come with AUX or headphone jacks. For instance, many Bose speakers have an AUX port. These ports will let you connect them with other devices in case the wireless option goes wrong. You just have to find an AUX cable and then plug one end into your speaker and the other end into the receiver. Play some music to see if you did everything right.
Recommended Reading : How to Connect Banana Plugs to Speakers?
We should mention that this is definitely not the best way to connect your wireless speakers, but it's good to know that you can always try using the AUX cable in case you are left with no other option.
Note: Using an AUX or any other input may not be a viable option with all the wireless speakers. For example, some SONOS speakers (like SONOS ONE) don't have any physical inputs – they only support wireless connection.
Final Thoughts on How to Connect Wireless Speakers to a Receiver
We hope we helped you learn how to connect wireless speakers to a receiver. If you've read our article carefully, you already know that the simplest and cheapest way to do that is via Bluetooth. Those who have receivers without Bluetooth will be able to pair the devices with the help of a Bluetooth transmitter. You can get a Bluetooth transmitter in almost any electronics store. As there are many good products on the market, we recommend you to do a bit of research to find out which ones will work best with your receiver.
In case you want to connect wi-fi speakers to your receiver or if you want to make a large multiroom system, you have to pay attention to the brand of the receiver and check what wi-fi speakers are compatible with your AVR model.
Also Read: 10 Best Home Stereo Systems.
High-end receivers often support two or more wireless streaming options. For example, some high-end Denon receivers support Airplay 2 and HEOS. This means that you can choose between Airplay-enabled and HEOS-enabled wireless speakers. Both speaker types can be used for multiroom purposes, but if you want to use two wireless speakers as your surround channels, you will have to opt for HEOS speakers. The same applies to Yamaha AVRs and Yamaha MusicCast speakers.
In case the Bluetooth and wi-fi options don't work, you can always try using the good-old AUX cable. That is, of course, not the preferred option and it's definitely not what you were looking for but, unfortunately, it is sometimes inevitable.
Did you find this article useful? Stay tuned for more!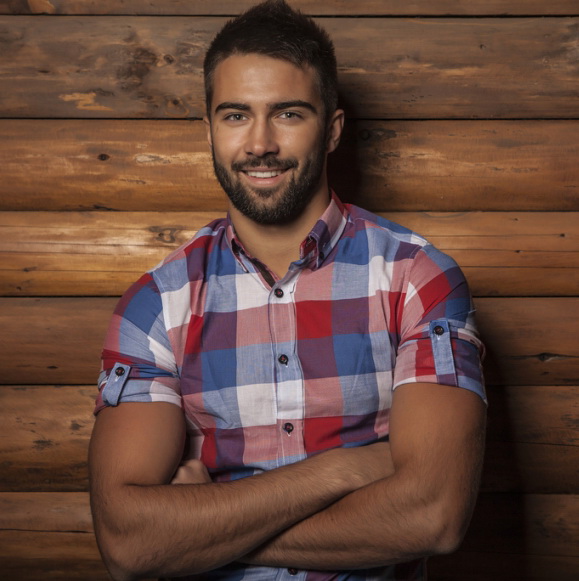 Hello, my name is James Longman.
I'm a writer and editor at AudioReputation. I disassembled my first portable AM/FM radio when I was only 8. At the age of 11, I burned the circuit board on my old boombox cassette player. I'm not going to explain how but it was reckless and stupid.
Since then, I have become much more careful around radios, boomboxes, and other audio devices (at least, I like to think so) but I have never lost the passion for audio equipment. Throughout 20 years of my professional career, I've been working for various audio equipment manufacturers and even started building speakers on my own in my little workshop.
I love the work we do here at AudioReputation. Testing, comparing, and evaluating all kinds of audio devices (speakers, soundbars, headphones, home theater systems, etc.) is something I truly enjoy. I try to be unbiased and give you my honest opinion on every piece of equipment I test. Still, you should take my reviews with a pinch of salt and always be just a little bit skeptical. The fact that I liked some speaker or soundbar doesn't mean that you are going to love it. If you have the opportunity, you should test it/hear it before buying it.