AudioReputation is reader-supported. When you buy through links on our site, we may earn an affiliate commission Learn More
Finding a good-sounding pair of speakers under $200 is not such an easy task as you might think. $200 is not a small amount of money but you would be surprised by how limited the number of viable choices is, even if all you are looking for is accurate and balanced sound. That's why we wanted to introduce you to this amazing pair of Fluance Ai40 powered bookshelf speakers.
Fluance Ai40 stereo speakers are all about the music and sound. Fluance has built 20 years of experience into these speakers and if you know anything about Fluance audio equipment, you know that they use high-performing drivers, refined crossovers, and high-quality wooden cabinets. The only result they are looking for is perfectly balanced and accurate sound with minimum distortion.
That's the exact thing you can expect from the Fluance Ai40 powered speakers and that's their biggest highlight.
The biggest downside is pretty much expected. Fluance Ai40 is very limited when it comes to inputs. There is only one RCA input and Bluetooth connection. That's the compromises you'll have to make. If you can live with only two inputs and the only thing you care about is the sound, Fluance Ai40 is the stereo system for you. So, let's dig deeper and find out more.
Stylish design

Great build quality

Bluetooth connectivity with aptX support

Balanced and accurate audio reproduction with impeccable midrange

Adjustable bass and treble
Lacks phono preamp (you can't connect your turntable to the speakers without one)

Lacks subwoofer output

No digital inputs
At $200 price tag, making compromises is inevitable. The question is – do you need more inputs or better sound? Fluance decided not to make compromises when it comes to sound but that resulted in a lack of input versatility. The lack of digital inputs may be a deal breaker for some people, but if you are only interested in sound quality and perfect sonic balance and you are perfectly happy with one RCA input and Bluetooth connectivity, there's no better choice under $200 than the Fluance Ai40.
Official video – Fluance Ai40 Powered Bookshelf Speakers
What's in the box?
The package includes 2 Ai40 powered bookshelf speakers, remote (batteries included), power adapter (100V-240V), 8ft-long 18-gauge speaker wire, 3ft-long AUX to RCA cable, user manual, and 2-year warranty. Speaker stands are not included and you will have to buy them separately.
Box contents
Fluance Ai40 Specifications
DIMENSIONS
Width
6.5in
Height
10.9in
Depth
7.6in
Weight
15.1lb
DRIVERS
Woofer
5in x1, woven glass fiber composite
Tweeters
1in x1, silk soft dome with ferrofluid cooling
ENCLOSURE TYPE
Sealed/Acoustic suspension
POWERING OPTIONS
DC input (100V-240V power adapter)
INPUTS
RCA Left/Right x1
OUTPUTS
Speaker outputs ()
OTHER CONNECTION OPTIONS
Bluetooth (with aptX support)
OTHER TECHNICAL DETAILS
Frequency response
40Hz-20kHz (40Hz-10)
Output power
70W
THD
Less than 0.3
ADDITIONAL FEATURES
Remote

Adjustable bass and treble
Design
Ai40 speakers are compact and boxy with a vinyl finish in three different colors – lucky bamboo, natural walnut, and black ash. The cabinets are sealed. Each speaker is 10.9in tall, 6.5in wide, and 7.6in deep.
Available in three versions
The speakers don't look exactly the same. The right one is the main/active speaker and the left one is passive.
On the front panel of the right speaker, you will see two drivers (1in soft dome tweeter made of silk and 5in woven glass fiber composite woofer). You will also see the volume/power/input knob (you can rotate it to set the volume or press it to change the input source) and IR sensor. Right next to the volume/power/input knob, there's an LED status indicator (blue in Bluetooth mode, yellow in RCA mode, red in standby mode). On the front panel of the left/passive speaker, there are only two drivers and no buttons.
Right/main speaker – front panel
The rear panels are also different. On the left speaker, you will see only two speaker inputs (binding posts compatible with banana plugs). The right one has all the connections. You have one Bluetooth button (for pairing and resetting the Bluetooth connection), RCA left and right inputs, left speaker outputs, and DC input. As you can see, you won't be having any problems understanding the connections.
Rear panels – left (passive) speaker and right (active/main) speaker
Features
While the Ai40 isn't actually packed with features and connections, the manufacturer really paid attention to sonic performance and choice of materials. The cabinets are made of wood and they feature the acoustic suspension design (in other words, they are sealed).
The woofers are made of woven glass fibers (the mixture of plastic and glass fibers). The manufacturer didn't use the cheapest materials (paper) like many others. Woven glass fiber composite ensures accurate midrange reproduction and improves the resistance and durability of the speaker. This material also improves flexibility, responsiveness, and dynamics.
The dome-type tweeter is made of silk which smoothens the treble reproduction and makes the sound warm and more refined.
You won't be impressed by the number of connections. You'll get only two inputs – RCA and Bluetooth and some of you may consider that insufficient. The only type of device you can connect directly to the speakers are devices with analog outputs (AUX or RCA). In case you want to connect some audio source with digital outputs, you would have to buy a DAC device and use it to convert the signal from digital to analog. That's simply inconvenient, especially when you know that there are powered speakers with digital inputs and with built-in DACs. Unfortunately, there's always a catch and, in this case, the catch is the price. More versatile speakers are simply more expensive. If you don't mind spending $100 more and you like the aesthetics and the sound of the Fluance Ai40, you should check out the upgraded version called Ai60 (it has an additional digital optical input, USB input, and a subwoofer output).
In case you want to connect your turntable to the Ai40, you will have to buy an external phono preamp.
Ai40 also features Bluetooth with aptX support. Pairing is easy and takes a few seconds and the speakers will pair automatically with the last paired device whenever you select the Bluetooth input.
Official video – Basic features and functions
Controlling the system is pretty simple. You can use that one knob/button on the right channel speaker to power on/off the unit, adjust volume, or change the input. The remote that comes with the speakers is a much more convenient option for controlling every aspect of the audio reproduction. You can use it to power on/off the speakers, adjust or mute the volume, select source, control the playback, and adjust the treble and bass levels. We were particularly happy with the treble and bass controls.
Fluance Ai40 remote
Performance and Sound Quality
Setting up the speakers is a hassle-free procedure. It took us less than two minutes to place them and connect them to our PC via AUX to RCA cable. Depending on the source you want to connect, you will use either AUX to RCA or RCA to RCA cable. As we have already said, if you want to connect some digital audio source or your turntable, you will need additional equipment (DAC or phono preamp).
Listening to Fluance Ai40 was quite an interesting experience. The first thing that captured our attention was the midrange reproduction, especially the vocals. Both male and female vocals were crispy and perfectly clear, even at high volumes. The midrange is detailed and very dynamic. We have tested the system with all kinds of genres and the one thing that we really loved with all these genres is the midrange.
Most of the treble sounds clear and accurate. It's not fatiguing or painful. It's just a little bit recessed (there's a small roll-off after 10kHz).
If you are into heavy bass, you won't be impressed by the Ai40. It's present and very controlled but it won't blow your mind. Even if you crank the bass up, it will stay controlled and it won't muffle the mids.
There's a nice balance between the lows, mids, and highs, but we wouldn't mind if the speakers were punchier. Still, you have to be aware of some limitations caused by the size and design of the speakers.
Unlike the majority of manufacturers, Fluance publishes frequency response graphs for all their speakers. You can see the graph for Ai40 in the picture below.
Frequency response graph (source – Fluance website)
The Competition
You can hardly find a better-sounding powered speaker system for less than $200 but you can probably find some stereo systems with more connections (including digital). If you are prepared to pay more, you can get more versatile connectivity and equally good or even better sound. Here are some alternatives.
---
AudioEngine A5+ Wireless Powered Speakers
We have previously tested AudioEngine A5+ and if you want to know more you can read our in-depth review.
You should be aware that A5+ and Ai40 are not exactly in the same league. A5+ is almost $300 more expensive.
In terms of size and design, the difference between the two systems is not huge. They are both boxy and simple but elegant.
A5+ speakers are a little bit more versatile – they have RCA input, AUX input, and RCA output. There are no digital inputs but there's Bluetooth 5.0 with aptX support. Ai40 also has Bluetooth with aptX support, but it works better on A5+ (the connection is more stable, the range is longer, and the reproduction is more detailed).
A5+ and Ai40 are both more about the sound than about connectivity. A5+ delivers a bit more detailed and just a little bit punchier sound, but we can't really say that it's worth the additional $300.
---
Peachtree Audio M25
We have also tested Peachtree Audio M25, and you can read our detailed review here.
Just like the Ai40 and A5+, Peachtree Audio M25 is boxy and it's sized similarly. In terms of price, M25 is halfway between Ai40 and A5+.
What really makes M25 different is its versatility. It has all kinds of connections including RCA input, sub output, digital optical input, and a USB Type-B input. You can also connect your turntable to the M25 without any additional equipment (built-in phono preamp). Both speakers feature Bluetooth connectivity but M25 doesn't support aptX Bluetooth codec (Ai40 is more capable when it comes to wireless streaming).
Both M25 and Ai40 deliver enjoyable sound with very detailed midrange and clear highs. They both lack some serious bass impact and that's where M25 has some advantage over Ai40 because of the subwoofer output. M25 allows you to connect an additional subwoofer and significantly improve the bass response. That's not an option with Ai40.
---
Edifier R2000DB
Edifier is one of the most popular brands when it comes to cheap and affordable powered speakers.
Their R2000DB powered stereo system is some $50 pricier than Ai40. It's also slightly larger than the Ai40 and it features a distinctive design with an angled front baffle and wooden side panels.
R2000DB is more versatile than the Ai40. It has 2 RCA inputs and one digital optical input. It also features Bluetooth connectivity (Bluetooth 4.0) but without aptX support. Ai40 delivers better performance in Bluetooth mode.
When it comes to sound, Ai40 delivers more detailed and clearer sound (especially the midrange), but the Edifier R2000DB is punchier and louder.
---
Comparison Table
Final Thoughts
Ai40 is a mixture of really good sound quality and limited connectivity. Is it the right choice for you? Well, if the sound is your most important concern, this stereo system is one of the best choices under $200. If you want to connect digital audio sources to your new stereo system, you will need something different. And you will have to invest more. The thing is – most powered stereo speakers under $200 are not that versatile and, even if they are, they don't sound as good as Fluance Ai40. If you want more connections and you are willing to pay more, you can check out the Fluance Ai60 which is the Ai40's big brother or you can try one of the three other alternatives we've mentioned.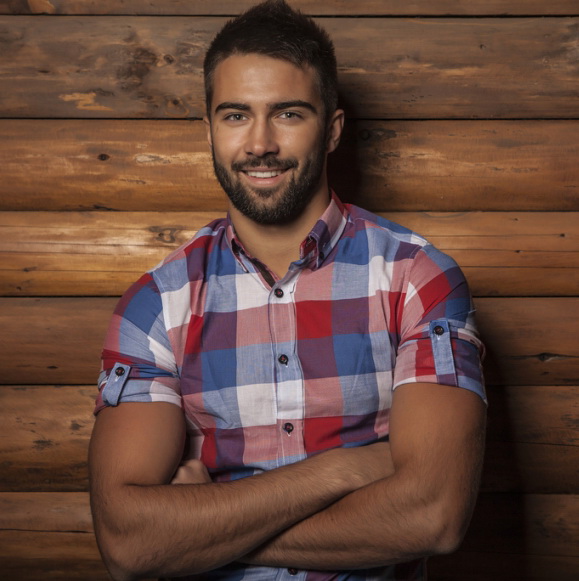 Hello, my name is James Longman.
I'm a writer and editor at AudioReputation. I disassembled my first portable AM/FM radio when I was only 8. At the age of 11, I burned the circuit board on my old boombox cassette player. I'm not going to explain how but it was reckless and stupid.
Since then, I have become much more careful around radios, boomboxes, and other audio devices (at least, I like to think so) but I have never lost the passion for audio equipment. Throughout 20 years of my professional career, I've been working for various audio equipment manufacturers and even started building speakers on my own in my little workshop.
I love the work we do here at AudioReputation. Testing, comparing, and evaluating all kinds of audio devices (speakers, soundbars, headphones, home theater systems, etc.) is something I truly enjoy. I try to be unbiased and give you my honest opinion on every piece of equipment I test. Still, you should take my reviews with a pinch of salt and always be just a little bit skeptical. The fact that I liked some speaker or soundbar doesn't mean that you are going to love it. If you have the opportunity, you should test it/hear it before buying it.