AudioReputation is reader-supported. When you buy through links on our site, we may earn an affiliate commission Learn More
Are you struggling to find a pair of IEMs that fits perfectly and that's not too bassy? Westone B50 might be the perfect solution for you. These high-end earphones/IEMs offer very rich, detailed, and immersive sound reproduction, perfect fit, and Bluetooth connectivity. If you are interested, you should read our detailed review and find out more about Westone B50.
---
Westone is one of the most famous names in the audio industry with 60 years of experience in designing and manufacturing earphones and all kinds of earphone accessories. This is the company that made the first custom-fit earpiece for Sony's ''Walkman'' style earpieces in 1985. They also made the first custom (1996) and first universal-fit dual-driver IEMs (1999), as well as the first three-way earphones (2008). They've been in the business for quite some time and they've never expanded from making IEMs to making headphones or speakers, which shows how serious they are about their in-ear monitors. It's safe to say that you can't go wrong with Westone if you are looking for IEMs/earphones (either professional or nonprofessional equipment). Westone B50 is not an exception.
The B-line of IEMs by Westone is an upgraded version of the W-line. The greatest difference between the two series is in the sound signature. B-line of in-ear monitors is tuned to sound more exciting, more dynamic, and slightly bassier.
Recommended Reading :

Westone B50 earphones are made for casual music listening but they offer much more than you would get from any generic or cheap earphones on the market. After all, these are priced around $700. B50 earphones feature 5 BA (Balanced Armature) drivers paired with a 3-way passive crossover which is quite impressive considering their small size and weight. The most noticeable quality of these earphones is their sonic performance but there's so much more you should know about them. They come with two cables – standard 3.5mm cable with MMCX connectors and a Bluetooth V1 cable with MMCX connectors. They also come with all kinds of accessories including 10 pairs of ear tips (finding the right fit won't be an issue). The earpieces and the cables are very durable and look like they can withstand all kinds of use. In short, you won't regret buying Westone B50 earphones. The only problem could be their price –this is going to be the biggest deal-breaker for most people.
Premium packaging with numerous accessories

10 pairs of ear tips (5 pairs of STAR silicone tips and 5 pairs of true-fit foam tips)

Rugged and very durable

Perfectly secure fit

2 detachable cables – silver MMCX audio cable and V1 Bluetooth cable

Sweat-resistant and splash-proof Bluetooth cable (IPX4-certified)

Up to 8h of playtime in Bluetooth mode

Detailed and rich audio reproduction with a warm sound signature and a subtle low-end emphasis
Expensive (priced around $700)
If you're looking for great-sounding Bluetooth earphones and you don't mind spending hundreds of dollars on them, buying Westone B50 is not a mistake. You'll be happy with their durability, versatility, sonic performance, and with the fit they provide.
What's in the box?
Westone B50 earphones come in a premium packaging along with plenty of accessories. When you open the box, you'll see your B50 earphones with a Bluetooth cable and a large zippered carrying case. The earphones come with a 2-year warranty, which is always a plus (especially when the product is so expensive).
Box contents
Inside the carrying case, you'll find a plastic bag with 10 pairs of ear tips (5 STAR silicone tips and 5 proprietary true-fit foam tips), one spare pair of aluminum faceplates, USB to micro USB charging cable, MMCX auxiliary cable, a tool for cleaning, and a small screwdriver for replacing the faceplates.
Inside the carrying case
Specs
Westone B50 Specifications
DIMENSIONS
Weight
0.445oz (each)
DRIVERS
Proprietary balanced armature drivers x5
BATTERY DETAILS
Type
Li-ion, rechargeable
Capacity
N/A
Playtime/Talk time
Up to 8h
Recharge time
Up to 2.5h
CONNECTIONS
High-def MMCX cable (52in)

Westone Bluetooth cable (27.5in)
BLUETOOTH DETAILS
Bluetooth version
Bluetooth 4.0
Supported Bluetooth profiles
aptX
NFC
No
Bluetooth range
33ft
OTHER TECHNICAL DETAILS
Frequency response
10Hz-20kHz
Impedance
35Ω (at 1kHz)
Sensitivity
118dB (at 1mW)
Passive noise attenuation
Up to 25dB
WATERPROOF/WATER RESISTANT
IPX4 (splash-proof)
ADDITIONAL FEATURES
Carrying case 

5 pair of foam tips

5 pairs of silicone tips

Exchangeable faceplates

Bluetooth cable
Design
In terms of design, B50 earphones and all the other B-series earphones look basically the same as W-series earphones. They are compact, low-profile, and lightweight with an ergonomic shape and angled nozzles. Westone designed the earphones that are supposed to fit both large and small ears. The earphones are made of plastic but they feel very durable, especially with those metal faceplates attached to them.
Ergonomic 'universal-fit' design
You can choose one of two included faceplate types – black and orange. Orange faceplates are sportier and look better with Bluetooth cable while the black plates are more stylish.
Exchangeable faceplates
In terms of design, two included cables are very different. V1 Bluetooth cable is flat, tangle-free, it has a built-in battery, mic, and volume/playback controls. It looks sporty. The other cable has no controls (only input and output connectors) and it's longer.
Features
These compact earpieces feature 5 Balanced armature (BA) drivers – 1 low-end driver, 2 midrange drivers, and 2 treble drivers. Since Westone is one of the pioneers when it comes to the implementation of BA drivers, you should already know what to expect when it comes to performance and tuning. 5 BA drivers are combined with a three-way passive crossover. According to the manufacturer, this driver arrangement is supposed to deliver an extended frequency response and more detailed sound reproduction than other competitors in this price range.
Westone is also known for its proprietary true-fit/universal-fit technology. All Westone IEMs are highly praised for their fit, stability, and comfort. B50 earphones are not an exception. They are light and compact, they have a low profile, and they are ergonomically designed to fit all kinds of ears. The manufacturer also included 10 pairs of ear tips (5 silicone pairs and 5 pairs made of foam). These are also proprietary tips designed by the Westone team. So, it's pretty safe to say that it is almost impossible not to find the right fit.
Feature overview
The earphones come with two cables – high-definition silver cable and V1 Bluetooth cable. They are both detachable and have MMCX connectors.
Silver MMCX cable and Westone Bluetooth cable
Silver MMCX cable is 52in long. On one end, you'll see two MMCX connectors. On the other end, there's a gold-plated 3.5mm plug. This cable is made for critical listening (it's a high-quality cable). Unlike cheaper solutions, this cable has two separately braided silver-plated copper wires (one for each channel). The majority of cheaper cables have two channels braided together. This kind of design is supposed to improve fidelity and reduce interference and noise. Two channels are then coated with some kind of transparent plastic/silicone. The cable is a little bit stiff but that's not a huge issue.
V1 Bluetooth cable is also designed by Westone. This cable is shorter (27.5in) and it looks completely different. The cable is flat and tangle-free. This one is definitely made for on-the-go use. There are MMCX connectors on both ends (for connecting the earphones). On the left side of the cable, there's a small plastic box with a built-in battery. On the right side, there's the same plastic box with three-button controls and a micro USB charging port. You can use this button to initiate pairing, adjust the volume, control the playback, receive/reject calls, activate Siri/Google Assistant.
Bluetooth cable controls
One odd thing about these earphones is that they are not Bluetooth-enabled. It's the V1 cable that makes them wireless. The cable features Bluetooth 4.0 with a standard 30ft range. The battery is supposed to deliver 8h of playtime. The cable is also coated with some kind of splash-proof silicone and it's IPX4-certified which makes it suitable for workouts and other physical activities.
V1 Bluetooth cable feature overview
You should also know that there's an upgraded V2 Bluetooth cable with Bluetooth V5.0 and IPX5 rating. You can buy it separately for $150. Also, since MMCX connectors are widely used, you can buy audio cables (Bluetooth or non-Bluetooth) made by other manufacturers (like Shure RMCE-BT2).
Performance
We have practically no complaints regarding the performance. Finding the right fit and inserting the headphones into your ears should not be a problem but the manufacturer still decided to give you step-by-step instructions.
Insertion instructions
Once you find the right pair of tips, you'll get a perfect seal and impressive stability. The ear tips are supposed to go pretty deep into your ears and people with sensitive ears might not like the feeling.
Replacing the cable is also super-simple. The only problem is that requires some serious force. Those MMCX connectors are really strong so don't be afraid to pull harder.
Replacing the faceplates is the easiest part. You'll find a mini screwdriver inside the box and you just have to unscrew one small screw and remove the faceplate.
Replacing the faceplates
Controls are easy-to-use and responsive. The number of things you can control with only three buttons may seem a bit overwhelming but you'll master the controls after a day of use. In case you forget how to do something, you can find a comprehensive function list in the user manual.
Pairing is fast and painless. The signal will stay stable within the advertised range but anything further than 30ft will result in signal loss.
The battery delivered the advertised playtime. Some people might find 8 hours insufficient but that's pretty much the standard playtime for high-end earphones in this price range.
Sound Quality
Sound quality is the most important highlight. B50 earphones are tuned to attract people who had some doubts about previous Westone models but also to keep the old audience. They don't sound the same as earphones from the W series but you can find some similarities. In the picture below, you can see the frequency response curve of B50 earphones (you can find it on the back of the box).
So, in general, B50 earphones have a pretty flat response, but with some subtle and very pleasant colorations.
There's a slight elevation in the mid-bass and upper-bass regions which makes them warm. The bass reproduction is dynamic, detailed, and intense. It's authoritative, but it's not overwhelming and it's controlled at all times.
The upper-bass emphasis doesn't extend to the midrange which is good for the overall balance. The midrange reproduction is pretty flat up to 2kHz. All the instruments and vocals in this range sound very natural, focused, and dynamic. They are never boring. The flat midrange is one of Westone's trademarks and these earphones don't deviate much from the other models.
There's a subtle elevation in the upper-midrange region (2kHz-5kHz). This could cause some brightness and sibilance but it's barely noticeable. It never gets harsh or painful.
Recommended Reading :

There's a subtle roll-off after 10kHz which reduces the amount of detail in the treble region but not to the point of making the high-end reproduction dull. There's still more than enough clarity and detail in the high-end – it only lacks some sparkle. If you have sensitive ears and can't tolerate intense high-end, you're going to love these.
You can't expect an extremely wide and spacious soundstage from a pair of in-ear monitors but these exceeded our expectations. They are not as great as some planar magnetic or high-end open-back headphones, but there's still a nice sense of space.
The sound is a bit worse in Bluetooth mode. The bass is just a little bit heavier and the overall reproduction lacks a bit of detail (compared to wired connection). AptX support does make a difference but the sound is still better when the silver MMCX cable is used.
Westone B50 earphones work great with all kinds of music genres starting from bass-oriented EDM, RNB, and other electronic genres. Because of nicely balanced and relatively flat midrange, B50 earphones are also great for POP and vocal-oriented music. 
Also Read: Burson Audio Conductor 3 Reference Review.
The Competition
Westone B50 is priced around $700 which is, in our opinion, quite expensive. You have so many choices in this price range, especially if you are open to different options (over and on-ear headphones, wired in-ear monitors, affordable planar magnetic headphones, etc.). If you are only interested in high-end earphones, the next three models would be our alternatives.
---
Westone W60BT
Westone W60BT earphones are, in many ways, very similar to B50. The first noticeable difference is the price (W60BT earphones are $300 pricier).
Two earphone models are basically the same in terms of design and included equipment (ear tips, faceplates, silver MMCX high-definition cable, V1 Bluetooth cable).
W60BT features 6 BA drivers inside each earpiece while the B50 earphones feature 5 BA drivers (W60BT has an additional bass driver).
The most important difference is the difference in sound signature. W60BT earphones are warm-sounding (just like B50 earphones) and have a slightly elevated mid-bass but they also have a flatter midrange and treble response. The reproduction is a bit more detailed and the soundstage is slightly wider.
---
RHA CL2
RHA earphones are usually a bit more affordable than Westone earphones. Their CL2 earphones are a great choice if you can't spend more than $500.
The most interesting thing about these earphones is the fact that they use planar magnetic drivers. The manufacturer likes to brag that these earphones have the smallest planar magnetic drivers ever made. If you know anything about planar magnetic drivers, you know that they are much bigger than the regular drivers. Still, the people from RHA somehow managed to make these surprisingly compact earphones.
The package CL2 earphones come in is even richer than the package of B50 earphones. There are 6 pairs of silicone tips, 2 pairs of bi-flanged tips, 3 pairs of foam tips, and three detachable cables with MMCX connectors (3.5mm braided OFC cable, Bluetooth cable with a silicone neckband, and 2.5mm balanced Ag4x cable). The number of included accessories is truly impressive.
Just like Westone B50 earphones, RHA CL2 earphones support Bluetooth atpX. CL2 earphones also support NFC pairing and have longer playtime (12h VS 8h).
CL2 earphones have an extended frequency response with a warm sound signature, slightly elevated bass response, flat midrange, and a noticeable bump at 5kHz which causes some noticeable brightness. All in all, both earphone models have similar signatures but Westone B50 earphones offer slightly more detailed reproduction (and less brightness).
---
Shure SE846
SE846 earphones are significantly pricier than the B50 earphones ($300 price difference).
The number of included accessories and advanced software and hardware solutions is quite impressive.
SE846 earphones come with a carrying case, 3 detachable cables (Bluetooth cable, 3.5mm communication cable with built-in controls, standard 3.5mm audio cable), 6.3mm adapter, airplane adapter, and 6 pairs of ear tips. The most interesting accessories are nozzle inserts that you can use in case you want to change the sound signature (warm/balanced/bright).
In terms of Bluetooth connection, SE846 is superior in many ways. Shure Bluetooth cable features Bluetooth 5.0 while the B50 Bluetooth cable features Bluetooth 4.0. Shure cable offers a more reliable wireless connection and it supports multipoint pairing. Shure Bluetooth cable also has a larger battery and delivers longer playtime (10h VS 8h). This Bluetooth cable supports aptX HD (Westone B50 supports aptX) so you can expect slightly more detailed reproduction in Bluetooth mode.
With Shure SE846, you can select the sound signature you prefer by changing the nozzles. Whichever nozzle you choose, you'll get a very detailed and very natural sound.
---
Comparison Table
Frequently Asked Questions
What's better – Westone B50 or W50?
Although the two have very similar features, their tuning is the main difference between the Westone B50 and W50. The B50's sound signature is more inclined to bass. The balanced armature driver in the B50 is dedicated to bass, so it's perfect for bass lovers. The Westone W50, on the other hand, does not have strong bass but delivers clear and smooth high-end frequencies. So, depending on your personal preference, both are good options.
What's better – Westone B50 vs W60?
The Westone B50 delivers strong, punchy bass, while the W60 shines in the high-end frequency range. Musical genres like jazz, acoustic, light pop, and classical can be best enjoyed with the Westone W60 headphones. The B50 headphones are suitable for rock, dance, electronica, etc.
Final Thoughts
If you are looking for high-end IEMs/earphones, you can never go wrong with Westone. Westone B50 earphones offer great fit and comfort. They can be used in wired or wireless mode (they come with two detachable cables). The sound signature is close to flat but with some subtle colorations (slight mid-bass and upper midrange emphasis).
The number of high-end IEMs at this price point is not huge but you can always try the cheaper RHA CL2. If you are prepared to spend more (up to $1000), you could go for Westone W60 or Shure SE846.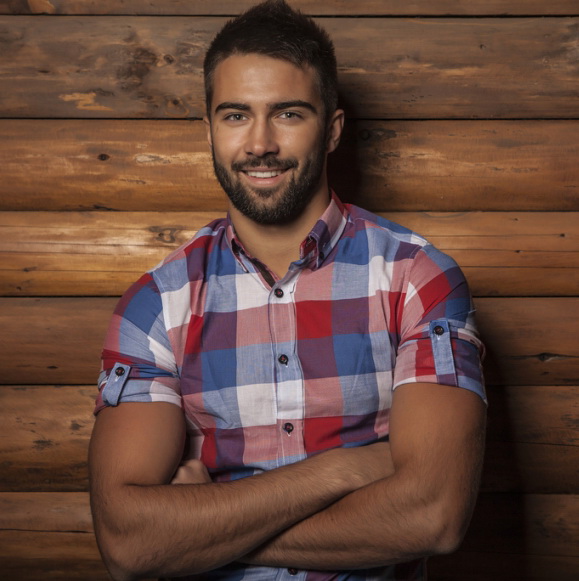 Hello, my name is James Longman.
I'm a writer and editor at AudioReputation. I disassembled my first portable AM/FM radio when I was only 8. At the age of 11, I burned the circuit board on my old boombox cassette player. I'm not going to explain how but it was reckless and stupid.
Since then, I have become much more careful around radios, boomboxes, and other audio devices (at least, I like to think so) but I have never lost the passion for audio equipment. Throughout 20 years of my professional career, I've been working for various audio equipment manufacturers and even started building speakers on my own in my little workshop.
I love the work we do here at AudioReputation. Testing, comparing, and evaluating all kinds of audio devices (speakers, soundbars, headphones, home theater systems, etc.) is something I truly enjoy. I try to be unbiased and give you my honest opinion on every piece of equipment I test. Still, you should take my reviews with a pinch of salt and always be just a little bit skeptical. The fact that I liked some speaker or soundbar doesn't mean that you are going to love it. If you have the opportunity, you should test it/hear it before buying it.