AudioReputation is reader-supported. When you buy through links on our site, we may earn an affiliate commission Learn More
Looking for a great-sounding pair of ANC headphones under $350? Sure, Bose QC35 II and Sony WH1000XM3 are safe choices but if you like experimenting, PSB M4U 8 might be just the thing you need. They're not as great as QC35 when it comes to active noise cancellation, but they sound more exciting and more detailed than any other noise-canceling headphones on the market in their price range. In this review, you'll find out everything you need to know about PSB M4U 8 ANC headphones.
---
PSB is a very well-known name in the audio industry and they are respected for their speakers. They have almost 50 years of experience in making all kinds of loudspeakers. Recently, they have decided to bring the same kind of experience in a smaller package. Their M4U headphone line was praised by the customers for its sound but there were some build quality issues (plastic headband). PSB M4U 8 ANC headphones are the first wireless ANC headphones made by this reputable manufacturer and it represents an improvement over the wired M4U models (M4U 1 and M4U 2).
PSB M4U 8 is not a very imaginative name. The manufacturer should hire someone specialized in branding, but there's actually a lot behind this unoriginal name. The manufacturer's idea was to bring the same kind of experience you would get with two stereo speakers in your room. PSB M4U 8 headphones are advertised as almost audiophile-grade equipment with a 'better-than-CD' listening experience. They do sound fun and exciting but they are not perfectly neutral. Like all the other ANC headphones on the market, PSB M4U 8 headphones have a slightly colored signature with a subtle mid-bass emphasis. They are definitely not bass-heavy headphones but they are also not audiophile headphones.
Some of the features worth mentioning are great build quality, RoomFeel equalization (we will discuss this feature in detail), Bluetooth connectivity with aptX HD support and NFC pairing, battery life, and exciting and punchy sound signature.
When it comes to downsides, the most noticeable is the comfort (they are a bit too tight). Some people might also find them too ordinary since they are not as distinctive or stylish as Bose or Sony ANC headphones.
Rich packaging with lots of accessories

Very good build quality

Foldable design

Excellent passive noise isolation

Good active noise cancellation

Versatile connectivity – AUX + Bluetooth + micro USB (audio and charging)

Decent battery life – up to 15h at 50% volume (with ANC enabled)

Replaceable and rechargeable AA batteries

Exciting and punchy sound signature
Some people might find them too ordinary

Comfort issues – clamping force is very strong
There are many viable choices when it comes to ANC headphones under $400 (or under $350). You can always go for some of the popular choices like Bose QC 35 Series II, Sony WH1000XM3, Beats Studio3, Bowers & Wilkins PX, or Sennheiser PXC 550. So, why should you choose PSB M4U 8 ANC headphones? Because of the sound, obviously. They are not on par with Bose and Sony ANC headphones when it comes to noise cancelation but they are definitely among top-three best-sounding ANC headphones on the market.
What's in the box?
PSB M4U 8 headphones come in a premium-looking and very rich packaging. Inside the box, you'll find a hard travel case, airplane adapter, 3.5mm to 6.25mm adapter, USB to micro USB charging/audio cable, AUX cable, user manual, and 1-year warranty.
Box contents
The headphones are folded up and packed inside the travel case along with a spare pair of earpads, cleaning cloth, and a metal carabiner.
Inside the travel case
Specs
PSB M4U 8 Specifications
DIMENSIONS
Weight 
12oz/342g
Earpad dimensions (outer)
2.75in x 3.8in x .75in
Earpad cavity size
1.4in x 2.3in x .5in
Cable length
59in
DRIVERS
Dynamic/40mm x2
TYPE
Over-ear/Closed-back
MATERIAL
Plastic + aluminum (earcups)

Steel (headband)

Memory foam (paddings)

Leatherette (earpad and headband finish)
BATTERY
Type
AA (NiMH) x2, rechargeable, replaceable
Capacity
750mAh
Playtime
Up to 15h (at 50% volume)
Recharge time
4h
CONNECTIONS
AUX (3.5mm)

6.25mm adapter

Bluetooth with aptX HD support

micro USB (charging and audio playback)
BLUETOOTH DETAILS
Bluetooth version
V5.0
Supported Bluetooth profiles
aptX, aptX Low Latency, aptX HD, MP3, AAC, and SBC
NFC
Yes
Bluetooth range
50ft
OTHER TECHNICAL DETAILS
Frequency response
20Hz-20kHz (+/- 1.5dB)
Sensitivity
102dB (@1kHz/1mW)
Max power handling
300mW
Impedance
32Ω
ADDITIONAL FEATURES
Hard travel case

Airplane adapter

¼-in adapter

Replaceable earpads (spare pads included)

Replaceable batteries
Design
PSB M4U 8 headphones are not particularly great-looking. PSB is a company with a 40-year experience in making speakers but you can see they are not very experienced when it comes to headphones. They have opted for the old-school look with oval ear cups and adjustable headband. Some of you might find them unoriginal, boring, or too ordinary.
Compared to the first two PSB headphone models (M4U 1 and 2), M4U 8 has an improved build quality. You can see that the manufacturer is learning in the process and that's a good thing. Steel was used for the headband frame, cups are mostly plastic, and the paddings are made of memory foam with a leatherette finish. The headphones are entirely black and have some subtle brandings on the cups and headband.
Simple, ordinary look
In case you want to transport them, you'll be happy to know that you can fold them up and use the included hard travel case. Still, they are not very small even when they are folded up.
Foldable design
All the control buttons are located on the back of the right cup. You have one Bluetooth/pairing button on the top and three large and kind of clunky buttons/switches (volume, ON/OFF/ANC switch, and playback controls). We've had some doubts about these buttons but they are actually very responsive and easy to use.
Control buttons are a bit clunky but easily accessible and very easy to use
On the bottom of each cup, there's one AUX input. You can use either of these two inputs in passive mode (wired AUX connection). The right cup also houses a micro USB charging port and two built-in mics.
Inputs (3.5mm and micro USB)
The left cup houses a battery compartment, hidden behind a removable earcup cover (which is, by the way, very hard to remove). Unlike some other ANC headphones, PSB M4U 8 headphones don't have a built-in battery. Two rechargeable AA NiMH batteries are included in the package but you can use any AA batteries.
Replaceable AA batteries
Features
Construction quality is one of the good things about these headphones. There's a lot of aluminum (headband, cups). The ABS is used for the earcups. Both headband and cups have thick layers of memory foam with a leatherette finish. The spare pair of earpads is always appreciated but it would be even better if they were a different kind of pads (velour pads, for example). The manufacturer tried to cover all the comfort-related areas but there's one issue we will talk about in the performance section.
The control buttons, although large and clunky, are actually very nice. Each button/switch has multiple functions. The volume switch is also used for activating the 'Transparency' mode. In case you want to stay aware of your surroundings, you can simply press the volume button/switch and activate this mode. The volume will be lowered by 30dB and the built-in microphones will pick up the environmental noise and allow you to stay aware. The ANC switch has three positions – ON, ANC, and OFF. When using the headphones in Bluetooth mode or when a micro USB cable is connected to your PC and you want to use the headphones for music listening, the switch has to be in ON or ANC position. When used in wired mode via AUX cable, you can also use them without turning them on. So, there are three modes – ON (active) with RoomFeel, ANC with RoomFeel, and OFF (passive) without RoomFeel. The last switch is also multifunctional. You can use it to control the playback (play/pause/forward/backward), to activate Siri or Google Assistant (press for 5 sec), or to answer/end phone calls.
As mentioned previously, the headphones use two AA batteries. The batteries are included in the package. They are removable and rechargeable. The battery capacity is rated at 750mAh. You'll get up to 15h at moderate volumes with ANC enabled. The good thing about removable batteries is that you can use any kind of AA batteries (alkaline or rechargeable). Compared to other popular ANC headphones, PSB M4U 8 headphones offer shorter playtime but you can always remove the batteries, insert the new ones, and keep listening (or you can use the headphones in passive mode).
Feature overview
M4U 8 headphones are quite versatile in terms of connectivity. They support Bluetooth and AUX connection, which is pretty much standard. What's special about Bluetooth module built into these headphones is the atpX HD support which guarantees the highest possible audio quality in Bluetooth mode. Other popular ANC headphones don't even have regular aptX while these headphones support the most advanced aptX codec. Another very interesting feature of PSB M4U 8 headphones is the micro USB audio connection. You can use the micro USB port on the right cup for charging but you can also use it for music playback (instead of AUX cable) but only when the headphones are connected to your PC/laptop. When using the micro USB cable for music playback, the headphones have to be active (the ON/OFF/ANC switch has to be in ON or ANC position).
M4U 8 headphones are closed-back headphones and offer both passive isolation and active noise cancellation. The manufacturer used a proprietary ANC technology with 4 adaptive mics.
RoomFeel technology is the feature the manufacturer is really proud of. The idea behind this technology is to make sound reproduction more natural and more spacious. It creates some kind of 3D effect which is supposed to imitate the listening experience you would get when listening to high-quality stereo speakers in a room. RoomFeel is the default EQ setting in 'Active' and 'ANC' modes. When using the headphones in 'Passive' mode (wired connection via AUX cable, switch in OFF position), RoomFeel will be disabled.
Another useful feature is the handsfree. Those two built-in mics on the bottom of the right cup can be used for answering calls or for talking to Google Assistant or Siri.
Performance
We have no complaints regarding the durability of these headphones. They look like they are made to last. They can survive all the rigors of everyday use and can even be used for sports.
The manufacturer tried to make the headphone comfortable. The headband is expandable/adjustable and it's nicely padded. The cups also have thick and plushy paddings, too. The earpads are oval and large enough for average ears. The headphones provide extremely stable fit which makes them good for workouts and active lifestyle but it also brings us to our biggest complaint. The fit is a bit too tight, even for people with average head size. The overall clamping force is too strong for long listening sessions and it becomes quite noticeable after an hour of use. So, sweaty ears and fatigue are inevitable.
The control buttons proved to be very functional and responsive. The Bluetooth connection worked flawlessly. The pairing was fast and simple. In case your phone supports NFC, you can just tap the headphones and get paired in a second.
Recommended Reading :

That painful clamping force affects the comfort but it also improves passive noise isolation. When it comes to passive isolation, PSB M4U 8 headphones are one of the best on the market. They are a lot better than other popular ANC headphones. Still, the point of ANC headphones is not only in passive isolation. When ANC is enabled, M4U 8 headphones offer only slightly above-average performance. They will cancel out all the low-frequency noises (like engine roar) and they will attenuate some midrange frequencies but they can't do much with high-frequency sounds. Reference-grade ANC headphones like Bose QC 35 Series II and Sony WH1000XM3 offer better noise cancellation.
Answering a phone call is a breeze. You will hear the person on the other end loud and clear and the person on the other end will hear you well unless you are in some really noisy environment.
Sound Quality
According to the manufacturer, sonic performance is supposed to be the greatest highlight of these headphones. Their performance met the expectations. PSB M4U 8 could easily be the most fun-sounding pair of ANC headphones on the market.
There's a slight mid-bass emphasis (similar to Sennheiser headphones) which makes them warm-sounding. The bass is dynamic and punchy. It's not extremely textured or detailed but it's still very exciting.
Because of the bass emphasis, the low midrange could be overshadowed on some bass-heavy tracks but it's barely noticeable on other tracks. The mids are sweet and dynamic most of the time and the vocals are clear and pushed forward. There's a subtle 3kHz peak which intensifies the vocals and makes them more intelligible but could also cause some brightness (it's not too sharp and it doesn't result in sibilance). This kind of tuning also makes these headphones a pretty good choice for TV and movie watching so if you're looking for wireless TV headphones, you should give them a chance.
The treble response is extended and pretty flat. It's not too intense and it's definitely not lifeless. The high-end is just perfect.
Thanks to RoomFeel technology, the soundstage is surprisingly spacious and airy. That 3D effect improves the listening experience and makes the reproduction more natural.
M4U 8 headphones are fun to listen to. They are great for EDM, hard rock, RNB, and other bass-heavy genres. They are also great for movie and TV watching due to 3kHz emphasis and improved intelligibility. They are more natural-sounding than reference-grade Bose and Sony ANC headphones and offer more detailed music reproduction. In our opinion, PSB M4U 8 headphones are one of the best-sounding ANC headphones under $350.
The Competition
PSB M4U 8 headphones are currently priced under $350. There are numerous competitors in this price range and it's absolutely understandable if you have difficulties choosing the right pair for you. The most popular choices in this price range are Bose QC 35 II (our reference headphones when it comes to ANC), Sony WH1000XM3, and Beats Studio3. So, let's see how M4U 8 headphones hold up when compared against these popular models.
---
Bose QuietComfort 35 II
QC35 II headphones are just slightly pricier (approx. $20 price difference) so it's safe to say the price is not going to be the decisive factor.
Both headphone models have easily accessible and responsive controls.
Bose headphones offer better fit and are more suitable for long listening sessions. They are not as tight as PSB M4U 8 headphones and that's one their greatest advantages over M4U 8 headphones.
Bose headphones also come with an app (Bose Connect app) while there's no app for M4U 8 headphones. QC35 Series II is Alexa-enabled while M4U 8 isn't.
Bose headphones have a built-in battery which enables up to 20h of music listening. M4U 8 headphones have 15h playtime but they also have replaceable batteries so you don't have to charge them when you run out of battery – you can simply insert two new AA batteries.
Bose QC35 II headphones offer superior noise cancellation. M4U 8 headphones are very good, but QC35 II headphones are great.
The greatest advantage of PSB M4U 8 headphones is Bluetooth with aptX HD support. Bose QC 35 Series II headphones feature Bluetooth 4.1 without aptX support. This makes the M4U 8 more detailed and more natural-sounding. QC 35 II are maybe more tonally correct but they also sound more artificial.
---
Sony WH1000XM3 Noise Cancelling Headphones
Sony WH1000XM3 headphones are also slightly pricier ($20 price difference).
Just like M4U 8, Sony ANC headphones have the unoriginal name but look much better than M4U 8 headphones.
WH1000XM3 headphones have touch-sensitive controls which are harder to master than tactile controls on M4U 8 headphones but they definitely look more attractive.
WH1000XM3 are tighter than Bose QC 35 II headphones but still comfier than M4U 8 headphones.
Just like Bose QC 35 II headphones, Sony WH1000XM3 ANC headphones come with the Sony Headphones Connect app and are Alexa-enabled. PSB M4U 8 headphones don't come with an app and aren't Alexa-enabled.
WH1000XM3 headphones offer longer playtime (30h with the ANC enabled) but M4U 8 headphones have replaceable batteries.
WH1000XM3 also offer better ANC performance than M4U 8 (they cancel out more noise).
Just like M4U 8 headphones, WH1000XM3 support aptX HD but they are tuned to be bassy. M4U headphones offer more detailed sound reproduction.
---
Beats Studio3 Wireless Noise Canceling Over-Ear Headphones
Beats Studio3 is another extremely popular headphone model. It's priced the same as Bose QC35 II and Sony WH1000XM3 (slightly pricier than M4U 8).
Beats Studio3 headphones are optimized for iOS devices so if you're an Android user, you can stop reading this. The headphones will work with any Bluetooth-enabled device (including Android phones) but they will offer better performance with iOS devices. If you are an iOS user, you should know that these headphones have W1 chip which improves the connectivity with iOS devices (100ft range) and enables all kinds of advanced features
Beats Studio3 headphones are not as comfy as Bose or Sony headphones but are slightly less tight than M4U 8 headphones.
Beats Studio3 headphones deliver longer playtime (22h VS 15h) but PSB M4U 8 headphones have replaceable batteries while Studio3 headphones have a built-in battery.
Beats Studio3 headphones offer similar ANC performance as M4U 8. It's really hard to tell which one is better. They are both good but none of them are great. If you need the best possible noise cancellation, go for Sony WH1000XM3 or Bose QC 35 II.
PSB M4U 8 headphones win when it comes to sound quality. Beats Studio3 headphones are not as bassy as some previous Beats headphones, but they're still bass-heavy and they still have poorly defined midrange. M4U 8 headphones are more refined, more detailed, and more fun to listen to.
---
Comparison Table
Final Thoughts
PSB M4U 8 ANC headphones may look too ordinary but they are anything but ordinary when it comes to sonic performance. They offer above-average noise cancellation but they are still not on par with reference-grade ANC headphones (like Bose QC 35 Series II or Sony WH100XM3). Their sound signature is warm, exciting, and punchy which makes them great for all kinds of bass-oriented music. They are not extremely bassy but we think that bass heads are going to love them. Also, due to a slight peak around 3kHz, the vocals are intensified and more intelligible which make them a good choice for TV/movie watching. Their biggest quality is detailed and natural sound reproduction, and that's what separates them from other ANC headphones.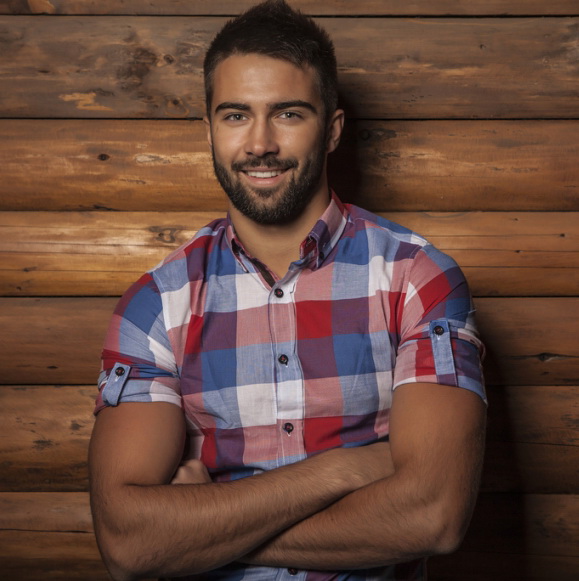 Hello, my name is James Longman.
I'm a writer and editor at AudioReputation. I disassembled my first portable AM/FM radio when I was only 8. At the age of 11, I burned the circuit board on my old boombox cassette player. I'm not going to explain how but it was reckless and stupid.
Since then, I have become much more careful around radios, boomboxes, and other audio devices (at least, I like to think so) but I have never lost the passion for audio equipment. Throughout 20 years of my professional career, I've been working for various audio equipment manufacturers and even started building speakers on my own in my little workshop.
I love the work we do here at AudioReputation. Testing, comparing, and evaluating all kinds of audio devices (speakers, soundbars, headphones, home theater systems, etc.) is something I truly enjoy. I try to be unbiased and give you my honest opinion on every piece of equipment I test. Still, you should take my reviews with a pinch of salt and always be just a little bit skeptical. The fact that I liked some speaker or soundbar doesn't mean that you are going to love it. If you have the opportunity, you should test it/hear it before buying it.