AudioReputation is reader-supported. When you buy through links on our site, we may earn an affiliate commission Learn More
Anker Soundbuds Slim+ earbuds are an upgraded version of Anker SoundBuds Slim. They are made for sports and can be used in many situations. If you need something affordable, durable, and sweatproof for your gym or cycling sessions, you should definitely try Anker Soundbuds Slim+.
There are a few differences between the first (Slim) and the second (Slim+) version. The new version has a slightly longer cable. The manufacturer managed to add 2 extra inches (21.6in compared to 23.6in) without adding extra weight. So, if you have a larger head and if the cable on the previous version was too short for you, you should try the new version.
Anker SoundBuds Slim+ Review
The Anker Soundbuds Slim Plus are lightweight, comfortable in-ear headphones that deliver clear, crisp audio. They have a secure fit and a long battery life, making them a great choice for workouts or long listening sessions. The Anker Soundbuds Slim Plus are a solid choice for anyone in need of a reliable, budget-friendly pair of earbuds.
Recommended Reading :

The upgraded Slim+ comes with upgraded accessories, too. You will get a hard zippered carrying case and a metal carabiner.
The new version also uses aptX high-res technology which is supposed to improve the sound quality. This is arguably the greatest improvement compared to Soundbuds Slim.
The Soundbuds Slim+ is a great pair of budget earbuds. They are not an audiophile material in any way but if you have reasonable expectations, you will be happy with these earbuds. Read our in-depth review and find out everything you need to know about Anker Soundbuds Slim+.
Made for active people – a great choice for your workouts
IPX5 certified – water resistant, sweatproof
Decent battery performance – 7h playtime at 50% volume
aptX high-res technology
Built-in microphone and in-line controls
Reliable Bluetooth connection
Pretty good value for the price
Bass-heavy sound signature – if you like more balanced sound, you're not going to like them
Anker Soundbuds Slim+ earbuds are a great choice for active people. If you need a pair of budget wireless earbuds that can be used both indoors and outdoors, Slim+ earbuds are a great choice. They are perfect for workouts, jogging or cycling.
What's in the box?
Anker Soundbuds Slim+ earbuds come in a nice and simple packaging with plenty of accessories. You will get not only a pair of earbuds but also a hard zippered carrying case with a metal carabiner, 4 pairs of ear tips (XS, S, M, and L sizes), 3 pairs of in-ear hooks (S, M, L), cord management and shirt clip, user manual, and 18-month warranty card. Considering the price, the number of accessories is really surprising.
Soundbuds Slim+ come with 4 pairs of ear tips and 3 pairs of in-ear hooks
Specs
| Anker SoundBuds Slim+ Specifications | |
| --- | --- |
| DIMENSIONS | |
| Weight | 0.5oz |
| DRIVERS | 6mm Full-range drivers x2 |
| BATTERY | |
| Type | Li-ion, rechargeable |
| Capacity | 110mAh |
| Playtime | Up to 7h (at 50-60% volume) |
| Recharge time | Up to 1.5h |
| OTHER POWERING OPTIONS | |
| CONNECTIONS | Bluetooth |
| BLUETOOTH DETAILS | |
| Bluetooth version | 4.1 |
| Supported Bluetooth profiles | A2DP, HFP, HSP, AptX |
| NFC | No |
| Bluetooth range | Up to 33ft |
| OTHER TECHNICAL DETAILS | |
| Frequency response | 20Hz to 20kHz |
| Impedance | 16Ω |
| WATERPROOF/WATER RESISTANT | Yes, IPX5 certified |
| CONTROLS | In-line controls with a built-in mic |
| NOISE CANCELING | Passive |
Design
The design of the Anker Soundbuds Slim+ obviously implies that they are made for sports. Two earbuds are connected with a 26-inch long rubberized and tangle-free cable that is supposed to go behind your head. The earbuds have nice and soft silicone ear tips and ear hooks. The manufacturer decided to use in-ear hooks instead of over-ear hooks which are, in our opinion, cleaner and more aesthetically pleasing solution. They come with 3 pairs of ear hooks and 4 pairs of ear tips so you won't be experiencing any comfort issues once you find the right combination. The earbuds are angled and ergonomically designed to additionally improve the comfort. The housings look sturdy and durable (but they are not shockproof) and the outer ends are magnetic so you can attach the earbuds together and wear them around your neck when you are not using them.
Anker SoundBuds Slim+
The in-line controls are located on the right side, two inches from the right earbud. The controls are simple. There are three buttons – + button, – button, and the play button. They are all multifunction buttons and can be used for different things (we will explain all the functions later). The built-in microphone and the LED Bluetooth/Battery indicator are located right between the play and – buttons.
In-line controls
On the side of the control pad, there's a small rubber flap protecting the micro USB charging port.
Charging port
Some parts look cheap, plasticky, and maybe even fragile (especially the in-line controls) but that's kind of expected considering the price.
Features
We have already discussed the design and the build quality so we won't be going through all the details. The most important thing is to know that these earbuds look and feel more expensive than they really are. The design is visually appealing and the build quality is more than satisfying considering the price.
The earbuds feature Bluetooth 4.1 with the standard 33ft range. The greatest improvement compared to the previous version of Soundbuds Slim is the aptX support. AptX is a Bluetooth codec which enables better sound quality than a regular A2DP Bluetooth profile. AptX also allows you to watch videos on YouTube without any audio delay.
Soundbuds Slim+ earbuds can remember up to 8 devices. When turned on, they will try to pair with the last paired device.
The earbuds don't support NFC pairing but you shouldn't expect that from a cheap pair of Bluetooth earbuds.
The earbuds deliver satisfying playtime. The battery inside the control pad has the capacity of 110mAh and it can offer up to 7 hours of playtime at 50-60% volume. 7 hours is more than enough even for the longest workouts. The recharge takes up to 1.5 hours.
Performance
We don't have any major complaints regarding the performance.
The controls are simple and easy to use and you will master them in no time. As you already know, there are 3 buttons and they are all multifunction buttons. The + button is used to increase the volume (short press) and to skip forward (long press). The – button is used to decrease the volume (short press) and skip backward (long press). You can use the Play button to turn on the earbuds, play/pause the music, answer/end calls, or activate Siri or Google assistant (long press).
The Bluetooth connection works flawlessly. The signal is stable without annoying signal loss even when you are moving constantly (some cheap Bluetooth earbuds have these issues but we haven't experienced anything like that with SoundBuds Slim+). Pairing is fast and simple. The earbuds are compatible with Apple and Android devices. They can also be paired with your Windows PC/laptop but you should switch the default audio output device to Bluetooth headset. The earbuds will automatically go to pairing mode when turned on and they will try to pair with the last paired device. If you want to unpair the earbuds and your device, you should press and hold + and – buttons for 3 seconds. If there's no music streaming for 2 min, the earbuds will automatically turn off.
When it comes to fit and comfort, Anker SoundBuds Slim+ earbuds are simply perfect. You cannot possibly expect anything better at this price point. In fact, these earbuds are more comfortable than some much more expensive models. The cable is long enough and fits all types/sizes of heads. Some people might find it too long but if you don't want it dangling around, you can use those shirt clips that come with the earbuds to solve this issue.
There are 4 different pairs of ear tips and 3 different pairs of in-ear hooks so you will most definitely find the right combination for your ears. The earbuds will stay in your ears even when you move your head all the time (like when running or playing basketball).
Have in mind that earbuds (any earbuds) are supposed to go inside your ear canal which is not the most pleasant feeling so they will become uncomfortable after a few hours of wearing.
The only thing that's missing from the package are the additional foam ear tips. It's a well-known fact that foam tips feel more natural and more comfortable. They should've been included in the package but you can't get everything for less than $30.
Changing the ear tips and ear hooks (Source – Soundbuds Slim user manual)
Anker Soundbuds Slim+ are not ANC earbuds but they still manage to passively isolate decent amount of outside noise. They do a better job with constant low-frequency noise than with high pitched tones. If there is too much noise around you, they won't be able to isolate it and you won't hear the music perfectly clear even at full volume. It's even harder to understand voices (while listening to podcasts) if there is too much noise around you. They are more than good enough for the gym use but not a great choice for air travel. If you want better noise isolation and if that's an important thing for you, you should buy some more expensive ANC earbuds, or even better, some ANC over-ear headphones.
Sound Quality
Anker SoundBuds Slim+ offer more than you can expect from a pair of earbuds under $30. These are not an audiophile material but they deliver pretty good sound quality for the price thanks to the aptX Qualcomm chipset.
The low frequencies are emphasized but not to the point where the lower mid-range frequencies get muffled because of too much bass. The mids are pronounced and clear but they definitely lack some detail. Treble is the most problematic part and tends to sound harsh. The sound becomes distorted at 80% volume. The distortion is really noticeable at 90% volume.
Recommended Reading :

If you like perfectly balanced sound, you should be looking for more expensive earbuds/headphones but if you need a cheap and good sounding pair of earbuds, you will be perfectly happy with Anker SoundBuds Slim+.
The Competition
If you don't like Anker Soundbuds Slim+ or you want to try some other earbuds, here are three great alternatives. They all have a similar design (they are made for sports), they come with a bunch of accessories, and they are all affordable.
---
SoundPEATS Magnetic Wireless Earbuds
SoundPEATS earbuds are slightly more expensive and come in more colors (Slim+ come in black color only). They look very similar and have similar features. They both have in-line controls and a built-in mic, they both have aptX chipset. SoundPEATS earbuds and Slim+ earbuds have the same battery capacity (110mAh) but SoundPEATS earbuds offer slightly longer playtime. SoundPEATS earbuds are IPX6 certified (water resistant) while the Slim+ earbuds are IPX5 certified. Both pairs of earbuds offer great amount comfort and come with a bunch of different sized ear tips and in-ear hooks. They both have a similar bass-heavy sound signature but Slim+ earbuds are just a little bit louder.
---
Phaiser BHS-730
BHS-730 is another affordable alternative. It's more expensive than SoundBuds Slim+ and it comes in 5 different colors but we still prefer Slim+ because BHS-730 are slightly larger and less comfortable (this is a big deal when it comes to earbuds). BHS-730 delivers slightly longer playtime but the manufacturer doesn't offer any info on the IPX rating (they claim that the earbuds are sweatproof). BHS-730 earbuds deliver slightly cleaner, more detailed, and louder sound than the SoundBuds Slim+.
---
Soundcore Spirit Sports Earbuds
Soundcore Spirit earbuds are another Anker product, just like SoundBuds Slim+. Soundcore Spirit earbuds are more expensive but still affordable (under $40). They both have a similar design, similar controls, and come in a similar packaging but Soundcore Spirit earbuds offer better performance. Soundcore Spirit earbuds feature Bluetooth 5.0 (SoundBuds Slim+ feature Bluetooth 4.1). They deliver slightly longer playtime and feature IPX7 waterproof rating with ''SweatGuard'' technology (fully waterproof) while the SoundBuds Slim+ are only water resistant. Soundcore Spirit earbuds also deliver cleaner and more detailed sound.
---
Comparison Table
Frequently Asked Questions
How long do SoundBuds Slim+ last?
The SoundBuds Slim+ has a playback time of up to 7 hours if you use it at 50-60% volume. This is the standard time you will see on most earbuds with a similar design. It takes anywhere between 1.5 and 2 hours to charge the earbuds fully. 

Do Soundbud Slims have a microphone?
Yes, these earbuds have a built-in mic, making it very convenient to answer and end calls. All you have to do is press the play button. You can also activate Siri or Google Assistant if you long press the play button. 

Are SoundBuds Slim+ waterproof?
Yes, the SoundBuds Slim+ is waterproof/water resistant. It comes with a durability certification of IPX5. This means that your buds will work smoothly even when exposed to sweat and water, making it the perfect gym companion.  
Final Thoughts
Anker SoundBuds Slim+ is an affordable pair of earbuds that offers more than you can expect. If you need something that you can use while working out, running, cycling or commuting, and you don't want to spend too much, you should try these earbuds. We dare to say they perform better than some $50 earbuds. If you have reasonable expectations when it comes to sound quality, you won't regret buying these.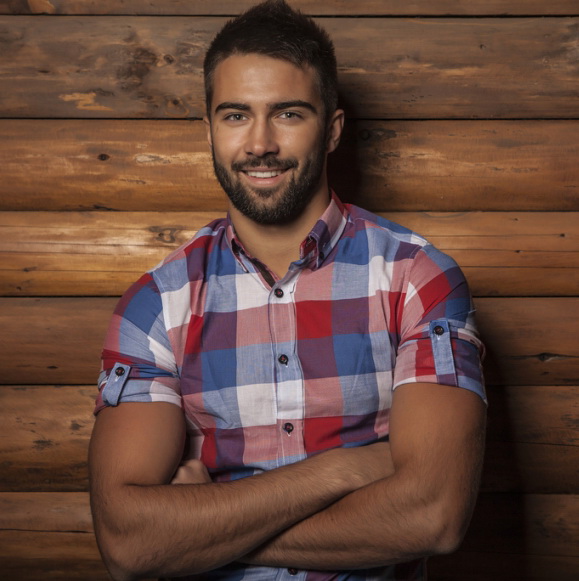 Hello, my name is James Longman.
I'm a writer and editor at AudioReputation. I disassembled my first portable AM/FM radio when I was only 8. At the age of 11, I burned the circuit board on my old boombox cassette player. I'm not going to explain how but it was reckless and stupid.
Since then, I have become much more careful around radios, boomboxes, and other audio devices (at least, I like to think so) but I have never lost the passion for audio equipment. Throughout 20 years of my professional career, I've been working for various audio equipment manufacturers and even started building speakers on my own in my little workshop.
I love the work we do here at AudioReputation. Testing, comparing, and evaluating all kinds of audio devices (speakers, soundbars, headphones, home theater systems, etc.) is something I truly enjoy. I try to be unbiased and give you my honest opinion on every piece of equipment I test. Still, you should take my reviews with a pinch of salt and always be just a little bit skeptical. The fact that I liked some speaker or soundbar doesn't mean that you are going to love it. If you have the opportunity, you should test it/hear it before buying it.