AudioReputation is reader-supported. When you buy through links on our site, we may earn an affiliate commission Learn More
What features should wireless headphones for cycling have? If you're a cyclist, you're probably already aware of all the problems people encounter when using regular headphones for different sports activities. Especially for cycling. Our article on 7 best wireless headphones for cycling in 2021 is here to help you find the perfect model for your needs.
One of the obvious distracting factors are cables. In this case, fewer is better, which means that wired headphones don't do the job when it comes to sports. Also, full-size headphones are not an option. They only add unnecessary weight and, subsequently, aren't adequate for intense workouts.
OK, the first problem is solved – cyclists need earbuds, standard wireless, or true wireless earbuds. But what about noise isolation? Do they need a pair of earbuds that will completely cancel the ambient noise out or a pair that keeps them aware of the environment?
Considerations Choosing the Best Cycling Headphones
Sound Quality
When you are buying any headphones, you'll want to make sure the sound quality is excellent. Some Bluetooth headphones don't offer as high-quality sound compared to wired models. But, with the latest Bluetooth technology and by choosing headphones from one of the biggest brands, these differences will be negligible.
You might also like to choose a pair that allows you to hear ambient sound, rather than noise-cancelling headphones. This will help keep you safer when you are cycling, allowing you to remain more aware of your surroundings.
Battery Life
If you often go on long bike rides with your headphones, you'll want to choose a pair with an amazing battery life. Some offer a quick-charging feature allowing you to boost the battery life in just 5-10 minutes. This is another useful feature, especially for those who tend to head out spontaneously.
Water Resistant vs Sweat Resistant
It is always important to choose sweat-resistant headphones if they will be worn when you are working out. However, that doesn't necessarily mean they are fully waterproof. You can check the IPX rating to find out how water-resistant your headphones are. If you frequently ride in bad weather, you'll want to choose headphones with a minimum rating of IPX6 or IPX7. If you just want the best workout headphones for sweating, a rating of IPX4 is sufficient.
Comfortable Fit
You'll need to ensure a comfortable and secure fit so you don't lose an earbud when you are cycling. That means you'll probably want to choose a pair with multiple ear tips so you can find the ones that are right for you. You'll also want to make sure the materials are comfortable, even when you are sweating and wearing a helmet.
Build Quality
This is always important, but even more so when it comes to headphones for wearing when cycling. Poor weather conditions can mean your headphones might take a bit of a beating. Look for high quality yet lightweight materials, and a decent waterproof rating to help prolong the lifespan of your earbuds.
Microphone
If you will be making a call whilst riding your bike, it's important to look for a high-quality microphone built into your earbuds. Look for a mic that clearly picks up your voice, whilst also blocking out wind noise. Ideally, you'll want a pair with a great microphone, without compromising on audio quality, for a well-balanced sound.
Controls
You'll want a pair of earbuds or headphones that are very easy to control so you don't have to constantly reach for your device when you are on your bike. Voice control is great, and you might even find you can use a voice assistant such as Alexa or Siri whilst on the move. Many earbuds also have simple touch controls on the back of the bud, so you can adjust the volume, take calls, and skip tracks with just a touch.
Although many people want to turn the ambient noise off, this may not be the smartest and safest decision. From the aspect of safety, you should always be at least partially aware of your environment. However, this mainly depends on the place where you're cycling. For example, if you're in the woods, you can probably use ANC headphones but in cities with heavy traffic, we recommend using headphones that let some ambient noise in.
Best Wireless Headphones For Cycling – Comparison Table
Having in mind all the previously listed factors, we have tested a group of wireless headphones that we considered great for cycling. During the testing, some of them were dismissed due to incompatibility with the set conditions, and we narrowed our selection down to 7 best wireless headphones for cycling in 2021.
All these models met our criteria in terms of comfort, design, battery life, ease of use, features, etc. Some of them are perfect for cycling while others are great for mixed usage. Hopefully, this article will help you find the perfect headphones for your cycling sessions.
7 Best Wireless Headphones for Cycling in 2022
---
1. Best True Wireless Earbuds with Built-In Volume Controls: Bose SoundSport Free
Bose SoundSport Free are premium sports headphones with many useful features, great sound quality, and good build quality. The price is not low but we believe you won't regret buying them.
Things we like
Everything about SoundSport Free earbuds screams sport and their design is not an exception. They come in attractive and vivid colors (blue, orange, and ultraviolet) as well as subtle black.
The earbuds are very easy to use. They have a multifunctional button on the left side (used to control playback, pairing, calls, etc.), while the volume controls are on the right side. This is a pleasant surprise because most true wireless earbuds don't have built-in volume controls and that can be quite annoying.
Moreover, SoundSport Free are quite comfortable earbuds with a tight fit. They may not have ear hooks but they provide a good seal and their ear wings provide extra stability. Besides the fit, the earbuds have some kind of semi-open design, which makes them breathable and fatigue-free. This also makes them great for cyclists because they will be aware of the environment while enjoying their favorite music and their favorite sport.
In addition, these earbuds come with a set of useful and interesting features. First, there's the Bose Connect app, compatible with both Android and iOS, and very responsive. It allows you to see battery status, standby timer, your last location, control playback, etc. Second, the buds support Bluetooth 4.1 with a 50-60ft signal range. Pairing is fast and simple, and the connection is stable. Also, the battery offers up to 6 hours of playback time per single charge. The charging case offers 2 additional cycles.
One of their greatest features is the sound quality. The earbuds deliver neutral sound with amazing lows. The mids are nicely balanced while the treble is consistent and accurate. Thanks to their semi-open design, these buds deliver wider soundstage than the others and are perfectly suitable for listening to all music genres.
Things we don't like
Bose SoundSport Free are great earbuds but we would really appreciate some improvements at this price point. For example, we would like to see a more powerful battery, better-featured app, and less stiff control buttons.
Due to the design, the earbuds let a lot of noise in and leak a lot of sound. They are definitely not a great choice for offices, commuting, etc.
---
2. Best True Wireless Earbuds for iPhone: Apple AirPods Pro
Apple AirPods Pro are the improved version of the previously released AirPods and the first in-ear Apple headphones. This model brings improved fit and features, while the price remains quite high in comparison to the average price of true wireless earbuds.
Things we like
Apple AirPods Pro come in a premium packaging, just like all the other Apple products. The changes and improvements become obvious once you open the box and see the charging case and the earbuds. The case is larger but also more compact, the buds are smaller and their stems are shorter, which makes them look more natural in the user's ears.
Apple also worked on build quality and comfort. Somehow, they managed to reduce the weight, improve the earbud durability, and make them more comfortable. The earbuds provide a more stable fit, too, which is great for jogging, working out in a gym, or cycling.
AirPods Pro support Bluetooth 5.0 with a great signal range and connection stability. They are easy to pair and use. The battery offers up to 5 hours of playback time, while the case enables 5 additional cycles. The recharge takes only one hour.
As far as other features are concerned, the earbuds have H1 chip and sensors that replace regular control buttons (play/pause, manage calls and ANC, activate Siri, skip tracks, etc.). The controls work with both Apple and Android devices.
When it comes to sound quality, AirPods Pro offer significantly better performance. Thanks to all the improvements, they deliver more powerful and more pleasant bass and reduce a large amount of ambient noise. Although the bass is improved, it doesn't overwhelm the mids and the highs, which makes the buds great for listening to any type of music.
Things we don't like
One of the things we would like to be improved is the mic. It's great to have it for emergency calls but it shouldn't be used on a regular basis because it makes your voice sound distant and unnatural to the caller.
---
3. Best-Looking Wireless Headphones for Cycling: Jabra Elite Active 65t
Jabra Elite Active 65t are good-looking earbuds made for active people who do sports. They are not cheap but they are light, portable, they sound great, and have useful features. They also come in several interesting colors (black, blue, red, gold beige, and titanium black), which makes them unique and distinguishable in the era of similarly designed earbuds.
Things we like
Apart from the design, we were very happy with their control scheme. The touch-sensitive buttons allow you to control playback, manage calls, and adjust the volume. However, you should be very careful while doing it because you can push the buds against your ear, which can be quite uncomfortable.
Jabra Elite Active 65t are very durable earbuds. They feel rather dense and thick, as well as their case. They also have an IP56 rating, which makes them dust and water-resistant.
Furthermore, the earbuds are very compact and highly portable. Although they are a bit bulky, we assure you they are quite stable in ears. We can't guarantee they will remain stable during an intense workout but they should be perfectly suitable for cycling.
Active 65t earbuds support Bluetooth 5.0 with a 95ft signal range. They enable fast and easy pairing, as well as stable connection. The buds can be simultaneously paired to two devices (multipoint pairing).
They have their own app, compatible with iOS, Android, macOS, and Windows. It offers a lot of useful features and settings, such as graphic EQ settings and hear-through mode, that come in handy if you want to adjust the sound to your taste or be aware of the surroundings while cycling in the crowded streets. The app also enables you to monitor battery status, control playback, and manage calls.
The battery isn't amazing but it offers more than 5 hours of playtime, while the case offers 2 additional charges. Recharging takes 1.5 hours.
The earbuds deliver decent sound with a slightly overemphasized bass. The mids are nicely balanced with the lows. One of the greatest things about these earbuds is their noise isolation and reduction of sound leakage, which makes them great even for offices or commuting. The earbuds sound good with different music genres.
Things we don't like
On the negative side, Jabra Elite Active 65t aren't the most comfortable earbuds on the market. They are a bit bulky and they could use some ear fins or wings to improve stability.
Also, we would like to hear less boomy bass and clearer treble.
---
4. Best Battery Life: Powerbeats3
Powerbeats3 are amazing sports earbuds with great battery life, good performance, and more than acceptable price for a pair of Beats headphones. Unlike most of the earbuds on this list of 7 best wireless headphones for cycling, thanks to their large ear hooks, Powerbeats3 buds provide improved in-ear stability.
Things we like
If you're looking for a pair of standard wireless earbuds with a great set of features, we advise you to consider buying Powerbeats3. They look like most sport wireless earbuds with ear hooks and they come in asphalt grey, break blue, brick red, black-red, and white colors. The earbuds have a flat tangle-free cable with inline remote, and a clip that is used to shorten the cable. The remote enables you to control the playback, volume, manage calls, and skip tracks, while the power/pairing button is placed on the left earbud.
Thanks to the ergonomic design and flexible ear hooks, Powerbeats3 will comfortably stay in your ears no matter what you do. If you're a fan of intense workouts with a lot of running and jumping, don't hesitate to try some of the spare tips to achieve a tighter fit.
Powerbeats3 are very easy to use and pair. Thanks to their compact size and their rubberized carrying case, you'll be able to put them in your pocket or backpack and take everywhere with you. The earbuds also have a premium feel. They are nicely rubberized and seem quite durable, especially because both the buds and the case are resistant to minor water/sweat intrusions.
The earbuds support Bluetooth 4.2 with a 200ft signal range. The battery lasts up to 12 hours per single charge, while recharging takes 1.2 hours.
When it comes to sound quality, we were more than satisfied. The bass is quite deep and powerful, while the mids are nicely balanced, and the treble quite pleasing. They aren't perfect, of course, but they will sound great with any music genre. In addition, Powerbeats3 don't leak too much sound, which could be great for commuters or people who work out in crowded gyms.
Things we don't like
One of the cons is that they don't provide very good noise isolation. Luckily, this can be easily compensated by turning the volume up as they don't leak much sound. On the other hand, the lack of noise isolation can be useful for cyclists who want to stay aware of their surroundings.
---
5. Best Budget: Anker Soundcore Spirit
If you're looking for a pair of cheap waterproof wireless earbuds with decent sound performance and battery life, Anker Soundcore Spirit is the right choice for you. Although they don't look like typical sport earbuds, they are quite stable and perfectly suitable for different kinds of sports activities.
Things we like
Anker Soundcore Spirit buds are quite attractive sport earbuds that come in all-black, which makes them quite elegant. They come with a basic in-line remote that allows you to pair the buds, control playback, volume, skip tracks, manage calls.
The earbuds are quite light and comfy. In case the preinstalled tips and wings that don't fit, you can try replacing them with the spare ones. They all come in different sizes and some of them should provide a better fit.
The buds seem quite durable and nicely built. They are IPX7 certified and fully waterproof.
Anker Soundcore Spirit earbuds support Bluetooth 5.0 with a great signal range that allows you to leave your phone in one place and walk around the gym without any cutouts. The battery lasts 8 hours and the buds support fast charging, which means that you can get a full hour of playback after only 15 minutes of charging.
When it comes to sound quality, we found the buds very motivating for workouts. They deliver a lot of bass, while the mids and the treble are present and well-balanced with the lows.
Things we don't like
We didn't experience any major problems with these earbuds but we have to warn you that some customers couldn't find the right ear tip size and complained that one or both buds tend to pop out.
---
6. Best for Cyclists with Small Ears: Jaybird Vista
Jaybird Vista are sport earbuds perfect for people with small ears. They aren't cheap but they are very portable, well built, reliable, and stable. They offer very good performance and have many useful features that will make cycling more interesting.
Things we like
Jaybird Vista buds look and feel like premium earbuds. They come in black, gray, and green colors, and they are made of hard plastic that makes them quite durable. Plus, they are IPX7 certified, which means they are fully waterproof and submersible in water.
Thanks to their light weight, ergonomic shape, tiny size, and numerous spare tips and fins in different sizes, these earbuds are very comfortable and very stable. Their stability is what makes them one of the best wireless earbuds for sports.
Jaybird Vista buds are quite easy to pair and use. They support Bluetooth 5.0 with over 200ft signal range and quite stable connection. The control scheme is simple and it consists of two touch-sensitive buttons (one per earpiece). The buttons allow you to control the playback, manage calls, adjust volume settings, and skip songs.
The battery lasts approximately 5 hours, while the case offers two additional charging cycles. The buds also support fast charging – a 5-minute charge offers a full hour of playback time.
In addition, Jaybird Vista come with the Jaybird MySound app, which works fine with both Apple and Android devices. The app works smoothly and it allows you to check battery status, adjust EQ settings, or assign a function to a button.
As far as sound is concerned, Vista earbuds are quite good. The bass is slightly emphasized and punchy. The mids sound decent and warm. If you don't like the original sound settings, you can always adjust them through the app.
Things we don't like
One of the things we didn't like is the treble because it lacks consistency. It's too bright and it causes sibilance at high volumes.
Also, we would really appreciate some improvements in terms of call quality. The mic does the job but it also makes your voice quite thin and muffled, and it gets even worse when you use it outdoors.
---
7. Best Wireless Earbuds for People with Impaired Hearing: AfterShokz Air Open
AfterShokz is one of the leading brands when it comes to bone conduction headphones. These devices are mostly made for people with hearing issues. We have decided to include one model in our list of 7 best wireless headphones for cycling because they can be useful for cyclists who want to stay aware of their surroundings.
Things we like
AfterShokz Air Open are fairly affordable headphones with rather unusual looks. If we had to define it, we would say that they mostly look like sport earbuds. They come in midnight blue, forest green, slate gray, and canyon red colors.
The headphones have built-in controls that are very easy to use. On the left side, you'll find the multifunction button that is used to control the playback and calls. On the right side, there are volume controls and one small flap covering the charging port.
The headphones are made from titanium and covered with protective silicone, which makes them quite durable. They also have an IP55 rating, which means they are resistant to intrusion of sweat and small water splashes.
AS650MB are quite light, they don't put too much pressure on your head, and they are not inserted in ears or put on ears, which means they don't cause any discomfort.
Recommended Reading :

The headphones support Bluetooth 4.2 with a 33ft signal range and a very stable connection. They can be paired with two devices at the same time and the process is very simple. Also, they have a decent battery life – you'll get 6h per one charge. The recharge takes 2h.
Things we don't like
Unfortunately, the biggest AS650MB problem is the sound quality. The mids and highs are decent but the lows are disappointingly weak.
Also, the headphones are very quiet and they leak a lot of sound, so if you turn the volume up, you risk disturbing the people around you.
There's one more problem with bone conduction headphones – windy weather and noisy environment. If the noise is too loud, it will most likely overpower the music coming from the headphones.
---
This was our list of 7 best wireless headphones for cycling in 2021. In case you haven't made up your mind or you still have some questions, please read our FAQs or leave a comment below.
---
FAQs
Q: Can I cycle with headphones?
A: If you find a good pair of earbuds with decent sound quality, satisfying comfort level, and great stability so they don't pop out, cycling with headphones is a must. With the right earbuds and the right music, cycling becomes much more fun.
Q: What features should headphones for cycling have?
A: The most important features a pair of headphones for cycling should have are high comfort level and great stability. That way, you won't get distracted by the earbuds constantly popping out of your ears. Of course, good battery life and sound quality are always a great plus when it comes to any headphones.
Q: Is it dangerous to listen to music while cycling?
A: Yes, it is. However, if you buy a pair of earbuds that are designed to let some ambient noise in (for example, Bose SoundSports Free or AfterShokz Air Open) or the earbuds with some special hear-through or ambient-aware modes (for example, Jabra Elite Active 65t), you'll significantly reduce the risk of getting hurt.
Q: What are the best headphones for cycling?
A: Every user defines his favorite headphones for cycling in accordance with his lifestyle, taste, ear size, etc. You can find some great choices in our list of 7 best wireless headphones for cycling in 2021. Each of these models is amazing in its own way. We advise you to scroll up, read our reviews, and decide which model fits your lifestyle and meets your requirements.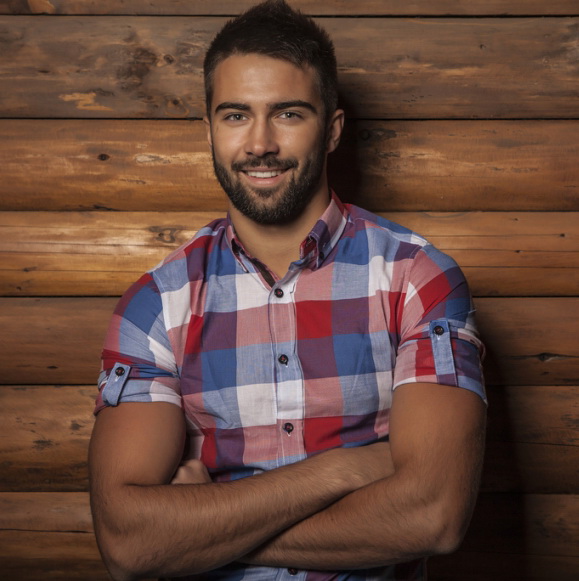 Hello, my name is James Longman.
I'm a writer and editor at AudioReputation. I disassembled my first portable AM/FM radio when I was only 8. At the age of 11, I burned the circuit board on my old boombox cassette player. I'm not going to explain how but it was reckless and stupid.
Since then, I have become much more careful around radios, boomboxes, and other audio devices (at least, I like to think so) but I have never lost the passion for audio equipment. Throughout 20 years of my professional career, I've been working for various audio equipment manufacturers and even started building speakers on my own in my little workshop.
I love the work we do here at AudioReputation. Testing, comparing, and evaluating all kinds of audio devices (speakers, soundbars, headphones, home theater systems, etc.) is something I truly enjoy. I try to be unbiased and give you my honest opinion on every piece of equipment I test. Still, you should take my reviews with a pinch of salt and always be just a little bit skeptical. The fact that I liked some speaker or soundbar doesn't mean that you are going to love it. If you have the opportunity, you should test it/hear it before buying it.