AudioReputation is reader-supported. When you buy through links on our site, we may earn an affiliate commission Learn More
People who love watching TV know what a difference a pair of good TV earbuds can make. If you're looking for something like that, you've come to the right place. We have prepared a list of 6 best wireless earbuds for TV in 2023 to help you find the best device and solve all your problems.
No matter if you live in a small apartment or in a big noisy family, or you have some hearing problems, you will need a pair of headphones or earbuds to avoid disturbing others or prevent others from disturbing you. Anyone who doesn't live alone knows how annoying it can be when you keep waking up other people because of a loud TV and how irritating can be other people's voices interfering with your favorite TV show.
As earbuds are much lighter and more compact than headphones, they are also a better choice for private listening. They occupy less space and they're more portable. If they're also wireless, like the earbuds reviewed in this article, it's a winning combination.
Although it seems that full-size headphones are more suitable for TV watching, there're many fantastic earbuds that can do the same job.
Best Wireless Earbuds for TV – Comparison Table
We've tested many models that are currently available. As a result, we've come to the final selection of 6 best wireless earbuds for TV in 2023. Some of the listed models come with a transmitter/receiver but can also be used as regular Bluetooth earbuds with smartphones, tablets, or any other Bluetooth-enabled device. Others are devices made specially for seniors and, generally, people with different forms of hearing impairment.
One thing they all have in common is their amazing performance, decent or even excellent battery life, connection stability, great sound quality, and ease of use. We sincerely hope this list will help you find the perfect wireless TV earbuds for your needs. These are our top picks.
The List of 6 Best Wireless Earbuds for TV in 2023
---
1. Longest Battery Life: Avantree HT4186 Wireless Earbuds for TV
If you need a pair of wireless TV earbuds at an affordable price, we are more than happy to recommend Avantree HT4186. They come as a set consisting of the earbuds, Bluetooth transmitter, and corresponding cables used to establish the connection between the transmitter and your TV or to charge the earbuds. Despite being mainly made for watching TV, HT4186 can be used without the transmitter and easily paired with any Bluetooth-enabled device.
Things we like
First of all, let's say a few words about the design. The earbuds come in black color and they look surprisingly attractive for a pair of TV earbuds. They are neckband earbuds with an in-line remote that enables you to control the playback, volume, and pairing, manage calls, and skip between tracks. The headphones also have a small built-in mic.
HT4186 earbuds seem to be nicely built. If used properly, we believe you shouldn't have any major problems in the durability department.
Moreover, the buds are extremely easy to pair and use. If you're using them with your TV, you'll have to connect the TV to the transmitter using one of the provided cables (USB, RCA, optical). After that, you are supposed to turn the transmitter on and press the pairing button to connect the transmitter to the earbuds. The transmitter has two Bluetooth pairing buttons, which means you can use it simultaneously with two pairs of wireless earbuds (or headphones).
The earbuds support Bluetooth 4.1 with an excellent signal range (up to 100ft), while the transmitter supports 4.2 version. They also have an amazing battery that offers up to 20 hours of playback time per single charge. HT4186 are called TV earbuds because they reduce audio delay to the amazing 40ms but you can also use them with any other Bluetooth device you have.
In addition, the buds are small, light (9.1oz), and very comfortable – so comfortable that you can even fall asleep without any pain or discomfort.
As far as sound is concerned, we don't have any complaints. The earbuds sound decent and very clear.
Things we don't like
Sadly, we can't recommend these earbuds to people with hearing problems or to people who love to listen to music or TV at very high volumes. Many customers complained that the buds just aren't loud enough.
---
2. Best-Looking Wireless Earbuds: Sony WF-1000XM3 True Wireless Earbuds
The next product on our list of 6 best wireless earbuds for TV in 2023 is Sony WF-1000XM3. These earbuds are a lot pricier than the rest of the reviewed models but we believe they are worth the money. Apart from the premium design, the buds come with many useful accessories and great features.
Things we like
The earbuds come in black and silver colors. Both versions have a matte finish that makes them look so elegant and prestigious. The buds also have touch-sensitive controls. The controls allow you to manage calls, control the playback, and activate voice assistant or Ambient Aware mode.
Sony WF-1000XM3 aren't just good-looking earbuds. They are also nicely built and we really don't have any complaints when it comes to their durability.
Furthermore, these earbuds come with a bunch of amazing features. First, there's the Headphones Connect app that can be used with both Android and iOS. It allows you to control the volume, activate Ambient Aware mode, engage ANC, and adjust EQ settings. Besides, it's very user-friendly. The buds also support NFC pairing.
Recommended Reading :

In addition, WF-1000XM3 support Bluetooth 5.0 with up to 200ft range and incredibly stable connection. The Bluetooth antenna is located in the pointy part of the housings and the buds use the corresponding (left and right) simultaneous transmission system, which significantly reduces latency level and enables you to watch TV or watch videos on your phone or tablet. As the buds don't come with a Bluetooth transmitter, you can buy it separately and use these with your Sony TV. Or, if you have a Bluetooth-enabled Sony TV, you don't need a separate transmitter.
When it comes to battery life, we are also more than satisfied. With ANC turned on, you get up to 6-7 hours, while listening to music without ANC extends battery life to 8-9 hours. The charging case offers 3 additional charges and increases total battery life to 28-32 hours. Recharging takes less than 1.5 hours.
The sound quality is very good. The buds deliver quite flat, detailed, and rich sound with punchy bass, clear vocals, and nicely balanced treble. ANC works like a charm and the built-in mic is better than the mics on many other similarly priced wireless earbuds. You may sound a bit quiet to the caller but also very clear.
Things we don't like
On the negative side, WF-1000XM3 aren't the most comfortable earbuds on the market. Due to their elliptical shape and angled tips, which don't follow the shape of the human ear, you may feel some discomfort after some time. They go deep inside your ear canal but that's the only thing that keeps them in place, so we don't recommend these for sports.
---
3. Lightest TV headset: Artiste ADH300
Artiste ADH300 are affordable TV earbuds made for the people with hearing problems regardless of their age. They sound great, they have acceptable battery life and many useful features, which makes them a great choice if you're looking for a pair of cheap TV earbuds.
Things we like
The earbuds come in white color and the typical unusual stethoscope-like design that all similar products have. They come with a base, two replaceable rechargeable batteries (one for the buds, the other for the base), spare tips, and a set of cables (power cable, 3.5mm cable, and RCA cable) and connectors (6.3mm).
On the base, you'll find all the necessary ports, battery indicator lights for both the base and the buds, and a button that is used to activate TV listening mode. On the buds, you'll find a small indicator light, a small mic, a button that pauses TV and activates sound amplifier, which helps to hear better the person talking to you. There is also one small volume control knob and a button that you can use to hear sound through both buds or only through one of them.
ADH300 are made from light plastic but they seem fairly durable. Because of the plastic, they weigh only 2.3oz, which makes them more comfortable. Apart from this, you can adjust the distance between both sides as well as the housings angle. In case these adjustments don't help, you can always try out some of the additional tips that come with the device.
The earbuds have more than stable connection, even at the 100ft distance, which means you can go almost all over your house and still hear your TV without any interruptions or cut-outs. In addition, the base can be connected to two pairs of TV headset simultaneously. There's no pairing, no connection loss. Setup is clean, fast, and simple, while the performance and sound quality are quite amazing.
If you don't like the current sound settings, you can always adjust the sound balance, treble delivery, and voice clarity.
Things we don't like
One of the things we noticed is that the buds support digital optical connection but that the package doesn't contain an adequate adapter.
Also, we would like the earbuds to have two separate volume controls for each earbud as some other TV earbuds have.
---
4. Most Feature-Rich Wireless Earbuds for TV: Sennheiser SET840 – RF Stereo TV Headphone System
Sennheiser SET840 are radio frequency TV earbuds specially designed for people with impaired hearing. Of course, they can also be used by any other person with no hearing problems. The earbuds are not cheap at all and they may cause certain problems in terms of comfort but most of the customers are more than satisfied with all their features, connection stability, and overall performance.
Things we like
SET840 buds have quite an interesting design. The manufacturer calls them the 'TV headphone system' but they don't look like regular headphones. SET840 buds are designed like a stethoscope and, just like the previously described Artiste model, are often called TV headset. Some may not like the way they look but we find it quite appealing for a pair of TV headset.
The stethoset, as some also call them, seem rather durable and well built. To turn them on, you just have to split the ear bows. At the bottom, you'll see a large circular dial, which is used to adjust the volume. On its backside, you'll find a balance button. It helps adjust the volume on the right and left sides independently, which is a great feature if you have unilateral hearing damage. There's also a button that enables you to switch between three different frequencies. In addition, there's the replaceable battery, which lasts up to 9 hours. The recharge takes up to 3 hours.
The transmitter (base unit) also seems nicely built and it's made from plastic. On the top, you'll find the charging compartment where you place the headphone. On the left side, there's the speech intelligibility button that enables you to switch between compression, treble boost, and compression and bass boost modes. Each of them is designed for different types of haring problems. On the right side, you'll find the compartment for a spare battery. The transmitter also has 3.5mm input, another treble control button, stereo-mono switch, DC connector, and channel switch.
SET840 TV earbuds have a great range (330ft) and connection stability.
The sound is pleasant and nicely balanced. The headphones deliver punchy bass, the vocals are articulate, and the highs are clean.
Things we don't like
As we have already said, these headphones have some comfort issues. You can try different tips but even the foam ones couldn't help some users. The problem is, most likely, caused by the tips shape as well as the weight of the product and the fact that the headphones hang on your ears and drag your head down.
---
5. Best Price-Quality Ratio: Simolio SM-824D1 Digital Wireless Headset for TV
The next model on our list of 6 best wireless earbuds for TV is SM-824D1 made by Simolio. They are also considered TV headset and they are also made for people with hearing issues. They use a special technology – 2.4 GHz digital FHSS (Frequency-hopping spread spectrum), which combines a completely uninterrupted connection with a great signal range (up to 100ft). The earbuds aren't cheap but you definitely won't spend a fortune on them.
Things we like
As you would assume, this is one more headset made for seniors and other people with hearing problems. Like all the other similar hearing aid earbuds, they put their features and performance in front of their looks. They aren't the most attractive earbuds on the market but they aren't ugly.
SM-824D1 come with their base/charger that has all the necessary ports (aux port, RCA port, and digital optical port), indicator lights, and place for storing a spare battery. The earbuds themselves have separate volume controls and indicator lights for the left and right sides. They are also very flexible and seem rather durable.
When it comes to comfort, we can say that they feel nice in ears. They are small and they come with a set of different tips, including foam tips, so you can easily find the right size. Having in mind that these can still cause some discomfort due to the way they hang in your ears, the manufacturer provides decompression hanger loops (something like ear hooks) that may help you reduce fatigue.
Simolio SM-824D1 TV earbuds sound good, too. They are clear and very loud but they also use a very special auto sound balance technology that reduces those annoying and painful hits of sound when commercials interrupt your favorite show. They also allow you to switch them into a sort of personal amplifier when talking to someone. You simply have to press the mic button and hearing people talking around you immediately becomes much easier.
Things we don't like
The main problem we encountered testing these earbuds is their battery life. As it lasts only 7 hours per charge, it is significantly below-average battery life for this kind of device. However, considering the fact that these are indoor earbuds that automatically turn off after being idle for 3 minutes (which saves battery), and that they are reasonably priced, we believe they are still a great choice.
---
6. Most Affordable Wireless Earbuds for TV: Golvery Neckband Wireless Earbuds
The last product on our list of 6 best wireless earbuds for TV is also the most affordable – Golvery Neckband Wireless Earbuds. They come with a transmitter/receiver that allows you to turn any device into a Bluetooth-enabled audio source. The earbuds can also be used as regular Bluetooth earbuds without the transmitter. If you need a relatively cheap pair of earbuds to watch your TV without any delay or lip-sync issues, Golvery earbud/transmitter set a good choice.
Things we like
Golvery Z702 earbuds have something that many of the previously described earbuds and TV ears don't have – attractive earbud design. They come in black color and they look quite appealing, so you won't look strange if you use them outdoors.
The earbuds have small housings with replaceable tips and in-line remote that allows you to control the volume, playback, skip songs, and manage calls. The transmitter is quite compact. It can be connected to your TV via RCA, digital optical, or aux cables. Also, it has its own power on/off button, volume controls, and LED indicators.
Z702 buds seem quite durable and comfortable. As they have the neckband design, the heaviest part lies (including the remote) on your neck, which reduces pressure to ears, increases stability and comfort level.
Recommended Reading :

Apart from being comfortable, these earbuds are also easy to use and they provide great performance. The setup is easy as the buds and the transmitter are pre-paired, which means the only thing you have to do is to connect the transmitter to your TV and turn it on. The set supports Bluetooth 5.0 with a standard 33ft range. The battery is also quite powerful. The earbuds can work for up to 16 hours per charge, while the base is more powerful and it delivers almost 25 hours of continuous streaming. Recharging takes 2 hours.
Sound quality is more than decent for the money and they successfully block a great chunk of ambient noise.
Things we don't like
One of the things we were not impressed by is the signal range. We understand that we can't be too judgmental at this price point but we believe that improving this feature would mean a lot to customers. 
Also Read: Foam Vs. Silicone Ear Tips: Which One Is The Right One For You?
---
This was the list of 6 best wireless earbuds for TV in 2023. Hopefully, it was helpful and you managed to find the perfect pair of TV earbuds for your needs. As we are aware that people usually have a lot of questions and uncertainties regarding the way these earbuds work and their reliability, we have prepared answers to the most common questions. In case of any additional questions, please leave a comment below and we will answer you as soon as possible.
---
FAQs
Q: Are there really wireless earbuds for TV?
A: Yes. Although many people aren't aware of that, some earbuds are made exclusively for watching TV, while some of them are also made for people with hearing issues. Earbuds made for watching TV are made in a way that reduces to a minimum or completely eliminates that annoying sound delay that we experience when watching TV while using standard Bluetooth earbuds. TV earbuds for people with damaged hearing have one additional feature – they are usually louder than regular earbuds, they have all kinds of sound modes for improved intelligibility, and they have controls that can be used to adjust the volume level for both buds or for each earbud separately.
Q: How to use wireless earbuds for TV?
A: Wireless earbuds for TV are usually extremely easy to use. As they usually come with a transmitter or a base, you should know that all the ports necessary to establish a connection are right there. Depending on your preferences or the features of your TV, you should choose one of the options (there're usually RCA, aux, and digital optical ports) and connect the transmitter/base to the TV. As the earbuds are usually pre-paired with the base/transmitter, your only task here will be to turn them on and adjust the volume and sound settings.
Q: How do wireless earbuds for TV work?
A: There are different types of wireless TV headphones. Depending on the technology they use, we can divide them into three groups: RF, Bluetooth, and IR headphones.
RF stands for radio frequency, which means that these headphones use a radio signal to connect to your TV through a base or a transmitter that comes with the headphones. The radio signal is very powerful and it goes through thick walls, which means these headphones have an incredibly stable connection.
Bluetooth headphones are the most common type of wireless headphones. They have less stable connection than RF headphones but their performance can be great, too. The important thing is that your Bluetooth TV headphones support aptX-LL codec in order to avoid audio delay.
IR stands for infrared and these are the least popular headphones on the market. Their work is based on the same principle as RF headphones, which means they have their own transmitters that are connected to TVs. Their greatest problems are sound and connection quality. The thing is – you have to be within the line of sight in order for IR headphones to work properly.
Q: Do I need any additional equipment for TV wireless earbuds?
A: If you own a pair of Bluetooth earbuds with aptX-LL support and you have a TV with aptX LL support, you won't need any additional equipment. Non-Bluetooth TV earbuds (like RF earbuds) usually come with all the necessary equipment (base/transmitter and all the cables) and you don't have to buy any additional equipment.
Q: What are the best wireless earbuds for TV in 2023?
A: Our list contains reviews of 6 best wireless earbuds in 2023. While choosing them, we were thinking about the potential requirements a user may have and we were trying to include as many different devices as possible. We can't really tell you which model is the best because it really depends on your lifestyle, sound preferences, TV model, and your own hearing.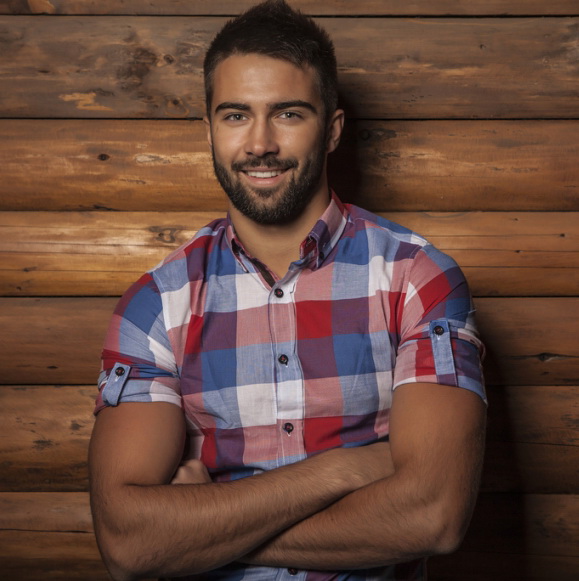 Hello, my name is James Longman.
I'm a writer and editor at AudioReputation. I disassembled my first portable AM/FM radio when I was only 8. At the age of 11, I burned the circuit board on my old boombox cassette player. I'm not going to explain how but it was reckless and stupid.
Since then, I have become much more careful around radios, boomboxes, and other audio devices (at least, I like to think so) but I have never lost the passion for audio equipment. Throughout 20 years of my professional career, I've been working for various audio equipment manufacturers and even started building speakers on my own in my little workshop.
I love the work we do here at AudioReputation. Testing, comparing, and evaluating all kinds of audio devices (speakers, soundbars, headphones, home theater systems, etc.) is something I truly enjoy. I try to be unbiased and give you my honest opinion on every piece of equipment I test. Still, you should take my reviews with a pinch of salt and always be just a little bit skeptical. The fact that I liked some speaker or soundbar doesn't mean that you are going to love it. If you have the opportunity, you should test it/hear it before buying it.